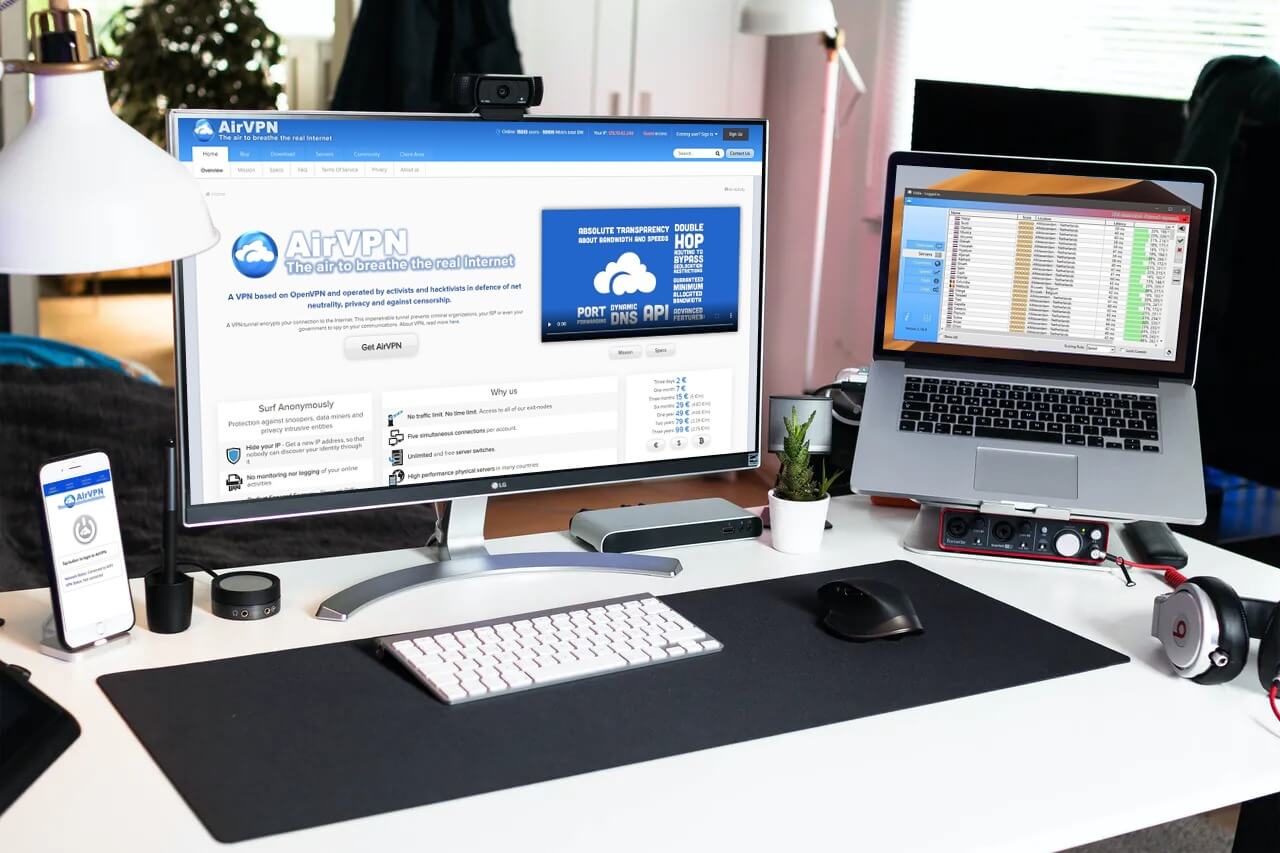 There are over a hundred VPN providers on the market, some less know, and some very popular. All of them market themselves as being fast, secure, or both of them. However, AirVPN takes a different approach and claims to be a trustworthy provider, operated by "hacktivists and activists". On paper, this sounds awesome for privacy and security, but is it like that in reality? Is AirVPN worth a shot? Let's find out in our in-depth review of AirVPN!
STRENGTHS:
Works with Netflix
Military-grade encryption
Cheap 3-day plan
Network lock
WEAKNESSES:
Poor speeds
Not good for bypassing geo-restrictions
No native app for iOS
Small server network
Italian jurisdiction (14 Eyes)
---
Here are the best alternatives for AirVPN :
Is it a free or paid VPN?
As mentioned in the introduction, AirVPN comes with a very interesting premise. It's allegedly made by activists who want to fight the new world order or better said, excessive government surveillance and violation of privacy.
This definitely adds some "weight" to the provider. After all, who would better protect your privacy than a hacktivist-based VPN? The weight that its roots add also has an influence on the price, meaning that this service is not free.
Actually, there's not a single free plan, so AirVPN is a strictly paid provider. The good thing, however, is that there are many plans available, giving you some leeway to choose the one that best suits your needs.
Given that it's a paid provider, we're going to review it as such and compare it with the other paid providers. Beware that it's not the cheapest, so it has a lot of things to prove.
Performance offered by AirVPN: is it good?
Kicking off our analysis, we need to talk about performance. Performance is very important, as many VPNs often neglect it in the favor of security. Don't get us wrong – we love feeling secure online. But, when the performance is poor, enjoying your online freedom simply isn't going to happen.
How good is AirVPN performance-wise? Let's find out in our AirVPN review.
Speed
The quality of the provider isn't all about its speeds but it plays one of the major roles. Before delving deeper into our speed test, we need to stress out one thing. All VPN providers will reduce your native internet speed to some extent.
Some will do it by 10 to 20 percent (ExpressVPN) and some will destroy your connection. Since AirVPN is mainly focused on the security aspect, it's interesting to see how much it compromised on speed.
Without VPN (we were located in London) :

UK Server :


US Server :


Asia Server (Japan) :


Judging by our native internet speed, the decrease is massive. From more than 200 Mb/s to a single-digit number… well, that's something to take into account. The UK server, one in our country, was usable, we must admit.
It was decent for streaming, while torrenting was very slow. The other two servers we tested for this AirVPN review, US and Asian ones were a disaster, so to say. Ping was through the roof, making playing online games a chore.
Not to mention loading times that were painfully slow. In this regard, ExpressVPN is a much better deal because it's the fastest provider around.
Stability
Whether you're using a VPN app for Windows, Android, or iOS, stability is of the utmost importance. The golden standard is that servers have a 99.99% uptime, which AirVPN fulfills. Now, about connections.
Connections were pretty stable and we didn't have any issues. Sure, speeds aren't the fastest, but at least, we didn't have random disconnections and problems with the app. This applies to all the platforms that AirVPN supports.
Streaming
Users who buy AirVPN probably won't do so because they want a supreme streaming performance.
There are other VPNs that perform significantly better, such as NordVPN or CyberGhost. But, that won't prevent us from conducting our in-depth streaming test.
We'll throw a few streaming platforms to AirVPN and see how well can it handle them, both in terms of unblocking and providing decent speeds.
Netflix

Netflix is first on the list, and surprise-surprise, it works! Just to make it clear, we're talking about Netflix US, the largest streaming platform available. Netflix US has more than 5,700 movies and shows, making it the most relevant streaming service available.
We're glad that AirVPN managed to unblock it from the first time. However, bear in mind its lackluster speeds that won't always produce the results you want. Streaming in 720p was definitely manageable, but as soon as we switched to 4K in our Premium account, we saw a significant decrease in performance.
Therefore, if you want to get the most from this platform, AirVPN probably isn't gonna cut it.
Other streaming services
Complementing our basic, but relevant Netflix test, we usually test a few more platforms, to make sure that the provider is good/bad for streaming.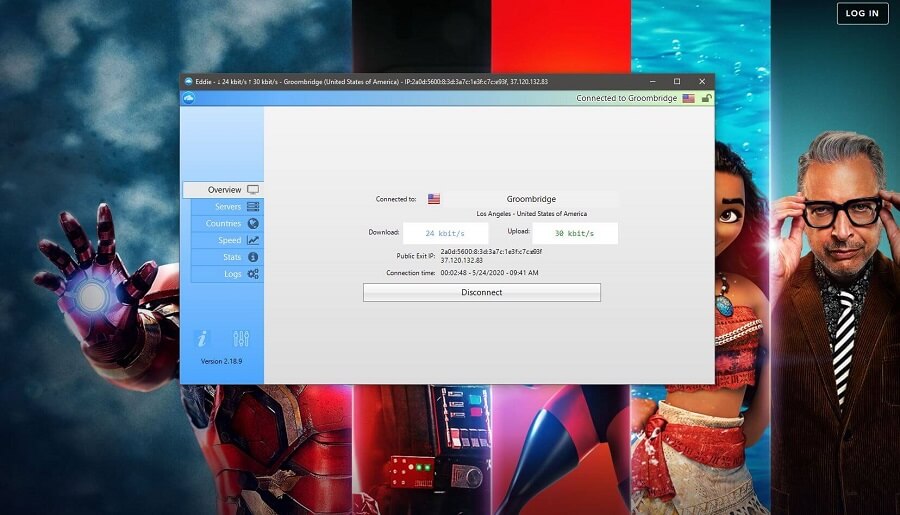 As we can see, Disney+ doesn't work. How do we see that? Well, because we can't access the login screen! When we click on the button, nothing happens, implying that AirVPN can't unblock Disney+.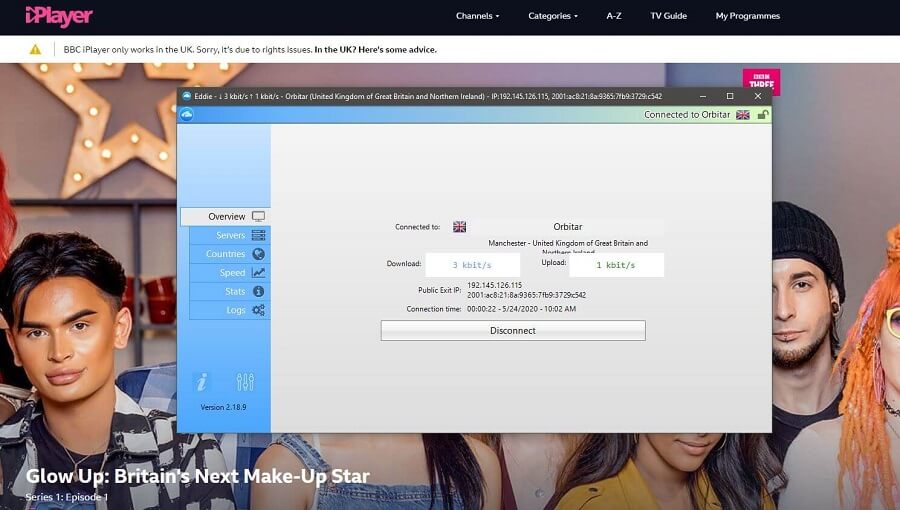 Heck, even BBC iPlayer doesn't work, and don't forget that we're located in the UK! That's a pretty bad result for the provider.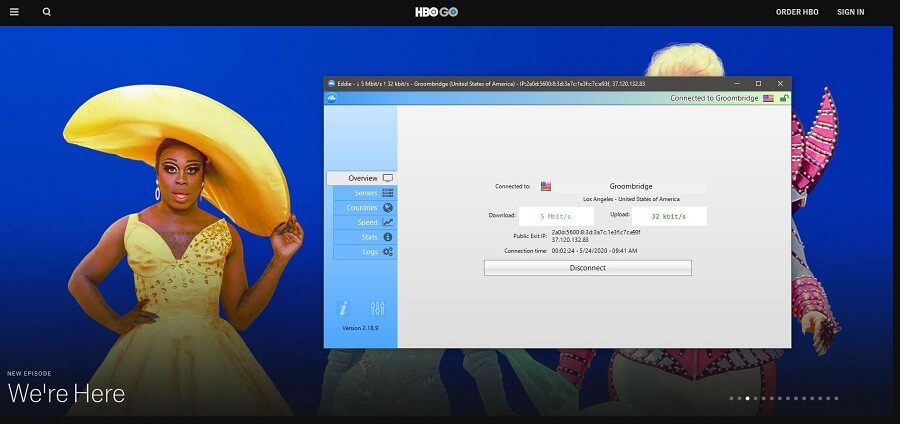 Some good news for this part of our AirVPN review – HBO GO worked flawlessly! This is not great news because pretty much every provider unblocks this platform nowadays – even the free ones!
We can go on and on with our testing, but we think you get the point. AirVPN isn't a great option for streaming.
Its unblocking capabilities are less than average, and with turtle-like speeds, your streaming experience won't be as enjoyable.
Security offered by AirVPN
Being developed by activists and hacktivists, it's logical that the main focus of AirVPN is security. And it truly is – as the provider claims. Therefore, this should, in theory, be a redeeming factor for all the negative things we said about it.
Let's see if it's really THAT good and trustworthy as it claims to be.
Where is AirVPN based?
Right off the bat, we found something that we don't like about this provider – its jurisdiction. It's based in Italy, and is without a doubt, one of the best providers from this country. That's all great, but did you know that Italy is a part of the 14 Eyes?
14 Eyes countries aren't as "dangerous" as 5 Eyes countries but are still a threat to your privacy. AirVPN has a zero-log policy, which we're going to prove later, but given the nature of this country, it can request the provider to hand over the users' data.
Now, if AirVPN is really honest, it probably won't be able to do that. But, because of the privacy laws, or lack thereof, we don't know if that's the case.
Log policy
In the privacy policy, we can see that AirVPN doesn't store any compromising logs and takes good care of your personal information.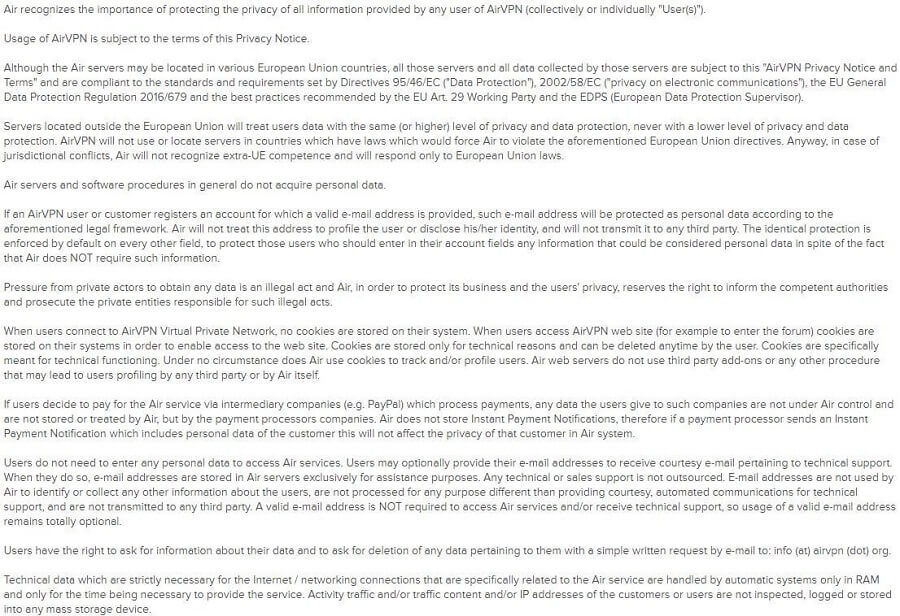 We like that you don't have to provide any personal info to use the service, which adds to your anonymity. Moreover, in the last paragraph, we can see that they don't store your IP and traffic content, so you're left to browse the web the way you want.
Another good thing is that AirVPN complies with EU privacy laws. This means that, even if they have servers outside the EU, they'll use the same level of protection and privacy to keep your personal info intact.
The company is open, transparent, and seemingly very honest about this topic. So far, there weren't any issues with this VPN, akin to those with IPVanish or HideMyAss. In other words, it proved itself in this regard.
Still, we can't help but think that an external audit would do it a great service.
Protocols
AirVPN has an interesting philosophy when it comes to protocols. We'll quote the sentence from its website:
"Forget PPTP or other insecure protocols."
It seems as though AirVPN deems other protocols, apart from OpenVPN, insecure. This is not an issue, as long the OpenVPN protocol is implemented at its finest here. The provider offers several varieties of this provider.
You get your standard OpenVPN option, then, you have OpenVPN over SSL, over SSH, and over Tor. The company claims that this is a great recipe for privacy and security because no ISP or the government will be able to track your activity online.
Furthermore, there's 256-bit GSM encryption in place, with 4096-bit RSA keys, that ensure maximum security while browsing the web. Connecting it to the Tor network will amplify everything we just said, and you can do it if you want to access the Darkweb or increase your level of anonymity.
Leak protection

It would be a shame for this provider to have any IP or DNS leaks. With all the security features in place, it's pretty clear that our IP is away from the prying eyes of the government and ISPs.
So, to digress, AirVPN is truly a remarkable provider, security, and privacy-wise. It fulfills all the criteria, offering rock-solid security and superb IP/DNS leak protection.
Is it possible to download torrents with AirVPN?
If you live in Italy, you know how this country's philosophy is in regards to torrenting. This country is a strict opponent of this activity, harshly punishing anyone that violates the copyright. Honestly, we support them.
Everyone hates those who copy other people's work and that should remain illegal. What we're against, though, is punishing people for enjoying P2P activities even when they're not violating any copyrights.
AirVPN will let you do so thanks to its security and military-grade encryption, which some great news. While you can torrent safely, you can't torrent with decent speeds and performance, and that's what lets this provider down.
Even when connected to the server in your country, don't expect to download content in a blink of an eye. On the flip side, you'll be able to access the best torrent sites easily.
Bypassing censorship with AirVPN
Users in China, UAE, Russia, Iran, and Iraq are well acquainted with the concept of censorship. This is, simply put, a means to limit people's access to the internet by blocking certain websites and platforms.
In China, for example, Facebook, Twitter, Instagram, and YouTube are on the blacklist. Iran and Iraq are very similar, which is why they're often called "Enemies of the Internet." Residents from these countries need a quality VPN that will help them bypass censorship.
AirVPN isn't a great choice for this purpose, although our testers in different countries reported mixed results. The provider will sometimes work in China, for example, while users in Iran and Russia didn't have any problems.
Long story short, this is far from being the best option for this purpose. We suggest you get NordVPN instead, which will help you bypass censorship with its obfuscated servers.
Countries and servers covered by AirVPN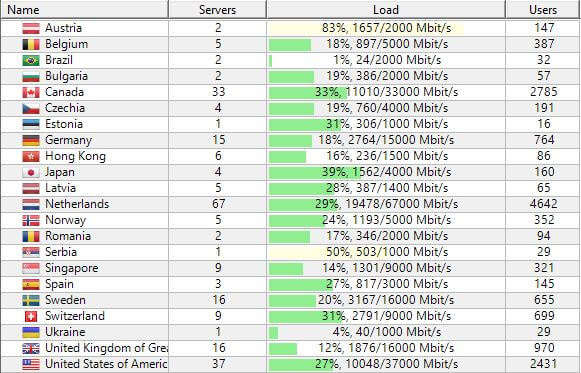 Since we mentioned other countries in the previous section, let's review the choice of countries and servers you get here. What you see in the image above are all the countries that you can use on AirVPN.
There are 22 of them, with the most servers located in Canada, Netherlands, USA, and the UK. Interestingly, there are more servers in the Netherlands than in the USA and UK combined.
In total, there are around 200 servers, give or take, which is a very small server count. And, as you can see, there are quite a lot of users on a daily basis.
Compatible devices and connections
If you want to use your VPN with Roku, Apple TV, Windows, or iOS devices, you'll want the provider to support as many devices as possible. AirVPN, on paper, has decent device support, but let's review it and see how good the apps are.
Devices supported by AirVPN

We like that AirVPN supports every platform, including routers. Unlike ExpressVPN, it doesn't have dedicated apps for all platforms. For example, the Chrome app is an extension, and the iOS app doesn't exist.
On iOS, you have to download the OpenVPN app and configure the VPN manually, which will be a hard task for beginners. Router support is great, and pfSense is on the list as well.
This means that you can protect devices such as Apple TV, Roku, Fire TV, and Smart TV thanks to your VPN-router connection. Just for the reference, here's how the Windows app looks: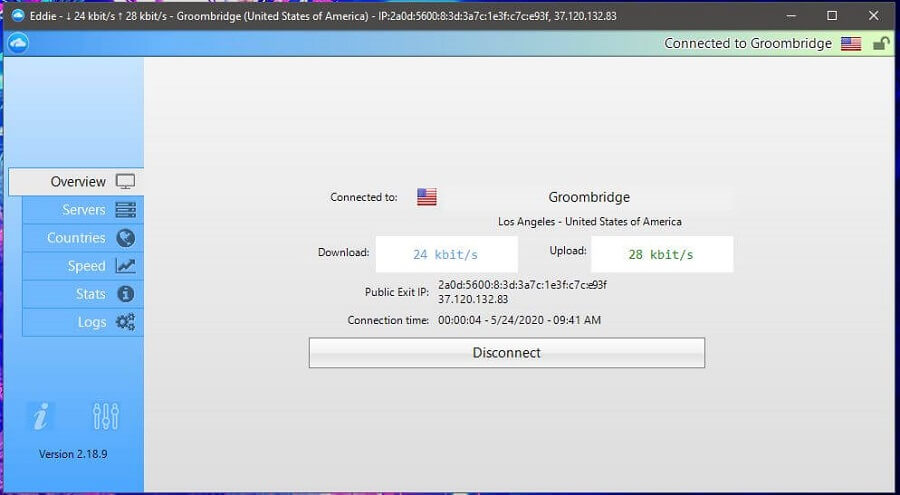 It's pretty basic and looks outdated, which doesn't go hand-to-hand with its numerous features. The same concept applies to Android smartphones, where the app looks pretty much the same, with a few tweaks here and there.
Simultaneous connections
Users who buy AirVPN will have the ability to protect up to 5 devices simultaneously. That's a pretty good number for the price, especially when we compare it to ExpressVPN, which offers the same number of simultaneous connections.
AirVPN Client Support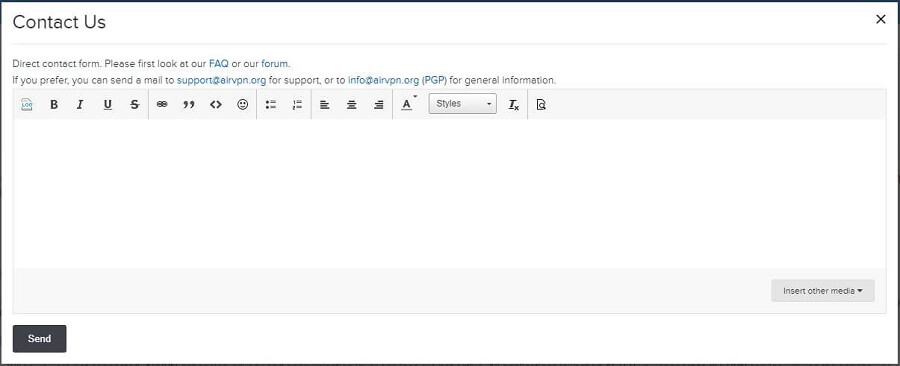 Contacting AirVPN is an easy feat. You just visit the Contact Us section of the website and you get a simple contact form to fill in. We like that the contact form allows you to change the font, bold the important stuff, and add images and other attachments.
What we don't like, however, is the absence of live chat. Live chat is, for us, a necessary feature if you want to get help in the fastest possible manner. As an alternative, AirVPN includes a forum where you can chat with other users and get help from a "third-party" person.
Still, that's not good enough because it depends on the activity of the forum. Also, the support team isn't available 24/7, so you'll often wait for a response for more than a few hours. In terms of knowledge and helpfulness, support is average.
Value for money
We know that price is very important for all users but we left it for the end of our review. Why? To be able to determine if it's worth a buy easily. To discuss the pricing, we'll have in mind all the features and functionalities we mentioned and see how valuable the provider is.
Price table of AirVPN

There are 6 plans in total, with the cheapest one on a monthly basis being the 3-year plan. In dollars, it costs around $3.22 a month, while the 2-year plan comes at $3.85 a month. There's even a trial that costs $2.34 and lasts only three days.
AirVPN simply refuses to give you a free shot, as if it's the best VPN out there. It obviously isn't and it isn't very cheap when we take into account its overall quality. For comparison, you can get Surfshark for $1.99 a month for a 2-year plan.
Or perhaps, get CyberGhost for $2.75 in a 3-year deal. Both of these are cheaper, yet offer better performance and security overall.
Payment methods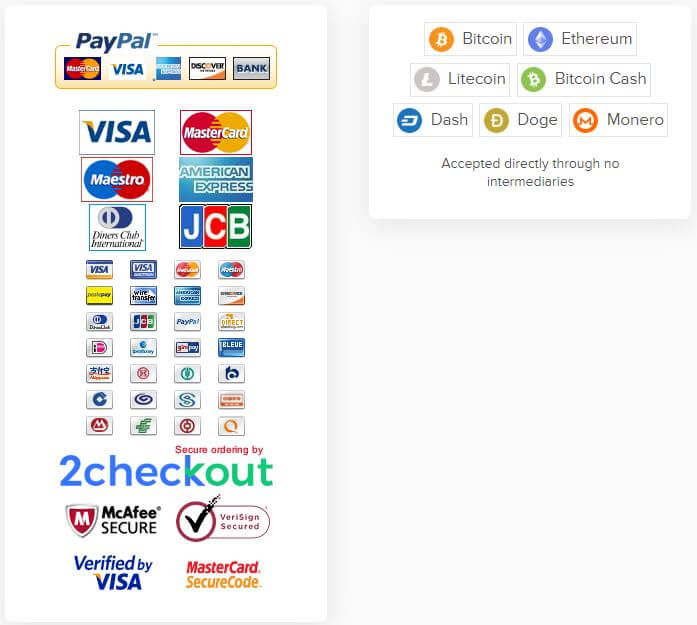 If you're going to get AirVPN, these are all the supported payment methods. There are a LOT of them, including cryptocurrencies like Ethereum, Dash, Monero, Bitcoin, Litecoin, and so forth.
Moreover, PayPal, credit/debit cards, and Bank Transfer are here, letting users buy the service in a quick manner.
AirVPN Money-back guarantee
We like that AirVPN offers a money-back guarantee, but if you're not well informed, it can deceive you. Namely, you can request a refund within the 30 days of your purchase, but only if you haven't used more than 5 GB of data.
This means that you can't test out the provider thoroughly and you have to rely on basic tests to see if it's good enough for you.
Extras offered by AirVPN
Before we conclude our review, let's briefly mention a few extra features that AirVPN offers:
Network Lock
Network Lock is a feature we've already seen in ExpressVPN. Simply put, it's a fancy name for an automatic kill switch that activates once your VPN connection goes south. If that happens, it shuts down your internet connection, preventing any accidental exposure.
OpenVPN over Tor
We want to talk about this feature a bit. Many providers will offer a well-known Tor Over VPN feature, which is a much better choice. To make things simple, when you connect to the Tor browser, your ISP will see that you're using a VPN, but not the Tor network.
This is a good thing because ISPs are often suspicious of users who use Tor. In this case, a VPN will conceal the fact that you're using this browser, making you completely anonymous.
What AirVPN offers is the opposite deal. This is more for users who don't trust their VPN provider. Here, your ISP can see that you're using Tor, but not the VPN, because it protects the exit node of the Tor network.
On the other side, your VPN provider will still be able to see what you're doing online, and if that's what bothers you, AirVPN's offer might be a good choice.
As said, this can raise some suspicions about you, as Tor is often used for visiting the Darkweb sites, that are, for the most part, illegal. Tor itself is against this concept, and so are we because Tor Over VPN is a much better concept and works perfectly fine for security and privacy.
Final thoughts about AirVPN
To wrap things up, let's put everything we said to perspective.
AirVPN isn't a provider for everyone. It's aimed at a specific group of people whose main concern is internet security and preserving online identity. If we look at it from this perspective and this perspective only, it's a great provider.
However, there are many other things that make a good Virtual Private Network. AirVPN lacks the speed, has poor unblocking capabilities, and isn't very cheap. On top of that, its support is average, and the server count is disappointing.
For these reasons, we don't recommend AirVPN.
A great alternative is ExpressVPN, the best provider on the market. Right now, you can get a 49% discount and 3 months free for an annual plan, which very affordable, even for budget users.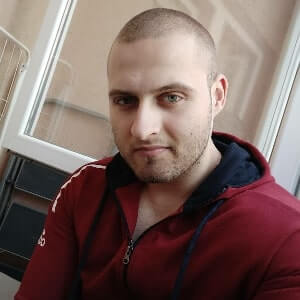 A professional writer with a Master's degree in Mechanical Engineering. Since his youngest age, he loves everything related to internet, technology, fitness, games, and dogs! He joined our team in order to bring his deep knowledge in security services, among which VPN is of course a key component.