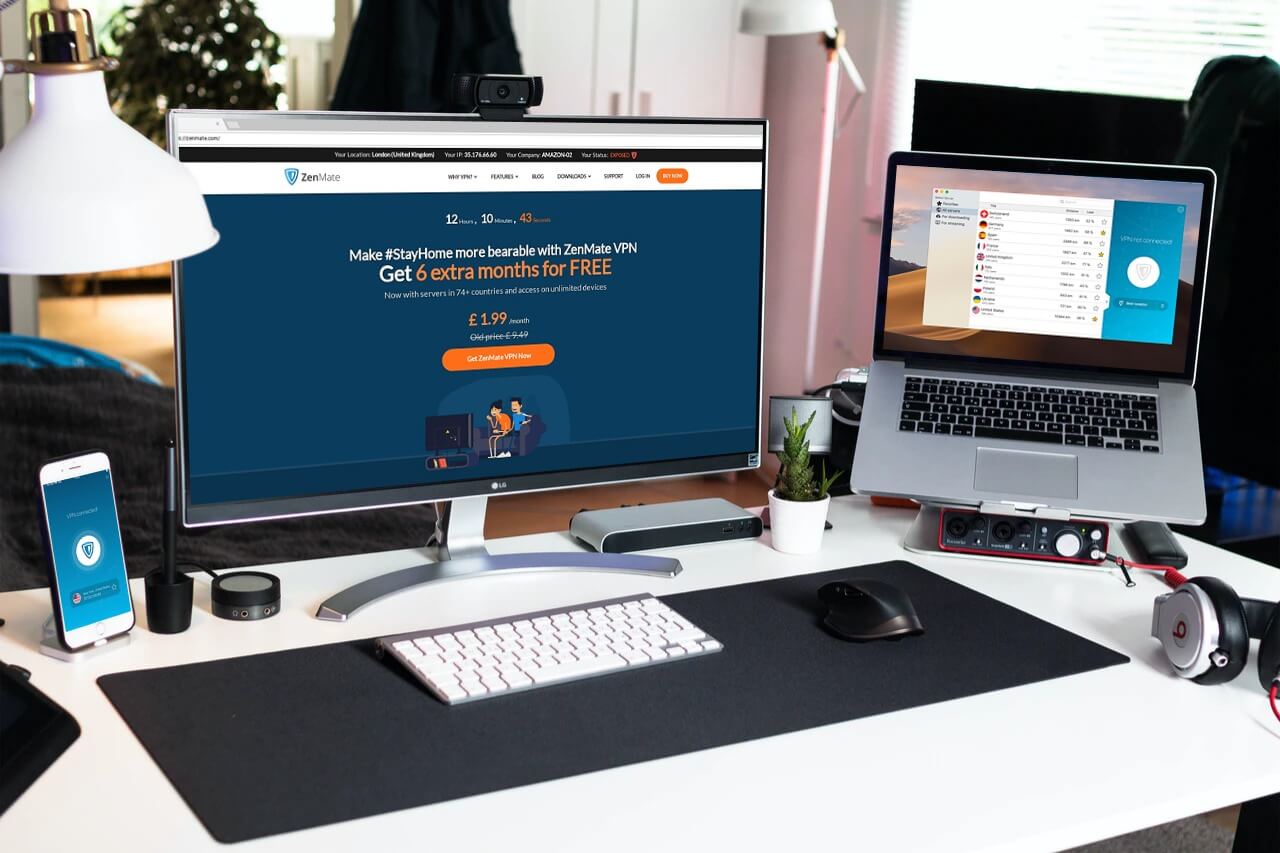 ZenMate has been around since 2013 and has managed to gather more than 45 million customers globally. The provider offers easy-to-use software, so it may be a good choice for those starting in VPNs.  However, how well does it match up against competitors? Let us take an in-depth look at our ZenMate review and test.
During this review, we are going to look into numerous important aspects that VPN providers offer. We have written many reviews, so you could also read our review of IPVanish here to find out our views on this provider.
First, let us begin by looking at the main strengths and weaknesses.
STRENGTHS:
Apps available on many devices
Supports torrenting
Free trial
Attractive prices
Kill Switch feature
Works on Netflix
WEAKNESSES:
Lacking in features
Support is not the best
Does not work in China
---
ZenMate VPN ranks #14 out of 104 VPNs tested. Here are the best alternatives :
Is it a free of paid VPN?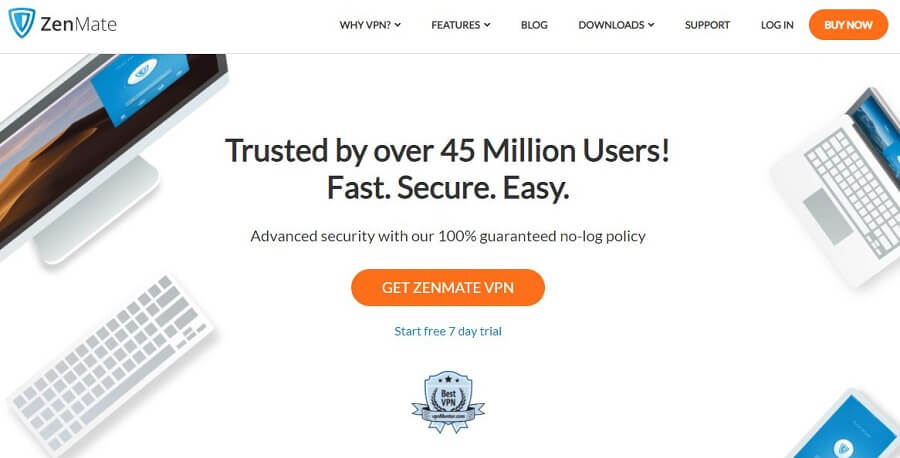 ZenMate is offering both a paid VPN and a free one with a 7-day limit. However, as you might expect, the free version is very limited.
There is no OpenVPN protocol offered in the free version, only L2TP, IPSec, and IKEv2 are available. This is very limited – we're not going to lie.
Performance
For our ZenMate review and test, we started out by looking at the performance offered by the Virtual Private Network.
This includes the speed of the servers and stability.
Speed
Speed is everything with a VPN. We want to start by saying that there is always a drop in speed when using a Virtual Private Network.
The server speed is not the fastest out there and cannot be compared to the speeds offered by ExpressVPN, for instance. However, it is good enough for streaming in HD or downloading files.
To prove our claims, we propose you to find the results of the different speed tests carried out:
Without VPN (we were located in London) :

EU Server :


US Server :

Asia Server :


Stability
During our ZenMate review, we did not have any issues with stability. We did not see any sudden disconnections, lagging, or any other issues with connections.
The only exception was with US servers for US Netflix, which kept disconnecting. But, we will talk a little bit more about it right after 😉
Streaming
One way of using a Virtual Private Network is when wanting to stream from your favorite channels wherever you are in the world. Using a VPN you can get access to free channels that stream all GP of F1, Baseball, Basketball, and more.
Therefore, as part of our ZenMate review and test, we checked out whether streaming using some of the most popular services is possible.
Netflix
Netflix is one of the most difficult services to bypass and stream from abroad (especially the US catalog). Many providers cannot fool the service so we were very interested in finding out how this one performed.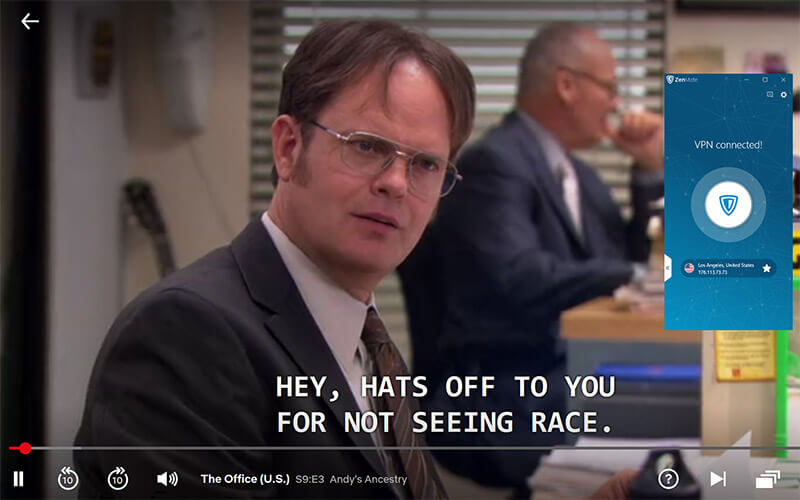 It is possible to use the provider to unblock Netflix in the UK and the US. However, during our test, we found out that the specialized US servers would randomly disconnect and reconnect.
Some users have reported that Netflix found out they were using a proxy service and banned access to the site.
This was annoying as it broke the stream up with buffering while the server reconnected. In the end, we gave up on trying to stream US Netflix successfully and moved on to take a look at other streaming services.
Other streaming services

ZenMate also offers servers suitable for streaming from many other services. We tried numerous during our test including Hulu, BBC iPlayer, YouTube, and HBO Now.
Stream BBC iPlayer and more with ZenMate >
All of the servers we tried worked without any issues and kept the connection. This meant streaming was a pleasure even in HD, with no buffering.
Security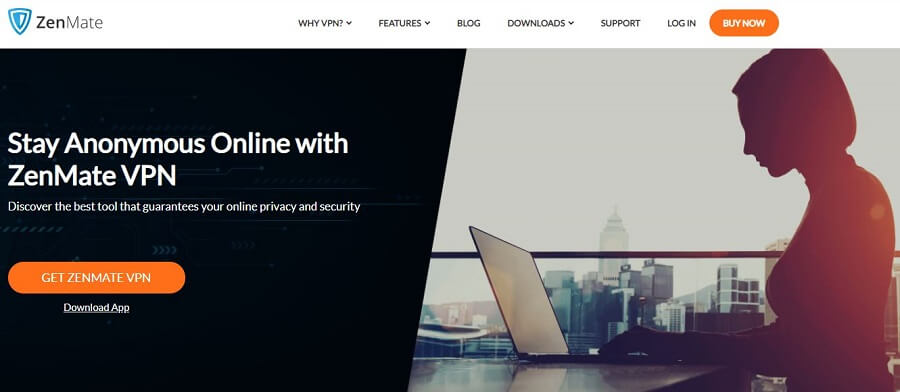 Security is everything with a VPN provider as after all, the provider needs to offer superb security measures to keep you safe online.
The top providers use AES-256 military-grade encryption, which is considered unbreakable and so does ZenMate. Browser extensions are offered but these only use AES-128. However, it is still superb security.
The software uses perfect forward secrecy, which means it generates new encryption keys based on each session.
Where is it based?
The provider is based in Germany, which means that it falls under the 14 Eyes jurisdiction.
This means that they share intelligence information with 14 other countries and this could include how you use the service. So, this is definitely not a good point for us regarding this review!
Log policy
A no-log policy can go a long way to protecting you even if the provider is located in a country governed by the 14-Eyes jurisdiction.
The provider does claim to have a no-log policy in place.
If you do head over to take a look at the privacy policy and TOS pages, you will need a lawyer by your side to decipher them, as they are some of the most complicated we have seen. This makes them extremely difficult to understand.
It says it does not collect or store any data or activity. However, we took a deeper look into the policy and were surprised by what we found.
It does, in fact, collect information about the original IP address you use to connect to the internet initially. This in effect means you are not truly anonymous. Although this information is likely just collected to ensure a good quality of service.
Protocols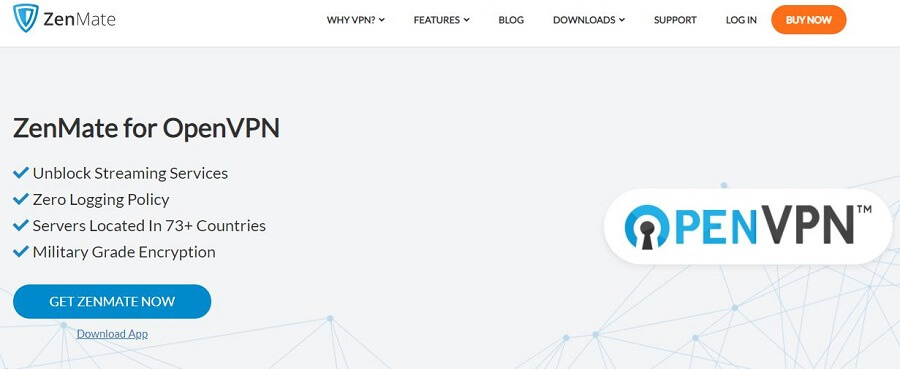 The provider offers several protocols, including OpenVPN, L2TP, IPSec, and IKEv2.
However, the free version does not support OpenVPN, which is the most secure protocol out there.
Leak protection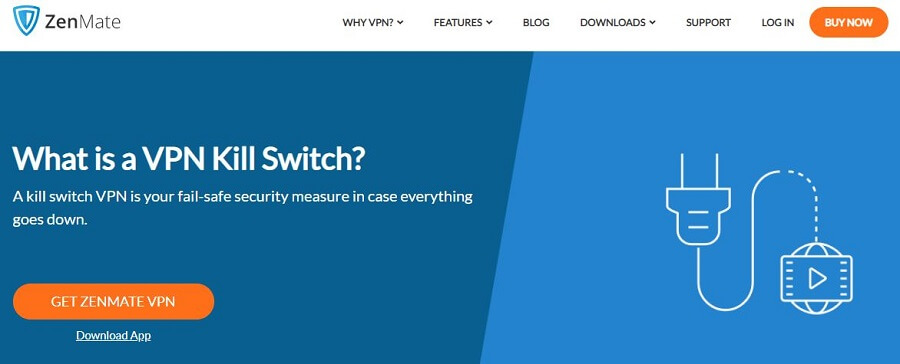 To safeguard against leak protection, an automatic Kill Switch is included in plans. In the event a server disconnects, it stops any information from leaking out onto the internet.
This feature can be turned on and off so if you are using the VPN to stream US Netflix content you might want to turn it off as it can become annoying as the server often disconnects.
Torrenting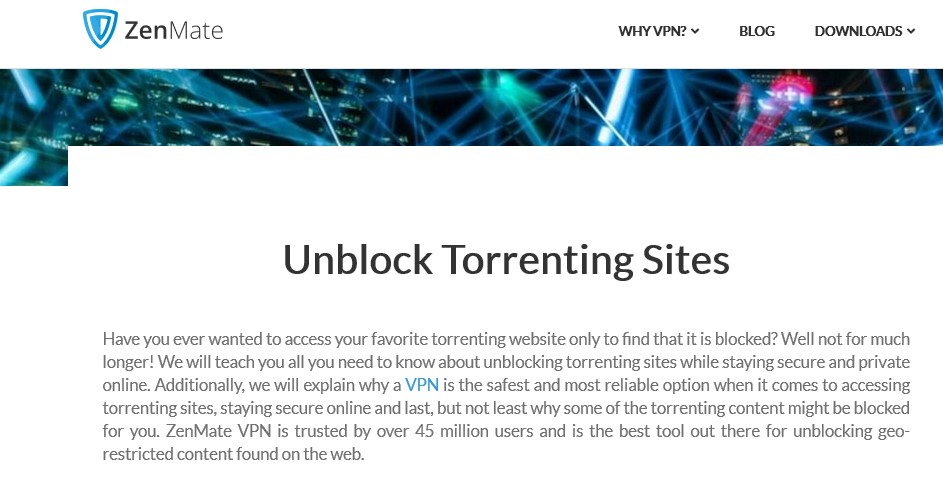 As many people who use a VPN do so to remain anonymous online when torrenting, this is an essential part of our ZenMate review and test for 2023.
Thankfully, the results during our testing were good, as the provider offers special servers that can be used when torrenting.
Torrent in safety with ZenMate now >
The app includes a list of servers to connect to when torrenting, along with user count and server load, so you can choose the lowest count for the best speeds.  You do not have to go looking for them as they are listed altogether, so choosing one for torrenting is very easy.
Bypassing censorship
How well the VPN can bypass censorship depends on the level of encryption and range of servers offered.
To be able to bypass censorship you have to mask your true location and your activity online but not all providers have the ability to do so. China is one of the most difficult countries in which to beat censorship and sadly, ZenMate does not work in the country.
Censorship in less strict countries can be overcome using ZenMate. We can confirm this info for countries like the UAE, Turkey, or Saudi Arabia.
Countries and servers

Thousands of servers are offered in more than 74+ countries around the globe. However, it does offer servers in Mexico, which is great.
This is a bit of a let down when you compare the provider with such as ExpressVPN who offer thousands of servers in more than 160 locations in 94 countries.
The number of servers in countries such as Australia, Bulgaria, Luxembourg, Norway, and Russia is limited. The UK and USA come out better with a couple of hundred servers offered in each.
The app shows you the distance you are away from the server and recommend you connect to the closest server for the fastest speed. There is also an auto-pick option, which allows the app to choose the best server for you.
Or you can even make a list of your own favorite servers.
It is important to remember that not all servers support P2P file sharing. Australia and Israel are among those that do not.
The provider also does not make its apps available in countries with high censorship, including Iran or China. If you want a VPN for these countries, we highly recommend ExpressVPN.
Compatible devices and connections
This part of our ZenMate review focuses on which devices are supported and the number of devices it can be used on at the same time.
Having support for a wide range of different devices is essential to protect you, whether gaming online, browsing the web, overcoming geo-restrictions, or streaming.
Devices supported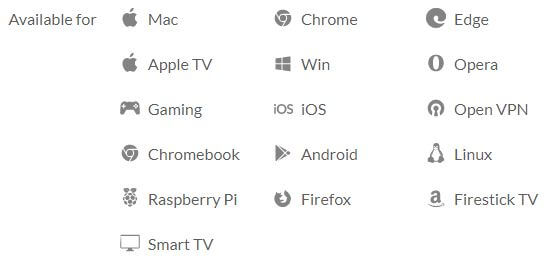 The service can be used on any device that supports OpenVPN, alongside the OpenVPN software available to download. This includes Smart TVs, games consoles, routers, and more.
Having the option to install it on a router is good as you can then protect any device that connects to the internet through the router.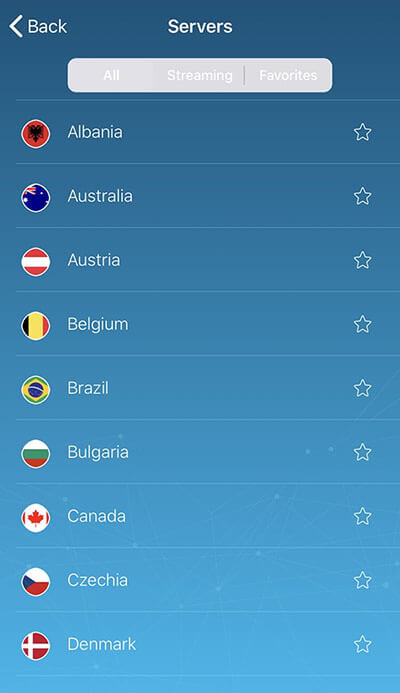 Apps are available for numerous devices and can be downloaded from the website. These cover standard devices such as Windows, macOS, Android, and iOS.
It can also be used via extensions for web browsers including Firefox, Chrome, and Opera. The apps are easy to use with all the information required at your fingertips. While it is a good choice for beginners, there is also plenty for advanced users to dig into.
Easy to use apps from ZenMate >
When using the simple layout you do not have to worry about looking for and configuring the connection settings. Which is another great news.
Simultaneous connections
A ZenMate plan is usually adequate to cover the average family as you can cover an unlimited number of devices at the same time!  This means all your family members and friends can download and install apps on devices and use that protection altogether.
One person can use it for safety when browsing the internet, another when gaming online, and so on.
Support
The level of customer support is not very good, to be honest. The live chat option is here, but it's not always the quickest. We did find an email option but the company does state that you may have to wait for 48 hours to receive a reply from them.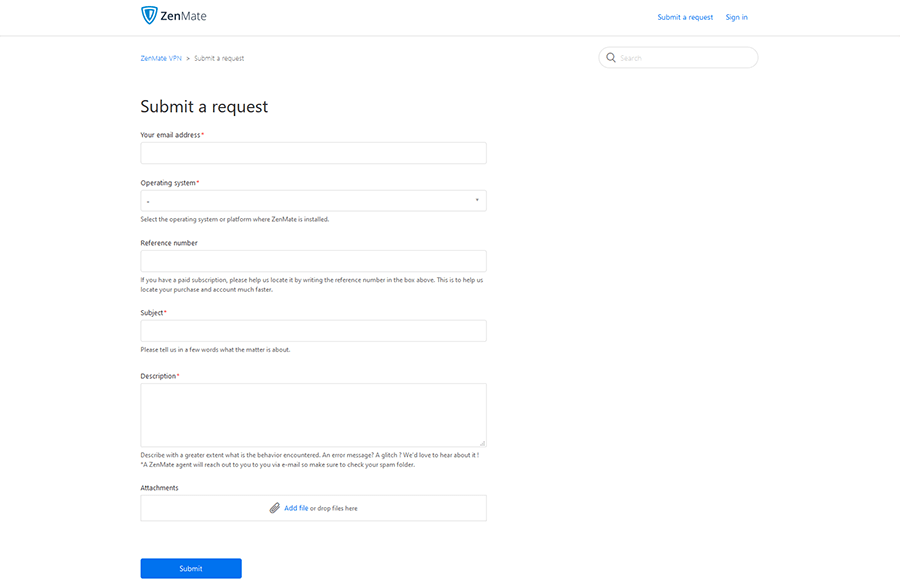 There is a range of basic help via the knowledge base on the homepage of the site under sections, Getting started, Using, and Troubleshooting. Articles are poorly organized, so it can take you some time to find what you require.
There is a search option but again, this does not work as well as it should.
ExpressVPN, for example, offers immediate live chat support along with a variety of alternative options and numerous tutorials and guides.
Value for money
Now onto the value for the money part of our ZenMate review and test! There are three plans offered. First, we will talk about the free 7-day version, which obviously costs nothing.
The free 7-day version is the trial version and it comes with numerous restrictions that would perhaps class it more along the lines of a proxy than a VPN.
The free version offers access to only four locations instead of the thousands around the world. These are the US, Germany, Romania, and Hong Kong. Speed is limited to 2 MB/s and it is only available as browser extensions for Chrome, Firefox, and Opera.
With the limitations on speed, this is not going to be useful for streaming.
Price comparison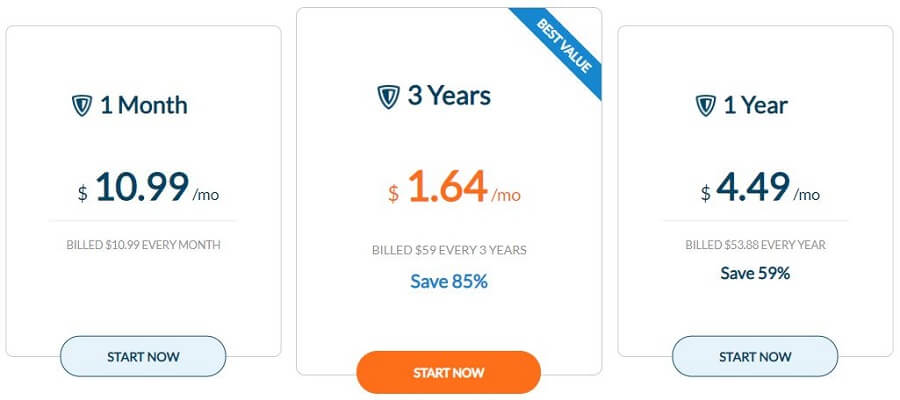 Now let us move on to the three paid plans that we are going to present to you in this part of our ZenMate review. All plans come with access to all locations, unlimited speeds, smart locations, torrenting support, support of OpenVPN, and numerous apps for devices.
At the time of our review, the company is offering some great savings on plans.
The best savings are made with the 3-year plan. This is billed upfront, costing the equivalent of $1.64 per month or $59 at the moment of purchasing. This means 85% savings when compared to the costly monthly plan.
There is a 1-year plan with 59% savings and this is billed at $53.88, making it $4.49 per month. Finally, there is a monthly plan for $10.99 per month paid each month.
During our review of ZenMate, we found out that the provider has made it extremely easy to renew or cancel your plan as you can do it using the app. And overall, the prices offered are really attractive.
In fact, it is one of the cheapest VPN providers on the market right now.
Payment types

There are just two payment options available, these being PayPal and credit/debit card. To be frank with you, we would have liked to regain the possibility to pay via crypto-money.
Money-back guarantee
The three-year and one-year plan comes with a 30-day money-back guarantee. And to take advantage of it (should you be disappointed), just let customer support know before the end of this period.
Extras
One extra included in plans is Identity Shield. This additional feature will check your email account monthly to detect whether the account has been breached on the internet.
If so, you can go ahead and take the steps needed to get your account back in order.
Final thoughts
We have now come to the end of our ZenMate review and test. So here are our final thoughts.
The provider does have some superb features packed into plans and apps are easy to use, which is a bonus. It also offers a good choice of plans, including a free 7-day trial. However, the trial is very limited and does not give full use of all servers and only limited speed.
Servers overall offer good speed but are let down by the US servers when trying to stream Netflix as they disconnect regularly.
To conclude, ZenMate is not a bad choice of provider but there are better out there. ExpressVPN or CyberGhost are some of the names we are thinking about.
In any case, we hope that this complete review will have allowed you to get to know this provider better. If you have any questions or feedback, please do not hesitate to leave us a comment below 😉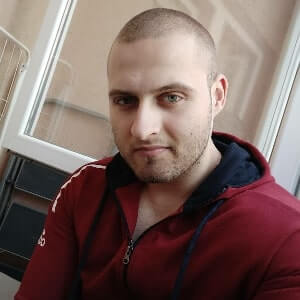 A professional writer with a Master's degree in Mechanical Engineering. Since his youngest age, he loves everything related to internet, technology, fitness, games, and dogs! He joined our team in order to bring his deep knowledge in security services, among which VPN is of course a key component.