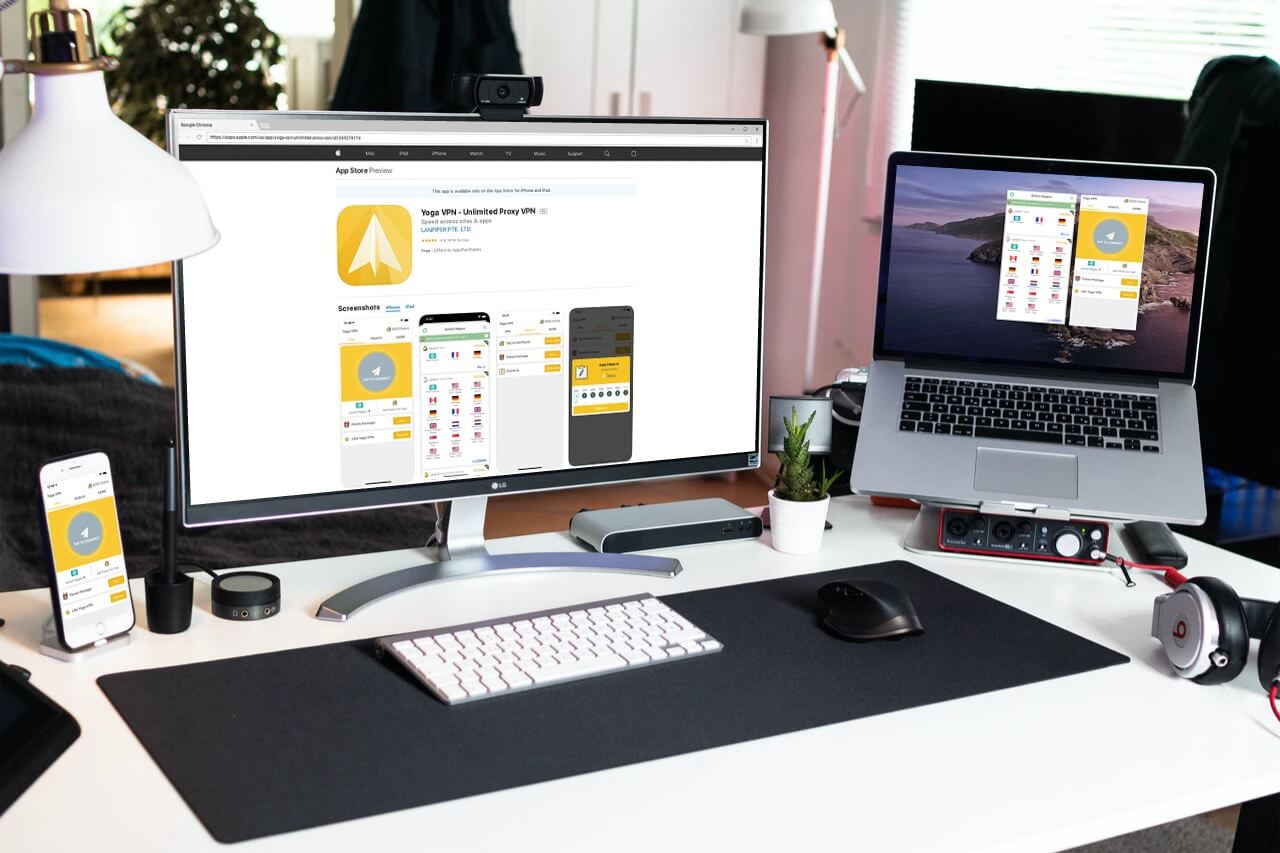 It's no secret that mobile devices open you up to a world of entertainment, especially when connected to Wi-Fi. However, not all Wi-Fi networks are safe, especially with malicious hackers lurking around public networks nowadays, in an attempt to gain access to personal data. That's why you may need a mobile-only VPN like Yoga VPN that we've decided to review and test here.
Apart from preventing malicious hackers from accessing your personal data, a Virtual Private Network can do much more. It can also help you gain access to blocked websites, bypass geo-blocks, and gain access to content you wouldn't normally be able to access, and help you bypass censorship policies.
However, recognizing that you need a VPN is one thing, determining the right provider for you is another thing. If you're new to the world of Virtual Private Networks, you may be wondering if this solution is suitable for you.
Luckily for you, that's why we have created this comprehensive Yoga VPN review. This provider is a completely free service, but not every free thing is good for you.
While this provider has been able to amass more than 5 million users, it is not a good one, compared to the solution offered by NordVPN. Our decision not to recommend it is not based only on its performance though – it's primarily down to its questionable privacy policy.
With that said, we welcome you to our 2023 Yoga VPN review and test.
CONS:
Questionable privacy policy
It has no official website
It doesn't have a Kill Switch
Poor client support
Doesn't work in China
Poor streaming performance
Only compatible with mobile platforms
Yoga VPN ranks #27 out of 104 VPNs tested. Here are the best alternatives :
---
Is it a paid or a free VPN ?
Yoga VPN is a completely free service, albeit with a lot of red flags. Like we insinuated earlier, not everything that is free is good for you, and this provider is a perfect example.
Not only is it behind top paid providers in terms of capabilities, but it also comes with many privacy concerns. Well, that shouldn't be surprising considering that most free services are always shady.
Performance
There are many things that determine performance, but speed and stability are the most important factors. With that in mind, we've put the speed and stability of Yoga VPN to test, and below are our results.
Speed
The speed of a VPN service determines the speed at which you can upload or download content. Thus, whether you are streaming or torrenting, you'd like the speed to match the speed you get from your normal internet connection.
Since a Virtual Private Network encrypts your data, sending your data back and forth may take a little longer, which can subsequently slow your connection down.
However, some top-rated providers like ExpressVPN and NordVPN have found ways to minimize the impact of the encryption on connection speed. This takes us to the question – how does Yoga VPN perform in terms of speed?
Sadly, the speeds are consistently awful. Even worse, it doesn't make any difference if you're connecting to nearby servers, as we discovered during our test.
Without VPN (we were located in London) :

EU Server (France) :


US Server :

Asia Server :


Stability
Stability is subjective. To some people, it could be referring to the uptime of a provider, while it could mean the availability of a provider's client support to some people.
In terms of stability, it's a mixed bag for Yoga VPN. While the service is likely to be available most times, the client support is probably the worst of the providers we've ever had to review.
Streaming
Being one of the most popular ways of getting entertained, streaming is always one of the number one factors that facilitate most people's decision when looking for a VPN. That's why we tested a couple of streaming sites for this test and review.
Netflix
Netflix is the biggest streaming platform in the world, but its US version has the biggest movie catalog. That means most users are always looking for ways to get past the geo-restrictions and get access to the US version of Netflix.
Unfortunately, Yoga VPN is not capable of unblocking Netflix, as we found out in our test.
BBC iPlayer
Like Netflix, BBC iPlayer is another popular streaming website. In fact, it's considered by many to be the second-biggest streaming platform, just behind Netflix. However, it also has geo-restrictions that users are always looking to bypass.
Again, this provider wasn't able to bypass the blocks during our review and test.
Others?
Being unable to unblock the two biggest streaming sites in the world, we thought this provider would at least unblock other streaming sites like Hulu, Amazon Prime Video, HBO, and YouTube.
Unfortunately, it was the same old story when we tried – we were instantly blocked. If you're looking for the best VPN solution to access Amazon Prime Video US abroad, you should take a look at a top-tier provider like ExpressVPN.
Security
It's a well-known fact that security is the bedrock of any provider. Therefore, it's always one of the first things you must look at when choosing the right service for your needs. In that case, we've broken down the security details of Yoga VPN here in this review and test.
Where is it based?
The first alarming thing about the provider is that its jurisdiction is a secret – nobody knows for sure where it is based. In fact, the provider doesn't have an official website – the only thing they have is a Facebook page, which doesn't even contain any details.
For the most part, Yoga VPN has an inactive online presence. It mentions nothing about its incorporation or jurisdictions in its privacy policy.
As luck would have it, we carried out some research into its roots and found out that it is located in Hong Kong. Not only that, but we also discovered that it has strong connections to mainland China. It's the worst kept secret in the world that China is the worst location for a VPN in the world.
The Chinese government is notorious for aggressive regulations regarding mass surveillance and data retention.
Plus that, the provider also scrapes a large amount of data, which is why you need to stay totally away from it. If a trustworthy service that doesn't pose any security or privacy threat is what you're looking for, we urge you to review your options.
You need to look at a provider that won't sell you out to, such as ExpressVPN.
Log policy
Yoga VPN has probably the most ambiguous privacy policy in the world, and that's another alarming fact about this company. First of all, it doesn't mention anything about its jurisdiction, which is already massively suspicious.
Then, it has a worryingly uninformative privacy policy, which at only 371 words long, doesn't explain much about the operation of Yoga VPN.
Furthermore, the Privacy Policy is stored on a hosting site since Yoga VPN does not have a website of its own, which is really terrible. This provider splits the data of its users into two categories – personal data and non-personal data.
According to the company, they won't collect or share personal data like your real name, contact details, and date of birth.
On the other hand, non-personal data is a fair game and a large amount of data under that umbrella is terrifying. Apart from the fact that it will carry out a complete autopsy and take whatever it likes on your phone, it will also store what is called 'logs'.
We don't think you need more than this to run in the opposite direction of this provider. As if all that were not enough, this provider is also willing to hand your personal data over to any law enforcement agency on demand.
If you're looking for a great VPN solution to use in the US, you could opt for a no-logging provider like ExpressVPN.
Protocols
Of course, we would like to tell you about Yoga VPN's effort to protect its users' data and the different protocols and technologies it employs. Unfortunately, the provider doesn't mention anything about its protocols or encryption in its materials.
To be honest, with things like this, we can't help but wonder if this provider was created as a result of a joke.
There is not even a single mention about its security or the standards it uses. As we already insinuated earlier in this Yoga VPN review, this service is one of the most opaque we have ever had to test. Very terrible service from all aspects.
Protection against leaks
It makes no difference the kind of Virtual Private Network you use – a leak can come with damaging consequences. It doesn't matter if it's DNS or WebRTC leak, the outcome is always the same.
A leak will put your privacy and anonymity at risk of being exposed to either your ISP or another person prying.
Unfortunately, the provider doesn't do much to prevent leaks, which explains why we found leaks during our test. The only promise the provider makes regarding DNS leaks is that it protects against them – nothing more and nothing less.
However, even that promise seems to be a lie, as we found out while writing this review.
Torrenting
Regardless of what your view on torrenting is, one thing you can't deny is that it's one of the most popular ways of downloading and sharing files. That said, it's understandable that most users are interested in finding out if Yoga VPN supports torrenting.
Does it? Well, we have answered the question in the next paragraph in this review.
Is torrenting allowed?
In a very bizarre move, this provider doesn't have an official website. Besides, it offers no insight about its torrenting support in any way, so we don't even know if it supports torrenting or not.
And since it is a free service, you can't ask much about various types of features.
However, while there is nothing that talks about Yoga VPN's support for torrenting, we don't think they support P2P sharing. That's because the provider is one of the worst providers we have ever had to test or review.
Is there a Kill Switch?
For starters, a Kill Switch is one of the most popular features in the world of VPNs and most people can't even live without it. It's especially useful for torrenting users, as it protects from leaks and ensures that whatever they are doing while torrenting remains were hidden from everybody.
How does this feature work? You may be wondering.
No provider has an uptime of 100 percent, which means there are chances that your VPN connection could drop sometimes. When that happens while you're surfing, your private data could get into the hands of the prying eyes or even your ISP.
However, a Kill Switch was designed to step in in these situations, and automatically kill your internet connection once it detects that your VPN connection has been lost.
Sadly, as you might have guessed, Yoga VPN doesn't have a Kill Switch. This is another drawback in a long list of drawbacks.
Bypassing Censorship
Nowadays, the world is filled with countries with repressive internet laws, and that can be very frustrating. If you are traveling to or reside in a high-censorship country, you may be wondering if this application will work for you.
Fortunately, that's what we included in our test and review of Yoga VPN.
In censored countries
Obfuscation is a tool that enables you to get past many internet censorships in various repressive countries. Unfortunately, Yoga VPN doesn't have such a benefit, which makes us doubt whether it will be able to work in high-censorship countries.
However, considering how strict the anti-VPN systems of these countries are, we can tell you that this kind of service will not work.
Furthermore, the provider doesn't mention China or other high-censorship countries in its incredibly brief privacy policy. This means that as we have predicted, this service is actually not working in those countries.
In restricted networks
There are many organizations that place restrictions on their networks to disallow people from visiting certain websites. We have all been there, right? That means we definitely know how frustrating it can be to be disallowed from visiting your favorite websites.
Thankfully, you can use Yoga VPN to unblock any blocked apps or websites, making it a good solution for students who are looking to bypass the firewall of their school. Due to all the shortcomings of this service, you may be wondering if it's really capable of this.
But we assure you that it really does, based on our test for this review.
Countries and servers
Knowing the number of servers a provider has is one thing, but knowing where they are located is another thing. We assure you that it's important to know both as they are important pieces of information. Take a look at this section of our review to know what Yoga VPN offers in this regard.
Countries covered
The percentage of servers to countries is a key factor to consider when buying a Virtual Private Network. You could land yourself in trouble if you only pay attention to either the number of servers or locations and not both.
Generally, while more servers mean faster speeds, if a provider has a couple of more than servers than its competitor but twice as many users, the first provider will have slower speeds
In an ideal world, you want a service that has lots of servers that are distributed excellently across the world. With this, you won't need to worry that a server you're selecting may be running slow due to overloading.
Yoga VPN operates an unconventional system, which is something we have never seen. They divide their total server list into three tiers – the first tier offers you only 5 servers in 5 different countries.
The second tier increases that to 15 servers, which includes a couple of regional options ( like East Coast US vs West Coast US).
The third tier has a rather remarkable 27 unique servers, which includes some city locations like France – Paris or US – Miami. There is a catch – there is a cost for accessing every server, and as you ascend the tiers, the price increases.
The access is paid for through an in-app currency referred to as Points.
The good news is that you don't have to exchange real money for these Points. You are just given a random allocation every day as a gift. However, the bad news is that you are not likely to be able to afford a server in the third Tier all day every day.
The countries in Tier 1 are Canada, Germany, France, the US, and the UK. The second Tier has extra servers in all of these countries, plus many options in Singapore and the Netherlands. The third Tier has extra servers in all of the first two Tiers, plus single servers in locations like Finland, Australia, India, Indonesia, Russia, and Japan.
However, the downside here is that there are no South American or African options.
Servers
As we mentioned earlier in this review, Yoga VPN doesn't have a website. This means that we don't really have many details about its servers. However, if all the things we have seen during this test is anything to buy, we don't think it offers any specialized server for any activity.
Compatible devices and simultaneous connections
It's important to make sure a service is compatible with your devices before paying for it. That's what we had in mind that made us address the platform support of Yoga VPN in this part.
That apart, we have also discussed the number of simultaneous connections it offers.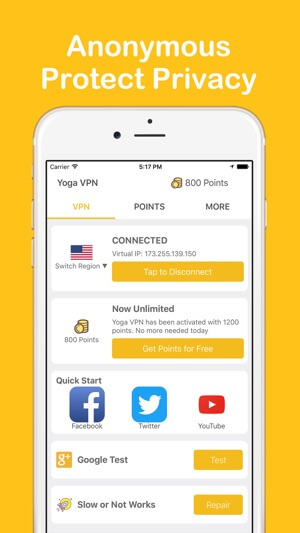 What device can I use with Yoga VPN?
Yoga VPN is a mobile-only service, available for both iOS and Android. Thus, it should cover any kind of smartphone you own. However, this means that you will have to consider another provider if you are looking to protect other devices like Windows, macOS, or Linux.
In fact, even if a mobile-only service is what you are looking for, we still recommend you to go for a provider like ExpressVPN. It's the leading provider in the world and offers great clients for both Android and iOS – and a matching reputation.
How many simultaneous connections?
We are not really sure about the number of simultaneous connections that this provider offers. As we have mentioned multiple times in this Yoga VPN review, they have no website and nearly no client support.
Apparently, that means there is not so much we can know about them.
Client support
More often than not, customer support of a company usually indicates how dependable they are. So, how did this provider fare in terms of support during our test? There is only one way to find out.
How to contact it?
The cherry at the top of one awful company is customer support, which is as good as useless. In fact, we sometimes questioned its existence during our test for this review. The only channel of contacting the support is through an email address.
Meanwhile, we attempted to use it but we got no response.
Is it good?
The client support of Yoga VPN is almost non-existent. The email support they provide is as good as useless as it takes days to get a response sometimes, as it did during our test.
Being a free provider, it's worth noting that this is nothing unusual as a lot of free providers either have non-existent or limited support systems.
FAQ/tutorials
Another awful thing about this provider is the lack of FAQs and how-to guides. But we don't think that should surprise you considering everything you now know about this service. They simply don't care about their users, and it doesn't take a soothsayer to know that.
Value for money
So, this part of our review tries to explain if Yoga VPN offers enough value for money or not.
Price comparison
Being a free service, you don't need to bother about paying anything for this solution. They have, however, divided their service into 3 primary types, which include:
Basic: 500 points/day
More stable: 900 points/day
Worldwide and stablest: 4100 points/day
Means of payment
As we have mentioned multiple times in this test and review for Yoga VPN, this provider is completely free. Therefore, they don't have any payment method.
Money-back guarantee
Since you are not paying anything for the service, then there is nothing like a money-back guarantee or refund policy. The only thing you pay is something called Points, and you don't need to pay any money to earn them. Just watch a couple of videos and invite friends.
Final Thoughts
Yoga VPN is by a wide margin the worst service we have ever had to review or test. You can check the definition of a VPN – we don't even think it's good enough to be called a VPN.
From the lack of an official website to a questionable privacy policy to poor client support, you will be hard-pressed to find any positive about this provider.
We understand that the fact that it is completely free may be enticing, but what's the point if something is free and useless? Absolutely no point. You'd be better off with a provider like ExpressVPN.
While it's a premium service, at least we can guarantee that it will serve all your needs.
Choose the best VPN provider in the world - ExpressVPN >
Yoga VPN Review and Test
If we take away the fact that Yoga VPN is free, there is not much to remember from its offer. Whether you're looking to unlock Netflix, browse securely or download torrents anonymously, go your way!
Add your review
|
Read reviews and comments

Michael is a talented writer who has dedicated a lot of time into making sure that everyone around the world can use the internet securely. Being an avid traveler, he has acquired a lot of experience while using different VPNs on his travels. When it comes to doing comprehensive "how to tutorials" or testing some VPN functionalities, he's always the best pick ! He's here to help you solve your VPN-related issues.