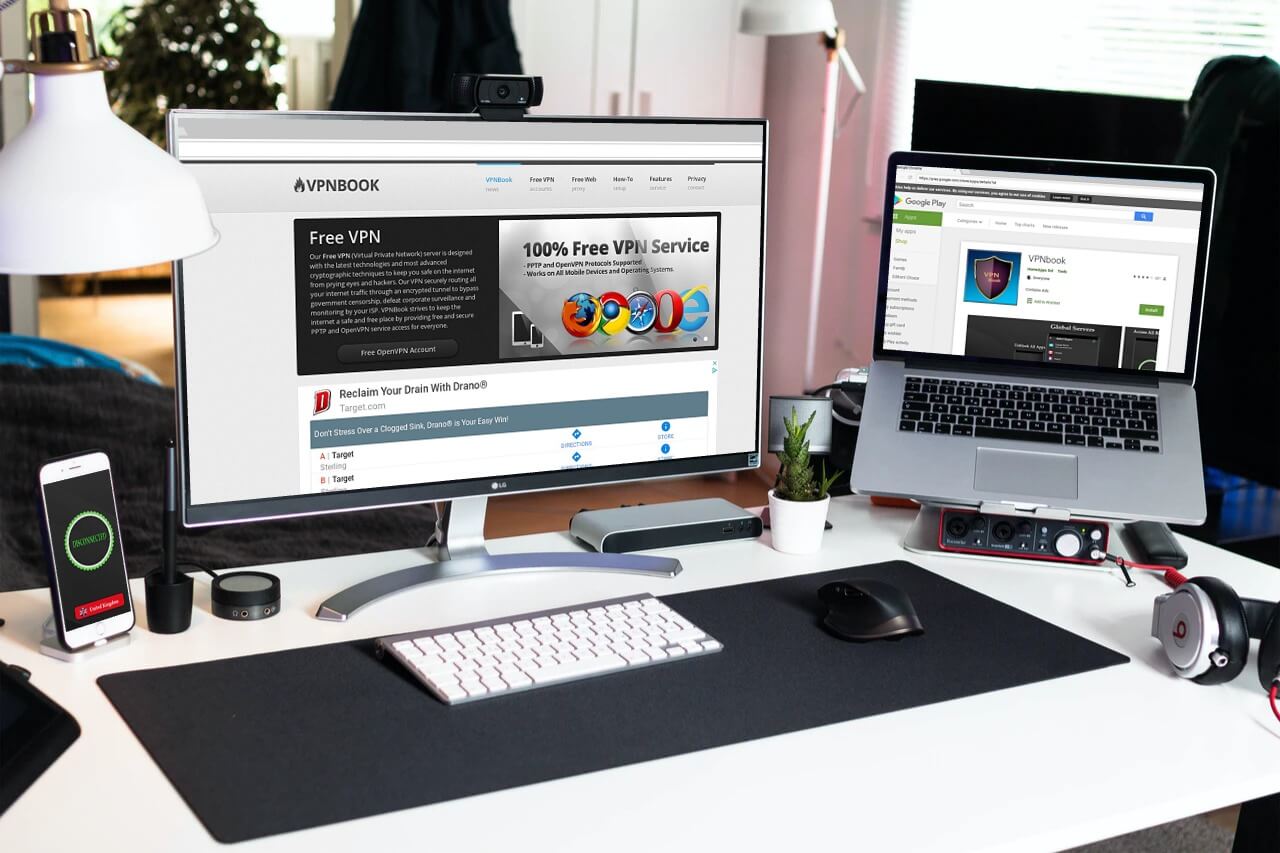 If you are considering a VPN and you are looking for a free service, you might want to check out our VPNBook review before going ahead. Free Virtual Private Network providers cannot offer the same superb services offered by paid providers but some are better than others are. So, how does this one compare to the rest?
When undertaking our VPNBook test, we were only concerned with what is offered and what it can and cannot do. Therefore, we are not going to look into the many benefits provided. If you want to know more about VPNs, you can find out here the definition of what is a VPN in more detail.
Now we will move on with our review.
First, let us look at the main strengths and weaknesses.
WEAKNESSES:
Only two protocols
Servers in only five regions
Slow speed
Cannot unblock Netflix (and other platforms)
Logs
Only supports Windows, Mac, Android and iOS
---
VPNBook ranks #42 out of 104 VPNs tested. Here are the best alternatives :
Is it a free or paid VPN?
VPNBook is a free service, which means you do not have to pay a cent to use it.
However, if you want a dedicated IP address from them, you can pay to have this feature.
Performance
The first part of our VPNBook review and test is the overall performance of the service. This includes the speed of the servers and stability.
Speed
There is nothing to get excited about with the speed of the servers. In fact, it is disappointing even though everything is free.
The speed performance was well below the average. In the USA, it was around 18 to 24Mbps, while Canadian servers offered speeds in the region of 16 to 20Mbps. And it's quite the same for the french server, which is very unfortunate.
We cannot recommend the provider for speed if you want to stream using the service or download. If you want blazing-fast speeds, you are going to have to put your hand in your pocket and pay out a few dollars per month for a paid Virtual Private Network such as ExpressVPN.
Without VPN (we were located in London) :

EU Server (France) :


US Server :

Canadian Server :


Stability
The servers generally offer stable connections. During our VPNBook review and test, the connection only dropped a couple of times.
Streaming
Many people choose a Virtual Private Network to overcome geo-restrictions and stream from some of the popular websites and apps in HD.
So, how does this one compare to other providers out there?
Netflix

You need a good VPN to unblock Netflix and sadly, our VPNBook review reveals it does not offer the tools that are required to be able to overcome the technology Netflix uses to block servers.
This means if you try to stream Netflix while connected to a server, you will come across a notice telling you that you are behind a proxy server.
Therefore, if you are looking for a Virtual Private Network to overcome geo-restrictions and stream Netflix you might want to pass on this one. In the case of beating geo-restrictions, you might want to consider alternatives such as ExpressVPN.
It is among the few that can bypass the strict measures of Netflix, but also Hulu and Amazon Prime Video.
Other streaming services
There are many different types of streaming services out there and as such, we do not recommend this provider for bypassing geo-restrictions.
While we did not try it with them all when undertaking this VPNBook review, we did try it with Netflix and BBC iPlayer and it would not work as the servers were picked up as coming from a proxy server.
Therefore, it is doubtful that it would work with such as Amazon Prime Video and other popular services either.
Security
Security is one of the main reasons why people choose a VPN. With the technology that hackers use today improving rapidly, taking out additional security measures is essential for protection and a Virtual Private Network is one measure.
So do we have anything good to say about security in our VPNBook review? Let's find out.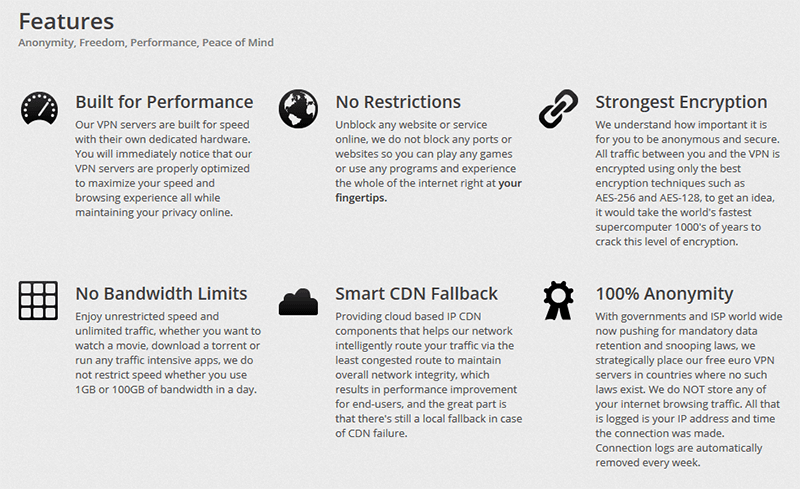 Where is it based?
This VPN has its base in Switzerland. This is good as the country is not a part of the 14 Eyes alliance, which shares intelligence.
In countries under the 14 Eyes, there is the risk of personal detail and information sharing, including how you use the service.
Log policy

VPNBook states they respect the privacy of users and do not collect personal information, nor does it store data. However, this is not entirely true.
The provider does not offer a true no-log policy. In the privacy policy, it states it does log the IP address of the user along with the time the user made the connection.
This is to reduce abusive activities and to keep the service online for those using it legitimately. The connection logs are deleted weekly.
With the above in mind, you might want to consider an alternative with a strict no-logging policy if you value your anonymity.
Protocols
Our test reveals the Virtual Private Network is let down by the protocols offered. It is normal for providers to offer and support a wide range of protocols, but here only OpenVPN and PPTP are supported.
The good news is that OpenVPN is one of the most secure and popular protocols. However, not all devices support it. PPTP, on the other hand, is not secure and you should give it a wide birth, as it is now regarded as being obsolete.
This is good news if you are using Windows because it works with the OpenVPN protocol, which uses 256-bit military-grade encryption. The servers use AES-256-GCM Cipher with the 256-bit key with a 1024-bit RSA control channel.
But, the bad news is that RSA 1024-bit is vulnerable to Man-in-the-Middle-Attacks. This means it is not as secure as it should be and could leave you open to hackers.
Leak protection
VPNBook did well in our leak tests managing to keep the ISPs IP address hidden from view. The same applied to DNA and WebRTC information.
Torrenting
There is nothing to say that you cannot use the service for torrenting and P2P use is mentioned, providing you are not doing anything illegal.
We took this to mean that you cannot download copyrighted files, which many people do when torrenting. The company has a policy where, if you are found to be downloading illegal content, you are banned from using the VPN.
As the provider does log your IP address when you connect, they more than likely will find out if you are downloading illegal content. Remaining anonymous is one of how people use a VPN, so we cannot recommend this one.
Overcoming censorship
What did our VPNBook review reveal about overcoming censorship and geo-restrictions?
To put it plain and simple, if you want to overcome censorship, you can count this provider out. We say this as it does not offer the servers needed for you to do this.
To overcome censorship you need state-of-the-art encryption. While it uses 256-bit encryption, it is let down by using RSA 1024-bit, which is vulnerable to MITM attacks. Another reason is the lack of servers offered.
Countries and servers
The top VPN providers out there such as ExpressVPN and NordVPN offer thousands of servers located in numerous countries around the globe. So how many servers does this provider offer and where are they located?
Continue reading our VPNBook review and test to find out.
Servers are another area that is lacking. There is not a huge list of servers, with 11 servers in total. The servers are located in the UK, USA, Canada, Germany, Poland, and France.

With such a limited number of servers and it being a free service, you can expect the servers to be bogged down with people trying to connect to them. This is probably the biggest reason why the speed is so slow.
Lack of servers also makes it impossible to beat geo-restrictions in some countries.
Compatible devices and connections
The next task we undertook to conduct this VPNBook test and review was to look into device compatibility and simultaneous connections.
Devices supported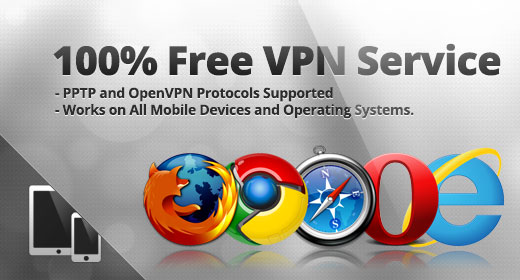 Many of the top providers offer apps for a wide range of devices. This provider supports Windows, Mac OS X, iOS, and Android, plus browsers.
However, while it can be used on a few devices, the provider differs from others, as there is not a single app available.
Yes, you read it right. There are no apps to download to use the Virtual Private Network. This is a huge downside as apps make connecting to servers a great deal easier, often with just one click.
So, how does this VPN work?
Setup is manual and a hassle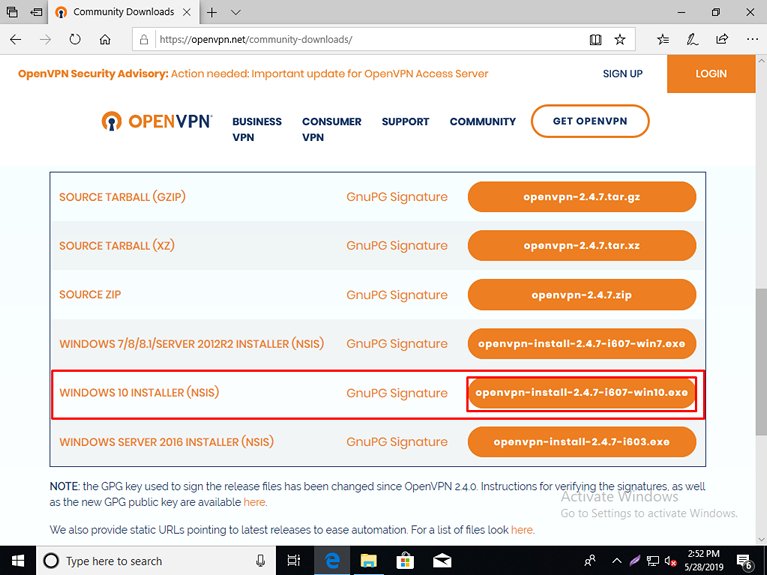 The VPN is set up manually, which is not easy for novice users. We have undertaken hundreds of reviews and our VPNBook review is the first time we tested a service where the provider does not offer apps. A big let-down.
The process for setting up OpenVPN and PPTP does vary and none is as easy as downloading a small app from the provider, signing in, and using the dashboard to choose a server.
We are not going to go into too much detail to install it on various devices but we will give you an idea of what you have to do if using Windows.
You first have to head over to the OpenVPN website and download the "OpenVPN" app, then go ahead and install it;
Then visit the site of the provider and download the server certificates you want to use or the bundle;
Extract them to your computer then copy the files and paste them into the OpenVPN – Config folder;
Launch the OpenVPN GUI and the program will reside in the taskbar;
Right-click on the icon and choose a server from the list;
A box will pop up telling you it is connecting and ask for the user name and password;
Click "Next" after entering them to make a connection.
This is a long way of going about things when other providers, even free ones, offer apps on the website that are quick and easy to install (and without drastic configuration) and easy to use.
Simultaneous connections
Only one device can be used with a single plan. If you want to connect multiple devices at the same time, you have to pay out for a dedicated IP plan. This allows you to connect up to five devices at the same time.
Support
We wanted to include the level of customer support offered in our VPNBook review and test to find out how it matches up with competitors.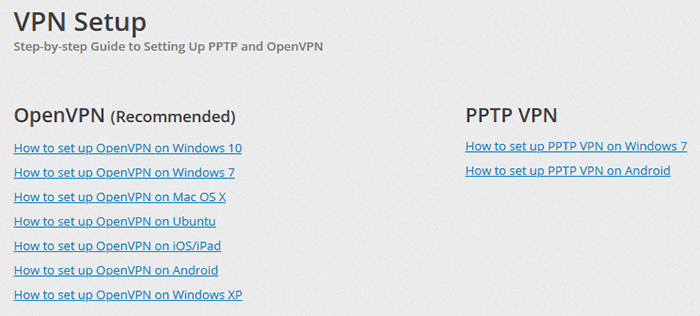 This is one area where the provider stands out among free competitors. We say this as it does actually offer a good level of support for a free service.
While you do not get all the options that providers such as ExpressVPN offers, you can get support through email, Twitter, and Facebook accounts.
Another bonus is the huge "How to" section posted on the website with step-by-step guides and help.
Value for money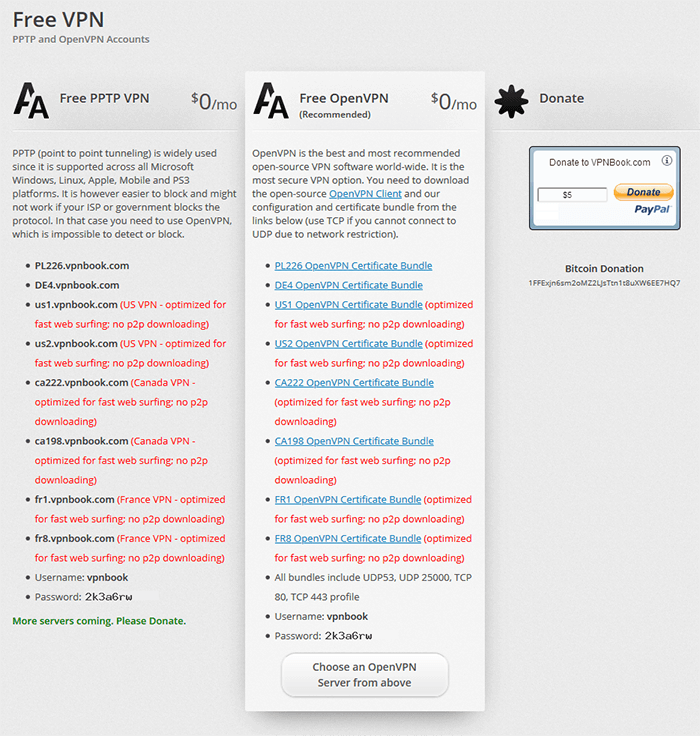 The next part of this VPNBook review concerns whether or not it is good value for money. Of course, with the free version this does not apply, but what about the paid plan?
Price comparison
You do not have to pay a single cent to use the service if you do not want to. However, if you want to pay for a dedicated IP address, you can.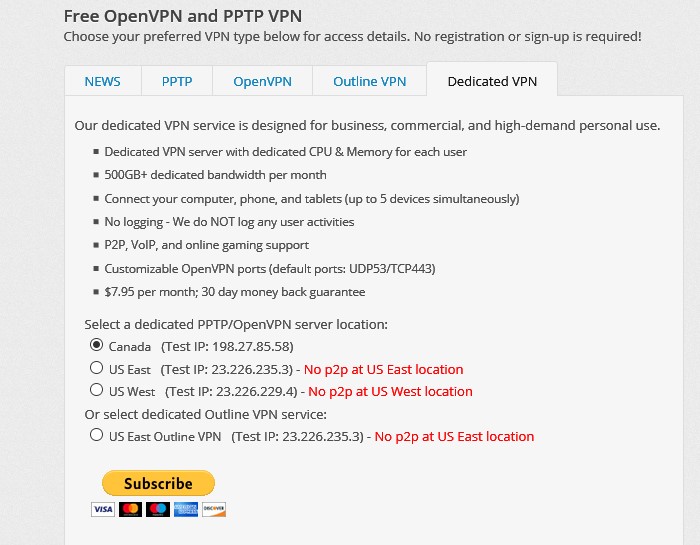 The dedicated IP plan costs $7.95 per month and you do get a few additional benefits, which we will talk about under the "Extras" below.
However, overall we do feel that at almost $8 per month, it is expensive. For just a little over this, you could go with one of the leading providers and have access to numerous benefits and features.
For instance, if you chose to pay upfront with CyberGhost for three years, you pay the equivalent of $2.1 per month.
So, overall, a paid plan from VPNBook is not good value for money.
Payment types
If you decide to pay for the dedicated IP and other benefits you can pay for the monthly plan using PayPal and Credit card. Accepted cards are:
American Express
Discover
Visa.
Extras
The dedicated IP is one extra but you do have to pay for it as mentioned before. It is not an extra in the free plan.
For the monthly fee, you have 500+ MB dedicated bandwidth, which is not a great deal. You can also use the plan on up to 5 devices at the same time and take advantage of a no-log policy.
It does seem strange that you would have to pay to get a no-log policy.
Anyway, dedicated plans have a 30-day money-back guarantee.
Final Thoughts
The only good thing to say about the service in our VPNBook review is that it does not cost a cent. However, there is far worse than good about this Virtual Private Network for us to be able to recommend it.
It is far from being the best option for the US, or for streaming US Netflix abroad or any other streaming service for that matter.
It is also not a good choice for anyone who wishes to remain anonymous as the provider does keep logs to some extent. There are limited server choices and it is a chore to install manually.
And that's why we recommend that you consider quality paid providers such as ExpressVPN, NordVPN, or CyberGhost.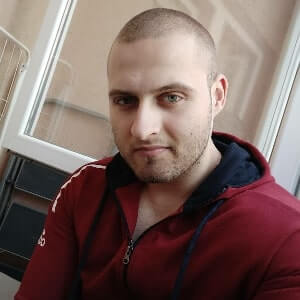 A professional writer with a Master's degree in Mechanical Engineering. Since his youngest age, he loves everything related to internet, technology, fitness, games, and dogs! He joined our team in order to bring his deep knowledge in security services, among which VPN is of course a key component.