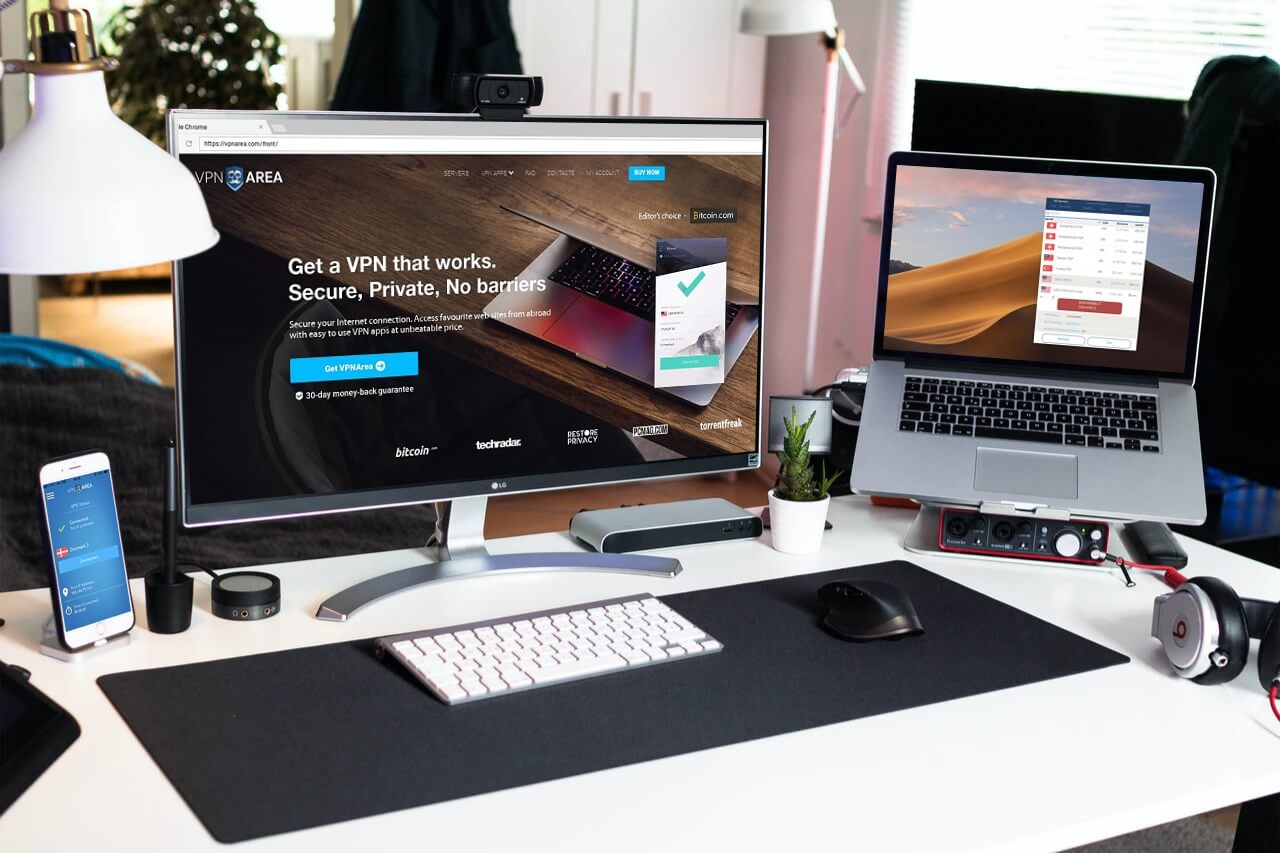 VPNArea is one of many providers that claim to be the fastest on the market. Not only that, but they also talk about their flawless ability to unblock much of the commonly restricted content, including Netflix. On the other hand, their server count seems to be quite low. This is compared to top providers, such as NordVPN and CyberGhost, which has over 6,800. Still, if this provider can ensure a reliable and secure service, then we can give it a pass. The question is, can it do so? That is what we will discuss in our review and test of VPNArea.
After thorough testing and analysis, we came to a few conclusions related to speed and stability.
We will also look at other factors that affect the overall performance of a VPN. Without further ado, let's get to it!
STRENGTHS:
No-log policy
Unblocks Netflix
Affordable for most people
Weaknesses:
Slow
Doesn't unblock BBC iPlayer
Small server network
Asian servers lack stability
Not ideal for iOS
---
VPNArea ranks #53 out of 104 VPNs tested. Here are the best alternatives :
Is It a Paid or Free VPN?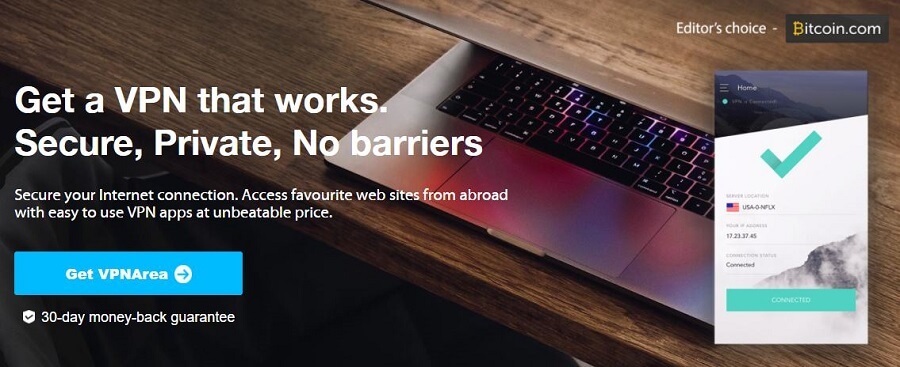 The first question of this VPNArea review is whether the provider offers more than regular monthly and annual subscription plans. The answer is quite simple – no, it does not. Unlike some of the leading providers, VPNArea doesn't offer a free plan.
This is unfortunate, considering their basic features seem to be fairly reliable for a service of this price. On the other hand, we have to admit that their pricing options are quite affordable, but that is something we will get into later.
Performance
If you were to research VPNArea, you would see that it claims to be among the best providers in terms of security features.
While that aspect is incredibly important, speed and stability can be deal-breakers when it comes to the overall value. Thus, we have decided to perform a few tests and find out the usability depending on different server locations during our complete review of the service.
Speed
Before we begin, you should know that VPNArea primarily covers Europe, America, and Asia. They have a few locations in the Middle East and Africa, as well. Given this wide variety of options, we decided to compare the results from different parts of the world.
Our download speed benchmark was 235 Mbps, while our upload benchmark was set at 211 Mbps. The first thing that we did was connect to a server in Amsterdam. The results we got were around average.
The download speed was down to 117 Mbps, while the upload speed was down to 100 Mbps. This is a decrease of 50% for both uploads and downloads. The ping was set at 42 ms, which is quite good.
The results that we got when connected to a New York server were vastly different, however.
First, the ping almost tripled and came in at 114 ms. Additionally, the download speed was decreased to 58 Mbps, with the upload speed coming in at 64 Mbps.
Last but not least in this part of this VPNArea review, we tested the Hong Kong server and were staggered by the ping of 400 ms. Along with that came the incredibly low download speed of 6 Mbps and an upload speed of 2.5 Mbps.
Thus, it is safe to conclude that this provider is not optimal if you are looking for speed and reliability. If you are looking for good alternatives, these are the most chosen VPN providers in 2023.
Without VPN (we were located in London) :

EU Server :


US Server :

Asia Server :


Stability
After doing a series of speed tests, we didn't expect much for the server reliability, either. The results were divided. While EU servers in France, the Netherlands, and the UK proved to be quite strong, the ones in Asia failed completely.
No matter how cool it is that you can bypass the Chinese Great Firewall with a server in Hong Kong, this server is not something to rely on. There have been numerous crashes, as well as redirections to a closer server during our few initial testing sessions.
Stability is, for us, not the strong point of the supplier within the framework of this complete review of the VPNArea service.

Streaming
For a number of people, the most important question when looking at a VPN provider is whether or not it can unblock Netflix. A few years ago, this was a feature that most providers could brag about.
However, the popular streaming platform decided to make changes and implemented a strong algorithm that restricts VPNs from passing through. Today, that is one of the main indicators that show if a service is worth the money or not.

Netflix
Much like when we were looking to review the speed potential of VPNArea servers, we picked out a few and tried to unblock Netflix. The results were nothing to brag about, but not terrible either.
Out of the 8 servers that we worked with, 4 managed to pass through. We concluded that it is possible to unblock the UK, the US, Brazil, and France catalogs.
Even then, while VPNArea can be counted on half the time, ExpressVPN is much more reliable. ExpressVPN offers thousands of servers that can bypass the aforementioned restrictions.
Other streaming services
Considering the mixed results with Netflix, we were eager to see how it performs with others.
To be honest, it proved to be not very effective. We had issues with the BBC iPlayer, Hulu, and Amazon Prime Video, even though VPNArea claims that it can unblock those platforms.
You can contact their customer service for further info and help. Albeit, with no guarantee that they will have a solution for you.
Security
For this VPNArea review and test, we have done our best to not only showcase the negative, but also the positive features. That being said, the security policy is certainly a positive feature.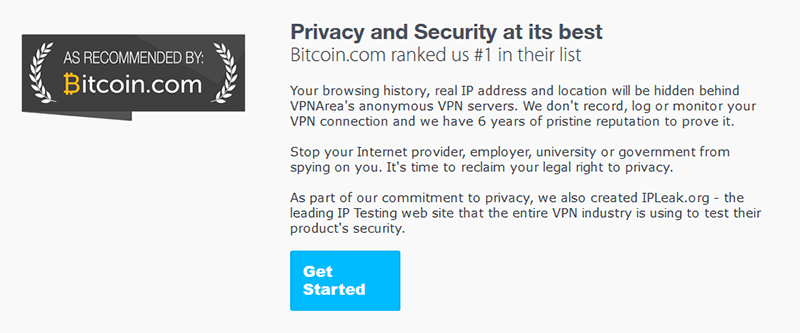 Where is it based?
This provider is run by a European parent company called Offshore Security EOOD. It is quite interesting to see that while the parent company is based in Bulgaria, VPNArea is hosted in Switzerland.
Still, the fact that they are officially registered in Bulgaria is what matters.
It is not a part of the 5/9/14 Eyes Alliances. Thus, it avoids being implicated in giving away your browsing activity and privacy info. For people who are using a VPN mostly for security reasons, this is vital.
Logging policy
The fact that they are registered in Bulgaria, while the email location is in Switzerland, makes us believe their no-log policy. They do not store your connection and browsing logs. VPNArea does not store bandwidth data temporarily, and they keep no temporary records, as well.
Additionally, VPNArea allows access to shared IP addresses. This means that, if anyone tracked your browsing activity, it would be hard to distinguish your activity from other users'.
Protocols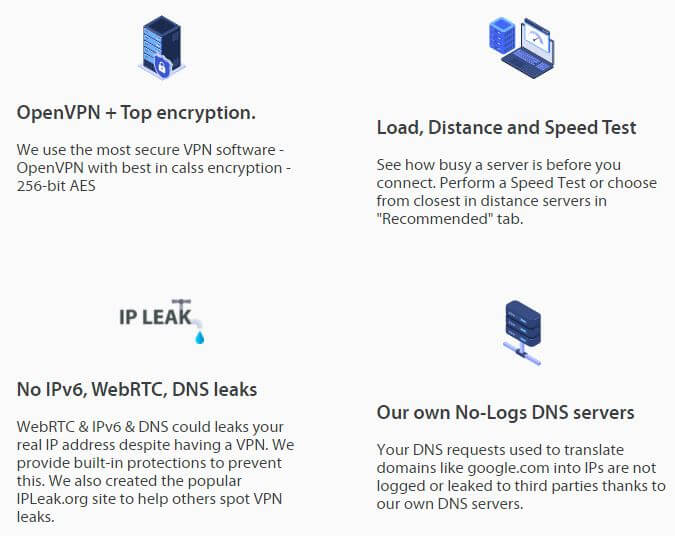 We are quite happy to say that this provider is running on an industry-standard protocol, which is the OpenVPN protocol accompanied by 256-bit AES encryption.
They are using a Chameleon program, which is not as common but is nonetheless fairly reliable. The main benefit of this is that your session is completely encrypted and protected from potential hijackers.
Also, SSL certificates are there to trick censored websites while locking your private info. Therefore, you can be confident as you proceed with your browsing activity.
Leak protection
In the end, there is nothing to worry about in terms of IP or DNS leaking, either. The first feature that ensures this is the kill-switch, which will protect your address even when the server crashes.
By changing hostnames into addresses, the Anti-DNS Leak contributes to overall protection. This helps keep your location away from the Internet Provider. While researching for this VPNArea review, we were happy to find no leaks.
Torrenting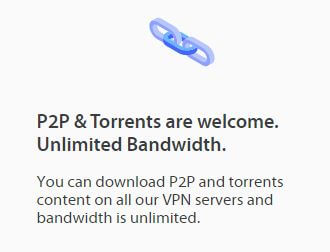 We already discussed the great potential that this provider has in terms of unblocking Netflix. Also, it gives you reliable access to many different streaming platforms.
Additionally, VPNArea doesn't state that it is against renting. On the contrary, they provide a list of torrent-friendly servers.
By connecting to these P2P-friendly servers, you will get optimal performance. You can then download the desired content in the fastest way possible. The aforementioned security features only contribute to torrenting performance.
The fact that your DNS or IP address is not at risk of being leaked allows you to stay worry-free. Which is a very good point in this VPNArea review for 2023.
Bypassing Censorship
Among VPNArea's many different purposes, the most popular one is to bypass censored websites. We already talked about how this provider performs with streaming platforms, but we didn't give info on social networks and other websites.
It seems like the US and EU servers do quite well in terms of unblocking any region-restricted content. This includes content related to YouTube, as well. On the other hand, the Great Chinese Firewall does seem to be quite tricky for this service.
The thing is, while they have a server in Hong Kong, it is not as reliable as the one from CyberGhost. The slow speed and huge ping make us think VPNArea can't unblock content in China.
It is never mentioned among the best VPNs according to Reddit, and this might be the reason why.
Countries and Servers
We already mentioned that VPNArea is officially registered in Bulgaria, while its headquarters is based in Switzerland. This leads us to a safe conclusion that they have a lot of servers in Europe.
In fact, the most relevant server locations are in France, the UK, the Netherlands, and the Balkans. Additionally, they have a good number of servers in the US. They also have a few in Asia, the Middle East, and North Africa.
Still, we have to say that the latter ones are not as fast or stable as they should be. This comes up to a number of 200 servers in total, with 65 different countries being serviced.
Compatible Devices and Connections
In terms of overall usability and reliability, there is one more aspect that needs to be reviewed. We need to consider what devices VPNArea supports and whether you can connect with more than one device at a time.
Devices supported

Looking at their terms of service on the official website, this provider supports iOS, macOS, Android, Windows, and Linux.
Still, we found it to be slightly unreliable for iOS users due to the tricky app. Additionally, it is not an ideal choice if you are a user of Fire TV or gaming consoles (PS4, Xbox One).
Simultaneous connections
On the other hand, VPNArea is something that a family of four or more members can definitely benefit from. This is because they allow up to 6 connections from smartphones or computers at the same time. Just like NordVPN!
Support
To be honest, VPNArea's support team is something that they can be proud of. While it was not optimal back in 2017, they now offer live chat, email, and Skype customer service. We tried out the live chat once and got a response within 15 seconds.
It was quite professional, and the operator was able to give us an adequate answer on how to solve our payment-related issue.
The email response took about 3 hours and was as concise as the previous one. Additionally, the Skype feature is quite good. You can use it if you are not able to work things out with the other two options.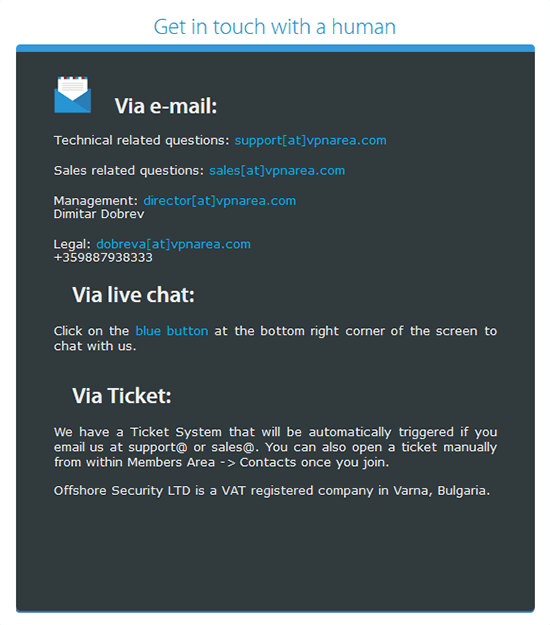 Value for Money
Before we can come up with a final verdict, we need to look at the pricing options. Then, we will determine if the aforementioned features are worth the price.
Price comparison
Frankly, considering everything that you are getting, this provider is quite affordable. It is important to know that the annual and 3-year subscriptions come with a dedicated IP plan, as well. It will allow you to connect with the same IP address as others, thus hiding your browsing activity even more.
In terms of the one month price, it is set at $9.99. The annual plan would cut the monthly cost in half, knocking it down to $4.92. Last but not least is the 36-month plan that comes out to $2.99 for every 30 days of service.
However, we do have to say that we prefer the level of service, privacy, and features offered by ExpressVPN, CyberGhost, or NordVPN over VPNArea.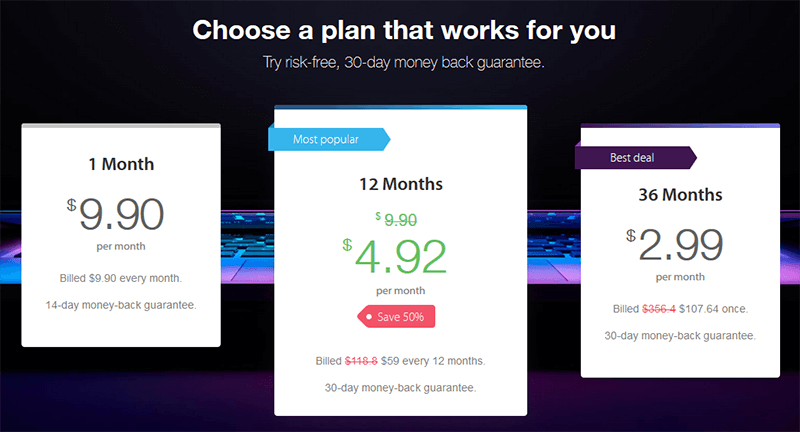 Payment types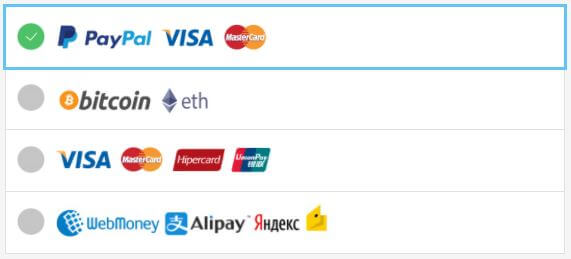 VPNArea allows for debit and credit card payments. It also supports PayPal, AliPay, and Bitcoin for those looking to stay completely anonymous.
Money-back guarantee
VPNArea gives you a 30-day money-back guarantee, which is quite good. In this period, you can test out the service as much as you want, without any limits regarding bandwidth and session length.
And if you're not satisfied, you can get a full refund in the first 30 days. Easy, convenient, and straight to the point!
Conclusion
If you need a VPN solely for security and privacy features, this provider is an okay option. If you are looking for more than that and want optimal server speeds and reliability, then ExpressVPN is the way to go.
Incredibly fast, secure, and with reliable customer support, their service is worth every dollar.
While it is not as bad as some of the VPNs we have encountered, this one still finds itself at the bottom of our list and won't be making it's way to our recommended list any time soon.
That is everything we wanted to tell you regarding our review and test of VPNArea. We really hope our article will help you make your choice!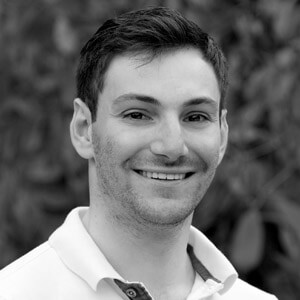 Flo is the founder of the-bestvpn.com. Really concerned about security on internet, he decided to create this website in order to help everyone find the best VPN. He's got a Business School background and now is 100% dedicated to keeping his website alive.