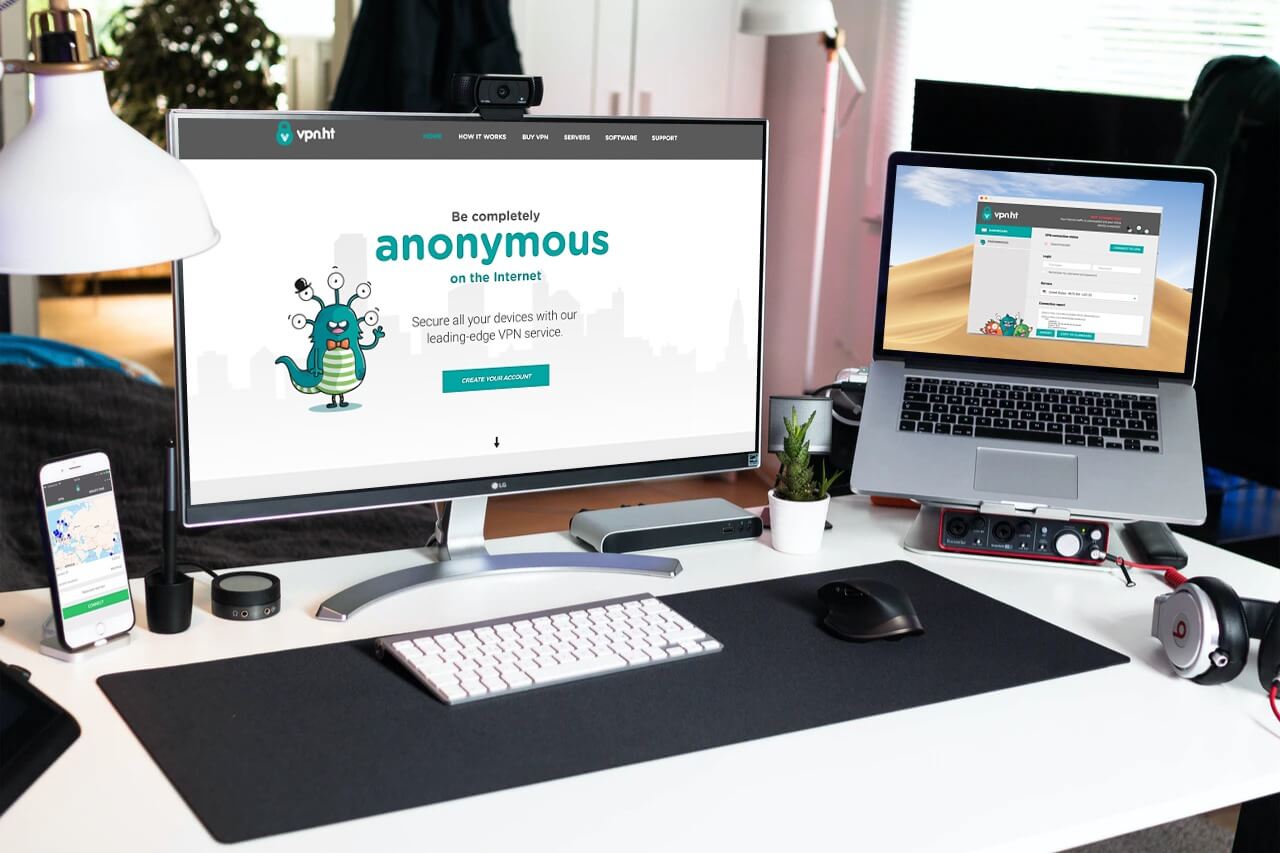 There is no denying that fast performance is one of the elements that make a VPN worth your money. While many providers claim to offer great speeds, not many can stand up to the expectations. Looking at the market, we found one that did a good job in this aspect, and no, we are not talking about ExpressVPN. VPN.ht has been around for a couple of years proving that their service will not drastically affect your connection. Still, is this enough to call it one of the best VPNs on the market? Unfortunately, the answer is no.
For this VPN.ht review, we will be going through an array of elements that affect the overall value of the product. As you probably know, it takes more than just a good speed for us to consider a VPN worth your time and money.
Thus, we tested connectivity, security, ability to bypass restrictions, and customer service. If you want to find out more and make an educated decision, we suggest that you read on!
STRENGTHS:
No-log policy
Unblocks Netflix USA
Great encryption/protocols
WEAKNESSES:
Limited number of servers
IP leaks
Malware risks
No kill switch
Limited device support
Limited simultaneous connections
---
VPN.ht ranks #75 out of 104 VPNs tested. Here are the best alternatives :
Is It a Paid or Free VPN?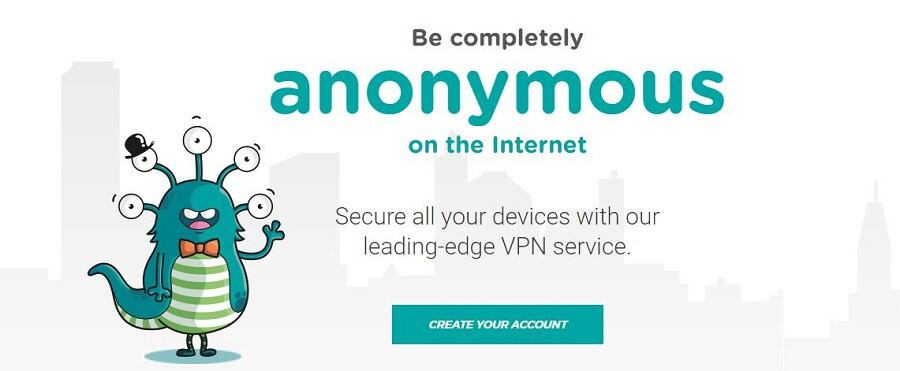 Before we can talk about all the pros and cons of this service, we want to discuss whether they offer a free trial as an option. Unfortunately, they do not. Thus, if you were hoping to try out their service, you will need to subscribe to the premium package.
On the other hand, as you're going to see later on this VPN.ht review, it is quite affordable compared to most VPNs. So, you shouldn't worry too much about that. Also, there is a 30-day refund policy, but that is something we will discuss below.
As for now, we suggest Windscribe or TunnelBear as the two providers that offer excellent, free VPN service. They do a great job providing reliable customer support and an array of servers that you can connect to for anonymous browsing activity.
The best thing about this is you will not have to worry about your data being sold to third-party websites for profit.
Performance
While our review for VPN.ht will not be focused solely on the overall performance, we will start by testing its speed and connection reliability. Any service that hides your IP address, including proxies and VPNs, is going to slow down your connection.
There is no way to bypass this.
On the other hand, the idea is to subscribe to a provider that allows decent internet speeds to support streaming HD and torrenting. Is VPN.ht able to do that? Let's review our findings!
Speed
We strive to be as objective as possible, making it our job to test a couple of different servers before drawing any conclusions. Our primary location is set in the UK, so it is normal to assume that the servers in the EU will work better.
Using a benchmark of 235 Mbps for download speed and 211 Mbps for upload speed, we connected to a server in France.
Not surprisingly, the ping didn't suffer a huge spike. On the contrary, it was at a friendly 38 ms, which is suitable for streaming HD, torrenting, and online gaming.
Additionally, the speed drop was not dramatic whatsoever. Tour download speed was decreased by only 15%, while our upload was decreased by 20%. This is quite good and reminds us of the performance that ExpressVPN was able to offer.
Bearing this in mind, we had high hopes that the US server could at least give us a decent performance. Unfortunately, things were much more complex here. First of all, the ping jumped to 153 ms, which was not a good start.
We experienced significant tissues trying to connect to the relevant US servers, but that is something we will talk about down below.
During our browsing session, the download speed was mostly at 30 Mbps, while our upload was set at 15 Mbps. As you can see, this is significantly lower than what we experienced with the EU servers.
Without VPN (we were located in London) :

EU Server :


US Server :

Asian Server :

This is all to say that the overall performance greatly depends on where you are located in the first place. In all cases, our disappointment was rather great when carrying out this review and test of VPN.ht.
Stability
Because we had decent speed results, we expected to have good overall connectivity. This happened with most servers that were set in Europe. To be honest, it has been quite a while since we last had such a smooth browsing session.
However, the results with the US servers were not as brilliant. Before we could actually log in and test the server speed, we experienced a couple of server re-directions and connection timeouts.
This was not due to our internet provider, which leads us to the conclusion that VPN.ht was responsible. Someone using a VPN for nothing but average browsing activity may let this pass, but it will be quite irritating if you are an online gamer.
Streaming
A few years ago, a major purpose of almost any VPN was to unblock streaming services. Today, things are quite different. Many of the leading names that were once able to do this can't bypass the newly imposed restrictions.
This is especially the case with popular streaming platforms, such as Netflix, Hulu, and Amazon Prime. Whether VPN.ht was able to stand up to the challenge is something that you will find out down below in this review.
Netflix
As we have mentioned above, before 2016, most VPNs were able to access the most popular streaming platform. Today, these are more like oil and water. Still, we didn't want to lose hope when it came to VPN.ht.
We tested a couple of different servers and had a 100% success rate. This was quite surprising, as only a couple of other names, including NordVPN and ExpressVPN, were able to perform this well.
If you are looking to unblock any catalog offered by Netflix, subscribing to either of the aforementioned providers is a good decision.
Other streaming services
Looking at whether it can access content in the UK and USA without any issues, we wanted to test a couple of other platforms. We first did a couple of sessions using different servers with Hulu and had great success.
Afterward, we tried unblocking Amazon Prime and BBC iPlayer with no issues whatsoever. Thus, it is quite safe to say that VPN.ht has a flawless ability to bypass restrictions when it comes to popular streaming services.
Security
The fact that this provider offers decent speeds and can unblock Netflix is quite motivating. Still, that itself can't lead us to the conclusion that it is worth your time and money.
There is another important aspect that affects our VPN.ht review and the overall value – the privacy policy.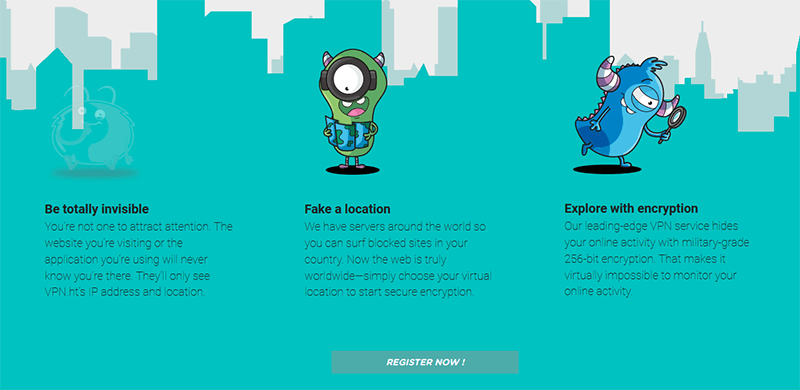 Where is it based?
Looking at its parent company, Wicked Technology Limited, we see that this provider is set in Hong Kong.
This is a good thing because this country is outside of the 14 Eyes Alliance. What is that in the first place? It's an agreement that, if one of the governments asks for your data or private information, the network and VPN providers will have to hand it over.
Luckily, that is not the case with VPN.ht. Still, things are not that great, as Hong Kong does fall under the jurisdiction of China.
As you probably know, the local government only allows certain VPNs. Thus, you may have issues when it comes to using this service in their country.
Log policy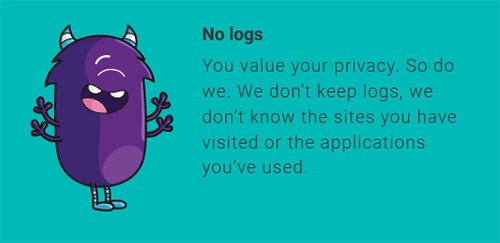 A common question for any VPN is "does it keep logs"? This one does not. We scrolled down the official website and read their ToS and privacy policy during our review of VPN.ht. We found that they don't track your activity or keep any data related to it.
This is a great thing, as you will not have to worry about third-party websites bombarding you with ads. Additionally, you will be able to browse the internet safely without anyone finding out what you are searching for.
Protocols
Another important element is how encrypted your private communication is. You will be quite happy to see that this provider is highlighted by 256-bit AES encryption, which is considered to be the best in the industry.
It is used by military websites, banks, as well as popular companies like Microsoft and Apple. Additionally, there is an OpenVPN protocol, which is one of the best when it comes to reliable tunneling.
Leak protection
We have one main issue with the security aspect. Unfortunately, you are not well protected when it comes to your true IP location being revealed. This is mostly due to the absence of a kill switch. We performed a series of tests and found the risk of IP leak to be quite high.
Additionally, there were several malware threats, so VPN.ht can't be considered to be the ideal choice for avoiding DMCA sanctions and viruses.
Torrenting
VPN.ht does allow torrenting. Thus, if you were hoping to perform P2P transfers while logged onto one of their servers, that is possible. Still, compared to ExpressVPN and CyberGhost, it lacks a lot when it comes to leak protection.
If you don't want to suffer the potential legal consequences, you might as well avoid VPN.ht and look into these other providers.
Bypass Censorship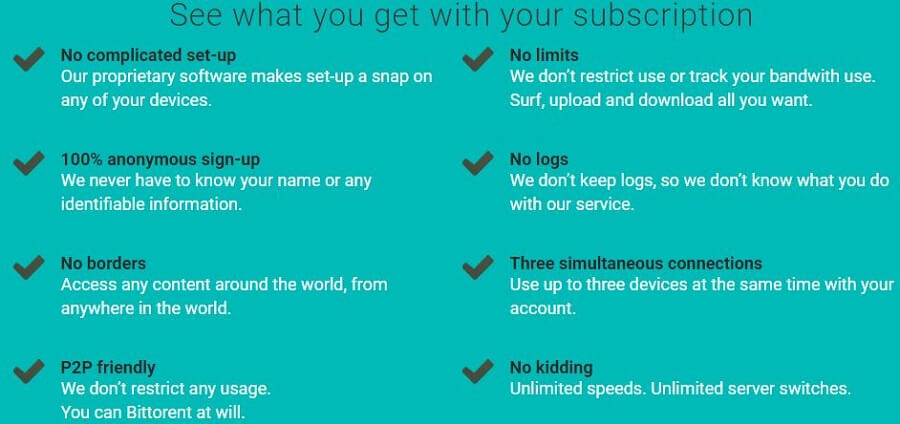 Another important question is whether you can use a VPN to unblock content in different countries or not. Luckily, we had significant success with this provider.
Apart from being able to access censored sites across Europe and the US, we had luck with unblocking content in China, as well. This was mostly because of the reliable Hong Kong server that VPN.ht offers.
However, due to the sketchy leak protection, you will want to be careful when it comes to accessing censored Chinese content. You don't want your true location revealed in any case.
Countries and Servers
For some, the fact that this provider allows you access to 128 servers in 24 different countries may be enough. For us, it is not. The thing is, you will want as many reliable servers as you can get.
The best example of this is  CyberGhost, which offers more than 6,800 servers. This ensures that you get a stress-free VPN service across the globe. When we compare it with VPN.ht, we understand very well why our review and opinion are not good at this level.
Devices and Connections
Another important element is whether a VPN can support many different devices or not.

Supported devices
As expected, VPN.ht supports Android, iOS, macOS, and Windows. Sadly, this is where the list ends. What this means is that you can't connect a Linux device, router, console, or smart TV to this VPN.
This is something that the company should definitely consider improving.
Simultaneous connections
Additionally, you can connect with just three devices at a time. This is almost below the average.
For example, Surfshark offers unlimited simultaneous connections, while there are many leading providers offering 6+.
Customer Service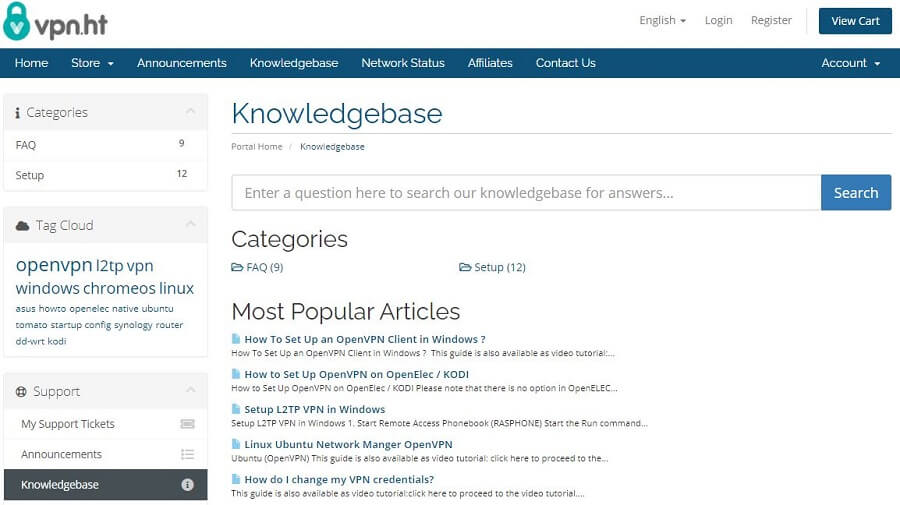 Moving on with our VPN.ht review, we were quite happy with the customer service experience. They don't feature a live chat, but the email response is quite professional.
We sent in a request, only to get an answer 6 hours later. It was concise, friendly, and we settled our payment issue minutes after that.
Value for the Money
If nothing, VPN.ht offers some of the best subscription options on the market.
Price comparison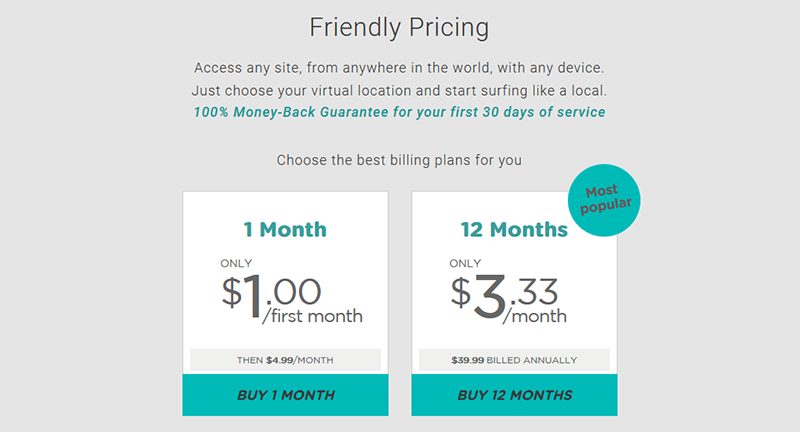 Looking at their plans, there is a single-month plan that will cost you a dollar for the first 30 days and $4.99 for all the rest. On the other hand, if you decide to go for the annual plan, you will be paying $3.33 every month.
This is not too bad, but we still prefer what top-quality providers like NordVPN have to offer in a similar price range.
Payment types
This provider doesn't only support debit and credit cards but also PayPal, Alipay, and an array of cryptocurrencies. Which is always good news regarding our full review of VPN.ht.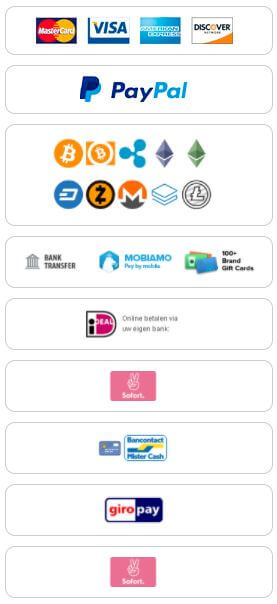 Money-back guarantee
Also, there is a 30-day window to ask for full reimbursement. We are quite confident that the provider will stay true to this guarantee thanks to their decent customer service.
Final Thoughts
In the end, we would rate this provider at the bottom of our list.
Yes, it does feature a superb log policy and decent speeds compared to most average providers. However, there is much room for improvement when it comes to leak protection and global coverage.
This is why we see ExpressVPN and CyberGhost as great alternatives until Wicked Technology Limited gets things sorted out!
We would have to say that we do not recommend this virtual private network provider and advise looking elsewhere if you want amazing features that keep you safe online.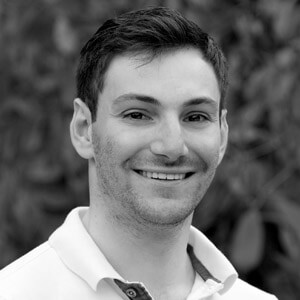 Flo is the founder of the-bestvpn.com. Really concerned about security on internet, he decided to create this website in order to help everyone find the best VPN. He's got a Business School background and now is 100% dedicated to keeping his website alive.