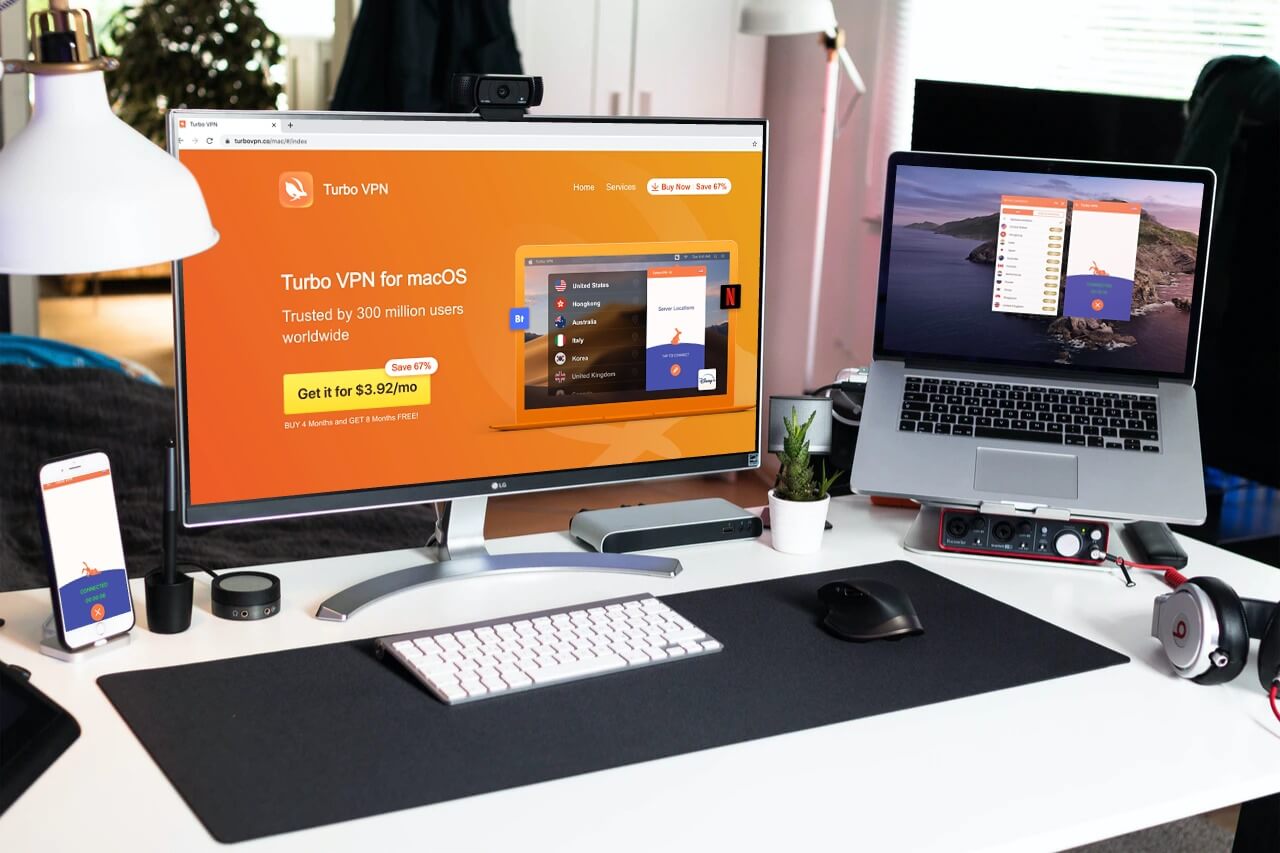 Whether you choose to call it a VPN or a Virtual Private Network, it is a great tool used to protect and secure your online activities. Now, we know the idea of using a free VPN is always enticing. Especially with premium providers raising up their prices these days. However, one thing you must know is that free services are always unsafe, as we'll show you with this Turbo VPN review and test.
Over the years, we have learned a lot from using free services. However, probably the most significant lesson we have learned is that paid providers are still your best bet if you're serious about securing your activities online.
Apart from being short on useful, advanced features, Turbo VPN doesn't provide vital details that would establish its credibility.
Of course, it can be useful if you're only looking for basic features in a Virtual Private Network. It can help you play a game without restrictions online and unblock geo-restricted websites. When it comes to the advanced, more challenging tasks, it will come up short.
Without wasting much of your time and ours, we'll now take a plunge into the deep end of this Turbo VPN review. For a free service, it offers a lot of massive promises.
However, the credibility of those promises will be verified by our test. Since it offers a slightly better premium version, this 2023 review will show you if it's worth your money. Or not!
STRENGTHS:
Provides a free version
Decent speeds
Solid encryption
WEAKNESSES:
Poor streaming performance
Limited network coverage
Provides minimal information about the company
Non-existent client support
Extremely overpriced
Doesn't offer a money-back guarantee
Doesn't have a Kill Switch
Turbo VPN ranks #23 out of 104 VPNs tested. Here are the best alternatives :
---
Is it a paid or a free VPN?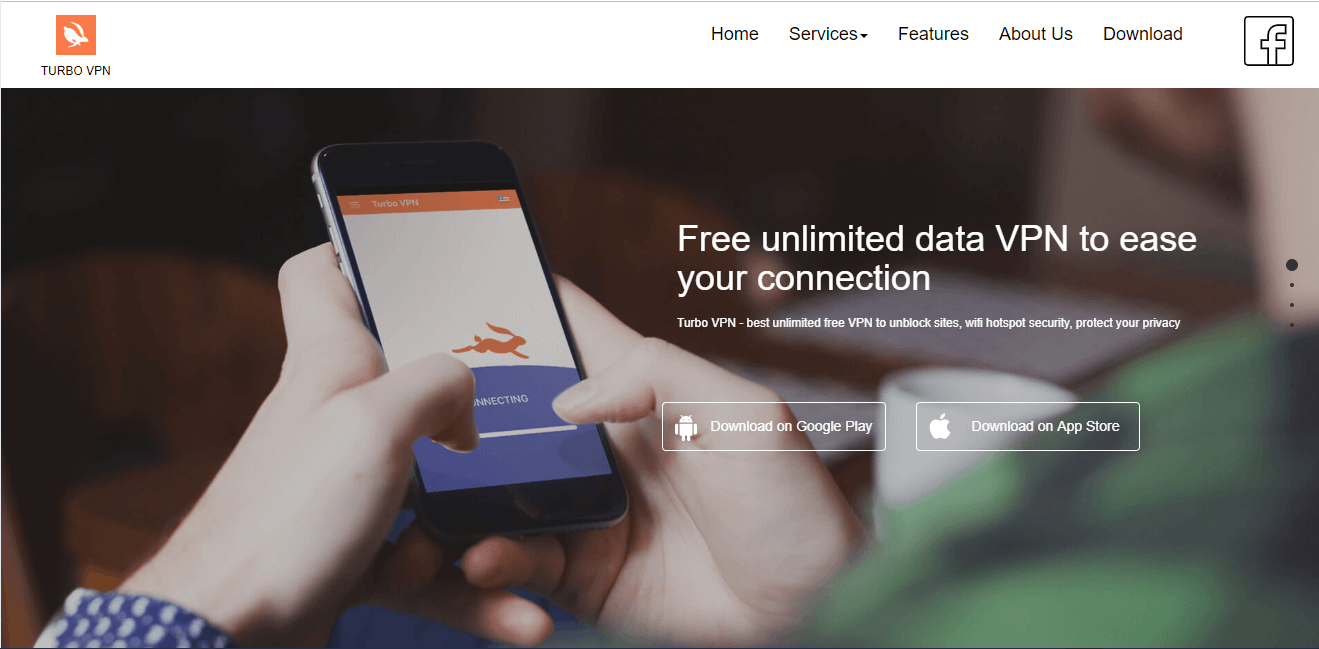 While Turbo VPN is originally a free service, it offers a premium version that you can upgrade to for a slightly better service. On the free service, you will have to deal with super-annoying ads.
However, downloading the service costs nothing. If you can no longer endure the ads, you can just upgrade to the VIP account, albeit at a rather expensive cost. We will tell you more about the pricing of  Turbo VPN later in this review.
Performance
Whenever you are looking to buy any service, probably the first thing you are checking about it is its performance. That's why we have evaluated the performance of this mobile-only service, using its speed and stability. Check out our test and review below to find out.
Speed
The speeds of Turbo VPN can be rather varied, even though it was generally above average during our test. Typically, nearby servers seemed to be significantly faster than far-away servers, only dropping a bit from our regular non-tunneled speed.
Servers that were far away, however, dropped our connection speed by half, which was massively disappointing.
We didn't notice the speed drop on downloads, and streaming and general browsing were not affected in most cases. Also, free servers weren't slower than premium ones, even though they may end up being crowded at particular periods.
In general, Turbo VPN is quite impressive, at least when it comes to speeds. While we may have many reservations about the service, its speed is not one of them, thankfully.
You may experience varying speeds at different times in different circumstances, but they are generally good.
Without VPN (we were located in London) :

EU Server (France) :


US Server :

Asia Server :


Stability

During our test for this review, Turbo VPN was not the most reliable service. While it worked well when we allowed the client to automatically choose servers, it was always disconnecting when we used manual selection.
After asking some other users, they claimed to be experiencing the same thing.
Unfortunately, you are not likely to get any help from client support if you're looking for answers to this and many other questions. Without an official ticket system and live chat, this provider doesn't really provide any help.
Your best bet is using the Facebook page and "feedback" email, but even the answers there are automated. If you're looking for real-time assistance from real experts, we're afraid to tell you that you won't find it.
Streaming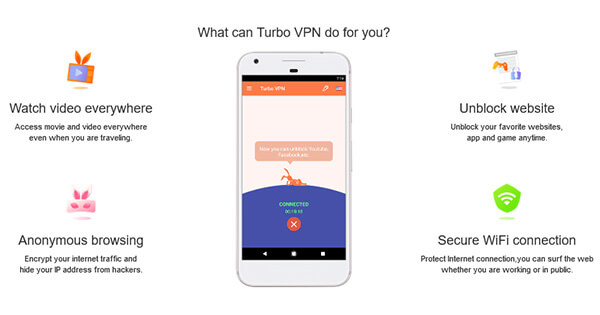 There are chances that a good percentage of people reading this Turbo VPN review are interested in its streaming performance. With that being said, we have included the streaming performance of the provider in our test.
Netflix
Even though this provider has a dedicated server for Netflix, it didn't seem to be working during our test. All our multiple attempts to unblock the streaming site through their inbuilt browser were met either with the classic "Netflix has detected a VPN" or a timeout error message.
Apparently, one of the most popular reasons for using a Virtual Private Network is to unblock geo-restricted Netflix content. It, however, looks as though the streaming giant has found out about the application.
That's even if the service has ever worked for Netflix. It's really shameful considering that they have a dedicated server for Netflix.
BBC iPlayer
During our test and review of Turbo VPN, we were able to access BBC iPlayer using the UK server. However, we are not certain if this will continue for the foreseeable future.
The streaming website has cracked down on VPN providers recently, so it is likely that this provider's only server in the UK will soon fall victim.
Others?
We also tried accessing other streaming websites like Hulu, HBO, Fox, YouTube, and Amazon Prime Video. For whatever reasons we don't know, we were only able to access Hulu and YouTube.
The anti-VPN systems of Amazon Prime Video, HBO, and Fox were simply too strong for this provider. To conclude, Turbo VPN doesn't impress when it comes to streaming.
Security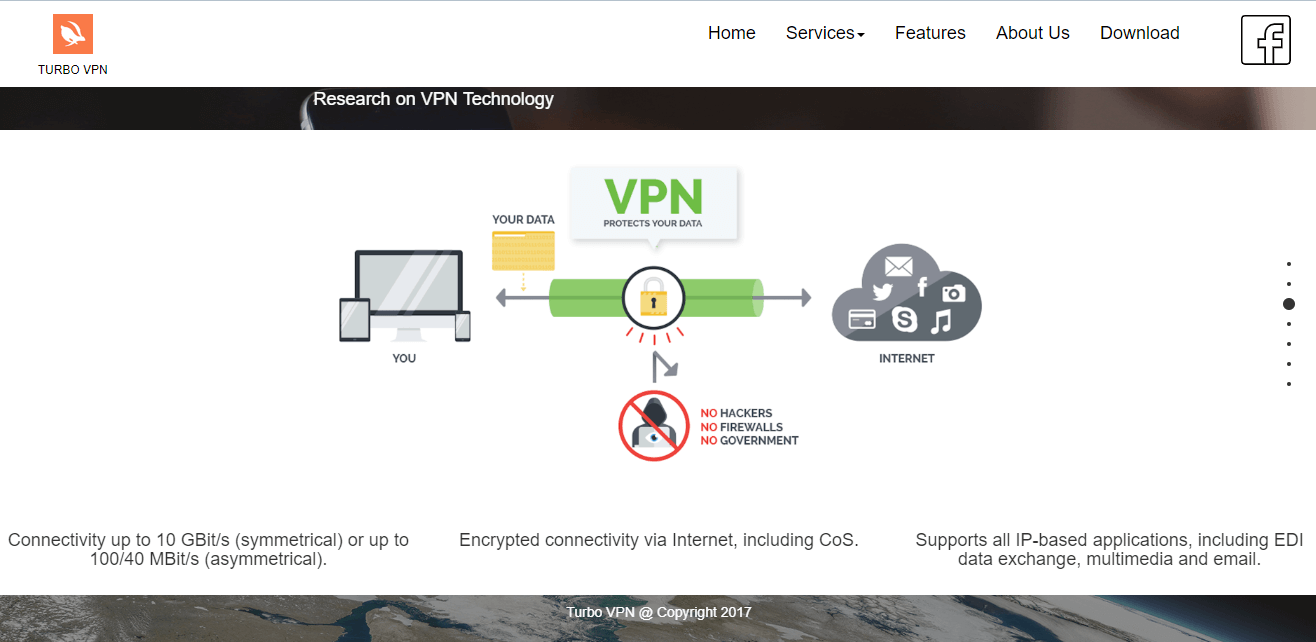 Security is the primary motive behind the invention of a Virtual Private Network in the first place, making it a key part of these tools. So, you may be wondering if the company has set up solid security systems, and we have helped you find out. Keep on reading this Turbo VPN review and test to find out!
Where is it based?
Turbo VPN is a China-based provider. Of course, the Chinese jurisdiction puts the provider outside of the Fourteen Eyes alliance. Basically, this agreement enables countries across the globe to spy on the citizens of each other.
Then, they share the information they find with some of the most powerful countries in the world.
If Turbo VPN is truly located in China, they are outside this alliance, which is a relief. However, while they don't need to be concerned about any of the countries in the Fourteen Eyes Alliance, let's not forget that China is not exactly renowned for their respect for privacy.
The Chinese government has notoriously strict internet censorship, something which has been dubbed as the Great Firewall of China. This firewall helps to prevent people living in China from accessing some foreign websites and apps.
Such websites include Facebook, Instagram, Twitter, all Google products, YouTube, and a lot more.
Furthermore, each provider in China is regulated by the government. The implication of this is that anyone caught utilizing an unapproved VPN can face stringent legal repercussions, which include a hefty fine.
Therefore, if you are skeptical about this VPN, you are absolutely right. There are chances that the Chinese government will know more about your activities than you can imagine.
Log policy
The privacy policy of Turbo VPN is an extremely short read that you can find on the App Store. It explains that they don't log anything. In fact, they refer to themselves as a "no-log network" that doesn't take any data like assigned IP addresses or browsing habits.
In the privacy policy, you will find a small amount of info on the data it collects and doesn't collect.
According to the privacy policy, the provider is a "no-log network" provider:
"We do not collect any information regarding the websites you visit or the IP addresses assigned to you when you access the Turbo VPN Private Network, and with respect to our VPN service, we do not collect any data stored on or transmitted from your device, including any data that applications on your device may transmit through our network."
While some data is stored during sessions, the privacy policy states that "any browsing information or other similar information relating to your online activities transmitted by you to our servers when using Turbo VPN is cleared after your VPN 'session' is closed."
However, we have some problems with what they said: "When you become a user of the Service, we will collect the statistic about users' behavior and location." The fact that they take data on users' behavior could be a justification they want to log nearly anything.
Of course, we are aware that the developer could find location data useful. For instance, it could be used to see which regions had the highest connection failures. Nonetheless, we would still prefer to keep this data to ourselves.
Protocols
By default, Turbo VPN uses OpenVPN protocol, which is the most common protocol in the industry. For starters, protocols are the means used to create a "tunnel" between the internet and your browsing device.
It's been encrypted to ensure that nobody will be able to see your real IP address or know your real location.
As we already insinuated in this review, OpenVPN is regarded as the best tunneling protocol right now. This is largely due to the fact that it is open-source, which means that a lot of developers have put it to test for weaknesses.
Alternatively, Turbo also offers IKEv2, which is a newer protocol that's gradually gaining a footing in the world of VPNs.
In terms of encryption, both protocols use AES 256-bit encryption. Bear in mind that this is the same encryption used by militaries and government agencies across the world.
Widely considered impenetrable, there is no doubt that this method of encryption will protect your data.
Protection against leaks
While the provider stresses encryption and protocols, there could still be possibilities of a breach due to a DNS or WebRTC leak. We, however, found out during our test and review that there is nothing like this with Turbo VPN.
WebRTC leaks happen when there is another project interfering with the VPN tunnel. DNS leaks happen when hackers get past the tunnel, after which they can see your real IP address.
After conducting our test on this service, we discovered that the service provides reliable protection against both leak types.
Torrenting
Torrenting is a practice that connects you to other people from across the world to download and share files. The method is easy and fast, but it also comes with a lot of risks. Typically, it opens you up to other users, most of whom you don't even know.
Therefore, you may be curious to know whether this service can help protect you while torrenting. Continue reading our Turbo VPN review to find out.
Is torrenting allowed?
First of all, we would like to mention that the service is focused primarily on mobile phones. Meanwhile, the majority of users use their desktop or laptop computers to download torrents instead of mobile devices.
Nonetheless, we chose to check if this provider is good for torrenting or not for the purpose of this review.
Before proceeding, we'd like to tell you why you may need a VPN for torrenting. The first reason is that cybercriminals and hackers lurk around popular torrenting websites and set traps up for normal users.
However, a VPN serves as protection by encryption users' traffic and thereby making it impossible to trace online.
The second reason why you may need a VPN for torrenting is that the act is deemed illegal in some countries. Therefore, you may want to connect to a VPN server and change your IP if you don't want to end up in the net of law enforcement.
Thankfully, Turbo VPN supports torrenting. However, while it does not do bandwidth throttling, it doesn't offer P2P-optimized servers (unlike NordVPN or CyberGhost).
Is there a Kill switch?
Probably the time when people use Virtual Private Networks the most is when they are connected to public Wi-Fi networks. The reason is clear – it is at this time that their data is most vulnerable as unsecured networks can be very unreliable.
However, the best providers offer a Kill Switch, which is a feature that protects your private data from getting exposed in the event of a connection interruption.
Unfortunately, Turbo VPN doesn't offer this feature, which is a huge indication of their place among the best providers ranking. In addition, this provider has non-existent client support.
This means even if you encounter any issue with the service, you don't have anywhere to turn to for guidance or troubleshooting tips.
Bypassing Censorship
Censorships threaten everything the internet represents – freedom. If you live in a country with strict censorship policies, there are VPNs that can help you bypass them. But is Turbo VPN capable of doing such?
Well, you will find out in this review.
In censored countries
According to the app listing of Turbo VPN on Play Store, "For policy reason, this service cannot be used in China. We apologize for any inconvenience caused." However, this doesn't mean that the service won't work in other high-censorship countries like Turkey, Russia, Iran, Saudi Arabia, Belarus, and more.
As we established already, however, Turbo VPN has never been renowned for its bulletproof security. As a result of that, you should attempt to use it only if are ready to face the repercussions that may come with using a VPN in those countries.
Besides, the service doesn't have features such as "stealth mode" to get past advanced censorship systems, especially those based on Deep Packet Inspection. We didn't really test it in any high-censorship country during our review, so we don't know for sure if it works or not.
However, if you are looking for a VPN you can use in China and other high-censorship countries, we advise you to opt for ExpressVPN. It is the number one provider in the world and should work anywhere on the globe.
In restricted networks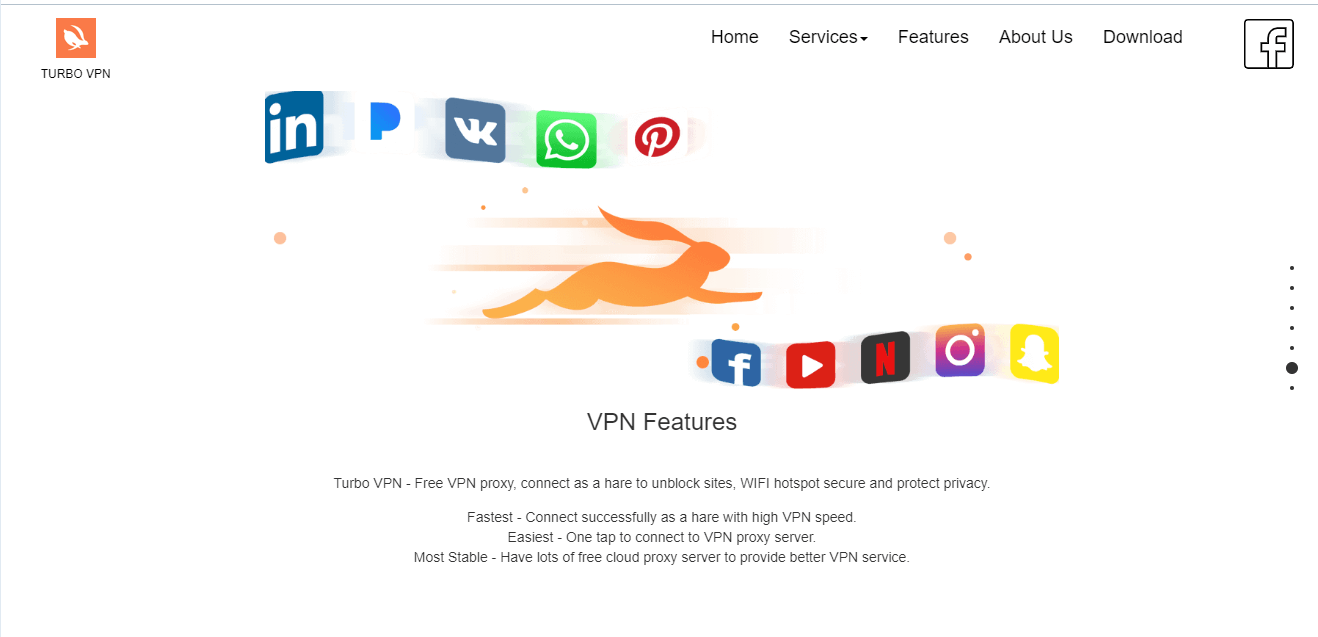 The rate at which schools and organizations are blocking access to social media sites, torrents, and gaming sites is increasing on a daily basis.
They are literally blocking anything that can be utilized for mass procrastination and cause distraction. However, that's one of the reasons why VPN providers are gaining massive popularity in recent times.
Of course, these organizations and schools could be upholding these restrictions to prevent students and employees from getting distracted. But it could also be a way of maintaining a balanced bandwidth usage as streaming activities or heavy downloading could slow down speeds.
Regardless of what it is for, you can't blame them much.
Yet, there's potentially more damage here than meets the eye at first glance. These sorts of blocks may be locking out students from the content they actually need for research.
For example, arguably, YouTube has plenty of educational content to offer. And school firewalls tend to be less than perfect, often taking out genuine educational resources in their IP blacklisting.
Therefore, these blocks could prove to be detrimental in the end. The solution is, however, very simple. With a service like Turbo VPN, you can bypass the restrictions and enjoy access to the information you need.
While Turbo VPN is bad at a lot of things, it at least works for this one, as our test for this review confirmed it.
Countries and servers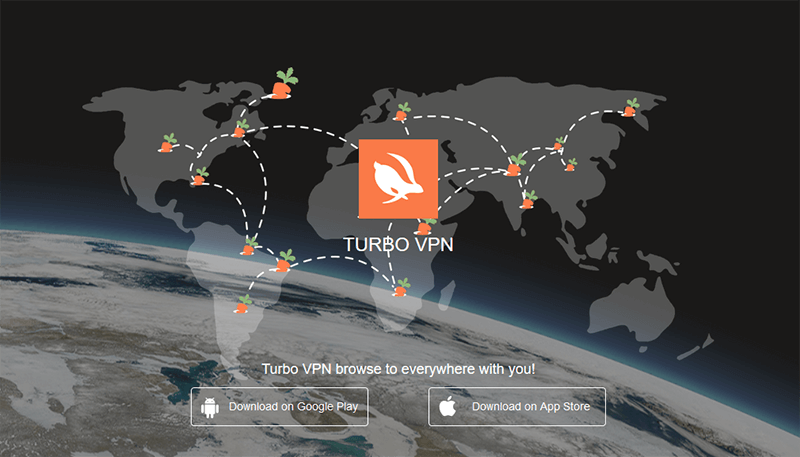 It's no news that checking the number of servers your VPN has and the countries in which they are located is important. That's why we have broken down everything in this review and test about Turbo VPN's server network.
Countries covered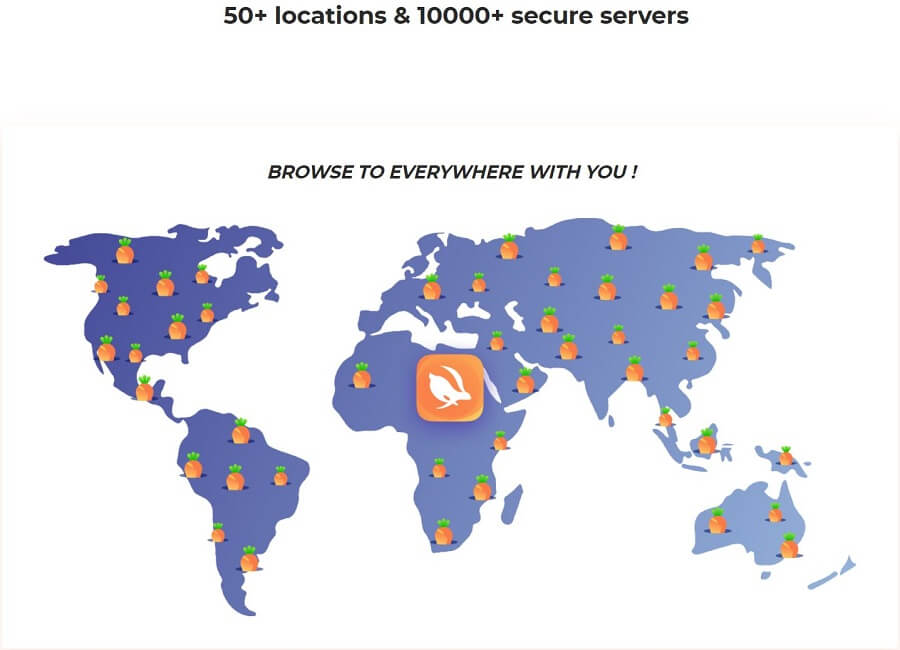 This is probably one of the most significant metrics when selecting a service. The larger the server network of the provider you choose, the faster the connection you will enjoy.
When a provider has a large server network, it means that each user gets more bandwidth. Of course, that means faster rates of download.
Furthermore, a server network that's diverse geographically may guarantee faster connections also. If you could connect to a nearby server, then your data transfer rates are bound to improve significantly.
On the flip side, if you plan on spoofing your location in order to access geo-blocked websites, a good server selection dispersed around the globe also helps.
Unfortunately, Turbo VPN has a small server network, covering only 50 countries worldwide. While most popular countries like the US, UK, and Singapore are covered, users in Asia, South America, and Africa won't enjoy any server.
Besides, the provider has not published any GENUINE data about their total count of IP addresses and individual servers. The image above shows that it has 10,000+ servers, which, let's face it, is hard to believe.
Moreover, the United States is the only country in which you can drill down to city-level servers, with the provider having servers in San Francisco and New York. However, by no means is this the coast-to-coast network covered provided by numerous top-rated providers like ExpressVPN and NordVPN.
The only countries they cover in Asia-Pacific are Singapore and India, and users in Africa and South America will be hugely disappointed to not find any server. If you will be connecting primarily out from these continents, you would be better off with a provider like ExpressVPN.
Covering 94 countries across the world, it's certain to be perfect for you.
Servers
In terms of specialized servers, we don't know exactly how to rank the application.
While the provider offers specialized servers for streaming on sites like Netflix and BBC iPlayer, the servers don't seem to have any effect, as we found in our test for this Turbo VPN review. So, what's the point of the specialized servers if they don't help to unblock Netflix?
Also, they don't offer any specialized server for torrenting, which probably explains why it's not recommended for Peer-to-Peer sharing.
Compatible devices and simultaneous connections
It is important to make sure that the service you want to buy is compatible with your device. With that in mind, we've compiled all the platforms supported by Turbo VPN in this part of our review and test.
What device can I use with Turbo VPN?

Regardless of what you want to be using the service for, there are chances that you will need it for your desktop or laptop as well. As we can see, Turbo VPN offers apps for macOS, Windows, iOS, Android, and soon-to-come Fire TV and Chrome.
In addition, you will need to create an account for each service. So, that takes us to this question – why go through all that stress when you can easily choose a service that works across all platforms and create a single account rather than monitoring different logins?
This is another reason why we don't recommend this provider. We honestly found it frustrating to test.
How many simultaneous connections?
Offering only 5 simultaneous connections, this provider has decided to stick to the industry standard. To be honest, the 5 simultaneous connections should be enough for you.
Considering the fact that the service is only available on a couple of devices, you don't even have many options.
If you want, you could invite your relatives or friends to also protect their mobiles, using your account. However, if you need a better alternative, you can check our test of Surfshark. Surfshark offers unlimited simultaneous connections, which may prove useful if you will be using the service for commercial purposes.
Client support
To make sure that the company you're choosing is reliable, we decided to evaluate the client support of Turbo VPN in our test and review.
How to contact it?

Strangely enough, there is no kind of client support on the official website of Turbo VPN. Moreover, you will be redirected to the Facebook page of the company if you click on the "F" on the site.
On the Facebook page, you will find a phone number that you can use to contact their agents. Plus, you will also find an email you can use as some kind of an email ticketing system.
Is it good?
There is a link to their Facebook page, where you can contact the agents of the provider, it's not good enough. Of course, we were hoping to find a Live Chat, but the Facebook Messenger is not nearly as helpful and quick.
Plus that, it seems like the provider responds to questions with automated messages, as we found out in our test. Even worse, the bot took more than 24 hours to respond to our query and you won't get any preferential treatment if you're a paid user.
FAQ/tutorials
Surprisingly, Turbo VPN actually has a FAQ section. But unsurprisingly, it's horse crap – sorry for the expression! You have only basic cookie-cutter questions that everyone already knows about.
These include questions related to getting a subscription, installing the app, and so forth. The FAQ section is one of the worst we've seen and definitely needs an overhaul.
Value for money
While Turbo VPN is mainly a free service, it has a VIP version. The VIP version comes with more server options and a couple of other perks. But does the value offered by the paid version match its pricing?
We've broken it down in this part of the review and test.
Price comparison
Here is the complete list of Turbo VPN's pricing:
1 month: $11.99/month
12 months: $2.99/month
While it's great if you use it for free, we don't think it's worth paying $11.99 per month for, if you decide to upgrade to a premium version.
Remarkably, the 12-month plan saves you 75 percent, so you only need to pay $2.99 per month. While this offer may be too enticing to pass, we still don't think it's wise to invest in this kind of company for the long term.
Means of payment
Since the service is only sold via Apple App Store and Google Play Store, the only payment option you have is the debit/credit card connected to your Apple or Google accounts. There is no way to pay through cryptocurrency, PayPal, pre-paid cards, or even cash.
This is another area where this provider fails to impress.
Given that it doesn't support cryptocurrency, users who are keen on complete anonymity won't be happy. In fact, we would have also preferred to pay via cryptocurrency during our test.
Money-back guarantee
A money-back guarantee is usually offered by most providers, allowing users to test out the service and see if they are pleased with it within in a particular number of days.
However, Turbo VPN doesn't offer a money-back guarantee. This makes us suspect that even the company is not confident enough in its services.
Final Thoughts
When a service under review delivers what it promises to do, it generally deserves to be praised. Turbo VPN appears to help protect your online data on iOS and Android.
Also, it could help you to save money by buying a plane ticket at a discounted rate due to IP changing. However, there is a lot of other things wrong with it.
First of all, it is too costly for a provider that works on mobile devices only, and it lacks extra features that may help justify its price. While it looks to have a small server network, it is not possible to tell for sure as it doesn't even reveal much information about its servers.
However, its biggest sin is appearing extremely untrustworthy.
It's needless to tell you that a company that omits basic info about its services isn't ideal for you. We recommend you to go for ExpressVPN, which is the best provider in the world with the most transparent of privacy policies.
Choose ExpressVPN - the best VPN of 2023 >
Turbo VPN Review and Test
After many tests, we do not recommend using the service offered by Turbo VPN. It is far too limited to please anyone. This is confirmed in terms of streaming, P2P, or customer support offered.
Add your review
|
Read reviews and comments

Michael is a talented writer who has dedicated a lot of time into making sure that everyone around the world can use the internet securely. Being an avid traveler, he has acquired a lot of experience while using different VPNs on his travels. When it comes to doing comprehensive "how to tutorials" or testing some VPN functionalities, he's always the best pick ! He's here to help you solve your VPN-related issues.