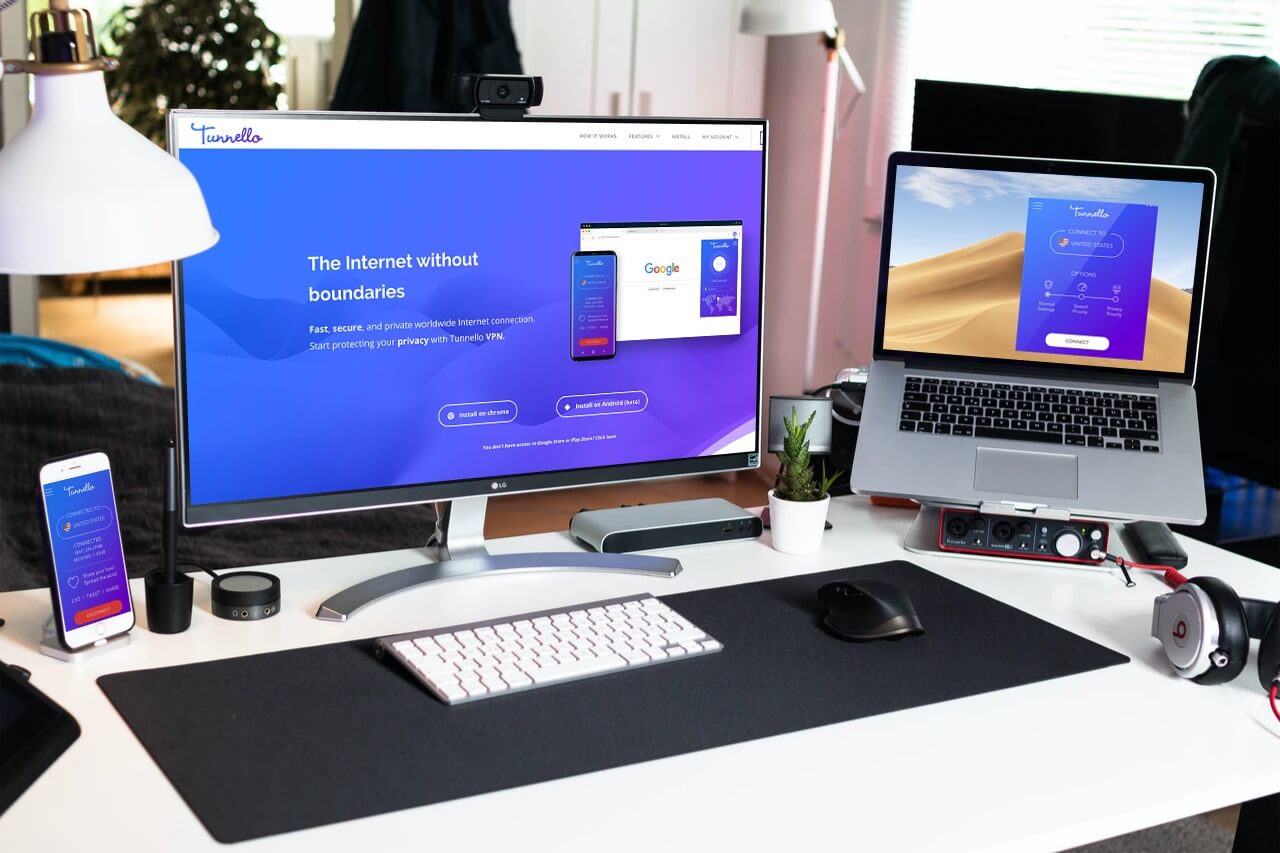 Looking at different global providers, no one can deny that NordVPN, ExpressVPN, and CyberGhost offer the best price-quality ratio. Still, does this mean that there aren't any good alternatives? That's what we wanted to find out with our review and test of Tunnello VPN. The company claims to offer incredibly secure and fast VPN service, but so do most providers on the market. The real question is whether you can rely on its performance. Additionally, are the servers fast and safe enough for unblocking censored content?
These are some of the questions that we answered in this review by performing a series of tests and thorough analysis. The main idea was to point out the different pros and cons, thus coming to a verdict on its overall value.
If you want to find out whether it is worth your time and money, read on!
Negatives
14 Eyes jurisdiction
Keeps logs
No refund
Poor customer support
Limited torrenting
No Netflix
---
Tunnello VPN ranks #82 out of 104 VPNs tested. Here are the best alternatives :
Is It a Paid or Free VPN?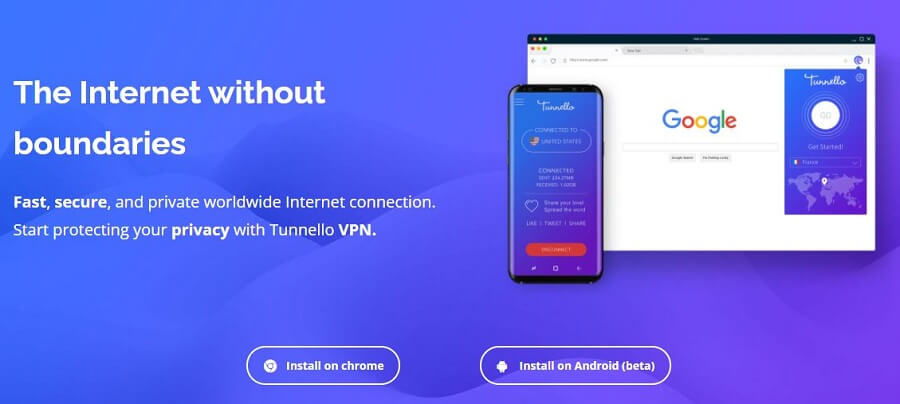 Tunnello does not offer free services, but Windscribe is a great choice for people who are looking for a free VPN provider. Meanwhile, Tunnello VPN can't really be proud of their paid service. They do offer a free trial that would allow you to become familiar with the features they offer, though.
This would be fine if there was a refund policy to protect you from an unreliable performance. However, you don't have that option, either. What this means is that, by subscribing to their service, you agree to 100% of the risk.
This is not exactly something you should expect from a VPN provider.
Performance
The primary focus for this Tunnello VPN review was on the most important aspects of performance, such as speed, stability, and security. As you probably know, installing any VPN will slow down your internet connection.
This happens because of the encryption, as well as complex protocols that are used to bypass censored content.
While you shouldn't be surprised by this, you shouldn't accept significant speed drops, either. After having connected to a couple of servers, we reached a few conclusions on Tunnello VPN performance.
Surprisingly, we got above-average speeds and were off to a good start.
Speed
We already said that this provider is a global one and offers above 100 servers across four different continents. For our tests, we decided to use a benchmark of 235 Mbps for download and 211 Mbps for upload speed.
The results were quite good.
Connecting to an EU server in France was done within a couple of seconds. The ping was acceptable and set at 62 ms, while the download and upload speeds decreased by a mere 20%.
We got almost the same results when connecting to a server in the Netherlands.
We continued our performance review of Tunnello VPN by looking into how the New York server performed. As expected, the results were somewhat worse. Still, they were not as staggering as with StrongVPN, for example. We experienced a higher ping that was around 120 ms.
Additionally, the download speed dropped down to 125 Mbps, while the upload came in at 113 Mbps.
Last but not least, we wanted to test their Hong Kong server. If it was able to offer a reliable connection, then bypassing the Great Chinese Firewall and unblocking Chinese content was a possibility. But to be honest, the results were deplorable.
Our download speed dropped to 20 Mbps and upload at 15 Mbps. Also, the ping was above 350 ms, so we don't need to insist on the fact that you should find another provider if you want to use a VPN while in China or any other censored countries around.
Without VPN (we were located in London) :

EU Server :


US Server :

Asia Server :


Stability
Considering that we were quite happy with the speed, we were not surprised that server reliability was good, also. Honestly, we don't have anything to complain about in terms of server crashes or time outs.
We experienced the best connection to EU servers, but even those in the US and Asia were quite stable, as well. This is of huge importance if you are looking to stream, torrent, or engage in online gaming.
Streaming
In most cases, providers with decent speeds do a good job of unblocking streaming content. Not only that but watching your TV series in HD resolution should be made much easier with stable and fast servers. Sadly, that is not the case with Tunnello VPN as we found out during our review.
Netflix

Unfortunately, we were quite disappointed with its ability to unblock streaming content. If you are using a VPN for this purpose, then subscribing to ExpressVPN or NordVPN is a much better choice. We went ahead and tested multiple servers and had no success with Tunnello whatsoever.
It couldn't do anything with the US media library, and it also couldn't unblock Canada or France's catalogs. Because many people subscribe to a VPN to satisfy their media cravings, this is a huge disadvantage.
Other streaming services
The fact that it can't unblock any Netflix catalog is not the best start. Still, we didn't give up all hope. When testing a series of other streaming platforms, we had partial success.
Thus, while we weren't able to play Amazon Prime, Hulu and BBC iPlayer worked fine.
Additionally, we were able to unblock different TV channels in the US. You can even keep on watching Disney+ in the countries where it is not yet available.
Security
We always emphasize that a VPN provider that can't ensure robust security features is not worth your time and money. Is this the case with Tunnello VPN? We need to discuss a few elements to give you a relevant verdict.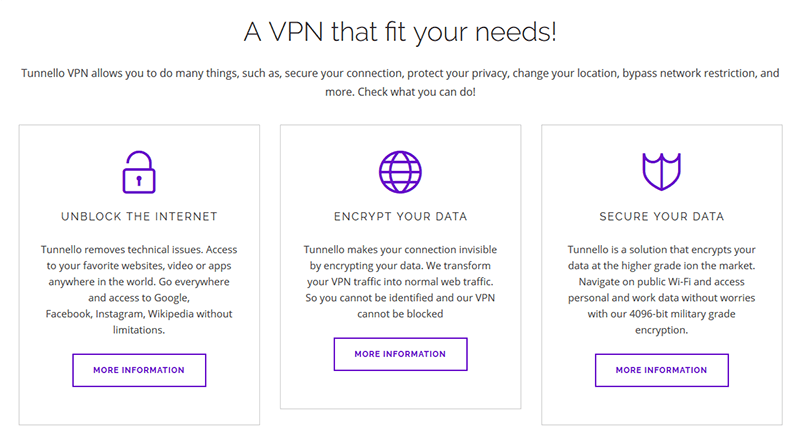 Where is it based?
As we mentioned above, this provider is based in France. While it is probably better than if the headquarter location was in the US, it still is not optimal. Why do we say this?
France is a part of the 14 Eyes alliance. Thus, Tunnello VPN is forced to adhere to their regulations.
This, in fact, means that any of your browsing activities will be handed over if the authorities asked for it. This goes against the original idea of a VPN provider that ensures you will have anonymous and secure browsing.
How much is this going to affect you depends on their logging policy. So, let's find out right after in this Tunnello VPN review.
Log policy
Unlike most providers, this one admits that they store some of your data. While they justify the cause by saying this is for security reasons, we can't agree with that.
The fact that your payment history is tracked, as well as clicks and downloads, puts your private info at risk. We can say with confidence that Tunnello VPN is among the few providers that publicly announced that they keep a record of your activity.
Protocols

We can say that their protocols and encryption don't affect the server speeds that much. Still, the reason for that seems to lie in the fact that they feature only 256-bit AES and 4096-bit RSA.
While these are considered to be industry standards, there may not be enough versatility to support user-friendly iOS and Android interfaces. And the fact that it doesn't feature an OpenVPN protocol is quite worrying, as well.
Leak protection
While their log policy and tunnels could certainly be better, the anti-leak feature is quite good. There is a built-in kill switch that should prevent the potential of WebRTC and DNS leaks.
We tested this and found the risk to be incredibly low. Additionally, there weren't any malware risks detected, either. This means that Tunnello VPN can be quite safe for torrenting, but does it allow P2P transfers in the first place?
Torrenting
Much like with streaming, we were quite disappointed to review and find that Tunnello is not able to support P2P transfers. Apparently, it is against their policy for different legal consequences. Thus, while their server speed is above average and they do offer good leak protection, that is where it ends.
Looking for reliable alternatives, most people hesitate between ExpressVPN and NordVPN. As market leaders, both of these offer thousands of servers that are compatible with torrenting.
Tunnello VPN, on the other hand, doesn't support this activity with any of its servers.
Bypass Censorship

Whether a VPN provider can unblock censored content can make or break your deal. Honestly, we were happy to see that their Hong Kong server was fast and reliable. Additionally, it featured a stealth mode, which means you should be able to access censored sites in China without much risk.
This made us think that accessing censored sites in the EU and the US shouldn't be much of an issue. However, we encountered a couple of situations where accessing a blocked bookmaker site was not available.
Thus, while Tunnello VPN has potential, there is still a lot of room for improvement.
Countries and Servers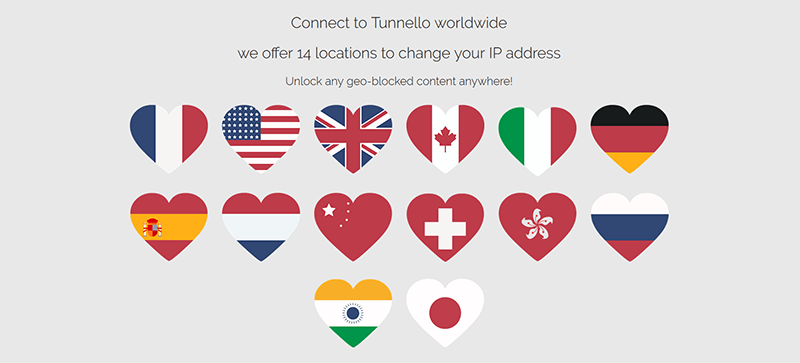 Set in France, most Tunnello servers are in the EU. Looking at the total number of servers, we can see that they offer 110 locations in 14 different countries. We were most happy to notice that their Hong Kong server actually works and allows access to sites in China.
Still, we can say that it is not as reliable as the one offered by CyberGhost or NordVPN. These providers feature over 5,000 servers accompanied by a zero-log policy and robust security features.
Devices and Connections
If you are looking to use a VPN from the comfort of your home or office, then compatibility plays an important role.

Supported devices
Overall, we were probably most disappointed to see that Tunnello VPN doesn't work on anything but Android and Google Chrome. This means that, if you are an iPhone user or operate on a macOS, you need to look elsewhere.
Additionally, it doesn't support Linux or any connection to consoles, routers, and Smart TVs. This is a shame because the servers offered by this provider are quite fast and reliable.
Simultaneous connections
It does have more to offer in terms of the multi-login feature. You can connect with up to five devices at the same time.
Customer service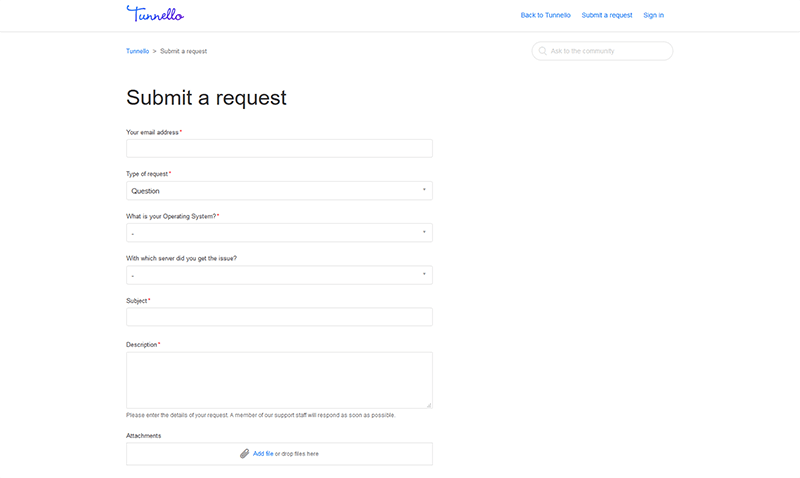 Having reliable customer service is important for more than one reason.
First of all, it can help you overcome payment or other related issues. Additionally, having 24/7 customer service will make the whole refund process much easier. The fact that Tunnello VPN doesn't offer a money-back guarantee is already an unreliable start for this part of our review.
Additionally, their FAQ section is quite vague. We were expecting the provider would make up for it with an effective email response team, but that wasn't the case. We sent two different requests and found that it takes them a couple of business days to come up with an answer.
Value for Money
The fact that they don't offer a free trial would be fine if their pricing was affordable.
Price comparison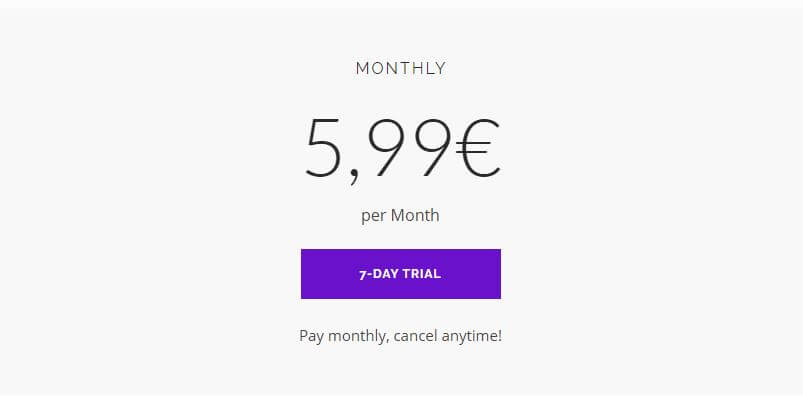 Looking into the subscription plans while doing our review, we can't say that Tunnello VPN is the most versatile provider out there. Their basic one-month option will cost you $7.
Still, compared to the features that it offers, we can't say it is worth it. Providers such as CyberGhost and NordVPN do a much better job at a lower price.
Payment types

We weren't surprised to see that they support PayPal and all major debit cards. Additionally, you can use Bitcoin to subscribe and stay anonymous. This is nothing special but it's always pleasant to have this option!
Money-back guarantee
The fact that they don't offer a refund policy comes as a huge surprise. This is an uncommon trait for popular providers. The problem with this is that you agree to 100% of the risk. Thus, if anything is wrong with their services, you can't get a reimbursement.
So you better watch out and think carefully before engaging with this provider.
Final Thoughts
Would we recommend Tunnello VPN? Unfortunately not.
We ranked it #82 out of 104. A positive thing is that the servers are reliable and fast. Still, that is where the potential of this provider ends. They don't support Netflix, torrenting, or offer robust security features.
That is why subscribing to NordVPN or ExpressVPN is a much better decision. Both of these providers offer thousands of servers in dozens of locations. They also have top-notch security features to ensure your sensitive information and browsing activities are kept safe and private at all times.
To end this review, we would say that Tunnello VPN is worth avoiding at all costs. It is a far too risky"investment" to make.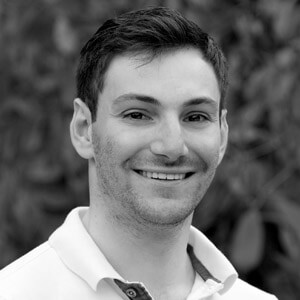 Flo is the founder of the-bestvpn.com. Really concerned about security on internet, he decided to create this website in order to help everyone find the best VPN. He's got a Business School background and now is 100% dedicated to keeping his website alive.