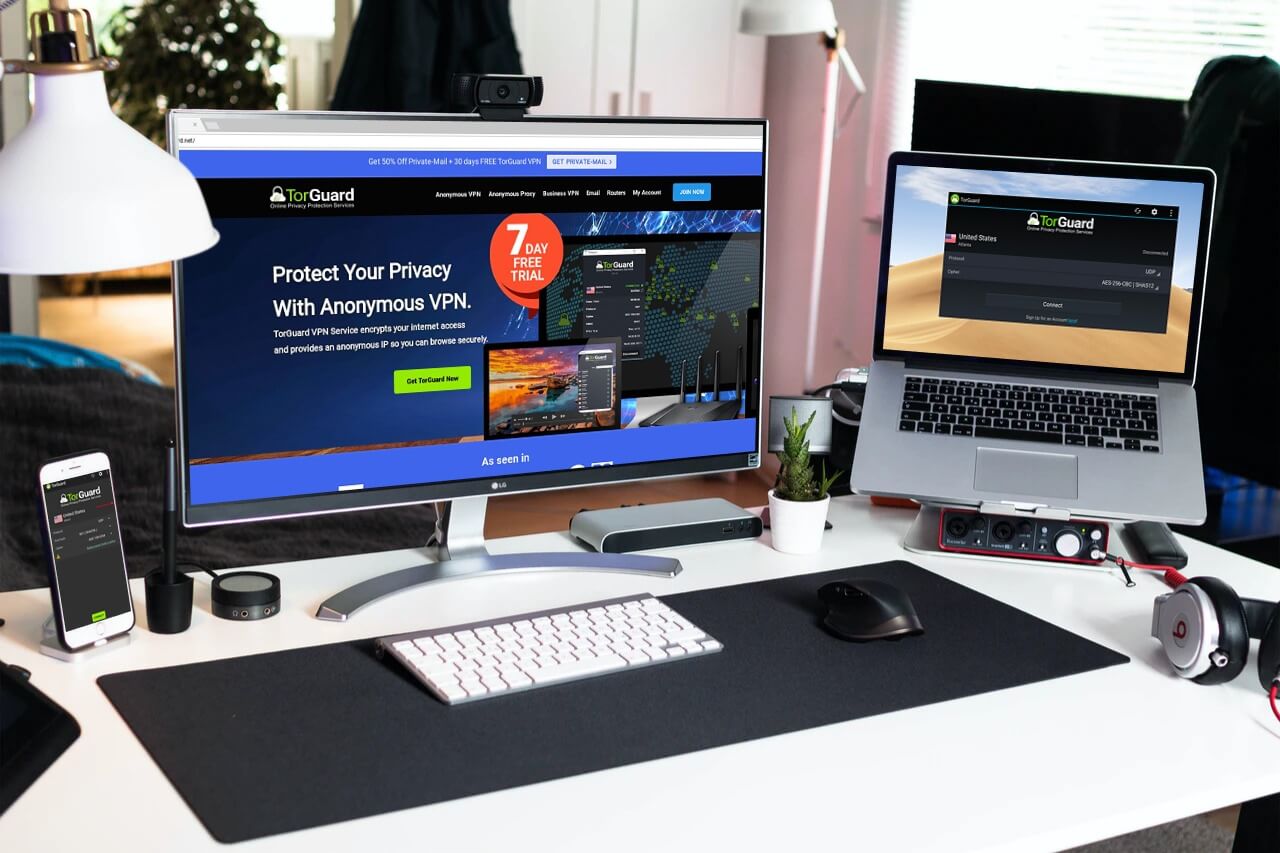 Looking at the name, most people assume that the TorGuard service is related to accessing the deep web. Well, it is not. In fact, it is not even compatible with the TOR search engine, thus using it to access the deep web will not work. Still, there is something it is great for – torrenting. Among the many VPN providers, not all can provide reliable support in this aspect. Still, the fact that TorGuard does a great job with allowing P2P transfers doesn't mean that it is a great value choice per se as you're going to see in this review and test.
For this TorGuard review, we mostly focus on trying out the many servers that it allows. Additionally, we wanted to make sure that you can use it for unlimited torrenting and streaming HD.
If you were looking to find an alternative to the top-leading names including NordVPN, and CyberGhost, you might want to read on!
STRENGTHS:
Unlimited torrenting
3,000+ Servers
No leaks
WEAKNESSES:
14-Eyes Jurisdiction
Pricey
Weak Netflix potential
Potentially stolen code
---
TorGuard ranks #30 out of 95 VPNs tested. Here are the best alternatives :
Is It a Paid or Free VPN?

Starting our review for TorGuard VPN, we wanted to make clear whether they offer only a paid service or a free trial as well. Unfortunately, they don't seem to give the opportunity of trying their server out without paying anything.
On the other hand, Windscribe, which is considered one of the best free providers on the market, has a reliable package that will not cost you a cent.
Still, TorGuard doesn't forget about offering a 7-day refund policy for their premium subscription, but that is something we will talk about later in this review.
Remember, the fact that their service is not free doesn't have to be bad. We say this because the VPN providers that you don't pay for make a profit out of selling your data.
This certainly is not something that you are looking for as a part of the anonymous browsing experience.
Performance
When we started to review this provider, we didn't have high hopes that it would be faster than ExpressVPN. Our predictions were right. Still, this doesn't mean that it can't put out a reliable performance. Considering a large number of servers, we decided to test a few from each continent featured. Here is what we found out:
Speed
Does a VPN provider have to slow down your internet connection? Absolutely. The reason for this is because of the encryption as well as the distance of the server location from your home. Set in the UK, we are using a benchmark of 235 Mbps for the download speed as well as 211 Mbps for the upload speed.
This kind of internet connection is something you can rely on in terms of streaming HD. Could TorGuard stand to the test?
The first server that we reviewed is the one in New York. To be honest, we didn't have high hopes for it, and again, we were quite right. The main issue we had was the ping that jumped to 155 ms.
This can cause serious troubles if you were hoping to download or watch your favorite show in HD resolution. Similar to StrongVPN, TorGuard dropped our download speed by 70%.
On the other hand, upload was at 82 Mbps, which was not that bad considering distance (we were based in the UK while doing the tests). The second server that we tested was the one in Amsterdam.
Looking at how the close Netherlands is to the UK, it is not a surprise that the performance was much better. The download speed dropped to 172 Mbps, while the upload almost remained the same (195 Mbps).
Additionally, we didn't have any connectivity issues, and the ping was at a fair 46 ms. The last server that we decided to review was Hong Kong. There are a couple of reasons why. The main is because if it was reliable enough, we could hope that it can unblock censored content in China.
Unfortunately, TorGuard still is not able to provide such a thing. Ping jumped to over 250 ms, which is unusable even for regular browsing activity. Also, the download speed dropped to 20 Mbps, while the upload was somewhat higher at 12 Mbps. Not the results that you want.
Without VPN (we were located in London) :

EU Server :


US Server :

Asia Server :


Thus, if you are looking for a VPN provider that allows tremendous speeds, rather subscribe to ExpressVPN or NordVPN.
Stability
Closely related to how fast servers are, we continued by doing a review of the overall connectivity offered by TorGuard. As expected, we got the best results with the EU servers. This was mostly due to our primary location.
On the other hand, we experienced a single disconnection from the US server during a 30-minute session. Also, we had serious issues with using the Hong Kong server. This was something to be expected considering the high ping of 250 ms.
Streaming
Being able to unblock different streaming platforms is among the many traits of a reliable VPN provider. If you want to see 2 good providers, read our duel between NordVPN and IPVanish.
Why is this so important? Well, a couple of years ago, it was so easy to access different content regardless of your location. Today, there are different geo-restrictions, and things are much trickier.
Netflix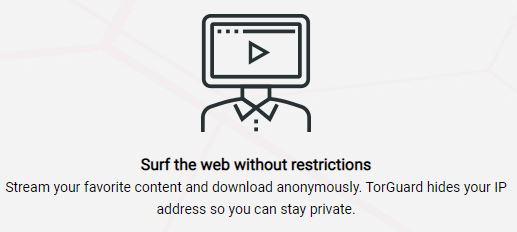 To be honest, TorGuard gets ridiculous when it comes to their Netflix unblocking ability. What they are asking for is that you pay an additional $7.99 a month to be able to watch different catalogs. This is too much considering the basic price of their VPN service.
Furthermore, while they do allow thousands of servers, we are 100% sure that you can't unblock the content using any. We went ahead to test this statement and had just a 25% success rate once subscribed.
We didn't have any luck with the EU servers. The only one that actually worked was set in New York.
So, not only does the provider ask you to pay for a Dedicated IP add-on but also doesn't ensure a 100% success rate.
Other streaming services
This did surprise us. Still, we found that TorGuard does a much better job of unblocking other less popular platforms. We had significant success with Hulu and BBC iPlayer.
It might also be used to unblock your favorite library of Amazon Prime. Considering this, we can say that while not ideal, TorGuard has a fine streaming potential.
Security
Even if things were ideal in terms of allowing streaming HD and torrenting, the unfriendly privacy policy would mess it up. That is why we must review the different security elements that affect the overall value of TorGuard.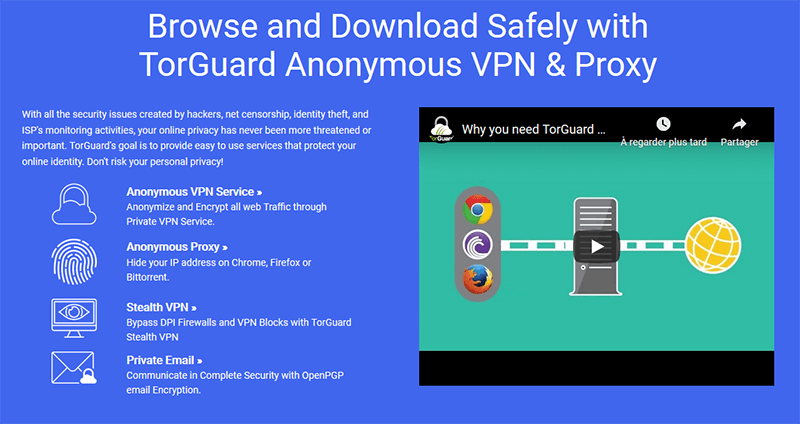 Where is it based?
We are not off to a good start looking at the location of its parent company – VPNetworks LLC. Located in Orlando, USA. This means that the provider would be obliged to hand any data to the relevant authorities.
The reason for this is because they are a part of the 5/9/14 Eyes alliance. While this is the case, it doesn't necessarily have to cause significant damage. What it depends on is the logging policy.
Log policy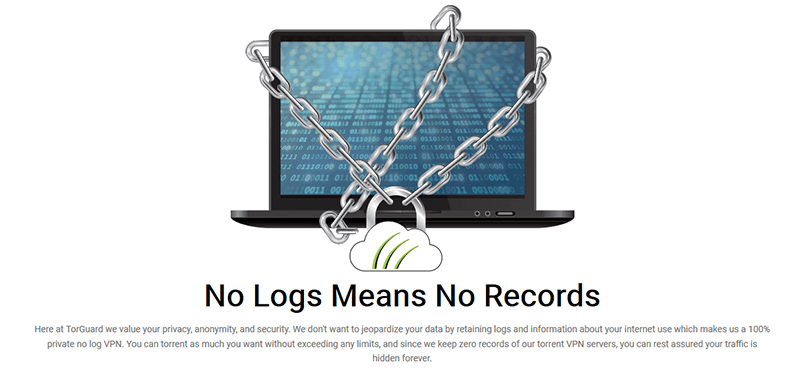 The answer is a bit tricky. Looking at their official website, you can see that they claim a strict no-log policy. On the other hand, they do collect the data related to purchasing their service.
Thus, you can expect that your payment info and email address will be kept. However, this is the only data that they track. What this means is that you are not at risk of third parties getting it or being legally affected by the same.
Protocols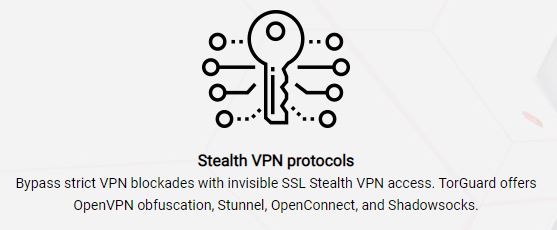 We are quite happy to see that TorGuard does use the industry-standard 256-bit AES encryption. This contributes to the protection of your data.
Additionally, the primary protocol that it uses is OpenVPN. It is the most effective tunneling instrument on the market. Still, we have to say that it may not be the best if you are an iOS user. For this reason, switching to IKEv2 is made possible.
Leak protection
In the end, we can't end our security review of TorGuard without mentioning the potential of DNS and WebRTC leaks. Luckily, this provider is aware of the damage it would cause and does everything to prevent it.
Thus, along with other instruments, they did include a kill switch. It works along with the OpenVPN, and 256-bit AES encryption to hide your IP address from the ISP.
Torrenting
While it doesn't have any connection to the TOR browser, it commits 100% to torrenting. In fact, we can say that this provider is among the top 5 in terms of P2P transfers. The reason for this is leak protection that they ensure, as well as thousands of servers that you can connect to.
Still, we need to comment that the service may use some improvement when it comes to US servers (slow speed). In the EU, we had a fast and secure experience when it comes to torrenting.
Bypass Censorship
A VPN can come in super handy when you want to watch the F1 championship. Luckily, TorGuard VPN can unblock most censored websites in Europe and the USA. Not only ones offering entertainment content, but also bookmakers, and social networks.
On the other hand, we are not confident that it will work in China. Yes, it does feature a Hong Kong server, which is a good start, but it is not as reliable as the ExpressVPN one.
The thing is, the Chinese government has set a strong Firewall blocking most providers.
Thus, to bypass this, it doesn't only have to offer a Hong Kong server, but good speeds and stealth protection as well.
Countries and Servers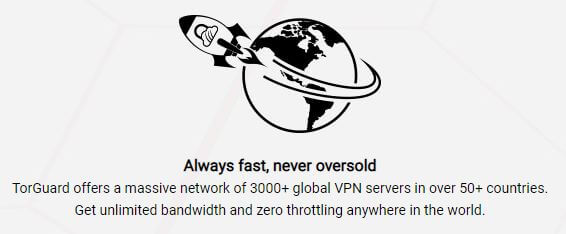 We are quite confident when we call TorGuard a versatile and global VPN provider. Much like NordVPN and CyberGhost, it offers thousands of servers (3,000+). They're set mostly in the US and EU, while the most notable one in Asia is Hong Kong.
After a series of speed and reliability tests, we found the UK, Netherlands, France, and Germany servers to work the best. Additionally, we had significant success with the one set in New York, especially for streaming blocked content.
Devices and Connections
TorGuard supports more than a few devices and platforms, so let's see what we found in this review.
Supported devices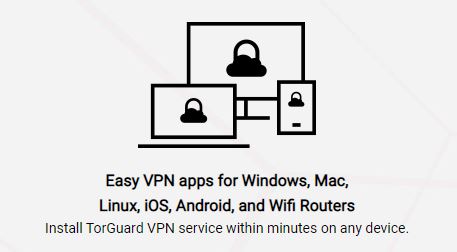 The provider is well-equipped with a plethora of apps for platforms such as Linux, Android, iOS, macOS, and Windows. Moreover, it offers VPN routers that natively support TorGuard, for ultimate protection.
Even better, the provider has a native app for iOS and Android platforms, which wasn't the case a few years back.
Instead of using OpenVPN to connect, all you have to do is download the app from the App Store/Google Play and enjoy it fully. That is if you already paid for a subscription!
Simultaneous connections
The premium package allows up to 5 devices to be connected at the same time, which is above average.
Customer Service

We were quite happy to see that the TorGuard VPN offers incredible customer service. To be honest, they probably have one of the fastest email response services on the market. We got an answer within an hour.
Also, the live chat is user-friendly and doesn't require experience to get engaged.
Still, we do think that the answers could be more case-oriented rather than serve the general purpose. On the other hand, if you invest time in explaining the issue, the operator is sure to help you.
Value for Money
As we have mentioned above, this provider doesn't offer a free trial. What this means is that you need to pay and subscribe to their service. But is it really worth it?
Price comparison
To be honest, TorGuard is quite expensive when compared to NordVPN or CyberGhost. A single-month plan will cost you $9.99. Add the Dedicated IP address, and it is $7.99 on top of that.
They also offer a quarterly plan for $19.99 in total, as well as a semi-annual that is $4.99 per month. Their annual plan is set at $59.99 in total.

Payment types
The great thing is that not only do they allow PayPal and major credit cards, but also Bitcoin. What this means is that you can stay anonymous instead of your payment history being logged.

Money-back guarantee
There is a 7-day refund policy for all the aforementioned packages. Considering the reliable customer service, you shouldn't have a hard time asking and getting a full reimbursement.
Final Thoughts
No one can deny that TorGuard has some cool and robust features, which is why we rank it #30 out of 78 after our review. Still, there are a few aspects that need to be improved to be as good as NordVPN or ExpressVPN.
Apart from more reliable US and Asian servers, the company should also invest more time in increasing speeds as well. Overall, a decent provider, but there are better alternatives for a portion of the price.
Our conclusion about this VPN service is that it is not the worst that you will find, but there is a lot that is better. But it comes down to personal preferences, so give it a try if you want to.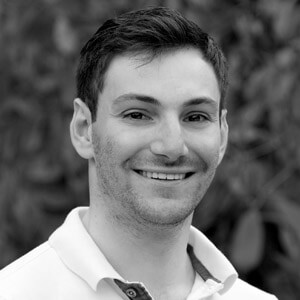 Flo is the founder of the-bestvpn.com. Really concerned about security on internet, he decided to create this website in order to help everyone find the best VPN. He's got a Business School background and now is 100% dedicated to keeping his website alive.