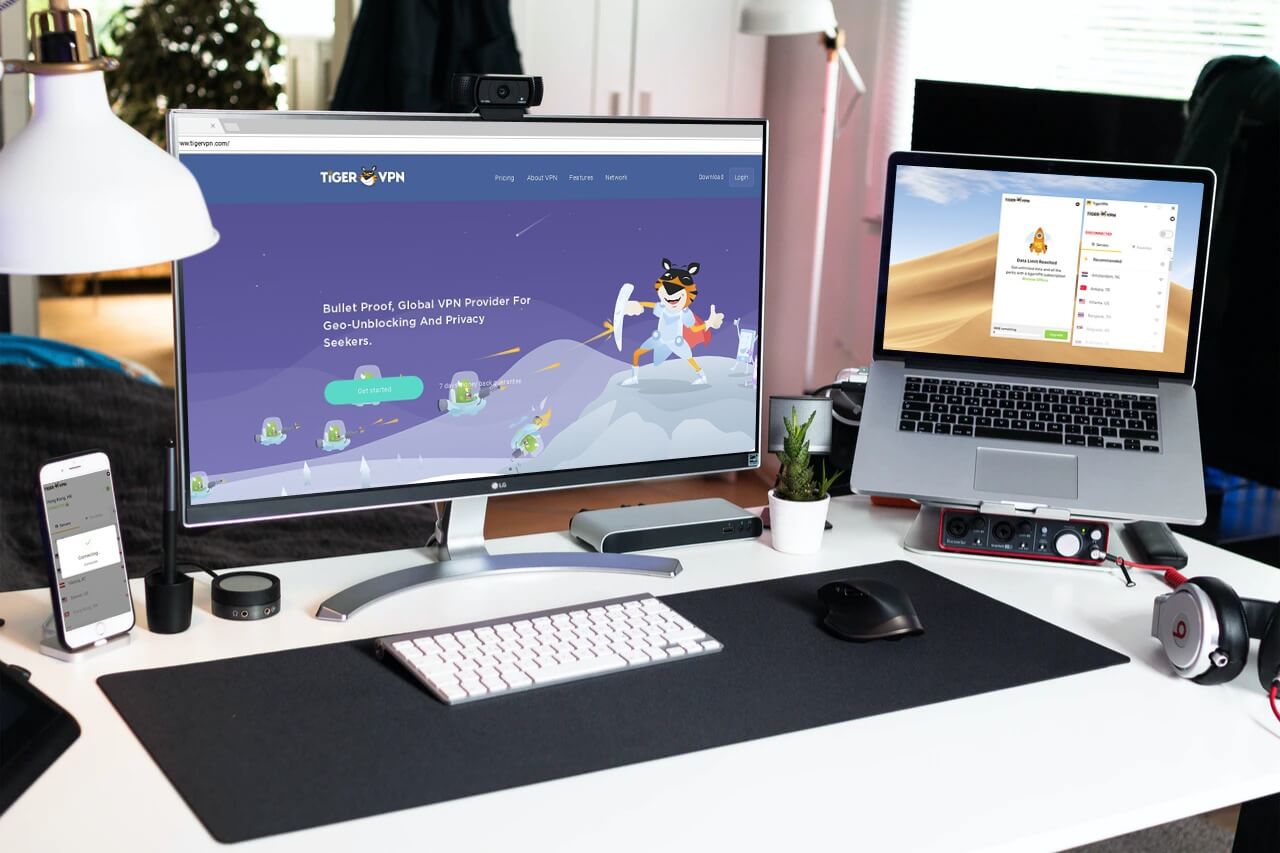 Many VPNs have great potential at first glance but turn out to offer nothing other than unreliable performance. This is mostly the case with names that seem to offer a unique approach to this service. A great example is TigerVPN, which is a company praised for its socially-conscious business as you will see in this review. What they do is donate 2% of any profit that they make. Thus, if you are looking to contribute to endangered animal welfare while anonymously browsing the internet, this looks like the right choice.
Still, whether you can rely on it for unblocking censored sites and torrenting may make or break the deal. That is why for this TigerPVN review, we performed a series of tests, focusing on the pros and cons of their service.
The idea behind it is to get you more familiar with the concept and help you make an educated decision. Let's get right to it.
STRENGTHS:
No leaks/malware
Efficient customer support
User-friendly interface
WEAKNESSES:
Sketchy log policy
Slow speeds
Expensive short-term
Limited torrenting
Limited Netflix
Unreliable connection
---
TigerVPN ranks #103 out of 104 VPNs tested. Here are the best alternatives :
Is It a Paid or Free VPN?

We always start our reviews by discussing whether a provider offers a service free of charge or not. The situation with TigerVPN is that they do not have a free or trial option. Still, there is a 7-day refund policy for all of their subscription options. That is something we will be discussing later on.
As for the free VPNs that you can trust, we would recommend Windscribe. It is known for good speeds, a fine security policy, and a user-friendly interface.
The best thing about it is your browsing data will not be sold to third parties.
Performance
For this TigerVPN review, we will be going through all the points that make for a good provider. The most important one certainly is the overall performance, which is determined by speed and reliability.
We mentioned above that they offer just over 300 servers in 42 different countries.
While this is limited compared to NordVPN, it could be decent if there are locations in the US and EU that run smoothly. Unfortunately, this was not our conclusion after testing a couple of servers during our review of TigerVPN.
Speed
If you have ever used a VPN, you know that it will not make your internet connection faster. Thus, the whole idea is that your internet speed is not decreased to the point where you can not even use it for average browsing activity.
The main issue that we have with TigerVPN is that they praise themselves for offering fast and reliable servers. However, this is not the case.
We used a benchmark of 235 Mbps for download speed and 211 Mbps for upload speed and decided to test a couple of their locations, and the results were as follows.
Logging onto the server in the United States (New York), we experienced a huge spike in the ping, which was set at 150 ms. Much like with StrongVPN, both the download and upload speed decreased by almost 80%.
This gave us 40 Mbps in download speed and 38 Mbps in upload speed. This connection would be unusable for streaming HD or torrenting.
The second test that we did was with the Hong Kong server, for which we had high hopes. Unfortunately, the ping spike was even higher at 330 ms, which is quite shocking. Thus, we experienced a series of timeouts and disconnections.
As you can imagine, our hopes for bypassing the Great Chinese Firewall immediately disappeared. As for the speed, the results were mostly the same as with the US server.
Last but not least, we tried out their server in the Netherlands. It was much better than the previous two, with a ping of just 40 ms.
Additionally, while there was a drop in speed, it was nowhere near as bad as the Hong Kong server. But it was still far from good! We got 80 Mbps for download speed and 66 Mbps for upload speed.
Without VPN (we were located in London) :

EU Server :


US Server :

Asian Server :

However, while their EU servers seem to offer decent performance, ExpressVPN is much more reliable.
Stability
After a complete review and many tests, we can say that TigerVPN does not offer optimal overall performance. This is all because of the high ping that we encountered with both Asian and US servers.
Plus, our internet connection was greatly affected in terms of speed, as well. We were not able to run a browsing session without getting kicked out every 20 minutes while using the Hong Kong server for example.
Streaming
As you probably know, since 2016, most VPN providers have not been able to unblock streaming content as well as before. Does this apply to this provider, as well? That is something we wanted to find out with this TigerVPN review.
Netflix

The most popular streaming platform does all that it can to block different VPNs from accessing Netflix catalogs. To be honest, we did not have high hopes for TigerVPN.
The first server that we tested was the one closest to our primary location in the UK.
Unfortunately, we were out of luck, considering the streaming error that popped up as soon as we logged onto the website. The next server we tested was in Canada. We had no success there, as well.
We proceeded to try the Netherlands, France, and Chicago once again, all to no avail.
Just when we were thinking that TigerVPN is much like other average providers and can not unblock Netflix, it proved us wrong. We managed to access the full US catalog by logging onto their Denver server.
However, the connection itself was quite inconsistent and thus made HD streaming unbearable.
ExpressVPN or NordVPN are much better options if you are hoping to stream without any issues.
Other streaming services
After doing a review on how well (or in this case not well) can TigerVPN unblock Netflix, we tested its performance with Hulu, Amazon Prime, and BBC iPlayer. Here, the results were much better.
Just as TigerVPN claims, we were able to access these services from different servers across the globe. As for how smooth and enjoyable your experience will be, depends on nothing but your primary internet connection.
Security
We emphasize the importance of robust security features for any true VPN provider. Without this, you can't be confident to browse anonymously and access censored content.
Whether TigerVPN belongs to a group of safe and secure providers depends on an array of elements that we're going to describe right after in this review.
Where is it based?
First and foremost, we want to say that this provider does not adhere to the 5/9/14-Eyes alliance. How so? Its parent company, Tiger at Work and Co., is set in Slovakia.
This means that should the government of any of the allied countries ask for your browsing data, the provider would not hand it over.
Additionally, there is a set of local Slovakian regulations that make the whole privacy policy one that you can put your trust in.
Log policy
Unfortunately, while the fact that their headquarters are in Slovakia is a great start, we had some issues here. Yes, TigerVPN is not going to track or store your clicks or download history.
However, we dug into the matter and found that this provider does store your email address, as well as payment history.
The problem that we have with this is that it can be sold to third parties to make a profit. What this would result in is irrelevant ads and browsing that is not secure.
Protocols

They are not as transparent when it comes to what type of tunneling they are using. Still, considering that their service runs pretty well on both iOS and Android, we can suppose it features OpenVPN, L2TP, and IKEv2.
As for the encryption, it is highlighted by the industry-standard 256-bit AES. This ensures that no one can crack through or track your private communication. It's always good news to find this encryption system when doing a review such as this one about TigerVPN.
Leak protection
Whether a provider allows safe and secure browsing data greatly depends on the DNS and WebRTC leak potential. Luckily, there is a built-in kill switch here that reduces the chance of such.
We tested this on a couple of relevant websites and found no risks for malware or IP leaks.
Torrenting
We tested this feature on a couple of servers and found the torrenting to be unrestricted. However, on their FAQ page, as well as the Terms of Service page, TigerVPN does not give support for torrenting.
Additionally, TigerVPN is not compatible with TOR.
Thus, do not try to access the Dark Web with this provider. A great substitute would be CyberGhost, which does not only allow torrenting but also supports it with excellent leak protection and fast servers.
Bypass Censorship
The fact that it offers a Hong Kong server gave us hope that it can unblock restricted content in China. While this is the case, the success rate depends on your location. Why? The closer you are to Hong Kong, the lower the ping will be.
We were not able to enjoy this, as our connection to this location was incredibly slow and unreliable.
As for other censored websites, including the legal gambling ones, we did not have any issues and enjoyed unlimited access.
Countries and Servers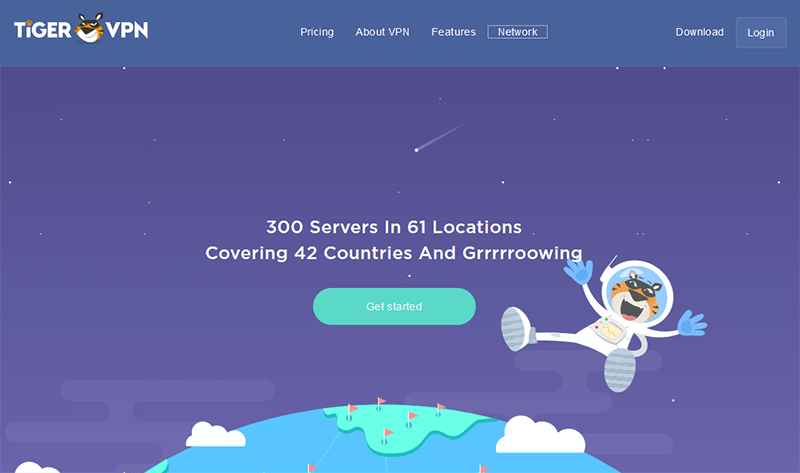 You would not be wrong to consider TigerVPN as a global provider. Still, considering that CyberGhost offers 6,800+ reliable servers, TigerVPN can not stand up to it.
As we found out during our complete review, TigerVPN comes with 300+ servers that cover just over 40 countries. This is decent, as there are servers in the US, Australia, Canada, Europe, and Asia.
However, there is room for improvement when it comes to global coverage. Especially if you compare the server network with the likes of ExpressVPN or CyberGhost.
Devices and Connections
Whether a VPN can work on different operating systems is always a valid question. So let's look through it in the next part of this TigerVPN review!
Supported devices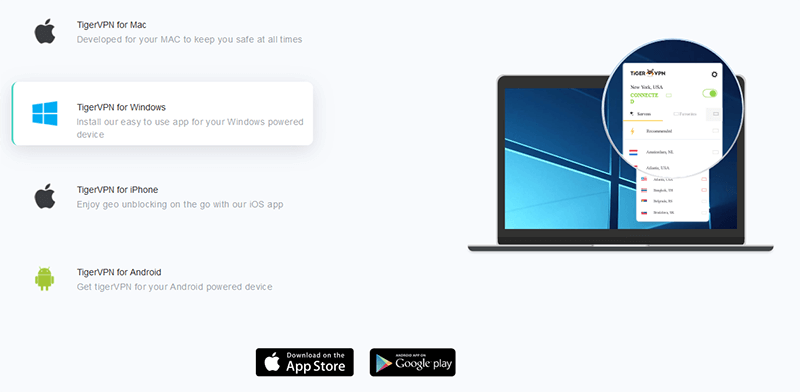 Looking at the overall compatibility, we were quite satisfied with TigerVPN. It does not require a lot of experience and offers reliable apps for iOS, macOS, Android, Windows, and Linux.
On the other hand, it is not compatible with TOR, as well as consoles, routers, and smart TVs. You could change this by manually installing the relevant tunneling protocol.
Meanwhile, subscribing to ExpressVPN will save you the trouble and let you enjoy optimal compatibility without a lot of effort.
Simultaneous connections
You can not connect with more than 2 devices at the same time. This goes for the one-month subscription package.
As for the other two options, you will be able to use up to 5 different devices simultaneously.
Customer Service
If you have any issues related to payment or the VPN service, you can be worry-free that their team will be able to help you. There are a couple of different options.
The FAQ page answers different questions, including the ones about the privacy policy and interface.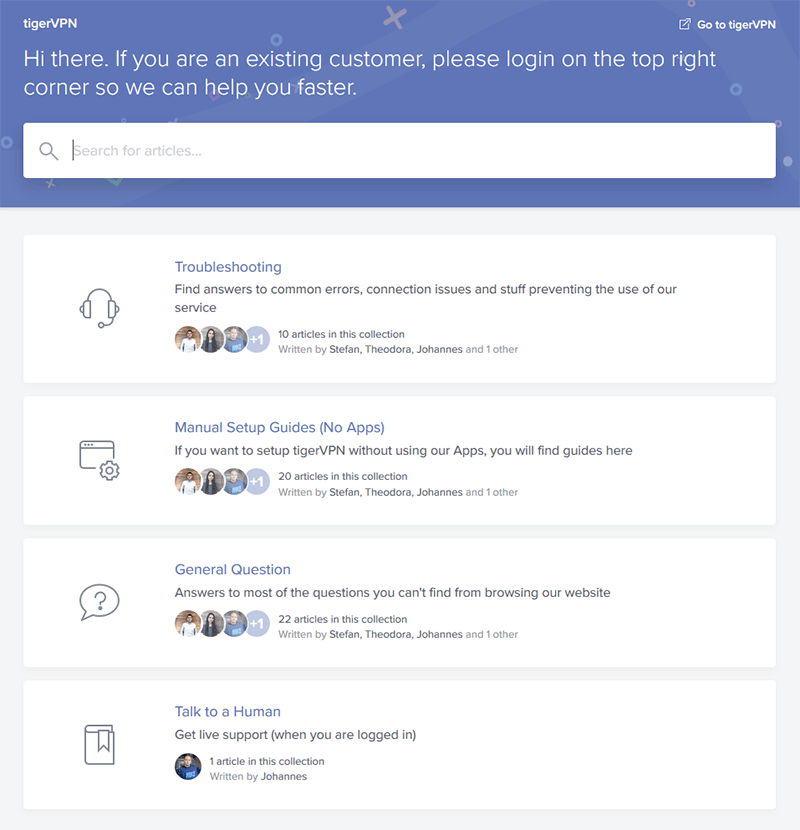 If this is not enough to solve the issue, asking support via live chat is an option. We had a great experience with this feature, as the operator was there within minutes.
Quite friendly and professional, we got all the answers that we asked for. Additionally, if for whatever reason, the live chat is not an option for you, their email response is quite efficient.
It did not take them longer than a couple of hours to provide us with a concise and spot-on response.
Value for Money
Whether a VPN service is affordable or not greatly affects the overall value.
Price comparison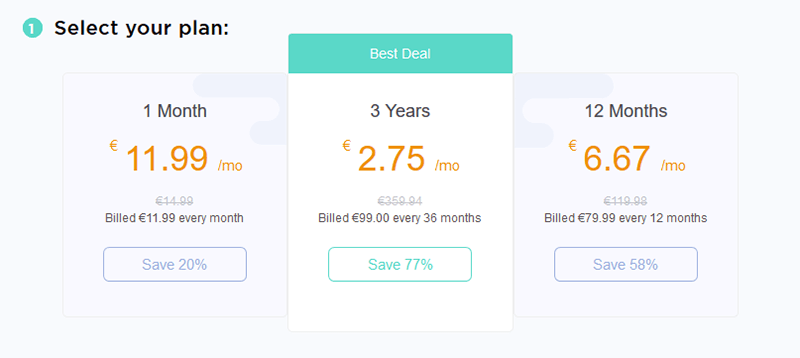 The first subscription option is the single-month one. It is incredibly expensive, considering the features that you are getting. Set at $11.99, you are limited to 2 simultaneous connections, without access to Shimo VPN Manager and StickyPassword Premium.
On the other hand, the one-year plan is $6.67 per month and ups the game to 5 simultaneous connections. The 3-year package which is incredibly affordable and comes at $2.75 per single month, offers 5 connections, as well.
Payment types
Other than major debit and credit cards, you can use PayPal, Alipay, or Bitcoin for settling the subscription fee.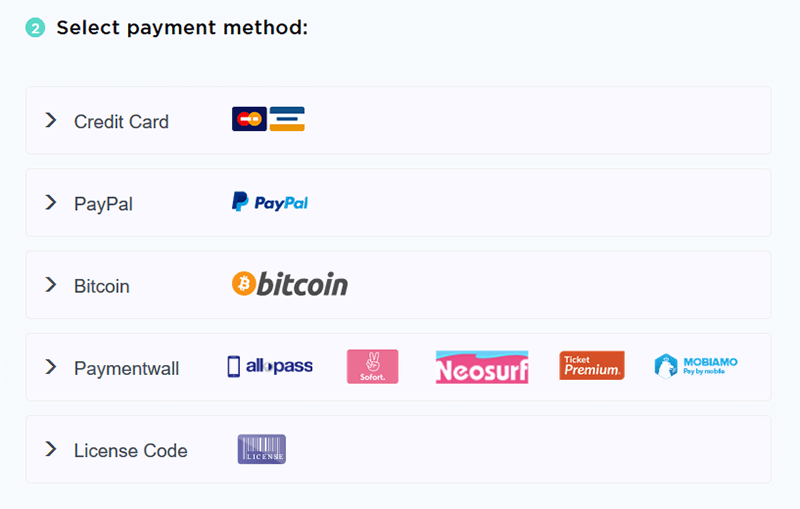 Money-back guarantee
There is a 7-day refund policy that should be quite easy to request, considering their reliable customer service.
Final Thoughts
Do we recommend TigerVPN after detailed tests and review? Unfortunately not. There are a couple of strong points, such as customer service and privacy policy, but the overall performance is unreliable.
The company needs to seek significant improvement in speed and streaming ability to become competitive once again.
Examples of great value VPNs are ExpressVPN, CyberGhost, and NordVPN. Thus, if you want to browse, stream, and torrent anonymously without connection issues, give one of these a go!
So, our final verdict is a hearty no. We would not recommend this VPN, especially with all of the other excellent VPN options available on the market.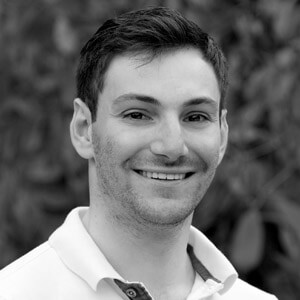 Flo is the founder of the-bestvpn.com. Really concerned about security on internet, he decided to create this website in order to help everyone find the best VPN. He's got a Business School background and now is 100% dedicated to keeping his website alive.