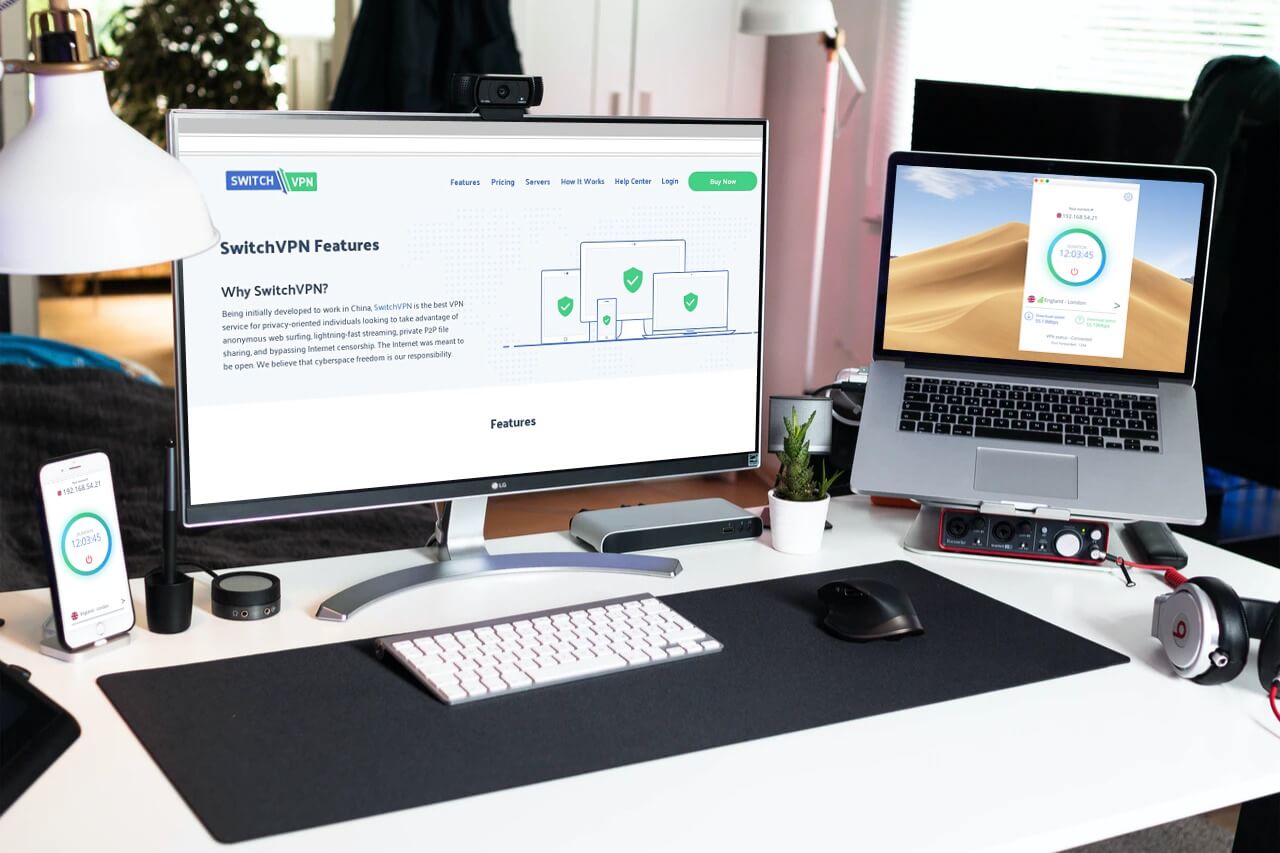 As first impressions go, SwitchVPN might appear to be brilliant, with it's "lightning-fast speeds" and "cheap but worthwhile" subscription. However, after doing some testing, we have ranked it 70th when compared to every other VPN service out there. Here is an in-depth review of SwitchVPN and why it is not a very decent choice First, let's take a look at some pros and cons, and then, we can move on to the rest of our review to see what this Virtual Private Network has on offer.
STRENGTHS:
Easy to install and use
Good encryption
WEAKNESSES:
A limited number of servers
Slower performance
US-based
Problematic past
No free trial
Not always friendly on Windows
---
SwitchVPN ranks #70 out of 104 VPNs tested. Here are the best alternatives :
Is It a Paid or Free VPN?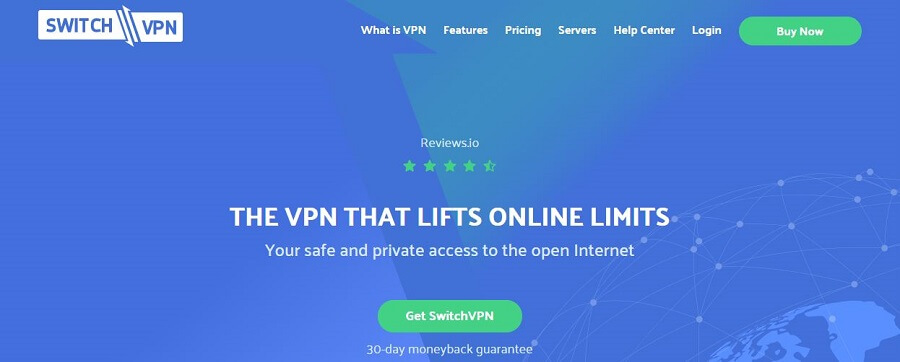 There are four different pricing options to choose from, with no option for a free trial. The cheapest option is a $1 trial for three days, so you will always have to give them money from the start to use this service.
Starting at $6.99 a month, the price goes up should you want to use more than 3 devices.
This limit is quickly reached in almost any household. This means that for even small families of 3, you are practically forced to purchase the more expensive $9.99 monthly subscription. The monthly option offers up to 6 allowed devices, which means you will only be satisfied if you are a small family.
The yearly subscriptions range from $47.88 a year to $71.88 a year and offer the same, limited number of devices allowed. Overall, this brings our SwitchVPN review down, as you will be paying these prices but have such limited freedom to use your devices.
Performance
Before considering just about any other part of SwitchVPN (or any other VPN), you need to first review the performances. Why? Because if this is lacking, you can be sure that the other features will be too. So let's see how SwitchVPN does.
Speed
SwitchVPN's performance speeds may be eye-catching at first. However, these incredible speeds dwindle greatly the further away your chosen server is from your location. These speeds can drop drastically depending on where you are located and what you want to access.
Unfortunately, this makes the overall performance unreliable and not ideal for everyone's needs.
To get an idea of the details you are working with and the speeds you will be getting, here are some numbers. We reviewed several SwitchVPN servers from different locations.
Note that we used a benchmark of 235 Mbps for download speed and 211 Mbps for upload speed. This is what we found:
Without VPN (we were located in London) :

EU Server :


US Server :

Asian Server :

These numbers are incredibly similar to what you will get from other low-tier VPN services. ExpressVPN and CyberGhost provide much more reliable connections with much faster speeds, for example!
Stability
Some key features simply do not work with some protocols. Sometimes, you will have to go without a kill switch, depending on the protocol you use.
Other times, you will be susceptible to DNS leaks, all because you chose the 'incorrect' protocol. The real kicker is that you will likely not even be told that your security is at risk with your current protocol.
Streaming
Many people choose to use a VPN specifically for the streaming platforms that it unlocks. So here we will review what SwitchVPN is capable of doing.
Netflix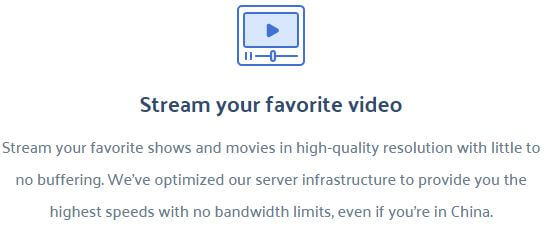 Luckily, you will have access to the standard streaming services that people use a VPN for, such as Netflix. Unfortunately, while you have access to these sites, you will be hard-pressed to stay on them.
The issues mentioned above with performance make the constant buffering, loading, and lack of caching a nightmare.
Other streaming services
SwitchVPN is not a VPN service to recommend in terms of providing a streaming service to you or your family. While it does unblock (most of the time) services such as BBC iPlayer and Hulu, the buffering and loading is much like what we experienced with Netflix.
This is hardly surprising though, is it?
We cannot, therefore, recommend it to you for anything related to streaming. For example, you will have to look elsewhere if you're searching for a way to follow the Formula One season live.

Security

It is no secret that SwitchVPN has a dubious past. While having grown from that significantly, there are still some glaring issues in their security systems. The encryption may be of good quality, but under further review, problems occurred when selecting specific protocols.
Many users have reported DNS leaks and the lack of a kill switch, while others have found that they have no such problem. The source was narrowed down to the fact that their protocols vary too much from server to server.
For a paid service, this is a significant problem.
It makes the VPN all the less safe to use, which knocks its 'review points' down by quite a few. NordVPN is a service provider with an incredible level of security. You can compare numbers to NordVPN should you want a reference when comparing the protection provided by SwitchVPN.
Where is it based?
This VPN is based out of none other than the USA. This means that it falls under the 5 Eyes jurisdiction. What does that mean for you? Well, if the government comes knocking, any records that have been kept would have to be handed over.
This shouldn't be a problem if they have a strict no-log policy, though. So let's find out.
Log Policy

During our complete review, we found out that SwitchVPN does not keep logs on the user, meaning you can remain entirely anonymous while using their service. However, considering the issues in security we know they have, you should still be extra cautious when it comes to working with private information.
Plus, as long as you are okay with your name, email address, and payment information being collected (which we are NOT), you should be fine.
Information may slip through the cracks and expose you, especially with no kill switch to protect you should the server go down.
Protocols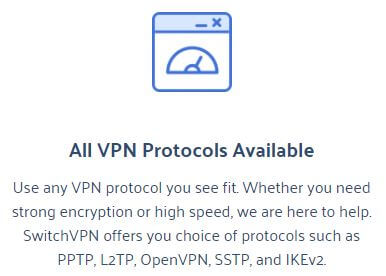 SwitchVPN uses OpenVPN protocols, as well as some of their own. OpenVPN provides several security benefits but is only good for small periods of usage with this VPN, so no long streaming times.
This means that you may need to use their other protocols, which have kill switch and DNS leak issues.
Leak Protection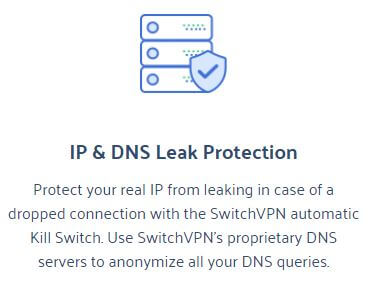 While they claim to have a 'top-of-the-market' security system, you will find some issues and holes in the security they provide. But this mainly comes down to the use of their protocols.
When using the OpenVPN protocol, we did not experience any DNS, WebRTC, or IPv6 leaks.
Torrenting
Again, this is another hit-or-miss situation with some users reporting excellency, while others are reporting abysmal service. The consensus is that SwitchVPN, with its lower prices and ease of setup, checks out as a good VPN to use for torrenting.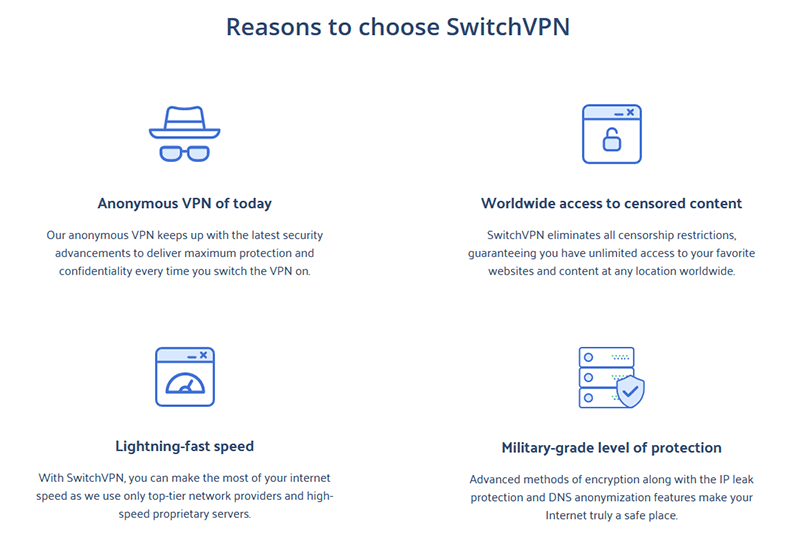 However, owing to the issues with connectivity, torrenting can become difficult based on your location from the server. You will find that you will have problems with disconnecting and torrents failing should you be at an awkward distance from the server.
Bypassing censorship
The service allows you to bypass the censorship of schools and workplaces just as easily as any other VPN does. One of the stronger points found while doing this review of SwitchVPN was its ability to bypass all but the most robust censorship.
You can be safe knowing you will be able to bypass almost everything but the Great Firewall of China. Unfortunately, it has not figured out a way around that yet.
Countries and Servers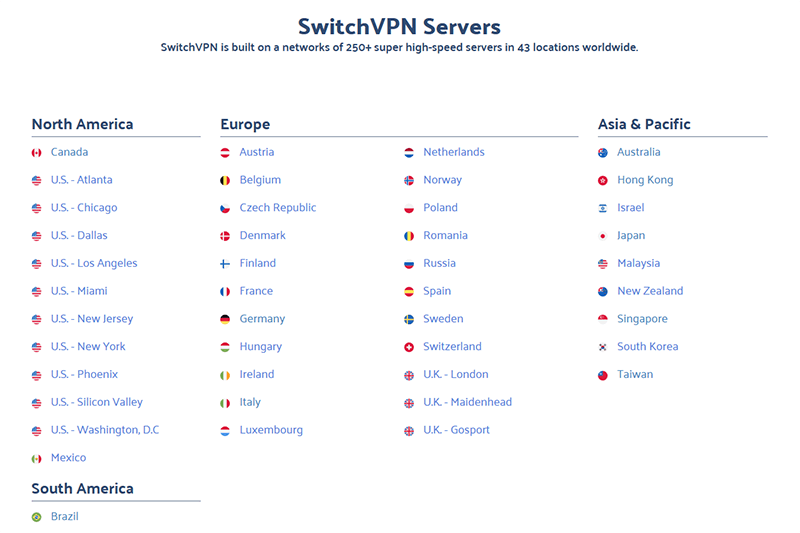 One of the many weaker points of SwitchVPN found during the review of its service was the lack of variety when it comes to servers and countries.
It offers servers in 33 different countries, the concentration of which was mainly in Europe and the US. You will find that there are very few options in the way of IP addresses to choose from, despite there being up to 250 servers total.
This means that, while there are around 250 servers to choose from, many of them can be blocked or spotted. Indeed, many of them share a single IP address, which immediately gives it away as a VPN to these companies.
Devices and Connections
Next, we need to review which devices a connection is supported on when using this VPN.
Supported devices
SwitchVPN has an app for Android, iOS, macOS, and Windows. However, Windows and mobile apps have all reported issues with incompatibility. These range from broken functionality to performance issues based on not being fully compatible.

However, when it does work, you need only worry about the previously mentioned issues that come with the app itself.
Simultaneous Connections
As mentioned at the beginning of this review and test, all SwitchVPN subscription plans begin by only allowing 3 devices to use the VPN service at the same time.
Then, you have the option of upgrading to 6 devices for an increased price per year or month. These amounts are quite low based on what you will be wanting from the service.
For instance, for a family of 4, each with a cellphone, you will have to use an upgraded plan. For a family of 3, the minimal plan will be okay, but only if you want to use your cellphones through the VPN.
You can not your smart-TV, laptops, computers, or other devices.
With this in mind, you are instead sneakily encouraged to get the pricier subscription plan. That way, you are not scraping by on just your cellular devices.
Customer service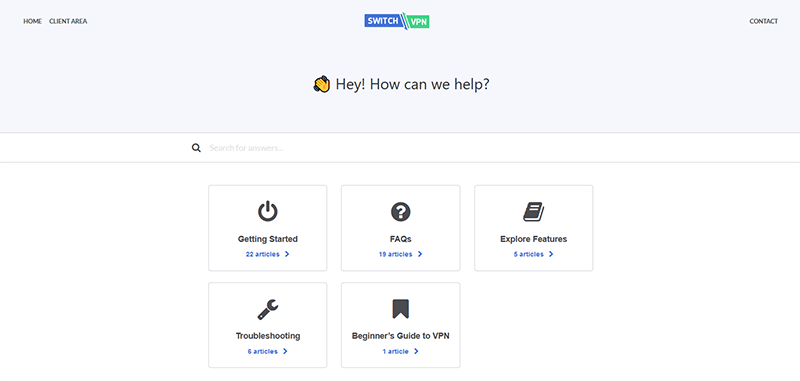 SwitchVPN offers a genuinely good support plan. There are options to contact a support team that runs 24/7, as well as an online help manual. You will never be lacking for support when using SwitchVPN. This was one of the few strong points of SwitchVPN found when under review.
To their credit, their strong points are well implemented.
They have multiple FAQs and resource guides, as well as a starter's guide on how to use their service. It also informs you about what a VPN can and cannot do.
Should their resources not be enough, you can contact them through a phone number or via email. If you send an email, you will receive a response in a relatively short amount of time.
Value for the Money
Another main consideration needs to be how much it costs and whether it offers good value for money options to users.
Price comparison
Unfortunately, SwitchVPN does not have a free trial available as stated before in our review. You can get a $1, 3-day trial, after which you have the option to enable the full VPN service. After purchasing a subscription of your choice, you have a 30-day guarantee.
If you are dissatisfied with the service, you can get all your money back. However, after those 30 days, you are committed and cannot get your money back should you cancel.
There are two types of subscriptions available: monthly and yearly. For each, you have the option of a cheaper subscription to connect a maximum of 3 devices. If that is not enough, there is a more expensive subscription to connect twice as many devices.
However, as mentioned before, the more affordable subscription would not be worth it for most people. Thus, the more expensive one is more popular. This is only because most people who need or want a VPN service have more than 3 devices that need connecting.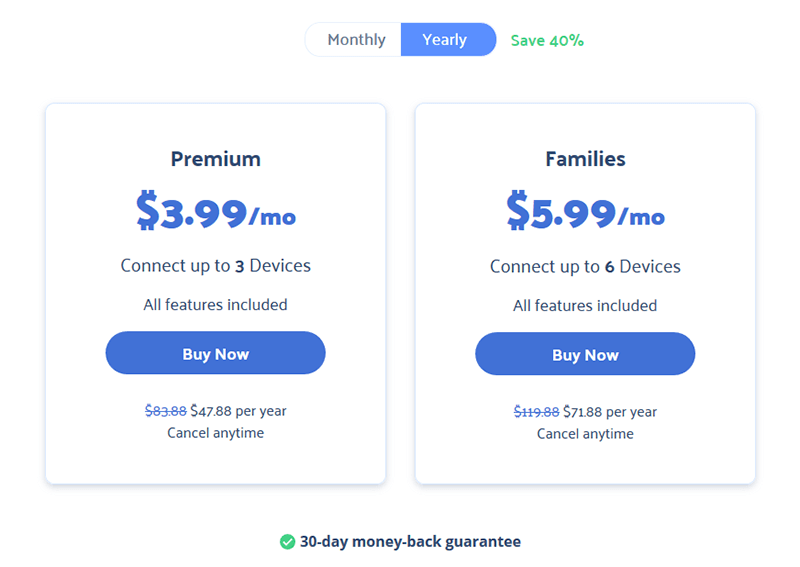 A monthly subscription goes from $6.99 for 3 devices to $9.99 for 6 devices. Meanwhile, a yearly subscription goes from $47.88 ($3.99/month) for 3 devices to $71.88 ($5.99) for 6 devices. These prices are just above the average one would pay, especially for a VPN that has so many technical and security issues.
For much less, at just short of $88, you can get a 3-year subscription to CyberGhost. This is a much better VPN service that does not have any glaring security issues. It is also much more stable and has a much better variety in terms of servers.
Payment methods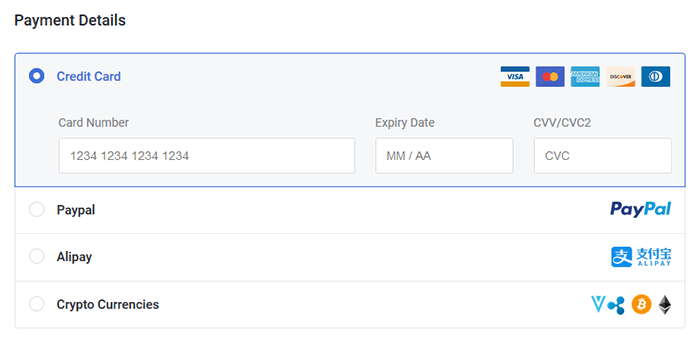 The VPN provider accepts all major credit and debit cards as well as PayPal and Bitcoin. You can also purchase a 3-day trial for just $1 which includes all of the premium features.
Money-back guarantee
All of SwitchVPN's plans come with a 30-day money-back guarantee, which we are quite confident in thanks to their good customer support.
Extras
SwitchVPN disappointingly does not offer anything extra or any incentives. Everything they offer is included in their subscription packages and nothing more. This would not be a problem for the more high-end VPN services.
However, SwitchVPN suffers from internal technical and security issues, which significantly impacts its worth. When viewing all that they have to offer, you may have high hopes.
Final Thoughts
A few extras or incentives would go a long way in making SwitchVPN a much more viable VPN service. As it stands, however, SwitchVPN is all talk and no walk. On paper, it may seem like a brilliant VPN that deserves a much higher score.
After reviewing all that it has to offer, you can not help but knock a few points off.
Its compatibility issues are minor and can be forgiven, but they are still prevalent among many who try to use SwitchVPN. Once you are getting into the app and choosing an option, you will find that OpenVPN is likely the best option.
It has a kill switch, something many other options do not, and it does not have DNS leaks (at least we didn't find any).
On top of these security issues, you do not actually have many options when it comes to servers. Due to the lack of IP addresses, SwitchVPN's 250 servers can actually be narrowed down to just a few. If all servers are using a single IP, the entire service can be shut down with but a single blocking.
However, these issues might not even be something you encounter, as the pricing may put you off, as well as the limit on devices.
Only having 3 compatible devices can be a huge issue for those who are not using a VPN for a single purpose for themselves. This 'encourages' purchasing the more expensive option, which is frankly overpriced for what you get out of their service.
As such, SwitchVPN is in no way comparable to the top three providers: ExpressVPN, NordVPN, and CyberGhost. These providers are top of the range and provide you the best value for your money. They also do not possess the glaring issues we found while doing this test and review of SwitchPVN.
When brought under review, though, SwitchVPN just is not all it is cracked up to be and we would not recommend it.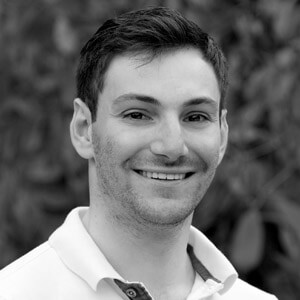 Flo is the founder of the-bestvpn.com. Really concerned about security on internet, he decided to create this website in order to help everyone find the best VPN. He's got a Business School background and now is 100% dedicated to keeping his website alive.