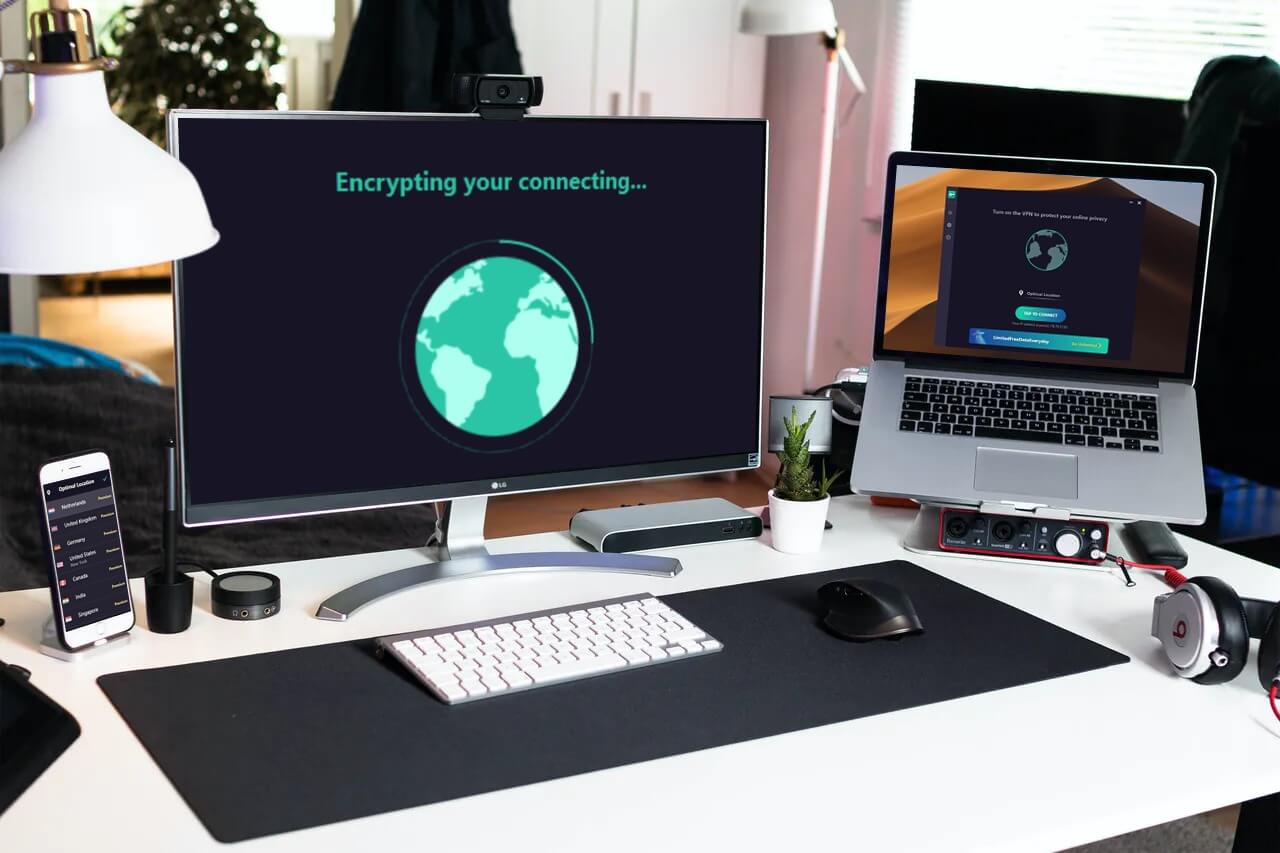 Proxy Master VPN seems like a pretty big deal in the Android world. With more than 10 million downloads, this provider holds its ground against the likes of ExpressVPN and NordVPN. But, is it truly a great provider? Can it flex its muscles in the real world? That's what we intend on finding out today. If you're planning on buying it, we suggest reading our Proxy Master VPN review first.
STRENGTHS:
Intuitive apps
Kill switch
Multitude of protocols
WEAKNESSES:
Singaporean jurisdiction (14 Eyes)
Small server network
Shady privacy policy
Poor speeds
Expensive for what you get
---
Proxy Master VPN ranks #32 out of 104 VPNs tested. Here are the best alternatives :
Is it a free or paid VPN?
Before you think about a certain Virtual Private Network, you always consider the pricing. Proxy Master VPN isn't a provider you'll be hell-bent on buying, and to make matters worse, it's a paid provider. Actually, it's both paid and free, with a free version being very limited.
The free version offers just one server, while the premium one offers a bit more, and unblocks some of the app's features. Generally speaking, Proxy Master VPN isn't one of the best we've tested, so we're pretty baffled at how it can charge so much for what it offers.
Here, a monthly plan isn't the most expensive one. Instead, the longer the deal, the more expensive the VPN is monthly, which is just ludicrous.
Performances
Let's kick off our review with the performance that you get out of Proxy Master VPN. The best providers out there usually provide more than sublime performance, such as ExpressVPN. This VPN lets you unblock YouTube and watch videos freely, or enjoy Netflix and Hulu buffer-free.
In terms of performance, we examine speed and stability, which may greatly impact your connection – for the better or worse.
Speed
Speeds are very important for a VPN because of one simple reason. All providers will reduce your native internet speed to some extent and that's a small price to pay for supreme security and privacy. However, that "price" sometimes isn't very small. Sometimes, you pay A LOT, yet you get lackluster security.
Proxy Master VPN isn't a go-to option, despite millions of downloads on the Google Play Store. As such, our expectations of it were quite low… and it still disappointed. Below are the screenshots of our speed tests, so you can see how bad Proxy Master VPN performed.
Without VPN (we were located in London) :

EU Server (France) :


US Server :
Asia Server (Japan) :


Let's give our two cents about the speeds we got. Without a VPN, our internet is a pretty split one, boasting both upload and download speeds over the 200 Mbps mark. Our ping is also very low, meaning that we enjoy almost the fastest possible browsing experience.
Well, until we started using Proxy Master VPN for this in-depth review…
This provider will demolish your speeds, reducing them to almost 95%. If you want a provider for streaming, torrenting, and even browsing the web, avoid this one like a plague. A much better choice is ExpressVPN.
Stability
When it comes to stability, we didn't have major issues. Proxy Master VPN promises the servers' uptime of 99.9%, which is the best possible scenario. On the flip side, due to how slow it is, our connections were often flimsy, if we could say it what way.
This means that we were often disconnected from the sites due to long waiting times. Or perhaps, we had to wait for 15 to 20 seconds for it to connect, instead of 5 seconds, which many providers out there fulfill.
Even in this regard, Proxy Master VPN will not suffice for some users.
Streaming
Streaming is an activity that many of us perform daily. We bet you love Netflix, HBO GO, or Disney+ platforms that gained huge popularity in recent years. If you're not from the US, you're pretty much screwed in terms of streaming platforms that you can access.
You can't watch the largest Netflix catalogs, nor you can access Hulu, Disney+, ABC, and other platforms. Our streaming test for this review is a comprehensive one, so we test more than a few platforms to see how well Proxy Master VPN behaves.
Oh, and also, we test the streaming experience, which depends solely on performance. We saw that performance of this provider is poor, so don't expect fairytales or miracles.
Netflix
The almighty Netflix – only the snakes under the rocks don't know about it. This platform is the largest database of movies and TV shows that people worldwide cherish and adore. Netflix is arguably a tough nut to crack. It detects VPNs easily, blocking access to the site, and preventing users from unblocking different catalogs.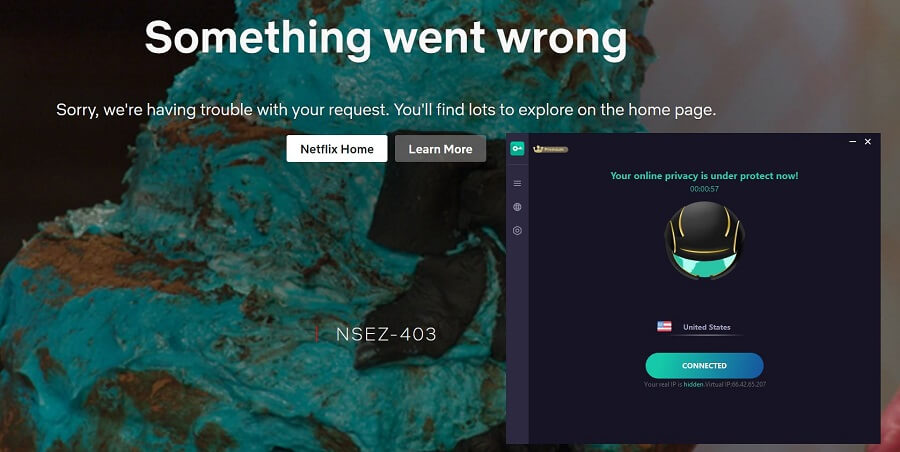 We tested Proxy Master VPN using the US server, and as expected, it didn't work. Be aware that, even if it worked, the speeds are not very good, meaning that you won't be able to enjoy streaming to the fullest.
Other streaming services
If you're not strictly limited to one streaming platform, you wonder if you'd be able to unblock other streaming services abroad. We'll put screenshots of some of the services we tested with Proxy Master VPN and then, we'll discuss them, to conclude this section of the review.
BBC iPlayer:
Hulu: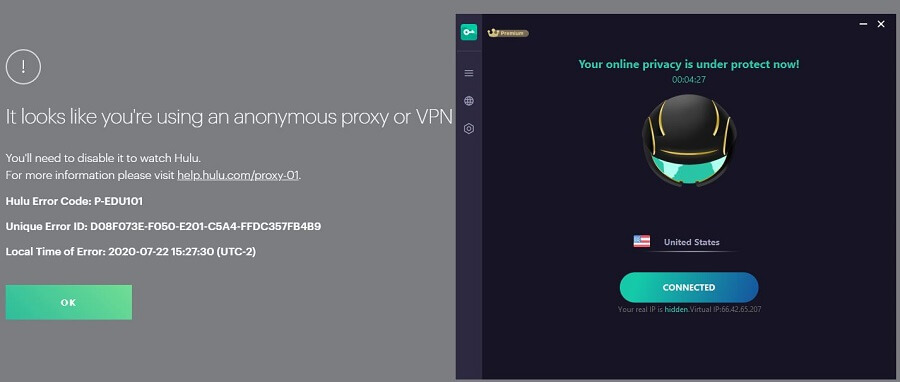 Amazon Prime Video:

Disney+:
Proxy Master VPN did a poor job of unblocking all the streaming platforms we tested, including Disney+, Hulu, BBC iPlayer, etc. The screenshots above are only some of our tests, and as you can see, they're not successful AT ALL.
Therefore, we can't recommend the provider for streaming. ExpressVPN is a much better option in this regard, offering superb speeds and the ability to unblock a vast majority of streaming services.
The security offered by Proxy Master VPN
So far in our review, Proxy Master VPN didn't exactly shine. It's like a pale moon in the dark – not very shiny or beautiful. Security is probably the most important factor in a VPN, aside from speeds and streaming.
If you're a nerd like we are, you look into every nook and cranny to find out more about the security and privacy that the provider offers.
Luckily for you, we already did that, and what we have to say isn't exactly the best. Pay close attention to the following sections.
Where is Proxy Master VPN based?
The first red flag (in this regard) comes from the provider's location. Whoever thinks that the location of the provider is not important, is dead wrong.

Proxy Master VPN is based in Singapore. But wait – why is this innocent country a bad location for a VPN?
Hold on. We think that Singapore is indeed a beautiful country with lots of interesting places to visit. However, you must know that it's a country from the 14 Eyes alliance. Other countries here include the UK, US, Sweden, Germany, and so forth.
While these countries advocate free internet access, they also conduct government surveillance and share information. Singapore is in this soup as well, so here you go – bad news.
Log policy
The logging policy is what you should always read and analyze before you buy or use a certain provider. You might be surprised at what you'll find. We found even grammatical errors in some of them, as well as copied sentences and paragraphs from other providers.
Guess what? We found almost the same things here!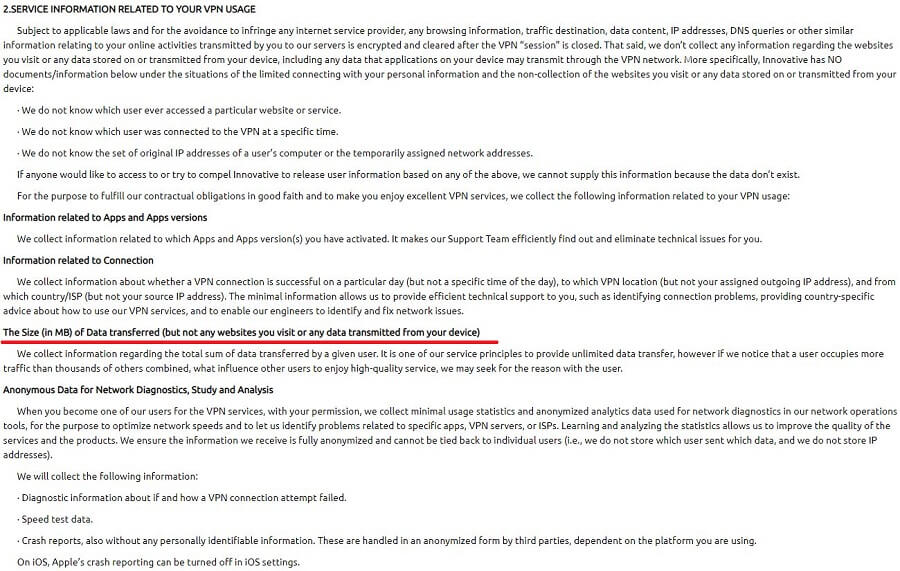 You can read it all you want, but we highlighted one of the parts in which they collected information about your bandwidth. And if you read further, they say that if they notice that you occupy more traffic than thousands of users combined, they'll investigate.
What do we need to do to occupy millions of megabytes of bandwidth, for Christ's sake?
Apart from this, Proxy Master VPN collects timestamps, anonymized data, which VPN servers you're using, your ISP's name, and so forth. You get the point. It's not good – like the doctors say when you have a serious disease. God forbid, that's not going to happen.
This is just a part of the privacy policy and if you're interested, you can visit the site and read it in full. You'll find out that the provider shares your data with 3rd parties and other countries, too, which is not something that'll make you excited.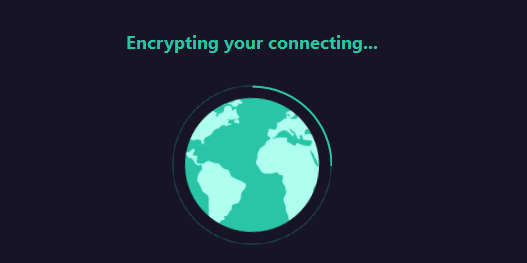 And these types of typo errors… oh, give us a break, will you? Is it possible that millions of users didn't notice this and notify the provider? All in all, it's an untrustworthy provider that stores logs. If that bothers you, and it should, we recommend going for ExpressVPN instead.
Protocols
A few years before writing this review, Proxy Master VPN was a bare-bones product. Not to say it's a premium product right now but back then, it was a dumpster fire. You had to use only OpenVPN, which isn't all that bad, you'd say.
Well, some of us like variety in how we approach our VPN connections, and thankfully, the provider heard us.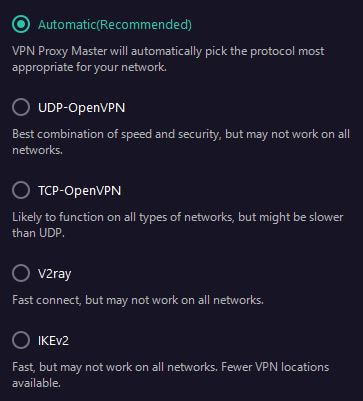 We were quite surprised at what we saw. Not only do we get OpenVPN but we can also choose between UDP and TCP, which can make a huge difference in some cases. IKEv2 is here, too, and it's a great alternative to OpenVPN, in case one doesn't work for whatever reason.
Lastly, there's a V2ray protocol that isn't all that popular. In short, it's here for bypassing censorship and providing faster connections at the cost of not working on every network. The provider should've included an explanation of it, rather than saying one 9-word sentence about it.
Leak protection
For preventing leaks, the provider uses 128-bit AES encryption with an automatic kill switch. You'll notice 128-bit encryption instead of the 256-bit one. Let's get something straight. The weaker one is still VERY secure but logically, the stronger one is, in this case, much better.

And since we're paying a price for the service, why can't we get a full "treatment?"
Only free providers offer this type of encryption but even then, not all of them do so. Windscribe is a prime example of that. By the way, you can read our Windscribe review if you're interested in a quality free provider.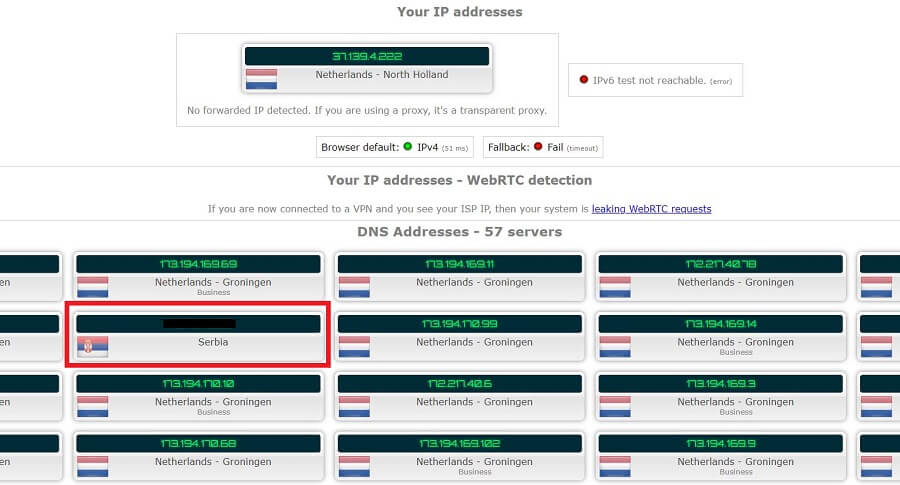 Is the leak protection effective? Not exactly. It managed to detect where we were located at the time of writing this review about Proxy Master VPN. Our IP address is hidden, for obvious reasons.
Torrenting
To provide a decent torrenting experience, a VPN must have two things – fast speeds and a zero-logging policy. As we saw, Proxy Master VPN has neither, which puts it in the risky category for this online activity. Still, we decided to test it out.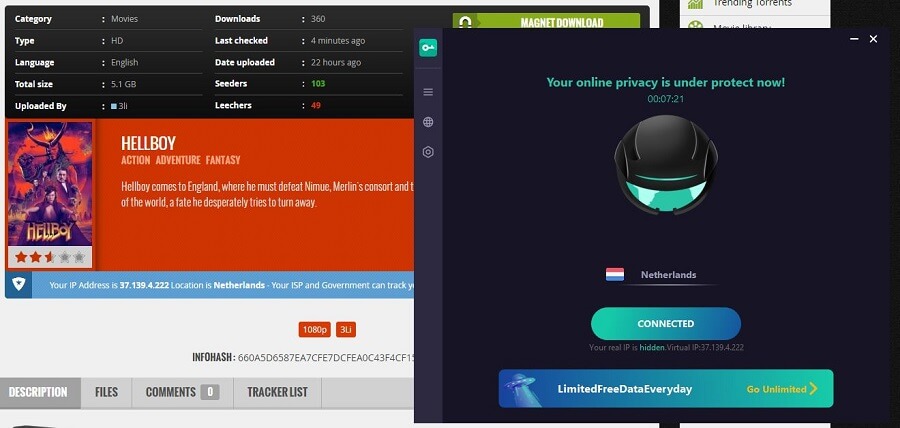 We entered the 1337x website and it showed the same IP address from above. However, since our DNS was leaking, we were reluctant about whether or not to try and download Hellboy. In the end, we initiated the download and it was successful, although we don't recommend doing so.
The provider is from Singapore and obviously collects a lot of data, so it can easily pass it onto your ISP and your government.
Bypassing censorship
Bypassing censorship is a mission impossible, either. The V2ray should technically do its job but it doesn't. To make it clear, our testers in China are doing this test for us because China is among the most censored countries. We test it there, to see if it can bypass the Great Firewall.
In 10 out of 10 tests, Proxy Master VPN was instantly blocked, preventing us from accessing the internet. We find it hard to recommend it for this purpose, especially if you live in countries like Russia, the UAE, Turkmenistan, Iran, Iraq, and of course, China.
Countries and servers covered by Proxy Master VPN
In this section of the review, we'll examine the Proxy Master VPN's website to find out more about the number of servers it offers. It claims to have 6,000+ servers around the globe, in 40 countries. That's a serious number, even surpassing ExpressVPN and NordVPN.

Did you think that this provider really has that many servers? We neither. However, after talking to the support team, they confirmed that there are truly 6,000+ servers. We also counted the countries from the app and there were 40 of them.
Some of them are displayed in the image below: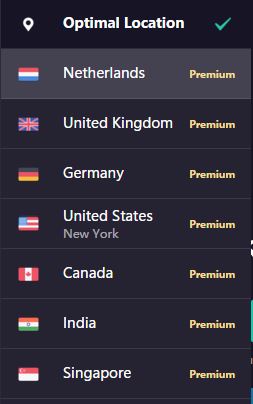 In this regard, Proxy Master VPN is one of the best providers. Albeit, these servers are far from being the best on the market. Since they can't unblock streaming platforms or provide decent speeds, it's pointless having thousands of them.
Compatible devices and connections
A provider like this can never impress us with compatibility and general device support. We know it even before we start testing a particular provider. That was the case here, as Proxy Master VPN received yet another nail in the coffin.
Devices supported by Proxy Master VPN
The device support of this provider is poor, as we imagined. You can't use this VPN on Amazon Fire TV Stick, Apple TV, Roku, or other platforms. Instead, you're limited to macOS, Windows, iOS, Android, and a Chrome extension that's still in beta at the time of writing the review.

The apps on every platform are intuitive, and while they aren't the prettiest, they function okay. So far, we haven't noticed any major technical issues with them, despite the provider being lackluster.
And please – fix your grammatical errors within the app!
Simultaneous connections
On the brighter side, there are a few simultaneous connections.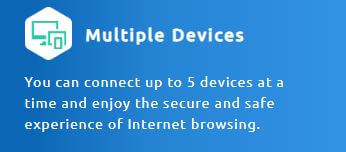 To be precise, 5 of them, which isn't all that bad, considering that ExpressVPN offers the same number of connections.
Support
Support is where Proxy Master VPN gave a bit of a fight. Not a fight in the literal sense of that word but a fight in terms of having something positive in this review. As soon as we visited the website, we saw a small widget in the bottom-right part of the screen.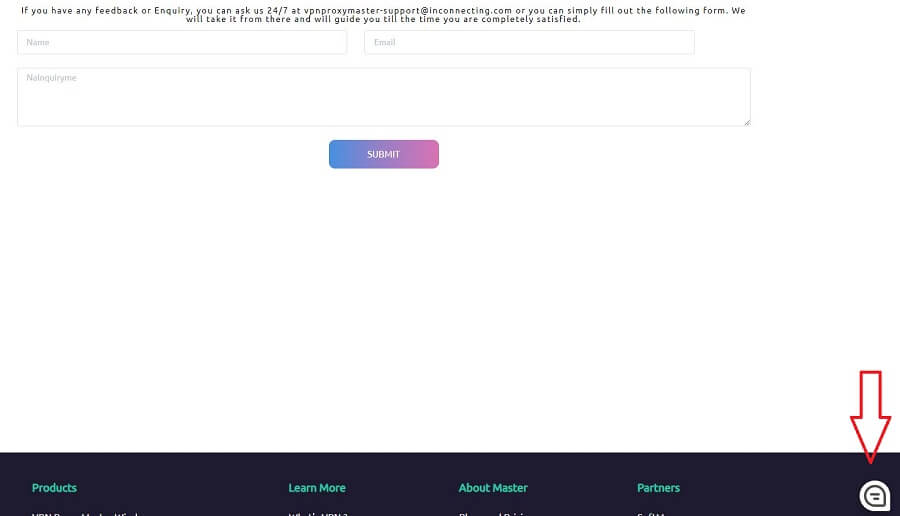 That's a live chat icon – yep. Apart from live chat, you can use an email form to contact them, which, surprisingly, is the same thing here. We contacted the support team for more information about the provider and we got our answer in two hours.
This answer wasn't from a person – it was seemingly from a bot.

After full 13 hours, we finally got a true response from the support team member, even though we used live chat. We needed to leave our email in the live chat for the support to answer when it's available.
As you can see, it was after half a day – such a shame.
Value for money
We, at The-BestVPN, are always honest in our reviews and we say if a particular provider is worth buying. For Proxy Master VPN, we'll tell you right away – it isn't. In the following sections, we'll see why.
Price comparison
The first time we visited the website, we thought that this is a free provider. Sure, it has a free version but it's really not that good. When we saw the Pricing tab, we immediately clicked on it and found this price chart.

If you notice something different, you're right. The cheapest here is the monthly plan, priced at $4.99 a month. Then, depending on how many months you want, the plans are getting cheaper monthly – how strange.
For example, an annual plan costs $5.83 a month, which is $69.99 a year. Obviously, this annual plan is more expensive than the monthly one, so why purchase it?
Not to mention that a 3-month plan costs $9.90 a month or $26.69 every 3 months.
Isn't it supposed to be cheaper in the long run? I mean, even top-tier providers follow this trend. If you buy a pack of beer, beers are always cheaper per bottle/can. But, if you get a single beer, it's always more expensive if we look at the bottle/can price.
We aren't smart enough to see what the provider is trying to do with this pricing. We truly aren't. Sorry.
Payment methods
If you're crazy enough and you buy Proxy Master VPN after reading our review, you'll get one payment method to pay with.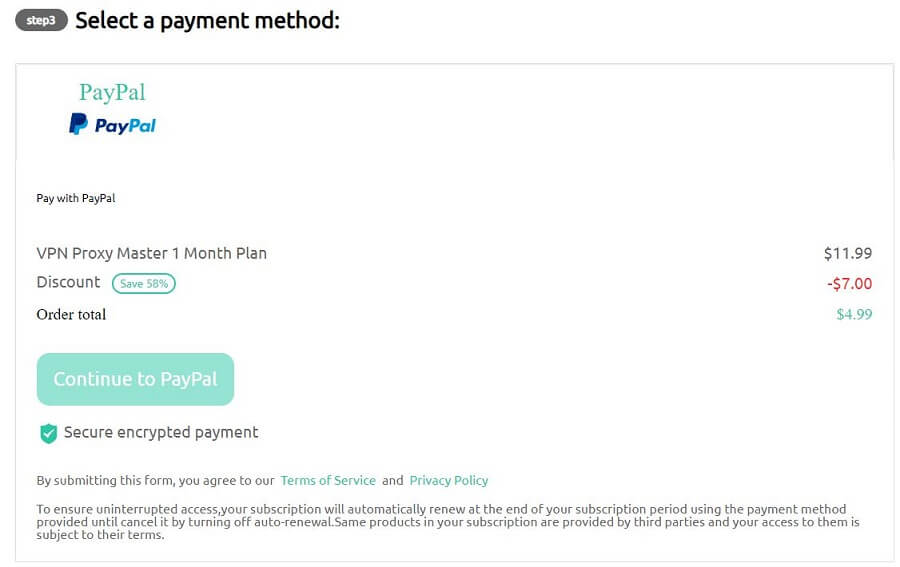 PayPal, that's right. The fact that not anyone has PayPal probably doesn't bother the provider. You MUST have PayPal if you want Proxy Master VPN. If not, well, go make an account – who cares?
Proxy Master VPN Money-back guarantee
The good thing is that you can always get your money back if you don't like the provider, which will probably happen.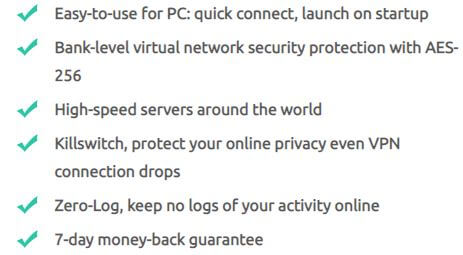 There's a 7-day money-back guarantee, which is more than enough to see how much is the provider worth.
Extras
Here, we talk about all the bonus features that the provider offers. We mentioned the V2ray protocol but there's one more feature that we didn't mention during this Proxy Master VPN review.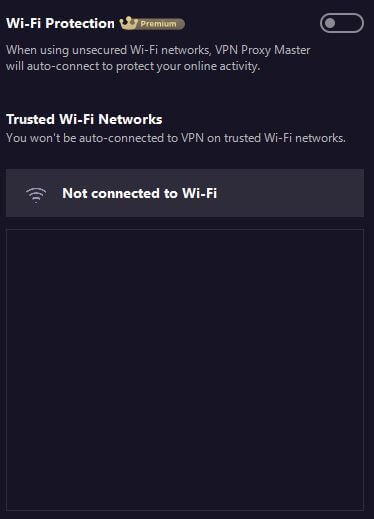 We saw this Wi-Fi Protection feature on many VPNs and it's nothing new. Basically, when the Wi-Fi network you're using is unsecured, the VPN will automatically protect your online activity.
You can add a list of trusted networks here, so if you connect to any network outside of it, the VPN will turn itself on automatically. It's a nice feature but loses its value due to everything we said about the provider.
Final thoughts about Proxy Master VPN
Our final thoughts about Proxy Master VPN are not the best. We didn't expect much and even, in this case, our low expectations were crushed like a bug under the foot. Apart from intuitive apps, an automatic kill switch, and lots of protocols, we can't find anything that would make this provider worth a shot.
It's very slow, has below-average security, stores logs, and isn't great for anything other than casual web browsing.
Instead of this provider, we recommend ExpressVPN, which is the best provider on the market. You can get a 49% discount and 3 months free for an annual plan, as well as a 30-day money-back guarantee if you don't like it.
But, since we're talking about the best option, you probably won't request your money back.
Quentin is the co-founder of the-bestvpn.com. With several experiences as a System and Network Engineer, he is very knowledgeable when it comes to VPN, cybersecurity and the risks of using the Internet nowadays.