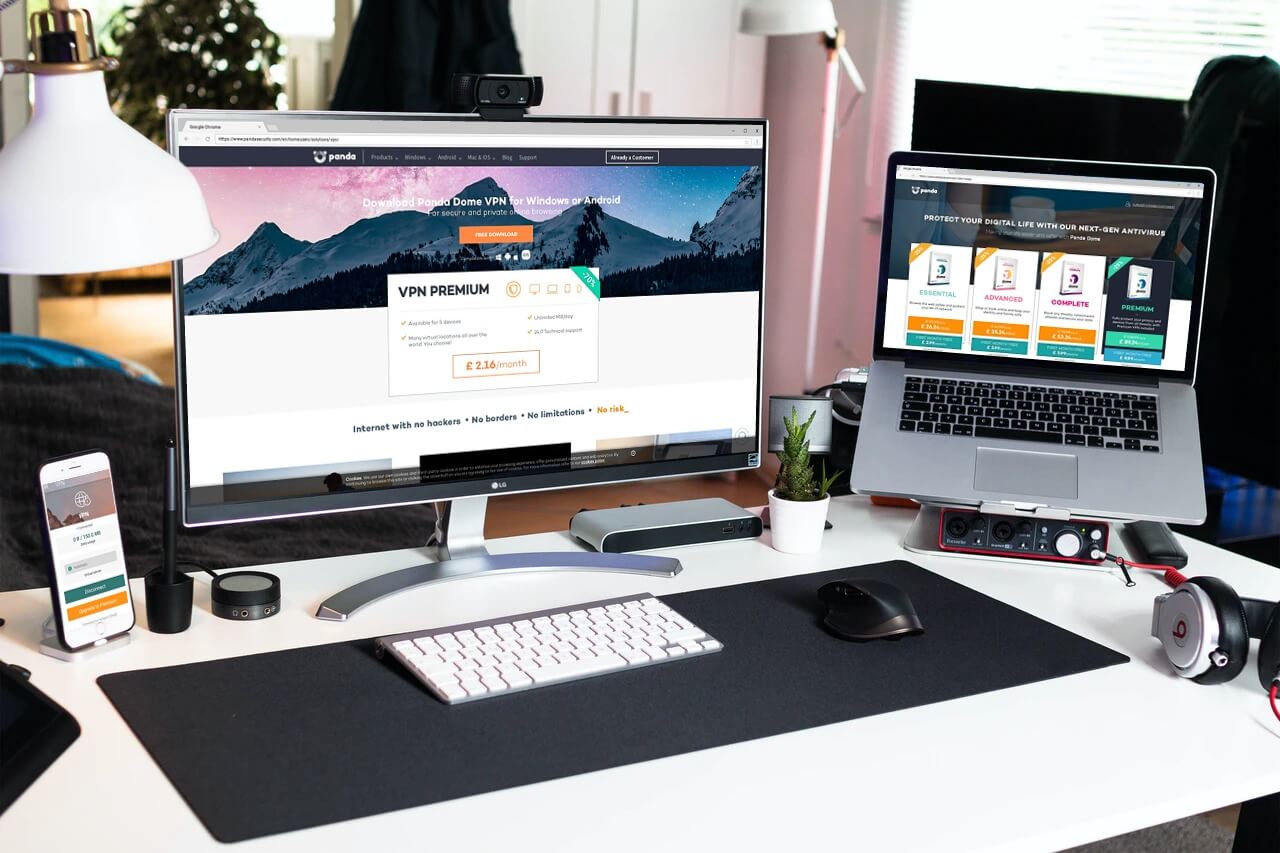 If you're an avid internet user, there're chances that Panda Security will ring a bell in your ears. It's one of the world's biggest companies when it comes to IT solutions, but the company is best known for its antivirus solution. However, they've branched into the VPN market recently, which explains why we came about this Panda VPN review and test.
It is a provider that promises to keep your online privacy safe and protected. It guarantees its users other benefits which include getting rid of the limitations and borders on the internet.
Does the provider live up to these gigantic promises though? Besides, how does it stark up when compared with the other providers in the business?
Well, our review and test of Panda VPN will seek to provide a detailed answer to every question you may be having. Obviously, Panda is a new kid on the block, meaning you may have to brace yourself for some negative surprises.
Not that the service doesn't have any upside, but based on our findings through this test and review, the downsides are overwhelming.
If you're still wondering whether you should choose a VPN or an antivirus, the solution may not be the right service to use as the basis for your decision making.
With that said, we have created this 2023 comprehensive Panda VPN review to show you why.
STRENGTHS:
Doesn't keep logs
Offers a free plan
WEAKNESSES:
Doesn't have a Kill Switch
Based in an unfriendly location
Performs poorly at streaming
Doesn't work in China
Disappointing speeds
Limited device support
Poor client support
Panda VPN ranks #72 out of 104 VPNs tested. Here are the best alternatives :
---
Is it a paid or a free VPN ?
Panda VPN offers two plans – a paid plan and a free plan. However, their free plan comes with a lot of limitations, like most free accounts. First of all, you can't use it on more than one device at a time.
Plus that, it only allows you to connect to one virtual location, and of course, it comes with a bandwidth limit of 150 MB daily.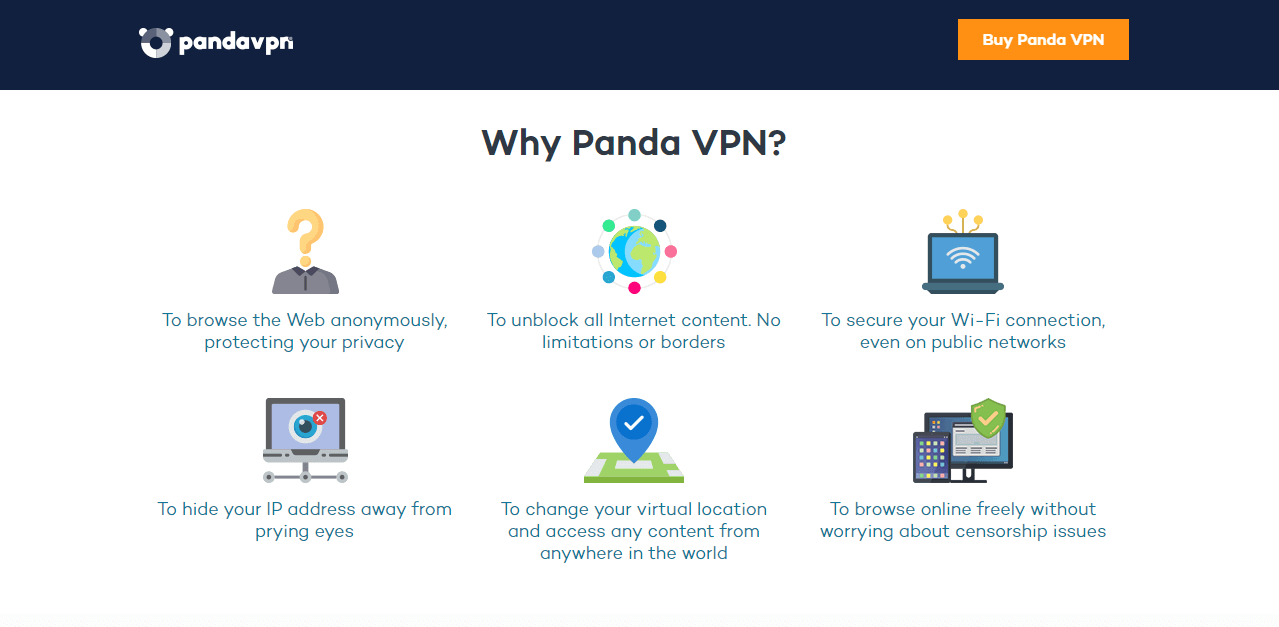 While the free version may be sufficient for light users, advanced users may need to subscribe to the paid plan.  But it's still a nice gesture from the company to have offered a free plan for people who need a VPN service but can't afford to invest in one. It's worth noting that we used the paid plan for our test and review though.
Performance
The performance of service usually hinges on many factors, we know. However, the two most important factors that determine the performance of these tools is speed and stability. First of all, you want a service you can always rely on, then you want to browse the internet at a fast speed.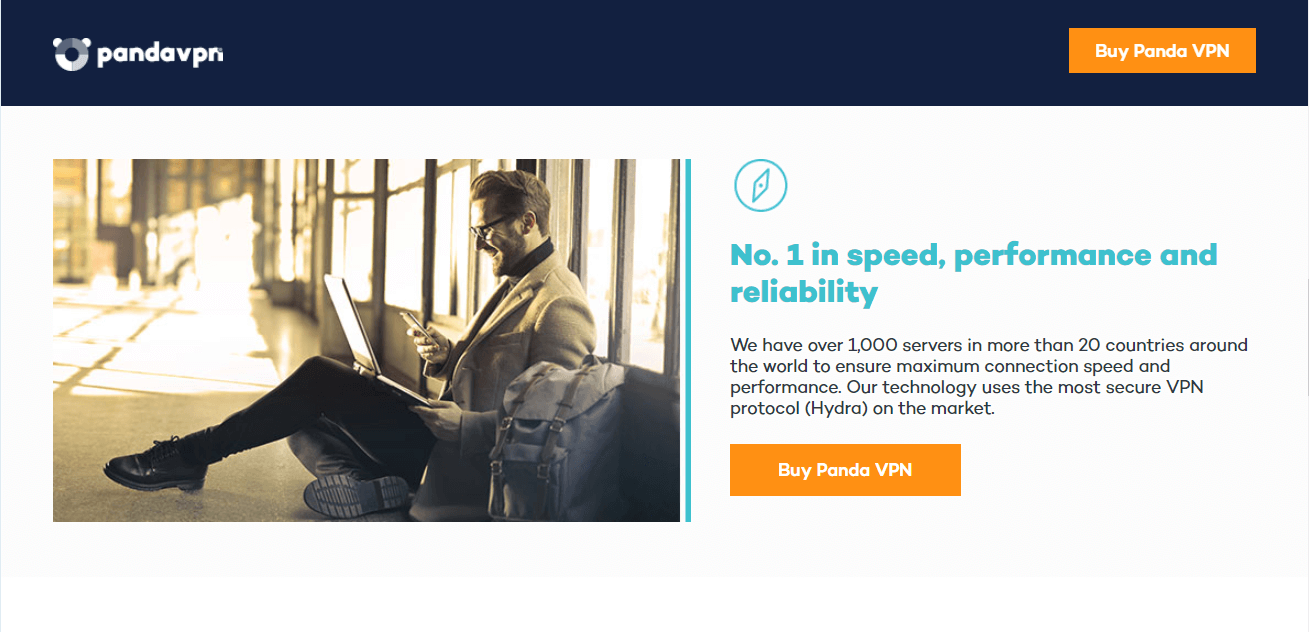 Speed
We always look for the fastest speeds when shopping around for our internet connection, and our VPN ought to have a competitive speed as well. All of the other perks offered by these tools may be worthless if accessing it may take a day.
We must mention that it is impossible to avoid a speed loss whenever you use a Virtual Private Network. However, a lot depends on your provider and how it's able to manage the impact that the encryption is bound to have on your connection speed.
Panda VPN claims to be the fastest service in the market, and it's a lie that's not far from the truth – but it also isn't very close!
Enjoy high speeds with Panda VPN >
Of course, top-tier providers like ExpressVPN and NordVPN are faster, but Panda VPN offers OK speeds.
Without VPN (we were located in London) :

EU Server (France) :


US Server :
Asia Server :


Stability
The stability is impacted by a series of factors, which include network influence, device influence, and factor influence. The network and device connection are great for our test and review of Panda VPN, which leaves distance as the primary factor to affect the connection speed negatively.
While the provider has a decent number of servers, its geographical distribution is less than impressive.
Apparently, that may have a negative influence on the stability of the network as users trying to connect to servers in too distant regions may encounter some difficulties.
However, you can take solace from the fact that the service itself is likely to be always available. Like most providers, this one also promises an uptime of 99.9 percent.
Streaming
The internet nowadays is all about entertainment, and what better way to entertain yourself than streaming your favorite shows. That makes streaming a key part of any Virtual Private Network, so this part of this review is for the break-down of Panda's streaming performance.
Netflix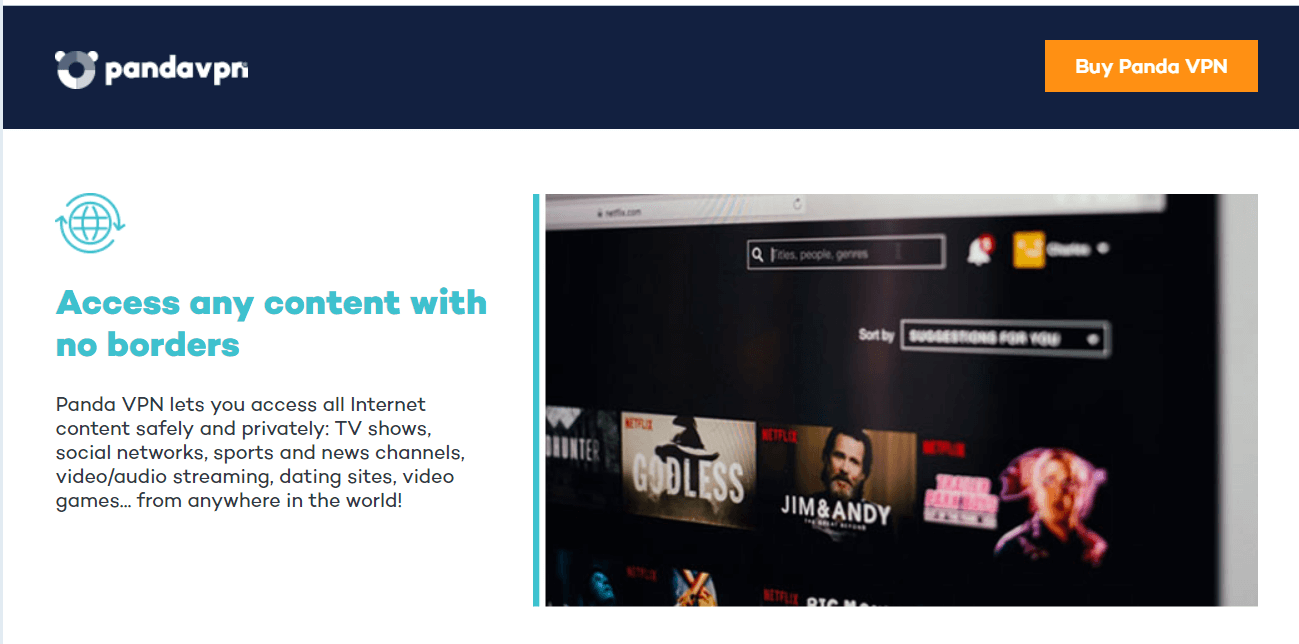 We used different regions to test if Panda VPN has what it takes to get past the geo-restrictions that have been implemented by Netflix. Unfortunately, the service is blocked by the streaming giant.
And after trying with multiple servers, we realized that there's no server that works with Netflix – you can't imagine how disappointed we were. If you're looking for the best VPN for Netflix, we assure you that this is not it.
BBC iPlayer
We also tried to test if the service would at least unblock BBC iPlayer, but it was the same story as Netflix. BBC iPlayer is another streaming site that is very hard to unblock, and we witnessed this first-hand as all our attempts to connect to their servers were met with strong resistance.
Others?
Since Netflix and BBC iPlayer didn't work, we had started to grow impatient at this point. But before concluding that Panda VPN is a poor option for streaming, we decided to test other big streaming sites.
We used websites like Hulu, HBO, Amazon Prime Video, and YouTube for our testing and each of these websites detected the service.
Security
Anyone who knows a thing or two about Virtual Private Network will agree that there is no point buying a provider that doesn't guarantee security. Security is literally the most important factor you must keep in mind when choosing a service.
Thanks to that, we have dedicated this part of our review and test to security.
Where is it based?
Panda Security is based in Spain, meaning that it is within the European Union. This is a little complicated as the EU has been calling for the storage of electronic telecommunications data for the prevention of crimes.
In addition to that, Spain is a member of the Fourteen Eyes alliance, as we found out during this Panda VPN review. Meanwhile, the alliance is renowned for its abuse of online confidentiality in the name of combating terrorism.
Nonetheless, the provider promises not to keep any logs that may be traced back to you.
According to the company in its Privacy Policy, it states: "We do not collect any personally identifiable information. We do not collect, store, or share any permanent identifiers of users, including IP addresses. We do not keep any kind of activity logs for any of our users, whether they are free or Pro VPN users."
What this implies is that they have a trustworthy privacy policy, which is boosted by the use of shared IP addresses. Since they don't store any data, the provider won't have any data to provide even if law enforcements come knocking.
As it's often said, you can't give what you don't have, and as such, Panda VPN has proven that you can trust them in this review.
Log policy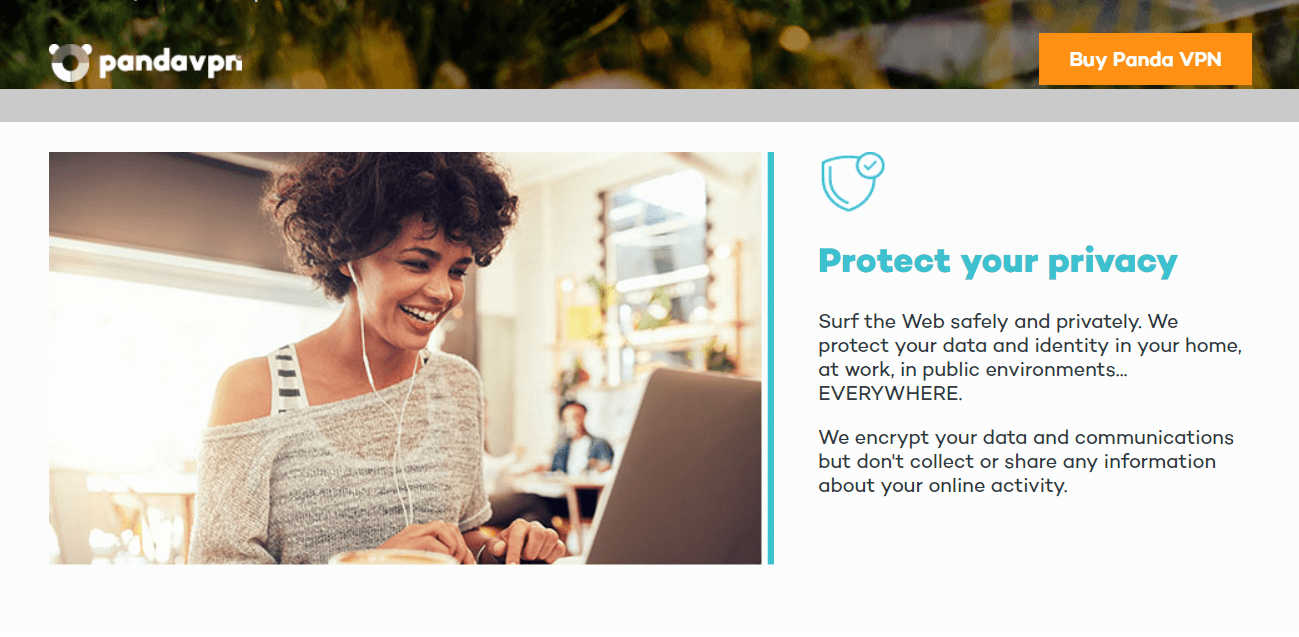 The primary reason for making use of a VPN is to make yourself anonymous/unidentifiable online. Connection logs such as bandwidth usage and timestamps or activity logs like websites visited can be effectively used to track and recognize a user.
Therefore, it's totally understandable that users don't like providers that keep logs.
Now to the primary question – does Panda VPN store logs? Well, they have answered the question satisfactorily in their Privacy policy:
"No, we do not collect any personally identifiable information. We do not collect, store, or share any permanent identifiers of users, including IP addresses. We do not keep any kind of activity logs for any of our users, whether they are free or Pro VPN users."
Certainly, that is what every user would like to heat. However, when it comes to these companies and logs, users usually don't rely on the no-logging promises of providers.
Nowadays, most users don't trust the no-logging advertisements of providers due to the fact that many providers have gone against their promises of not keeping users' data in the past. So, it all boils down to trust.
But do we trust Panda VPN to keep their words and not store users' logs? Well, we didn't really see anything while creating this review to suggest otherwise. Besides, while Panda VPN is a new face in the world of VPNs, Panda Security isn't a new company.
The trust is that we didn't find anything in their history that hints at data leaks.
Protocols
Unlike other providers that state clearly on their official site the protocol that they utilize, Panda VPN doesn't state clearly the protocol it uses for its security. Although, we later found, albeit after a deep search of the company's resources, that the service supports all major protocols.
In other words, it supports OpenVPN, IPSec, PPTP, L2TP, and SSL.
In a very unpleasant move that the company has also decided to say nothing about the protocols used in the Panda client. Bear in mind that some top-tier providers even allow users to change protocols by providing many configuration options.
They are much more explicit in terms of encryption though, stating clearly that they utilize military-grade AES 256-bit encryption to protect your data. Note that this is the highest standard when it comes to encryption, and it is used by apex financial institutions and government agencies to protect their data online.
It's impossible to crack and you can be confident that your data is safe.
Protection against leaks
A Virtual Private Network that leaks DNS isn't worth its salt as these leaks can be utilized to identify the actual location of a user. We accounted for all types of leaks during our test for this review and Panda VPN, for all its flaws, came out in flying colors.
That means we didn't detect any DNS leaks or IP leaks.
Torrenting
Torrenting is an activity that is incredibly popular amongst VPN users, which is because of the illegal activities that often come along with it. You're not necessarily engaging in illegal activity by engaging in torrenting.
However, most people download copyrighted files, which is illegal.
If you're wondering if it is a service that can let you engage in safe torrenting, we have compiled your answers in this section of our Panda VPN review.
Is torrenting allowed?
After giving an explanation of why torrenting may be risky for your personal information and data, Panda Security then recommended the premium version of Panda VPN for safe torrenting.
Obviously, torrenting files are split over hundreds of computers rather than being located on a central server. As you might have guessed, that's why torrenting puts your data at risk.
It is safe to say that Panda VPN allows torrenting, even though it doesn't offer optimized servers for Peer-to-Peer sharing. This may be rather disappointing as most top-tier providers that allow torrenting often provide optimized servers for the act.
There is nothing like that on Panda VPN's site. Plus, there is nothing that mentions P2P or torrenting in their client as well.
This means that while the service allows torrenting, it's probably not the best option if you are looking for a perfect service for this practice.
Is there a Kill switch?
The Kill Switch is a feature that has rapidly become very popular in the VPN scene as it helps keep users' privacy whole at those unfortunate periods that the VPN connection cuts or drops. When this feature is turned on, it helps cut internet connection when there is a drop in the VPN connection.
This ensures that the user doesn't transmit any data online while being with no protection.
In the majority of apps, you will find the feature in settings. However, the feature is noticeably absent in Panda's settings page, which caught us as a surprise during our test. Plus there is no reference to the feature on their official website.
All of these point to only one thing – Panda VPN doesn't have this feature, despite its importance.
Except if the service will guarantee an uptime of 100 percent, this carries likely security and privacy risks. As we mentioned earlier in this review, the service can only promise a 99.9 percent uptime, which further highlights why the lack of the Kill Switch is a huge downside.
Bypassing Censorship
These days, any provider that wants to sit at the high-end of the food chain needs to be able to bypass censorships. Does Panda VPN have this capability? There is only one way to find out!
Our test accounted for it and we have dedicated this part of the review to break it down.
In censored countries
This might be stale gist, but China has been cracking down really hard on VPNs in recent years. Nowadays, it's almost impossible for any provider to bypass the Great Firewall of China, except if the provider has the obfuscation tools required to bypass such a firewall.
The Great Firewall of China is so difficult to bypass that despite all the powers of CyberGhost, it's not capable of getting past it.
According to our findings during this test and review, Panda VPN is not capable of getting past the firewall of China or the firewall of any high-censorship country for that matter.
That means, apart from being incapable of working in China, it won't also work in Iran, UAE, and Turkey.
If you're looking for a provider that possesses the necessary obfuscation tools to get past censorships, you may need to look at ExpressVPN or NordVPN instead. For Panda VPN, it is one VPN that does not work at all in China.
In restricted networks
Schools, workplaces, airports, and hotels usually place restrictions on their Wi-Fi networks for a variety of reasons.
While most schools do it to get rid of all distractions and ensure their students remain a focus, they do it at workplaces to maximize productivity. Regardless of the reason for the network restriction, it is always very frustrating for the ones on the receiving end.
Fortunately, Panda VPN, despite all its downsides, is at least capable of bypassing network restrictions. We know this because we tried it during our test and were able to successfully access all the blocked websites we tried to go on.
Countries and servers
Another thing that's as important as the encryption and privacy policy of a provider is its server count and the geographical distribution of its servers. With that said, we've dug all out all the details about the servers of Panda, and we've included them in this review.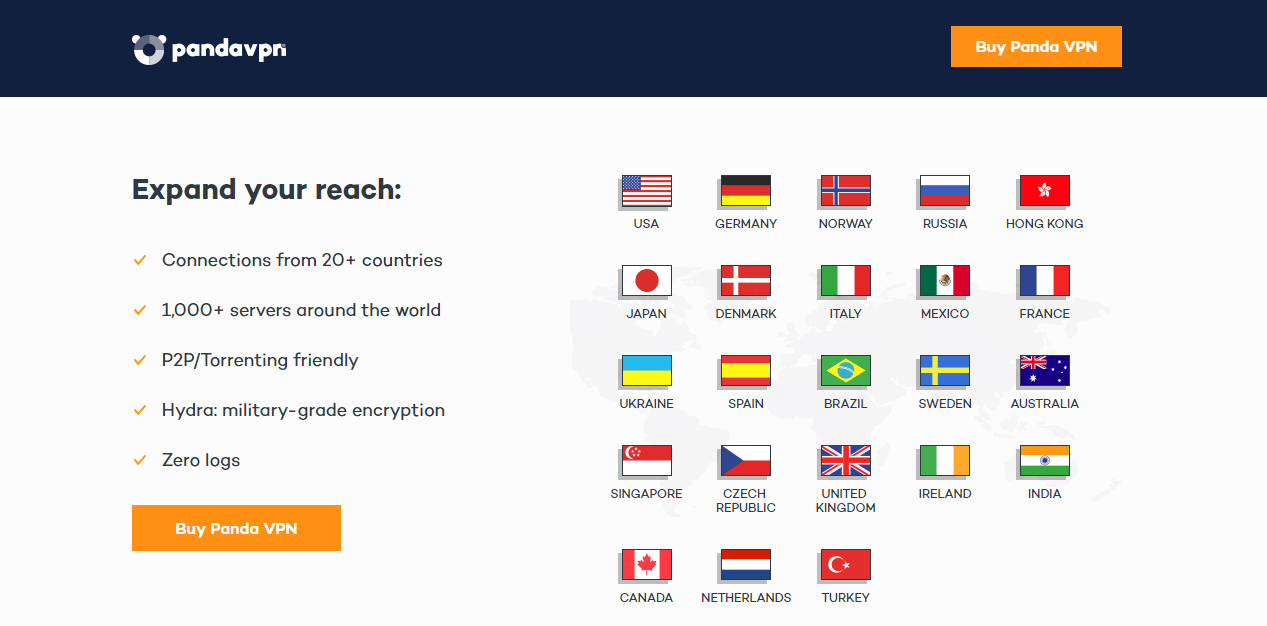 Countries covered
One of the most exciting things for people who use a VPN is how they are able to change their locations as if they were accessing the web from a different region. With that, you can access geo-restricted sites and content that you wouldn't be able to access with a normal connection.
This opens up the entire internet and puts the entire world at your fingertips.
Panda VPN doesn't reveal the exact number of its servers, but they do reveal that they have 1,000+ servers. This is a long margin behind the number of servers offered by top-tier companies like NordVPN, CyberGhost, and ExpressVPN. These providers offer 5,400+, 7,000+ and 3,000+ servers respectively.
As you might have guessed, the most covered continent is Europe, with major European countries like Germany, Spain, Italy, France, and the UK under its coverage.
The next most covered continent is Asia, where Panda VPN covers up to 5 countries. The countries covered in  Asia are Japan, Singapore, India, Turkey, and Hong Kong. They also have servers in the United States, Australia, and Brazil.
However, the provider doesn't have any server in Africa, which may be bad news for users connecting from the continent. Furthermore, Panda VPN uses virtual servers instead of physical servers.
This means that their physical hardware isn't really in the locations they advertise.
While basic users may find nothing wrong with this, it will be concerning to users who're particular about the real locations through which their data passes.
Servers
Like most providers from their lower tier, Panda VPN doesn't offer any dedicated or special server for any activity. Perhaps, it's one of the reasons why the provider is not ideal for activities like streaming, torrenting, and bypassing censorships.
Most providers in the top tier usually offer specialized servers for Netflix at least, considering how important it is for most users to be able to access the giant streaming website.
Compatible devices and simultaneous connections
One thing most users will agree upon is that they need a service that can work on all of their devices at the same time. This means the service you want to choose needs to support a wide range of platforms and needs to offer a high number of simultaneous connections.
How does the provider rank in this regard then? We have answered that question in the next couple of paragraphs, based on our test findings for this Panda VPN review.
What device can I use with the application?

This service is only compatible with Windows, macOS, iOS, and Android operating systems, which is extremely strange. At the moment, the service doesn't support Linux. Besides, users who would be looking forward to protecting all their devices connected to a router will be left disappointed.
This is because Panda VPN doesn't support routers, which is a massive downside.
The best providers are developing clients that can be compatible with any device that has an OS, which includes gaming consoles and SmartTVs. We must admit that Panda VPN is really behind when it comes to platform support.
However, we have reasons to believe that they are working on improving in this aspect. That's because they only supported Windows and Android until a few months ago. Now, they have added iOS and macOS and that should count for something.
How many simultaneous connections?
Sticking to the industry standard, Panda VPN offers 5 simultaneous connections. This is the same number of simultaneous connections offered by ExpressVPN, which is the best VPN in the world.
Therefore, we can't really criticize this provider in this regard.
In a world where a single person owns multiple smartphones, you can easily connect all your phones and even laptops. Besides, you can allow your friends or members of your family to also protect their devices with your account.
This was incredibly helpful during our test for this review as it allowed us to test the service on multiple devices at the same time.
Client support
There is this confidence that comes with being able to speak with a company whenever you want. It helps build trust between the customer and the company, and that's why it's important to test the support.
We have broken down everything we saw while writing this review in this section.
Take a look and see if this is a company you'd like to entrust your data with.
How to contact it?

As we found in our test and review, there is only one way to get in touch with Panda VPN and that is through their email address. This shows how basic this company is, considering how advanced most providers have become in terms of client support.
There is no live chat option, which is something most people tend to look for nowadays.
Who has time to be waiting for a response that may take 48 hours in the fast-paced 21st century? Well, maybe Panda VPN has the answer.
Is it good?
Panda VPN has poor client support, amongst its many other shortcomings. Email support is the only way to get in touch with them directly, and even that is not efficient.
They take up to 48 hours to reply sometimes, which can be really exasperating. In our test, we didn't get a response to our question until after about 28 hours, after we had even found a solution ourselves.
FAQ/tutorials
There are some people who want to attempt to solve their technical problems without the assistance of the support team. If you're that sort of person, you can take a look at the help center for a knowledge base and FAQs.
While it's not an extremely extensive section, it might be enough to help you solve your issues.
But even though the FAQs are not a lot, you will find a couple of FAQs that could solve your issues without needing to contact the client support of the company.
While the FAQs cover the most common questions that old users have asked before, the knowledge base contains a series of useful articles arranged in a systematical order.
There is also an option to comb through the archive.
Value for money
Let's face it, providers like ExpressVPN and NordVPN are priced expensively because they provide a lot of values. This means that the value that a provider is providing must match its price.
That said, how competitive is the provider when it comes to pricing? Let's check it out in this Panda VPN review.
Price comparison

In terms of pricing, Panda VPN offers three primary plans, which include;
Monthly plan – $13.02 per month
One-year plan – $73.13 ($6.09 per month)
Three-year plan – $100.92 ($2.80 per month)
We can see that the pricing of this VPN is very expensive for what it offers. For instance, its monthly plan costs $13.02 per month, whereas, ExpressVPN costs $12.95. Basically, it's more expensive than the best solution on the market, which is a huge red flag.
And, as said, for this price, you're better off with ExpressVPN.
Means of payments

You can make payments using the most popular payment means like debit cards, credit cards, and PayPal. However, Panda VPN doesn't support anonymous payment options like cryptocurrencies at the moment.
This may be a cause of concern for privacy-privy individuals who are keen on complete anonymity while using a Virtual Private Network.
Money-back guarantee
For every plan you buy, Panda Security will give you a 30-day money-back guarantee. This guarantee allows you to test out the service for a whole month, without being at risk of losing your money. users who paid but weren't satisfied with what they got can activate this option and request a refund.
However, this must not be done later than 30 days after making your purchase.
The procedure to request a refund is quite simple – just cancel your subscription and inform the company in writing. You can do this either by registered postal mail, by fax, or by email sent to their email address.
They will refund you via the same payment method within two weeks of sending the request. According to Panda Security, there are no hidden caveats or clauses – you don't even need to specify the reason to activate this option.
This means it's a genuine 'no questions asked' guarantee and that's really impressive.
Any extra?
Extra features are important as they help to determine the overall value that a product offers. In terms of extra features, Panda VPN doesn't come with many. But that's not to say it comes with none, and we will discuss that in this section of the review.
Auto-Reconnect
With this feature, a user can choose a country they will like the service to automatically connect to after their computer restarts. This is helpful if your computer often crashes and you want to make sure you're on a secure connection always.
To turn on this feature, you only need to toggle a button. Besides, you can choose either a certain location to connect to automatically. Or you can just choose "Automatic" in the event that you don't have any preference.
It's worth noting that this feature is turned off by default in the client. Therefore, you need to remember to turn it on.  For what it's worth, this feature proved to be really useful during our test for this review.
Final Thoughts
We promised to show you why this service may not be the right service for you at the beginning of this Panda VPN test and review. We hope we've been able to keep our words.
As we have shown, this service doesn't have much up its sleeves to compete against the best in the business.
Of course, basic users may not see anything that's wrong with it. However, more advanced users will surely have a lot of questions to ask. Therefore, it's better to just opt for a better choice like ExpressVPN to avoid wasting your time.
Panda VPN Review and Test
Apart from its speed that proves to be quite interesting, we were very disappointed by the capabilities of Panda VPN. Whether to benefit from streaming, bypass censorship ... you may be greatly disappointed.
Add your review
|
Read reviews and comments

Michael is a talented writer who has dedicated a lot of time into making sure that everyone around the world can use the internet securely. Being an avid traveler, he has acquired a lot of experience while using different VPNs on his travels. When it comes to doing comprehensive "how to tutorials" or testing some VPN functionalities, he's always the best pick ! He's here to help you solve your VPN-related issues.