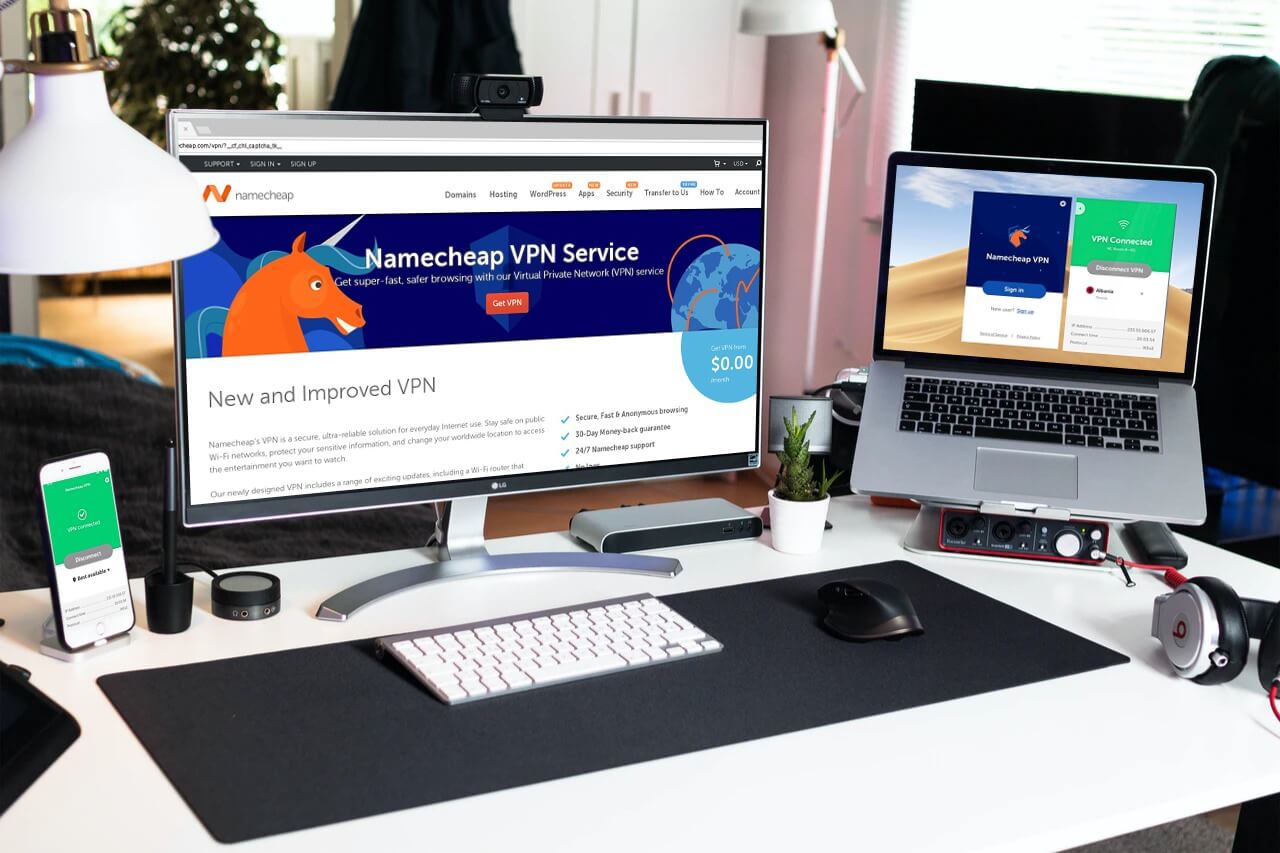 If you are reading this NameCheap review, you are aware of the advantages that a Virtual Private Network offers. Still, not every provider can ensure optimal security and fast speeds. Among the newer ones available, we were quite interested to see how NameCheap VPN performs. Its parent company is already reputable when it comes to online privacy. While the service itself has been up for just a couple of years, it has already established a large member base. But does it mean that it is the best option out there? How does it compare to the leaders on the market?
Those are the questions we will be answering in this NameCheap VPN review and test. We will go through all the main aspects, including speed, privacy, and pricing, to determine if it is worth your money or not. Without further ado, let's get to it!
STRENGTHS:
No-logging policy
Affordable for most people
WEAKNESSES:
Doesn't feature a kill-switch
US jurisdiction
Lacking protocols
Unspecified encryption
Customer support
Limited torrenting
Limited Netflix access
---
NameCheap VPN ranks #65 out of 104 VPNs tested. Here are the best alternatives :
Is It a Paid or Free VPN?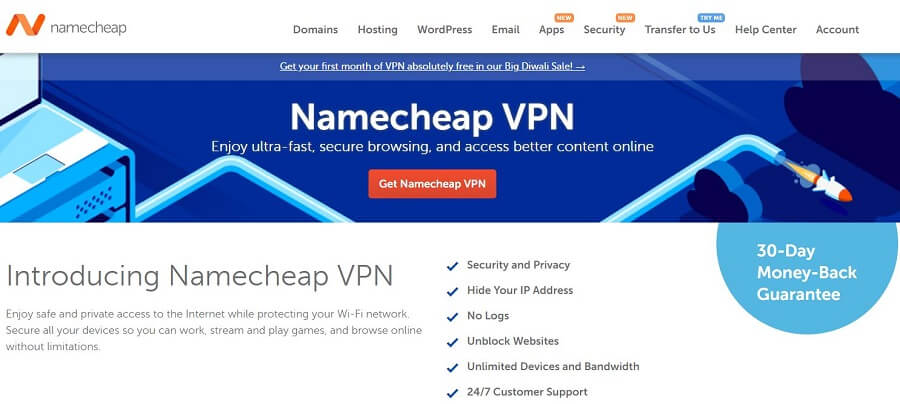 Our review for NameCheap VPN will be focused on its overall performance. However, answering whether you have to pay for it is a good starting point. While it is not free, there are a couple of different pricing options.
Overall, it is quite affordable compared to the performance you will be getting.
Still, there are certain VPNs, like Windscribe and TunnelBear, that are completely free-of-charge and offer better results in terms of speed and unblocking. On the other hand, you never know how and where free providers make money.
In most cases, it is by selling your browsing data to third parties. Thus, the fact that you have to pay for NameCheap VPN may be a good thing, as long as they have a strict no-log policy (we will talk about this later in our review).
Performance
Speed and reliability are incredibly important to review, especially if you are into online gaming or streaming. The thing is, a VPN is not worth anything if you can't enjoy a smooth session. This depends on a variety of factors, including how far away the server is from your primary location.
Additionally, protocols and encryption can affect speed, as well. Because it has over a thousand servers, we went ahead and tested a couple for each continent. The results are as follows:
Speed
As mentioned above, it is normal that every VPN will decrease your internet speed. Still, providers such as ExpressVPN ensure that the drop is insignificant. This allows you to stream HD content and enjoy gaming without any issues. But how was it during our review and test of NameCheap VPN? Let's find out!
We started with a benchmark of 235 Mbps for download speed and 211 Mbps for upload.
After testing, we had the best results connecting to EU servers. This doesn't come as a surprise, as we are located in the UK. The first location that we connected to was in France, and the drop was unnoticeable. The ping jumped to 57 ms, while the download speed decreased by only 20%.
Additionally, the upload speed was "almost" unchanged at 170 Mbps. These results are quite good and should allow you to enjoy a more complex browsing activity. We saw a similar performance with servers in Germany and the Netherlands.
We also reviewed a few servers in the US. As expected, the East Coast was better than servers in California. Once again, this is quite normal considering the proximity. The ping in New York was 120 ms, which is not the best.
Also, the drops in both upload and download speed were around 60%, which is much higher than with the European servers. However, as long as your Internet connection is stable enough, you can still watch Netflix with this performance.
We had the worst experience connecting to the Hong Kong server. This location is strategically important, as it may allow you to unblock content in China.
Unfortunately, we weren't able to do so because of the incredibly high ping. It was set at around 300 ms. We also experienced an 80% decrease in speed for both download and upload. This led us to conclude that their Asian servers aren't the most reliable.
Without VPN (we were located in London) :

EU Server :


US Server :

Asia Server :


Thus, if you are looking to bypass the Chinese Great Firewall, subscribing to ExpressVPN might be a better choice.
Stability
We already said that stability is incredibly important if you are an online gamer. Getting kicked out of a server every few minutes is not worth your time and money.
Luckily, we had a reliable connection to both EU and US servers during our review of NameCheap service. On the other hand, we experienced multiple timeouts with the Hong Kong server, as well as the one in Sydney.
This is not a big surprise, as we are set far away from these locations. On the other hand, a leading provider needs to overcome proximity issues.
Streaming
There are many reasons why people choose to use a VPN. Among the most common reasons is streaming censored content from platforms, such as Netflix, Hulu, and Amazon Prime.
A few years ago, this was a trait common for most providers. However, just a few can bypass the geo-restrictions today. That is why we reviewed different NameCheap servers. Much like with speed, our success was partial.
Netflix
One would hope that this provider was able to work its way through, considering the somewhat good performance in terms of speed. We didn't, however, have a lot of success unblocking catalogs in France and Italy. The same happened with the Canadian server, which we were quite confident would have worked better.
On the other hand, we did connect to New York and California and were satisfied to see that both worked to unblock US catalogs. Thus, while certainly not optimal, NameCheap VPN does have potential that can be worked with.
Other streaming services
Netflix is the most popular streaming platform. This doesn't mean that other services are not as equally as important. We tested multiple servers and had success with unblocking Hulu and BBC iPlayer.
On the other hand, working our way through Amazon Prime was quite tricky. This makes us believe that you are better off with ExpressVPN for this purpose.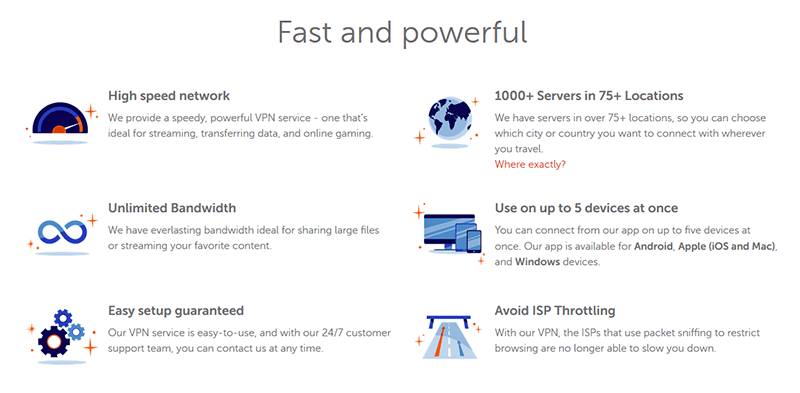 Security
While the ability to unblock streaming content is quite important, security matters even more. What would a VPN be good for if it couldn't protect you from third parties and authorities?
This depends on a couple of elements, including a logging policy and protocols that it uses. We went to their official website and read their privacy policy to find the necessary details to complete this review of Namecheap VPN.
Where is it based?
Starting with its headquarters location, we can see that you can't expect the best security features. The reason for this is that its parent company, Name Cheap, is based in Arizona. This means that they adhere to Five Eyes Alliance regulations.
Thus, if the authorities of any of the five countries ask for your browsing data, the provider will have to hand it over. This doesn't have to be an issue if they don't log any of your data.
Apparently, that is the case with NameCheap VPN, which is quite friendly with their logging policy.
Log policy
We were quite happy to see that they maintain a no-log privacy policy. Thus, you don't have to worry about being bombarded by ads or your info ending up in the wrong hands. The fact that even the payment history is not saved will leave you worry-free in terms of anonymous browsing.
Protocols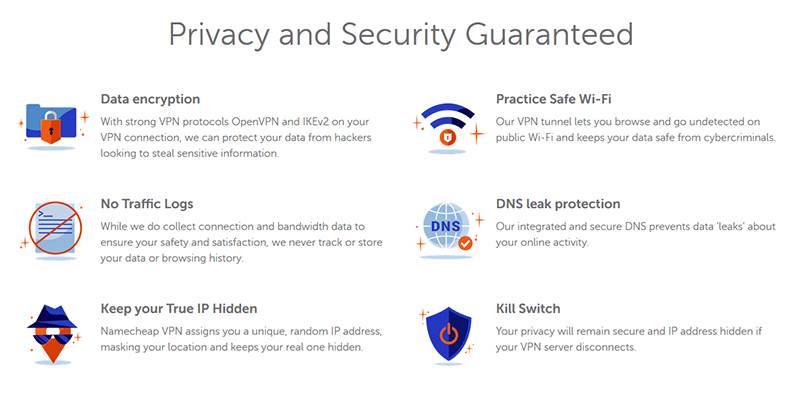 Still, the fact that they have a no-log policy doesn't mean all the security features are ideal. On the contrary, you can't find out much about the protocols that they are using. While OpenVPN and IKEv2 are the industry standards, there is no information on whether these are featured.
Additionally, the provider does mention military-grade encryption, but we can't see if it is 256-bit AES or not. More transparency in this aspect is a must if NameCheap wants to be trusted.
Leak protection
Along with the aforementioned aspects, whether your IP address can be revealed or not plays a huge role. We tested the WebRTC and DNS leaks on a couple of sites, and the results were quite worrying.
The fact that it doesn't feature an automatic kill switch increases the chance for leaks. This comes with a couple of other consequences, including the fact that it is not the best for torrenting.
So regarding this aspect, we don't need to tell you that our opinion on NameCheap is more than bad at this level!
Torrenting
As mentioned above, you shouldn't expect to get good torrenting performance from NameCheap. First, leak protection, as well as lack of transparency, affects the ability of P2P transfers.
Additionally, certain servers on the west coast of the US, as well as the ones in Asia, aren't reliable enough. Luckily, not everything is lost. Two great alternatives are either ExpressVPN or IPVanish.
Bypass Censorship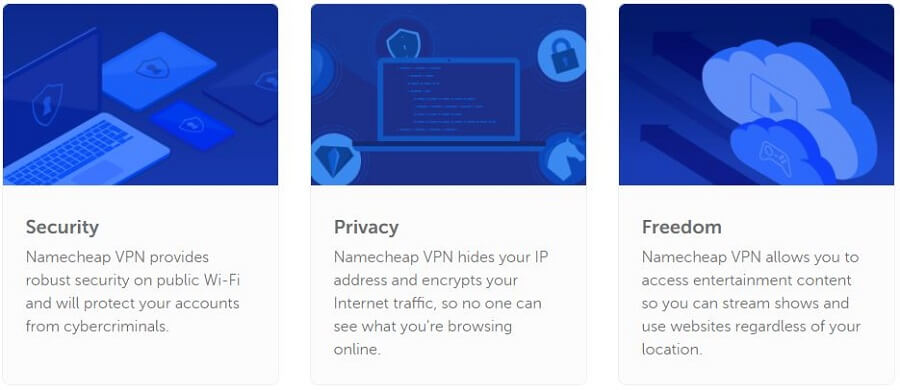 Paying for a VPN service would make you expect great performance when it comes to unblocking content. While NameCheap does have partial success with streaming services, it is apparently not able to bypass the Great Chinese Firewall.
This is not a big surprise considering the heavy restrictions that the Chinese government has imposed. Also, because of unreliable leak protection and a slow Hong Kong server, these chances are greatly reduced.
Countries and Servers

NameCheap VPN is a global operator trusted for allowing anonymous web presence. It offers more than 1,000 servers in 50+ locations. While nowhere as versatile as NordVPN, this is good considering the price and overall reliability.
Apart from locations in the EU and the US, NameCheap is mostly focused on providing VPN in Australia. Also, the Hong Kong and Singapore servers are among the few Asian servers.
Devices and Connections
Things get quite complicated when it comes to compatibility with NameCheap VPN. Let's review the results we found.
Supported devices
As expected, this provider allows connection with macOS, Windows, Android, iOS, and Linux. Still, it is not great in terms of other devices, including smart TVs, consoles, and routers. Also, the fact that it doesn't feature a Chrome or Firefox extension can make it trickier for computer users.

Simultaneous connections
While device compatibility is not ideal, we found out during our review of the service, that NameCheap VPN allows up to 5 devices to be connected at the same time.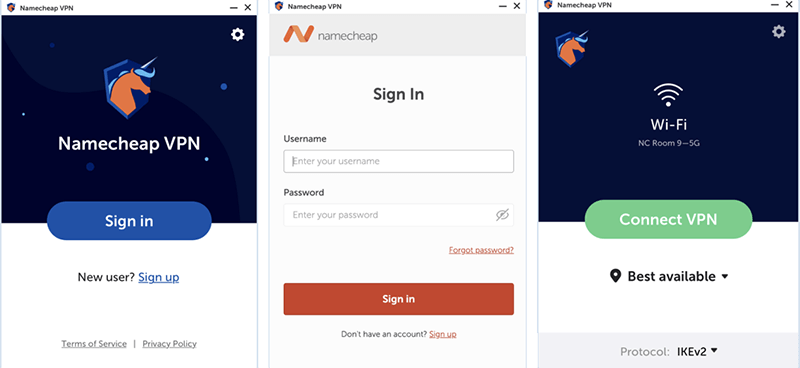 We were quite impressed with this, especially after everything else we have reviewed so far.
Customer service

To be honest, we aren't too happy with their customer support. While the official website clearly states that there is a live chat service, getting in touch with the operator takes a lot of time.
Even when that happens, you are likely to be redirected to an email response. We tried it and found the email support to be ineffective, as well. It took more than 48 hours to get a response.
Which is very far from the standards offered by the best VPNs at the moment.
Value for Money
Free VPN providers are good in the beginning, but they swiftly become very limited. That is why paying the subscription price for NameCheap VPN service is something to consider.
Price comparison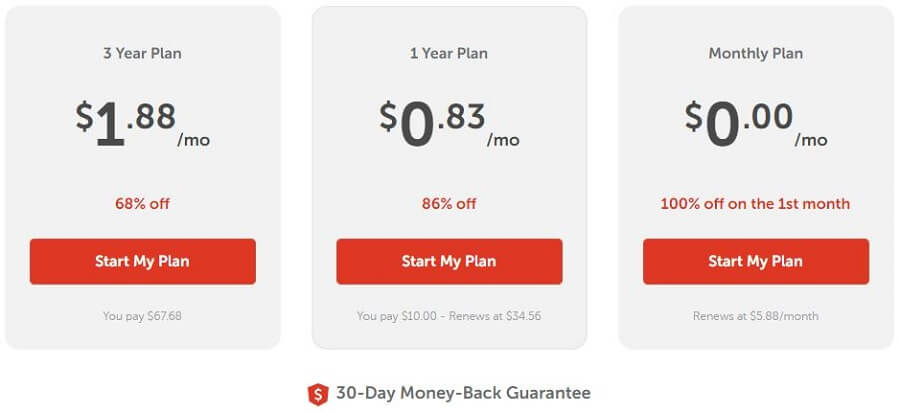 To review their subscription options, we logged onto NameCheap's official website. There, we noticed three different packages. The first one was a monthly plan set at $0.00 for 30 days.
This is a special discount for a monthly plan, but after the month passes, you continue to pay $5.88 a month.
The second one was an annual package and was somewhat cheaper – $0.83 per month. As expected, the most affordable one was a 3-year plan that comes at $67.68 for a single charge (1.88$/m).
For around the same price, you could get a premium top-rated subscription with NordVPN or CyberGhost, and both offer much better features, speed, and protocols.
Payment types
While it does support major debit and credit cards, cryptocurrencies aren't allowed. Additionally, the process of paying via PayPal was not a smooth one, either.
Money-back guarantee
For each of the aforementioned three options, they have a 7-day refund policy. To claim your warranty, simply contact customer support and wait a few days for a response.
Final Thoughts
Ranking it at #65 out of 104, we can say that NameCheap is not the most reliable option on the market and lives up to its name. As most of us know, buying cheap is often considered expensive as you have to do so many other things that cost you extra money to make up for the downsides of a cheap product.
While it does come from a trusted parent company, their development team still has a lot to work on. Yes, the number of servers is quite good, but, apart from that, the performance is not as expected.
If you are looking for reliable alternatives, we suggest CyberGhost, ExpressVPN, and NordVPN. These are market leaders and offer good speeds, affordable prices, and a friendly privacy policy!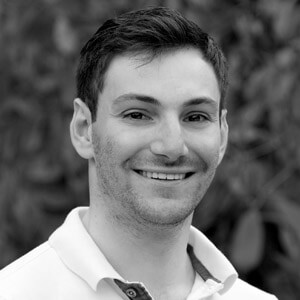 Flo is the founder of the-bestvpn.com. Really concerned about security on internet, he decided to create this website in order to help everyone find the best VPN. He's got a Business School background and now is 100% dedicated to keeping his website alive.