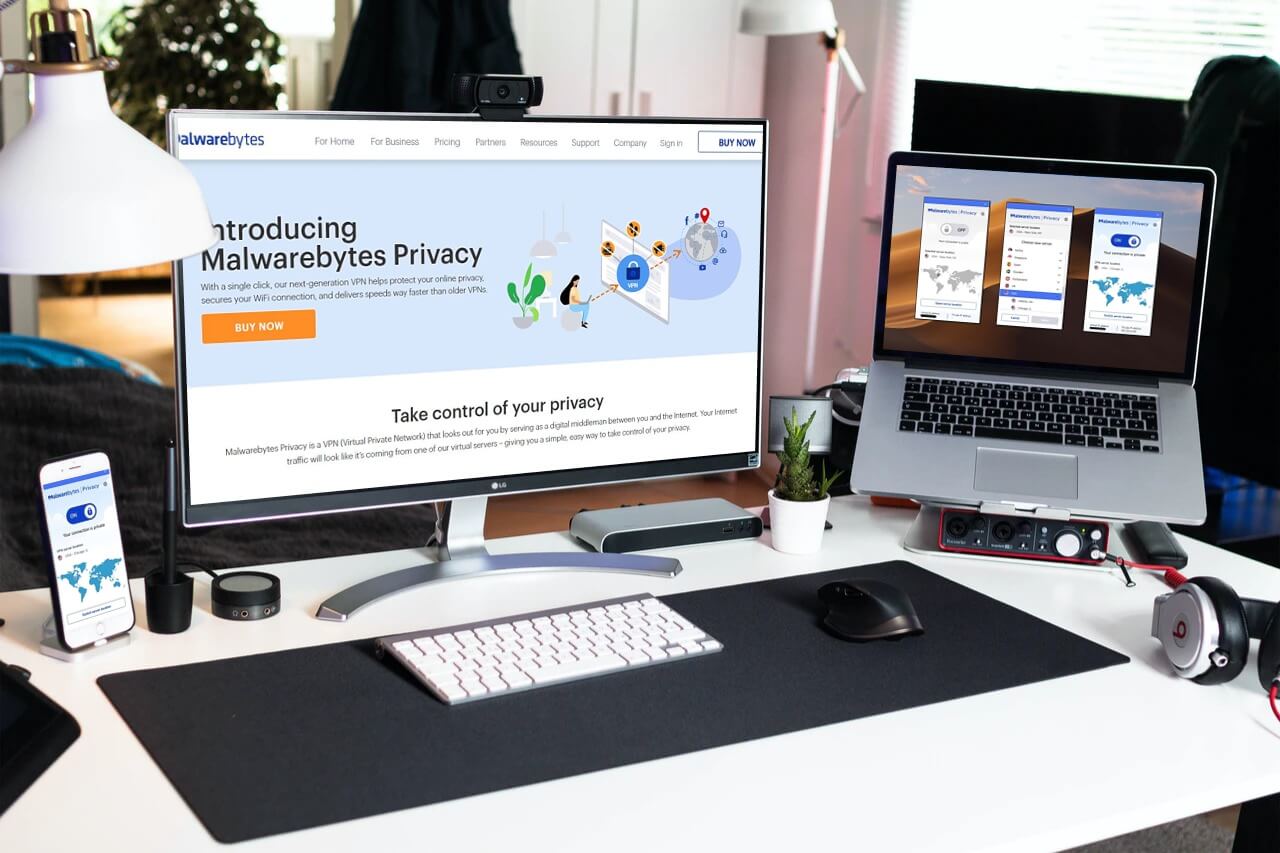 People who often have problems with malware and other unwanted software probably already know about this company. It's one of the best anti-malware software that works flawlessly in this regard. Recently, Malwarebytes came up with a brand-new VPN, promising rock-solid security and above-average performance. Of course, our mission is to test it out for you and see if you should spend your hard-earned money on it. Here's our Malwarebytes VPN review!
STRENGTHS:
Intuitive app
30-day money-back guarantee
WEAKNESSES:
Can't unblock Netflix
Slow speeds
Unhelpful customer support
Expensive
No support for Android/iOS
No kill switch
---
Malwarebytes VPN ranks #92 out of 104 VPNs tested. Here are the best alternatives :
Is it a free or paid VPN?
Malwarebytes is a company that offers paid anti-malware software, which also applies to this VPN. We must admit that its initial software works great. It cleans up malicious stuff from your computer and provides real-time protection against threats.
However, we'd appreciate this Virtual Private Network more if it was free. If you're not a demanding user, you could also start with a free VPN, as this one performs similar to what we often see on free solutions.
We're not impressed with what we got for the price. But, if you want to find out why, we suggest you read our in-depth review of Malwarebytes VPN.
Performance
We'll kick off the review with performance. This is quite important if you don't want to spend ages waiting for your pages or videos to load. Let's see if the provider is fast or is more like a slouch.
Speed
If we take a look at some of the best providers on the market, those at the top are usually pretty fast. Some really great VPN providers like ExpressVPN that we really like are there.
However, ExpressVPN is the fastest one, so we can't compare it with this provider, which is really slow.
Many factors will affect the speed. The quality of the server network, server load, your distance from the server, and so forth. To eliminate all of these factors, we used several servers, both distant and close to us, and we conducted several tests during the day.
Without further ado, let's see our results from the speed test:
Without VPN (we were located in London) :

UK Server  :


US Server :

Asia Server (Japan) :


You see the speeds above, so let's briefly review our results. When we compare the speeds to the native speeds we have, the difference is earth and sky. Even in our country, the UK, the speeds significantly dropped, although the internet was still usable.
But, as soon as we switched to the US server, and then to the Japanese server, things started to fall apart. As an example, our ping sky-rocketed to almost 500 ms, while both download and upload speeds fell under 10 Mbps.
Heck, even Windscribe, a free provider, is faster than Malwarebytes VPN! Bad results – thumbs down.
Stability
When it comes to stability, we didn't encounter any problems. The uptime is 99.9%, so you'll rarely if ever, see that servers are down. During our few-day testing Malwarebytes VPN, we always managed to connect and use the servers regularly, without any problems.
It's just that the speed is slow, but the stability is always… well, stable!
Streaming
Being a new provider on the market, Malwarebytes VPN will have to go through our trial by fire. In fact, every provider goes through our excessive streaming test, to see if you can enjoy your Netflix & Chill nights or forget about it instantly. Speaking of Netflix, let's move on to the business right away.
Netflix
We're from the United Kingdom and we enjoy watching UK Netflix. But, what if we want to enjoy some Netflix US? Well, we shall use the Malwarebytes VPN and see if it works. We connected to the US server, booted up Netflix, and boom – it didn't work!

The site immediately gave us this well-known proxy error, implying that we're using some sort of proxy or a VPN. We then tried to connect to a UK server and test it again but the outcome was the same.
Basically, you can't even watch a single show with this provider, even when connecting to a server in your country. If you're already enjoying Netflix in your country, we don't recommend using it, as it will just make it impossible to watch anything.
Other streaming services
You'll now say that Netflix isn't the only streaming platform and that you prefer something else. Okay. No problem. What it is that you like? HBO GO? BBC iPlayer? Or perhaps DAZN? Let us tell you something – you won't be able to unblock almost anything with Malwarebytes VPN!

Our tests were quite unsuccessful during our review of Malwarebytes VPN and of all streaming services we tested, the only two that worked are BBC iPlayer and HBO GO. These are 'okay' results, but for this price, we expected a lot more, at least a single Netflix catalog.
The security offered by Malwarebytes VPN
The reason you're probably going to use a Virtual Private Network is that you need additional security online. Malwarebytes is, in many ways, like Bitdefender who decided to offer a VPN to its clients. Whereas Bitdefender didn't pass our security test, we've yet to see if Malwarebytes VPN will show better results.
Where is Malwarebytes VPN based?
First of all, we need to see where the provider is based, as this can have a huge impact on security and safety. Malwarebytes is from Santa Clara, California, so it's under the US jurisdiction. This is already bad news because the country is a member of the 5 Eyes alliance.
Remember – countries that belong to the 5 Eyes are known for excessive government surveillance. Because of that, the provider is more likely to give out your personal info to the government if needed, as IPVanish, another US-based provider, did.
Log policy
Does the provider store logs? At first, it seems like it doesn't. There's some basic info like your email, payment method, and so forth. However, things aren't as good as they seem to be. You can see that Malwarebytes knows your address when you register, but that's not all!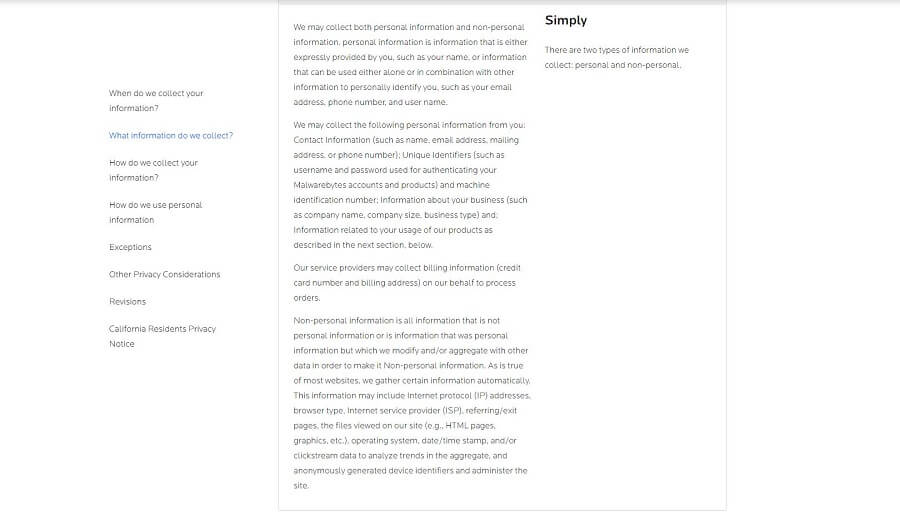 Non-personal information that they store about you is even more malicious. They store your IP address, name of your Internet Service Provider, operating system info, timestamps, etc. For us, that's already quite a lot.
This means that you can't enjoy privacy and anonymity with Malwarebytes VPN, which beats the purpose of a VPN in the first place. For total anonymity, we suggest ExpressVPN, a provider that offers a zero-log policy and military-grade encryption.
Protocols
Most VPNs at this price let you switch around different security protocols. For example, OpenVPN, IKEv2, or IPSec. Here, not only you can't do that but you also can't see which protocol you're using! On the site, Malwarebytes says this: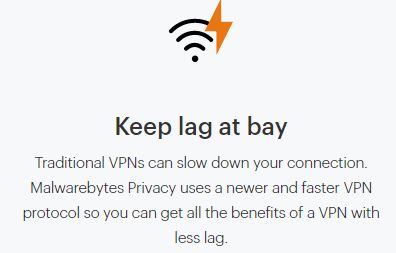 "Newer and faster VPN protocol" – oh, really? And which one is that? We really don't like it when the providers are this vague. It doesn't help its reputation. On the contrary, it just makes us think less of the provider.
Leak protection
On the site, you also aren't going to find anything about IP and DNS leak protection, which doesn't always have to be bad news. In our tests for this complete review, Malwarebytes VPN showed no IP or DNS leaks, which is great. The thing that isn't great, though, is the lack of a kill switch.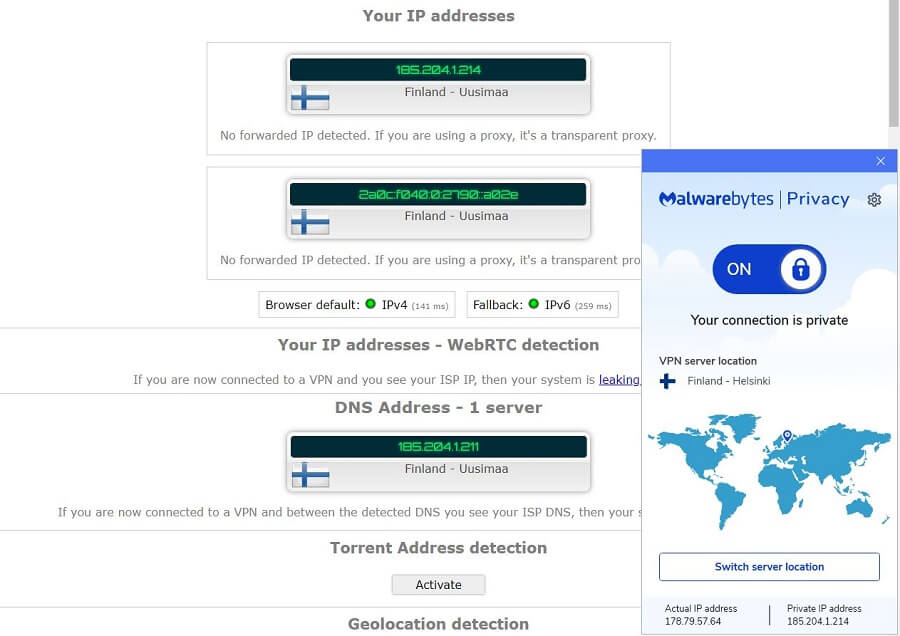 In case your connection breaks, you'll expose your IP, and you won't even know about it! At least, there's 256-bit encryption that will keep you protected as long as your VPN connection is on.
Torrenting
Our experience tells us that not many US providers are good for torrenting and P2P activities in general. Sure, IPVanish is an exception, but other shady providers from this country are all but good for this activity. The dead giveaway that the provider doesn't allow torrenting is usually a DMCA policy, and as you might've guessed – Malwarebytes VPN has one.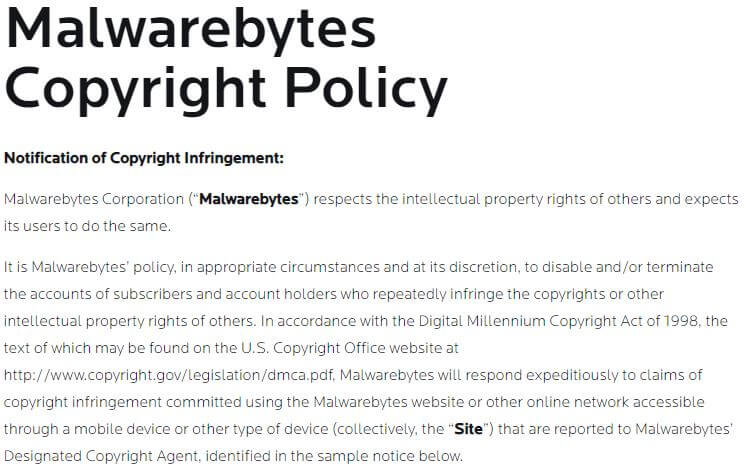 Here, they explicitly say that any attempt of infringing copyright will be punished. Furthermore, if you're a copyright holder, you can also report copyright infringement to the provider and get help. That's what happens when you store logs. You can't provide your users with complete freedom online, which once again, makes this provider less worth it.
Bypassing censorship
Bypassing censorship is a devil's business these days, especially if you're in the UAE, China, or Russia. Our testers from all around the world tested dozens of providers, and while some of them worked in the UAE and Russia, the Great Firewall of China was the ultimate nemesis.
Malwarebytes VPN, as expected before doing this review, doesn't' work in China, thus can't bypass censorship reliably. We don't recommend it for censored countries, to avoid wasting your money and getting nothing out of it.
If you're a Chinese reader, you might as well get ExpressVPN or NordVPN – these two work very well.
Countries and servers covered by Malwarebytes VPN
Since the provider emerged not long ago on the market, expecting it to have a large server network is unreal. We're quite excited to see what it managed to do for this short time, so let's see how many countries and servers Malwarebytes VPN supports.
From the image above, we can see that there are 200+ servers in 30+ countries around the globe. In this case, this isn't bad at all. In fact, it's very good. The service is new and it needs some time to stand firmly on the ground.
The issue is that the newcomers won't know if this is a new product. They'll see a small server count and buy CyberGhost instead. Unfortunately, we must judge the provider through the lens of a consumer, and if we do so, this is a very small server network for the price.
Compatible devices and connections
When using this service, you aim to protect not only your computer or a smartphone but at least a few more devices. Let's see what will this provider let you protect.
Devices supported by Malwarebytes VPN
If you're going to use Malwarebytes as an anti-malware app, you can install it on Windows, macOS, iOS, and Android. On the other side, Malwarebytes VPN lets you use only one platform – Windows. No support for iOS and Android, which is a cardinal flaw.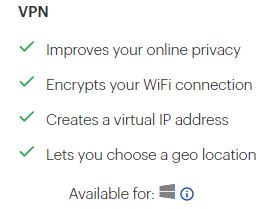 They claim that they're working on it, but we'll see how fast will the solution come out. At this point, paying even a dollar for a VPN that doesn't support mobile platforms is ludicrous.
Simultaneous connections
Think about this – the provider offers up to 5 simultaneous connections. Why? Who else uses 5 Windows computers? Sure, it's great to have 5 protected devices, but if we're completely honest, average people rarely even use computers anymore, unless they have to – for a job.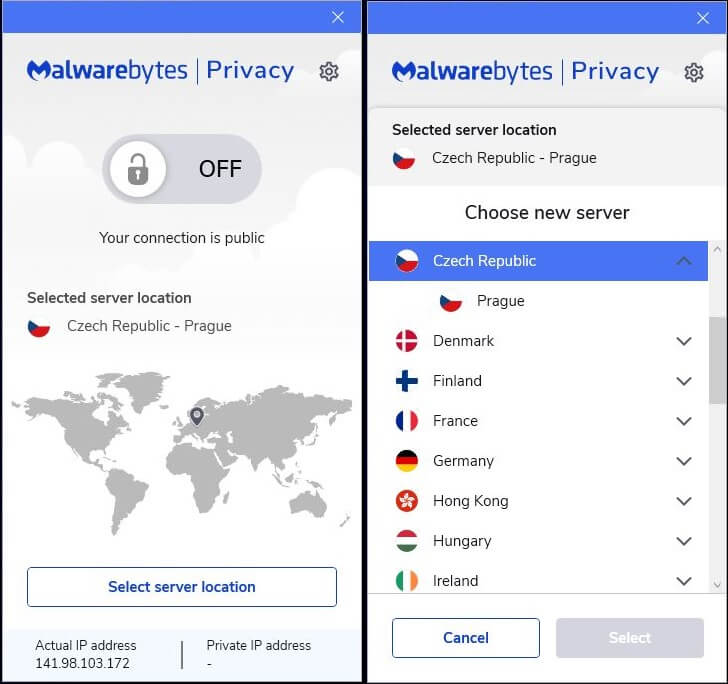 When they introduce Android and iOS apps, this will all make more sense. For now, though, it's great, it just needs to be utilized better.
Support
The staple of every quality provider is a reliable support team. Should you want to contact the provider, it should be easy, effortless, and quick. Malwarebytes VPN acts like it just heard us and went the other way out of spite. To contact the provider, you're going to need to visit the Support tab and fill out the ticket just like we did during our review.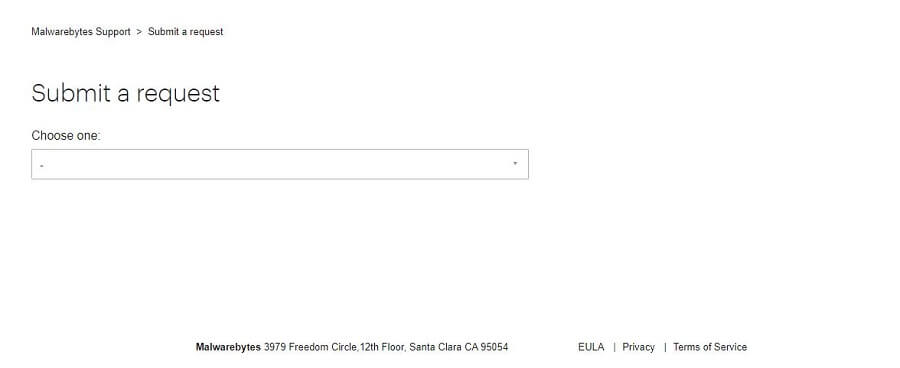 There's also a FAQ section, but that's not any kind of contact. You're still on your own, figuring out how to get a solution to your problem. Even worse, the support team is not helpful and is quite oblivious to what we're saying.
For instance, we ask them about a free trial for reviewing purposes and they tell us something about registration, activation, etc. Like, what? We didn't ask you that! In short, the provider's support is subpar, which is quite surprising, given the company's experience.
Value for money
At the end of the day, value for money is all that matters. Why pay more for lackluster performance, right? The thing with Malwarebytes is that it's very expensive for what it offers. If you've read the review carefully up until this point, you know that we're dealing with a VPN that should be free – not premium! Let's see how much will it cost you.
Price comparison
Malwarebytes VPN has a single subscription plan if you're planning to use this service only. It costs $59.99 a year and offers everything that we mentioned. Does that sound good to you? Approximately $5 a month for a provider that doesn't unblock Netflix, doesn't have a kill switch, etc.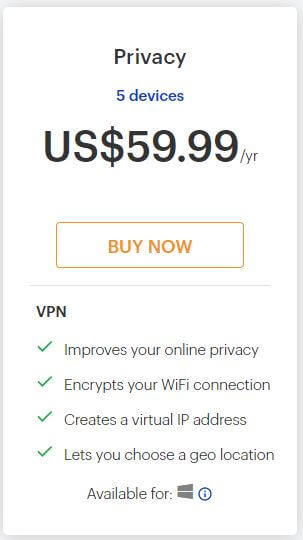 If you answered with 'no', congrats, you're mentally more than okay. At this price, you can go for CyberGhost or Surfshark, as they both offer an annual plan at $5.99 a month. And if you want, you can buy a longer plan and get an even cheaper price.
Ultimately, you can buy ExpressVPN at $6.67 a month and get uncompromising performance. At least, you'll know what you're paying for.
Payment methods
Does the provider care about your anonymity? No, it doesn't! Let's review the payment methods offered by MalwarebytesVPN. Oh, wait – there are only two of them!

There's no Bitcoin, which speaks volumes about how much your anonymity is important to the provider. With Bitcoin or any other crypto, you can buy a subscription anonymously, leaving no personal info to the provider.
Malwarebytes VPN Money-back guarantee
The good news is that the provider offers a 30-day money-back guarantee.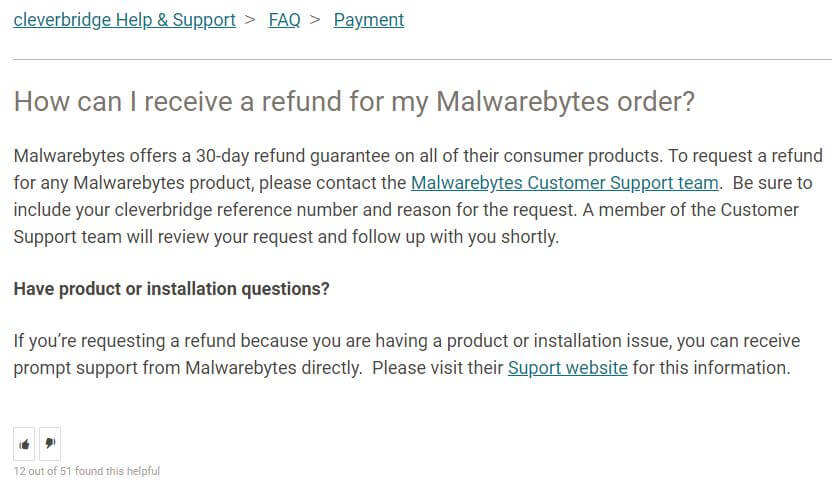 As it seems, you can use it freely for 30 days, without worrying about bandwidth, so you can always get your money back in that period.
No Extra Features with Malwarebytes VPN
When a Virtual Private Network has some special features, we make sure to include it in our review. As expected, Malwarebytes VPN has nothing special to offer, not even a kill switch. Its Setting menu is poor, offering no connection settings or additional features.
Just to make it clear, we think about ad-blocker, split tunneling, or anything similar. Unfortunately, nothing of that is to be found here.
Final thoughts about Malwarebytes VPN
Our thoughts about Malwarebytes VPN are all but positive. We desperately tried to find at least one good thing about it, except its 30-day money-back guarantee and intuitive app. Apart from that, the provider is not even mediocre, but straight-up bad.
If we add its high price on both a monthly and yearly basis, it's hard to recommend this provider to anyone. For supreme performance, rock-solid security, and the ability to unblock Netflix, we wholeheartedly recommend ExpressVPN.
You'll pay it slightly more, but overall performance gains will be 10 times more impressive. Oh, and it also has a 49% discount and 3 months free for a 12-month plan, which makes it even more affordable.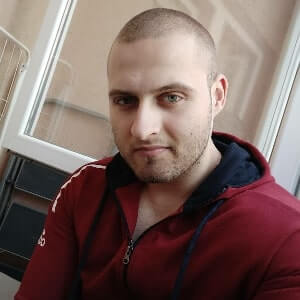 A professional writer with a Master's degree in Mechanical Engineering. Since his youngest age, he loves everything related to internet, technology, fitness, games, and dogs! He joined our team in order to bring his deep knowledge in security services, among which VPN is of course a key component.