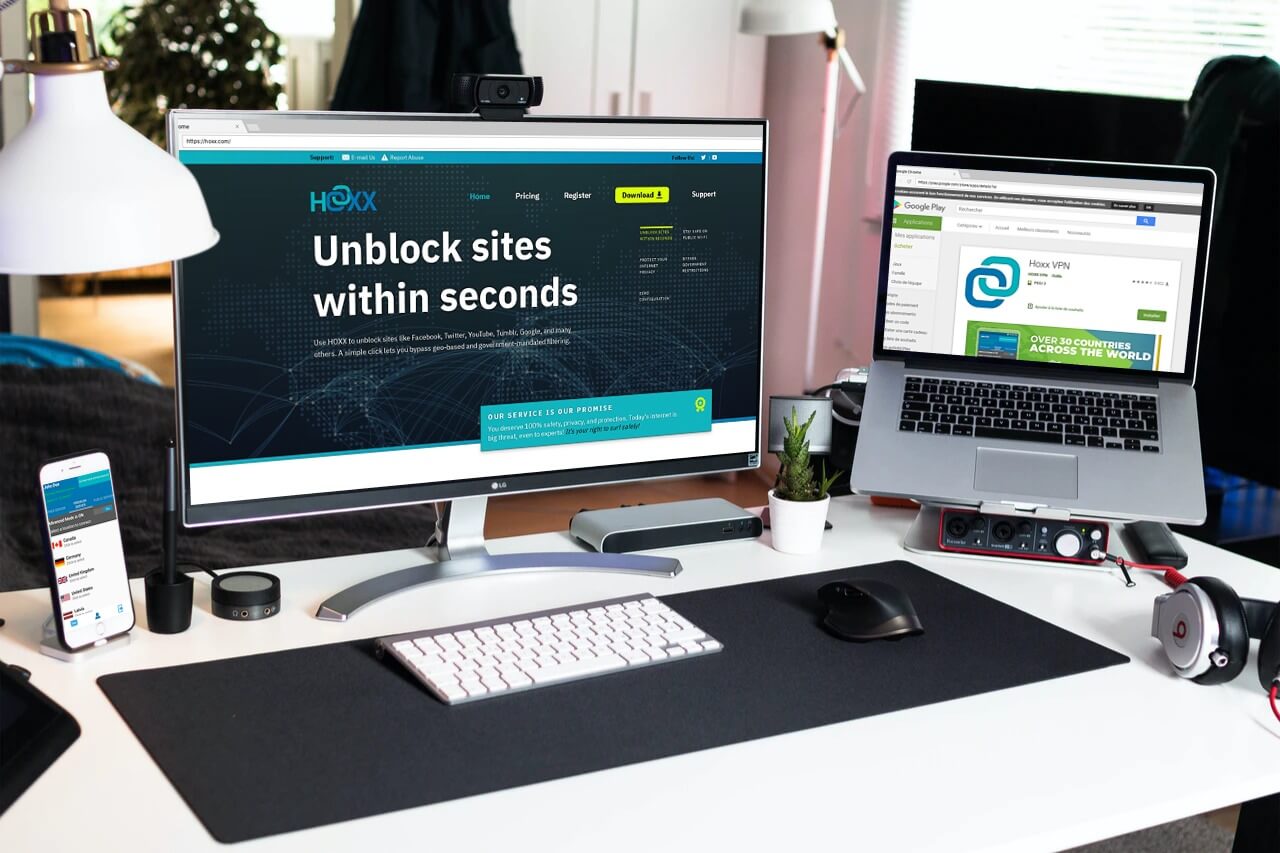 Among the many reliable VPN providers, Hoxx seems more like a proxy server. Looking at the official website, you can read that it only promises to hide your IP address. It will also remove the geo-related restrictions on many sites and streaming platforms. Still, we can say with confidence after our review and test of Hoxx, that things are not as simple as they seem.
In the past few months, there have been numerous reviews claiming that the company should have been called Hoax. Thousands of customers unsatisfied with server speed, refund policy, and privacy. Looking at the statistics, the provider has over 1 million users so the claim that it is not reliable is quite worrying.
In order to debunk the myth of this provider and help you reach the right decision, we have decided to perform a series of tests. We will be reviewing performance, value for money, connectivity, customer service, and the other features that come with it. Let's get right to it!
STRENGTHS:
Good number of servers
Unlimited bandwidth
WEAKNESSES:
Outdated encryption
Stores logs
Leaking issues
Incredibly slow
Netflix incompatible
Not for torrenting
Unreliable customer service
---
Hoxx ranks #84 out of 104 VPNs tested. Here are the best alternatives :
Is It a Free or Paid VPN?
Hoxx offers both kinds of services. Firstly, there is a free plan that comes with quite a few limitations. If you want to get into details, we suggest you take a look at their official website. We, on the other hand, will be going through the most important differences.
Firstly, the free plan doesn't come with unlimited data and bandwidth. You have a daily limit, after which you will not be able to connect to any of the offered 600 servers. Another big difference is that you don't have access to 24/7 customer service or malware protection.
Also, the encryption is nowhere as good as expected, which is an issue in terms of privacy.
From what Hoxx suggests, as a free user, you are getting 1024-bit encryption. Meanwhile, anyone that pays the subscription fee will get a 4096-bit RSA. It's a free VPN, but you won't get all the advantages that you might be looking for.
Performance
We always emphasize the importance of fast and stable servers. Without a reliable performance, you can't call a VPN provider worth the money. Considering this, it is quite normal to ask whether Hoxx is something you can rely on or not when doing this full review.
Speed
Their servers surely don't have performance that anyone should be proud of. Much like VPNBook or StrongVPN, Hoxx has huge issues with both upload and download speed. We did a series of tests to see if the speculations about the speed were true.
The answer is – absolutely.
Looking at the performance that European servers gave us, we had a decrease in upload speed of around 72%. That means that, from the initial 235 Mbps, we were brought down to just above 65 Mbps.
What's weird is that upload speed was decreased by above 85%, which means that it came from 211 Mbps to 32 Mbps.
On the other hand, the US servers did much worse in terms of ping (150ms) and in terms of download speed. It was decreased by 80%. The upload decrease was even more of a disaster though, as it went from 211 Mbps to 13 Mbps, which is almost 94%.
Without VPN (we were located in London) :

EU Server :


US Server :

Asia Server :


Stability
The other important question in this part of our Hoox review is related to the overall stability. Unsurprisingly, this provider didn't show good stability. It has serious issues with connectivity and server uptime.
Meanwhile, providers such as ExpressVPN and NordVPN offer a 100% guarantee that you will not be kicked out of a server.
Streaming
As one of the most common reasons why people subscribe to VPN providers in the first place, streaming is incredibly important. While most services don't require incredible internet speeds, even the more reliable providers have issues streaming Netflix or Hulu. Is that the case with Hoxx? Let's take a look.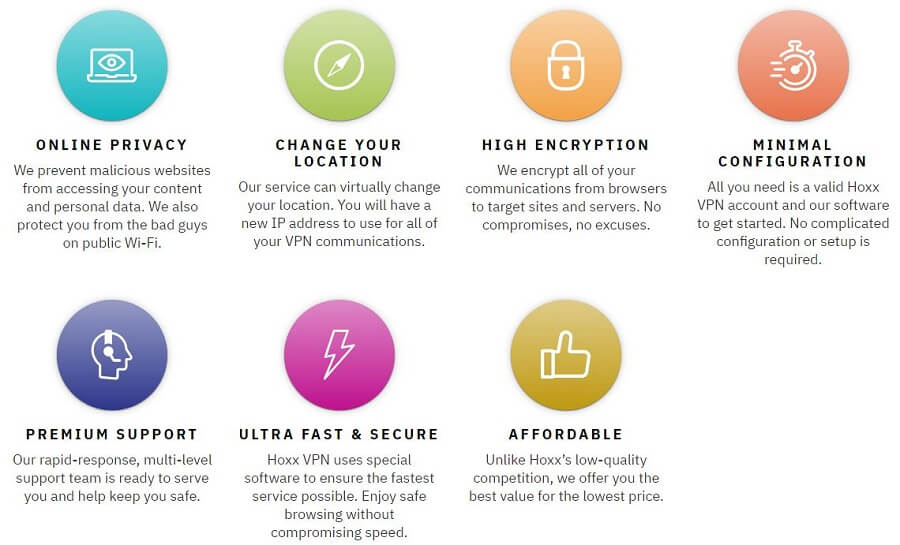 Netflix
Just as we have mentioned above, not many providers are able to provide you with cracking into this streaming platform. That is the case with Hoxx, as well. While the company itself proclaims it is able to stream different catalogs of this platform, that is not true.
After running a series of tests, including servers from Canada, Miami, New York, and the Netherlands, we can say with confidence that all have failed.
Other streaming services
On the other hand, we were surprised to find that if you were hoping to stream Hulu or Amazon Prime, that can be done. As long as you have a reliable internet connection and you are connecting to a "good" server, you should be good to go.
But, conclusions are the same as for Netflix if you want to get access to BBC iPlayer from abroad.
Security
Chances are you are subscribed to a certain VPN provider for the security and privacy benefits that it allows. However, that is not the case with Hoxx.

Where is it based?
The company that stands behind this provider is VPN1 LLC, and it is located in the United States. What this means is that your browsing activity and other info are liable to be shared with members of the "Five Eyes Alliance".
This is certainly not something you are hoping for when trying to bypass geo-restrictions, torrent, or stream services that are not usually available.
Log policy
Out of all the concerns that we have about this provider, the one related to the logging policy surely is the biggest. By storing all of your logs, they basically don't fulfill the main idea of a VPN provider, which is to not track your activity.
Looking at their FAQ page, they say that the logs are only for the amount of time you were logged in and to prevent illegal activity, but we can't go with that answer. It is still violating the concept of anonymity and, as such, shouldn't be supported.
The brand keeps the activity for themselves, but chances are they will hand it out to Canada, New Zealand, Australia, or the UK, as well.
Protocols
Unfortunately, we found a few things wrong during our Hoxx review and test.
Firstly, the encryption offered is completely outdated. While they use 4096-bit encryption, ExpressVPN and NordVPN feature a 256-bit AES, which is something that even supercomputers can decrypt.
Not only does this provider use outdated encryption, but also, the protocols are tunneling proxy protocols. The two base ones are Shadowsocks and HTTP, neither of the two ensuring optimal security and performance.
Leak protection
Last but not least, we performed a couple of tests during our review related to whether Hoxx will leak your IP address or not (in case the VPN server fails to connect). Unfortunately, both DNS and WebRTC were leaked 2 times, which certainly is not a good privacy guarantee.
If you want to stay anonymous, you definitely need to avoid this provider!
Torrenting
It is quite interesting to see that it is not the slow servers that are responsible for Hoxx's disallowance of torrenting. On the contrary, they suggest their servers would be able to handle any P2P and downloading without an issue.
The main reason is that their policy is strictly against it.
It defines torrenting as a criminal activity with copyright infringement consequences. Additionally, it states the user that is downloading the content is at an increased risk of cyber-attacks.
Of course, this would not be an issue if they had proper leak protection and encryption.
Bypassing Censorship
During our review, we found out that Hoxx is not the best provider when it comes to access to websites that are censored. This is especially the case when breaching into countries that have strong firewalls against Virtual Private Network providers.
For example, you can't do anything if you are in China AND subscribed to Hoxx. On the other hand, ExpressVPN is extremely efficient in this matter.
Countries and Servers

It is safe to say that this provider is a global one, considering that it offers access to 674 servers in just above 50 countries. This is not bad for an average VPN like Hoxx.
However, it has a really limited number of servers compared to CyberGhost's 6,800+ servers worldwide. Looking at the specific locations, Hoxx does cover Europe, Asia, and the Americas.
From the tests that we have previously performed for this review, it seems that the best performances are in the UK and Canada. For a user who is interested in nothing but browsing, these servers might be reliable.
If you want to HD stream or download, Hoxx can't brag about reliable performance unfortunately.
Compatible Devices and Connections
One of the most common questions when reviewing a VPN provider is how many devices can be connected at the same time, so the next section of our Hoxx review deals with this. We will also look at whether it supports only a single operating system or the most common ones.
Devices supported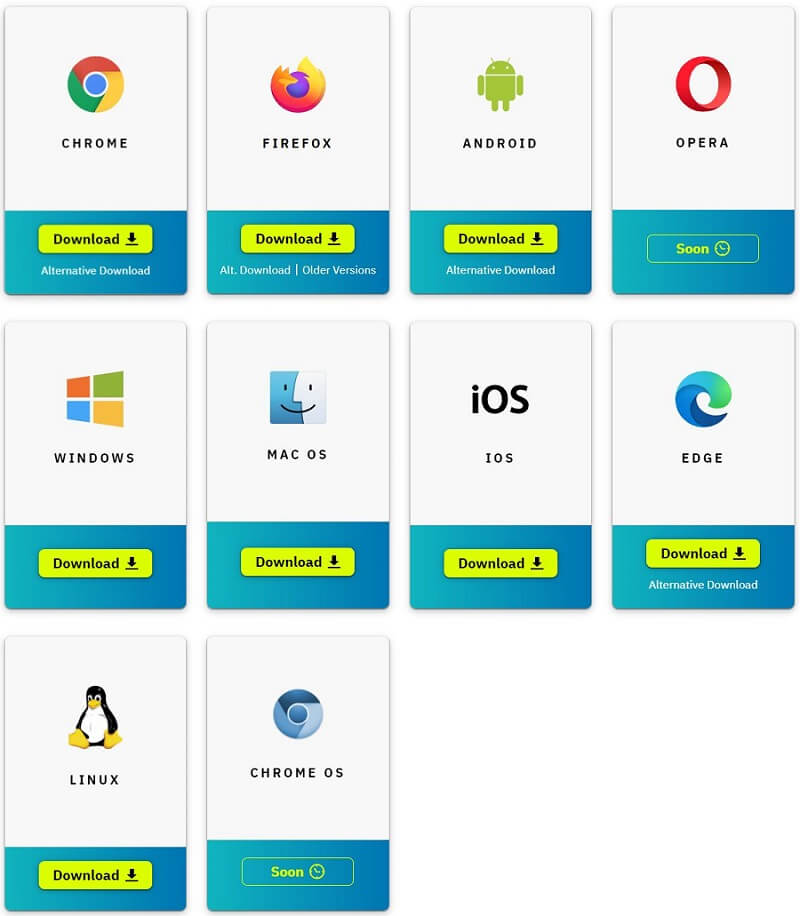 There is a positive aspect of their connectivity. We can say that Hoxx supports connectivity to Android, iOS, macOS, Windows, as well as browsers such as Google Chrome, Opera, and Safari.
It also proclaims Firefox compatibility, but we haven't seen that happen. Check our article with the best VPN extensions for Firefox here.
On the other hand, there are a number of issues here.
Firstly, it doesn't support Linux or Amazon Fire Stick. Additionally, you shouldn't rely on it when it comes to using VPN via Smart TV, routers, and gaming consoles. Another issue is that it lacks a kill switch, which is quite common for the leading providers.
Considering the low privacy that we have reviewed above, such a feature would make things better. This way, the line of defense for your browsing activity and private info is almost non-existent.
This part of our Hoxx review and test is definitely not in favor of the provider.
Simultaneous connections
Probably the only feature that we are completely happy about is that Hoxx allows an unlimited amount of connections. This is much better than your average VPN provider, which is set at around 3 devices at the same time.
The best thing about it is that you can work with both a computer and a mobile device at the same time without connectivity issues. Still, that doesn't contribute to the overall performance and reliability.
Support
Maybe the most important aspect of any VPN provider is the customer service that it offers. For this complete review of Hoxx, we wanted to check this with a fine-tooth comb.

While they don't offer live chat support, they do claim that their email team should give you a wanted response within just a few hours. We decided to test it out and found that statement to be true.
Still, while the response came in three hours, it was quite brief and not really what we were expecting.
But there is a catch! From what it seems from most feedback, Hoxx email support would rather discuss the nature of their service without actually giving a solution to the request. This is an issue for the money-back guarantee, as well.
You need to have an explicit and valid reason in order for them to accept it.
Considering that their free package doesn't offer anything that is worth, you don't need to pay the subscription fee. On the other hand, in case you are not satisfied and you want your money back in the 30-day window that is proclaimed, there is no guarantee you will get it.
Value for Money
Looking at everything that we have said above and our in-depth evaluation of Hoxx VPN, the short answer would be that it is not worth your money or your time.
Price comparison
Apart from the free package that the provider offers, you get a chance to subscribe to their premium service for $24 a year. That would be around $1.99 a month, which would be a fair price if you were to get a reliable VPN service.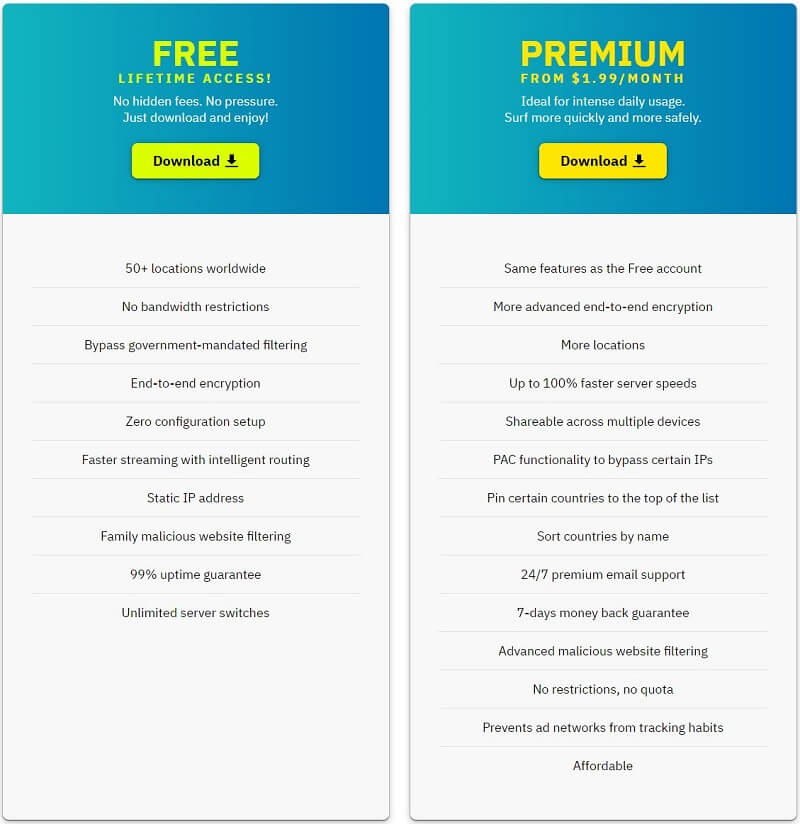 Considering that the provider is lacking privacy, speed, versatility, connectivity, and good customer service, it almost seems like a scam.
Payment types
There are a number of options ranging from regular PayPal and credit cards to anonymous Bitcoin that works well with this provider.
Money-back guarantee
There is a 30-day refund policy, but, as we have suggested above, the unreliable customer service leads us to doubt it very much!
Extras
As Hoxx has difficulties ensuring even basic reliability, it doesn't come as a surprise that there are no additional features we can review.
Final Thoughts
In the end, we think that our rating of #84 out of 104 is very kind for this provider. Honestly, any test that we put it through, Hoxx managed to fail during our complete review. We are not talking only about huge logging and leaking issues, but also the fact that you can't rely on proper connectivity as a basic requirement.
You also can't expect to get REAL help from their customer service.
Thus, if you don't want to go through all the trouble of wasting your time and money, we suggest subscribing to some of the leading providers, such as ExpressVPN, CyberGhost, or NordVPN.
In the end, Hoxx is not a VPN provider that we would put on our recommended list.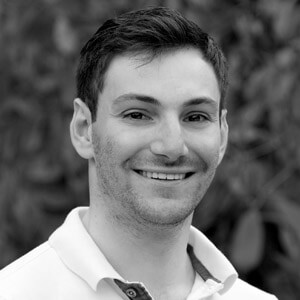 Flo is the founder of the-bestvpn.com. Really concerned about security on internet, he decided to create this website in order to help everyone find the best VPN. He's got a Business School background and now is 100% dedicated to keeping his website alive.