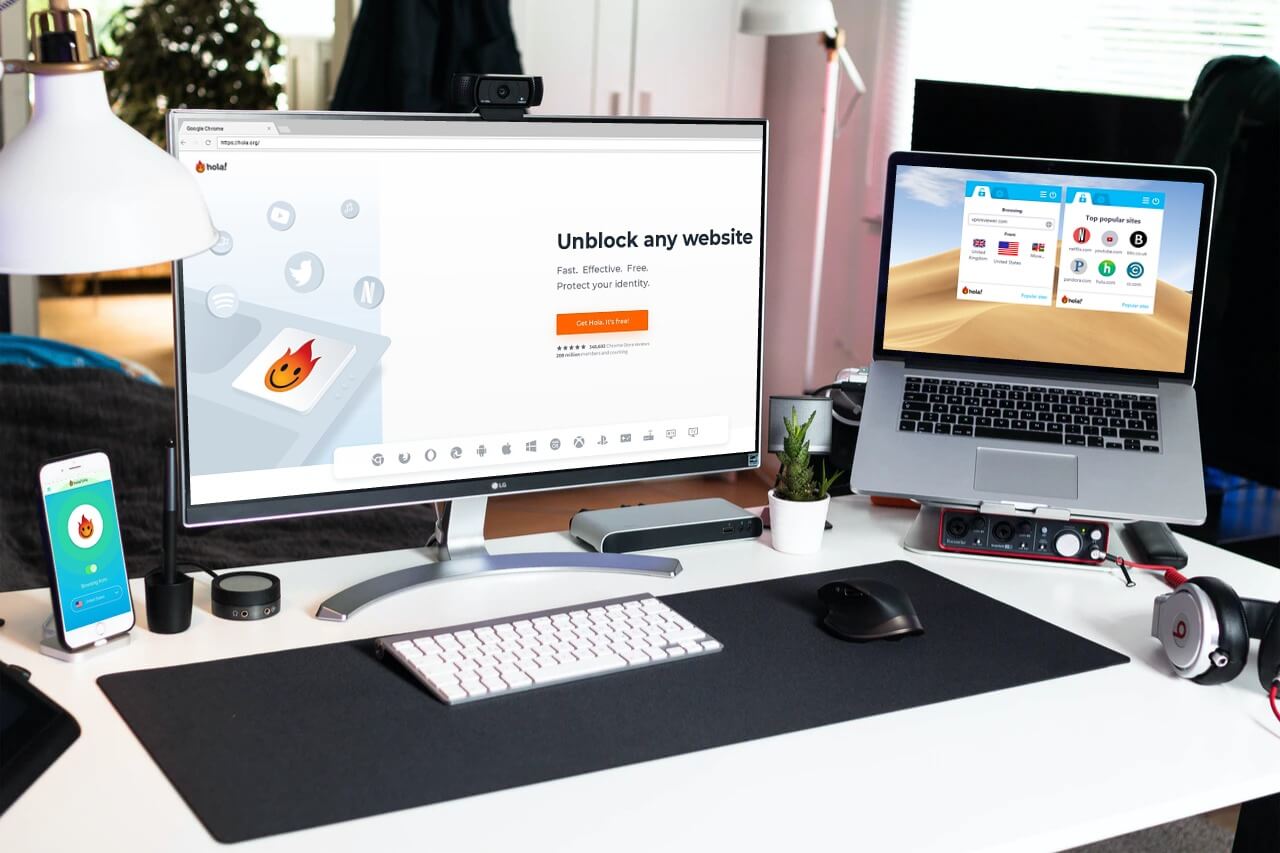 VPN technology has come a very long way. This is thanks to big players like ExpressVPN and NordVPN that have changed the game. Of course, it's always interesting to see a provider offering something different, but "different" doesn't always mean exceptional. To show you a perfect example of this, we've prepared this Hola VPN review and test.
Hola VPN is far from your typical service, so get ready to read a lot of strange things in this review. First of all, we say that this provider isn't a typical provider due to its peer-to-peer system.
Rather than using fixed servers located across the world, this peer-to-peer system sees the service tunnel users through the connections of other users.
While we like putting our readers in suspense, we'd like to inform you now that you won't find many positive things here. In 2012, Hola VPN was launched by an Israel-based company, which is a piece of information that spells danger on its own.
While they claim to be serving almost 200 million people worldwide, quantity isn't an indication of quality.
Of course, the theory of using a peer-to-peer network looks good on paper – it means every user is connected, so it's difficult to pin anything on anyone. This is strange, especially for a VPN provider, but the question is – is it good?
Well, this 2023 review and test will show you everything you need to know.
STRENGTHS:
Offers an ad-blocking feature
Supports up to 10 simultaneous connections
WEAKNESSES:
Located in hostile location
Doesn't use any encryption
Doesn't support torrenting
Offers no Kill Switch
Doesn't work in China
Poor client support
Poor streaming performance
Inconsistent speeds
Hola ranks #79 out of 104 VPNs tested. Here are the best alternatives :
---
Is it a paid or a free VPN ?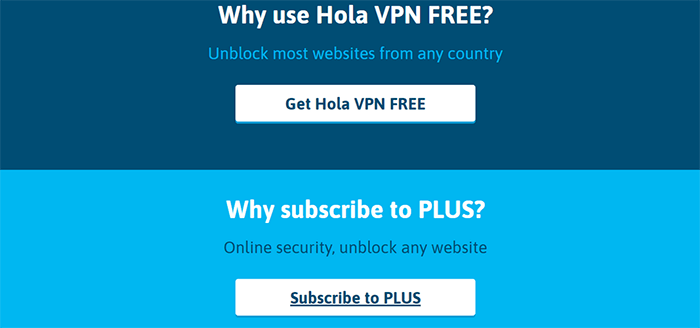 The availability of a full-featured free version is probably Hola VPN's biggest selling point. Obviously, Hola VPN offers a free VPN but it is not unlimited totally.
Although, unlike other services, Hola does not set any bandwidth or speed limits. You can use the entire network at no cost whatsoever.
The only price you are likely to be paying is sharing a fraction of your idle resources with other users. This is dangerous as it means other users will be using your IP while it's idle, which is not fine.
If you find this unacceptable, there is a premium version you can switch to enjoy superior security.
Performance
The first question you often ask when someone tells you about a provider is "how does it perform?" With that in mind, we've decided to make "performance" our first factor to address.
Using its speed and stability, here is how Hola VPN performed in our test and review.
Speed
Because of the precise nature of the Peer-to-Peer system, the speed performance of Hola VPN is somewhat inconsistent. While speed results from our test vary considerably from locations to locations, they are pretty manageable.
However, keep in mind that they are far from being great.
We connected to multiple servers during our test, and our general results were just about average. Shockingly, the speeds dropped significantly when we connected to a US server.
But, we still managed to do some streaming – not without some buffering.
Without VPN (we were located in London) :

EU Server (France) :


US Server :

Asia Server :


Stability
Stability is the primary issue of lower-tier providers nowadays. This is understandable since they usually don't have sufficient resources to maintain their network. Surprisingly, Hola VPN offers a quite stable network, promising an OK uptime.
The Peer-to-Peer system they use is probably the reason for this, as they don't own or operate any server. We connected a few times during our test and the network was never down, except for the client support which we will talk about later on in the review.
Streaming
Streaming is one of the primary reasons for the invention of Virtual Private Networks. With that in mind, we ensured to test Hola's streaming capabilities during our test, and below are our results.
First of all, we'd like to mention that you should forget about streaming with the free version, so our own tests were all carried out on the plus version.
Netflix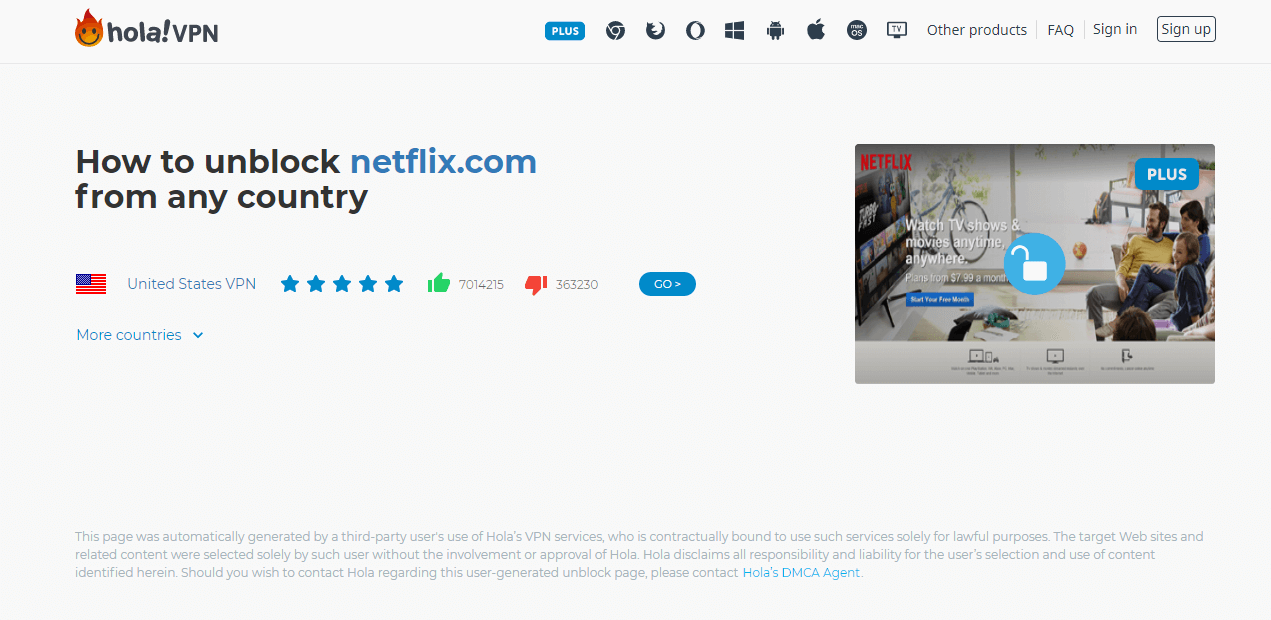 You may possibly get lucky and gain access to geo-restricted content from streaming services like YouTube. However, you can forget about unblocking Netflix with this provider. Of course, it is capable of spoofing your location, but it just doesn't work for Netflix, as we found out first-hand during our test.
While it used to work for Netflix back in the day, ever since the streaming giant started blocking VPN services, Hola VPN became incapable.
BBC iPlayer
BBC iPlayer, like Netflix, doesn't work on this service. We tried to connect multiple times during our test, and each time, we got the dreaded error message from the British media company.
Not like we were surprised, though, because we weren't.
Others?
You may find luck unblocking other popular streaming sites like Hulu, HBO, and Youtube, but we don't even guarantee you this. It worked sometimes while we were writing this review, and there were times where we weren't able to access them.
So, there is no consistency whatsoever.
Security
We assure you that VPNs wouldn't be this popular if the internet didn't become an unsafe place in the first place. In simpler words, security is one of the primary reasons for the growing popularity of these tools. Thus, we felt it was necessary to dedicate an entire section to security.
Let's see what we found in our test regarding the security of Hola VPN.
Where is it based?
Hola is an Israel-based company, which explains why they collect a significant amount of information. We will talk more about this later in this review, but you must know that Israel is the most renowned country for spyware, intelligent systems, and cybersecurity software.
You wouldn't even be overreaching to suspect that Israel-based companies share data with the country's authorities.
It doesn't end there, however. The country is not an exclusive member of the Fourteen Eyes Alliance, but it is a cooperative partner. In case you are wondering, the Fourteen Eyes is a group of countries that have agreed to share information.
The general perception is that this alliance was formed for these countries to help each other find individuals they're after.
The alliance includes the United Kingdom, the United States, France, Canada, Australia, Germany, Sweden, the Netherlands, Italy, Norway, Denmark, New Zealand, Spain, and Belgium. If one of these countries know something about someone, it informs the others.
As we mentioned previously in the review of Hola VPN, Israel is a supportive partner. Consequently, the Israeli government must also share data with the countries in the alliance if there is a need for it.
Log policy

We started talking about this up there, but it is in this part we will talk extensively about it – the logging policy of the provider. To be honest, it's a huge point of concern.
Normally, the point of using a VPN is to prevent anyone from tracking us.
However, in the case of this provider, all the traffic travels through the users' devices, and probably one of the few protective measures available is keeping logs. If a cybercriminal or a scammer utilizes your computer for an illegal act, your IP address automatically becomes questionable.
In terms of privacy, this provider is not good at all. In fact, it doesn't boast of a no-logging policy, which is something rare in the world of VPNs, where even providers that keep logs claim that they don't keep logs.
Their Privacy Policy is where you can really find out if they keep logs or not, as they can't lie in the Policy, so that has got to tell you a lot about Hola VPN.
The provider states on its official website the following:
"We may disclose Personal Information to other trusted third-party service providers or partners for the purposes of providing you with the Services, storage, and analytics. We may also transfer or disclose Personal Information to our subsidiaries, affiliated companies".
Furthermore, this company collects and logs personal data like your name, email address, IP address, billing information, and more. Besides, the company won't hesitate to disclose all this data when a law enforcement agency comes knocking.
While they claim that they collect logs to help improve their service, prevent crimes, and prevent network abuse, the idea of tracking your online activity might spike privacy-savvy users.
Now, you have read everything we could gather about the logging policy of this provider in this review.
So, do you feel that it is a safe service to use? If not, you should consider 100% no-log VPN providers such as ExpressVPN, CyberGhost, or NordVPN.
Protocols
Typically, Virtual Private Networks encrypt your data – that is even basically their traditional function. Considering the industry standards nowadays, the best way for encrypting your data and protecting your connections is by using the AES 256-bit encryption and the OpenVPN protocol.
However, this provider doesn't use any of those methods, as you might have suspected from our Hola VPN review. Rather than encryption and protocols, the provider feels that the "Peer-to-Peer" technology they offer is sufficiently secure, which is not true at all!
Let's look at it from this perspective – there are two choices. It's either you decided to stick with the most advanced encryption technology in the world that has never been breached by anyone, or you decide to entrust your data with some shade "connection-to-connection" system that's proven to be defective.
Which will you choose? Your choice.
Protection against leaks

A leak can be very fatal in the world of Virtual Private Networks, and even the best providers are not excepted. Whether it's a WebRTC leak or a DNS leak, the final outcome is always the same  – your anonymity and privacy will be at risk. As soon as a prying eye is able to uncover your genuine IP address, it's game over for you.
While putting this together, we ran tests for leaks… and we detected leaks.
Again, this is shockingly bad, for the umpteenth time in this article. Industry leaders like ExpressVPN offer total protection against leaks so nobody will ever know what you are doing. With Hola VPN, however, you are likely to be an exposed target.
Torrenting
No matter how much you don't want to admit it, you can't talk about VPNs without talking about torrenting. Since things are like this, we thought it would be wise to address the torrenting capabilities of Hola VPN in this review.
Is torrenting allowed?
If you are in search of an ideal provider for torrenting, try your possible best to stay away from Hola. The provider states on their official website that, " the use of BitTorrent on our network is not allowed, and we are blocking BitTorrent traffic".
However, it's beyond the fact that they don't allow torrent traffic. Because even if it was, we would still recommend you to avoid them.  Since torrenting is similar to Hola in that it's also a peer-to-peer service, it is so effective, and at the same time, so dangerous.
If you want to safely engage in torrenting, you want a provider with strong encryption and features to effectively protect you from hackers. Unfortunately, Hola offers none of that, which we will explain later.
In general, it's a great thing that this provider blocks BitTorrent traffic. You will be better off with a service that allows for safe torrenting. In fact, this is where we talk about providers like ExpressVPN and NordVPN, which offer high-level encryption and protocols and offer dedicated peer-to-peer servers.
Is there a Kill switch?
The Kill Switch is probably the most talked-about feature in the world of VPNs, and we'd be surprised if you didn't know it by now. In case you don't know, however, it's a feature that helps kill the internet connection when there is an interruption in your VPN connection.
This prevents your data from getting into the hands of the public or snooping hackers.
Unfortunately, Hola VPN doesn't come with a Kill Switch. Apart from making this provider a bad choice for torrenting, it also makes it a very bad choice for anyone who's conscious of security.
Almost every provider offers this feature nowadays and this shows why you must stay away from Hola VPN, again.
Bypassing Censorship
The issue of censorship is a growing concern for internet users nowadays, with many governments starting to implement censorship. Some of the leading countries renowned for their strict censorship policies are China, Russia, and Iran.
But is Hola VPN capable of getting you past strict censorship? We're not sure. Let's take a look at our test discoveries in this part of the review.
In censored countries
If you are intending to use Hola VPN in a country like China, we advise you not to waste your time. For starters, the service does not even provide basic encryption or use a secure protocol, not to talk of providing any kind of extra obfuscation tools like access to Tor over VPN or a stealth protocol.
What this means is that should you even be able to access the web from China, your private data will be out in the open. Furthermore, this provider will be able to monitor your activity while using the service.
This makes things more difficult than even if you weren't using any VPN whatsoever.
It's the same thing for people residing in other high censorship countries like Iran, Turkey, or Saudi Arabia. You need a provider that will give you an additional layer of privacy.
You don't need a service that will log all your activities, which takes Hola VPN out of your option.
In conclusion, Hola VPN is far from being an ideal choice for bypassing censorship. Ideally, a provider for China has to offer obfuscation settings and L2TP or OpenVPN support.
The connections of this service are easy to block, which eliminates your chances with it.
In restricted networks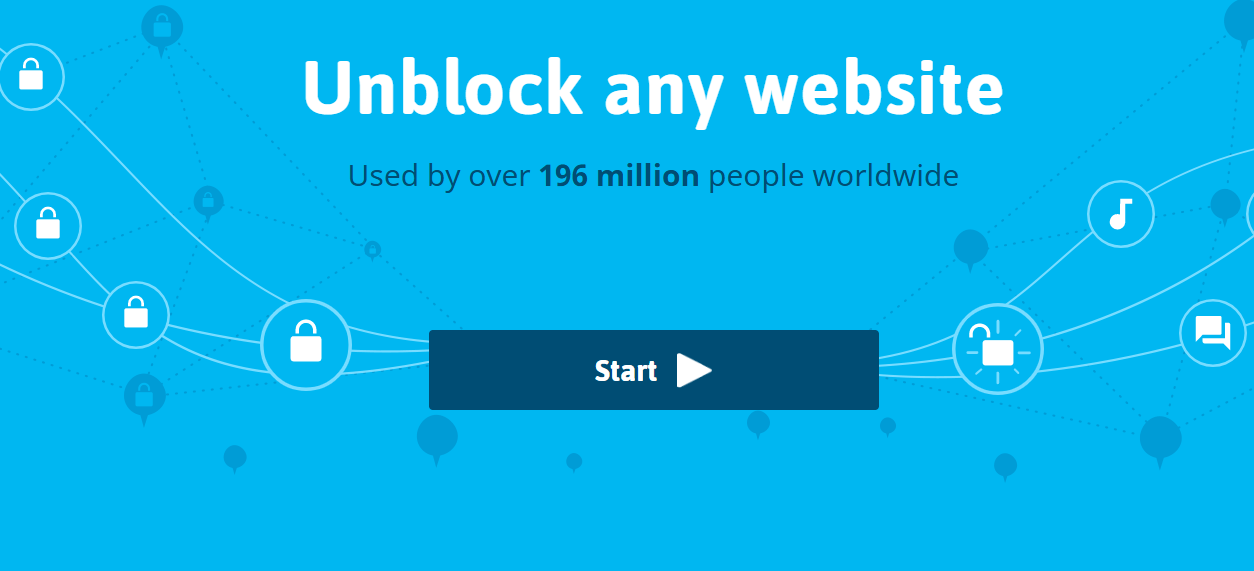 It's commonplace for school and work networks to be limited severely in terms of the sites you can access. This is usually a practice adopted to ensure that employers and students are maximally productive.
Fortunately, you can effortlessly get past any Internet restrictions by making use of Hola VPN.
Even though it doesn't work for bypassing the Great Firewall, it works for restricted networks. We checked it out during our test and it worked well.
Countries and servers
The number of servers a provider has and their geographical distribution is a very important factor to consider. However, that's only for providers that have servers. Interestingly, Hola VPN doesn't have servers, thanks to its Peer-to-Peer system.
Countries covered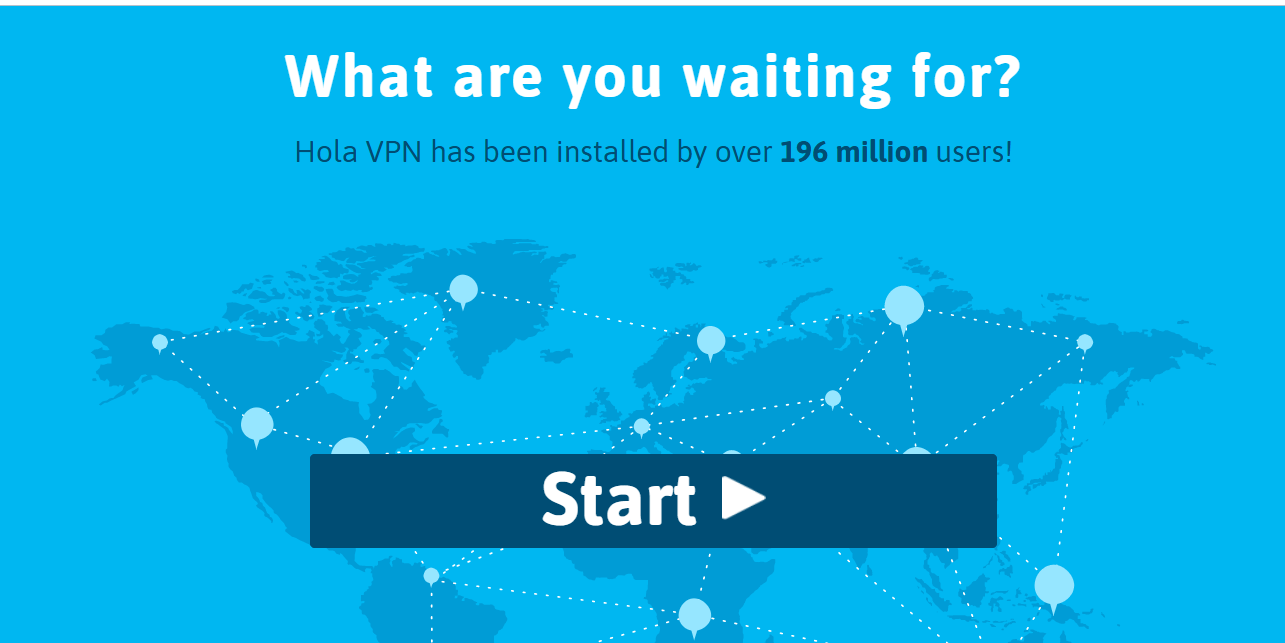 Hola VPN operates in such a way that it does not run a customary server network. Therefore, there are no servers for your selection. It is possible to seem to be connecting from any region around the world, as long as there is someone from that region that has signed up to the service.
If you are looking for a VPN that you can use in India, this is it.
When you make use of Hola, your traffic will be routed via other users in the provider's network. Thus, someone else will look to be connecting from your IP while you're not using it.
Basically, there is a wide range of IPs for every country, and when you choose any country, you will just be assigned one randomly.
Sadly, it's currently impossible to drill down to particular cities. This could be a source of concern for people living in larger nations like Australia or the United States.
The advantage of this system is how it makes it harder for websites to detect that you're utilizing a VPN. Apparently, it will be subsequently more difficult for those websites to block you.
Besides, this structure is the reason this provider is able to offer its service for free since there are no servers to maintain.
The apparent drawback is that someone could utilize your IP for illegal acts without your knowledge. However, this is a risk you need to take if you're don't want to use a paid service.
Servers
As we previously mentioned in this review, Hola VPN runs no servers. Therefore, there is no way for him to offer specialized servers.
Compatible devices and simultaneous connections
Only an unintelligent person goes on to buy a tool without ensuring it's compatible with their device. We don't want you to be that person, so we've included the compatible devices in this review and test.
In fact, we even did one better by including the number of simultaneous connections the provider allows.
What device can I use with Hola VPN?

At the moment, the free Hola app is available only on macOS and Microsoft Windows devices, coming as a browser extension instead of a desktop app. You'll need to register for the premium package to use the service on Android, iOS, or any other mobile device.
While it also offers a quite decent VPN extension for Google Chrome and Firefox, these basically do the same work as the Windows application. There is no possibility of using Hola VPN with any kind of streaming devices, gaming consoles, or routers.
Unless you wish to upgrade to the paid plan, of course.
If a provider that offers compatibility with an extensive range of devices is what you're looking for, consider ExpressVPN.
How many simultaneous connections?
One of the few advantages of Hola VPN is its support for up to ten simultaneous connections. This means that you can effortlessly use it on your Mac, Windows, Linux computers, and also on iOS and Android devices, all at the same time.
This makes Hola a convenient and flexible solution. We especially enjoyed how it allowed us to connect to many of our devices at the same time during our test for this review.
Client support
In terms of client support, there are not many positive things anyone can say about Hola VPN. Check our review below to see how bad their client support is.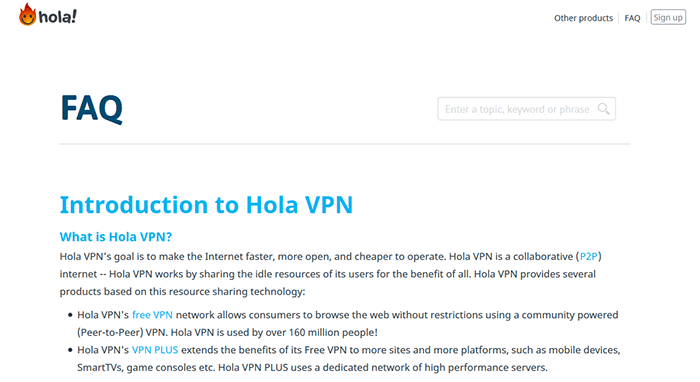 How to contact it?
If you need assistance with this provider, you will be hard-pressed to get in touch with their client support. To get in touch with them, you first have to navigate your way to their client support page.
You will find the link to get there in their footer. While it's quite difficult to find, that's not even the worst part.
To get help, you need to send them a mail from your email client. There is no option of live chat, no contact form, and no social media support.
At the time of writing this review of Hola VPN, we still haven't gotten a response to an email we sent four days ago. This really sucks, as you might have predicted, and it's needless to mention that it's going to our cons list.
If you want fast and competent client support, you might want to consider the reference, ExpressVPN.
Is it good?
Hola VPN virtually has no client support. While its website offers a range of FAQs, most people look at them as a way that the company is using to cover themselves for their previous issues regarding the selling and sharing of users' information.
Hola VPN offers no live chat support, but it's a free product.
Although you can contact them via their email address, good luck waiting to get a response from them. As we already said, we didn't get any response from them during our test for this review.
FAQ/tutorials
The only thing this provider offers in terms of assistance is a FAQ page. The page provides a solid list of content and covers most questions or issues the average user might have.
Well, if it doesn't, good luck waiting for their support to give you a response.
Value for money
The value for money is a very important aspect of any review, as there are many providers out there looking to rip you off. Below, we have broken down the pricing of Hola VPN and we hope it helps you in making your final decision.
Price comparison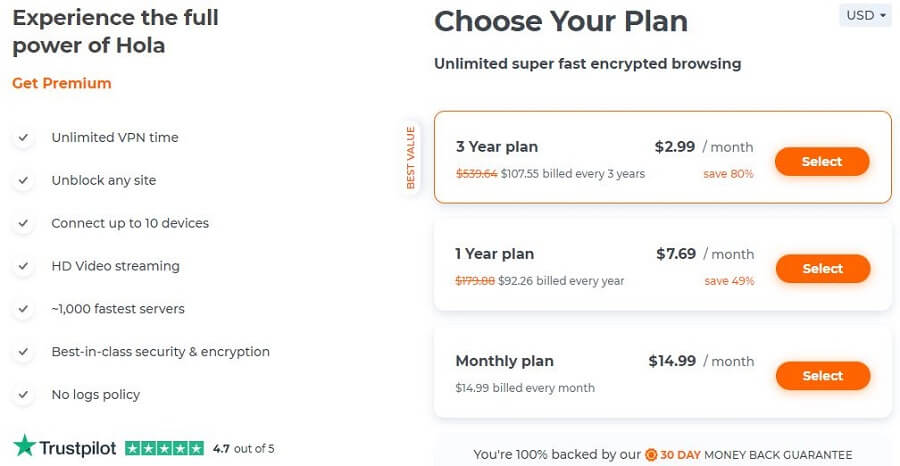 For people who require maximum security, Hola VPN offers a premium version. The initial price of the service is $14.99 per month, which is quite on the more expensive side. Apparently, you can buy the service at a discounted cost if you choose the longer-term plans:
1 month – $14.99 per month
1 year – $7.69 per month
3 years – $2.99 per month
While the price of the three-year package seems attractive, it looks to be a temporary offer. AND… it is still more expensive compared to CyberGhost, NordVPN, and more importantly, Surfshark.
Heck, its 1-year plan is more expensive even than ExpressVPN. This pricing is downright INSULTING if you ask us!
Means of payment
In terms of payment means, Hola VPN is quite limited, yet again. Some of the payment methods it allows include:
PayPal
Visa
Mastercard
American Express
Unfortunately, you can't pay through an anonymous payment method like Bitcoins. This is another factor that makes this provider a bad choice for anonymity-savvy individuals.
Money-back guarantee
One of the advantages of Hola Plus is that it comes with a 30-day money-back guarantee. While it is available for all the paid plans, the refund process can be very lengthy and tedious, "thanks" to the company's sub-standard client support.
We already comprehensively narrated our poor experience during our test up there in the review of Hola VPN.
Any extra?
Since the provider is comparable to the likes of NordVPN and ExpressVPN in terms of pricing, we're curious to see whether it offers unique features to match them. We found an extra feature in our test, so we've detailed them in this segment of the review.
Ad-blocker
The Ad-blocker is a feature that was created to disable annoying ads often posted on the Internet.
It is available on the company's official website and you can download it for free. Also, the application is designed to function as an extension that apart from blocking annoying ads, can also prevent tracking and malware.
But when you know the sour reputation of the supplier, we will not advise you to install this application, to be honest.
Final Thoughts
In the end, there is no way that we'd be recommending Hola VPN to anyone. We wouldn't even recommend it to our enemies, not to talk of our readers. It offers no security, has poor streaming performance, and doesn't even run good client support.
While its free service may look enticing, we don't recommend it in any way as it spells danger. Based on everything you've read in this test and review, you wouldn't argue with us.
The Peer-to-Peer system means you could get in trouble with law enforcement agencies should someone use your IP address for illegal practices.
Conclusively, you'd be better off with a proper provider like ExpressVPN. It doesn't only offer you maximum security – it gives you an all-in-one solution. Which is just perfect!
Choose the best VPN : ExpressVPN
Hola VPN Review and Test
If you plan to use Hola VPN, turn around as long as there is still time! Indeed, this provider is absolutely not trustworthy and you will be disappointed it is certain.
Add your review
|
Read reviews and comments

Michael is a talented writer who has dedicated a lot of time into making sure that everyone around the world can use the internet securely. Being an avid traveler, he has acquired a lot of experience while using different VPNs on his travels. When it comes to doing comprehensive "how to tutorials" or testing some VPN functionalities, he's always the best pick ! He's here to help you solve your VPN-related issues.