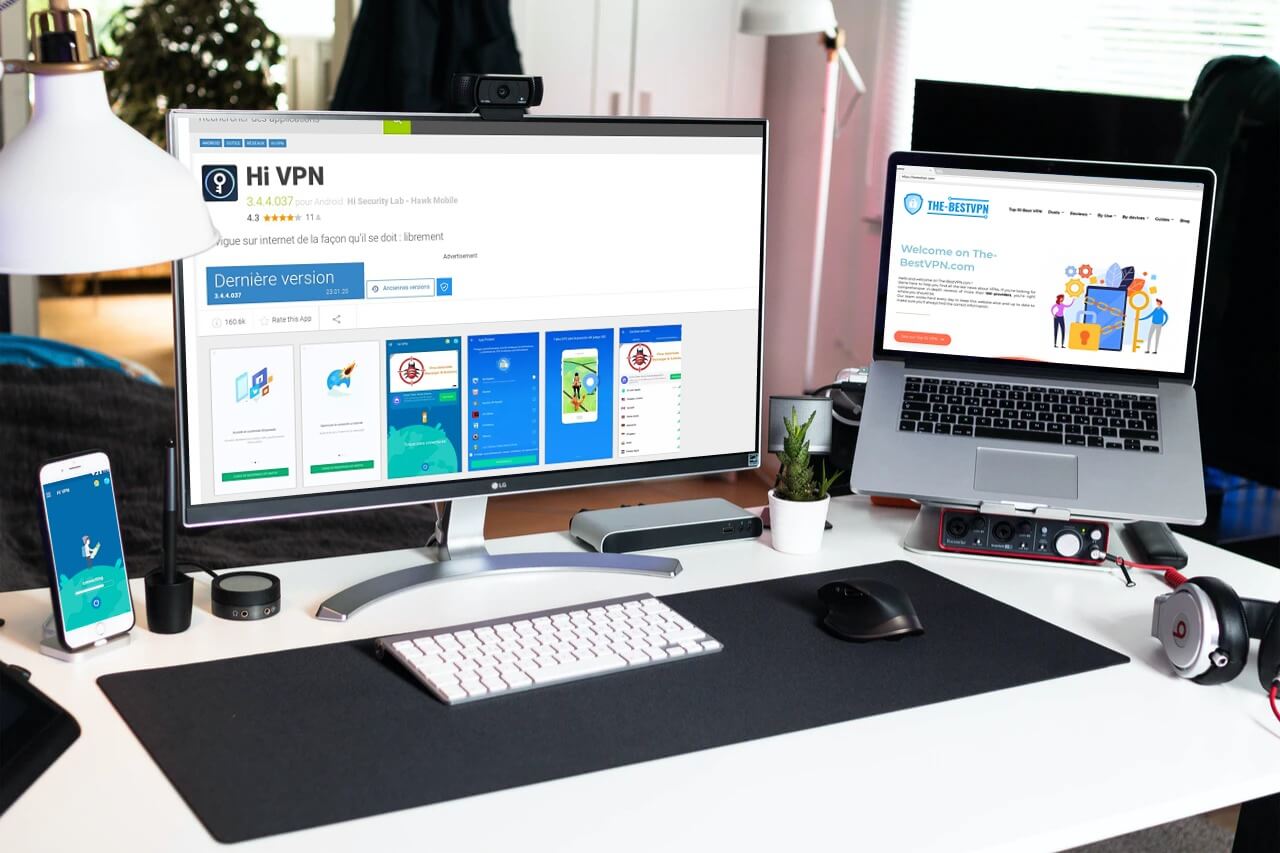 While there are hundreds of VPNs available on the market, most aren't able to stand up to the expectations. This is especially true for the so-called free VPNs that presumably bypass geo-restrictions without you paying a single penny. One of the most popular is Hi VPN as you will see in our review. Still, the fact that in the past few years, hundreds of thousands have downloaded it doesn't mean that it is something you can count on. Maybe the company simply did good marketing, and the users soon found out that it was all a scam.
To find out whether it is something you should invest your time in, we have prepared a thorough analysis of their service.
For this Hi VPN review, we will be going through all the elements that make a provider good. This includes elements such as the overall performance, ability to bypass restrictions, and customer service. Let's get right to it!
STRENGTHS:
Features Shadowshocks
Free package offered
WEAKNESSES:
Chinese jurisdiction
Sells your data
Funded through ads
Expensive premium package
Sketchy log-policy
Slow servers
Limited torrenting
---
Hi VPN ranks #97 out of 104 VPNs tested. Here are the best alternatives :
Is It a Paid or Free VPN?
As the parent company for this product claims, they offer a reliable service that is free of charge. While this statement is relevant, it is only partially true.
The fact is, through our review for Hi VPN, we came to realize that the free package is extremely limited. You are not getting enough servers to connect to, you can only use one device at a time, and the servers are extremely slow.
Not only this, but your data and privacy info aren't protected because this VPN sells it to third-party providers.
In the end, this is how their service is primarily funded. On the other hand, you have the ability to subscribe to their premium service (3-day free trial) and thus bypass most of these limitations, but it is extremely expensive.
Thus, if you had high hopes for this provider as a free VPN, then you should look elsewhere. Our personal recommendation is TunnelBear as one of the most reliable services in this aspect.
Performance
You can't really judge the overall value of a VPN without discussing its consistency.
Most people subscribe to a VPN to bypass geo-restrictions by connecting to a server that is outside of their primary location. For this to happen, the connectivity has to be reliable.
There is no secret in the fact that any VPN is going to slow your connection down. Still, you shouldn't accept huge drops in download and upload speed.
Believe us when we say that there are services that will protect you and give you a reliable connection. The best example is ExpressVPN. Was Hi VPN able to compete with it during our review and test? Absolutely not.
Speed
The first issue that we have is that you are limited to just three servers if you decide to go for the free plan. On the other hand, their Premium option is simply not worth it. Thus, we had the opportunity to test one server in Asia, one in Germany, and one in New York.
First, we connected to the server in Germany. As we expected, we didn't experience a high ping. This was mostly due to our proximity to the location, considering that we are set in the UK.
Note that our benchmark speed was 235 Mbps for download and 211 Mbps for upload speed.
Bearing this in mind, the drop rate was quite high. We got 75 Mbps for download speed and 20 Mbps for upload speed. While this may still be used for regular browsing, it certainly is not the best if you were planning to play games online or stream HD content.
We moved on to connect to the server in New York and found the results to be shocking. The ping was set at 170 ms, which completely disrupted our browsing experience. Not only that, but the drop in both the downloads and uploads speed was 80%.
Because almost any VPN claims to have reliable US servers, we can say that Hi VPN did a terrible job in this aspect. Even if it would be able to unblock Netflix, chances are your experience would be very low quality.
Last but not least, we tested their Singapore server with no expectations whatsoever. Unfortunately, the results were dramatic – the ping was at 350 ms, which is incredibly high. Also, we got a 90% decrease in both the download and upload speed, which left us at 22 Mbps and 14 Mbps.
While their Premium plan may offer better reliability, we highly doubt that it is worth the price.
Without VPN (we were located in London) :

EU Server :


US Server :

Asian Server :

Stability
Our connection was quite stable during our experience with the German server, but that is simply not good enough. After several time outs and connection issues, we concluded that neither the New York nor Singapore servers can be counted on.
Our personal recommendation is that you subscribe to ExpressVPN or CyberGhost as two of the leading providers in this regard.
Streaming
Millions of people across the globe install a VPN with high hopes that they will be able to stream content from Netflix, Hulu, and other platforms. Unfortunately, since 2016, many providers aren't able to fulfill these demands.
Netflix
Considering the performance results above, it was quite reasonable that we didn't expect anything out of Hi VPN. To be honest, we were quite surprised that it was able to unblock Netflix US. Now, we are talking about the premium plan, not the free version.
Still, given the fact that the US server itself is incredibly slow and not stable, this is not worth anything. While you can access the site and choose from a myriad of TV shows, you will probably experience a lot of buffering.
On the other hand, we had no luck when we tried to unblock Netflix using the German and Singapore servers.
Other streaming services
Frankly, we thought that Hi VPN might be able to unblock at least some content on other popular streaming platforms. To our great surprise, this wasn't the case.
While it did work with Netflix US, it couldn't unblock Hulu, Amazon Prime, or BBC iPlayer. It will probably run most sports TV channels that are local to these three locations.
However, considering the unreliable performance, there is not a lot that you should be happy about.
Thus, we would suggest NordVPN as a great alternative. This VPN can unblock over 150 streaming sites at a very low price.
Security
The fact that Hi VPN is a free VPN makes the security aspect very controversial. Is it able to ensure a strict no-log policy? What jurisdiction does it adhere to? That is something you will find out below.
Where is it based?
As mentioned earlier in our review, Hi VPN is based in China, which is not necessarily good. Yes, this country is not a part of the 14 Eyes alliance that is known for sharing your browsing data and privacy info.
However, this provider has its own sketchy jurisdiction. As the local government allows just certain VPNs, if asked for, the provider will probably still have to hand out your info.
The gravity of this situation depends on whether Hi VPN keeps logs or not.
Log policy
Unfortunately, this provider does keep a record of your browsing data, as well as your IP address, location, and other private info.
It is quite interesting to see that Hi VPN doesn't even try to hide this fact. They admit to earning most of their revenue by selling info to third-party websites. Just because of that, you should avoid the provider AT ALL COST.
Protocols
To be honest, no free VPN can ensure optimal encryption. Thus, the 128-bit AES that this one features is not that bad.
On the other hand, its protocol aspect is rather unreliable. Yes, there is the OpenVPN protocol, which is considered to be the industry-standard, but that is about it when it comes to its overall ability.
The split tunneling that it allows has good potential but doesn't seem to be reliable with their service.
Additionally, Shadowsocks is a new tunneling protocol that specializes in unblocking content for countries like Saudi Arabia and China.
Leak protection
It is clear that this provider doesn't have the best protection from hackers and hijackers. We tested it on a couple of leak websites and found the risk to be 25%.
This is evident for a few reasons, including the fact that it doesn't include a kill switch. As for the malware risks, we found this to be quite high, as well, which is not a surprise considering all the ads that you will be looking at.
Torrenting
To be honest, Hi VPN is not the most trustworthy option if you are looking to engage in P2P transfers and using BitTorrent. While it doesn't restrict this action, the servers aren't reliable and the leak protection is not optimal, either.
As we have mentioned above, maybe the situation is better with their Premium plan, but the price is ridiculous.
Considering this, we see CyberGhost as a great option if you want fast servers that allow unlimited torrenting ability.
Bypass Censorship
Considering that it features the Shadowsocks tunneling protocols, we weren't surprised that it can unblock content in China.
Still, keep in mind that the jurisdiction is Chinese, as well. Considering the strict restrictions, you might want to stay away from using it inside the country.
On the other hand, you can be successful at unblocking content in Saudi Arabia without the potential of DMCA restrictions. As for accessing legal gambling websites and other censored content, we had partial success.
Fortunately for us as users, there are many VPNs that offer great services in the USA. Our personal favorite is ExpressVPN!
Countries and Servers
Getting on with our review of Hi VPN, it is time to go ahead and discuss their server park. As we have already mentioned, if you decide to go for the free plan, you will not be overwhelmed by the number of locations.
In fact, this provider offers just Singapore, New York, and Germany. On the other hand, they claim to offer thousands of servers if you purchase the Premium plan.
We know this is a hoax, as the number can only be around 100 servers at the most. Keep in mind that the connectivity of the aforementioned free servers is really bad.
Compared to NordVPN and CyberGhost, we can say that Hi VPN can't in any way be considered a global provider.
Devices and Connections
Doing a review of the overall compatibility is always relevant when talking about the value of a certain provider.
Supported devices
We did find that, no matter the device, installation is super easy and quick.
Still, this is only for Android phones, as that is the single operating system that this service is compatible with. Unfortunately, you can't expect it to work with Windows, Linux, iOS, macOS, as well as routers and consoles.
You may want something a little better, so if you're looking for the best VPN for iPhone, you should look here: https://the-bestvpn.com/vpn-iphone/ for more information.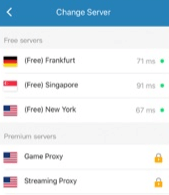 Simultaneous connections
This ability is extremely limited, as you can connect with just a single Android device at a time.
Customer Service
Unfortunately, their customer service is nonexistent. We found this out the hard way after scrolling through their app for more than 10 minutes.
There is only a vague FAQ section, as well as the ability to send them an email through a feedback form. None of these options can effectively settle any issue that you might have with their service.
Value for the Money
Of course, whenever you buy a service, you need to look if what you are getting is worth the price you are paying. So let's review what we found out.
Price comparison
Apart from the free plan, there is also a premium subscription that would cost you $14.50 for 30 days of service.
Additionally, their discounted price is set at $8 if you decide to subscribe for the whole year. We consider this to be extremely high, considering what you are getting out of it.
Plus, you can get a much better virtual private network for a lesser price – take a look at ExpressVPN and CyberGhost!
Payment types
You can pay only via major debit and credit cards, as well as PayPal. Nothing else to add regarding this part. It is just missing an option to pay through Bitcoin.
Money-back guarantee
You don't get to request a reimbursement, partially because they don't offer customer service and partially because there is no info about this matter.
Final Thoughts
In the end, we would rate this provider at the very bottom of our ranking, based on the fact that their service is completely unreliable.
If you want to prevent your browsing data from being sold to third-party websites, go for a provider such as NordVPN or ExpressVPN. Offering much better reliability, these also come at an affordable price and with an excellent customer service team!
Our final verdict is that we would definitely not recommend this provider to anyone.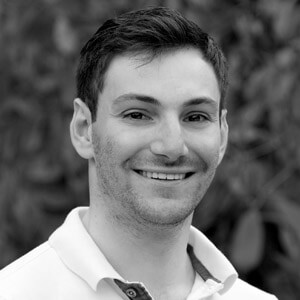 Flo is the founder of the-bestvpn.com. Really concerned about security on internet, he decided to create this website in order to help everyone find the best VPN. He's got a Business School background and now is 100% dedicated to keeping his website alive.