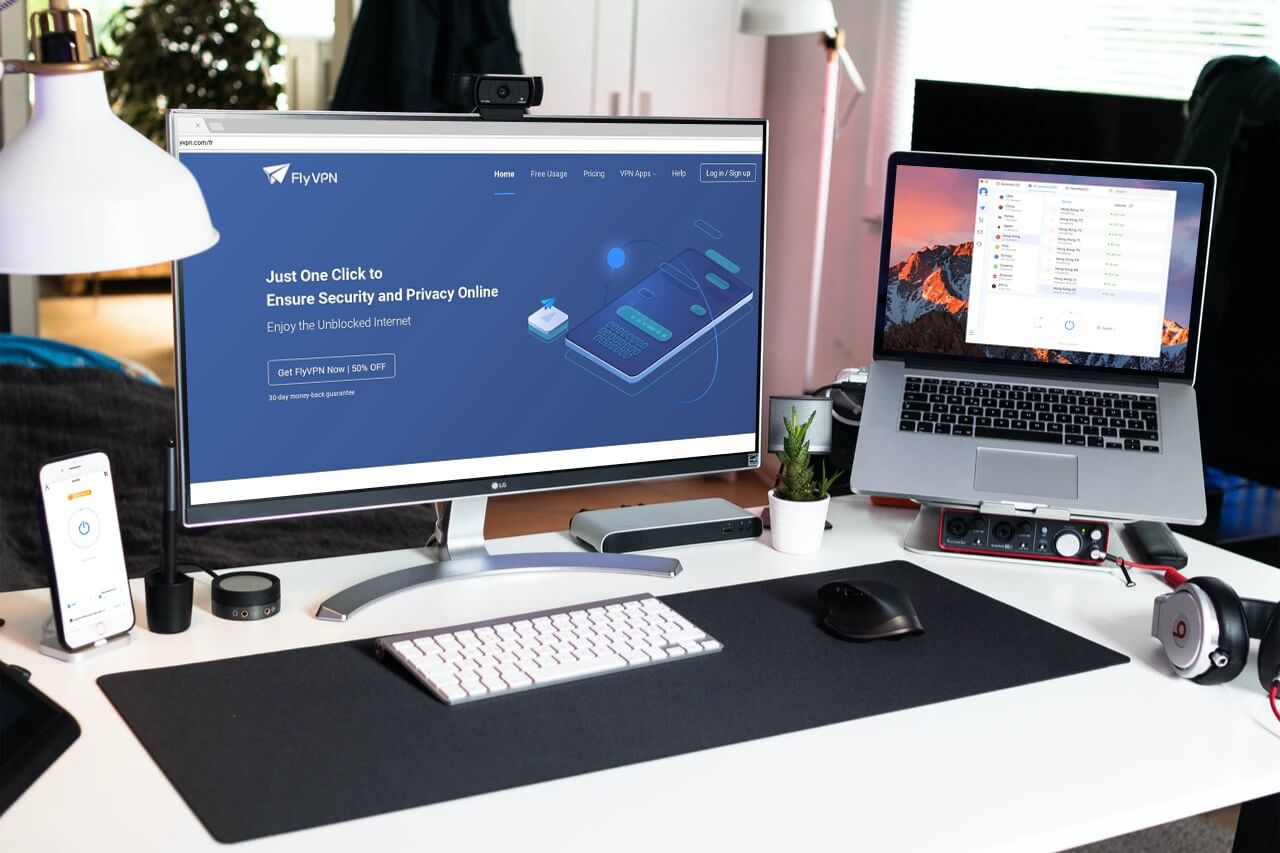 Out of a myriad of different VPN providers, not many are able to bypass the Great Chinese Firewall. The reason for this is because the local government has blocked most VPNs, with just a few being available. Even then, those few are still controlled by the authorities. Bearing this in mind, accessing censored content in China is quite tricky. Still, there are a couple of names that carry such a potential, mostly due to a reliable Hong Kong server. Apart from ExpressVPN and CyberGhost, we see FlyVPN as one of the most promising providers in this aspect. The reason that we say this is because it covers more than 60 locations in mainland China. Still, does the fact that it features servers in the country ensure reliable performance? Unfortunately, the answer is no.
There are many different elements that make a provider worth your money. For this FlyVPN review, we will be going through aspects such as speed, stability, and security. We will also look at the ability to unblock censored streaming content.
The main idea is that we give you enough material so you can make an educated decision on this provider. What are you waiting for? Let's get right to it!
STRENGTHS:
Free trials available
Good device compatibility
WEAKNESSES:
Pricey Premium plan
Unreliable customer support
Slow speeds
Lacks a kill switch
Limited simultaneous connections
Sketchy privacy policy
Limited Netflix
---
FlyVPN ranks #104 out of 104 VPNs tested. Here are the best alternatives :
Is It a Paid or Free VPN?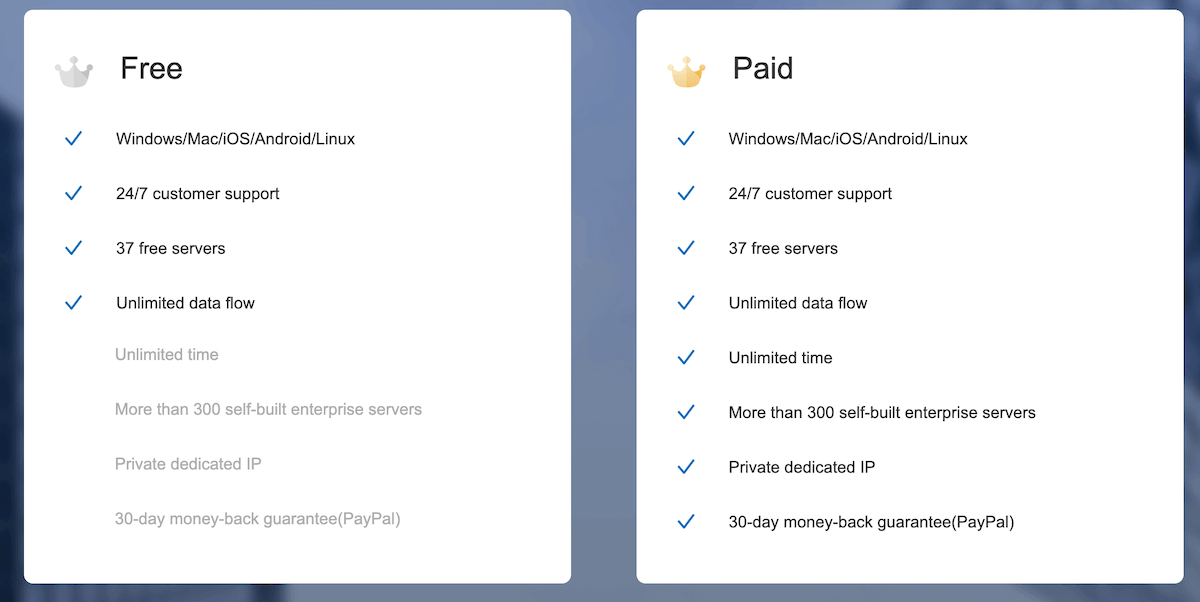 If you're a beginner, read this guide: https://the-bestvpn.com/vpn-definition/. It will introduce you to the concept of a virtual private network. It will also give you an idea as to why a paid VPN might be better than a free one.
Talking about FlyVPN, it offers a couple of paid subscription options, which we will discuss below.
Apart from this, it gives the average user a chance to try out their features through three 20-minute sessions for each day of the trial.
This is after you have gone through the 14-day window, which allows unlimited data transfer at six locations. If you are an online gamer or you were hoping to stream HD, then this is quite a short amount of time.
However, for any other browsing activity, the free trial might very well do the trick. Still, we are not very confident when it comes to whether this provider sells your data to third parties or not.
Thus, we would suggest you stay away from their free trial option and subscribe to Windscribe instead.
Performance
Our review for FlyVPN will not only be focused on stability and speed but also on aspects such as privacy policy and bypassing geo-restrictions. Still, before we can discuss these aspects, we need to determine whether it offers reliable overall performance or not.
To be honest, we didn't have high expectations, considering the fact that one-sixth of their servers is set in China. As you know, unless you are living in Asia, chances are high that you will experience high ping and slow speeds with these locations.
However, providers like ExpressVPN and CyberGhost do a much better job in this regard. To determine whether FlyVPN is worth your time or not, we went through a few test sessions.
Speed
As we mentioned above, the server park is quite good, considering that there are over 300 different locations.
We had a benchmark of 235 Mbps for download speed and 211 Mbps for upload speed. This is what we found when reviewing the speeds of this virtual private network:
We connected to the US East Coast server, expecting to get fair speed results. Unfortunately, that is not what happened, as the ping was at a high 150 ms and the speed decrease was 75% for both upload and download.
While this would be fine for some other, more distant server, the fact that we were in the UK, which is not very far away, made us quite disappointed.
The second server that we tried was the German one, and we got somewhat better results here. The download speed was at 60 Mbps from the initial speed, while the upload speed dropped to 80 from the initial 211 Mbps.
This allowed us to stream and play a couple of online games without connection interruptions. The ping was stable and set at 60 ms, allowing us to avoid timing out every couple of sessions.
Our third test session was meant to figure out whether the Chinese servers really work or not. We got partial results after testing 3 of the 40 locations that they offer.
The good thing is that the ping was set at 180 ms, which is not that high, considering how far away the location is. The bad thing is that the drop in speed was 90% for both download and upload.
Thus, unless you have a really fast initial internet connection, you can't get much use out of this.
Without VPN (we were located in London) :

EU Server :


US Server :

Asia Server :

If you're looking for a reliable VPN provider with a good reputation, have a look at IPVanish. On the market for more than a few years, IPVanish is fast and has the ability to unblock content in China. Most importantly, it allows 100% anonymous browsing.
Stability
As we have just expressed, the results on the connection reliability were partial. To be honest, we were most disappointed with how this VPN provider performed once connected to US servers.
Not only did we experience slow speeds, but we also couldn't run a session without getting redirected to a server that was more reliable. This is certainly not something you are looking for.
Streaming
You should not expect flawless streaming ability out of a provider that doesn't offer reliable servers in the US. Also, the fact that Netflix imposed a series of sanctions and restrictions back in 2016 makes it even harder to unblock censored content.
Netflix
Apart from a few of the leading names, like CyberGhost, ExpressVPN, and NordVPN, there are not many VPNs that can unblock censored streaming content.
Considering that FlyVPN covers a couple of continents, we decided to review the performance for different servers. We didn't have any luck accessing the content from the US West or East Coasts because, as soon as we clicked on "TV show", we received a "streaming error".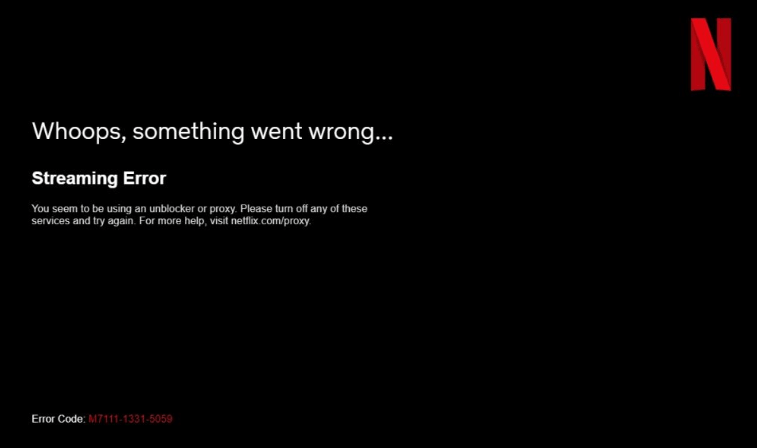 The same happened when we tried to unblock German and French catalogs. The only difference was when we tried to access Netflix using the Singapore server. Here, it was not the case of a "streaming error" but rather a stuck buffering screen.
Still, the result is the same, and we can say with confidence that FlyVPN is not able to unblock Netflix.
Other streaming services
If that is the case with Netflix, how does it do with Hulu, Amazon Prime, and BBC iPlayer? Surprisingly, it did somewhat better. We had luck with all three streaming platforms when using the UK server.
On the other hand, the US servers were unreliable once again. Thus, it is safe to say that, if you are connecting from a European location, you will be able to watch the local content.
Still, consider that the speed may not be optimal to allow you to stream HD.
Security
One of the main purposes of installing a VPN is to ensure a hidden IP address and anonymous browsing. Is FlyVPN able to do this? Let's take a look.
Where is it based?
It looks like we are off to a good start, considering that the headquarters location is set in Hong Kong. The fact that this country is outside of the 14-Eyes alliance will allow you to stay worry-free. This means your data will not end up in the hands of those local authorities.
On the other hand, this is not the ideal solution. Hong Kong still adheres to the Chinese jurisdiction, and all VPNs there are government-approved.
Log policy
The main issue we have with this provider is that it doesn't feature a strict no-log policy. Yes, it may not keep info on your email or IP address, but it does track your session data. This puts your browsing activity at risk of being revealed to third-party websites.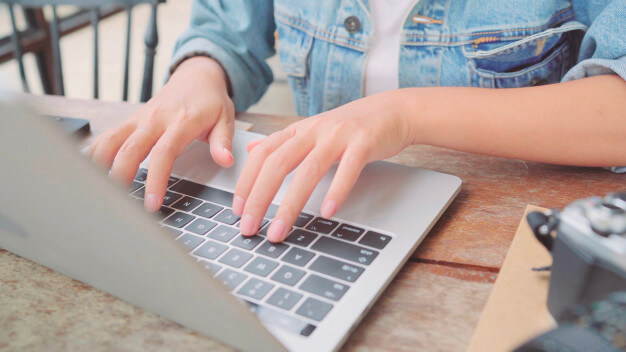 This is not optimal, considering a VPN should ensure that no one but you knows what you are searching and downloading.
Protocols
If nothing else, this provider is at least highlighted by industry-standard encryption and tunneling protocols. Apart from the military-grade 256-bit AES encryption, you can choose from three different protocol options.
So, you can go for PPTP, which is suitable for older devices, or L2TP/IPSec for iOS. Also, you can use OpenVPN, which is considered the leading option.
Leak protection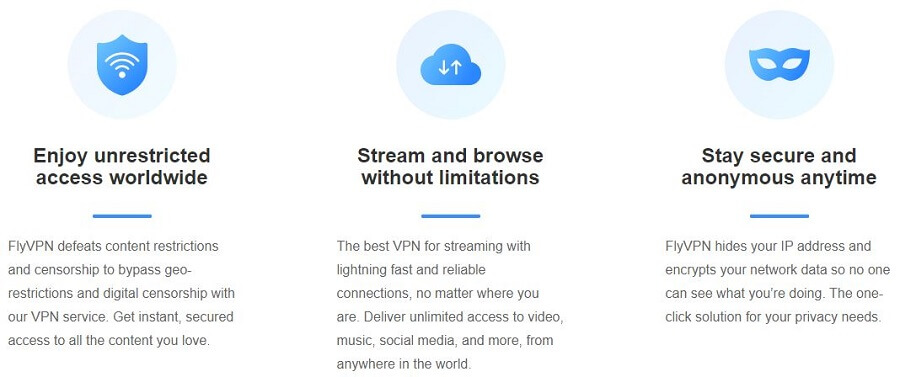 We mentioned above that this VPN doesn't feature a kill switch. Does that mean that you are at a high risk of leak protection? Well, not exactly.
FlyVPN uses a myriad of other instruments to ensure that WebRTC and DNS leaks don't occur.
Torrenting
It is a good thing to see that they don't forbid P2P transfers or BitTorrenting. On the other hand, it all comes down to where and to what server you are logging on to.
Thus, the speed of US servers or the reliability of Asian servers may not be ideal for this purpose. Thus, we suggest ExpressVPN and CyberGhost as ideal substitutes.
Bypass Censorship

There are some VPNs that work better than others in Australia. This provider falls into that category. We had so much fun using their Sydney server.
Apart from accessing local TV channels, we could enjoy their gambling sites and even access official bank pages. The fact that this VPN features almost 50 locations in China carries the huge potential of bypassing the restrictions and unblocking content.
Thus, we can say that FlyVPN is not all that bad a provider when it comes to this matter.
Still, its success depends on your internet connection, as well as how far you are from the server location (determines the ping and speed).
Countries and Servers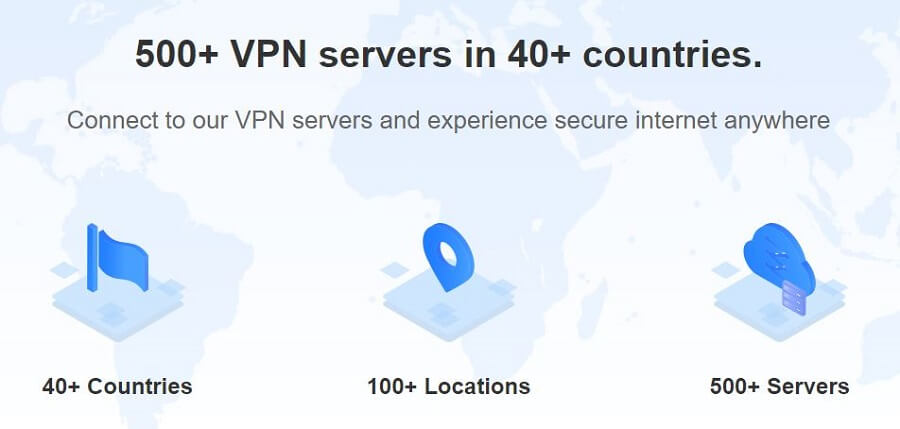 This VPN offers 500 servers in 40 different countries. While this is not bad, it is not optimal, either. There are many other providers, including CyberGhost, that offer a huge server park of over a couple thousand locations.
They also ensure optimal performance in terms of speed and stability. Still, we can't deny that it is a global provider, considering the fact that four different continents are covered.
Devices and Connections
Every VPN worth the time and energy has several supported devices and numerous simultaneous connections available. Let's review how this virtual private network does.
Supported devices

We already mentioned the array of tunneling protocols that this VPN allows. Thus, it doesn't come as a surprise that you can connect with iOS, macOS, Android, Windows, and Linux.
Still, we didn't have as much luck using routers or smart TVs, including Kindle and Firestick.
Simultaneous connections
We also weren't satisfied that their main plan allows just a single device at a time. To have up to 5 simultaneous connections, you will need to pay a subscription fee that is four times pricier than the original one.
Customer Service
We liked the fact that there is a live chat feature and the answer we received was quite accurate.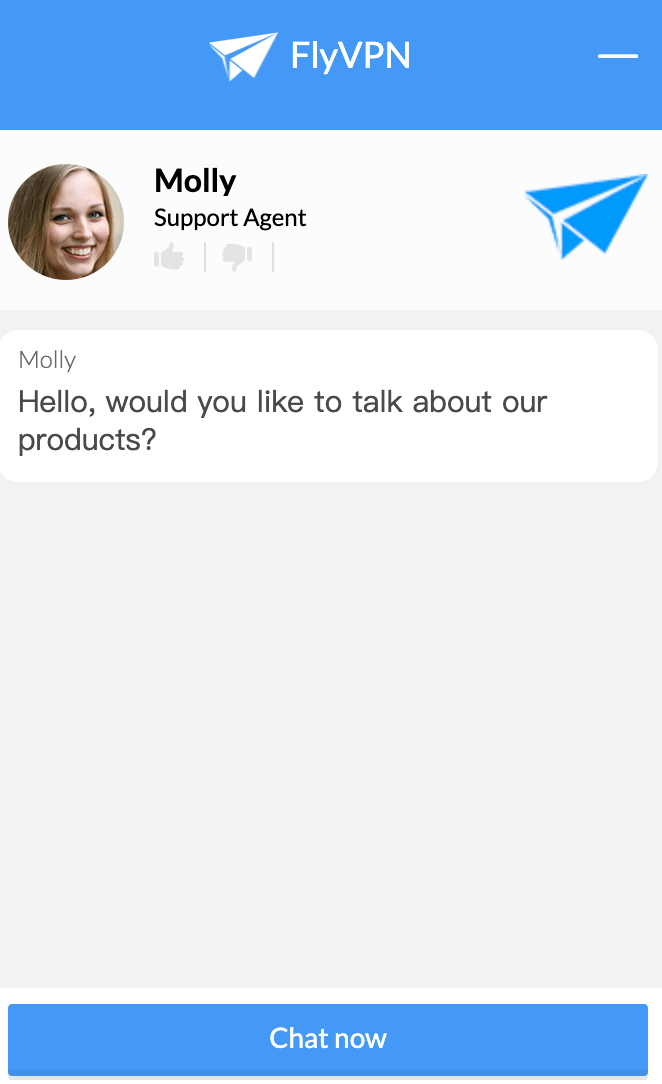 However, there is a bit of a lack of information on the FAQ page. Additionally, the email inquiry was quite complicated to find.
Value for the Money
Apart from the initial 14-day free trial, there is also a couple of paid subscription options that you may or may not be comfortable with.
Price comparison

The initial subscription option is a single-month plan that costs $9.9, which is certainly not the most affordable. The discounted price is set at $6.67 per month for the annual plan.
Apart from these two, you can also opt for an expensive $30-per-month plan that will allow you up to 5 devices at a time.
This is all to say that FlyVPN is not the most budget-friendly provider out there.
We suggest you check out our review for CyberGhost or NordVPN to find out how affordable providers do business.
Payment types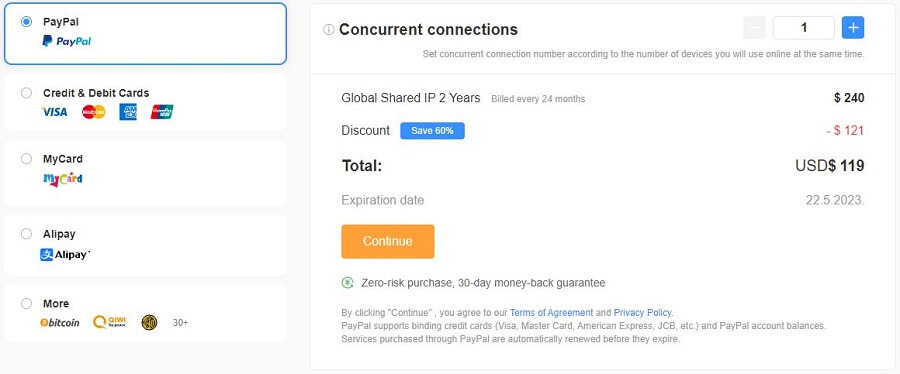 As we can see, there are tons of payment methods, including PayPal, credit cards, and even Bitcoin. This makes it convenient to buy FlyVPN using the method that suits you the best.
Money-back guarantee
There is a 30-day refund period during which you can ask to get your money back.
Final Thoughts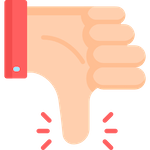 Do we suggest FlyVPN? Not really. We ranked it #104 out of 104, considering the fact that it is unreliable and doesn't offer optimal security.
For a fast VPN that ensures a safe and secure connection and unblocks most streaming platforms, we suggest you subscribe to NordVPN!
At the end of the day, this VPN earned its awful position for a reason, and we would not recommend it.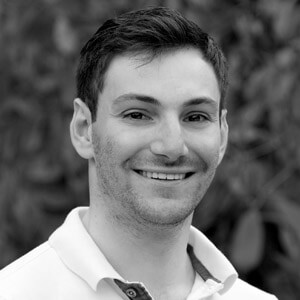 Flo is the founder of the-bestvpn.com. Really concerned about security on internet, he decided to create this website in order to help everyone find the best VPN. He's got a Business School background and now is 100% dedicated to keeping his website alive.