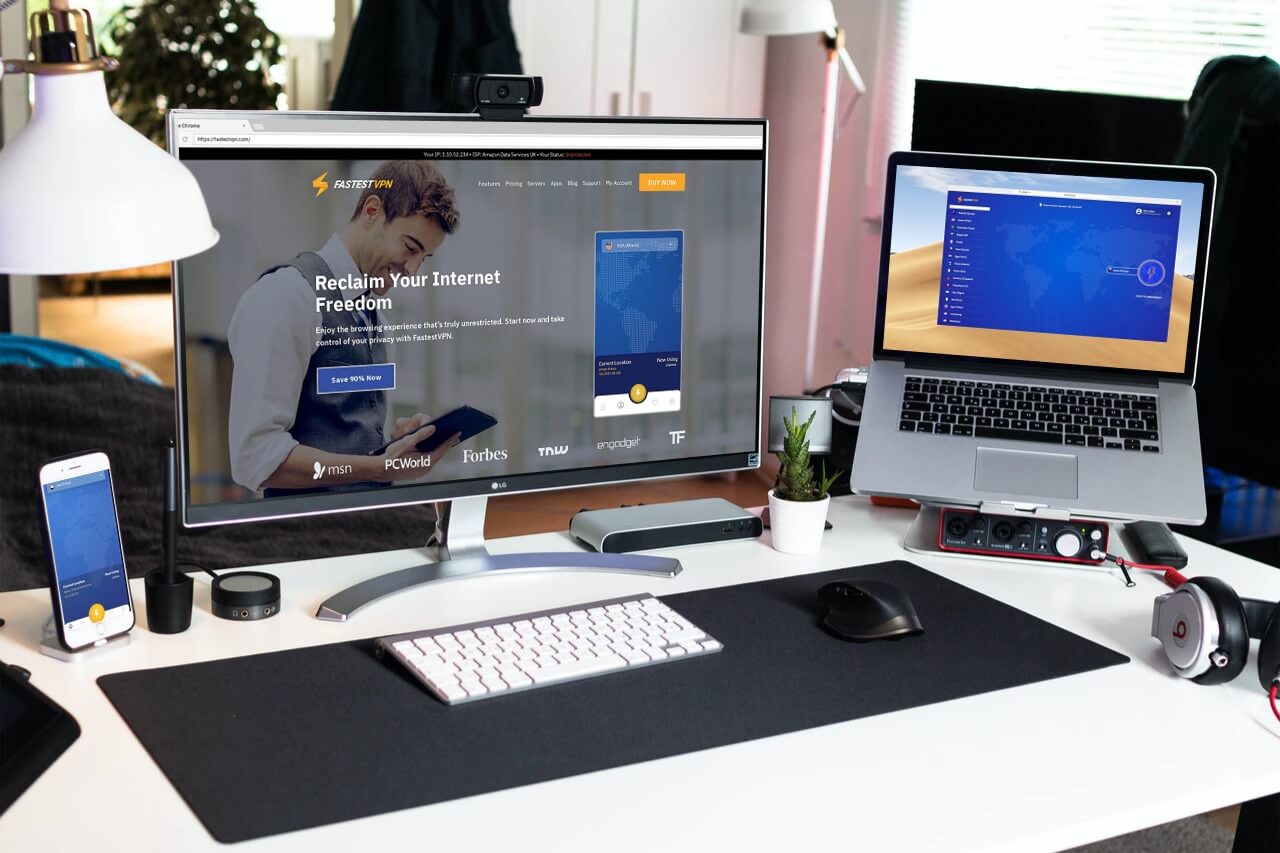 ExpressVPN is the leading provider in 2023, but does this mean that no other provider can compete with it? We wouldn't say so. There are a couple of other names that do a great job in terms of both speed and privacy. Looking at the market, FastestVPN seems to hold great value, but is it really that good? Priding themselves on robust security features, as well as above-average speeds, our expectations were quite high. To figure out whether FastestVPN is worth your money and help you make the right decision, we've done a series of tests for this review.
This helped us not only determine the pros and cons but also understand how it differs from NordVPN and CyberGhost. To find out the results, go ahead and read our complete review of FastestVPN!
STRENGTHS:
Allowed torrenting
Above-average speed
No-log policy
Reliable protocols/encryption
WEAKNESSES:
Not working everytime with Netflix
Limited number of servers
No 24/7 customer service
Not the best interface
---
FastestVPN ranks #22 out of 104 VPNs tested. Here are the best alternatives :
Is It a Paid or Free VPN?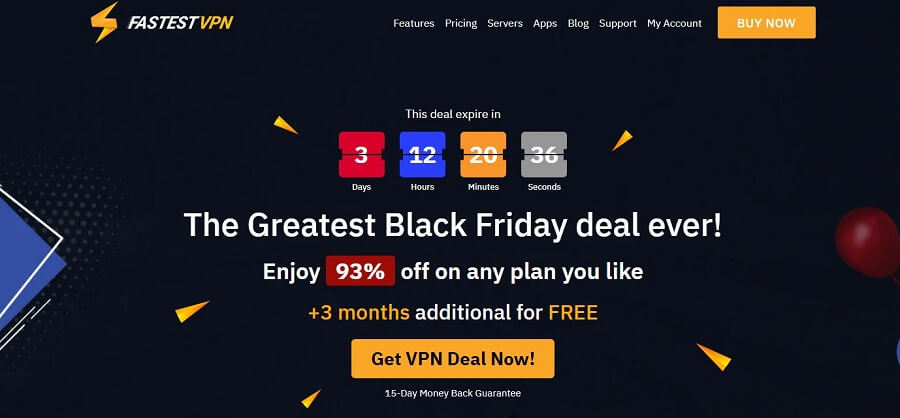 Figuring out whether this service comes free of charge or not is important to review for a couple of reasons. Free VPNs put your data at a higher risk of being sold to third parties. This doesn't necessarily have to be the case, as Windscribe has more transparent methods of making money.
On the other hand, while FastestVPN is not a free VPN and doesn't allow a free trial, things aren't so bad. For any of their few subscription options, you get a 15-day refund.
Thus, if you aren't satisfied with the service, customer service should help you get full reimbursement.
Performance
Looking at their official website for our review, FastestVPN claims to allow impressive speeds compared to other names on the market. We have to say that it certainly is not the best in this aspect, as ExpressVPN is very tough to beat.
Still, this doesn't mean that the connection we were working with made the servers unusable. On the contrary, most servers we were connected to still gave us the opportunity to stream and torrent. Let's take a look at the detailed results.
Speed
Speed is very important, and we compared the fastest VPN providers here. Starting with a benchmark download speed of 235 Mbps and upload speed of 211 Mbps, we logged in to a US server in Florida.
The drop in download speed was around 45%, while the upload was decreased by 50%. Additionally, the ping was set at 120 ms, which is not ideal but is not too high, either.
Compared to providers such as ActiVPN and StrongVPN, these results are quite good.
After this, we continued our speed review by connecting to a server placed in Sweden by FastestVPN. Considering our primary location, which is the UK, we expected a much better ping. Not being wrong, it was set at 36 ms, which allowed incredibly reliable performance.
Additionally, the download speed was decreased by just 20%.
Without VPN (we were located in London) :

EU Server :


US Server :

Asia Server :


This performance can be compared with ExpressVPN. The upload speed was affected by 25%, but it is still quite good for any browsing activity. Thus, while it may not be the "fastest", this provider offers above-average speeds.
Stability
The second aspect of the performance review for FastestVPN is whether the servers have a fair uptime and no crashes. The results were very good. We didn't experience any kind of trouble connecting to servers in Sweden, Germany, and France.
In fact, we were able to enjoy a few hours of sessions without a single disconnection. The US server was a bit less stable but still good enough.
Streaming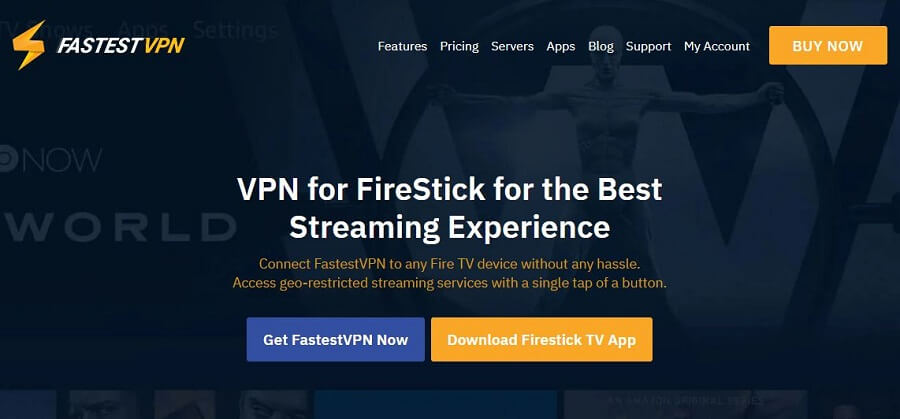 For this FastestVPN review, we didn't only focus on the overall performance, but also on robust content-related features, as well. It is not a secret that a provider who can unblock streaming services is the one you can put trust in. That is why we were quite interested to see whether FastestVPN has that ability or not.
Netflix
Looking at their official website, the provider claims that they have an immense Netflix unblocking feature. We had high hopes that both catalogs in Europe and the US would be accessible. Unfortunately, we were wrong.
The first server that we tried was set in the Netherlands. We didn't even come close to successfully streaming, as an error showed up on the first page. Things were a bit different from the server in the UK.
The list of different movies and shows appeared, but once we clicked on anything, an error showed up and we were redirected back.
The same happened with servers in Canada and New York. This was not a good start. Considering that FastestVPN offers 70 servers, having no success with the first four is quite unfortunate.
The last one that we tested was set in Florida, and things went much better.
Thus, while it can unblock the USA, this feature only works with a couple of servers. It will take a lot of your time and energy before giving you something to be happy with.
It is nowhere near as good as the Netflix unblocking that is offered by CyberGhost. But at least it's working 😉
Other streaming services
To be honest, we didn't know what to expect when it came to Hulu and Amazon Prime Video. Surprisingly, FastestVPN offered much better support with these platforms.
While our primary location is set in the UK, we didn't have a lot of luck with BBC iPlayer. This is not a big surprise. Much like Netflix, the aforementioned platform has imposed strict restrictions that are not easy to bypass.
Still, you can use your VPN to watch US TV anywhere in the world.
Security

Another important aspect for any review is whether it offers good support in terms of security or not. Luckily, FastestVPN puts extra focus and does its best to ensure anonymous browsing. We analyzed a couple of different elements to show you how good their privacy policy truly is.
Where is it based?
What if we told you that its headquarters location is in a country with beautiful beaches and awesome weather? Yes, we are talking about the Cayman Islands.
This is a great start, considering that they don't adhere to the regulations of the 5/9/14 Eyes alliance. This means that you will be safe from having your data handed over to the authorities of the allied countries.
This, along with a strict no-log policy that they are proud of, makes us believe that they have one of the best security practices on the market. Yes, we couldn't find info on where their payment processing is located, but that shouldn't be an issue.
Even if it was in the jurisdiction of 5/9/14 Eyes, you can still pay with Bitcoin and escape the tracking.
Log policy
We already mentioned that this provider doesn't collect any data on your browsing activity. This is quite good. The fact that they do keep your email address is solely for security reasons, but it shouldn't affect your overall experience.
FastestVPN is one of the rare providers that stays true to its word with a zero-log policy, putting it up there with the best providers.
Protocols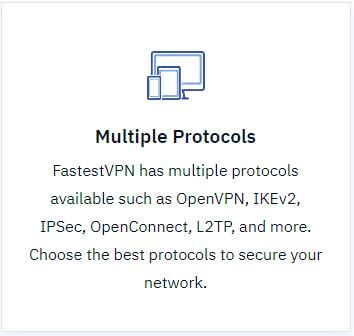 Another important thing is that a provider features more than a single protocol. After a complete review, we can confirm that it is the case with FastestVPN. It includes OpenVPN, but of course, there are many alternatives.
You can switch between PPTP, OpenConnect, IKEv2, and L2TP. The PPTP may not be the most ideal for security, but you can always use OpenVPN instead.
On the other hand, the 256-bit AES encryption should keep you secure.
Leak protection
One of the aspects for which FastestVPN was criticized back in the day was their weak leak protection. In the past few years, however, the provider has done a great job improving this aspect.
Today, they feature a built-in kill switch and a couple of other instruments that prevent DNS/WebRTC leaks. We performed a series of tests and registered no leaking or malware.
This is great, especially if you were hoping to use FastestVPN for torrenting purposes.
Torrenting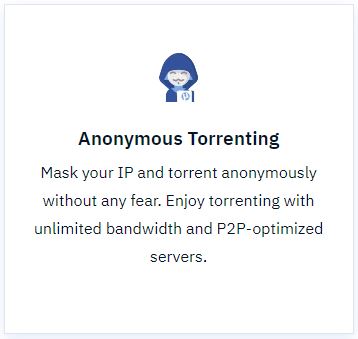 Is it good for P2P transfers? Absolutely!
In fact, the above-average speeds and leak protection make it one of the best options available in this aspect. The most important thing is that it doesn't forbid torrenting. Whether you connect to the US or an EU server, it will be available.
Additionally, all of their subscription options feature an unlimited bandwidth. Thus, even if the download file is large, you shouldn't have an issue with it.
Good security, leak protection, and reliable servers are essential for adequate torrenting performance and FastestVPN has all of these things.
Bypass Censorship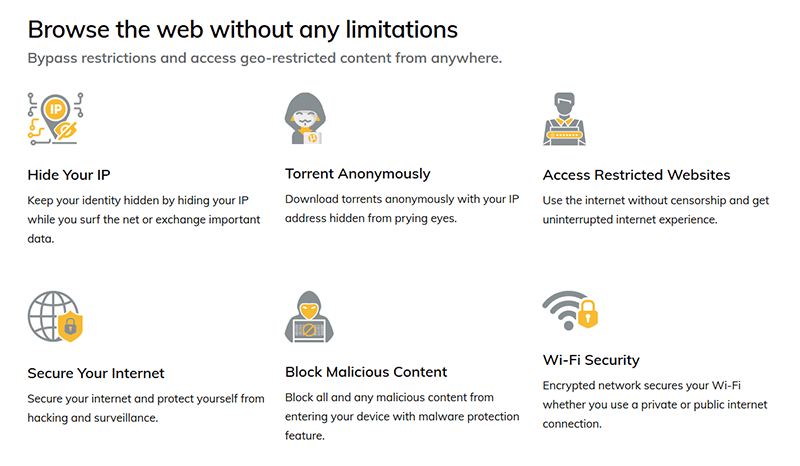 We already discussed the ability to unblock streaming services. The second important thing when it comes to censored sites is whether it can work in China or not.
Unfortunately, FastestVPN doesn't have a reliable server in Hong Kong. This is essential to get through the Great Chinese Firewall. Even if it had a server located there, it would need to have stealth protection to keep you completely free from all legal consequences.
However, if you really want to have access to Chinese content, we suggest subscribing to ExpressVPN or NordVPN.
Countries and Servers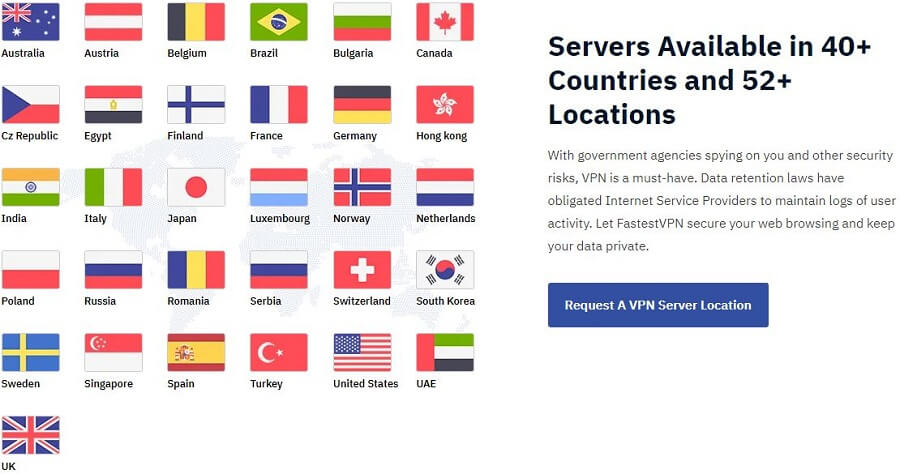 We can't say that FastestVPN is a global provider that is ready to compete with CyberGhost and NordVPN. The latter offers thousands of servers across the globe.
FastestVPN has only 70+ servers located in 40+ different countries. Not only that, but most servers are set in the US and the EU, which limits its ability to provide versatile VPN service.
Devices and Connections
What it doesn't have in numbers, it makes up with great compatibility. Here, we will review the connections offered by FastestVPN.
Supported devices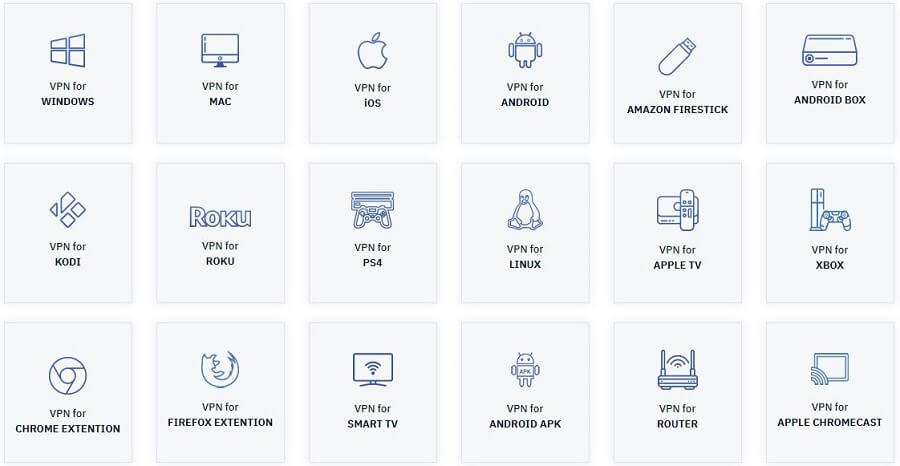 We were quite happy to see that this provider allows user-friendly apps for iOS, Android, macOS, and Windows. Not only that, but it works with Linux, as well.
On top of these devices, you can hope to get a reliable connection with Kodi or FireStick TV.
Simultaneous connections
Additionally, not only does it have a large list of supported devices, but it also allows up to 10 devices to be connected at the same time.
A great thing about this is that it is a feature available in all the subscription options.
Customer service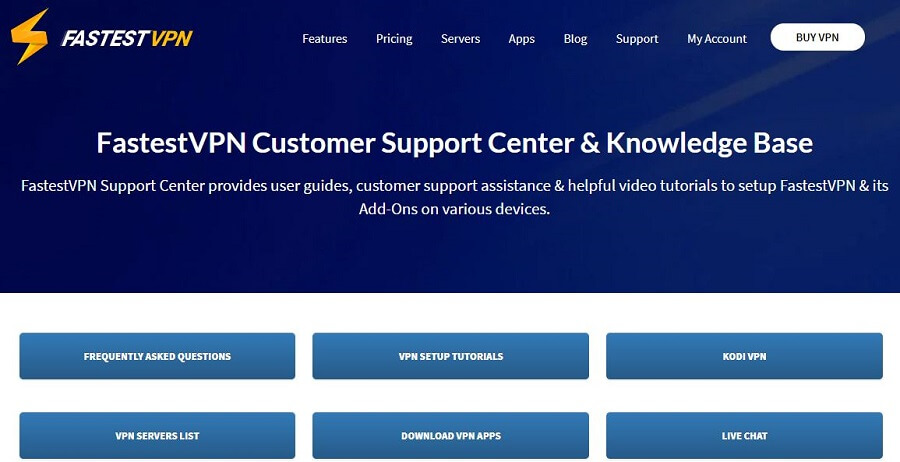 Unfortunately, their customer service is nowhere near as good as it should be. The first issue we have with this is that there is a live chat but it's not the fastest. Also, you can't expect 24/7 help that will treat your issue with ease.
Additionally, their FAQs page is quite vague, so the only option you have left is email support.
We tried it out and found it to be a little bit ineffective. It took four days to receive an answer. Once we did, it was still not very helpful at all. So this is definitely a point that the provider is going to need to improve 😉
Value for Money
While FastestVPN doesn't offer a free trial, they do have many subscription options that you might be comfortable with. Let's review them.
Price comparison
All of their plans are basic. This means that the difference in the prices is based on how long your subscription plan is.
The first plan is for one month and costs $10. This is not affordable for most people and shouldn't be considered as an option. Luckily, they do offer fair prices for their annual and two-year plans.
While the annual plan is set at $2.49 per month, the two-year option is only $1.11 per month. This can stand along some of the cheapest VPN providers on the market, including PureVPN.

If you're on a really tight budget, FastestVPN can really be a solution (but you will have to bind yourself for 3 years).
Payment types

Despite a variety of payment methods via Credit Card or PayPal, we regret to inform you that it is not possible to pay via Bitcoin. Contrary to what other sites suggest, this option is not yet available at FastestVPN (at least not during our review of its service).
Money-back guarantee
All of the aforementioned subscription options come with a refund policy of 15 days. To use it, all you have to do is send a nice message to customer support.

Extras
While FastestVPN apps are compatible with most devices, updating the interface wouldn't hurt. And regarding extras, we have unfortunately nothing else to add. There is no little thing such as an ad-block feature etc.
Final Thoughts
When compared to providers such as ActiVPN or StrongVPN, FastestVPN is something that you can rely on. That is why we rated it to be #22 out of 104 overall.
It does offer good speeds and robust security features. Still, this is not enough to be on top of our list. The customer service is not the most reliable, and it is not the best in terms of unblocking content, either.
For this purpose, we would suggest ExpressVPN, CyberGhost, or NordVPN. We hope that our review of FastestVPN will help you make an educated decision, and find a provider that will suit your needs.
All in all, it is not a bad VPN for those who want something easy to use and will get the job done.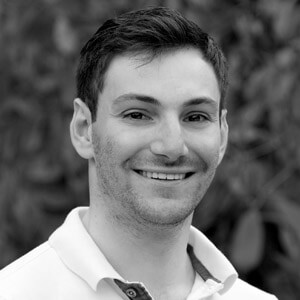 Flo is the founder of the-bestvpn.com. Really concerned about security on internet, he decided to create this website in order to help everyone find the best VPN. He's got a Business School background and now is 100% dedicated to keeping his website alive.