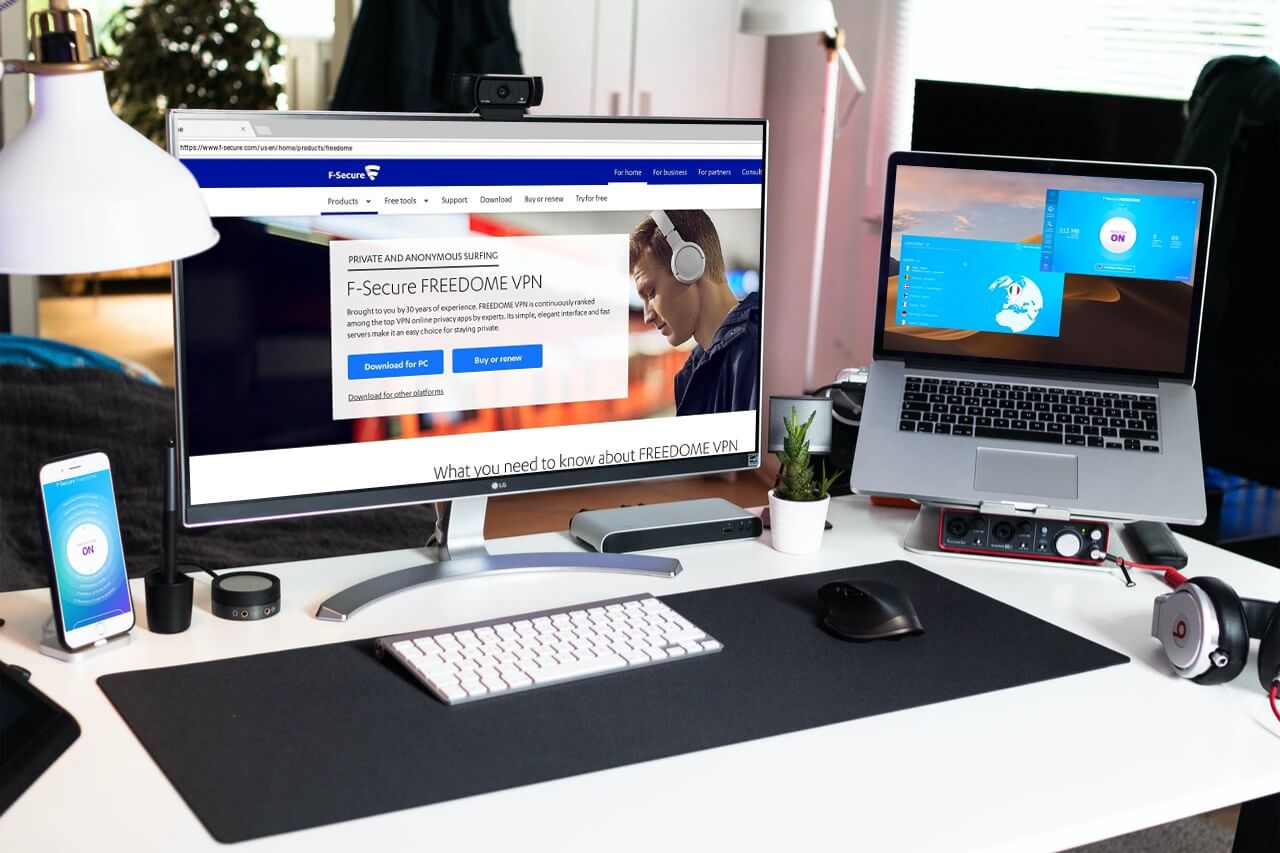 As one of the oldest VPN providers, F-Secure Freedome has been on the market for more than 20 years. During this time, they contributed significantly to anonymous browsing activity. This provider also played a role in providing overall better public cybersecurity. With over 1,000 employees in more than 20 offices around the world, it is safe to say that this provider is global. But anyway, we will have a complete look at its solution in our F-Secure Freedome review.

In the past few years, things have changed. While it is still among the biggest companies, the VPN service that it provides has been surpassed by a large margin. Still, this doesn't answer the question of whether it is worth your money or not.
Our review for F-Secure Freedome will give you enough relevant info for you to conclude if you want to buy it. Performing a series of tests, we focused on speed, reliability, and overall usability that this provider offers. Here is what we found out:
STRENGTHS:
Affordable for most people
Simple interface
Good encryption
Weaknesses:
Not enough servers
Incompatibility with many devices
Logging policy
Limited torrenting
Not working with US Netflix
Inefficient customer support
---
F-Secure Freedome ranks #51 out of 104 VPNs tested. Here are the best alternatives :
Is It a Paid or Free VPN?

Concluding that F-Secure Freedome is not a free VPN provider is quite simple. We took a look at their official website and found three different plans all offering the same features. The only difference was the number of devices available to be used with each plan.
If you are wanting to try out a reliable provider and you don't want to pay a dime, looking into CyberGhost is a superb choice. Not only do they offer services free of charge (thanks to a money-back guarantee), but they also offer over 6,800 different server locations and great speeds.
Performance
When doing a VPN review, we always emphasize the importance of good server speeds. Also, the connectivity and whether you get to choose the server you want to be connected to or not is important.
Honestly, F-Secure Freedome does an OK job when it comes to these aspects.
Speed
Unlike ActiVPN or VPNBook, F-Secure Freedome doesn't seem to have a significant decrease in both download and upload speeds (for servers close to you). Still, it is not as efficient as ExpressVPN, which we consider to be the fastest on the market.
We didn't only want to test the performance of F-Secure Freedome in Europe, but also in the US while doing this review.
We started with a 235 Mbps download benchmark, as well as a 211 Mbps upload benchmark. The ping was set at 60 ms, which is quite good for the EU. Honestly, the drop in the download speed was almost unnoticeable, as it "only" went from 235 to 180 Mbps.
On the other hand, the upload drop was somewhat higher, but still, something to be happy with. It went from 211 Mbps to 138 Mbps. Meanwhile, the US ping was set at 147 ms, and the download drop was somewhat more significant at 40%.
The upload speed dropped to 58 Mbps. Which is way more!
Considering this, it is safe to say that, while things could still be improved (a lot!), this provider offers fairly reliable servers for the given price. We would still choose CyberGhost or ExpressVPN over this provider, though.
Without VPN (we were located in London) :

EU Server :


US Server :

Asia Server :


Stability
How fast you can work with the aforementioned servers depends on whether you will be randomly redirected to the closest location or not. This is not a good trait, and that is why we are happy to see that you can choose where to connect.
Additionally, as long as you have a reliable Wi-Fi or Ethernet connection, you shouldn't experience any sudden disconnections.
Streaming
One of the main reasons people decide to subscribe to a VPN provider is to unblock streaming content. We are not talking about YouTube, but rather popular platforms, such as Netflix, Hulu, and Amazon Prime.
This also includes TV channels, as well, such as Fox, CBS, etc. Considering that most of these programs are aware of VPN providers, unblocking content on these streaming platforms is trickier than ever. And that's why we did some tests regarding those platforms for our complete review of F-Secure Freedome.
Netflix
A few years ago, almost any provider could give you access to a variety of Netflix catalogs. Today, things are a bit different. As we have suggested above, their algorithm is stronger than ever. Only a few top names have the ability to bypass it without any significant issues.
While Freedome is among the bigger VPN companies out there, they don't seem to have a reliable way to unblock Netflix content. We tested five different servers, and we found only one that would work.
The Netherlands, UK, West Coast, and Canada servers were completely blocked and inaccessible.
On the other hand, we did manage to unblock Netflix content from New York. Still, the result was not even close to satisfying. The connection was quite unstable, and we experienced significant issues with time outs.
Additionally, the speed drop was much higher than what we previously mentioned, which made HD streaming impossible.
Other streaming services
While Netflix is the most popular, it is not the only platform that you might be interested in. We did have some luck with accessing Hulu. But not Amazon Prime, and BBC iPlayer unfortunately.
Also, when we went to try and unblock USA TV channels, such as CBS and Fox, it asked for a Google Chrome/Firefox extension.
Thus, while it does have some ability to unblock streaming services, it is nowhere as good as NordVPN or ExpressVPN.
Security
It is crucial that you pick a VPN that does not keep any logs of your info or activity. Unfortunately during our review, we found out it doesn't seem to be the case with F-Secure Freedome.
While they do claim to offer great protection from cyber attacks, we are quite skeptical when it comes to potential IP and DNS leaks. Thus, we decided to debunk their privacy policy by looking into a few major elements.

Where is it based?
F-Secure Freedome is a provider that originates in Helsinki, Finland. It is still based there today. They do have more than 20 offices around the world, but this is where their headquarters are located.
Now, how does this affect your security?
This location is a positive thing, considering that Finland is not a part of the 5/9/14 Eyes alliance. Additionally, they have imposed strict privacy laws. F-Secure Freedome also stays away from sharing any info of the user with the governments of other countries.
Log policy
Does the fact that this provider is located in Finland mean that there is a zero-log policy? Unfortunately not. From what we reviewed in their privacy policy, it is safe to say that they collect some data.
This info may include your name, email address, and payment info, as well as purchase orders and other relevant details.
While this is not that dramatic, it still means that your activity is being tracked by the VPN provider. They also claim to use customer relationship data in order to improve their service.
If you would ask us, this is just an excuse for keeping a record of your browsing activity and bombarding you with related ads… or selling your info.
Protocols
We are happy to see from our review of F-Secure Freedome that the VPN does quite a good job when it comes to encryption and protocols. It offers a 256-bit AES system, which is military-grade and can't be decrypted even by using super-computers.
On the other hand, for the protocols, there are two major options.
If you are a Windows, macOS, or Android user, then you will be set to OpenVPN. This protocol is considered to be the best in the industry. Albeit, if you are using an iPhone or an iPad, then the platform will set it to IKEv2 by default.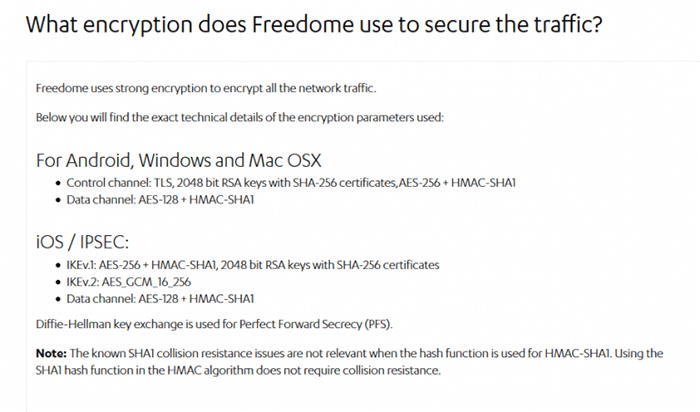 Leak protection
In the end, the provider that offers reliable DNS and IP protection is the one to be respected. After a couple of test sessions, we found no malware risks.
Additionally, the service has passed all six tests for DNS leaks, as well. This is extremely important, considering the fact that the risk of your IP address being revealed to the ISP is close to zero.
Torrenting
There are several VPN providers that perform well for torrenting. F-Secure Freedome is not among them. As a cybersecurity company, they don't encourage P2P downloading or torrenting of this kind, which can be an issue for many users.
This stand is based on the potential copyright infringements, as well as the fact that your info is open to hackers. Not only that, but this provider goes a step further and will restrict connection to their servers if they register that you were trying to torrent.
But if the provider offered the encryption and security needed for safe torrenting, it wouldn't be a problem. Just look at how successful NordVPN and ExpressVPN are at keeping their users safe when torrenting.
Bypass Censorship
When it comes to accessing region-restricted sites, F-Secure Freedome VPN had roughly a 50% success rate while doing our review. This means that, while they might allow access to restricted YouTube content, the algorithm may have an issue with other sites.
One of the reasons why people use a VPN is to bet on their favorite bookmakers abroad. The provider is not the most reliable for this. On the other hand, NordVPN and ExpressVPN do a superb job when it comes to unblocking these sites.
Additionally, you can't use this provider if you are in China and trying to connect to a server that is outside of China. Which can be a big issue for some of you guys!
Countries and Servers
Honestly, while F-Secure Freedome is a big company, we can't say that it offers a global service. It is present in only 22 countries and only has 30 servers. This is definitely not what we would expect from a service charging a premium rate.
Therefore, you might be better off with a provider like CyberGhost, which offers over 6,800 servers.
Additionally, it doesn't support regions in Asia, as most locations are set in Canada, the USA, and Europe. We found the Netherlands and UK servers to be the most reliable in terms of both speed and overall stability.
Compatible Devices and Connections
We can't move further in our F-Secure Freedome review without discussing the connectivity that this provider offers.
Supported devices
Frankly, this VPN is not the best when it comes to compatibility with many different devices. Yes, using an Android, macOS, iOS, or a Windows device will work, but there are a couple of drawbacks. Linux users will have to search for another provider.
Unfortunately, that also goes for people who were expecting to use a smart TV, router, or console with this VPN service. This is mostly because the interface offered by this provider is quite outdated.
Fortunately, other providers offer a wide range of supported devices, making it ideal for anybody looking for an excellent VPN.
Simultaneous connections
On the other hand, the overall number of devices that can be connected at the same time is quite good. While the starter package is set to 3, you can also upgrade and have 7 devices running simultaneously.
Support

Looking at how big the F-Secure Freedome company is, you would expect majestic customer service. There are several different customer service options, including phone, live chat, email request, or a knowledge base center.
Sadly, getting a concise answer is quite tough.
This is partly because the live chat option doesn't really work. Also, we waited for a week to get an email response, only for it to be quite unfriendly.
Value for Money
Last but not least, our review of F-Secure Freedome needs to look at how the prices compare to those of the top providers. We will also consider whether you can pay using crypto-currencies or not.
Price comparison
This review has found that all three subscription plans offer unlimited data and differ only in the number of simultaneous devices that can be protected at the same time.
If you decide to go for the plan that offers three devices at the same time, you will be charged $3.9 per month. If you decide to upgrade to seven, you will be charged $6.9 or $4.1, for the annual and two-year plans respectively.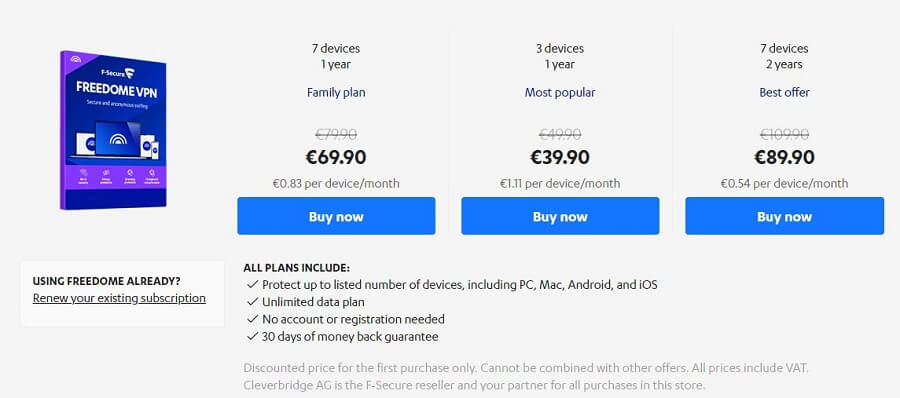 Payment types
This provider doesn't support payment via cryptocurrencies, such as Bitcoin or Litecoin. On the other hand, credit cards, PayPal, and a regular wire transfer are quite easy to perform.
Money-back guarantee
In the end, while their customer service is not the most efficient, Freedome does offer a 30-day refund. This gives us confidence that, if something goes wrong, you can actually get a full reimbursement.
Extras
There are no extras that we would like to review when it comes to F-Secure Freedome. This is a bit of an admission of weakness from the provider, we will not hide it.
Final Thoughts
Since F-Secure Freedome has been around for more than 20 years, we were confident when doing this review that their VPN service would be reliable and secure.
However, we were wrong as things were not that great, which is why we rate it number 51 out of 104. Apart from the fact that we are not satisfied with its logging policy, we had significant issues with unblocking censored websites and streaming platforms when abroad.
Additionally, their customer service is not even close to being good. That is why subscribing to ExpressVPN, NordVPN or CyberGhost might prove to be a much better decision.
Lastly, we would like to conclude this review by stating that we do not recommend this VPN provider to anyone who is looking for online anonymity and privacy.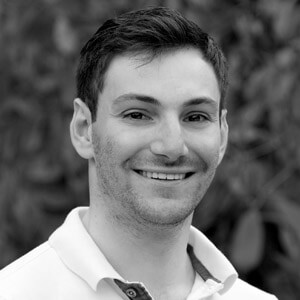 Flo is the founder of the-bestvpn.com. Really concerned about security on internet, he decided to create this website in order to help everyone find the best VPN. He's got a Business School background and now is 100% dedicated to keeping his website alive.