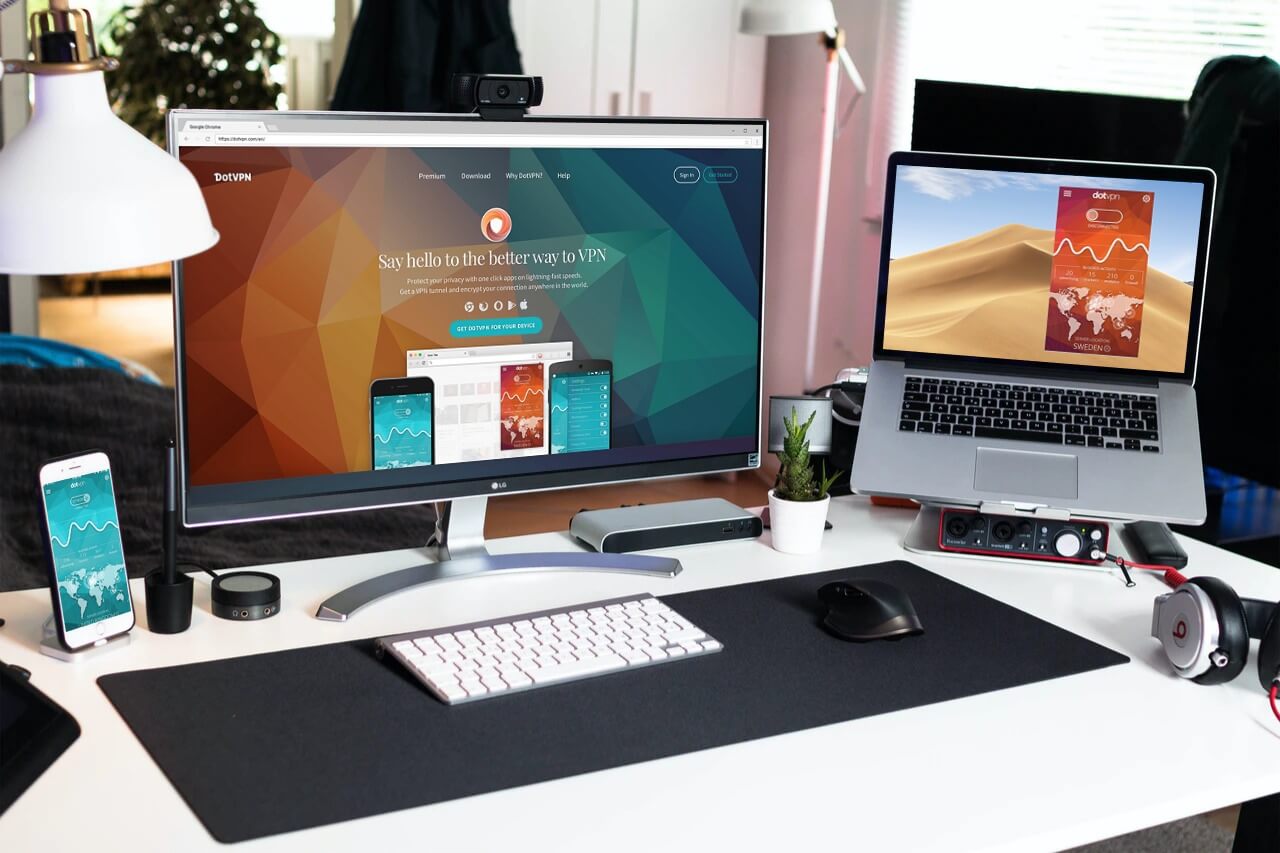 A Virtual Private Network is meant to do just that – create privacy. There are so many service providers today, that it can be hard to find one that does what it is meant to. As we saw during our review, DotVPN is a Hong Kong-based company that uses the tagline "a better way to VPN". Bringing their service under review, we have determined that there are, indeed, far better ways to VPN. To look at some pros and cons, you can get a basic idea as to what this VPN has in store for its users. We will also take an in-depth look to find out the ins and outs of what it has on offer.
STRENGTHS:
No-log policy
Safe mobile encryption

Hong Kong-based – outside of the 14 Eyes jurisdiction
WEAKNESSES:
IP leaks have been known to happen
Cannot be used to watch Netflix
Cannot be used for torrenting
Limited device support
No kill switch
Poor customer support
Incredibly poor speeds
---
DotVPN ranks #56 out of 104 VPNs tested. Here are the best alternatives :
Is It a Paid or Free VPN?
During our complete review, we saw that DotVPN has two contracts available: a free service and a premium service. The free option is incredibly limited in what it offers, as many of the features are saved for the premium option.
The free option only offers an unlimited data usage option and cloud firewall protection. You cannot stream video or audio, nor can you engage in peer-to-peer downloads. Many of the features that you would expect and want from a VPN, you can get only from their premium plan.
This makes their premium plan the more viable option, as you get what you would want from a VPN service. With this option, you can stream video and audio and engage in peer-to-peer transactions.
You can also have access to a faster network with unlimited data usage and 4096-bit encryption.
This premium plan comes at a rather cheap $2.99 per month, which is billed annually or monthly. But we will be more precise later on in this DotVPN review.
Performance
With the cons mentioned earlier and the rather low prices, we were skeptical of DotVPN's performance. Sadly, we were right to be skeptical, as their performance was, in short, abysmal.
Speed
This provider doesn't have the widest variety of servers, so we didn't have too many expectations for its speed in the first place.
First, we used a benchmark of 235 Mbps for download speed and 211 Mbps for upload speed.
Using DotVPN drastically reduces your connection speeds. Users running speed tests from Europe to the US have reported a whopping 80% – 90% drop in download speeds.
Their upload speeds did not fare much better. When it came to doing speed tests in Australia, the OOKLA speed tester could not even connect. But after a few tries, we've managed to do it.
Without VPN (we were located in London) :

EU Server :


US Server :

Australian Server :

For a VPN that does not massacre your internet connection, consider ExpressVPN, which provides fast speeds, as well as a stable connection.
Stability
Stability is difficult to measure, as the speeds themselves were so slow. The only safe indicator we could use is the ping, which was too high to consider the stability as being anywhere near good.
On top of this, there is no presence of a kill switch. This means that it is very likely that your IP address and information will leak and become public again.
Streaming
If you are looking for a VPN with which to stream, it is best to skip DotVPN. The incredibly low speeds make it awful for any kind of streaming.
Netflix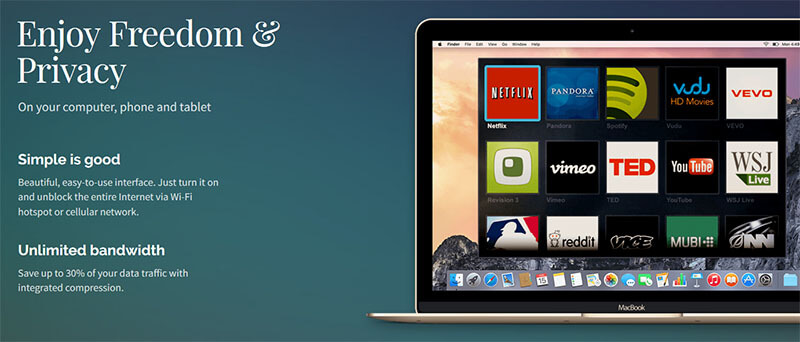 As we already know, DotVPN has awful speeds, which makes it not suited for streaming. However, we decided to at least try for the sake of the review to see if DotVPN would surprise us.
Unfortunately, we were met with an even more disappointing revelation: DotVPN is unable to give you access to the homepage of Netflix.
For this reason, NordVPN and other high-tier VPN services can not be recommended enough. Not only do they allow you to stream Netflix, but they also allow you to do so without any buffering or connection issues.
Other streaming services
As expected before, even doing this review and all the tests, DotVPN did not fare much better when it came to other streaming platforms. This ultimately means that, when brought under review, DotVPN isn't a 'better way to VPN'.
In reality, it cannot even provide the level of service that the most basic VPNs can. Do not count on the latter to take advantage of the Amazon Prime Video catalogs or access Hulu outside the United States!
Security
Of course, one of the main purposes of a Virtual Private Network is to provide you with security. So let's review what DotVPN offers.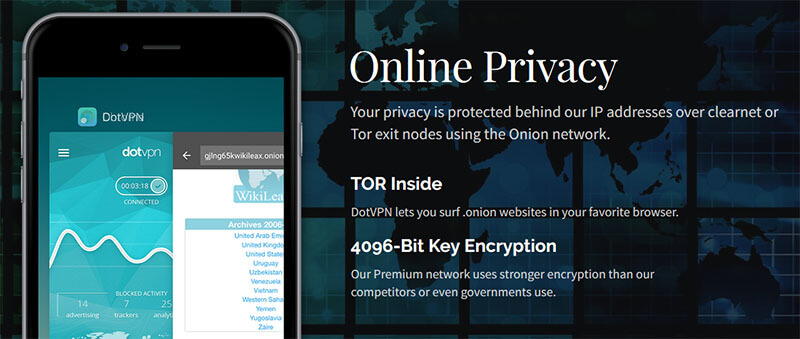 Where is it based?
The provider is based in Hong Kong, meaning it does not fall under the authority of the 14 Eyes alliance. What this means is that they will not have an issue protecting your information from this intelligence gathering group.
It also means that they will not expose you to the authorities should they find you using their service for illegal activities.
Log Policy
When doing this review of DotVPN, we were happy to find a 'No-Log Policy'. They collect no more than the email address you use to sign up for their service. No additional data is collected based on your downloads or the pages you visit.
They will also temporarily log the IP address you use to confirm that you are indeed the original user of the service. They then delete this address after 24 hours, though.
Protocols
We found during our in-depth review that DotVPN uses the popular OpenVPN protocol. This is popular for being incredibly reliable and safe to use. Thus, you will not find many issues unique to DotVPN in this department.
They also offer an HTTPS proxy to further increase protection with encryption.
Overall, when brought under review, DotVPN proved to have a robust protection system in place. This is one of the few selling points of the VPN. However, you have to remember that, when the speeds are as low as they are, you will not have much to protect anyway.
It is also worth mentioning that they do not have a kill switch, which is a tool essential to protect users. A kill switch immediately cuts off the internet connection should the server go down.
This prevents your information, such as your IP address, from being exposed. The lack of a kill switch from a service that has an unreliable connection is a scary thing.
For this reason, ExpressVPN and CyberGhost are top recommendations. These companies provide you with brilliant speeds and top-tier security, which includes OpenVPN, as well as their own additional protocols.
Leak Protection
While testing and reviewing the service, it was found that DotVPN has a few issues with DNS leaks. This means that sometimes, you will not be invisible (even with the protection "active").
This goes against what you want a VPN for entirely, which brings the security aspect down a little for DotVPN.
Torrenting
The next best alternative after the big letdown of not being able to stream with Netflix would be peer-to-peer downloading.
However, as if DotVPN did not already have enough problems as it is, they disappointingly do not allow P2P activities.
Bypassing Censorship
There is no official statement from DotVPN that says they can bypass the Great Firewall of China.
However, with what we have seen of their technical capabilities so far, it would be dubious to say yes. When it comes to bypassing any form of censorship, it does not appear to have any of the tools one would look for.
All in all, it appears safe to say that DotVPN cannot bypass most censorships.
Countries and Servers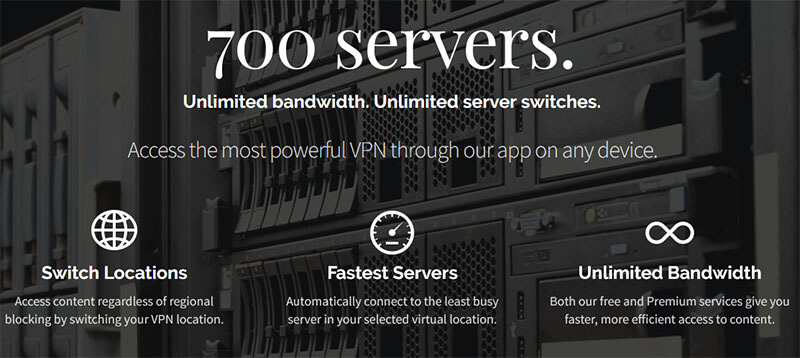 Another one of their weaker points, they have a limited amount of countries to choose from – only 12. On the plus side, they have 700 servers spread out across these 12 countries, meaning you will be spoiled for choice in that regard.
However, the lack of countries means that, regardless of the server, you will likely suffer from generalized hit to your performance.
There is yet to be any VPN service provider that can beat ExpressVPN or NordVPN in their widespread service. Offering thousands of services across the globe, they remain unbeaten in regards to sheer choice of servers and countries.
Compatible Devices and Connections
Unfortunately, here is another section of our DotVPN review that simply brings disappointment.
Devices Supported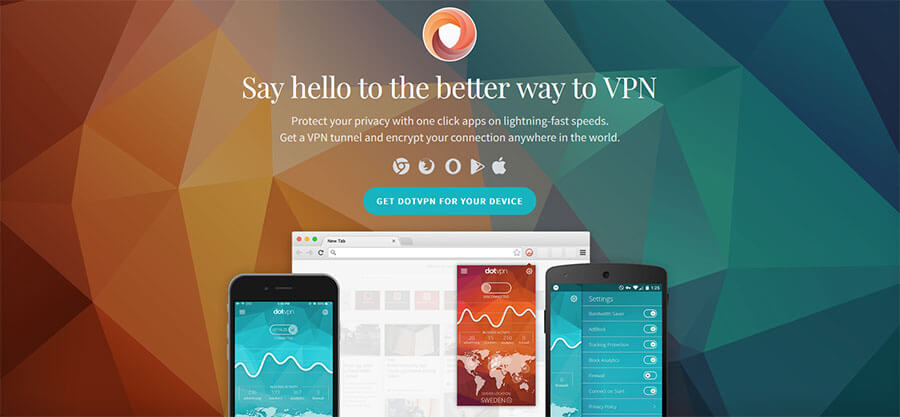 The provider supports browser extensions on Chrome, Firefox, and Opera, with a mobile app for both Android and iOS. There is supposedly a team working on making a desktop app, but there is no ETA on that project. Thus, it would be best not to rely on that.
They also do not support routers with encryption, meaning consoles or smart TVs are incompatible with DotVPN.
Simultaneous Connections
DotVPN offers an average limit of 5 devices allowed at once. This means that, for a single user with multiple devices or a small family with a single device each, this is the ideal amount.
Any more, however, and you will be fighting for which devices to use. This leaves your options when it comes to connections incredibly limited.
Support

When looking at customer support, you will find a standard form to fill out. All it requires is your email and the details of your query. This is a very standard and effective form of customer support that you see among other VPNs.
However, other VPNs are known to respond. Unfortunately, the people at DotVPN have been known to take over a week to respond, if they respond at all (we are still waiting days after the realization of this review).
This does not paint a very good picture of the support system of DotVPN. Their help manuals are not too helpful, either, as they only cover fundamental issues that one encounters with all VPNs.
Value for money
The price for the premium service is incredibly low. However, many would agree that you get what you pay for – in this case, a low-tier VPN service. With virtually no speeds or customer support, what you get with DotVPN is a cheaply made and maintained VPN 'service'.
Price Comparison
As mentioned, there is indeed a free plan, albeit a limited one. With only 20% of the features available with this version, you might as well get the paid version.
The paid version offers all the features that you find with other paid and even some free services. However, these other services provide features that actually work. With the awful speeds and lack of proper security, you are hard-pressed to want to invest in their paid plans.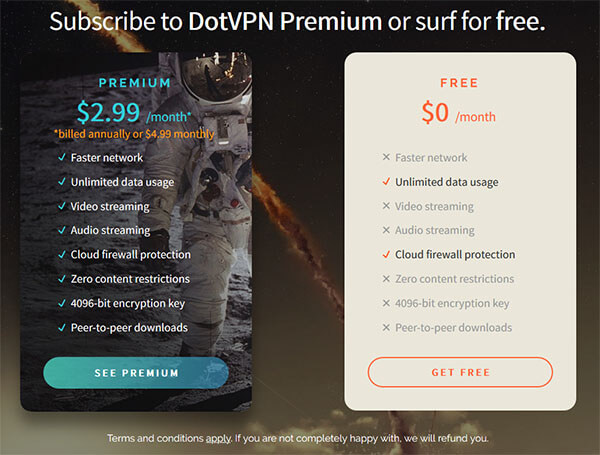 This is why other paid options that are more worth it give you far more value for your money. For example, CyberGhost offers its contract at $88 (for 3 years), but they guarantee you a much better service. The value for the money is much better for them than it is for DotVPN.
Rather shockingly, DotVPN has managed to provide a service at a very low price. It still cannot offer good value for this small, low price, though.
Payment Types
There are several ways they accept payment, such as through cryptocurrency, PayPal, or your credit card. Fortunately, there are no hassles when it comes to payment.
Money-back guarantee
Luckily, they at least offer a 30-day money-back guarantee. This means that, if you are dissatisfied (which is very likely with DotVPN), you can at least file to get your money back.
However, you will have to do this sooner rather than later, as they are notorious for taking a long time to contact customers.
Extras
If there are any extras included, they do not have them listed to be found anywhere. This makes reviewing these extras difficult. Unsurprisingly, DotVPN really has nothing else to offer with its cheap service.
Final Thoughts
As stated earlier, DotVPN is not unlike a top-tier service in that it is a VPN in which you get what you pay for. Unfortunately, what you pay for is an incredibly slow service with a standard security system that still manages to have DNS leaks.
It massacres your internet speeds. When you try to query what exactly is going on and how you can fix it, customer support is virtually non-existent. You will be lucky to get a peep out of them.
These are not issues you would have with other VPN services of even a mediocre level. This is why we consider this VPN not worth your time or consideration.
With that in mind, we recommend ExpressVPN, NordVPN, and CyberGhost. These are all top-tier companies that, while more expensive, actually give you excellent value for your money.
Our final verdict is that while it is cheap, you would still be wasting those few dollars that you could instead spend on something more worthwhile.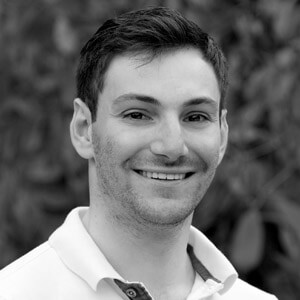 Flo is the founder of the-bestvpn.com. Really concerned about security on internet, he decided to create this website in order to help everyone find the best VPN. He's got a Business School background and now is 100% dedicated to keeping his website alive.