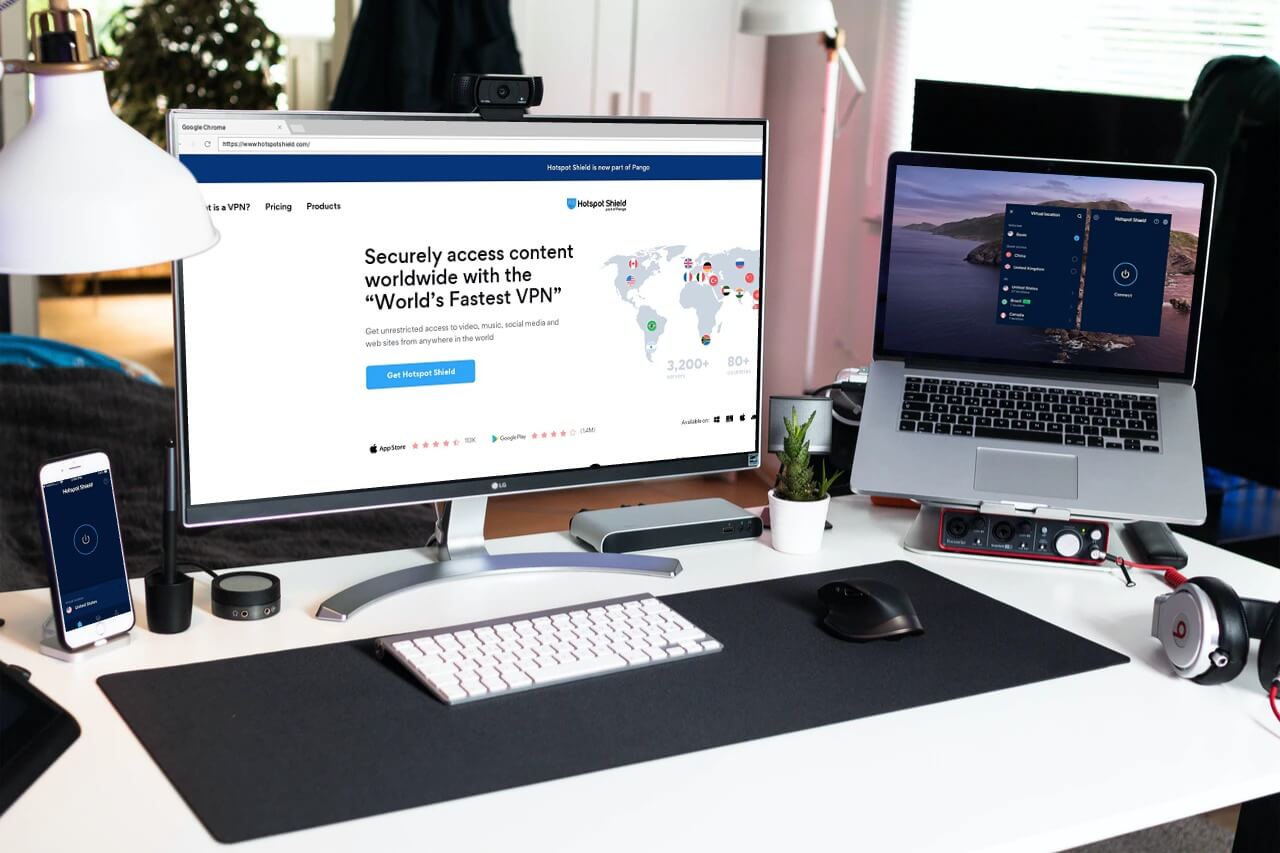 If you know anything at all about VPNs, then it's needless to introduce Hotspot Shield to you. With about 650 million users worldwide, it is one of the most popular names in the industry. Being a very popular service, Hotspot Shield is a service that always attracts attention, which is the major reason we've created this review and test.
Since it became prominent for its free service, many people wonder if it offers anything special apart from that. Of course, it has a premium version as well, which has many more features compared to the free one.
However, the question on the lips of potential customers is "is it really worth the money?"
Well, we will let you be the judge after reading our comprehensive Hotspot Shield 2023 review. In our test, we've dug out everything about this provider, including its jurisdiction, its logging policy, its protocols, and more.
With that said, we welcome you to our hands-on review of this US-based VPN provider.
STRENGTHS:
Proprietary protocol
45-day money-back guarantee
Offers a free version
Has a Kill Switch
Decent speed
WEAKNESSES:
Poor streaming performance
Doesn't accept BitCoin
Anti-privacy jurisdiction
They keep some logs
Doesn't work in China
Hotspot Shield ranks #16 out of 104 VPNs tested. Here are the best alternatives :
---
Is it a paid or a free VPN?
Even though Hotspot Shield got its fame with its free version, it's interesting to know that it has a premium version as well. However, its free version is extremely limited in terms of features and capabilities, compared to the paid version.
We will talk extensively about this later on in this review.
Performance
Whenever any service is evaluated, everything always boils down to performance. In terms of VPNs, two of the chief factors used to evaluate their performance are speed and stability.
Since a VPN naturally tends to decrease your connection speed, it's important to test and know how much impact a service will have on your performance.
Speed
Thanks to the patented Catapult Hydra protocol incorporated, Hotspot Shield delivered amazing speeds in our test. We thought the results were going to change from distant locations.
But, we were left impressed even by the majority of the distant servers we used.
Without VPN (we were located in London) :

EU Server (France) :


US Server :
Asia Server (Hong Kong) :


The secret behind this unique catapult Hydra protocol is that instead of a single connection to a single server that the majority of VPNs use, this one connects the user to multiple servers at the same time.
Obviously, this makes your connection faster and stronger over long distances.
Stability
You can't just overemphasize the importance of stability as far as VPNs are concerned. Hotspot Shield delivered impressive results on this front, guaranteeing an uptime of 99.9 percent. Essentially, this means that the service will be available most of the time you need it.
Probably the only reason you could experience downtimes would be due to maintenance.
Streaming

A lot of VPN users believe that a VPN that doesn't deliver decent streaming performance is as good as useless. Well, we're not going to argue against this 'truth', obviously, so we have put Hotspot Shield's ability to unblock streaming sites to test.
Netflix

According to past reviews, Hotspot Shield used to unblock some Netflix libraries in the past. However, Netflix has cracked down on VPNs in recent years, and this provider seemingly can't keep up.
For our test, we used different locations, getting less than impressive results.
Disappointingly, we weren't able to bypass Netflix's geo-restrictions when we connected to servers in the UK, the US, and Canada. We were, however, able to get through when we connected to servers in Germany and France.
Therefore, you may want to also try your luck with the location you desire and test if it works.
BBC iPlayer
Netflix and BBC iPlayer are two of the world's biggest streaming services, and disappointingly, Hotspot Shield failed to unblock both. While a VPN could be forgiven for failing to unblock either of them, failing to unblock both literally renders a VPN useless.
This is especially true if you're a streaming enthusiast whose primary use of a VPN is to unblock geo-restrictions. In this case, we recommend you to consider a provider such as ExpressVPN.
Others?

Again, we couldn't access Amazon Prime Video, HBO, and Youtube, but we had better luck when we tried to unblock Hulu. We know that the fact that this provider failed to bypass Netflix, BBC iPlayer, and Amazon Prime Video's geo-restrictions may be quite disappointing.
However, you can at least get some respite from its success with Hulu.
Security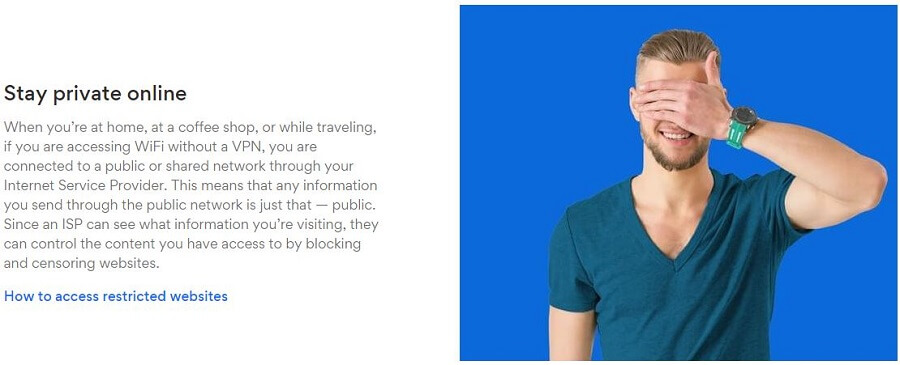 Security is always a big concern when choosing a VPN. After all, it is one of the biggest motivations behind the invention of these tools. So, what did our test revealed about Hotspot Shield in terms of security? Let's find out in the review below.
Where is it based?
First, it's worthy to note that Hotspot Shield doesn't make you dig hard before finding details about them. This is fairly commendable since there are lots of providers that make it very hard to find information about their background.
Once you click "about us" on the site, you'll be taken to a page that shows all their details.
Having said that, the company is based in the United States. We are aware that users often tend to get edgy about VPN providers that are based in the United States, for obvious reasons – the country has anti-privacy regulations that could force companies to hold users' data.
The government is capable of issuing warrants that could compel the providers to divulge users' data and be simultaneously quiet about it. Furthermore, the United States is an active member of the Five Eyes alliance, which is a group of countries that have agreed to share collect, and spy intelligence.
As if the unfriendly location wasn't enough, Hotspot Shield's parent company, which is AnchorFree, has caused even more concerns. The company is partnered with many advertising companies, and some details of the partnership have been questioned on the grounds of ethics.
Besides, not so long ago, AnchorFree was probed by the Federal Trade Commission. Thus, you may have to review your options if you're looking for a provider with no controversial backgrounds.
Log policy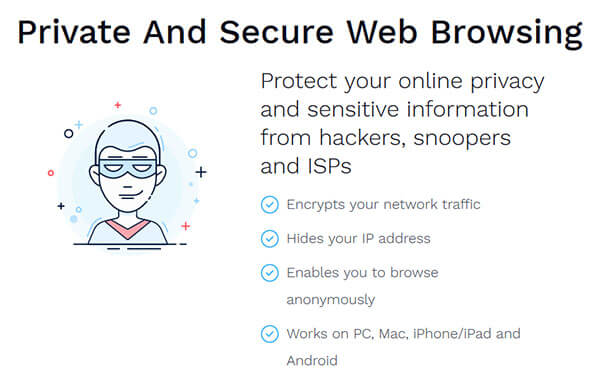 Since the United States has regulations that put VPN companies at the mercy of government agencies, the only way it can be avoided is if a provider maintains a no-logs policy. With that, they simply don't have any information to give even if the government requests for information.
While many VPN providers make similar promises, most of them fail to follow through on their promises. Unfortunately, this provider falls in the category of companies that keep some logs, as our test and review revealed. The company states that:
"When you launch Hotspot Shield, we also collect device-specific information, such as the hardware model, operating system version, browser type, language, wireless network, and mobile network information. This information does not identify you, and we use it to provide and improve the Services, troubleshoot, and perform analytics on our services."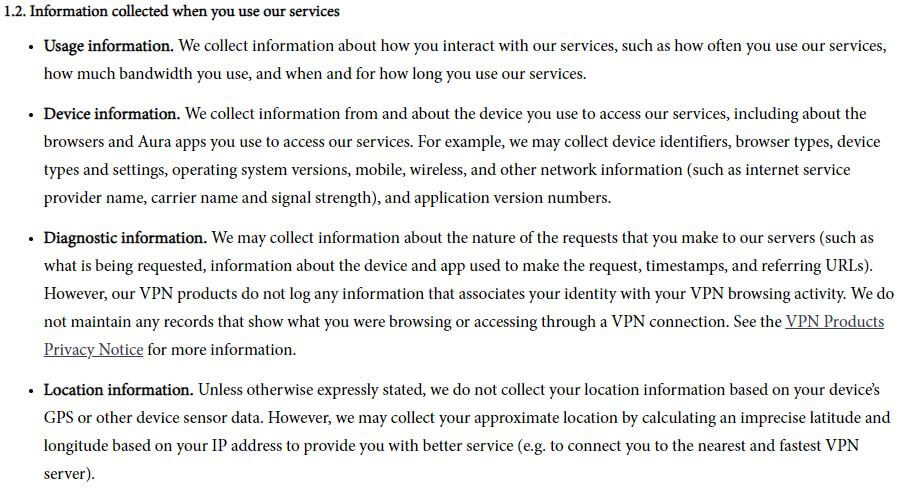 While the company claims that the data they collect doesn't identify you, most VPN experts tend to differ. In our point of view, approximate location, mobile network ID, and wireless network can be traced back to you.
As a result of this, we believe that this provider has invasive practices.
Although the fact that they keep no IPs is good news, the mobile application tells AnchorFree lots of risky information.
In general, privacy policy still poses a couple of concerns. Even though they don't store IP addresses, "wireless network, mobile network ID, and approximate location" is high-risk data that can be easily traced back to you.
In our opinion, even the updated policy still allows the parent company to collect an excessive amount of information. Therefore, we still don't consider this provider secure for people who are keen on privacy.
Protocols
Other VPN providers use popular protocols like OpenVPN, PPTP, and L2TP/IPsec, but Hotspot Shield doesn't. Even though they have a proprietary protocol, we feel they should have included other popular protocols regardless.
Instead, the provider uses a proprietary protocol called Catapult Hydra, which we already subtly mentioned previously in this review. The protocol utilizes the regular TLS-based security adopted in the OpenVPN to establish secure connections and encode data packets.
For server authentication and forward secrecy, it adopts RSA certificates with 2048-bit key and ECDHE respectively.
Moreover, Hotspot Shield uses AES 128-bit encryption with 2048 bit keys, which is considered to be weaker compared to the former. However, encryption is still strong enough to guarantee secure traffic.
According to Hotspot Shield, you can rely on the Catapult Hydra protocol as it has been put to test by third-party security experts from some of the biggest security companies in the world. And since it passed the test, some companies have started incorporating it in their VPNs.
Protect your data with the unique Catapult Hydra technology >
However, there are still questions being asked about why the provider doesn't provide the other popular protocols. The company's answer to that question is usually "why offer other protocols when there is something better?"
According to the company, one of the advantages of the proprietary protocol is that it enhances connection speeds significantly over long-distance connections.
On the bright side, we like seeing companies with proprietary technology. It indicates how much investment the company is making to create value.
However, it's always also nice to have a variety of protocols to choose from, so you can review your choices before choosing. This is due to the fact that different protocols come with different specs and offer different advantages in different situations.
Protection against leaks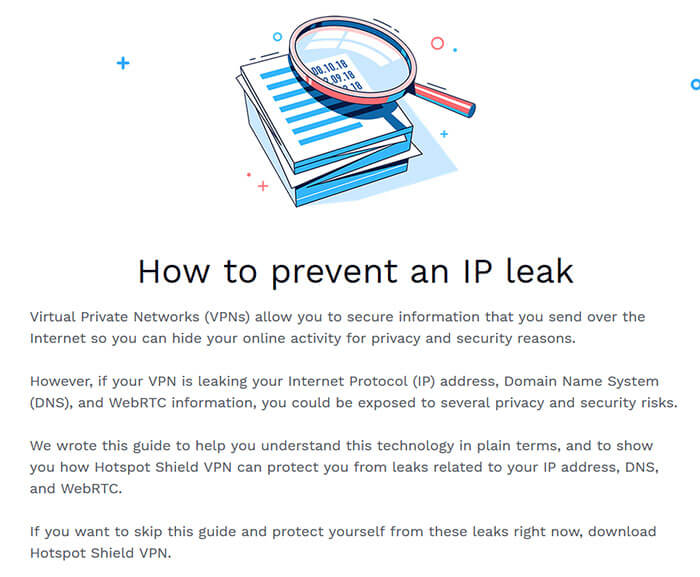 Hotspot Shield offers adequate protection against DNS leaks, WebRTC leaks, and IPv6 leaks. While the leak protection is automatically turned on, you can access it in the settings.
We carried out a test for leaks and we were satisfied with the results, as all leaks were prevented. No IP leaks, no DNS leaks, and no WebRTC leaks.
There have been reports from some users that the Hotspot Shield extension on Chrome leaked at some point. But, it ought to be remembered that extensions are proxy services and don't have the full functionality of a VPN.
Torrenting
While torrenting is a practice that many authorities frown at, we can't deny that people still enjoy engaging in it.
However, it's always ideal to engage in P2P while under the hood of a VPN. So, below is what we found about Hotspot Shield's torrenting ability in our test and review.
Is torrenting allowed?
If you're an avid downloader of torrents and in search of an ideal VPN, you may consider choosing this provider. However, while the provider officially allows P2P traffic, you will still have to be careful to not violate copyright laws.
The consequences may be unfortunate if you are caught, especially since Hotspot Shield is based in the United States. The US is a country that is renowned for spying on P2P users and for having stringent punishment for violators.
On the positive side, you're not likely to experience throttling while torrenting, as we found out in our test for this review. Also, the IPS won't report your activity to the authorities.
Besides, on their site, there is a comprehensive guide that teaches users how to torrent and stay anonymous with Hotspot Shield. Moreover, the download speed will be above average always, thanks to Catapult Hydra technology.
Is there a Kill Switch?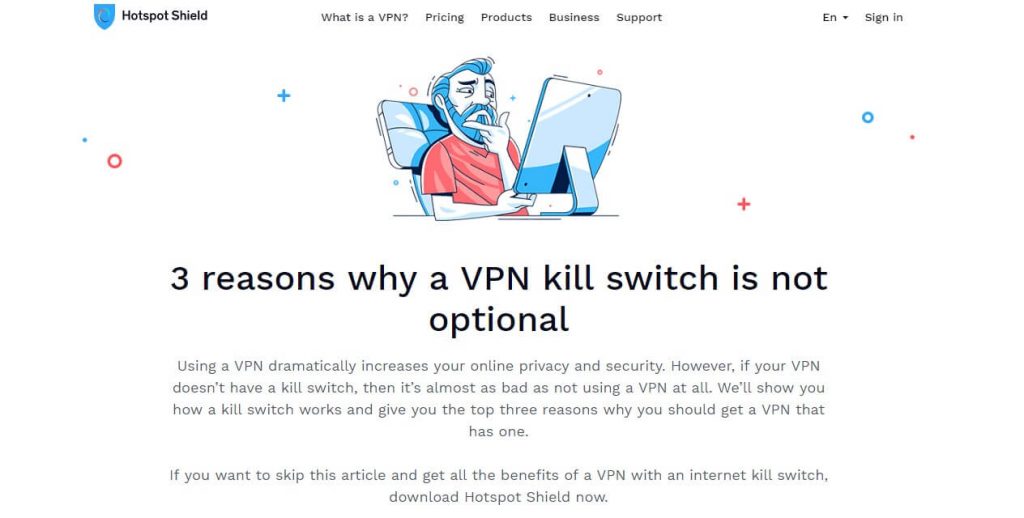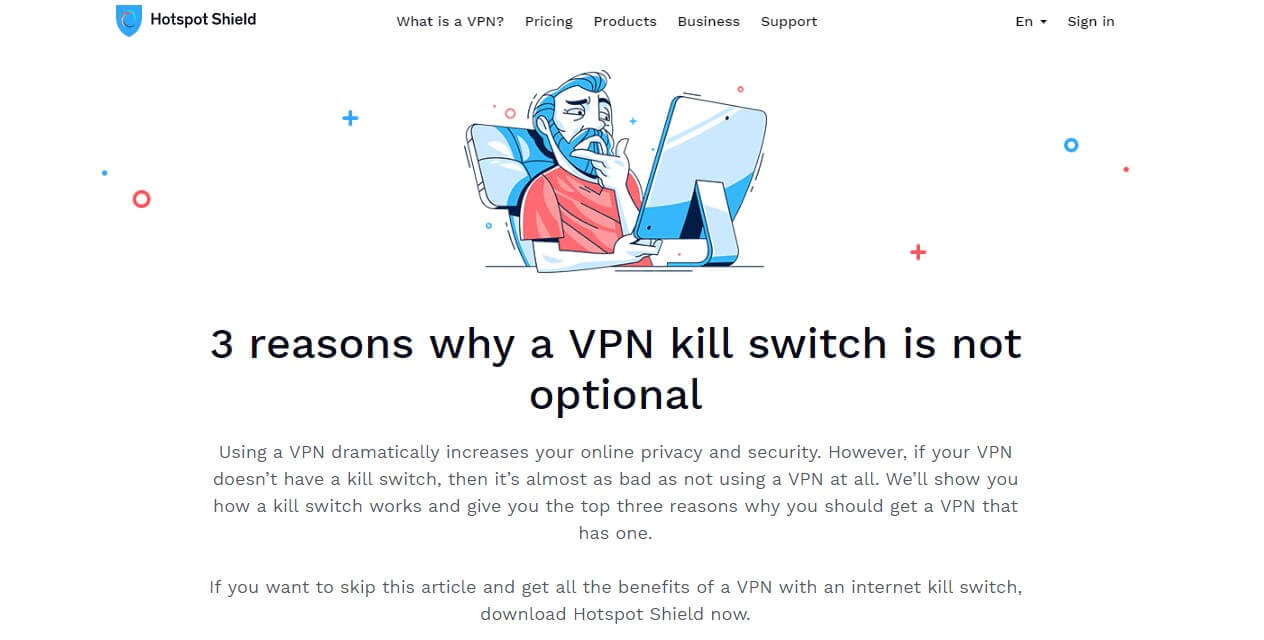 While VPN providers offer online privacy and security, the service is only useful when it's up and running. So, what happens when the service is down? Your IP address and online activity will be at risk of being exposed and your security and privacy will be at risk of being compromised.
To prevent this from happening, this provider has incorporated the Kill Switch. This feature detects when the VPN disconnects and automatically kills the internet connection, making sure that you aren't online without protection.
We experienced how it works during our test and we were wowed.
Protect your VPN connection at all times >
According to Hotspot Shield on their official website – "If your VPN doesn't have a kill switch, then it's almost as bad as not using a VPN at all". To be honest, this statement can't be truer.
The Kill Switch gets rid of the potential breach in security when there is an interruption. The great news is it requires no maintenance.
Bypassing Censorship
Bypassing censorship policies is one of the most popular uses of a VPN. Therefore, does Hotspot Shield work in countries with stern internet restrictions? We will talk about it in this part of the review.
In censored countries
To be honest, there is no guarantee that this VPN will be able to bypass the Great Firewall of China. In fact, the site explains that the service may not work in countries with strict anti-VPN rules like China, Oman, Saudi Arabia, Qatar, Iran, UAE, Bahrain, Pakistan, and Turkey.
In addition, China is constantly improving its anti-VPN systems on a daily basis. Therefore, it is quite difficult to say certainly if a VPN will work in China or not. For Hotspot Shield, it's been mixed results, according to what we found in our test.
While some users have given success reports, most users are blocked in their attempts to bypass the Great Firewall.
If you're specifically in search of a VPN to bypass the Great Firewall, we recommend you to choose a more reliable alternative like ExpressVPN.
In restricted networks
Establishments like schools, offices, and libraries often place restrictions on different websites like YouTube, Twitter, and Facebook. Thankfully, you can use Hotspot Shield to access those sites in those places as it can bypass filters and firewalls.
We assessed this capability in our test and the service worked well.
Countries and servers
No matter what you're told, it's important for a VPN to have a high number of servers. Not only that, but it's also important for a provider to have a good geographical distribution. With that said, below is our review in this regard.
Countries covered
Definitely, Hotspot Shield isn't a top VPN provider in terms of both geographical distribution and the number of servers. This is an established VPN,  hence it has servers in 80 countries. The provider's server list doesn't provide a list of the exact cities in which the servers are set up.
When it comes to server count, it is believed to operate more than 3,200 servers. Keep in mind that we don't have specific numbers because the company didn't reveal it, even while compiling this review.
Sure, it's certainly still behind the leading providers like ExpressVPN and NordVPN, but the network is still robust. It covers South and North America, Europe, Oceania, the Middle East, and Asia.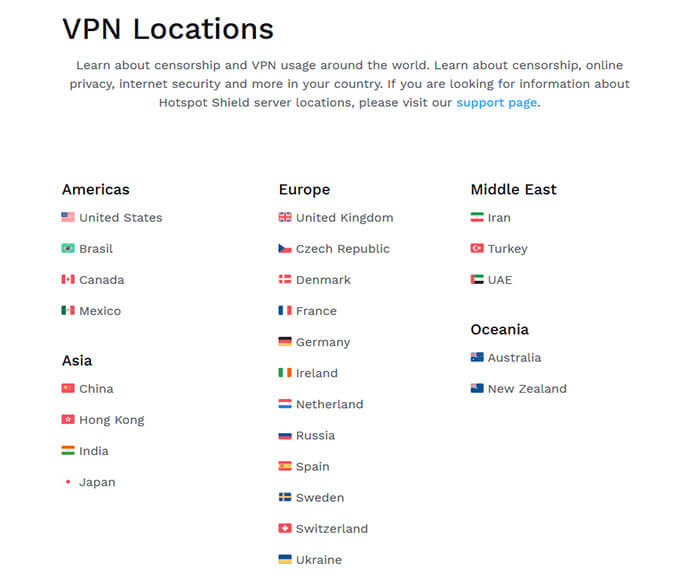 Since there are more than 3,200 connection points, there is a lot of choices when selecting your virtual location. Besides, there is less tendency of you struggling with overcrowded servers.
The server count is even more remarkable when you remember that lots of premium services have less than 1,000 servers. Also, it's impressive that this provider has servers in nations with repressive internet laws like China, Iran, Turkey, and Russia.
In terms of coverage, however, you would be forgiven for expecting Hotspot Shield to cover more than "just" 80 countries. With Brazil being the only representative in the entirety of South America and Africa having no representative at all, we can't really describe this service as a truly global service.
Servers
This provider utilizes servers that are optimized specifically for the fastest secure browsing and smartest routing possible. This way, there is no need for you to worry about lags in activities like video streaming or gaming or delays in connection times.
On top of that, it's done through high-grade encryption for maximum privacy, as we saw while writing this review.
Compatible devices and simultaneous connections
Nowadays, most VPN providers offer compatible clients for a wide range of platforms. However, we recommend you just don't assume that Hotspot Shield will be compatible with your device and actually find out and test it.
In our test, we found that answer for you. Moreover, we also found out the number of connections the service allows at a time.
What device can I use with Hotspot Shield?

This VPN is compatible with a wide range of operating systems, and you can set it up on different platforms.
Some of the platforms it's compatible with include:
Windows
Mac OS
Android
iOS
TV
Linux
Router
Chrome
The Virtual Private Network also offers extensions for popular browsers like Firefox or Chrome. For Android users, you can download the app from the Play Store, while iPhone users can download the iOS client from the Apple App Store.
If it's the extension you want to download for your Chrome browser, simply go to the Chrome store for it. Meanwhile, the desktop client can be downloaded from the VPN's official website.
How many simultaneous connections?
Like we mentioned previously in this review, there are two classes of Hotspot Shield users – the free users and the Elite users. However, both classes of users are not allowed the same number of simultaneous connections, which is understandable.
On the premium version, you can enjoy up to 5 simultaneous connections. However, free users can only enjoy a single connection at a time. In any case, we're far from what CyberGhost can offer, for example.
Client support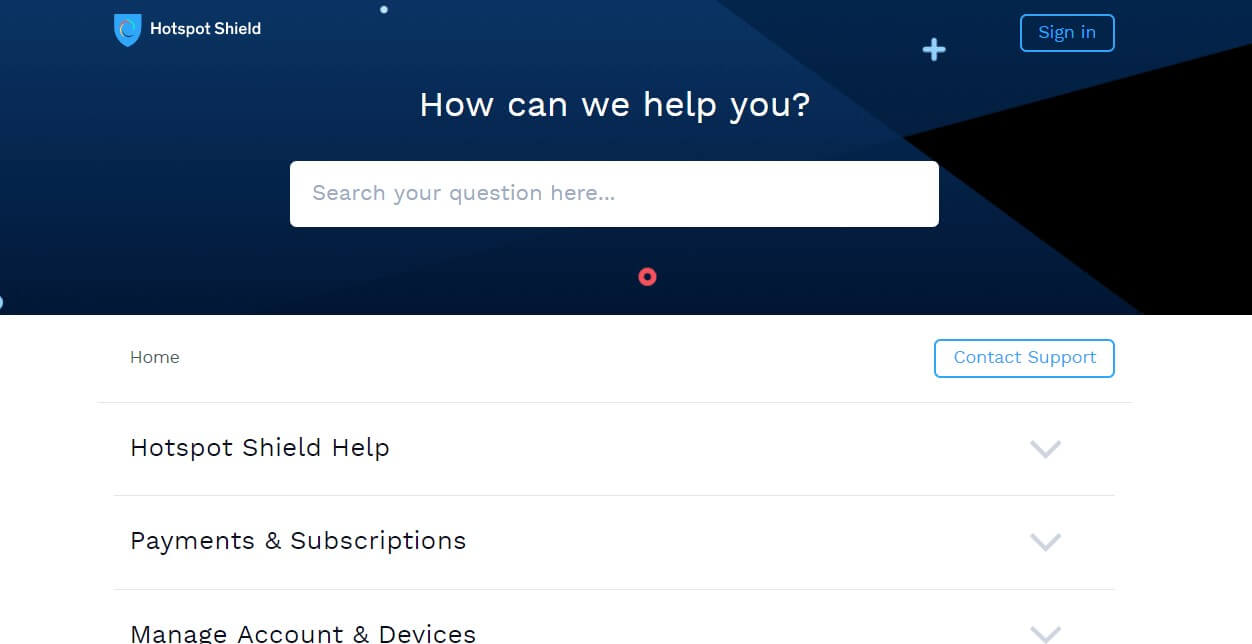 Client support is a super-important part of any VPN, no matter how reliable the service seems to be. Since we're aware of that, we evaluated the client support of Hotspot Shield in our test.
How to contact it?
Hotspot Shield offers two primary channels to get in touch with them – the traditional ticketing system and the more recent live chat. Impressively, both channels seem to work fine, as we made sure to use both during our test.
Is it good?
If we are being honest, the client support of this provider is impressive. First of all, the fact that they offer round-the-clock support is a huge upside, as we found during our test.
When we asked a question via the live chat at the time we were writing the review, an agent responded in less than 2 minutes.
However, the agent didn't have an answer instantly for our question, as he had to consult some people for answers. Nevertheless, that doesn't take anything away from the great client support we had.
Though, we had to wait for several hours before a response came via the email system.
FAQ/tutorials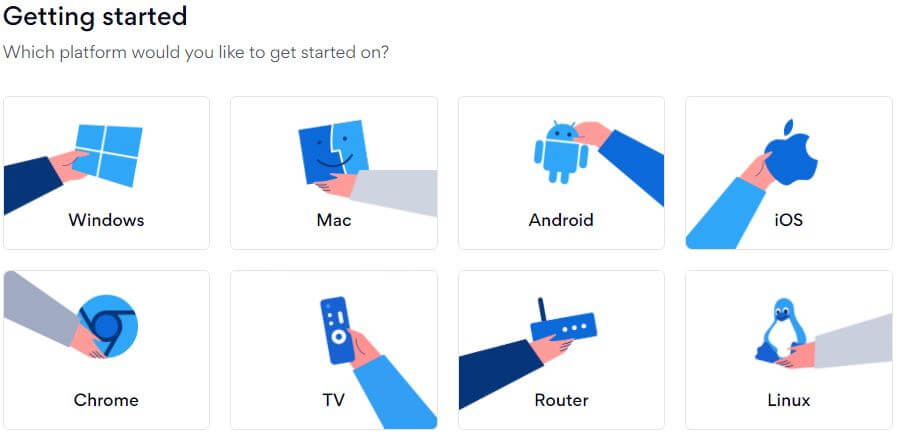 Apart from the channels we mentioned previously in the review, you could also consult a knowledge base on the website. In the knowledge base, you will find helpful installation guides and FAQs.
The guides provide comprehensive step-by-step instructions for the app installation on the compatible devices, while the FAQs answer lots of questions users have asked about the VPN before.
The topics addressed are thorough, ranging from simple questions about how to use a VPN to more advanced troubleshooting issues.
Value for money
Despite offering a free version, there is often a lot of conversations about Hotspot Shield's pricing. We had this in mind as we compiled this review, so we have found out exactly why people often talk about it.
Price comparison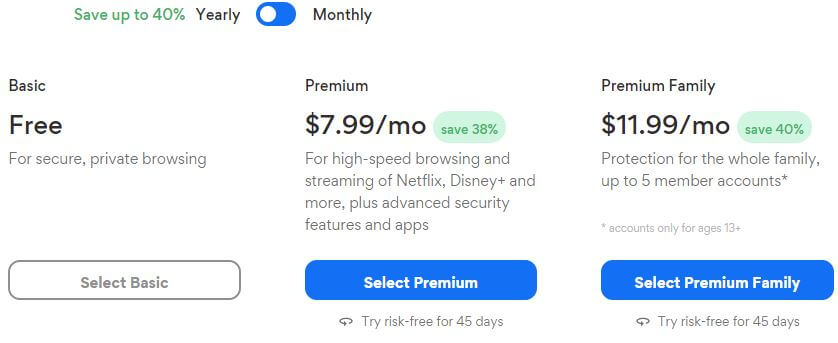 With the industry packed with worthy contestants, there is no allowance for monopoly. For users, this means constant specials, free trials, more attractive price-tags, and more discounts.
However, this provider doesn't seem to understand that, even though they have spent long enough in the industry. Their plans are expensive, even when compared to the leading providers like ExpressVPN. Below are the available packages:
Free plan
Premium plan at $7.99 a month for the annual version
Premium Family plan at $11.99 a month for the annual version
While their plans are exorbitant (especially the 1 month and 1-year plans), they have a free plan. Although the free plan is totally free, it comes with a lot of limitations, which include limited bandwidth, a limited number of servers, and only one simultaneous connection.
Moreover, you will have to deal with annoying ads and considerably lower connection speeds. But, it is fairly decent as a free product and can be used to test the service and have an idea of what the real deal will look like.
Means of payment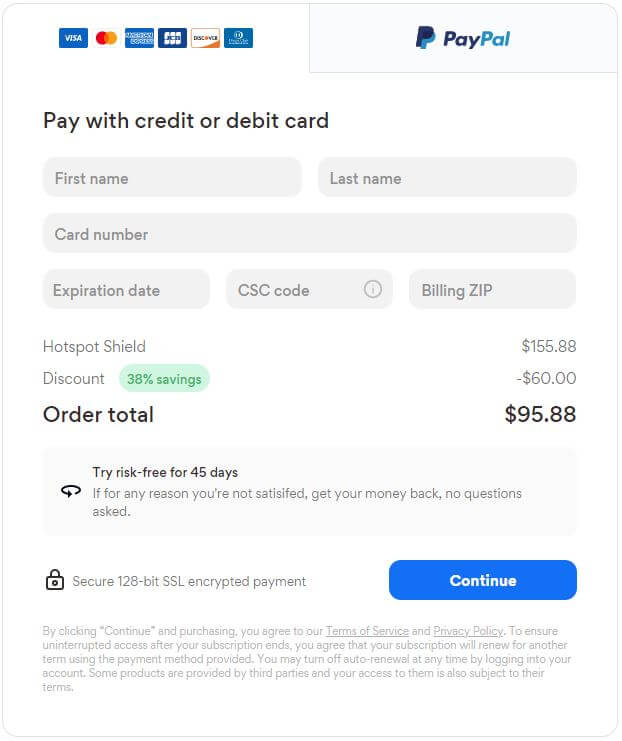 We found out in our research for this review that Hotspot Shield accepts a small range of payment methods, which include:
Paypal
Visa
MasterCard
American Express
Discover
Sadly, the provider does not accept Bitcoin, which is often the most ideal payment method for people keen on complete anonymity. This means that your payment method can give out your identity at some point.
Money-back guarantee
According to Hotspot Shield, "Love it, or leave it and get your money back." They offer a 45-day money-back guarantee. This guarantee enables you to get a full refund in the event that the service fails to satisfy you.
It's worth noting that this is a quite generous offer, as the regular guarantee offered by most of their rivals is a 30-day money-back guarantee.
Apart from the money-back guarantee, the provider also offers a 7-day free trial for you to test it.
To begin the trial, you need to select a payment method and input the necessary details for payment processing. These are obvious pointers in only one direction – the provider will upgrade you to the premium version automatically after the free trial ends.
Any extra?
Without mincing words at all, this VPN is very expensive, as we already mentioned in the review. So, what special features does it offer to make up for the expensive price? Let's review what we found in our test.
Ad-Blocker
While the Hotspot Shield Chrome extension features an ad blocker, the VPN does not. This is due to the fact that ad blocking needs to occur at the browser level.
Therefore, you will have to install the extension alongside the custom VPN app if you want to use the service's ad blocking, tracker blocking, cookie blocking, and malware blocking functions.
TOR Compatibility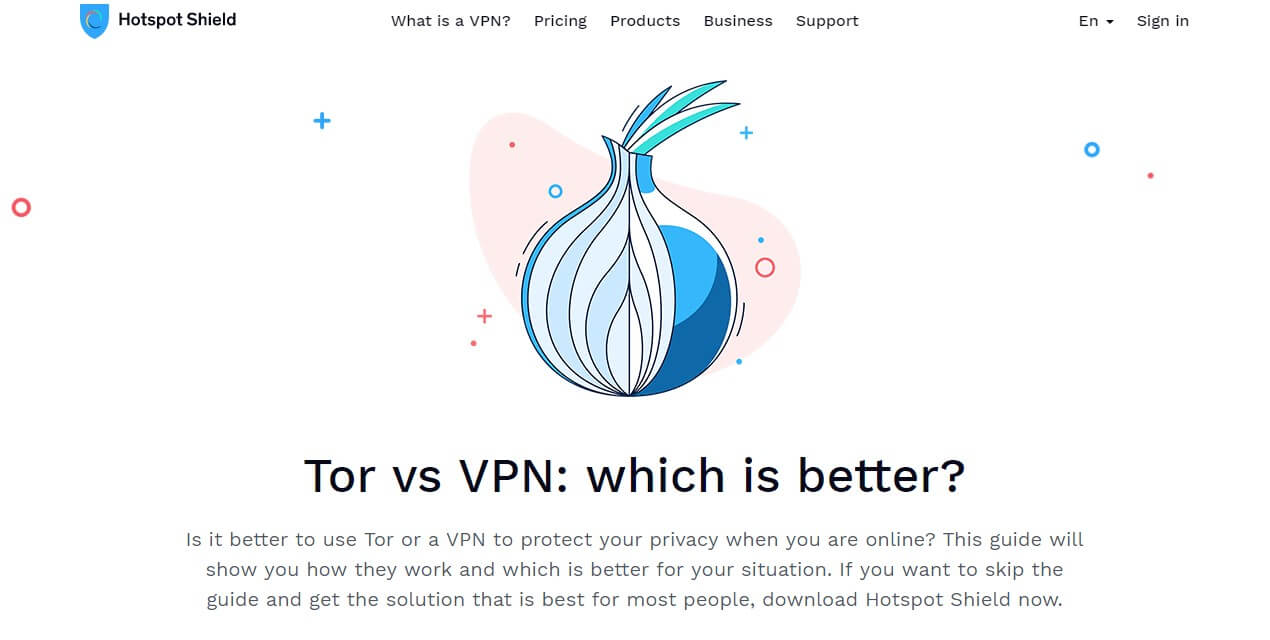 If you visit the provider's official website, you will find information about the compatibility of the VPN with TOR. Nonetheless, they claim that the Tor browser offers extremely sluggish and slow performance and affects the performance negatively.
That is very true, and many experts even think you don't need to combine the two. However, if you don't really care about speed and you are only keen on the double layer of protection, then you can go for it. In fact, many users provided a great review of the service just because of this compatibility.
Final Thoughts
To be honest, we have struggled to determine who exactly Hotspot Shield is made for, based on what we found in our test. While it offers decent speeds and great security, it's quite lacking when it comes to unblocking streaming sites.
Besides, it doesn't have wide coverage, doesn't work in China, and torrenting is not always smooth. On top of that, it comes at an expensive cost, which is not likely to sit well with prospective buyers.
While it offers an excellent free version, we don't think its paid version is worth the price. And to top it all up, its US jurisdiction doesn't exactly scream privacy… nor does its privacy policy that indicates that the provider stores quite a few logs.
If you're looking for a VPN that will give you the right value for your money, you'd be better off with an alternative like ExpressVPN.
Hotspot Shield Review and Test
Despite its very good free offer, we were not convinced by the features offered by Hotspot Shield. In addition, the prices of its 1 month and 1 year subscriptions are much too expensive for our taste.
Add your review
|
Read reviews and comments

Michael is a talented writer who has dedicated a lot of time into making sure that everyone around the world can use the internet securely. Being an avid traveler, he has acquired a lot of experience while using different VPNs on his travels. When it comes to doing comprehensive "how to tutorials" or testing some VPN functionalities, he's always the best pick ! He's here to help you solve your VPN-related issues.