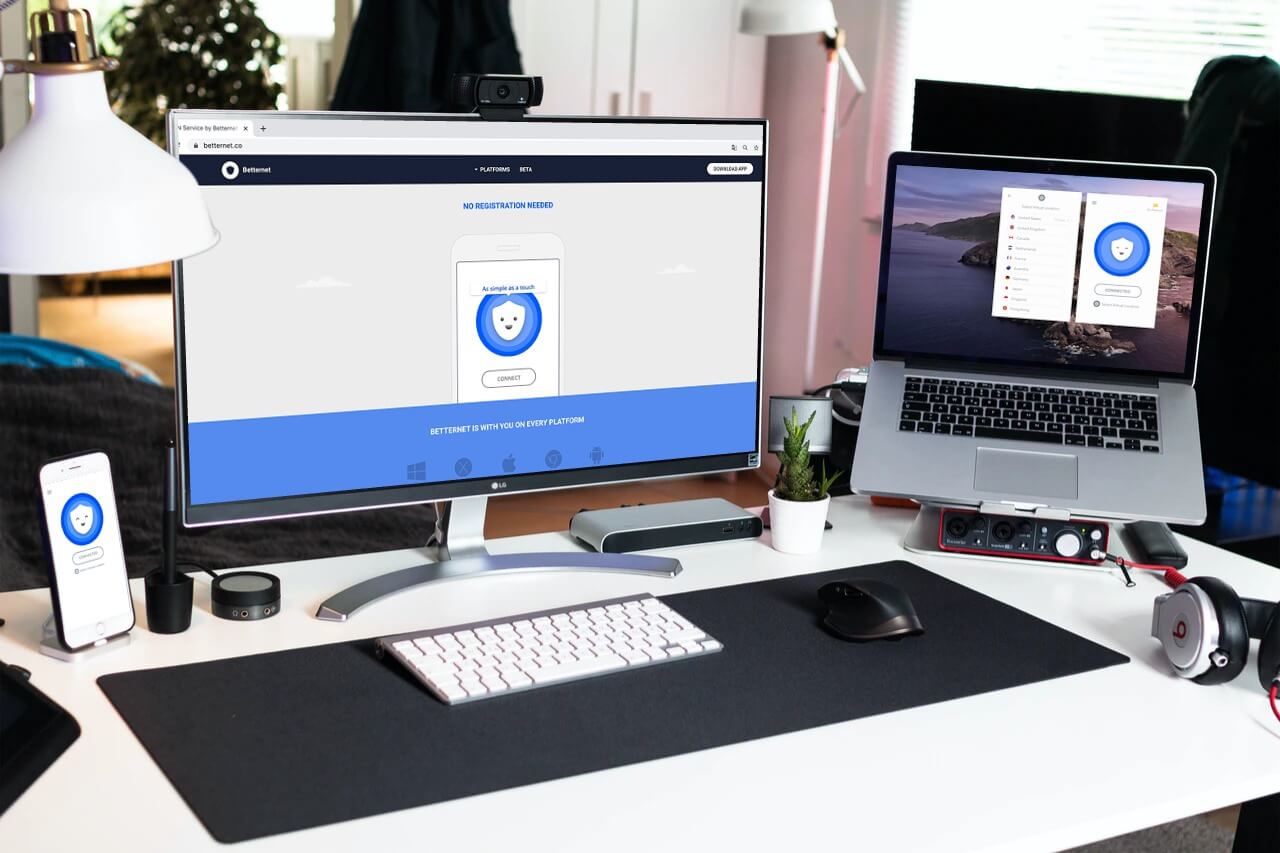 The VPN technology continues to garner attention on a daily basis, thanks to the constant security fears on the internet. Meanwhile, free providers always tend to be the most popular, which is very logical. People are always looking to take the more affordable routes and VPN users are guilty of the same thing. Apparently, that's why we've decided to test and review Betternet, being a popular free service.
To be honest, Betternet is a provider with lots of enormous claims but not much to back the claims up. Even though its low price is likely to pull attention to it, its low server count and average security will always be red flags. Not to mention its low speed and lack of Netflix support.
Although it also comes with some positive aspects, with its strong encryption being probably the biggest of them all.
All in all, we think Betternet is all-bark-and-no-bite. For a company that was created only in 2015, it excessively exaggerated its powers during its initial promotions and ads.
Based on our test and analysis, we can boldly say that most of the claims of this company are bogus.
The purpose of this article is to review Betternet from various aspects, see its pros and cons, test its capabilities, and most importantly, answer the big question – is this a good VPN provider in 2023?
There is only one way to find out – continue reading.
PROS:
Offers a free version
Strong encryption
CONS:
Bad speeds
Poor streaming performance
Canada isn't a good jurisdiction for VPNs
Hugely limited network coverage
Poor client support
Limited platform support
Doesn't have a Kill Switch
Betternet ranks #26 out of 104 VPNs tested. Here are the best alternatives :
---
Is it a paid or a free VPN ?
Betternet is originally a free service. It was just recently it introduced its premium version, which has been met with mixed reactions. As most VPN providers often do, the free version comes with a lot of limitations, apart from supporting ads.
To enjoy the service, you may need to upgrade to the premium version, but it's VERY expensive.
Performance
While the performance of a service is not the only criterion you need to consider for its evaluation, it's always the most decisive one. With that in mind, we've broken down Betternet's performance in this review, using its speed and stability as a basis.
Speed
Most big VPN providers always come with the same claim these days – "the most secure and the fastest VPN." Yet, when we test these services for speed, the results are always disappointing.
According to our test for this Betternet review, the speed tends to drop significantly when connecting to servers that are far from your physical location.
While this is true for the premium version, it's even worse for the heavily-limited free version. Uploading speeds, however, seem to do much better.
That is to say, it is possible for you to actually stream high-definition videos with both the paid and the free version of this service. However, we advise you to keep your hopes down when using the free version.
Without VPN (we were located in London) :

EU Server (France) :


US Server :

Asia Server :


Stability
Stability is always important. Now, stability may mean many different things to different people. To some, it could be referring to the uptime and downtime of the service.
Meanwhile, it could mean the likelihood of the provider being in operation in the foreseeable future to some people.
Regardless of what stability means to you, Betternet is a very stable network in all ramifications. In terms of availability, the network is always available and is rarely down. While downtimes are unavoidable sometimes, they are always for maintenance purposes.
If you are wondering if the company will be in operation in the foreseeable future, then we're positive about their chances. Even though it was just established in 2015, Betternet is a provider that has garnered some reputation for itself in the VPN industry, thanks to its popular free service.
Streaming
Looking for a means to streaming BBC iPlayer from anywhere on the planet? Or perhaps you want to watch videos from Netflix, Amazon Prime Video, or Hulu? We have tried using this service with all the aforementioned platforms, and below are the results.
Netflix
It's not a secret that the US version of Netflix has the largest movie library in the world. However, you can only access the library if you are in the US, and once you're in a different country, you lose access.
That's why most Netflix users are always looking for a VPN to unblock the US version of Netflix. Does Betternet offer any chance of accessing the Netflix US library? Sadly, the answer is no. We failed on each server we connected to during our test.
Therefore, if you're in search of a good VPN for Netflix, we advise you to choose a better alternative like ExpressVPN, NordVPN, or CyberGhost for this service cant unblock and bypass the geo-restriction of Netflix.
BBC iPlayer
Like Netflix, BBC iPlayer is also difficult for a provider to unblock. As at the time of writing this Betternet review, we were unable to get past the geo-blocks of BBC iPlayer and we weren't surprised at all.
All the signs are there that this isn't a top-rated provider and this streaming website is only unblocked by top-tier providers.
Others?
Since Netflix and BBC iPlayer were too strong for the application to unblock, we thought we would have better lucks with less popular streaming sites like Hulu, HBO, Amazon Prime Video, and YouTube.
Well, we got mixed results here, as we were able to unblock HBO. Like Netflix and BBC iPlayer, the other ones also couldn't be unblocked during our review of Betternet.
Security
Let's remember that the main mission of any VPN service is keeping you 100 percent protected on the internet. To see how well this provider is carrying out this job, continue reading this review and test.
Where is it based?
Betternet is a Canada-based provider, and this piece of information is worrying for anyone who knows a thing or two about VPNs. That's because Canada is a key member of the Five Eyes Alliance, and a lot of problematic events regarding privacy and VPNs happened in the country in recent years.
Among the most noteworthy events, Canadian Internet Service Providers can now charge a fee to expose digital pirates. Plus the country is weighing up banning VPN services that infringe on copyright, and an IPTV provider was prosecuted.
Therefore, it is logical to conclude that Canadian Internet Service Providers are working actively on collecting any type of data. Also, we are sure that they are not afraid to analyze your private data.
For Betternet users, however, this means that the provider can freely take various kinds of data and can be pushed easily by the government to hand over your personally identifiable data. That's exactly why Canada is not an ideal location for VPNs.
It's also the reason why top-tier providers are based in 'exotic' countries.
In conclusion, it's important for you to know that AnchorFree owns this provider, along with Hotspot Shield. Meanwhile, Hotspot Shield comes from the US and has been accused of keeping and selling personal data in the past.
Having said that, it's quite hard to imagine this provider being much different.
Log policy
The biggest selling point of the solution is that it does not need you to complete any sign-up process. This means there is no need for you to register any email address or other personal details before you can use it. You simply need to download and start using it.
In the privacy policy of the company, it states that they do not store or log your IP address, or collect any logs about your online activities.
The free service of the company is, however, ad-supported, as we uncovered during our test for this Betternet review. This means you may see additional ads while surfing the internet.
While these are purported to be generic, they may make you feel uneasy about proceedings, especially if you are a privacy-conscious individual.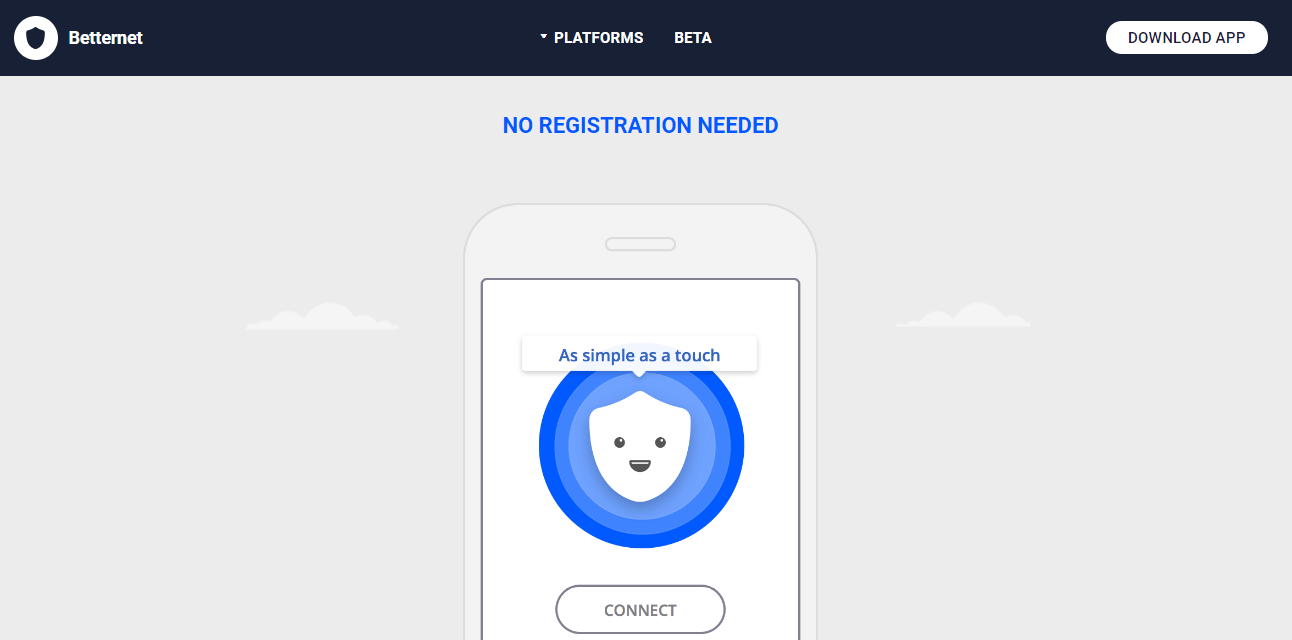 Furthermore, the privacy policy states that: "We and our service providers collect device-specific information, such as the unique mobile ID, hardware model, operating system version, language, and network information," and that is even before you connect to the service.
If privacy means everything to you, you may be feeling a bit unsure about what to do with such mixed messages. Although, theoretically, Betternet should not ever possess sufficient data to hand over in the event of legal action.
Meanwhile, bear in mind that legal action is very possible due to its Canadian location.
Protocols
It is senseless to use any VPN provider that can't protect their users' privacy as privacy is literally what a VPN is all about. But is Betternet good at protecting users' privacy? Well, to some extent.
While most providers adopt OpenVPN and IPSec protocols, we are not sure whether this provider uses them. In fact, we believe that they do not since they utilize their own proprietary protocol – Catapult Hydra.
According to the company, Catapult Hydra guarantees better connection, helps save the traffic sent via the network, and performs considerably better than OpenVPN. We have seen these claims, but we are not sure if we should trust them, especially considering the fact that our test has uncovered some bogus claims they made.
As for encryption, the provider uses the AES protocol, which is the industry standard. However, we are not sure whether they use 256 or 128-bit as they wrote it simply as AES 128/256.
In addition, this provider supports  ChaCha20 Poly1305, which is another excellent security algorithm. Therefore, it would be ideal to conclude in this review that this service is safe to some extent.
Protection against leaks
It doesn't matter if you use the best VPN in the world – a leak can be calamitous. Whether it is a WebRTC or DNS leak, the end result is always the same. Your anonymity and privacy are put at risk and this will be a deal-breaker if you're keen on total privacy.
Your real IP address will leak to your ISP… and the game is over.
Thankfully, this provider provides DNS leak protection along with IPv4 leak protection. For IPv6, we weren't able to verify if this service supports this protocol for now. Plus, there is polarizing information regarding this on the web.
While some people feel it's supported, some feel it's disabled by the servers of this VPN.
Torrenting
We know many people are interested in knowing if the provider supports torrenting or not. That's why we have thoroughly broken it down in this section of the Betternet review and test. Does it support torrenting? Find the answer below.
Is torrenting allowed?
This provider will not hand your details over to anybody making a legal request, something avid torrenters will find helpful. It also doesn't block torrenting or other peer-to-peer sharing. It is, however, quite slow compared to your normal internet connection.
The speed is okay if you just want to occasionally download files with the free version.
However, the speeds will frustrate you if you want to download large amounts of data.  Meanwhile, the fact that this provider doesn't have a Kill Switch may be an issue for torrenters as nobody wants to lose their VPN protection while they are downloading files.
Is there a Kill switch?
A Kill Switch is a feature that you need to always look for when finding the right VPN provider for your needs. In other words, a Kill Switch is a feature that'll protect you in the event that you lose your VPN connection.
When this occurs and you don't have a Kill Switch, your real IP may be exposed to the prying eyes.
A Kill Switch, however, totally kills your internet connection once that happens, in order to stop your private data from leaking. Betternet doesn't have a Kill Switch, unfortunately.
The feature is not available even for their premium users, which is really disappointing. It was a feature we were looking forward to before carrying out this test and review.
Bypassing Censorship
Censorship is a menace that's been facing the internet in recent years. This is why most people that live in regions with high-censorships will stop at nothing in their search for a VPN that helps them get around the blocks.
Does this provider work in high-censorship nations? Continue reading this review to find out.
In censored countries
Unfortunately, we weren't able to get Betternet to bypass the Great Firewall during our test, despite our best efforts. We initially tried using the free version to no success, then we switched to the premium version, which also failed.
We then contacted support, which gave us some tips on how to fix the problems, none of which worked.
However, we must mention that there're still some users who claim that Betternet works for them in China, but they include that it doesn't always work. We will, therefore, not declare that Betternet works in China.
But we will not recommend them either since it doesn't seem to be reliable at the moment. We instead advise you to test it out yourself before making any decision.
Meanwhile, it's also worthwhile to note that this service doesn't work in other high-censorship nations like the UAE, Iraq, Iran, and Saudi Arabia. It just doesn't possess the obfuscation technology required to get past these censorships.
If you're keen on a solution that is working in China and other high-censorship countries, we recommend opting for ExpressVPN.
In restricted networks
If you have worked or studied in a place where the network is restricted, then it's needless to tell you how frustrating it can be. While we know that these restrictions are usually implemented to maximize productivity, either from employees or from students, nobody likes them.
In fact, they go against everything the internet represents – total freedom. If you find yourself in such a situation, you can rest easy because this solution can help you bypass the blocks.
With this VPN, you can easily access your favorite social medial sites while at work or school. Of course, we are certain about this because we tried it out in our test for this Betternet review.
Countries and servers
The number of servers a company offers is important, and that's why you see that top-rated providers offer servers in many countries around the globe. How does Betternet fare in this regard though? We have broken everything down in this part of the review and test.
Countries covered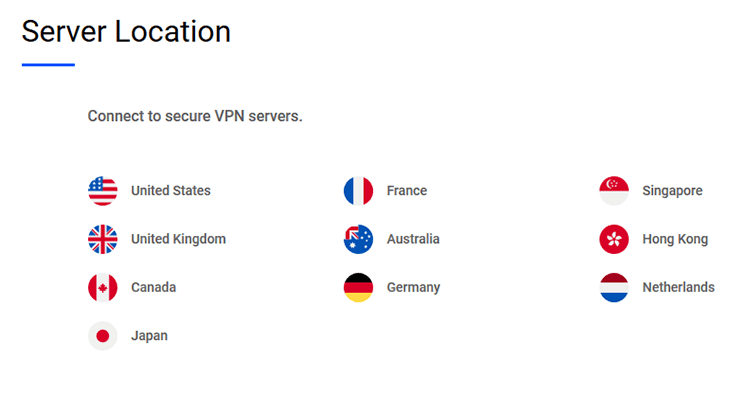 It is next to impossible to find out the exact number of servers that this VPN provides.  Apart from the fact that Betternet has a very limited server network, you also can't choose a server with their freemium version.
The client does the choosing for you and it usually selects the most efficient one that is near your physical location.
Unimpressively, the provider covers just 10 countries around the world, which is considerably lower than what top-tier providers offer. While ExpressVPN covers 94 countries across the world, NordVPN covers more than 60.
With Betternet, you may not find any server to access if you travel to a country other than the United States or the United Kingdom.
As we already mentioned in this Betternet review, servers are located in just ten countries across the world. From the server in the United States, you can select from 7 different city-level servers.
It should be mentioned that while it's easy to confirm the locations of Betternet's servers, confirming the specific number of servers they offer is a lot more difficult.
As you scour the web for answers, you will find the number of servers operated by the provider to be as few as 50. Their website isn't helpful, either, providing very minimal information.
It doesn't tell a lot when it comes to specific info about its servers.
Servers
This provider is so limited in terms of servers that you probably knew the answer before you even got to this section. The truth is that they don't even have that many servers not to talk of optimizing some for specific activities.
That's why you see that the service performs poorly when it comes to important activities like streaming and torrenting, as we've shown earlier in this review and test.
Also, it can't work in high-censorship countries like China and the UAE, which may be in part down to the lack of specialized servers. This provider is disappointing in many aspects, but it even managed to disappoint us more when we got to this part during our test.
Compatible devices and simultaneous connections
Does it even make sense to go ahead to pay for a service that you haven't initially tested to see if it works with your device? We don't think so. To help prevent you from landing yourself in such a situation, we have included all the devices that are compatible with Betternet in this section.
What device can I use with Betternet?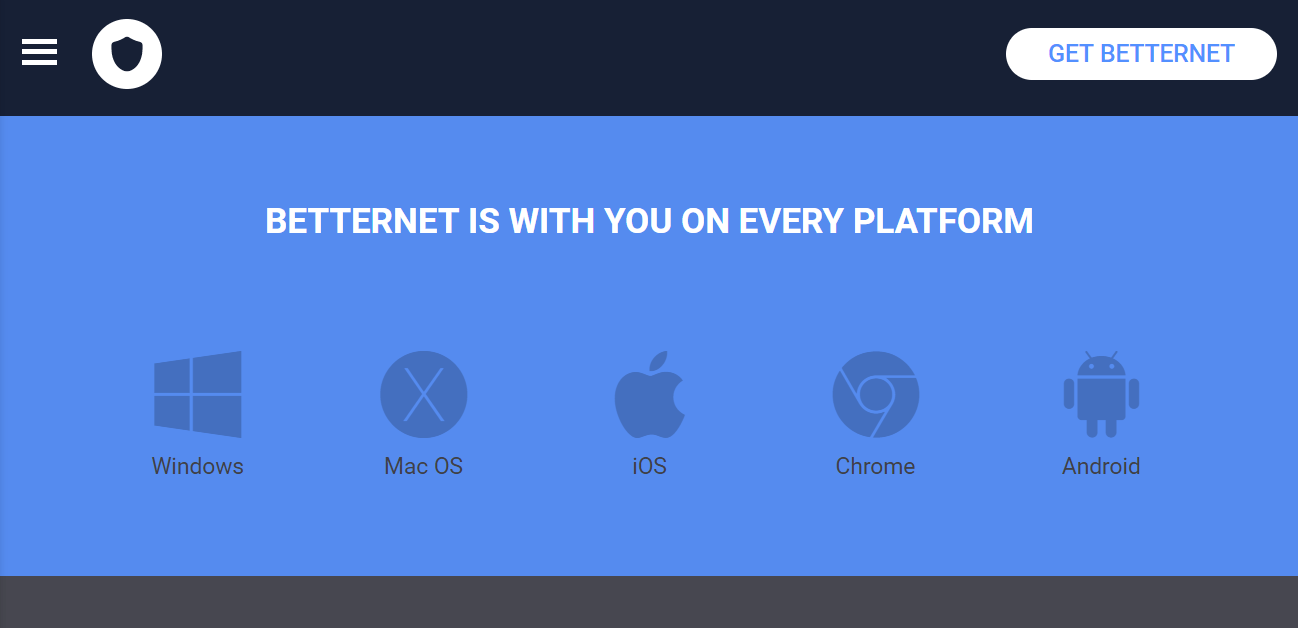 When it comes to desktop platforms, this provider provides a native app for macOS and Windows, even though they offer none for Linux. On mobile platforms, the company provides native clients for iOS and Android, which was actually nothing surprising.
Finally, they have an extension for Chrome as well, but you can also use the extension on  Chromebooks.
Sadly, you can't use the VPN on media streaming platforms, routers, or any other devices. This is a huge downside as it forces you to install and run the client on all of your devices.
This can be very stressful and at the same time annoying, especially since most providers out there usually offer router support at least. You may need to review your options if you must use your VPN on your router.
How many simultaneous connections?
In terms of the number of simultaneous connections, the provider impresses. They offer 6 simultaneous connections per account, which is one more than the industry standard, which is 5.
This means that you can easily protect all your devices at the same time without worrying about exhausting the slots.
In fact, you can also invite a few of your friends or family members to also protect their devices with your account. However, the 6 simultaneous connections are only for the premium version. For the free version, you can connect only 5 devices at a time.
This allowed us to test this service on different devices at the same time while writing this Betternet review.
Client support
The first thing that some people notice about a company is the level of support they offer. While some people may think otherwise, client support is a very important part of any organization that wants to remain in business.
In that case, we have dedicated this part of the review to Bettternet's client support.
How to contact it?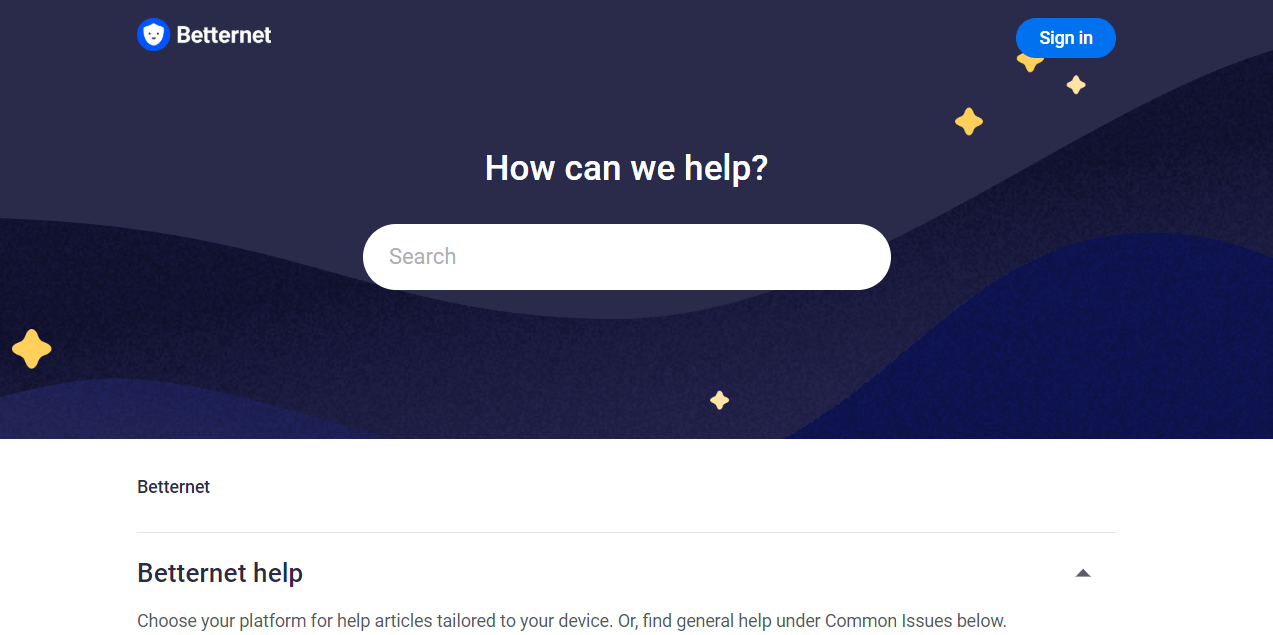 The two ways to contact the support team of Betternet is to either send an email to them or chat with them via a live chat option. You may, however, need to wait for up to 72 hours to get a response, with paid subscribers enjoying the highest priority.
The live chat option is way better, but it's only available to paid subscribers, and that could be a huge deal-breaker for some people.
The live chat option is the most convenient way of contacting any company nowadays. And the fact that you can't use it unless you're a premium user may not be encouraging.  We used it during our test and review of Betternet though, but that's only because we bought a premium plan.
Is it good?
The client support is anything but good. Apart from not allowing free users to use the live chat option, the email ticketing option is not efficient.
Responses can take up to 72 hours, which is a sign of a company that doesn't care much about its customers. Besides, the live chat was also less than impressive, as the agent that responded during our test reeked of incompetence.
FAQ/tutorials
In case you can't wait for up to 72 hours, you can consult the help center to try to resolve your issue by yourself. While the provider offers a searchable help center, there are no troubleshooting or installation guides there.
The site does offer a simple FAQ section though, and that should guide you through the most common inquiries and difficulties. It's worth noting that found this section useful during our test and review.
Value for money
People are just not looking for good VPNs nowadays- they want ones that will give them a lot of value for what they are paying. In that case, we have detailed everything about the pricing of this provider in this segment of the review.
Price comparison

No matter how keenly you search, you will never find anything about the pricing of Betternet on their website. For some reason, this provider seems to be promoting its free package rather than prioritizing its premium plans. Speaking of premium plans below is the pricing structure.
1 Month – $15.22
12 Months – $112 ($9.36 per month)
Despite being so mediocre, and even below that, Betternet is insultingly expensive. We aren't SJW or any of that bullshit, but this provider insulted us. For example, the monthly plan costs $15.22 when converted from Euros.
Hey, even ExpressVPN, the best option out there, costs $12.95 in a monthly plan. And if we take a look at the annual plan, it's $9.36 a month, which is just ludicrous. DO NOT buy a premium Betternet plan.
Do we need to repeat it? DO NOT DO IT!
Means of payment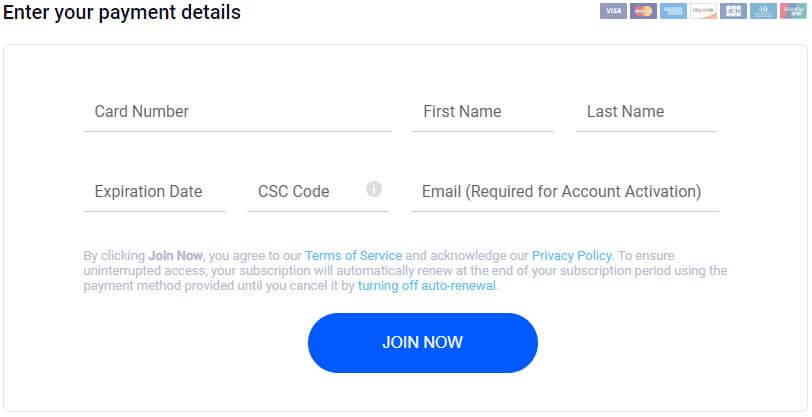 The only option you have is paying via either a debit card or credit card. This means options like PayPal, Bitcoin, or even cash are unavailable. Instead of via their website, they process all payments through the Betternet application itself.
We had to pay using our credit card for this test and review and you can't imagine how distrustful we were.
We don't see a reason why a VPN provider won't offer cryptocurrency payments, especially in the digital age of today. Besides, cryptocurrency payment methods can even deliver massive returns as values often fluctuate.
Not to mention how much more security paying through Bitcoins offers users instead of divulging their debit or credit card details.
Money-back guarantee
If you would like to test the Premium version of Betternet with more servers and without the stupid ads, you can still do it without investing at all. This provider offers a 7-day free trial, even though we'd like to give you some warnings about it.
There have been many reports from customers about not being able to opt-out in time. Thus, they got charged automatically for the first month. There is also a 30-day money-back guarantee, but again, we must tell you to be careful in the event that you want a full refund.
The truth is that we have never seen a more ridiculous money-back guarantee than the one this company provides. The catch is that it comes with a 50 MB bandwidth limit, which once passed, will void your money-back guarantee.
Simply put, if you exceed the 50 MB bandwidth limit for uploading or downloading, you will not get your money back. And how hard is it to exceed this limit? Well, you can just fart while online and there goes your 50 MB – poof!
Final Thoughts
To be honest, we found it very hard to find anything that Betternet is good for. From its location to its network coverage, to its client support, everything points to one thing – it is a provider with nothing much going on for it.
Of course, it will work if you're only looking for something to gain access to geo-restricted websites, but can't do much more than that.
It's no surprise that it didn't make our ranking for the best VPNs out there. With everything we saw during this test and review for Betternet, we are not sure it will ever be good enough to grace such lists even in the future.
Choose the number one VPN provider - ExpressVPN >
Betternet Review and Test
Whether you choose the free or paid Betternet offer, you will inevitably be disappointed. The service is not at all up to the task. That's why we recommend you to evaluate other possibilities
Add your review
|
Read reviews and comments

Michael is a talented writer who has dedicated a lot of time into making sure that everyone around the world can use the internet securely. Being an avid traveler, he has acquired a lot of experience while using different VPNs on his travels. When it comes to doing comprehensive "how to tutorials" or testing some VPN functionalities, he's always the best pick ! He's here to help you solve your VPN-related issues.