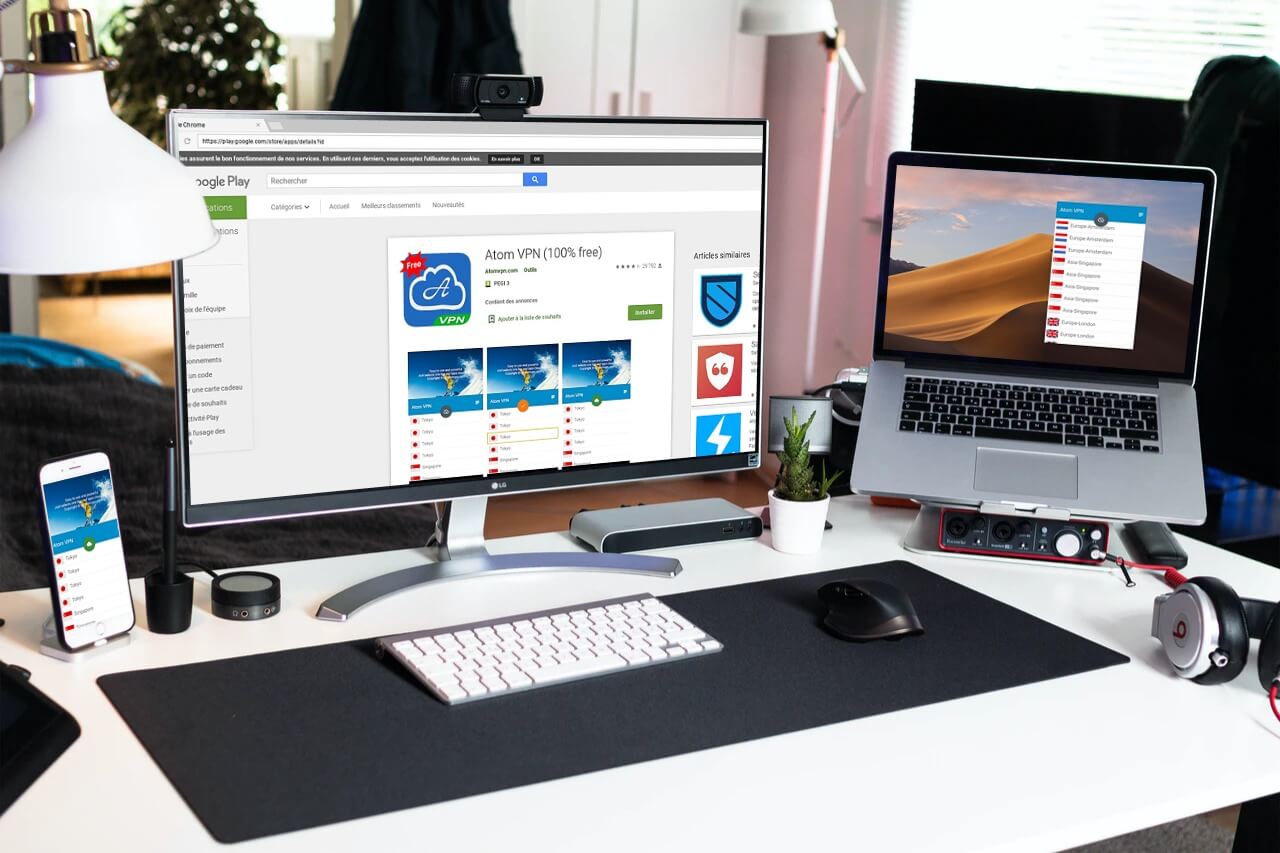 Looking at the VPN market, many providers seemingly offer their services free of charge. However, in most cases, there is either a hidden fee or the service is nowhere as good as it should be. The latter is the case with Atom VPN. A few years ago, it was widely popular because it was available for free on the Play Store. Plus, it was also only 5 MB in size. Today, however, most people have stopped using it. Frankly, this didn't come as a surprise to us, given the fact that during our review and test, Atom VPN didn't offer anything innovative, to begin with.
The motive behind this review is to analyze what's left and help you figure out if there is a point in even downloading this app. It is still available on Google Play and Aptoide.
We will go through a number of sections discussing the reliability, speed, server locations, customer service, and overall interface to see if it can match what NordVPN, CyberGhost, and ExpressVPN offer. So, what are you waiting for? Let's get right to it!
STRENGTHS:
Unlimited traffic
SOCKS5, IKEv2 protocols
Protection for up to 3 devices
WEAKNESSES:
Slow and unreliable app
Bad servers
Old layout
One-page website
Poor customer service
Doesn't work with streaming platforms (Netflix and more)
---
Atom VPN ranks #78 out of 104 VPNs tested. Here are the best alternatives :
Is it a free or a paid VPN?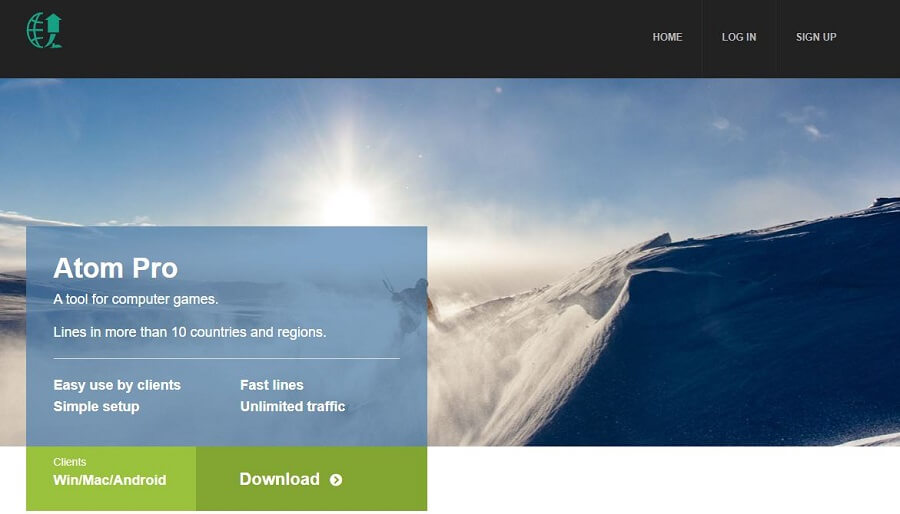 The main reason why Atom VPN became popular in the first place is that it allowed free unlimited data.
The only thing it required was that you download the app and comply with the occasional ads. This seemed like a good option for all the Android users that were on a tight budget but wanted a reliable provider. Sadly, very soon things started to change.
Today, the app only allows access to one London server if you are a free member. A couple of years ago, Tokyo, Singapore, and a few other locations were available, as well. Looking at their simple website, we couldn't find out a lot.
To get the full package and best server speeds, you need to subscribe and pay a couple of dollars each month, which is not a good way to start this Atom VPN review.
In fact, it is ridiculous considering that, for the same price, you can be using CyberGhost. This VPN has a 10 times better interface and over 7,000 servers in more than 90 countries.
Performance
Subscribing to a reliable provider may help you bypass geo-restrictions as well as hide your browsing activity and connection logs. This is essential for great performance.
Talking about what determines good performance, we see speed and stability as the two factors that play the most important roles.
Speed
If you were expecting to stream or download in HD with this provider, you can forget about it.
Someone would probably defend it by saying that the service is free. The issue we have is that, even once you subscribe, the speed of the servers doesn't seem to improve. Thus, you can be looking at a decrease of anywhere from 75-85% of your regular internet speed.
Of course, this depends on the location that you are connecting from.
We have to admit that the best performance was with the London server, with a download speed of 25 Mbps. And for the upload, we only managed to get 10 Mbps… which is far from good.
Similarly to StrongVPN, the Tokyo and Singapore servers from Atom VPN performed with huge pings. Reaching 300 ms was a good enough reason that we go ahead and close the app. This app and service are incredibly slow in general.
Meanwhile, providers such as ExpressVPN offer speeds that will allow you to do whatever you want (streaming, P2P, and more).
Without VPN (we were located in London) :

London Server :


Tokyo Server :

Singapore Server :


Stability
We can't really say much about this aspect. Atom VPN features just five servers as we saw during our review, out of which only one works in the free package.
While the London server has good uptime, those in Singapore and Tokyo are known to kick out users every now and then. Thus, for downloading or torrenting, it certainly is not the most reliable option.
Streaming
Many people decide to subscribe to premium VPN packages so they can stream Netflix, Hulu, and other services in HD. Can it be done with Atom VPN?
Netflix
The answer is no. This doesn't come as a surprise, considering that Netflix is quite tricky to pass through.
On the other hand, providers like ExpressVPN and CyberGhost do a great job of breaking in. They allow you to stream any content with no restrictions.
Other streaming services
While Netflix is unavailable if you decide to use Atom VPN, you might have a better chance with Amazon Prime and Hulu. Still, don't expect to efficiently stream it in HD because the servers are not as reliable or fast as they should be.
Instead, if you want to stream Netflix, Hulu, Amazon Prime, or any other service, we highly recommend the safe and fast servers offered by ExpressVPN.
Security

Overall, security plays a huge role in determining whether one provider is worth your money or not. There are a couple of things to consider when discussing security, and we'll do so in just a second.
Where is it based?
While doing our review and test of the provider, we saw that there is not a lot of info about who owns Atom VPN. Except that it was developed by Jiacen Zhang. We know the provider is situated in Colorado, USA… but that's about it.
What this means is that the company potentially adheres to the "Five Eyes" alliance. The fact that the privacy statement is not transparent might not matter to some, but for an average Android user, it certainly will.
If you are not sure, check this article to see if VPNs are legal or not.
Log policy
This is where things get quite messy – the provider didn't issue any statement on the logging policy. The only thing that you can find on their one-page presentation is that they comply with all internet regulations.
That doesn't sound very trustworthy.
While the app doesn't ask you for anything other than access to your network, we still can't prove whether they store your browsing history, connection logs, etc. Thus, if you are all about privacy and anonymous activity, staying away from Atom VPN seems like the best choice.
ALWAYS favor providers with clear privacy policies that do not keep logs!
Protocols
Unlike X-VPN, this provider at least made enough effort to state what protocol they are using. They use the SOCKS5 as a base accompanied by 256-bit AES encryption that should contribute to some browsing security.
Leak protection
It is there to prevent data from leaking in case the server crashes. From what we know from our review of Atom VPN, it doesn't come with DNS leak protection and thus doesn't have the necessary protection.
On the other hand, it is compatible with Tor, if you are looking to improve your browsing security.
Torrenting
Much like with a lot of other relevant info, Atom VPN didn't make a clear statement on whether torrenting is possible or not. Still, although they don't feature DNS leak protection, you can probably have an okay experience torrenting certain movies or games.
Don't expect it to be extremely fast, though.
On the other hand, using a VPN for gaming will significantly improve your experience. This is true, and especially with League of Legends or CSGO. But it is not something Atom VPN can do due to its extremely slow speeds.
Bypassing Censorship
We already mentioned in this review that Atom VPN doesn't work much better than an average proxy server. It certainly can unblock some geo-restricted content using one of its undisclosed number of IP locations, but getting through China seems like an impossible task.
This doesn't come as a surprise, though.
Still, top providers, such as ExpressVPN and CyberGhost, do a superb job in terms of accessing censored and banned sites, even if you are located in China.
Countries and Servers
If you are looking for a transparent and global provider, then Atom VPN is certainly not for you. Why do we say this? Well, first and foremost, their single-page presentation doesn't state what the total number of Geo IP locations is.
Based on feedback from users, it is an estimated number somewhere around 5.
From what we know looking at the premium package, you are getting an option to connect from the server in London, Tokyo, Singapore, and the USA. From the testing, we found the best performance from the UK server.
Considering that you would be paying a price of $3+ a month, and getting just a few unreliable locations to connect to, it is not worth it.
Keep in mind that, for the same price, you can be subscribing to CyberGhost or NordVPN, both of which offer more than 5,000 different servers.
Compatible Devices and Connections
Another important aspect to consider in this Atom VPN review is how this provider does in terms of being compatible with different devices and systems.
The biggest plus for this provider is the fact that they offer service compatible with Tor. It also contributes to the privacy policy that would otherwise be quite messy. Is this enough to justify the price?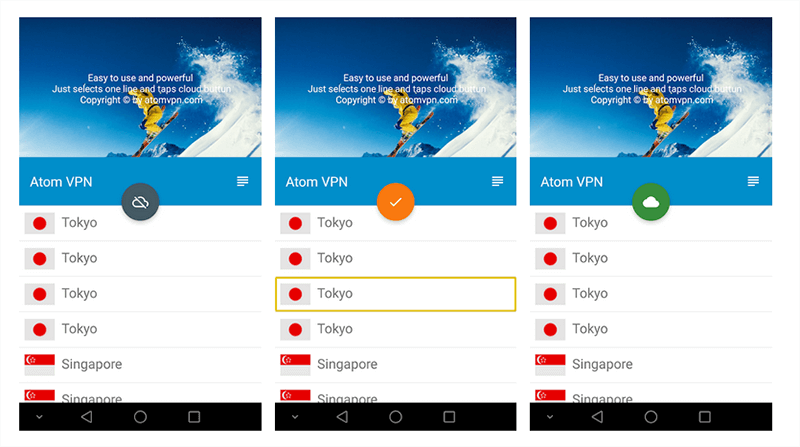 Devices supported
We have to say that, while Atom VPN may be good for some users, it was not good enough for us. This is because the only operating systems that it can run on are Android, Windows, and Mac.
What this means is that iOS users have to look elsewhere. This is a HUGE minus given that in the UK, people use more iPhones than Android devices. Again, it's an example, but iOS is widely popular around the world, and not having a VPN app for it is quite stupid.
Simultaneous connections
The fact that it doesn't support anything but the Android operating system is not something to be proud of. However, it does well in terms of simultaneous connections. From what their premium package description says, you can have 3 different phones connected and protected at the same time.
Still, keep in mind that the servers and the apps slow down as you connect each, so the performance might not be as good as you would hope.
Support
For our Atom VPN review, we wanted to know if the customer support was up to scratch. Sadly, when compared to ExpressVPN, we haven't got anything good to report.
One of the main issues that we have with this VPN provider is the fact that it doesn't offer reliable customer service. The interface is pretty outdated, and there is no info on how to smoothly run this service.
A live chat would be a must. In fact, there is not even a "Help" section offered on their website.
The only thing that you can use for any form of support is the email address, for which no one is sure if they will get a response and how long will it take for feedback. In our case, after 7 days, we are still waiting for answers to our questions…
As for the refund policy, you have a 3-day window to send them an email message with a valid reason for requesting a full reimbursement.
Value for Money
Considering all of the aforementioned info, determining if this provider is worth the price or not is quite easy.
Price comparison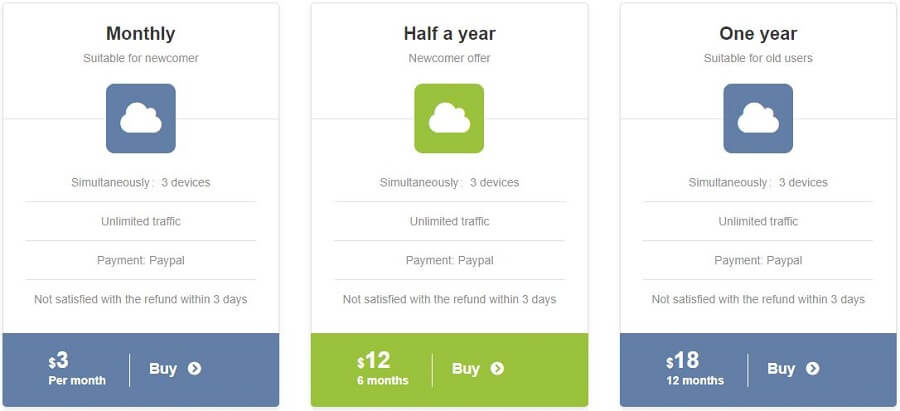 The first aspect to analyze for this part of our Atom VPN review is the price that this service stands at. The free package features nothing but connecting to the London server with just a single device at a time.
They also offer a premium package. We already listed the features that you get if you pay for the service. We are confident that it is not worth it.
The thing is that, for the $3 per month, you can get a CyberGhost or NordVPN plan (especially if you subscribe using the holiday discounts).
Payment types
Two payment types are compatible with Atom VPN – PayPal and credit card. What this means is that you can't use Bitcoin and thus stay completely anonymous.
Money-back guarantee
As for the refund policy, you only have a 3-day window, during which you need to submit an email request and wait for the support response. This is not as reliable or friendly as the customer support that ExpressVPN offers, which is a 30-day money-back guarantee and they don't ask for a valid cancellation reason.
Extras
Considering that their one-page presentation is lacking in providing a lot of important info, we couldn't find any extras to talk about.
It shows how much this provider and its service are not worth AT ALL.

Final Thoughts
After reading our review for Atom VPN, it is safe to say that, if you want to try out a VPN without paying a dime, you shouldn't opt for this service. We would much rather recommend ExpressVPN which does much better in every given aspect, including the number of servers, speed, and overall reliability!
With it, you're sure you will not get disappointed… unlike Atom VPN.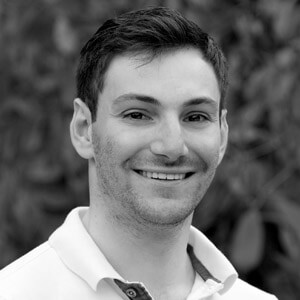 Flo is the founder of the-bestvpn.com. Really concerned about security on internet, he decided to create this website in order to help everyone find the best VPN. He's got a Business School background and now is 100% dedicated to keeping his website alive.