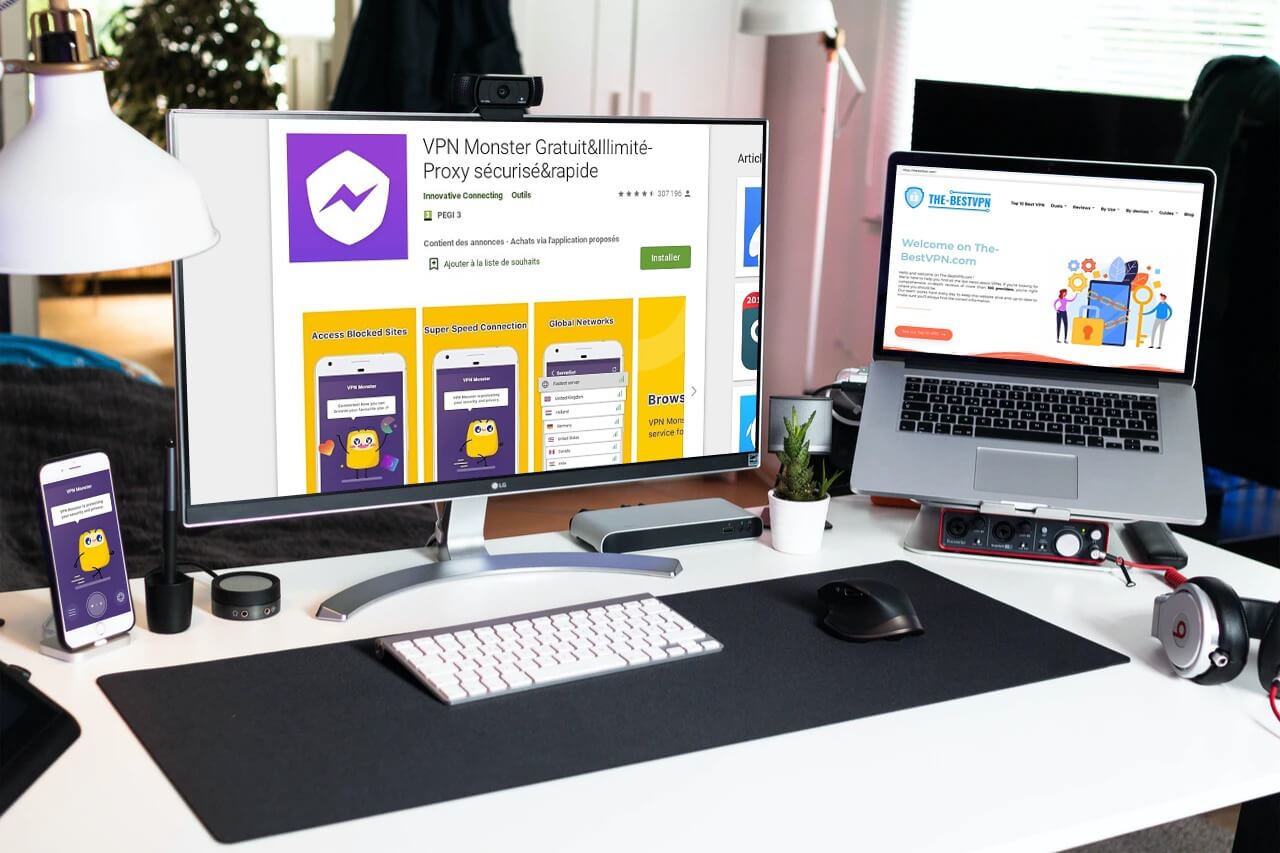 There are a lot of advantages to using a VPN. Apart from the fact that your browsing data will not be revealed to third parties, you will also be able to access censored content. This is, of course, if the provider that you have subscribed to can achieve this. Considering the fact that there are hundreds of different VPNs on the market, it may be difficult to choose a worthy provider. Our search for affordable and easy-to-use VPNs is a never-ending one. With our review for VPN Monster, we will be discussing whether this service is safe and secure.
The parent company for this product is Connecting Pte. Limited. It is situated in Singapore, which is something we will be discussing down below. As one of the 10 mobile security services that they offer, we were interested to find out whether this VPN allows anonymous browsing or not.
Additionally, we were quite eager to get informed on what additional features VPN Monster offers. Thus, if you were interested in subscribing to their service but you are not sure whether it is worth it, read this article and find out!
WEAKNESSES:
Slow speeds
Singapore jurisdiction
Unreliable customer support
Blocked Netflix
Blocked torrenting
Expensive
Lacking a kill-switch
---
VPN Monster ranks #93 out of 104 VPNs tested. Here are the best alternatives :
Is It a Paid or Free VPN?
We always do our best to cover a virtual private network by reviewing an array of different elements. The first one that we focus on is whether there is a free trial or not. Allowing the user to test the features without having to pay anything is quite cool.
Fortunately, VPN Monster includes this, as you have a 7-day window to figure out whether the offered service is going to cover your needs or not. After this period of time has passed, the paid subscription will be activated. This is something we will discuss below, as well.
As for the free package, you are getting a couple of server locations, as well as unlimited data transfer. This can be used for watching content and browsing.
For VPNs that truly are free, we would suggest TunnelBear and Windscribe as two optimal options.
Performance
We always emphasize the importance of server coverage, as well as speed and performance, when it comes to the value of a certain VPN. For this VPN Monster review, we invested extra time in testing the proclaimed global server park and comparing the speed results.
One of the best examples when it comes to reliable and fast performance is ExpressVPN. Is this Singapore-based provider able to stand up to it? Let's take a look.
Speed
No one would like to pay a hefty subscription fee just to find out that they can't stream HD or play online games. We don't think it is necessary to explain why VPNs degrade the initial internet connection. Still, there are cases when this is acceptable.
Unfortunately, we didn't find that VPN Monster was able to provide us with very good results.
We started with an initial benchmark of 235 Mbps download and 211 Mbps upload.
The first server that we tested was in the UK, for which we had high hopes, considering the fact that our primary location is set here. We were quite surprised to find that the speed decreased by 50% for both download and upload.
At least the ping was set at a fair 58 ms, though. However, the proximity of location didn't help us get reliable performance.
Considering this, we didn't have high hopes for other EU servers, as well as the one set in the US. We experienced a dramatic ping spike once connected to the East Coast server in New York.
It was set at 180 ms, while our download speed went down to 20 Mbps.
Additionally, the upload speed was decreased by 80% from the benchmark. This led us to the conclusion that, if you were hoping to get a reliable VPN service, VPN Monster is not the way to go.
This was confirmed once we logged on to their base server in Singapore and found the connection to be unusable.
Without VPN (we were located in London) :

EU Server :


US Server :

Asia Server :

Subscribing to ExpressVPN and CyberGhost will clear you of all this trouble.
Stability
You can already guess that we were not satisfied with the overall connectivity that this provider offers. The fact that there were serious connection issues with the US and Asian locations doesn't help us put trust in this VPN.
Additionally, while the speeds were not that disappointing when it comes to EU servers, we still couldn't torrent or stream HD.
Thus, it is safe to say that VPN Monster fails the test when it comes to reliable overall performance.
Streaming
Considering the results above, it would be wrong to hope that this provider can unblock streaming services without any issues. In fact, we entered the test sessions with zero expectations. Unfortunately, we were proven right.
Netflix
To be honest, nobody expects flawless streaming ability out of a mid-range VPN. Still, you would want to hope for something more than no success whatsoever.
We tried to unblock Netflix's catalogs in Europe and the US. Did we have any luck? Not really.
The first server that we tested was the French one, and we hoped to get at least partial success. Once we entered the website and clicked on a TV show, we got nothing but a "streaming error".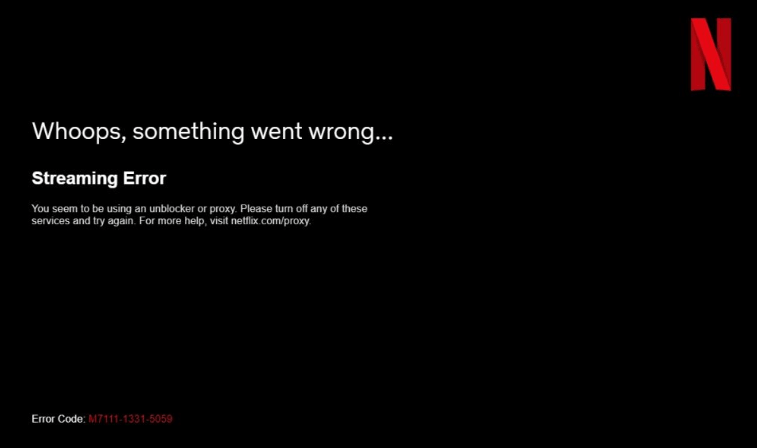 The same happened with the server set in the UK. On the other hand, considering the speed and stability results above, we knew that US servers were going to have problems.
Thus, it is safe to say that VPN Monster is incapable of unblocking Netflix.
For this purpose, we would suggest NordVPN, which is considered one of the most efficient providers when it comes to streaming HD.
Other streaming services
While we were quite disappointed with its ability to stream Netflix, we wanted to test other platforms, as well. We were hoping to find a strong point for this service.
Unfortunately, Amazon Prime and Hulu couldn't run using this VPN. If nothing else, we at least managed to stream BBC iPlayer using their UK server.
Still, the connection was quite unreliable, and this made it impossible to watch our favorite show in HD.
Security
Out of all the important aspects of a VPN, we would say that ensuring anonymous, secure browsing is the most essential one. To determine that, we went through a couple of elements that make for a good security policy.
Where is it based?
We have mentioned above that this provider is owned by Connecting Pte. Limited. It was created by Autumn Breeze 2018, which is a part of that parent company. Both are situated in Singapore.
For an average user, this would sound good, considering it is not any of the leading countries, such as the UK and the US. Unfortunately, Singapore still adheres to the regulations of the 5/9/14 Eyes alliance.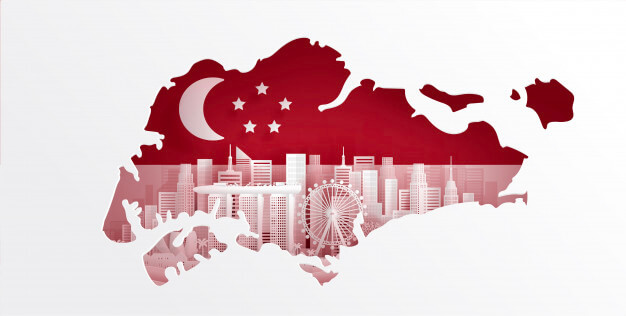 This certainly is not good if you were hoping to stay protected with no one having access to your browsing data and private info.
The agreement between the allied countries is that, if needed, the VPN provider will hand over any info that they have.
Log policy
Not surprisingly, VPN Monster is not able to stand up to the industry standards and ensure a strict no-log policy. However, they keep just the bare minimum of information.
This includes details of transferred data, usage statistics, crash reports, speed test data, and diagnostic information. This shouldn't really endanger your privacy.
On the other hand, the lack of proper tunneling protocols and encryption doesn't strengthen this VPN.
Protocols
The main issue that we have with VPN Monster is that it doesn't inform its users of what encryption is included. This means that it is probably not 256-bit AES, but rather 4096-RSA, which is considered to be lacking serious protection features.
As for protocols, it is highlighted by OpenVPN, which is the leading instrument for allowing reliable connection to alternative IP addresses.
Leak protection
We are not off to a good start with the fact that a built-in kill switch is not present with this VPN. Still, after performing a couple of tests, we found that the risk of WebRTC and DNS leaks is almost non-existent.
This is a good thing, considering that the aforementioned encryption is certainly not optimal.
Torrenting
Whether VPN Monster is reliable for torrenting depends on a couple of factors. Yes, leak protection is fine, but it still lacks a kill switch.
Additionally, the Singaporean jurisdiction is not ideal if you want to use a VPN for P2P transfers.
This is why we recommend CyberGhost as a great alternative for this purpose. Offering fast and secure servers, the risk of your location being revealed while torrenting is close to zero.
Bypass Censorship
Some people in India use a VPN to access porn sites. You will certainly be able to do this with VPN Monster.
Additionally, there is a myriad of legal gambling sites and other entertainment content that can be unlocked using this service.
On the other hand, you shouldn't hope that it will work in China.
Firstly, most VPNs there are blocked. Plus, VPN Monster doesn't feature a Hong Kong server to begin with.
Countries and Servers
One of the biggest problems with this VPN is that the server park is incredibly limited. With the premium plan, you are getting just 26 locations in 11 different countries.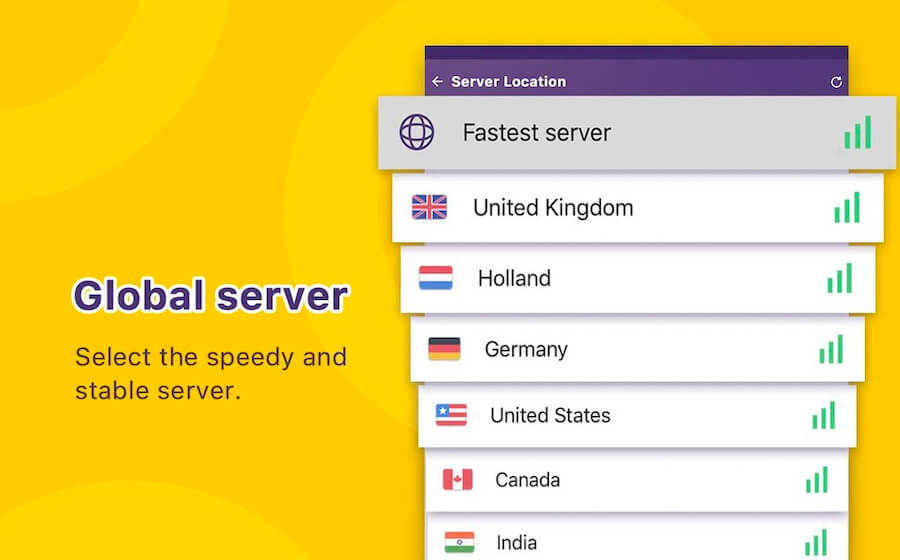 This number is even lower when talking about the free trial, which includes 7 locations. Compared to CyberGhost and NordVPN, VPN Monster can't be considered a global provider.
Devices and Connections
Another disadvantage of subscribing to this provider is that the overall compatibility is quite disappointing.
Supported devices

Apart from the fact that there is an Android app available on Google Play Store, VPN Monster doesn't offer any other clients.
Thus, if you are an iOS, macOS, Windows, or Linux user, you will need to search elsewhere.
Simultaneous connections
Additionally, the number of devices that can be connected at the same time is limited to one.
Customer Service
As you would expect, this provider is not highlighted by efficient live chat support. On the other hand, they do allow two other options. You can either contact them via social networks or send them an email inquiry.
We have tried out both and find the latter to be less efficient. It took them a couple of business days to give us an answer.
On the other hand, their social media page is quite responsive, but the answers aren't always on the most professional level.
Value for the Money
Apart from the 7-day trial that is free of charge, there is also a paid subscription that features more servers and better streaming ability.
Price comparison
Frankly, there is not much to compare when it comes to different subscription options. Autumn Breeze 2018 offers a single monthly plan that is set at $11.99.
To be honest, this is quite pricey, considering what you are getting. On top of that, VPN Monster doesn't update its pricing often, meaning that its premium plan isn't the most popular.
We suggest you check out some of the more affordable providers, such as IPVanish and CyberGhost, to get reliable service without breaking your bank.
Payment types
Unfortunately, you can't use Bitcoin or any other cryptocurrency for paying the subscription fee.
What VPN Monster does allow are major credit and debit cards, as well as PayPal.
Money-back guarantee
Last but not least, it is important to note that there is a 7-day refund window in case you are not satisfied with the provided service.
Final Thoughts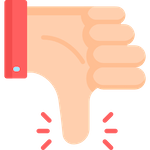 In our opinion, VPN Monster deserves to be ranked #93 out of 104. Using a VPN or TOR is a good way to be anonymous online, but this provider doesn't ensure that.
Apart from a sketchy security policy, it also offers a limited and unreliable server park.
This is all to say that you are better off subscribing to names such as ExpressVPN or NordVPN to enjoy worry-free browsing sessions.
So in the end, our final verdict is that this virtual private network is pretty far down on our list and we would not recommend it to any user.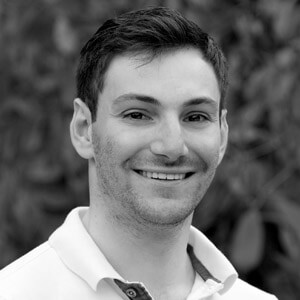 Flo is the founder of the-bestvpn.com. Really concerned about security on internet, he decided to create this website in order to help everyone find the best VPN. He's got a Business School background and now is 100% dedicated to keeping his website alive.