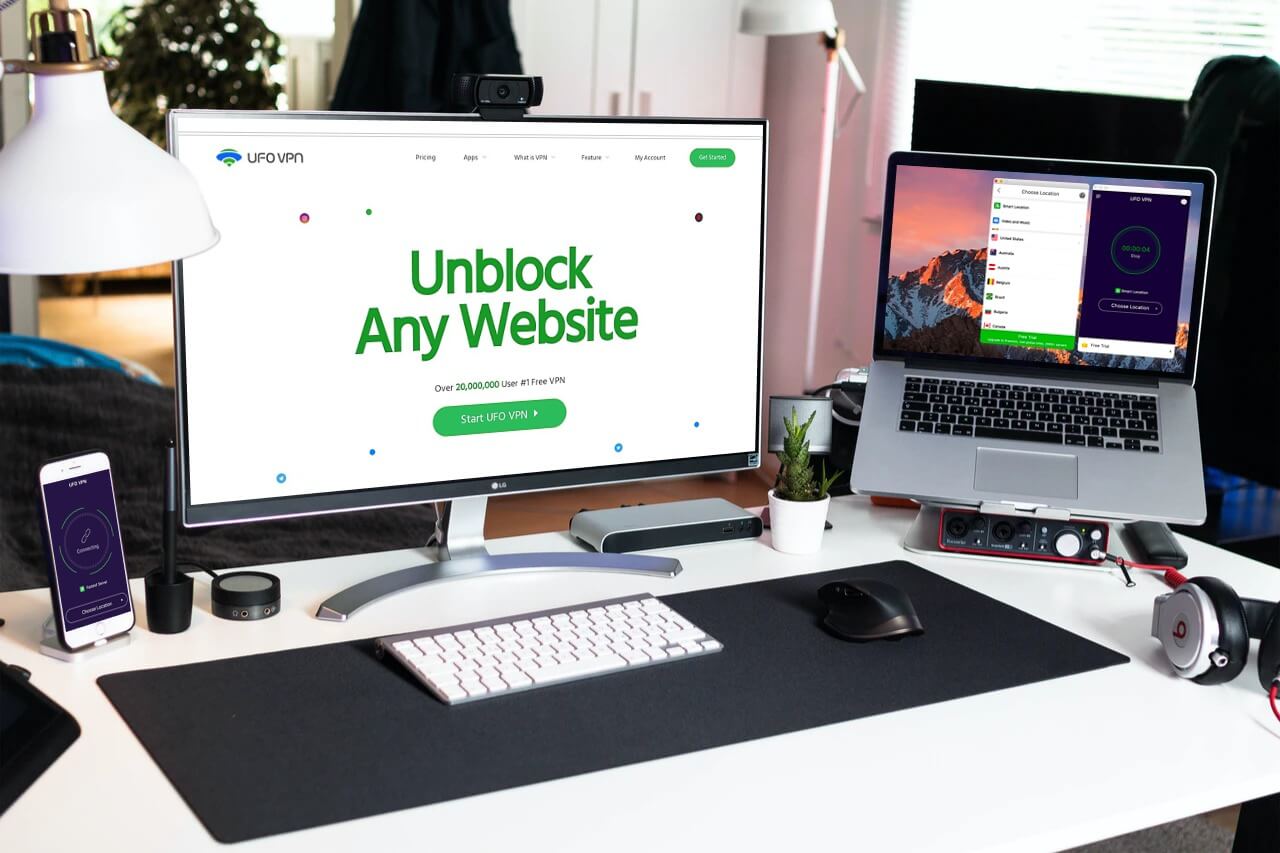 Each year, there are a number of new VPNs that claim to offer reliable performance and robust security features. The team at the-bestvpn.com has now tested more than 100 VPN providers. We can say with confidence that just under 10 were able to live up to the expectations. Believe it or not, many providers that have been on the market for over a decade weren't able to ensure anonymous and reliable service. That is why, in this article, we will be reviewing one of the newcomers – UFO VPN.
At first glance, it seems to be a great provider that can perform well when it comes to offering alternative IP addresses. Still, this VPN is not as simple as it might look, considering the fact that there are three different plans, one of which is completely free.
In order to determine whether UFO VPN is worth your time, we subscribed and tested the features of the basic, advanced, and premium plans. Read our review for UFO VPN and find out whether you should give it a go!
STRENGTHS:
Great usability
Good speeds
WEAKNESSES:
Pricey subscription plans
Unreliable customer support
Limited torrenting
Blocked Netflix
No kill-switch
Sketchy log policy
---
UFO VPN ranks #94 out of 104 VPNs tested. Here are the best alternatives :
Is It a Paid or Free VPN?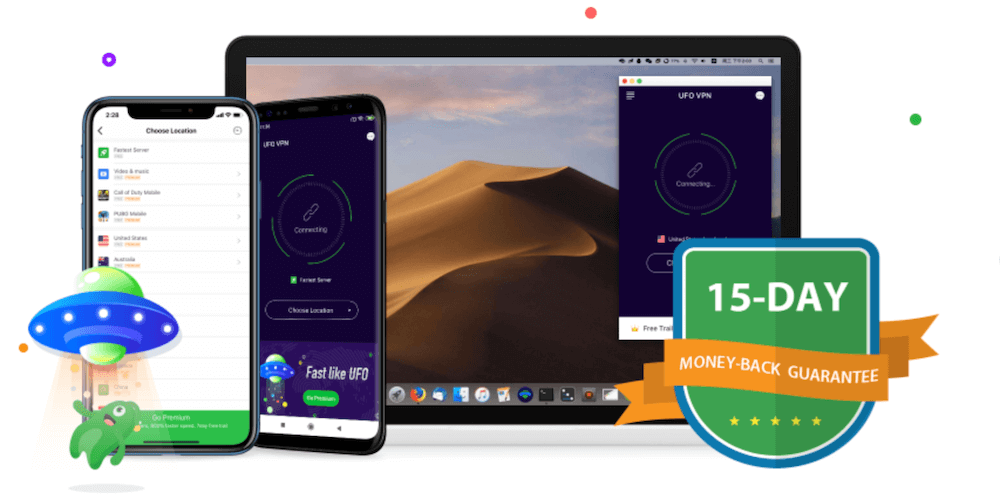 It is not common to find a free VPN that doesn't sell your data in order to make a profit. This is the matter that we will be discussing in the security paragraph of this review.
For now, we will just note that UFO VPN does offer a free, basic plan that comes with a couple of cool features.
First, it is not limited to a number of days or an amount of data transfer. This means that you can freely enjoy their service without any restrictions.
Additionally, the number of offered servers with this plan is 2,000+, which is quite impressive given that most competitors only offer a few.
Also, the chance to stream HD or torrent doesn't really differ between their basic plan and the paid advanced and premium options. Thus, if you are on a tight budget, opting for free membership may seem like a good idea.
Along with UFO VPN, we would recommend TunnelBear as one of the best alternatives. The most important thing about TunnelBear is that there are zero risks that your privacy will be revealed to third parties or local authorities.
With UFO VPN, we are not entirely sure, so rather safe than sorry when it comes to free.
Performance
For this UFO VPN review, much like for any provider that we have looked at, we focused on whether the available servers are reliable or not.
We can't sugarcoat the fact that a VPN is going to affect the stability of your internet connection. However, it doesn't have to be disastrous. Whether you will be able to stream HD and torrent depends solely on the specific provider.
Good examples of such providers are ExpressVPN and FastestVPN, which ensure that you get optimal performance with proper encryption.
We used the results that we got when testing these services as a benchmark in order to draw a conclusion on UFO VPN.
Speed
One of the positive things about this provider is that they feature a Smart Location option. What this does is register the fastest available server and thus saves you time.
We used this and were instantly connected to the location in Germany. We weren't surprised by this, considering that we are logging on from the UK.
If you were set in the US, then the New York server would probably be the most optimal option. We tested the server in Germany and found a decrease in speed to be 30% for both down and up.
Considering our benchmark of 235 Mbps download and 211 Mbps upload speed, we found these results to be quite fair.
The most important thing is that the ping was set at 35 ms, which is incredibly low. Thus, if you were hoping to watch your TV show without buffering issues, then this server should do the trick.
Our next test session was performed logging on to the New York server. To be honest, we expected to have a dramatic change in speed when compared to the German server. Surprisingly, this was not the case. While the ping did spike up to 110 ms, that was not as bad as it could have been.
The decrease in speed was 55% for both ups and downs. Once again, this is quite good compared to most mid-range providers.
The last location that we wanted to try out was the one in Sydney. To be honest, we had no hopes that any we would see any usability with this server.
Our expectations turned out to be true. Our download speed was set at 15 Mbps, while our upload was at 4 Mbps, which was quite unreliable. Additionally, the ping jumped to 250 ms.
While we were not pleased with these results, the fact that Australia is so far away justifies it.
Without VPN (we were located in London) :

EU Server :


US Server :

Australia Server :

Overall, we can't deny that UFO VPN offers a fair performance when it comes to most of its US and EU servers.
Stability
Just as we mentioned above, we didn't expect to experience a stable connection with this provider. We were proven wrong, as our session timed out just once, and that was while we were logged to the Australian server.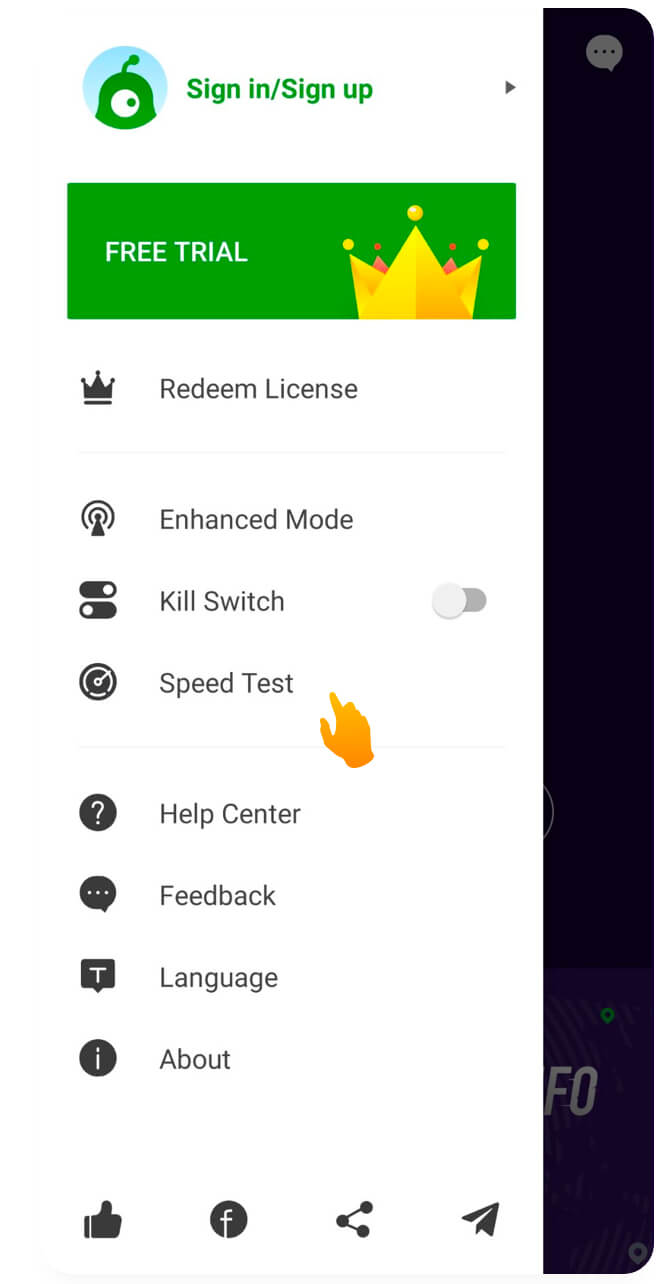 Bearing this in mind, for basic browsing or simple online gaming, this VPN is more reliable than we expected when it comes to stability.
Streaming
As one of the best providers for unblocking streaming content, NordVPN stands at the top of the list. It allows access to more than 150 different sites.
While it has a flawless ability to do this, it is one of the rare providers that can still claim this. Since 2016, many providers that once advertised their ability to unblock Netflix and other services can't do so any longer.
What about UFO VPN?
Netflix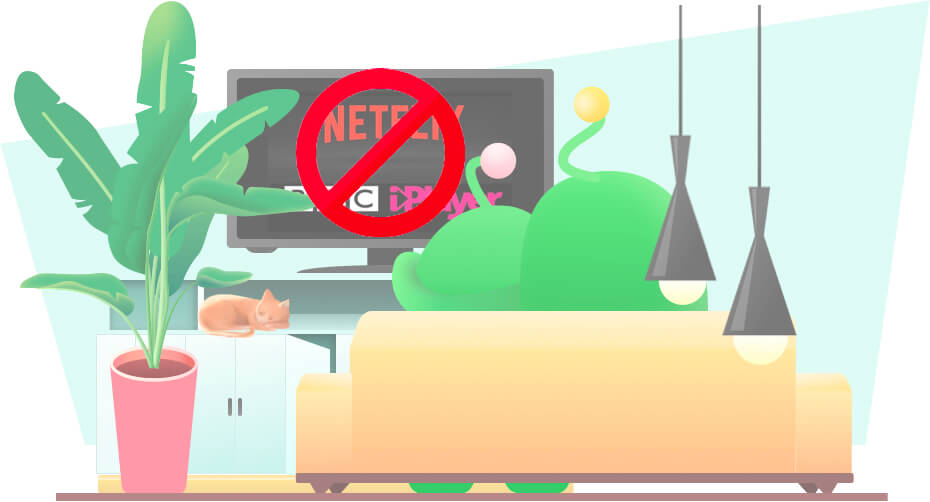 This provider features three different subscription plans. While it would be unrealistic to expect that it can unblock popular platforms via the free plan, we tested its premium servers. Unfortunately, this didn't give us any positive results.
Considering the fair server park, we started with their German and French servers. Our hopes to unblock the local catalogs were quickly hammered by the "streaming error" pop-up window.
Still, we didn't want to give up and tested the service with the US East and West Coast servers.
Once again, we didn't have any success. The fact that it can't unblock EU or US Netflix catalogs leads us to the conclusion that it is not a reliable VPN for streaming. Just for the sake of it, we went ahead and tested Canada and Australia.
We received the same streaming error that we did with the previous locations.
Other streaming services
You might know that Hulu is not available everywhere in the world. If you were thinking of unblocking it via a VPN, look elsewhere.
As expected, UFO VPN couldn't give us access to Amazon Prime, BBC player, or Hulu. The only content that we had luck with was YouTube.
Security
If you are an average internet user, then you are surely looking for ways to protect your browsing activity. Using a VPN seems to be the best option. Still, not every provider can ensure optimal security and a strong privacy policy.
Where is it based?
The headquarters of its parent company, ToolForest Limited, is based in Hong Kong. At first glance, this seems like a great thing, considering that China is not a part of the 4 Eyes alliance.
Still, once you dig deeper, you realize that the local jurisdiction is not that great.
This is because the Chinese government monitors all the allowed VPNs and can probably even ask for your data or private info when needed.
Log policy

How big the damage will be, depends on the info that this provider stores. Unfortunately, UFO VPN doesn't praise itself for having a strict no-log policy.
Still, they say that all the info collected is for their own use, as well as for your protection. They track your payment history, IP address, name, email address, access times, and browsing history.
The main issue that we have with this is that they might be selling this to third parties in order to make a profit.
This is especially possible if you are subscribed to the free basic plan.
Protocols

We weren't very pleased to see that they don't share a lot of info about encryption.
However, looking at the reviews of other customers, we can assume that it is the 256-bit AES encryption used by most virtual private network providers, which is considered to be the industry standard.
As for the protocols, UFO VPN offers 4 protocols. We don't know which protocols these are, as the provider names them "Protocol A, B, C, and D." Being vague and avoid talking about protocols you offer doesn't make you a good VPN – just so everyone knows!
Leak protection

Last but not least is how high the risk is for WebRTC and DNS leaks. Unfortunately, this service is not highlighted by a strong kill switch.
However, because of the other instruments and the reliable encryption, we didn't encounter leak issues when testing this VPN on a myriad of relevant sites.
Torrenting
The main reason why we don't suggest UFO VPN for this purpose is because of the fact that they keep track of your browsing activity. For this activity, we suggest CyberGhost. Not only does it offer thousands of servers, but it also has robust security features.
However, there is a kill switch option. It is not working very well, though, so it won't ensure optimal IP address protection.
Bypass Censorship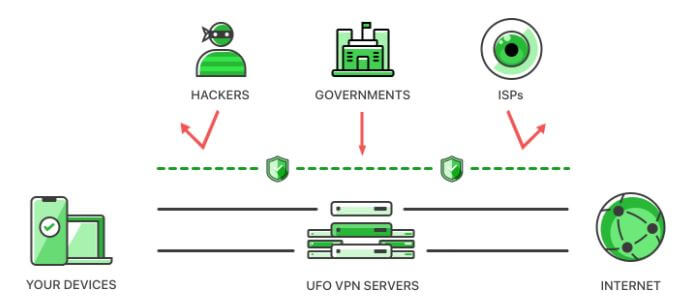 This can be considered a strong point for UFO VPN. First, it can unblock an array of legal gambling sites, as well as porn sites and other entertainment content throughout four different continents.
Additionally, due to its reliable Hong Kong server, the chance of bypassing the Great Chinese Firewall is dramatically increased.
Countries and Servers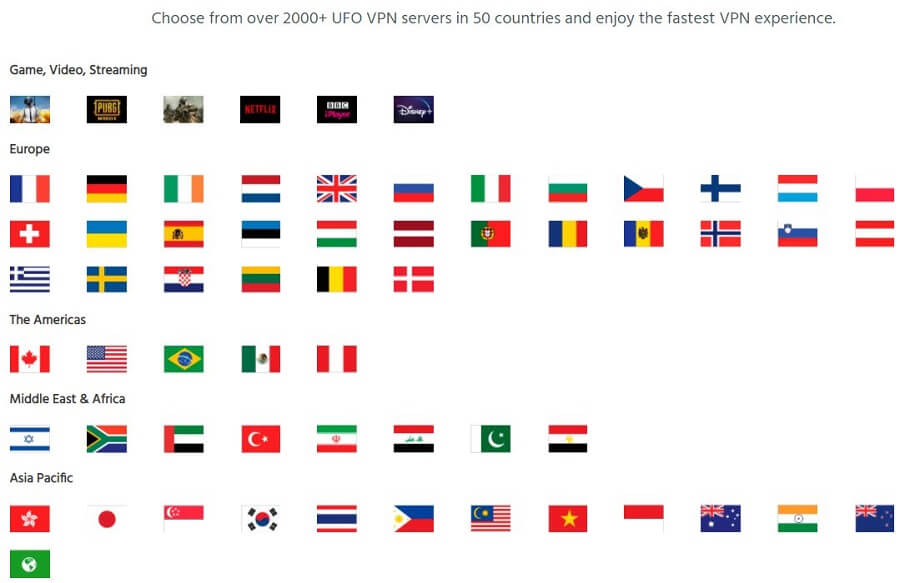 To be honest, we were quite happy to see that this provider offers more than 2,000 servers in over 30 countries. This is quite good.
Their basic plan is highlighted by 50 different locations, which is fair considering that you are not paying anything.
On the other hand, VPNs such as NordVPN and ExpressVPN offer significantly more locations for a portion of the price.
Devices and Connections
Among the most important aspects when it comes to overall value is whether you can connect with different devices or not.
Supported devices
Looking at compatibility, we can confirm that UFO VPN can run on Windows, Mac, Android, and iOS. Also, if you have an Apple TV, you'll be able to use your VPN with it.

However, if you are a Linux user, you will need to search elsewhere. This goes for people who were hoping to connect with gaming consoles, as well.
Simultaneous connections
If you are subscribed to the free basic membership, you can only connect a single device at a time. However, the premium subscription allows up to 5 simultaneous connections, which is above average.
Customer Service
This is not that bad, considering the fact that it does feature a quite knowledgeable FAQ base. But the live chat feature is not available. The only hope that we had was that the email response would be efficient. Unfortunately, this was not the case, either.
Frankly, we never got an answer to our question that was related to certain payment issues.
Value for the Money
As mentioned earlier, there is a plan that is completely free of charge. It allows basic VPN features. Additionally, there are two other plans – the Advanced and Premium options.
Price comparison

Looking at the different subscription plans, we came across the single-month plan, which is set at $11.99.
Additionally, there is a discounted price of $2.91 a month for 2 years, but also a fairly-priced 1-year plan at $4.17 a month. Still, we don't think that UFO VPN is worth the money.
Payment types

Believe it or not, you can use iTunes in order to make the subscription payment.
Also, major credit and debit cards, crypto, as well as PayPal, are an option.
Money-back guarantee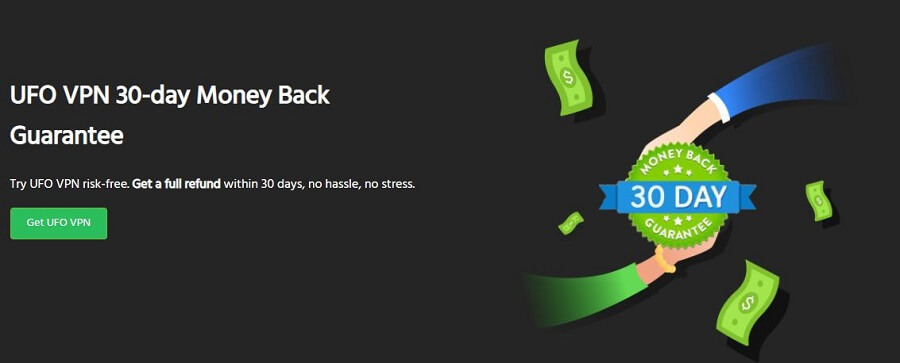 You are looking at a window of 30 days during which you can ask for full reimbursement.
Final Thoughts
We rank this provider as #94 out of 104. While it does have good potential in terms of speed and overall reliability, it is not optimal when it comes to security.
Additionally, its ability to unblock streaming services is almost non-existent.
Taking everything into consideration, going for providers such as ExpressVPN and CyberGhost is a much better option!
In the end, this is not a recommended virtual private network provider and you would do better looking at one of our top recommendations.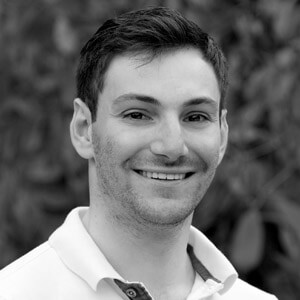 Flo is the founder of the-bestvpn.com. Really concerned about security on internet, he decided to create this website in order to help everyone find the best VPN. He's got a Business School background and now is 100% dedicated to keeping his website alive.