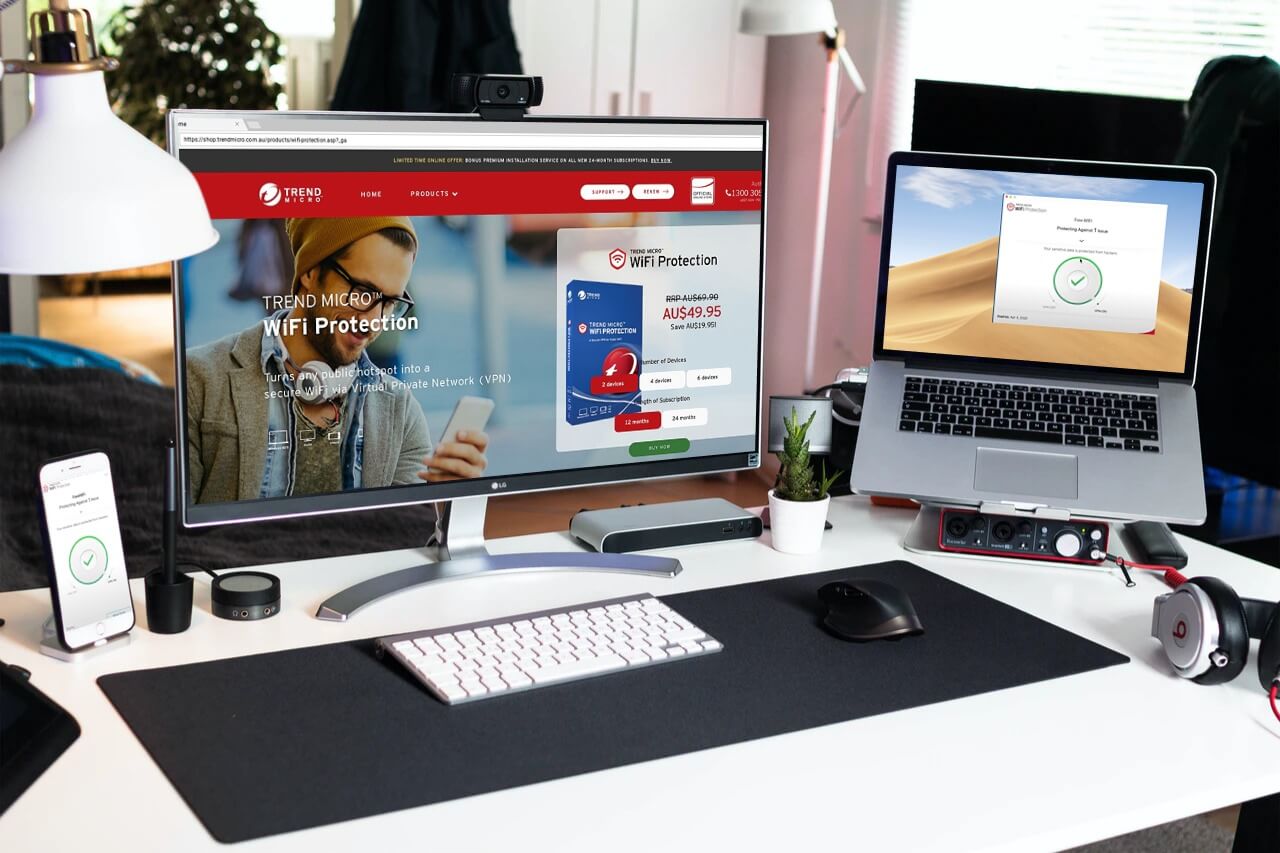 There are certain companies that start out in the online security branch and slowly move towards specializing in VPN service. Among the few popular companies that have done so is Trend Micro, which has been around for a couple of decades. While it was founded in Los Angeles, the headquarters of this trusted name is currently in Tokyo. Providing secure mobile web presence in the past doesn't necessarily mean that they do a great job as a VPN provider. Our review for Trend Micro VPN will be focused on overall performance and the security features that it allows.
To evaluate the overall performance of Trend Micro VPN, we have highlighted both the pros and cons in this review. The main issue that we had during our testing sessions was the lack of transparency.
Still, we did our best to consider both our experience and that of others in order to reach a verdict. Thus, if you want to find out more about whether you should invest in this provider or not, read on!
STRENGTHS:
Bank-grade encryption
Five simultaneous connections
Negatives
Risk of leaks
Malware risk
Doesn't support torrenting
Doesn't unblock Netflix
Customer service is poor
Slow
Japanese jurisdiction
---
Trend Micro VPN ranks #88 out of 104 VPNs tested. Here are the best alternatives :
Is It a Paid or Free VPN?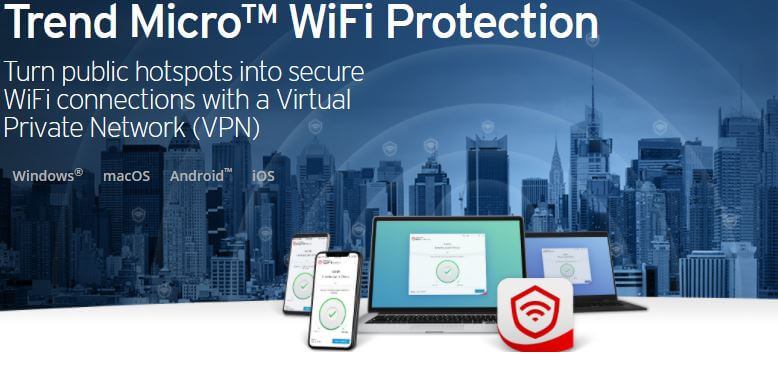 When testing any provider, we always try to be as objective as possible and not judge a book by its cover. For this Trend Micro VPN review, we started by looking into the different subscription plans.
The goal was to find out whether it offers a service free of charge. As it turns out, it does.
This was a surprise considering that Trend Micro security features aren't on the affordable side. Still, the fact that they allow a 30-day trial is nice. During this time, you will be able to explore the different features of this service and find out if it is for you or not.
However, it does have limitations in terms of limited bandwidth, as well as only three servers that you can connect to.
Thus, if you want to get optimal free service that will not sell your data, look into Windscribe. Additionally, we would recommend TunnelBear, which is somewhat slower but still more reliable.
Performance
While there are many different aspects to consider when reviewing a VPN, we see performance as the most important one.
The reason is that, even if a provider can unblock Netflix and other content, slow servers will mess it up. Nobody is saying that a VPN should be able to improve your internet connection. Still, if the decrease in speed is significant, you will have issues with using the service.
So let's find out right now in this Trend Micro VPN review what it's up to!
Speed
ExpressVPN beats all VPN providers, as you can see in this duel against PIA. Apart from offering 3,000 servers, the speeds in almost any location are something you can count on. Considering this, we tested Trend Micro VPN and found out a few things.
Let's review our findings.
Starting in the UK and connecting to a server in France, we experienced significant drops. The ping was at a fair 60 ms, but the download speed went from 235 to 96 Mbps. Additionally, our upload speed was decreased by 65% from a benchmark of 72 Mbps.
As this company is known to cover a few continents, we went ahead and connected to a US server. It was almost unusable with the ping being close to 200 ms and the speed dropping around 80%.
Lastly, we wanted to see how well the Asian servers worked. The first one that we tried was Singapore, and the performance was almost the same as with the US server.
We finished off our speed review by connecting to a Hong Kong server. We always like to see that a provider features this location, as it increases the chance of unblocking content in China. Still, with a speed decrease of 90%+, that is simply impossible.
Additionally, it lacks stealth protection and has a ping of over 300 ms, which increases the risk of stability issues.
Without VPN (we were located in London) :

EU Server :

US Server :

Asia Server :


Stability
Honestly, using Trend Micro VPN was incredibly stressful. Not only did we experience significant connection issues, but we also felt a huge risk of IP leaks.
Unless you are using it for nothing but regular browsing activity, using their service will be a waste of your time. Not even once did we manage to enjoy a session for more than 30 minutes straight.
Streaming
If you are like most average users, then you are probably expecting to unblock streaming content. Apart from the robust security features, this is one of the main reasons why people install a VPN. While that was a basic feature offered back in 2015, today, not as many providers can bypass restrictions.
Netflix
This popular streaming platform has imposed strict changes to prevent providers from unblocking catalogs. Still, certain providers do a good job of it, such as ExpressVPN and NordVPN.
On the other hand, the aforementioned Trend Micro VCN is not something you can rely on.
Apart from slow server speeds, they simply don't offer adequate tunneling protocols to do it. We tried out the service in the US, Asia, and the UK, and we had no luck whatsoever.
Even if you can somehow enter a Netflix catalog, the unreliable performance will likely mess it up very soon after.
Other streaming services
Because we had no success with Netflix, our hopes were quite low. However, this provider did a fine job of unblocking Hulu and Amazon Prime. On the other hand, it couldn't do much with BBC iPlayer or US TV channels.
If you want a provider that can unblock most streaming platforms, look into CyberGhost. Not only does it offer over 6,800 servers, but it also provides robust bypassing features.
Security
There are many reasons why you might want to hide your IP address. Apart from torrenting, you may want to bypass restrictions that are set for your primary location.
Additionally, this is the best way of protecting your privacy and not getting your browsing activity tracked. A good VPN provider needs to provide an adequate privacy policy. This depends on a couple of elements.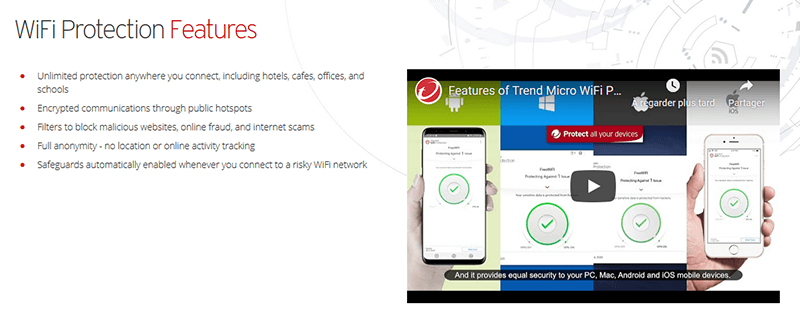 Where is it based?
An aspect that greatly affects the overall value is the jurisdiction of the provider. Unfortunately, founded in Los Angeles and based in Tokyo, Trend Micro adheres to the 5 Eyes alliance (there is a shared effort in "focused cooperation" with Japan).
If you are not familiar with this, it means that if asked by certain national authorities, it will hand over your data.
Certainly not the best start if you were looking to enjoy anonymous, risk-free browsing. Is there anything you can do about it? Apart from subscribing to a provider that is out of this jurisdiction, there is not much you can do. Still, the damage can be much lower if the provider has a strict zero-log policy.
Is that the case for Trend Micro?
Log policy
Looking at their official website during our review, Trend Micro VPN states that they don't keep any data. Unfortunately, many VPNs that claim not to keep logs actually do. However, this is not the case with the Japanese web presence company.
You will be happy to find out that even your payment info will not be stored. This is a good thing considering that, if it was, the authorities would have something to look into.
Protocols
We couldn't find very much information about the protocols that this provider is using.
While the encryption is military-grade and comes in the form of 256-bit AES, there is nothing else we could find out. Considering that it has issues with most streaming services and unreliable overall performance, we are forced to assume lacking protocols.
Thus, while the industry standard is OpenVPN, it probably features IPSec and IKEv2. While this is fine for Mac and iPhone users, Windows and Android users might not be that happy.
Leak protection
In the end, we did a review on how well can it keep DNS and WebRTC from leaking. We had a partial success of around 50%.
Additionally, we experienced a couple of malware risks. This was because it has no built-in kill switch. Thus, no instrument will fight off potential leaks in case of server crashes.
This is not very good news regarding our review of Trend Micro VPN.
Torrenting
Unfortunately, we need to assume that Trend Micro VPN is not something to rely on for torrenting. Why do we say this? Well, the servers are incredibly slow and can't really perform P2P transfers. While the company doesn't claim that they are against torrenting, they don't support it, either.
Additionally, we have major concerns related to leaking protection. This is why subscribing to ExpressVPN or NordVPN for this service is much better.
Bypass Censorship
Among the few strong points of this provider is its ability to unblock censored content. While it can't do much from a Hong Kong server and leaves the Great Chinese Firewall untouchable, other locations do a good job. We managed to access different bookmakers that were restricted in certain countries.
Additionally, we could change our IP address and pay lower prices for flight tickets. The fact that this company has servers on a few different continents plays an important role in unblocking content.
Countries and Servers
Trend Micro VPN is a provider that has server locations in more than just the US and Europe. Apart from these two continents, there are also servers in Australia, as well as the Asian Pacific and the Middle East. It comes up to over 30 servers in 15 different countries.
Still, it is nowhere near as good as NordVPN and CyberGhost. Additionally, most of its servers ask for a robust Internet connection to be used. Which is not always the case for everyone!
Devices and Connections
Trend Micro VPN comes with a few limitations related to compatibility, which we will be reviewing next.
Supported devices

The main issue we have here is that it can't be installed on a Linux device. Additionally, if you were thinking of connecting it with a router or console, that can't happen.
On the other hand, it has a great VPN app for macOS. This does come at a certain price as, apparently, it doesn't offer a user-friendly interface for Windows and Android.
Simultaneous connections
The number of simultaneous connections depends on whether you are using a free trial or a paid service. For a service that is free of charge, there is only a single device that can be connected at a time.
On the other hand, a premium subscription allows five devices to be connected simultaneously.
Customer service
Honestly, we had high hopes, considering that Trend Micro is a company that has been around for decades. Disappointed by the fact that there is not a live chat option, we tried to find an answer in their FAQs section.
While not that concise, there are relevant answers that you can use for your issue.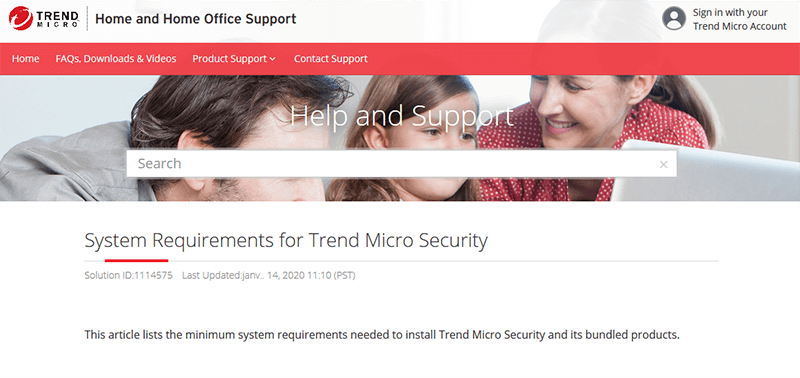 We continued our review by contacting their email support, and this is where we encountered a couple of problems. First, we had to wait for two business days before receiving a response.
Once the response came, it was quite unprofessional and very general in nature.
Value for Money
We mentioned that there is a free trial, but it comes with significant limitations. Thus, if you want to get an unlimited VPN with better security features, you would need to upgrade to a premium package. Still, is it worth your time and money?
Price comparison
Frankly, for the price that their service is offered at, we can't say it is the best deal out there.
After doing a thorough review of Trend Micro WiFi protection, we can state with confidence that $5 a month is simply too much for what is offered. There is a discounted offer if you go for 1-device protection, but that still doesn't look much better in our eyes.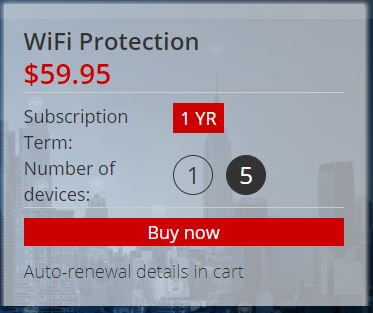 Payment types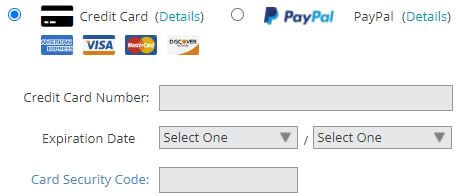 Surprisingly, Trend Micro VPN supports major debit and credit cards, and PayPal. No trace of cryptocurrencies payment, though! This is not a great thing if you want to pay anonymously.
Money-back guarantee
There is a 7-day refund policy for both their one-month and annual subscription plan.
Final Thoughts
This provider doesn't offer optimal security features and is nowhere as fast as other providers. Overall, ranking it #88 out of 104 is quite kind. While its parent company is reputable in the online security market, it couldn't provide a reliable VPN service.
Thus, if you want to be stress-free and get all the benefits of anonymous browsing, subscribe to ExpressVPN or NordVPN.
At the end of the day, our final verdict is that this is definitely not a VPN provider that we will be adding to our recommendation list.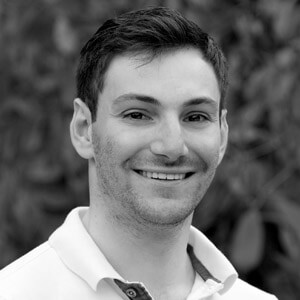 Flo is the founder of the-bestvpn.com. Really concerned about security on internet, he decided to create this website in order to help everyone find the best VPN. He's got a Business School background and now is 100% dedicated to keeping his website alive.