Seedit4me Review: Why Should You Absolutely Consider This Provider?
Seedit4.me claims to be the "superheroes" in the world of seedboxes and although it has not been around for as many years as some of its competitors, it is gaining in popularity rapidly. So, if you are considering it and wondering how it measures up, wonder no more as here is our Seedit4.me review.
We are going to point out the pros and cons along with explaining what you get for your money and why you should absolutely consider the provider out of the many out there.
So, without further ado, let us start this comprehensive review by kicking off with the main pros and cons.
Pros:
Unmetered bandwidth
Free VPN is included
Up to 41 clients supported (apart from the cheapest plan)
24/7 live chat
Plex on all plans except one
Subscriptions to suit everyone
Really affordable
Cons:
"Only" 1Gbps speed
NO Public tracker allowed
---
Ease of Use
We are going to start our in-depth Seedit4.me review by looking at the ease of use of the interface of the dashboard, as this is the main hub of your Seedbox.
Thankfully, it is easy to get up and running through the dashboard on your account. The interface is clean looking, and uncomplicated, offering a clear overview of the account. So, it passed this test with ease.

This is where you can easily add a Seedbox slot to start using. Also, it is possible to have multiple boxes on the account and manage them from the account page simply by clicking on the "Access" button.
Once you have accessed the slot, you can manage the different options. For instance, the installation of apps on your Seedbox slot.
Speed
If you are looking for a Seedbox specifically with torrenting, speed is going to be an extremely important factor when choosing a provider.
Get unmetred bandwidth with Seedit4.me now >
All of the packages are offered with a standard speed of 1 Gigabyte per second. Unmetered bandwidth is also included, which means you do not have a data limit and are not going to be faced with extra fees for going over.
Being unlimited also means that Seedit4.me does not throttle the bandwidth, which would slow your downloads to a crawl. This is a huge plus in favor of the provider, so it does deserve a pat on the back for offering unmetered bandwidth.
It's no surprise that this provider is currently the best Seedbox in 2023 according to us.
Size of the Seedboxes
There is a Seedbox size suitable for all needs and pockets.
The size of the box is going to depend on the price, of course, so you are going to have to weigh up how you will be using the Seedbox and how much you can afford to pay out each month.
The starter plan offers 1500 GB of HDD storage along with 2GB of RAM. This is good for a starter package and more so when you consider you have unmetered bandwidth.
In the middle of the range, you get 2000GB of HDD storage with support for the Plex server at 1080p. While if you move up a package you get 3000GB of HDD storage and 4K Plex support.
As you might expect, the premium package offers the biggest Seedbox. This jumps up to 5000 GB of HDD storage and includes 4K Plex support.
Client Support
Now let's look into the client support part of our Seedit4.me review. We will start our test off by saying is extremely good. To start with, it offers live chat and you do not have to go looking for help, as the box is located in the bottom right-hand corner of the main webpage.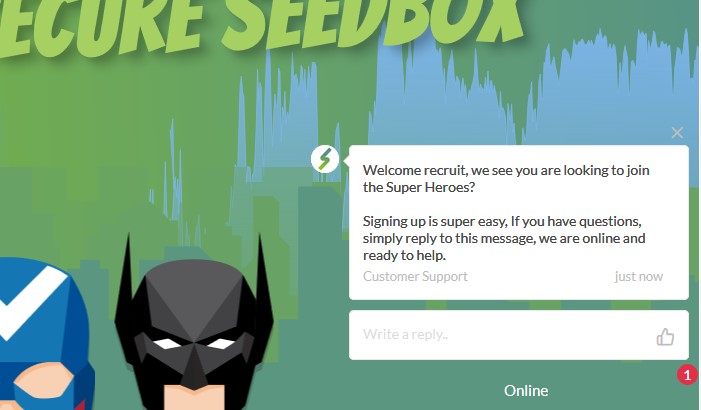 All you have to do is type in your query to get help, which is the fastest way. Very impressive. There is also a ticket system option to ask for help and advice. However, don't expect an immediate response.
There is also an extensive FAQ page, with a clear link to this at the top right-hand side of the main webpage.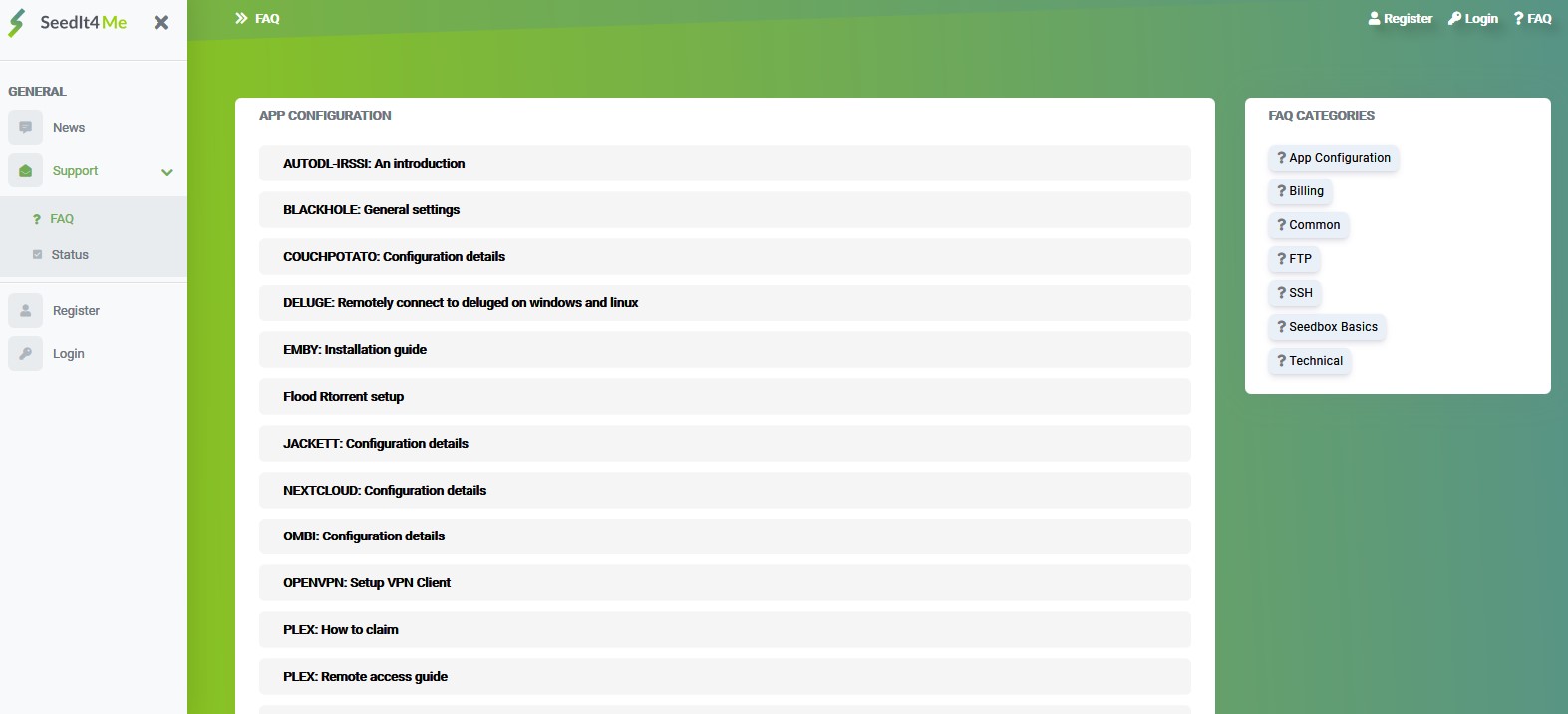 Clicking on this link leads you to a page with many answers to questions. There are also FAQ categories on the right side of the page. The only small let-down is the lack of a search feature. It would have been nice to type in the problem in search instead of having to look in the categories.
Under each of the categories, there is a list of the most common problems with answers displayed on the left-hand side.
There is also a helpful "Getting Started" guide, to get you up and running fast.
On the client support webpage, there is also a link for you to easily check the status to find out if the site is having any issues. During our test, while writing this review, all systems were up and running fine.
Functions
In this part of our test, we took a look at the various functions offered in packages. This part of our Seedit4.me review looks into the control panel, app installation, and choice of apps available.
Control panel
Access to your account is via a control panel called the "cPanel". This is where all the workings on your Seedbox happen and where you can make changes to your account.

From here, it is easy to check up on your Seedbox. It offers information about the service status of apps and if needed, you can refresh them to restart them. Additionally, you can also easily enable and disable services as required.
One-click app installation
We checked out the apps in our Seedit4.me review and found the provider offers support for a huge amount, which is extremely impressive. With any package above the Sidekick level, you get access to 41 apps/clients.
Even the Sidekick level offers access to 36 apps/clients, which is good for a starter package.
Get a huge range of apps with Seedit4.me now >
All apps are easy to install, it takes just a single click using the dashboard.
Some apps come pre-installed, but you can easily add on more, and again, there is a wide choice on all plans.
To install apps, all you have to do is scroll down and choose apps from available software. Just click on the app of your choice and a box pops up. All you have to do is click "install".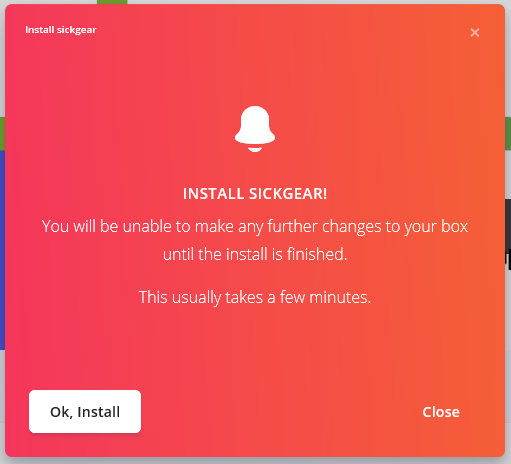 It takes just minutes to install the app and once installed, it appears in your Seedbox slot.
Choice of apps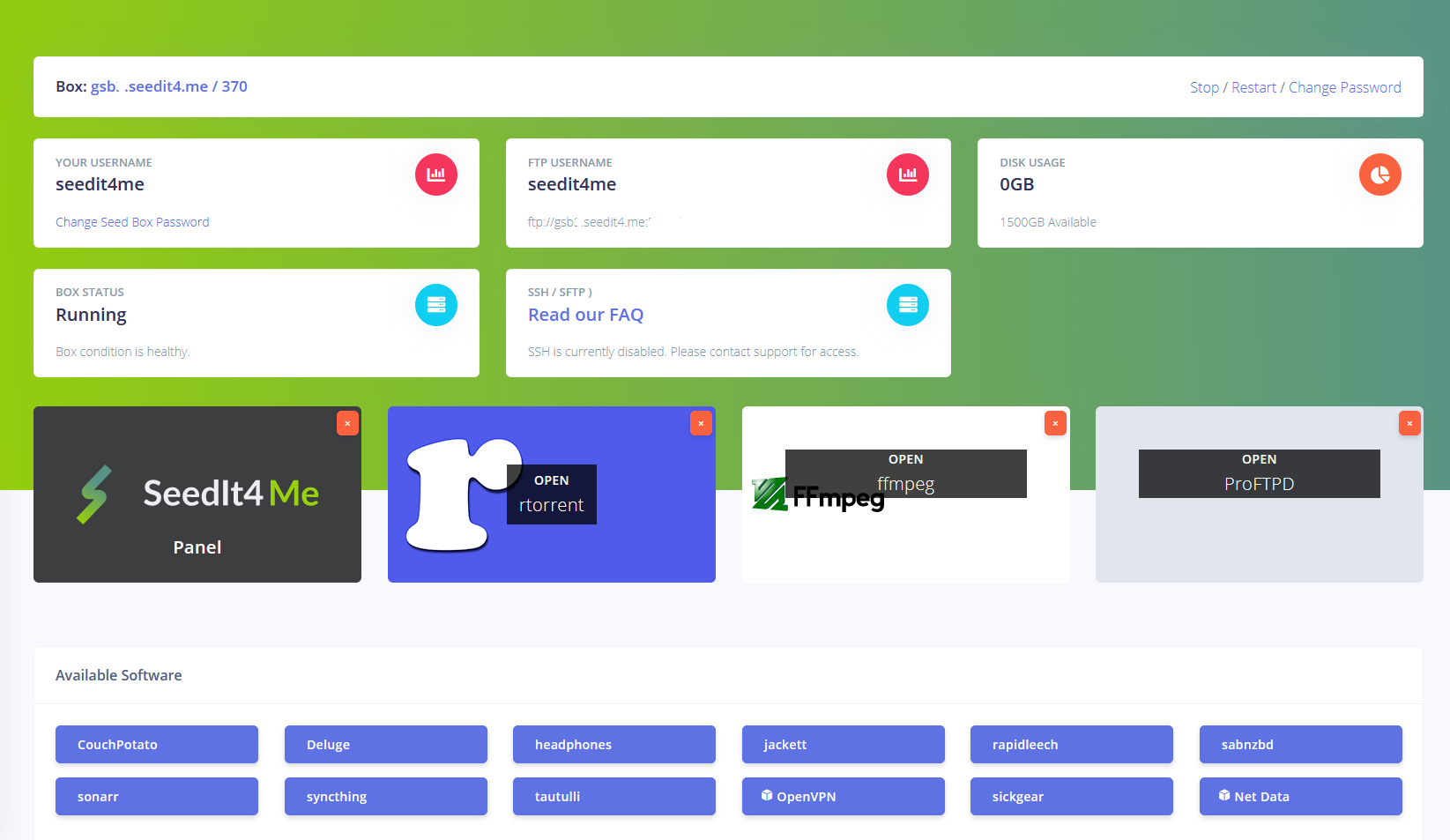 Apps that all packages support include:
CoachPotato – automatic torrent downloader;
Filebrowser – access files through a web interface;
Headphones- automated music downloader;
Lidarr – music collection manager that works with BitTorrent;
Medusa – automatic video manager for TV shows;
Nextcloud – file share platform;
ruTorrent;
OpenVPN – setup and manage the VPN connection on your slot;
Rapidleech – to transfer files from file hosting servers to your server;
Many more.
Is the Plex server available?
If you want the Plex server, you are going to have to go above the starter package. Any of the three other packages have support for Plex but at different levels. Plex, of course, comes in useful for streaming media anywhere on a variety of devices.
The Hero package supports Plex up to 1080p, while the Super Hero and Super Seedbox Man packages offer Plex support up to 4K. What we liked during our test of Seedit4.me is that even at 7 pm on a Friday night, the bandwidth was definitely good enough to allow us to stream in 1080p without any buffering.
Which BitTorrent Client Is Supported?
As one of the main uses of a Seedbox is torrenting this part of our Seedit4.me review concerns the BitTorrent clients supported.
Torrenting is done safely as instead of you using your favorite torrent client on your computer and risking the ISP seeing your IP address, the downloads are done on the Seedbox.
This means that it is the IP address of Seedit4.me that the ISP sees, so you remain anonymous as your own is hidden from view.
The main BitTorrent client used in your Seedbox is ruTorrent. This is the graphical shell for the rTorrent client.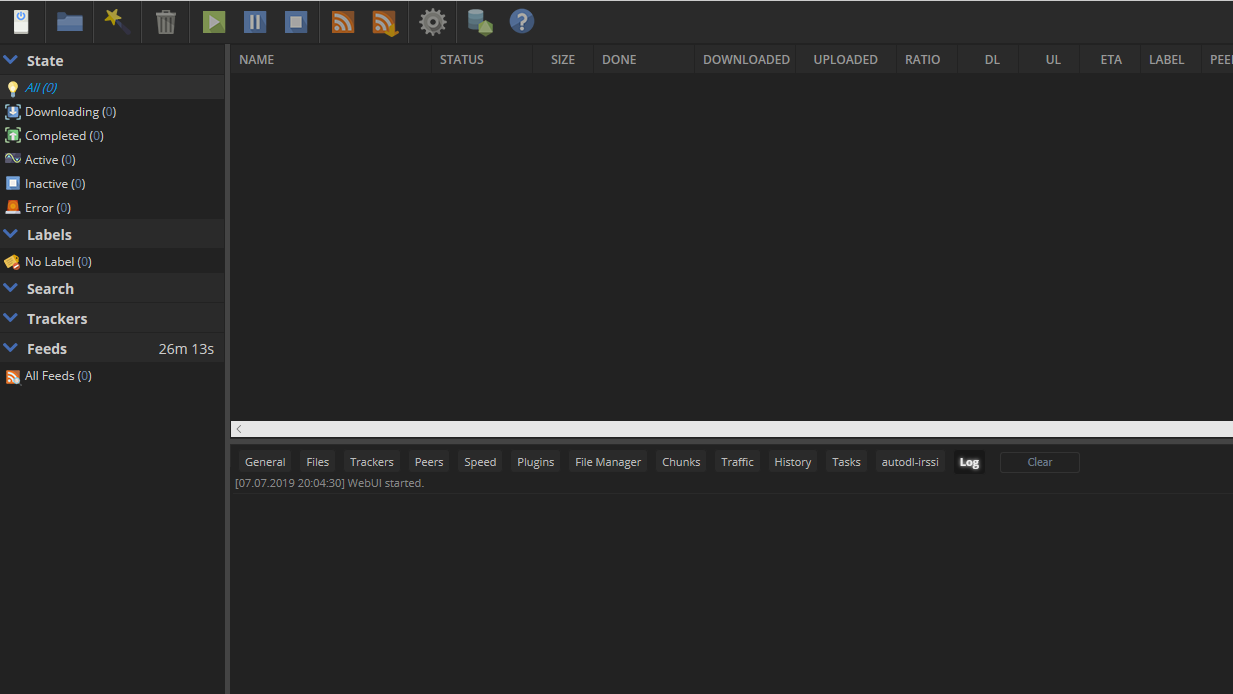 The provider has made it easy to use as it is pre-installed on your Seedbox slot from the start. Simply open up ruTorrent and add a torrent to it.
BitTorrent clients that are supported:
RuTorrent – a web frontend for rTorrent;
Deluge – a lightweight cross-platform client;
Transmission – powerful and easy to use
Pricing
In this part of our test, we will look at the pricing options and there is a choice of four packages with a superhero theme.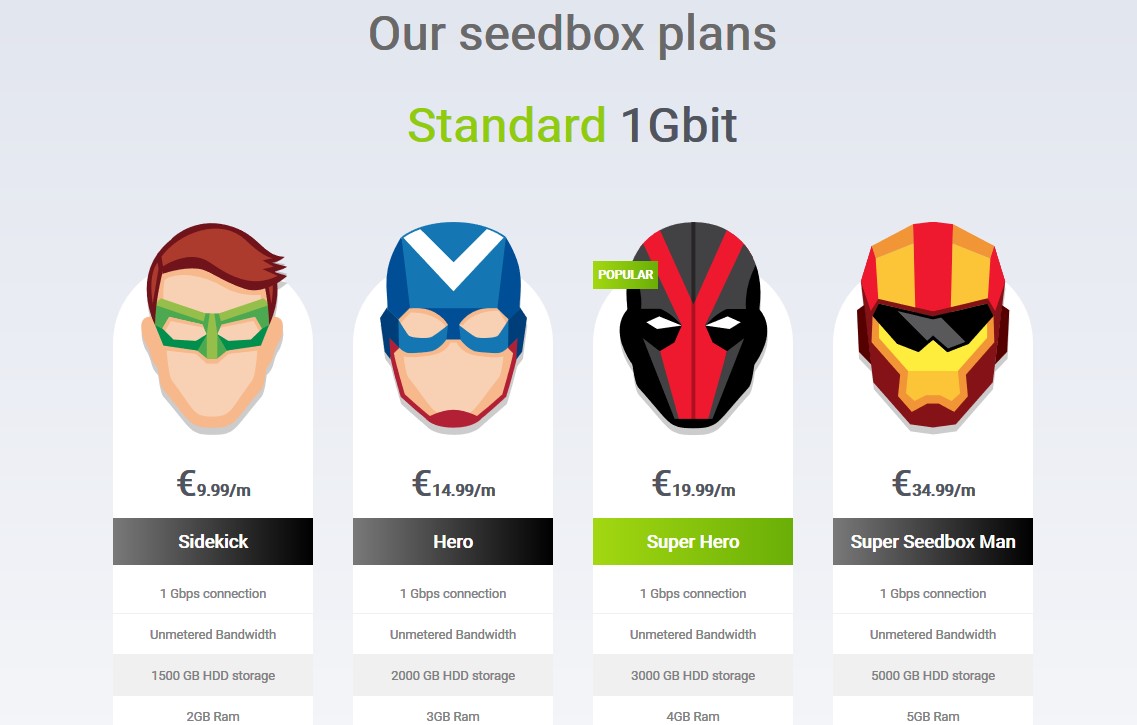 All four packages include the following as standard:
1 Gbps connection as standard;
Shared IP;
Root access;
Unmetered bandwidth.
The differences in the four plans are listed in each package below.
The Sidekick package
The Sidekick package is the starter package from the provider and it does offer great value for money with a price tag of 9.99 Euros per month.
The additions to the package are listed below:
1500 GB HDD storage;
2GB of RAM;
Access to up to 10 apps simultaneously.
The Hero package
The Hero package is the next step up the ladder and is priced at 14.99 Euros per month.
Additions to this package include the following:
2000 GB HDD storage;
3GB of RAM;
Access to up to 15 apps;
Plex server up to 1080p.
The Super Hero package
The Super Hero package is priced at 19.99 Euros per month and includes the following additions:
3000 GB HDD storage;
4GB of RAM;
Access to unlimited apps;
Plex server up to 4K.
The Super Seedbox Man package
The Superb Seedbox Man package costs 34.99 Euros per month, which is the biggest jump up in prices.
Additions in the package include:
5000 GB HDD storage;
5GB of RAM;
Plex server up to 4K;
Access to unlimited apps.
Money-Back Guarantee
Our Seedit4.me review would not be complete without taking a look into what, if any, money-back guarantee is offered. The provider does offer a money-back guarantee and you can find the terms and conditions in a link at the bottom of the website.
It offers all new customers a 7-day money-back guarantee but as you might expect, conditions do apply, so do check them out.
For instance, to be eligible for the money-back guarantee, you have to terminate the account within seven days of taking out the plan.
The money-back guarantee is also dependent on the amount of upload you have used during the time. For instance, you cannot claim your money back if you have used more than 1TB of upload in the 7 days.
Providing you meet all the criteria for the money-back guarantee, it is relatively easy to claim your money back. All you have to do is visit customer support and use the ticket system to ask for a refund.
Canceling the account
If you don't want to continue paying the subscription outside of the 7 days money-back guarantee, you can cancel at any time.
Canceling your account is easy, as all you have to do is visit your user dashboard and click on the "Cancel" button. At the end of the billing period, the account is closed and you will not be billed anymore.
In Conclusion
Seedit4.me may be one of the newcomers on the market at the moment, however, it is moving up the rankings fast thanks to it offering a good service with competitive prices. It passed our test with flying colors.
It offers unmetered bandwidth and one of the widest choices of apps we have seen, all of which are easy to install and manage.
There are packages suitable for everyone's needs and budgets. From those who just want a simple storage solution for downloads or who only download torrent files occasionally. To avid torrent users who download huge files regularly and like to stream in 4K.
The client support is extremely good thanks to it offering a live chat option and a well laid out FAQ page.
So, to conclude our Seedit4.me review, it is a Seedbox provider that is worth considering and one that we really recommend in 2023.