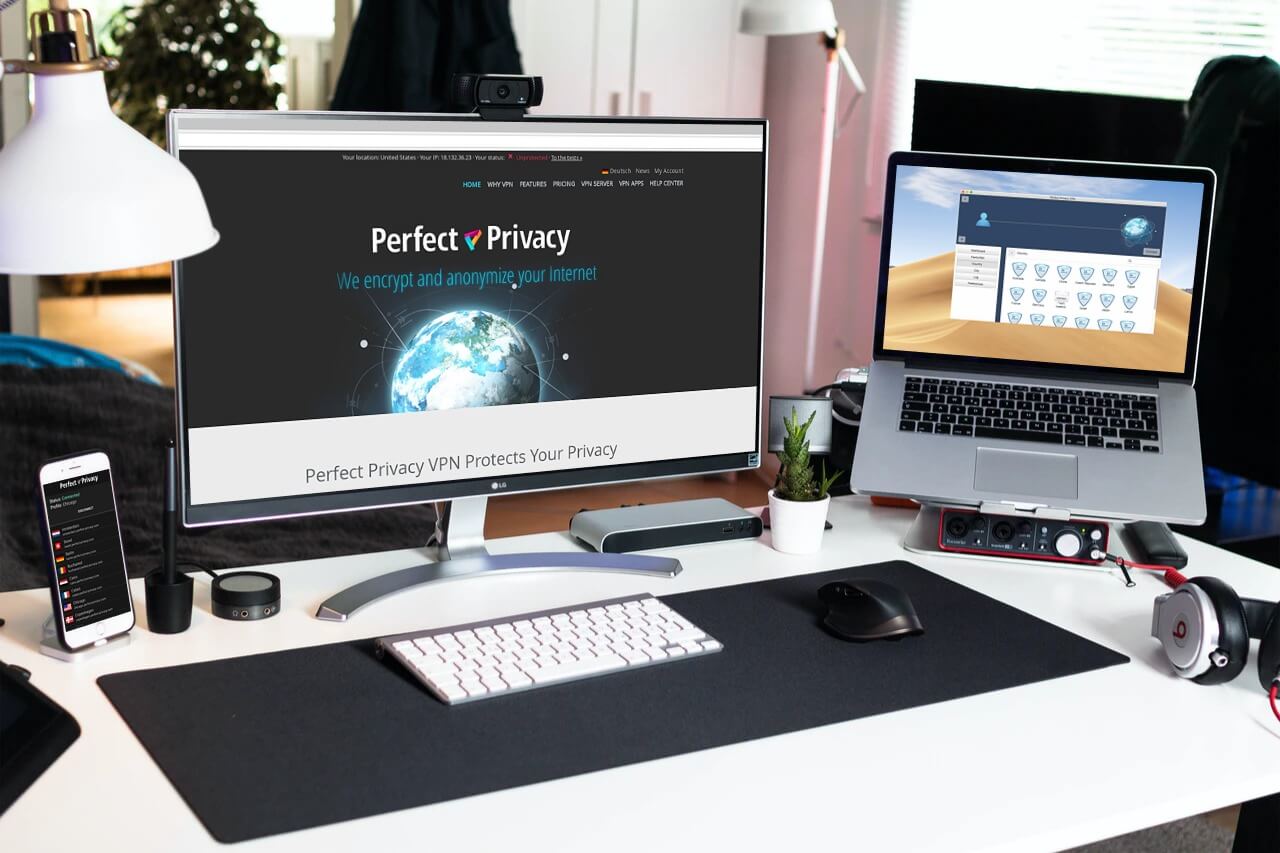 Perfect Privacy has been a popular VPN service provider for over 10 years now and only seems to be growing in popularity. They advertise as the #1 VPN service in the world. Alongside the fantastic stats and features they claim to have, it's understandable how they would grow to such a level of popularity. However, when brought under the microscope and properly reviewed, there are several issues and stats which can knock Perfect Privacy down from the self-proclaimed '#1 service provider' position.
We are getting ahead of ourselves. Let's take an in-depth look at what this Virtual Private Network provider has to offer and if it's worth your money in the first place. Without further ado, let's start this Perfect Privacy review for 2023.
STRENGTHS:
A strict no-log policy
VPN cascading functionality
P2P allowed
Unlimited number of devices
WEAKNESSES:
Struggles with streaming services like Netflix
7-day money-back guarantee
Lower than average amount of servers
Very expensive for what they offer
Unreliable support services
---
Perfect Privacy VPN ranks #31 out of 104 VPNs tested. Here are the best alternatives :
Is It a Paid or Free VPN?
Perfect Privacy is certainly not a free VPN, with it being one of the most expensive services currently available. Many would agree that paying $12.99 for a month's access is simply not worth it.
This is why many opt to subscribe for a year of service, paying $9.99 per month, adding up to a massive total of $119.99 for the whole year. This isn't even where the prices stop, as one can purchase a two-year subscription at a total of $214.95!
For a VPN service costing so much, one would expect a free trial of sorts to see if you would be getting your money's worth. This is annoyingly not the case, with the closest form of insurance for the user being a 7-day money-back guarantee.
When reviewed and compared, prices are incredibly high for what you get, especially when you take into account that one of our top recommended VPN services, ExpressVPN, costs just under $80 per year, and you receive a better service.
Performance
With such high pricing, one should expect great performance numbers. They offer their own firewall security, which they claim to be better than a standard kill switch you would find with other services.
The purpose of a kill switch is to prevent your information and data from leaking in the event the server-client goes down.
It immediately kills access to all internet services for this purpose. Still, their firewall instead creates a barrier to prevent this leak. When doing this Perfect Privacy review, the firewall seems to withstand drastic shutdowns, and to its credit, prevents data from getting through while waiting for the server to reinitialize itself.
The firewall does appear to do correctly, as advertised. It does an excellent job of preventing data loss or leakage in the event of a server outage, but all in all, it is just a fancy version of a kill switch.
Speed
Speed tests seem to be, as expected, unreliable based on location. With most servers located in Europe, you'll get the best speeds from those locations, with minimal loss. However, the strong suit of Perfect Privacy is in their security systems, and with these enabled, you lose speed significantly.
Encryption comes at a cost with Perfect Privacy, and you'll have to decide whether or not the added security is worth the 40% to 60% drop in performance and speed is worth it. When located or connecting to servers outside of Europe, you can expect an even more substantial knock on the 'phenomenal' speeds they offer.
While you and many others want to remain protected, you have to remember that protection is rather worthless without being able to go anywhere on the internet. The speeds might be something to rival some of our recommended VPN services.
However, these same services, such as NordVPN or ExpressVPN, still ultimately win when you add the encryption hits that Perfect Privacy takes to its speed. Look at the reviews for these VPNs for more details on why these are superior.
Without VPN (we were located in London) :

EU Server :


US Server :

Asian Server :

Stability
To their credit, while their speeds may be incredibly slow because of their encryption, the speeds are consistently slow.
This means that when you aren't running any encryption, and you are incredibly vulnerable, you should also have incredible speeds that very rarely drop.
However, this is not enough to recommend this service over others who offer consistently fast and secure connections.
Streaming
With the above information, you can imagine that streaming would not be a strong suit of Perfect Privacy during this review and test. But let's take a look at what we found.
Netflix
Indeed, should you try watching Netflix or Hulu through one of their servers, be prepared to deal with constant buffering and low-quality video. While it does have the ability to unblock Netflix catalogs, it is not the best option.
Other streaming services
By using a VPN on Amazon Prime, you will access all catalogs. This is true for this provider as well.
If what you're looking for is a VPN to access a streaming service with ease, NordVPN or ExpressVPN might just be what you're looking for. Indeed, they provide the perfect speeds to stream without the irritation of buffering.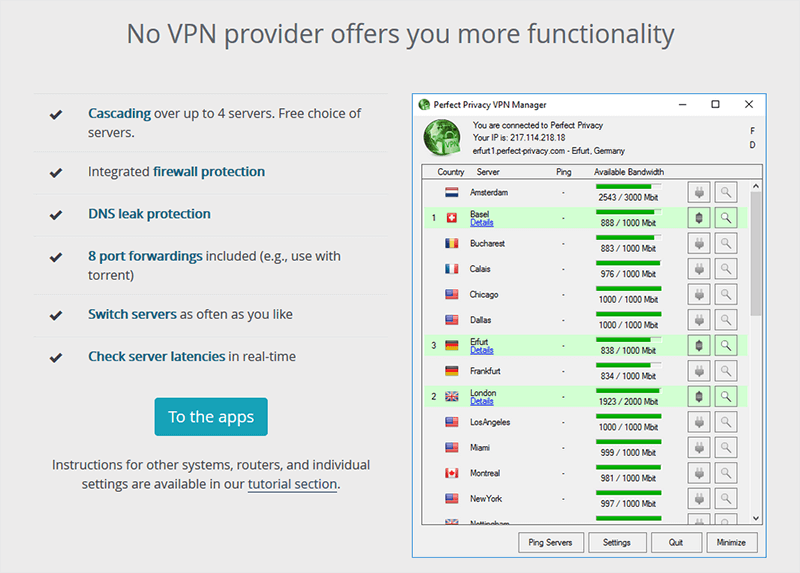 Security
This is where Perfect Privacy surprisingly shines in our review. When reviewing their systems, we were surprised to find that their strengths lay in their encryption and security networks, which come with using their service.
Offering a plethora of proxies to choose from, from basic to advanced, you can sleep safely at night, knowing that Perfect Privacy keeps your information and data will not leak.
Where is it based?

Somewhat curiously, you'd think that Perfect Privacy is based in Wyoming, USA, but this is simply the mailing branch. The VPN company has its principal office in Panama, but its legal headquarters are in Switzerland.
After all that confusing geography research, it is essential to note that the US branch exists for the sole purpose of allowing the mobile app to be on the Google App Store easily. The location of the headquarters also means the VPN doesn't fall under US jurisdiction, making it an entirely grey area.
For those who are not familiar with what this means, it means that Perfect Privacy does not answer to the Fourteen Eyes, the international intelligence and information gathering unit.
Countries in the Fourteen Eyes all share information that happens to be found within their jurisdiction. As they have no authority over Perfect Privacy, they have no access to any information that passes through their VPN service.
However, this does not mean that you can do just anything with Perfect Privacy and think you can get away with it. They are not above sharing illegal activities with your local authorities, should they catch you using your services for dastardly deeds.
This means that your data will be monitored if suspected of foul play, making you vulnerable to intrusion.
Log Policy
Even though you could be susceptible to intrusions, this is highly unlikely, as the company has a no-log policy.
This simply states that they will not log off any of your activities while using their services, meaning you can safely browse the web without having to be too conscious about what you are viewing.
That being said, keep in mind that if you do end up coming across anything shady that sets off a red flag with their security, we saw during our review that Perfect Privacy is fully allowed 'to air out your dirty laundry'.
Protocols

Perfect Privacy has a variety of security protocols, such as the commonly used OpenVPN to the less frequently used SOCKS5. This variety allows you to tailor your security to your needs, allowing the security of this "not so good" VPN to be on par with the more high-end services.
Their client interacts with your operating system to determine the best protocol to use, which can help those who aren't that VPN-savvy in figuring what to do and what not to do.
Leak Protection
This client also provides features that work alongside your protocols, such as the firewall, as mentioned earlier, DNS leak preventions, and connection cascading.
They also offer the option of using the TeamViewer software, which allows a technician to help you personally setup your VPN protection.
Torrenting
When taking into account their great security features, you could consider Perfect Privacy as a great VPN to use for torrenting. Your anonymity and security it can provide without leaking any of your information is good news.
And with a firewall to protect you should the server go down, you would think that Perfect Privacy would be one of the best for torrenting. However, the unreliable speeds mentioned earlier significantly hamper this.
In short, torrenting with this VPN would be amazing and can still be somewhat great if you're willing to wait a lot longer for the download and upload speeds. These speeds can be upped by removing some of your protections.
Still, when it comes to peer-to-peer connections, like with torrenting, it leaves you highly vulnerable to attacks and monitoring. When brought under review, torrenting may not be the best with Perfect Privacy.
Bypassing censorship
There is not much to say in terms of bypassing censorship. Perfect Privacy offers the same level you would find among others of its tier – you'll be able to access the internet and pages in most countries.
But you won't be bypassing the Great Firewall of China.
One little tidbit that they do offer is Stealth VPN, an option in which you can enable to go incognito mode with your VPN. This does, however, make it subject to the same rules.
Your browsing will not be saved and cannot be tracked, but the company can still view and monitor what you are viewing.
Countries and servers

Perfect Privacy has a shockingly low number of servers, coming in at 58 servers in 26 different counties. This amount is meager, especially when compared to others, which are of a lower-tier than Perfect Privacy.
These servers are mostly found in Europe, with a few spread out across other continents. They have servers in countries that include the Netherlands, Switzerland, USA, UK, Germany, Sweden, France, and Singapore.
When you take a look at the servers in the list form, it may appear like a lot of servers. However, for a VPN service that is meant to provide to thousands of users, this is incredibly low, especially compared to others which have been known to provide up to 1,000 or more.
This is one of the essential items which knocks this Perfect Privacy review down the list.
Due to the limited locations, you have limited actions – you may not even be able to purchase plane tickets from a cheaper location. If you want to save money while paying for plane tickets, check out our complete guide.
Compatible devices and connections
While there are a few compatibility issues, there is a surprising feature when it comes to simultaneous connections
Devices supported
Perfect Privacy supports both Windows and macOS, as well as mobile devices with Android and iOS. There are, however, compatibility issues with all of these, mainly Android.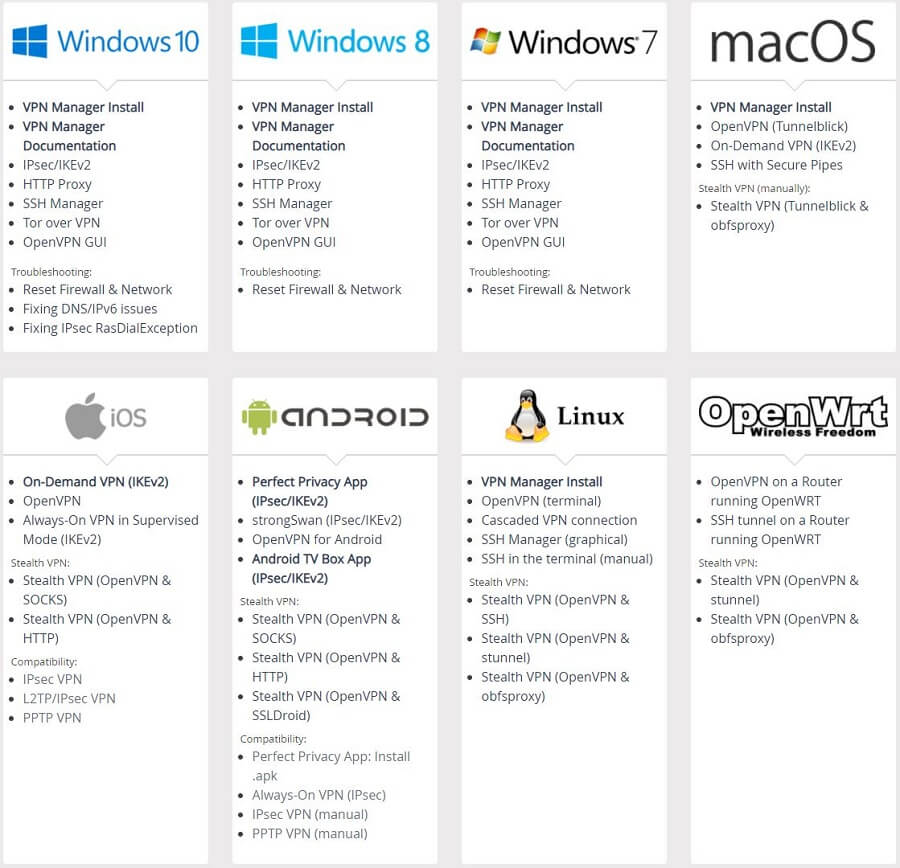 Many have reported a slow and unresponsive app that uses up far too many resources, as well as a non-user-friendly interface, thus pushing users to use the browser extension instead.
It is an Android application far from the best, with it being outdated among the other apps.
Simultaneous Connections
Somewhat surprisingly for a VPN with so few servers, they offer the ability to connect an unlimited amount of devices.
Keep in mind that in this context, unlimited does not mean infinite. It instead means that, theoretically, you will not have to worry about how many devices you own, as this won't be a problem.
Support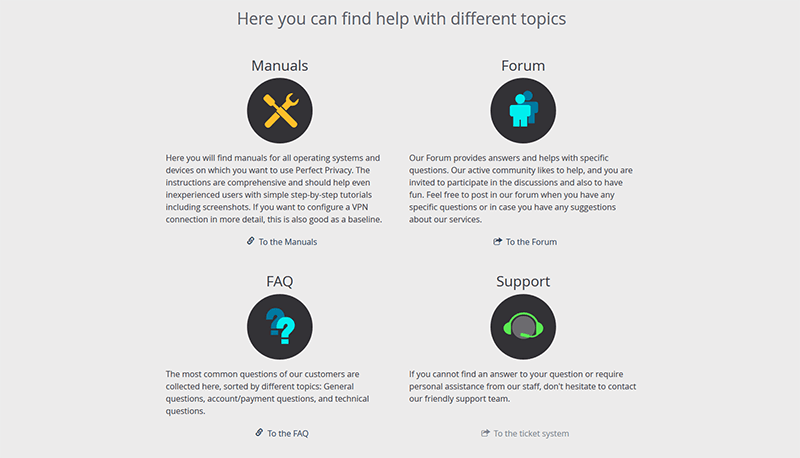 Support is hit-or-miss with Perfect Privacy. When doing this review and test, it was found that they provide a few resources such as help manuals to explain common issues. However, these do not cover anything beyond the basics of solving common problems you could encounter with a Virtual Private Network.
For the more complicated issues, they direct you to their TeamViewer support. TeamViewer allows you to enter a private call with one of their technicians and surrender control to that technician so that they can explain and fix any errors that you may have encountered in real-time.
While this is a fantastic tool that you don't see as often as you should, there lies a problem in that there is not always a technician on hand. This boils down to the unfortunate reality that we are all humans and can only focus on a few tasks at a time.
So, while this is a fantastic tool, it is limited in its use.
Value for money
We and many others believe that the value offered is simply not worth the money. Incredibly overpriced, Perfect Privacy is a very niche and specialized VPN which has some glaring flaws, namely their issues with speed and performance as we saw during our complete review.
Price comparison
For a price comparison, CyberGhost, one of the top-recommended VPN services, offers a much better service for a fraction of the price.
This high price, coupled with the lack of free-trial and the fact that the existing money-back guarantee is only for seven days, proves that the service is incredibly overpriced.
Payment types

This VPN does offer quite a few different payment types, including debit and credit cards. You can also use cryptocurrencies like Bitcoin for added privacy.
The provider's site claims that it also has over 60 different Paymentwall options available for users.
Money-back guarantee
There is luckily a money-back guarantee of 7 days, so you will have a chance to cut ties without a loss should you be dissatisfied like many are.
We would have preferred it to have a money-back guarantee of 30 days or more like ExpressVPN or CyberGhost though. But well…
Extras
As one would expect, there are not many extras to review with Perfect Privacy. Anything that might have been considered an extra attachment with other services is instead integrated into the robust security system.
While this may be an excellent thing, it also leaves this section lacking when brought under the review, bringing the overall score of Perfect Privacy down just a bit more.
Final thoughts
The bottom line of this review and test is that Perfect Privacy is just that: a fantastic protection service… on paper. This is because the prestige ends there.
There are glaring issues when it comes to performance and server quantity, as well as the high prices one pays for virtually a VPN protection service, rather than a VPN service itself.
In place of Perfect Privacy, we'd recommend using ExpressVPN, CyberGhost, or NordVPN.
On that note, we would like to recommend that you DO NOT use this VPN provider, especially when you have some amazing options at a cheaper price with better features.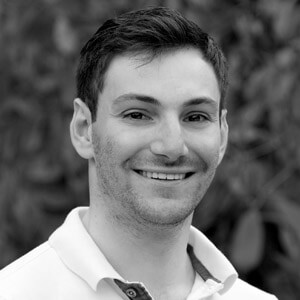 Flo is the founder of the-bestvpn.com. Really concerned about security on internet, he decided to create this website in order to help everyone find the best VPN. He's got a Business School background and now is 100% dedicated to keeping his website alive.