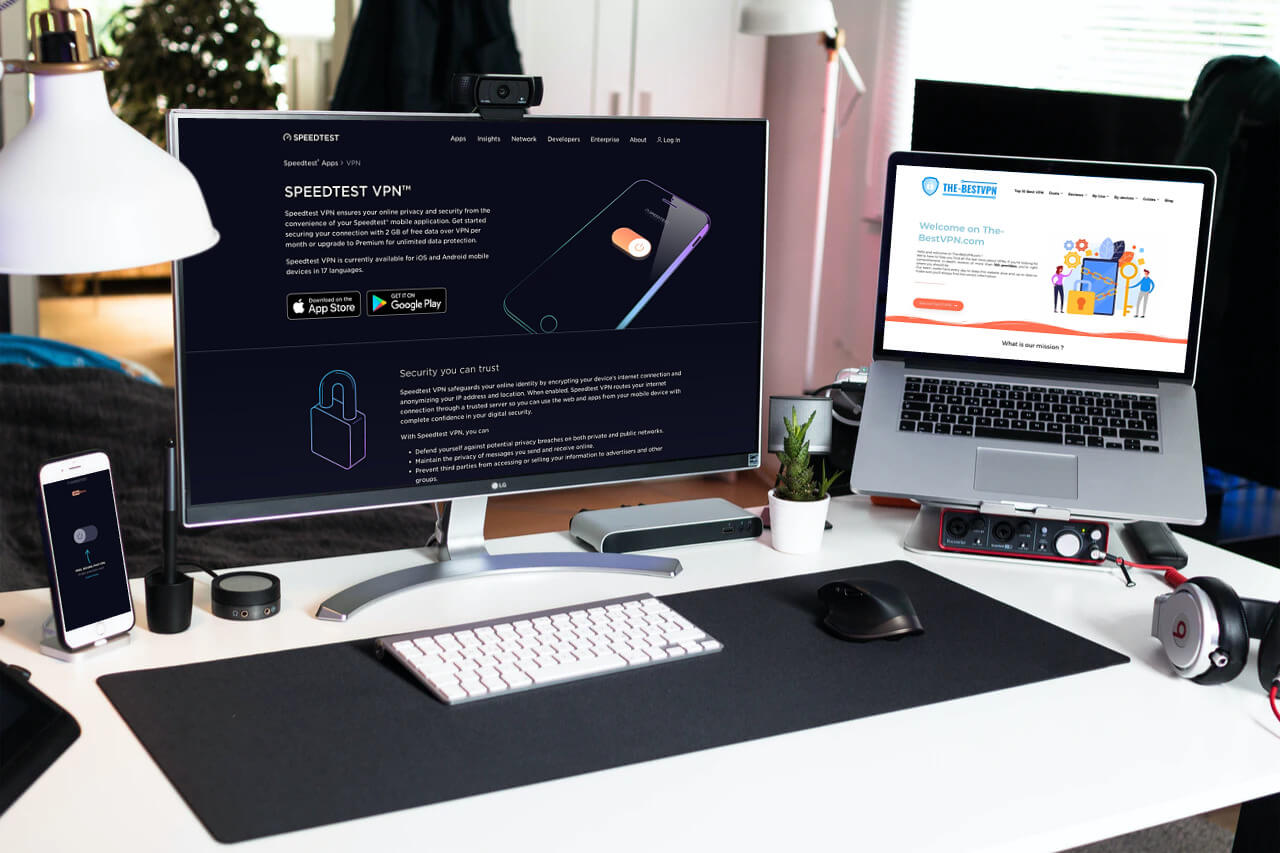 In this article, we will be talking about a young VPN that was recently developed by Ookla, a company that is famous for the Speedtest used by millions of users across the world. While their speed test app is probably leading the way, the VPN does seem to be lacking. Today, there is both a free and a paid version that we will be discussing down below. However, we were quite surprised to find that there is not much difference between the two subscription options.
Thus, if you want to find out more about Ookla Speedtest VPN and make an educated decision on whether it is worth your time and money, we suggest that you read our complete review and test.
STRENGTHS:
Free plan
Reliable customer service
WEAKNESSES:
US Jurisdiction
Sketchy logging policy
Slow servers
Limited server park
No applications for Windows / MacOS / Linux
Data transfer limit
---
Ooakla Speedtest VPN ranks #102 out of 104 VPNs tested. Here are the best alternatives :
Is It a Paid or Free VPN?

One of the most important questions is whether you will have to pay for the Ookla Speedtest VPN service or not. In this case, it goes both ways. It offers a free, yet very limited, VPN service. Also, a paid plan that we will be discussing down below.
As for the free plan, it is restricted to just a couple of US and EU servers. Also, you are limited to 2 GB of data transfer per month, which is quite low in case you were hoping to enjoy streaming HD.
That is not all as along with the limited server park, you are certainly not going to like that Ookla Speedtest VPN does keep a log of your connection as well as your original IP address.
While someone may say that this is expected for a free plan, we wouldn't agree. There is a couple of options, including Windscribe and TunnelBear, that offer free service options without this risk if you really want one.
Performance
The most crucial aspect of determining the overall value of a service is whether you will experience a fast and stable internet connection. While it is a fact that almost any VPN is going to slow down your internet, there are a plethora of providers, including ExpressVPN, that do this within an acceptable range.
However, we did go on to test how does Ookla Speedtest VPN does in this aspect, and we were not satisfied.
Speed
Its performance is nothing compared to ExpressVPN's high-speed service. Unfortunately, the overall speed drop for both the EU and US servers that we have tested was quite dramatic.
First and foremost, during this review, our connection to the New York location resulted in download and upload speed decreasing by more than 70%. Also, our ping spiked from the initial 30 ms to 180 ms.
Thus, it is safe to conclude that if you were hoping to enjoy streaming HD or play online games, you would need to search elsewhere.
We didn't get much better results when it comes to the servers set in Europe. The first location that we have tested was the one set in the UK, and here it resulted in a drop of upload speed from 235 Mbps to 50 Mbps, as well as upload speed from 211 Mbps to 26 Mbps.
What this means is that you can expect somewhat better performance when it comes to their European servers, it is once again nowhere close to ideal.
The last speed test that we have performed was for the Hong Kong server, for which we did have high expectations. Honestly, we were quite eager to find out whether you can unblock the Great Chinese Firewall using Ookla Speedtest VPN.
Unfortunately, there is nothing good that we can report in this aspect of our Ookla Speedtest review.
Needless to say, we experienced a staggering speed drop as our download speed went from 235 Mbps to 20 Mbps, and our upload speed was set at 5 Mbps. Also, the ping was at 320 ms.
Stability
As we have mentioned above in our review, Ookla Speedtest VPN is certainly not an option that you can rely on for streaming, torrenting, and playing online games.
This is because of the incredibly slow speeds that simply make even regular browsing activity quite laggy. The same goes for stability as we have experienced a couple of session time outs throughout our tests.
This didn't only happen with the US locations, but also to the servers in the UK, Germany, and France. Thus, it is safe to say that Ookla Speedtest VPN doesn't offer reliable performance.
Streaming
One of the main motives behind people subscribing to a VPN is to unblock access to popular streaming sites. However, most providers aren't able to offer a flawless ability for this given the war that most platforms, including Netflix, have declared on Virtual Private Networks.
Today, just a few, including ExpressVPN, CyberGhost, and NordVPN, are sure to give you unlimited access to libraries across the globe. While we didn't have high expectations for Ookla Speedtest VPN in this matter, we still decided to go ahead and test it out for the sake of this review.
Here is what we found:
Netflix
We are not pleased to conclude that for those Netflix fans out there, Ookla Speedtest VPN can't really do much. As expected, we experienced a streaming error every time that we have tried to unblock the Netflix content in the UK, US, Canada, and other countries.
While we didn't have high hopes because of the internet connection stability and speed that we have tested in the section above, we were still thinking that OpenVPN, as well as other unblocking instruments that Ookla uses, may provide us with some results.
Unfortunately, that didn't happen.
Other streaming services
On the other hand, we were quite happy to find that you can actually unblock BBC iPlayer as well as Hulu. The same does not go for Amazon Prime, which, much like Netflix does, has a more complex restriction algorithm.
Still, you should keep in mind that even if you manage to access BBC iPlayer or Hulu libraries, you will probably have a tough time streaming the content without buffering issues given the slow servers in the EU and UK.
Plus, you will be able to only use it on your iOS or Android device.
Security
For now, we are not satisfied with the performance that Ookla Speedtest VPN has put out during our review. Frankly, the speed as well as unblocking ability of this Virtual Private Network is not one that you can rely on.
Another important element is whether you can enjoy a friendly privacy policy or not. Additionally, how big is the risk that your original IP address is going to be revealed to your ISP operator?

Where is it based?
One of the most critical questions is the headquarters location of a specific provider. It determines whether your private info can be compromised or not.
Unfortunately, Ookla Speedtest VPN doesn't do the best in this segment. The company is situated in Seattle, US, and does oblige to the regulation of the 5/9/14 Eyes alliance.
What this means is that in case any of the allied governments, including the UK, Australia, Canada, New Zealand, Germany, France, Italy, etc requests the information on your browsing data, Ookla will have to hand it over.
Logging policy
The other issue that we have with Ookla Speedtest VPN is that it does seem to track your browsing activity. Ookla does admit to logging the info on your connection sessions as well as the IP address of your original IP address.
This is opposite to what you would want to get out of a Virtual Private Network and is the main reason why we doubt that it is a reliable choice in terms of the security and privacy aspect.
Protocols
The tunneling system that a Virtual Private Network uses does determine whether you will get to experience a fine unblocking ability or not. Unfortunately, Ookla Speedtest VPN does offer just a single protocol, and that is OpenVPN.
The result of this is limited device compatibility and overall tunneling ability.
On the other hand, the encryption does come in the form of 256-bit AES, which is considered to be the industry standard.
Leak protection
Last but not least is whether using Speedtest VPN is going to put you at risk of malware as well as leak your true IP address. While Ookla mentions featuring a kill switch, we didn't find this to be the case.
After doing a review, we could conclude that there is a huge risk of your true IP address getting revealed, which is certainly not good. On the other hand, providers such as ExpressVPN and NordVPN do a much better job when it comes to leak protection (you did a review on these VPNs as well).
Torrenting
The main issue with this is that Ookla Speedtest is not transparent enough when it comes to torrenting. And its app is only available on iOS and Android. Who download torrents through their mobile phone nowadays?!
We did try it out, and while it is not discouraged, we didn't have the best experience with P2P transfers either.
The main reason for this is because of the speed and connection stability, which we reviewed above. You are also put at risk of DMCA sanctions, given the fact that the overall leak protection is nowhere close to optimal.
For torrenting, we would recommend ExpressVPN or CyberGhost – two VPNs that do offer reliable protection and great P2P ability.
Bypass Censorship
As we have mentioned above, the ability to unblock censored content is one of the main reasons why people subscribe to a Virtual Private Network. However, we did already say that Ookla is not ideal for streaming content from popular platforms.
On the other hand, we did find that it can unblock betting sites, as well as allow you access to bank accounts in your local country. Also, you can log on to airplane ticket websites for an alternative IP address and get better pricing.
When it comes to whether it can unblock content in China or not, the answer is obviously no.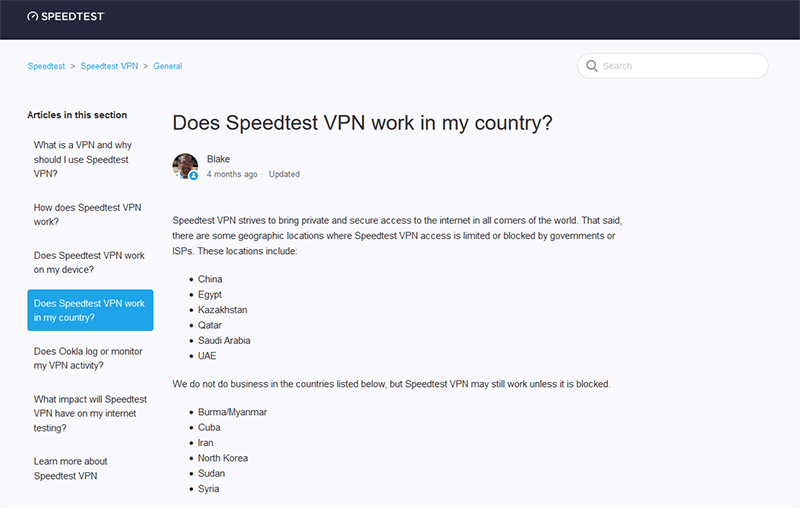 Countries and Servers
Much like with torrenting, Ookla Speedtest VPN is simply not transparent enough. While we do know that there are around 40,000 different IP addresses that you can connect from, the total number of servers and countries is not listed anywhere.
You should keep in mind that they do cover the Americas, Europe, and some parts of Asia, including Hong Kong, but don't provide service in mainland China, Egypt, Kazakhstan, Qatar, Saudi Arabia, UAE, Iran, Cuba, Myanmar, North Korea, Sudan, Syria as well as several other countries not listed on their FAQs page.
Devices and Connections
We already mentioned above in this review that the device compatibility of the Ookla Speedtest VPN is not good enough. This is both due to the limited tunneling protocols as well as lacking standalone apps.
Supported devices
While most popular VPNs, including NordVPN, ExpressVPN, and CyberGhost, do a great job in this aspect, you can use Ookla Speedtest VPN only on mobile devices, such as Android and iOS.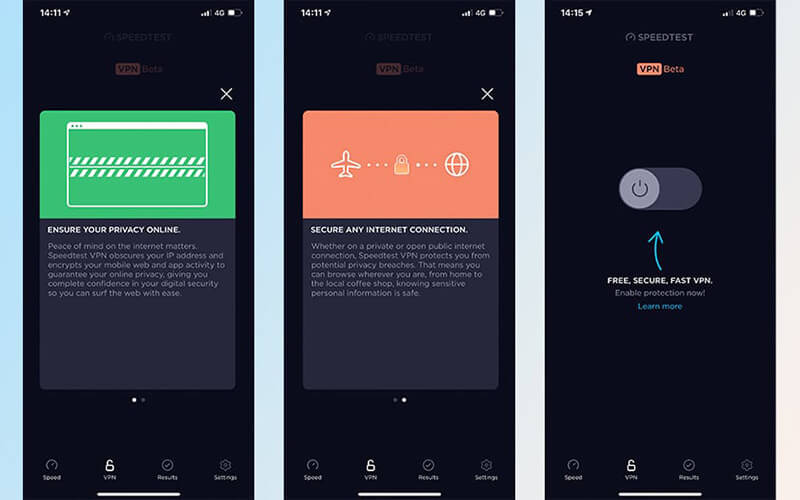 Simultaneous connections
That is not the only problem as you will also find yourself with limited eligibility for just a single device connection (at the same time).
Customer Service
Probably the only strong point for Ookla Speedtest VPN is its customer service. You will get to enjoy an effective live chat feature that can get any of your issues solved within a couple of minutes.
Additionally, they do offer a detailed FAQ page that does provide more than just general purpose answers.
Value for Money
As we have mentioned above, Ookla Speedtest VPN is mostly known for its free plan that is limited to 2 GB of data transfer and a couple of servers. However, there is also a paid option that we don't consider a worthy choice. But we will talk about it below in our Speedtest VPN review.
Price comparison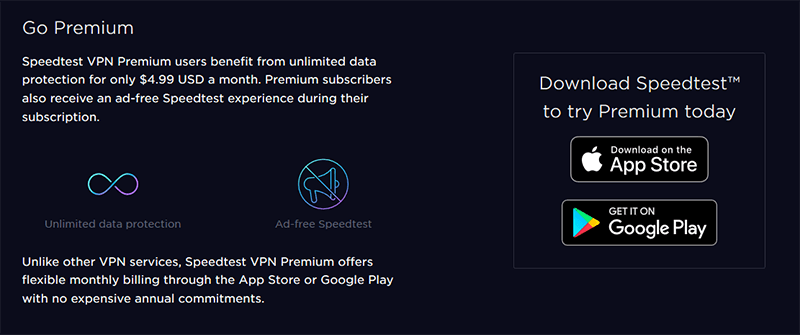 There is just a single subscription option being a one month plan that is set at $4.99. Honestly, we don't think that what you are getting is good for this price. This is especially given the fact that providers such as NordVPN and CyberGhost do offer a more affordable pricing regime.
Payment types
You can use any kind of debit or credit card as well as PayPal to make a payment. Which is more than enough for most people. Despite everything, we regret the fact that it is not possible to pay via cryptocurrencies (including Bitcoin).
Money-back guarantee
There is a 7-day refund policy that you can request via the live chat feature. We didn't try it but apparently, there are no hidden lines, so it should be safe.
Extras
There were no additional features that we would like to talk about or review at this point of our article about Speedtest VPN. This is very disappointing when you know that you can very often find an ad blocker, an integrated speed-test function, servers to access TOR anonymously.
Final Thoughts
Do we recommend Ookla Speedtest VPN? No! In fact, we have rated it so low.
And that is enough to know that you are much better off with options such as ExpressVPN, NordVPN, and CyberGhost.
It is slow, unreliable, and doesn't do a good job protecting your privacy. Thus, we do suggest that you avoid making the mistake of subscribing to it and look at the best premium VPNs here to enjoy anonymous browsing!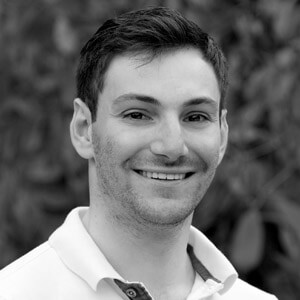 Flo is the founder of the-bestvpn.com. Really concerned about security on internet, he decided to create this website in order to help everyone find the best VPN. He's got a Business School background and now is 100% dedicated to keeping his website alive.