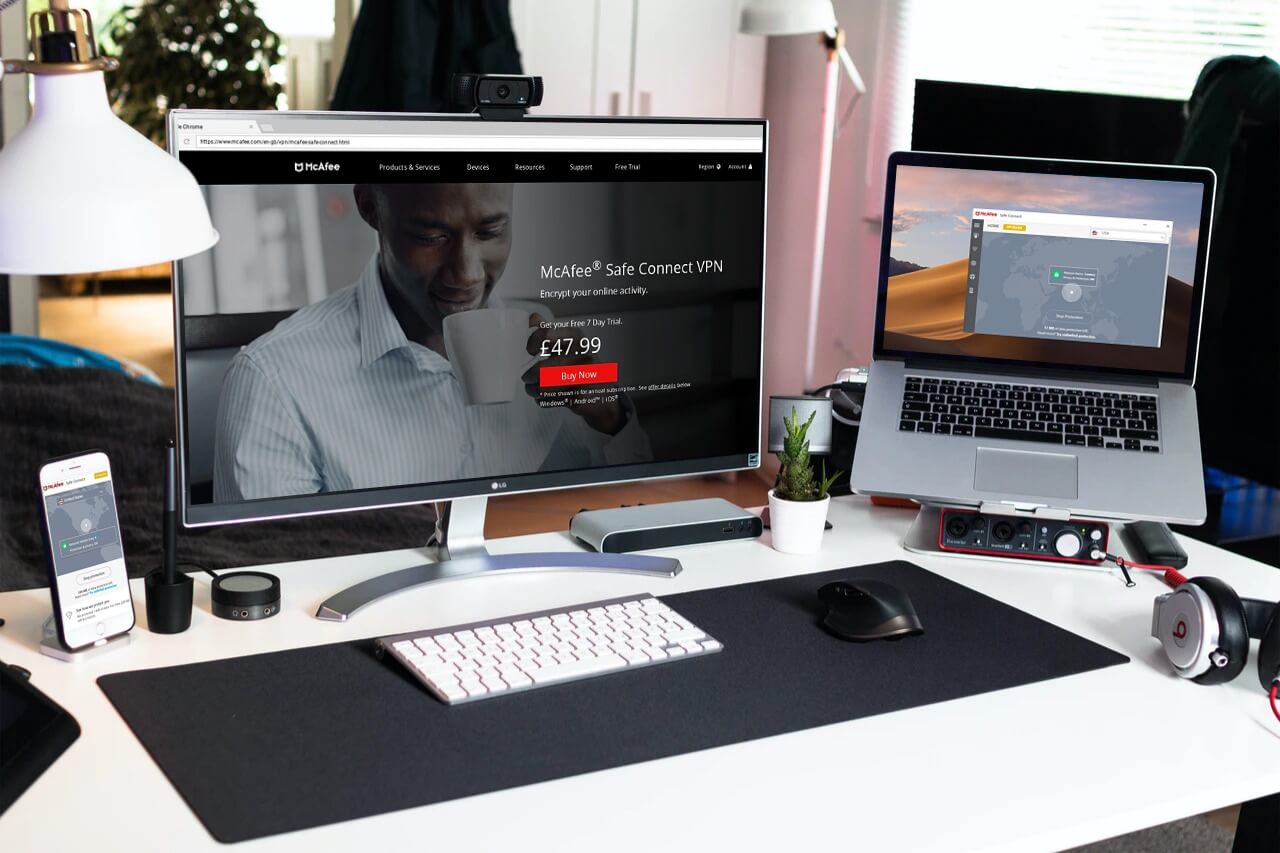 Considering the reputation that the McAfee antivirus has, it would be easy to put trust in their VPN service, as well. If you look up the reviews for this provider, you will find that their interface is quite good. Also, they ensure 100% anonymous browsing, which is a positive thing. Still, this is not the only aspect that should be considered when determining the overall value. For our review of McAfee VPN, we tested the few virtual servers that they offer, as well as the overall usability of their service.
We came to a few conclusions that may help you decide whether you want to try using this provider or not. What are you waiting for? Let's get right to it!
STRENGTHS:
User-friendly interface
Unlimited bandwidth for premium users
Good for iOS
Weaknesses:
Logs data
Low number of servers
Limited torrenting
No browser extensions
Netflix not available
---
McAfee VPN ranks #58 out of 104 VPNs tested. Here are the best alternatives :
Is It a Paid or Free VPN?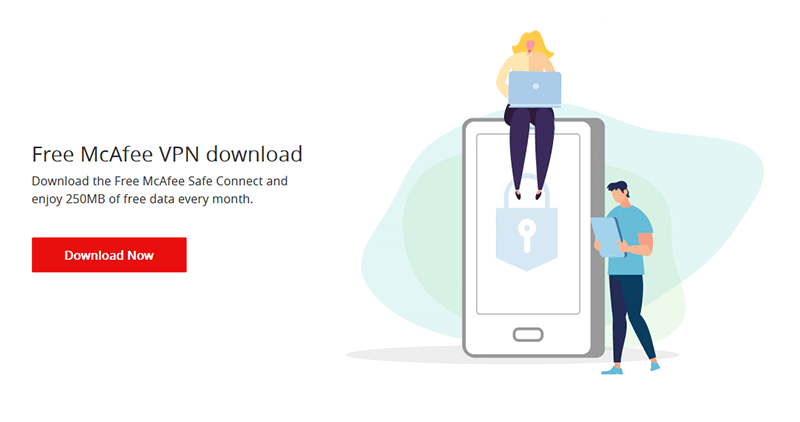 Before reviewing the important aspects like speed and stability, we will discuss whether this provider offers services free of charge or not in this McAfee VPN review.
If you are new to this whole subject, we recommend that you see our complete definition of what is a VPN here. But to cut a long story short, McAfee VPN offers a free subscription service.
To be honest, it is quite good considering that you get the opportunity to unblock certain streaming websites. You can also access all 18 servers. Additionally, leak protection is something you can put your trust in, as well.
Still, the main issue that we have with this option is that the bandwidth is limited.
Thus, if you want to use their Virtual Private Network service for as much as you like, you need to become a premium member. On the other hand, if you want to be spared the trouble, subscribe to CyberGhost, and experience what a truly free VPN feels like thanks to their money-back guarantee or their 1-day trial.
Performance
We can't talk about whether one provider is worth the money or not before testing out the overall speed and stability.
Any VPN service will drop your internet connection, but the question is how much will it affect your activity.
If you are someone who enjoys downloading and torrenting, drops that are more than 30-40% can seriously mess with your ideas. Did McAfee VPN prove to be reliable during our test and review of its service? Let's go ahead and see.
Speed
Honestly, we weren't the most satisfied with these results. As we have mentioned above, this provider offers a limited number of servers. They are all set in Europe and the US, thus choosing which one to test wasn't that hard.
We started with a download benchmark of 235 Mbps, while our upload speed was set at 211 Mbps. These stats are quite good for both streaming and torrenting.
Still, the drop that we experienced once connected to a US server was quite significant. The ping raised to 162 ms, while the download speed has decreased all the way to 30 Mbps. Additionally, the upload was set at "only" 44 Mbps.
This means is that, if you want to enjoy fast and reliable browsing, it couldn't be done using the McAfee VPN.
On the other hand, subscribing to leading providers, such as ExpressVPN or NordVPN, are a great alternative if you want fast, reliable, stable servers.
As for the EU servers, the results that we've got during our McAfee VPN test and review were somewhat better.
The ping was set at 67 ms, while the upload and download speeds were decreased by 60%. It is faster, but it is still not good enough for us. To be honest, the provider reminds us of the popular (undeserved) StrongVPN in terms of how big the speed drops are.
And we're not even mentioning numbers we've got when connected to Asian servers… You can find them below though:
Without VPN (we were located in London) :

EU Server :


US Server :

Asia Server :


Stability
Speed is quite relevant, but there is one thing that is even more important and that is how strong their servers are. If you are constantly getting kicked out and are unable to use a single server for more than 20 minutes, then you shouldn't waste your time on it.
While we had a stable connection to the EU servers, the one in the US was much dodgier. This was due to the high ping that sometimes even sparked up to 200 ms.
Streaming
Among the most important reasons why people install a VPN is to watch their favorite streamed content via Netflix, Hulu, Disney+… If you are one of those people, then reviewing whether McAfee can unblock it might interest you.
Netflix
If you are familiar with how a VPN works, you know that a couple of years ago it was the main enemy of Netflix. This is because it allowed millions of people across the globe to unblock catalogs that would usually be unavailable.
Still, Netflix has found a way to block most providers, and, today, just a few manage to pass without any issues.
Unfortunately, McAfee is not among these. In fact, we performed a series of tests connecting to both US and EU servers. We found the server in France to be the only one that unblocked Netflix, but that was just for limited content.
Other streaming services
Our tests and review of McAfee VPN went on to show that it is not the most reliable provider for unblocking content. Additionally, due to the slow speeds, you might have trouble streaming HD in general.
Still, there is something good about this provider.
Unblocking channels such as Fox, CBS, and ESPN is quite easy. Also, we didn't have a lot of issues working through the BBC iPlayer. On the other hand, tests on Hulu and Amazon Prime weren't conclusive.
Security

A VPN provider that doesn't ensure 100% anonymous browsing, as well as relevant security features, shouldn't be trusted! If you are using a false IP address but your real one is still at risk of being exposed, you can suffer serious legal consequences.
Additionally, you wouldn't want your private information or browsing data to get handed over to foreign authorities. Can McAfee VPN protect you from this? Let's review the information.
Where is it based?
While popular and reputable, McAfee company is based in the USA, and that is the main problem we have with this provider. This means that they might have to hand over your data to the authorities if requested. Why?
The USA is a part of the Five Eyes alliance, along with Canada, New Zealand, the UK, and Australia.
This puts your privacy at a serious risk of exposure. The only hope that we have for this provider is that they might change their location to India or the Philippines in the future. They already have offices there and would be able to avoid the Five Eyes alliance.
Log policy
To be honest, their official website doesn't say much when it comes to the privacy policy of their VPN service. They do have a few general clauses that we used in order to decipher what they truly meant, though.
Thus, when it comes to whether they log your data or not, it is safe to assume that they do keep some of it.
Reading and doing a full review of the McAfee privacy policy, we saw that they have data about the applications you are using, as well as the network you are connected to.
Also, the device you are using can be stored. Additionally, we are led to believe that info such as payment history and email address is stored, as well. This certainly is not the greatest logging policy out there.
If you are looking to enjoy 100% anonymous browsing without any concern that your data can be given to others, try NordVPN or CyberGhost instead.
Protocols
Once again, they don't really mention a lot about what protocols they are using. Trying out their service with multiple devices, we concluded that the IKEv2 is probably featured, considering that it runs well on iOS. On the other hand, we aren't too sure whether it is using OpenVPN or not.
Leak protection
Maybe the most important thing is whether your true IP address can be revealed or not. The first thing that you should know is that this provider doesn't include a kill-switch, which is normally a great weapon against leaks.
Still, it didn't fare too badly. After a couple of tests, we concluded that there is a 25% chance of an IP/DNS leak happening in case your connection cracks. Which is not very good news, to be honest.
Torrenting
While McAfee doesn't restrict torrenting, they didn't offer good performance in this aspect during our review and test, either. Thus, the only solution was that we go ahead and try.

We managed to start torrenting via a few EU servers.
However, due to the incredibly slow speeds, we weren't able to complete the P2P transfers at the desired time. Additionally, the US servers apparently don't support torrenting AT ALL.
Bypassing Censorship
What kind of review would this be if we didn't talk about the capability of McAfee VPN to bypass geo-restrictions?
To be honest, the provider proved to work quite well when it comes to accessing censored betting websites. It also worked well with YouTube content and social networks that are geo-restricted.
Still, we didn't manage to make it work in China. This is not a surprise, considering the Great Chinese Firewall that protects those restrictions from most VPN providers. This doesn't mean that it is impossible to bypass it, though.
Looking at our review of ExpressVPN, cracking the algorithm, and accessing censored sites through a server in Hong Kong is quite possible and very simple.
McAfee doesn't feature a Hong Kong server. Thus, you can't expect that to happen.
Countries and Servers
We can't really consider McAfee VPN to be a global provider. The reason for this is that they offer just 18 different server locations, and most of them are set in the US and EU.
Compared to CyberGhost and NordVPN, which feature 5000+ servers in 90 or 60 countries, this is quite limited. Additionally, the servers are nowhere as fast and stable as you would expect them to be.
Devices and Connections
Another important aspect to consider is whether you can feel confident about using this device from home or at your office.
Supported devices
This certainly is not the strongest point of the McAfee Safe Connect solution when we did this review. There are a few limitations to get to. The first one is that Android devices need to be a version above 4.4 and not rooted. As for iOS, it needs to be the version above 9.0 and not jail-broken.
Last but not least, McAfee can work on any Windows that is 8 or above. What this means is that you can't use their service on a macOS, Linux, router, smart TV, or any popular console.
It is REALLY bad for a Virtual Private Network provider, that is for sure!
Simultaneous connections
On the other hand, their premium subscription package does allow more than an average provider. You can protect up to five devices at the same time if you pay the fee. However, their free-of-charge service allows only one.
Customer service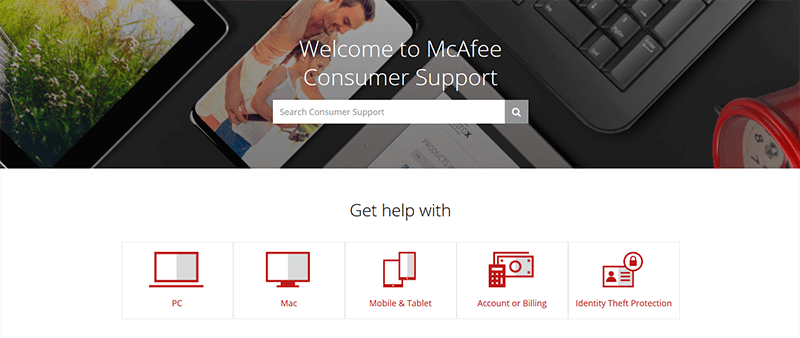 Your first option is to try and find the relevant answer in the FAQ section. Unfortunately, it is quite limited, and you can't really find the more complex answers. Try to settle your issue this way or by using their relevant forums.
McAfee company offers one option for free users (email) and two for premium (email + call). To be honest, we tried out both and found the customer service team to be quite polite and professional, which was quite surprising and very welcome.
Value for Money
We did mention earlier in the review that McAfee offered a free service, but we also said that it is limited and not as good as the premium package. Is the latter worth the money, and what payment options are offered?
Price comparison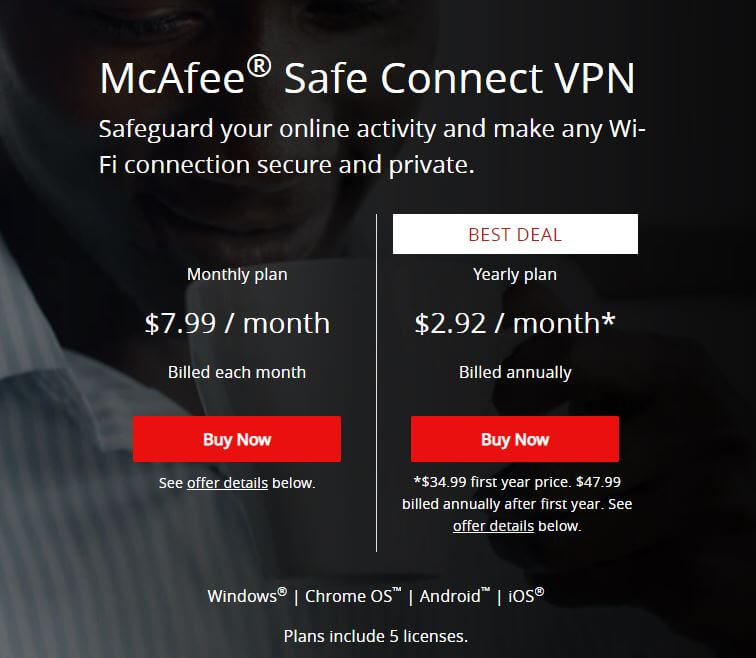 There are a couple of things that you get by upgrading to the advanced subscription. First, instead of using just one server, you get the opportunity to use all 18 (which is still not a lot). Additionally, you get unlimited bandwidth, as well as the ability to protect five devices at the same time.
While this is good, it is nothing out of this world. This is why we think that the $7.99 per month price is too much. On the other hand, the discounted price of $47.9 per year is fairer.
However, if you want a top-quality service in the same price range, take a look at ExpressVPN. This provider offers thousands of servers for an exceptional price.
Payment types
This provider supports all the major debit and credit cards, as well as payment via PayPal and eCheques. But, cryptocurrencies aren't supported.
Money-back guarantee
As we stated earlier, their customer service is quite reliable, which makes the 30-day refund policy something you can count on.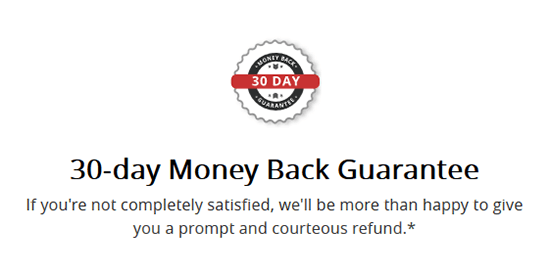 Extras
Apart from the user-friendly interface that we would like to mention, there aren't any extras to review regarding the McAfee Safe Connect VPN solution.
Conclusion
Taking everything into consideration, we would rate McAfee VPN to be #58 out of 104 providers that we analyzed. It is a good service for beginners and people looking to get basic features.
However, it is not ideal for streaming, torrenting, or browsing anonymously in general.
Thus, if you want to get all of this for a good price, take a look at ExpressVPN and CyberGhost as they're some of the leading providers on the market!
Overall, this is not a VPN service that we recommend and we suggest that you take a look at the top 3 providers we mentioned at the start of our review. This way, you will be sure not to be disappointed.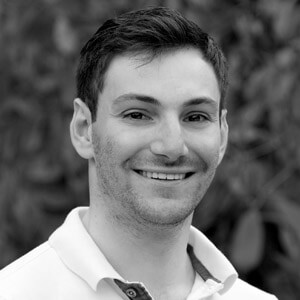 Flo is the founder of the-bestvpn.com. Really concerned about security on internet, he decided to create this website in order to help everyone find the best VPN. He's got a Business School background and now is 100% dedicated to keeping his website alive.