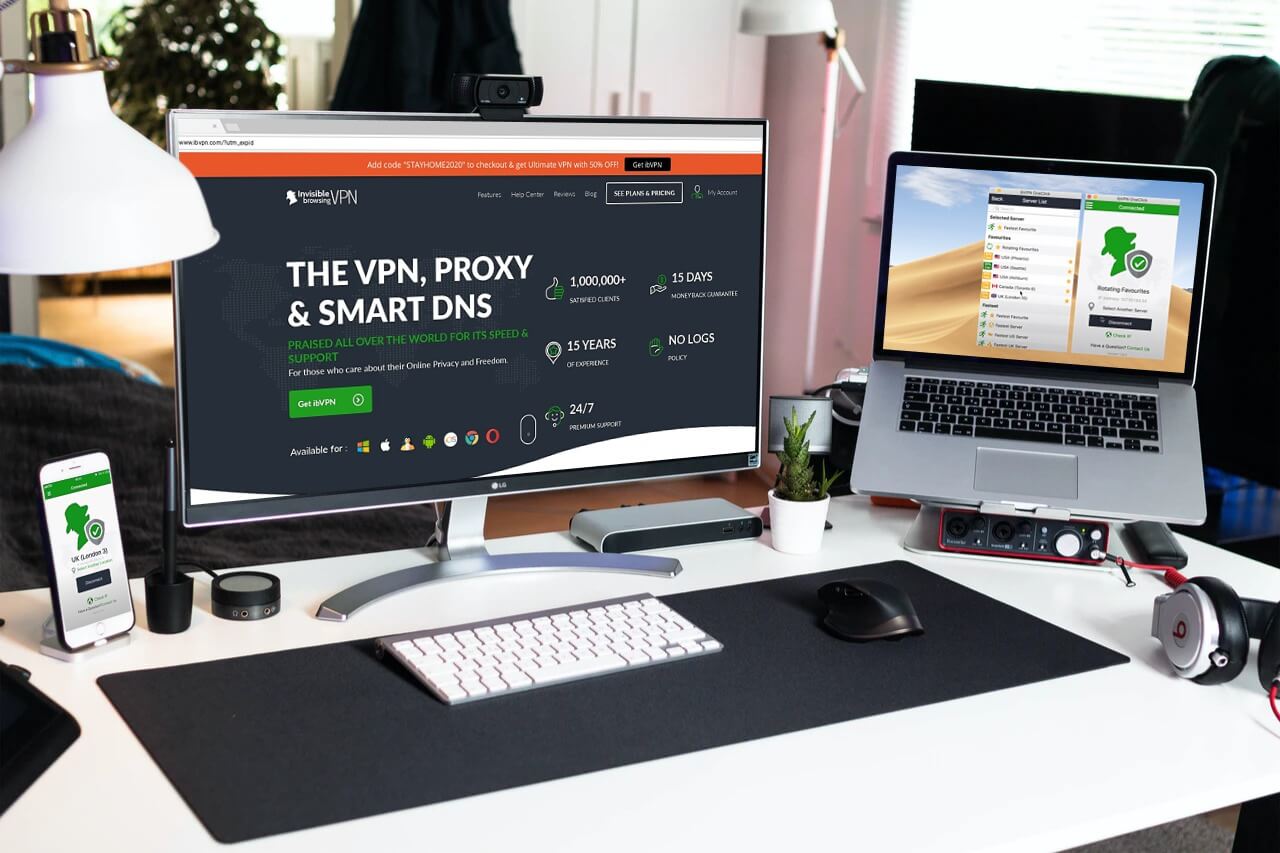 ibVPN seems a strange name for a provider but in fact, it stands for "invisible browsing". When you realize this, the name makes sense as, after all, a Virtual Private Network should ensure you are invisible when browsing the web. However, in this ibVPN review and test, we are going to look into all aspects of what makes a great provider, to find out whether it is a hit or miss.
Finding the best VPN out there can be hit or miss but this is what we tried to do at the-bestvpn.com so you do not have to. We take an in-depth look into providers and aspects such as speed, overcoming censorship, performance, streaming, and much more.
Before going into our complete review of ibVPN for 2023, we first want to highlight some of the strengths and weaknesses of the provider.
STRENGTHS:
Range of packages
Supports a plethora of devices
P2P is supported
Weaknesses:
Only a 15-day money back guarantee
Not the best for streaming
Can take a long time to connect
Speeds are poor
---
ibVPN ranks #44 out of 104 VPNs tested. Here are the best alternatives :
Is it a free of paid VPN?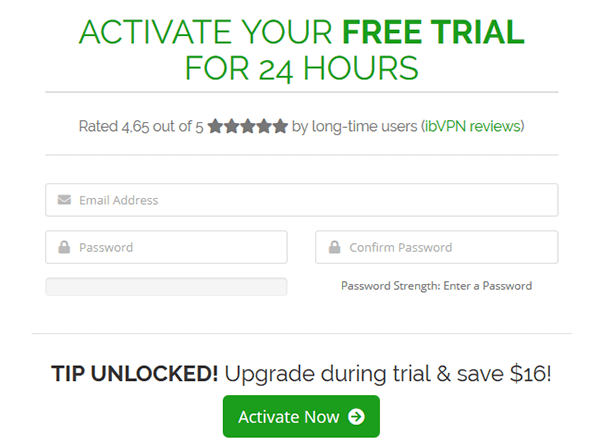 So, do you have to pay to make use of the service or is there a free version? This is the first thing we took a look at for our test.
You can get 24 hours free use without restrictions if you want to test it out. While this is not a long time, it will give you an idea as to what the product offers.
There are also various paid options available if you decide this is the right Virtual Private Network for you.
Performance
The performance part of our ibVPN review and test is going to look at the speed of the servers and stability. After all, no one wants service with slow speed and issues with stability.
Speed
ibVPN is never going to make it to the top of the list for speed, in fact, we don't recommend it all for its speed. The provider is akin to the tortoise in the Hare and Tortoise fable, with ExpressVPN being the hare. Sadly, this time it is the fastest that comes out ahead.
You can find our speed tests of ibVPN below.
Without VPN (we were located in London) :

EU Server :


US Server :

Asia Server :


With speeds as slow as they are this is not a VPN provider to consider if you want to stream or download content online.
Stability
The servers might not be fast but are they at least stable? We did come across some issues where the server would drop unexpectedly during our test. However, these times were far and few between so it was not a very big issue.
Streaming

With the advent of streaming services such as Netflix, Amazon Prime, and Hulu, watching TV online has become extremely popular.
In some cases, when you venture outside of your country, you may need to unblock content from home and a Virtual Private Network can help you to do that. Therefore, in this part of our ibVPN review, we are going to look at whether the provider can help you to stream online.
Netflix
On the provider's homepage, it states one of the features is to help you overcome geo-restrictions. As Netflix is one of the biggest services out there, this was our first test.
Only the US offers the full catalog of content so we connected to a US server and tried to open up Netflix. Sadly, the only thing we saw was a notice telling us the site was unreachable and we should check the proxy.
So, you cannot stream Netflix with this provider!

We also tried it by connecting to a UK server to visit that version and while we got a little bit further, Netflix picked up we were using a VPN and told us so.
If US Netflix is one of the services you use regularly, we highly recommend ExpressVPN, NordVPN, or CyberGhost. All can overcome the Netflix geo-restrictions very easily unlike ibVPN.
Other streaming services
The provider loses many points for being unable to stream Netflix but if you don't use the site you might still be interested in it. So, does it fare any better with the other streaming websites out there?
Perhaps your choice of TV is Hulu or BBC iPlayer. Well if it is, you are out of luck again, as all we got when trying to stream from Hulu was an error page. The same applied when we tried accessing BBC iPlayer using a UK server.
Again, this would be enough to have us turn away from the provider and instead, start looking at some of the top providers out there, such as ExpressVPN.
Security

Security is one of the most crucial aspects of our ibVPN review and test. We looked into where the company originates, their log policy, protocols, and whether leak protection is offered.
Right off, we can say that the provider uses military-grade 256-AES encryption. This is the toughest encryption out there and is recommended by governments.
Remain secure online with ibVPN now >
With this, any information you send from your device out over the internet is encrypted making it impossible for anyone to read it if they were to intercept it.
Where is it based?
ibVPN is owned by Amplusnet SRL and is based in Romania. This is good news for those who value anonymity as it falls outside of the countries that share intelligence.
Log policy
As the provider is not a member of the Five, Nine, or Fourteen Eyes intelligence agencies, it does not have to collect any data from users.
The provider does state on the website it has a no-log policy and does not log or collect any traffic of users.
Protocols

A range of protocols is offered which is good news. To start with, OpenVPN is used and this is the most secure protocol. Other ones include L2TP/IPSec, IKEVv2, SSTP, PPTP, and Stealth VPN.
The latter one is especially good when you want to get past censorship, but on the downside, you can only use this with Windows PC and Android devices.
Leak protection
A Kill Switch should be part of the security package offered by the provider as it ensures that no data can get onto the internet unless it is encrypted. It does this by stopping the internet connection in the event the connection is dropped.
Thankfully, ibVPN does offer this in plans.
Torrenting
The next criteria the provider has to meet in this ibVPN review is whether it can be used to torrent safely online without your ISP finding out.
As the ISP has eyes on everything you do, they can find out what you download and when you download.
ibVPN allows torrenting but not on all servers, you can choose from 35 servers and it is possible to set the app to connect automatically to servers that allow torrenting when using it. Another downside is torrenting is only supported when using the Premium Torrent VPN or Ultimate VPN plans.
Torrent in safety with ibVPN now >
ExpressVPN might be a better solution if you want a provider specifically for using when torrenting.
Bypassing censorship
When you're faced with a blocked website, you can use this VPN to bypass the restrictions. How successful you are is going to depend on which country you are located in.
ibVPN does state it can even bypass censorship in China using the Stealth VPN or Shadowsocks VPN. An extra feature in the Ultimate plan with the aim of beating censorship is a double VPN. With this feature, you can connect to two servers to double up the protection.
Countries and servers

A VPN is only as good as the number of servers supported and the countries those servers are located in, so this part of our ibVPN review and test is crucial in determining whether the provider is a hit or miss.
On the website of the provider, it states that it offers "lots of servers in the most wanted locations".
The provider offers around 150 servers in 47 countries around the world. This is an extremely low number when considering top provider ExpressVPN offers thousands in more than 94 countries worldwide.
When you look at things this way, you might want to go with a provider offering a much bigger choice of servers in many more countries.
Compatible devices and connections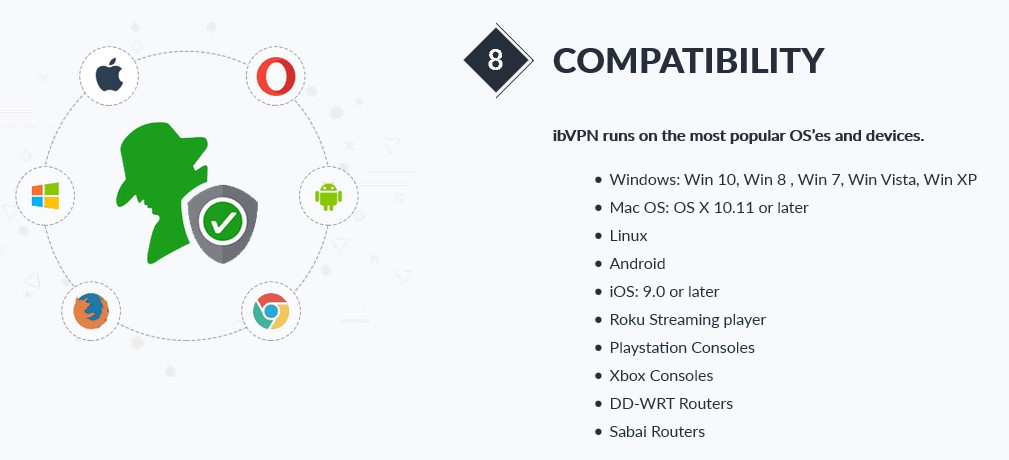 As more and more people are using the internet on the go, being able to use a Virtual Private Network on mobile devices is essential.
An easy way to cover numerous devices is to install it on a router and connect your device to the internet through the router. If needed, this article is about the VPN providers that work on a router.
Devices supported
ibVPN offers apps that work on:
Routers;
Windows;
macOS;
Linux;
Android;
iOS;
Roku;
Gaming consoles;
And more.
Simultaneous connections
Many of the top providers allow you to use a plan on simultaneous devices so is this true for ibVPN?
If you pay for the Ultimate VPN plan, you can use the plan on up to five devices at the same time. However, with the other three plans, you are limited to just one single device.
The provider fails miserably here when you consider that Surfshark offers unlimited simultaneous connections.
Support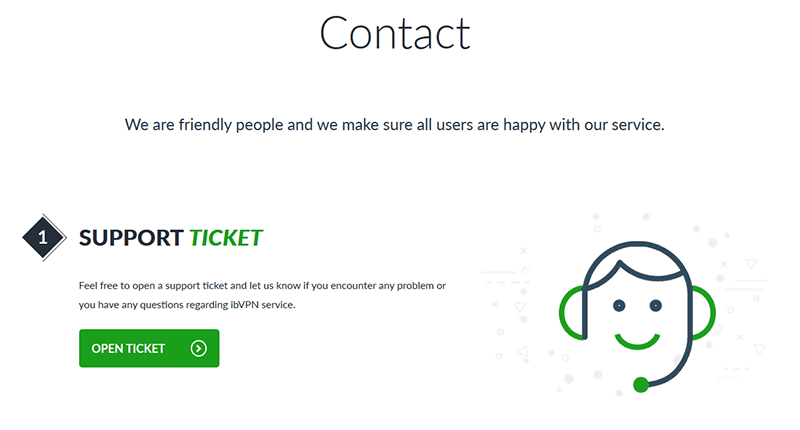 If you are paying out good money for a provider, you expect to get a good level of customer support so this is what we looked into in this part of our ibVPN review.
The good news is that ibVPN offers live chat support, which means someone is on hand to give you immediate assistance. This feature does seem to work well as during our test we only had to wait a few minutes.
Additional support is offered by way of ticket and email and again these are responsive. Email, of course, does take the longest time to receive an answer. There is also a knowledge base and FAQs for self-help.
Value for money
Is ibVPN good value for money or would you be better off avoiding it and going with one of the more well-known providers?
Price comparison

The provider does offer a free plan and while it provides you with access to the premium services, it is only for 24 hours.
The first paid plan offered is the Standard one. You can pay for the plan yearly at $36.95, six months at $19.95, or pay monthly at $4.95. The provider recommends using this plan for streaming, unblocking, and privacy.
Regarding the torrent plan, it is recommended specifically for torrenting. It can be paid yearly at $36.95, six months at $19.95, or monthly at $4.95.
Save money on ibVPN plans now >
There is an ibDNS/Smart DNS plan specifically for streaming and unblocking websites. However, it does not include the features of a Virtual Private Network; it is only smart DNS and proxy.
This is $36.95 yearly, $19.95 for six months, or $4.95 monthly.
Finally, there is the Ultimate plan, which includes both VPN, Smart DNS, and proxy. The plan costs $58.06 per year, $42.95 for six months, or $10.95 per month. And this includes all the features of the other plans with TOR over VPN, Stealth VPN, and Double VPN added in.
Payment types
You can pay for a plan in several ways. This includes payment through PayPal, credit card, Bitcoin, Perfect Money and Paymentwall, and more.
Money-back guarantee
With the paid plans, a 15-day money-back guarantee is offered. This does come with a policy so do check it out. Bear in mind that providers such as ExpressVPN and NordVPN offer a 30-day unconditional money-back guarantee.
Extras
ibVPN offers an extra feature called Double VPN. This allows users to double protection by connecting first to one server to mask the IP address and then another. However, to take full advantage of this you do have to pay for the Ultimate plan.
In comparison, this is a feature that NordVPN offers in all plans.
Final thoughts
This is our last section of this ibVPN review and test where we give our final thoughts about the provider, so here goes!
The number of servers and countries covered is relatively low when compared with the likes of ExpressVPN, NordVPN, and CyberGhost. Therefore, we recommend you looking elsewhere to get better value for your money.
Being able to connect only one device, unless you go for the ultimate plan, is extremely poor on the provider's part.
Servers are slow, so do not expect the fastest web browsing or downloading. The provider fails miserably at unblocking Netflix and even other services such as BBC iPlayer, Hulu, and others.
If you want a provider for this, you might want to look at ExpressVPN.
All-in-all there isn't anything that would persuade us to choose this provider over the most popular ones out there. It is still too far from what is offering the best services in 2023.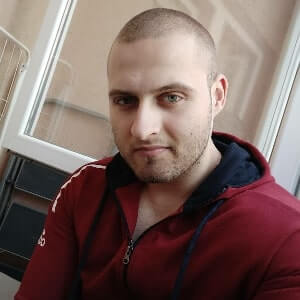 A professional writer with a Master's degree in Mechanical Engineering. Since his youngest age, he loves everything related to internet, technology, fitness, games, and dogs! He joined our team in order to bring his deep knowledge in security services, among which VPN is of course a key component.