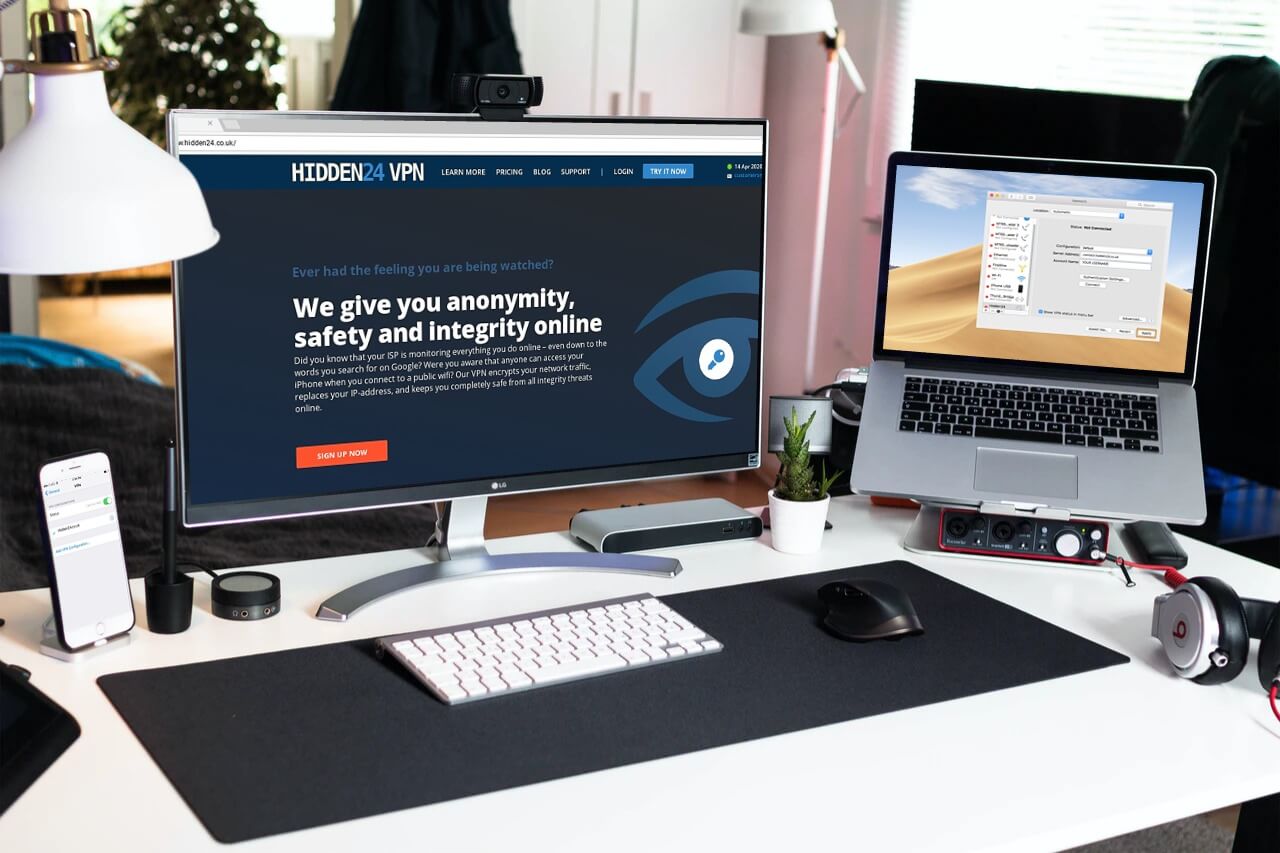 In 2005, the Swedish government created a policy that enabled users to be monitored online. Understandably, the Swedish journalists were unhappy with this policy, so they responded by creating a Hidden24 VPN for online privacy. However, the VPN technology has advanced massively since then, so we've created this test and review to see if this service has joined in on the advancement.
Hidden24 VPN, in all honesty, is a straightforward service that's based on a straightforward principle. It creates a VPN tunnel, by which traffic is redirected to the "server farm" in the United Kingdom.
However, we won't talk much about the operating principle of the provider here. We will save that for later in this comprehensive review.
Nonetheless, we'd like to give you one warning before you proceed to the deeper part of this Hidden24 VPN review – don't expect too much from this provider. While this app-less Virtual Private Network is compatible with most devices and works reliably, it is just not for everyone.
It can help you unblock blocked websites as it can change your IP address in less than 5 seconds, but it can't do a lot more than that.
If you're looking for a provider that will help you reliably unblock the biggest streaming sites, bypass the Great Firewall of China, or provide you with thousands of server options, you may need to look elsewhere now.
With that being said, we welcome you to our comprehensive 2023 Hidden24 VPN review.
STRENGTHS:
Affordable prices
No-logging policy
WEAKNESSES:
Based under the jurisdiction of the Fourteen Eyes
Poor streaming performance
Doesn't have a Kill Switch
Says nothing about servers
Terrible client support
Hidden24 ranks #105 out of 105 VPNs tested. Here are the best alternatives:
---
Is it a paid or a free VPN ?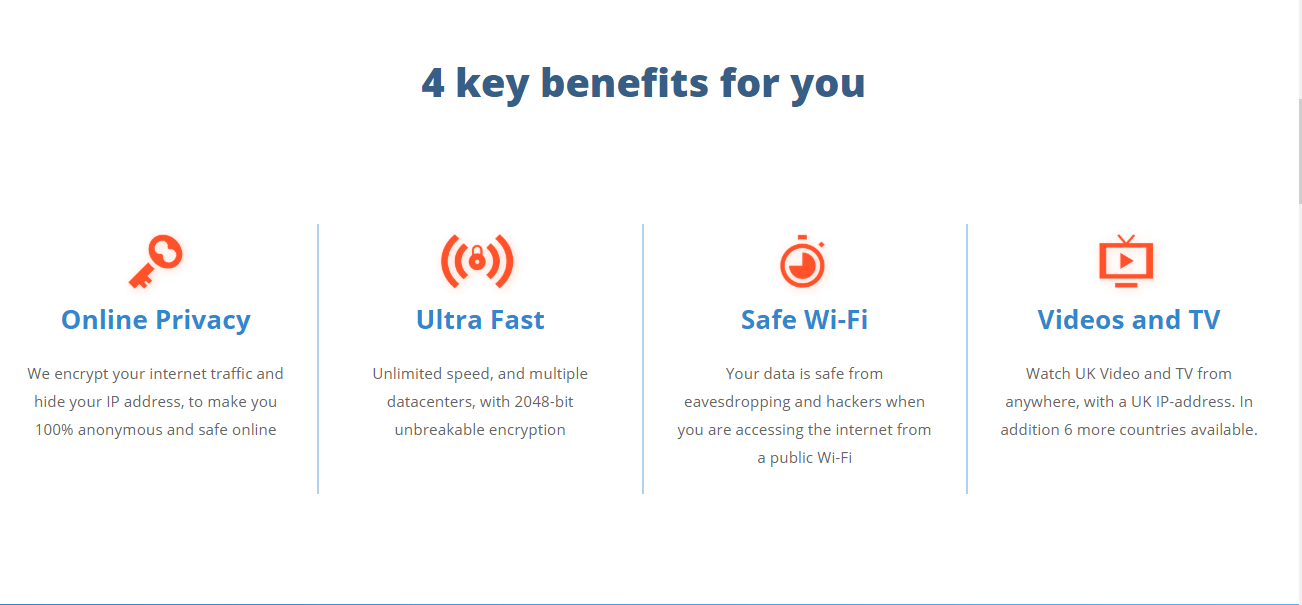 Hidden24 VPN is a paid service, but we don't understand why anyone would pay for this service when there're other better providers. It doesn't just offer enough value for money and we are strong of the opinion that it should have had a free service.
Performance
Any service that wants to offer sufficient value for the money paid for it has to offer excellent performance. That's why we've put the performance of Hidden24 VPN to test, using speed and stability as metrics.
Speed
The encryption that happens always takes its toll on the speed of VPNs. But we assure you that nothing justifies the super slow speed of the provider. Being a small company with a relatively low number of users, we were hoping for it to offer decent speeds at least.
Unfortunately, there was nothing decent about the speeds we experienced during our test and review of Hidden24 VPN.
We checked the speed with both distant and nearby servers, and the service performed poorly each time we tried. This is the first shortcoming we're mentioning about this Swedish service, but we warn that there are many more to come.
Without VPN (we were located in London) :

EU Server (France) :


US Server :

Asia Server :


Stability
At its core, this service works very reliably and steadily. On Hidden24 VPN's plus side, you can count on its stable servers. None of the servers we tested gave us any issues, the connection didn't slow down, and we didn't experience any sudden interruptions.
Streaming
For some people, there is nothing more entertaining than streaming. Since some giant streaming sites impose geo-restrictions, however, it's understandable that most VPN users are just looking for the one that will help them unblock these sites.
Have they found one in Hidden24 VPN? That's why we accounted for its streaming performance in this test and review.
Netflix
This service couldn't get past the anti-VPN systems of Netflix during our test, which is in stark contrast to the claims made by the company. Instead of this useless service, we advise you to choose ExpressVPN, which is simply the best VPN to watch Netflix.
BBC iPlayer
Apart from not being able to unblock Netflix, we also couldn't use it to unblock BBC iPlayer. This is very disappointing and makes us question if this service is even useful for anything.
Others?
There were better lucks with some other smaller streaming sites, but we still couldn't access all of the ones we tested. While we were able to access Fox, Amazon Prime Video, and HBO, we couldn't access Hulu and YouTube.
Security
If there were no security concerns in the first place, we're not sure there would've been anything like a VPN. Due to that, we have put the security systems of Hidden24 VPN to test, and below are the results in this review.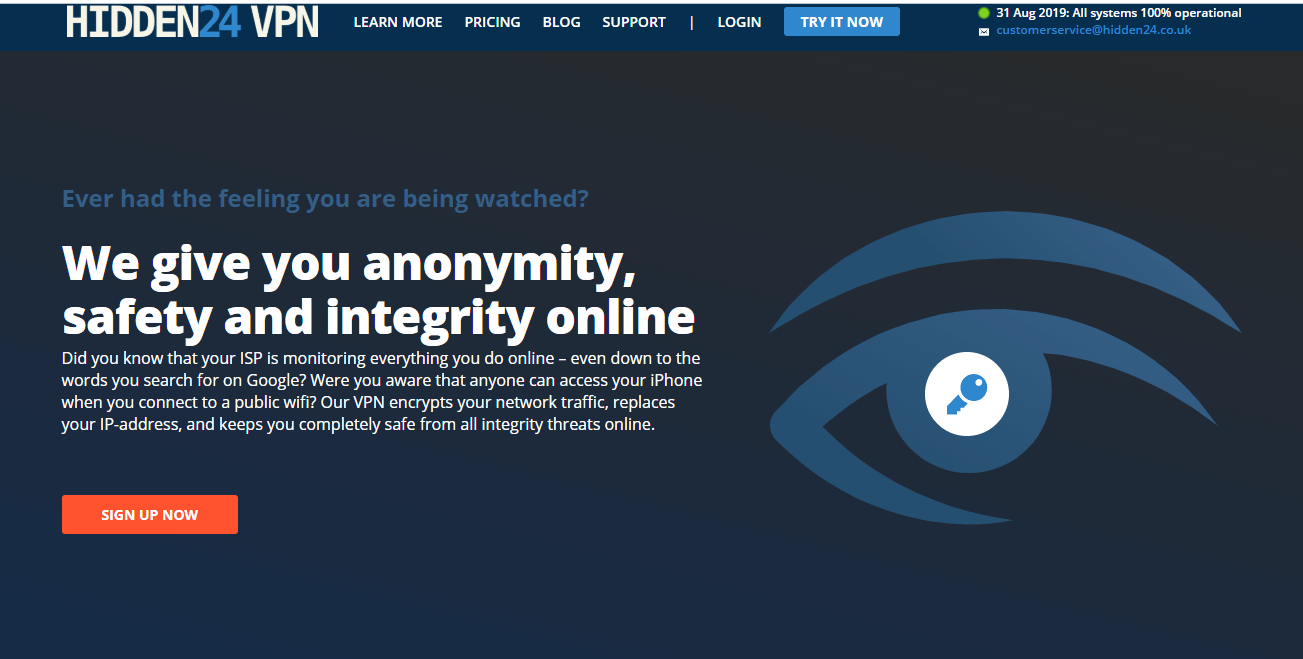 Where is it based?
In 2005, Hidden 24 VPN was created by a group of Swedish journalists in response to the surveillance laws created by the country. However, it now a service that can be used by anyone, and not just the journalists.
With that being said, Hidden24 VPN is based in Sweden and is completely a Swedish company.
That may be a cause for concern for some people, especially people who are familiar with privacy laws around the world. That's because Sweden is a member of the notorious Fourteen Eyes Alliance.
If you have never heard of the Fourteen Eyes Alliance, you probably just woke up from a coma.
Known for its disrespect for the privacy of people, the Fourteen Eyes Alliance is an alliance that consists of fourteen powerful countries around the world. There is an agreement between these countries to share intelligence and suspicion users' data with each other.
While they claim that the alliance was created in an effort to curb terrorism, we feel they may be overdoing it.
However, the owner of this service says that they will make sure that the service doesn't collect any user's activity logs. Also, data like credit card numbers from which users make payments will not be stored.
This comes as some sort of relief as it means even if any government agency comes knocking demanding users' data, the company won't have anything to hand over.
Nonetheless, that is still not enough to convince some privacy-privy individuals, who won't take any chance with their private data.
Log policy
Surprisingly, the company is a true no-logging provider, as we found out in our Hidden24 VPN test and review. This is probably why the provider says that it logs absolutely nothing.
This means that they won't ever save any data, be it your connection timestamps, the sites you visit, and the services you use while connected to the VPN service.
According to the company, it should not matter too much that the provider is located in a country that is under the jurisdiction of the Fourteen Eyes since there won't be any users' data to hand over even if any local authorities requested the data of their users.
While you only need to provide an email address to register on Hidden24 VPN, there aren't any means to pay anonymously. Therefore, the only option you have is to either pay by using your debit/credit card, which doesn't help anonymity a lot.
This is, however, a minor quibble that won't bother a lot of people.
Protocols

Hidden24 VPN limits you to just utilizing the VPN protocols already built into the primary operating systems. For example, you can't use any other protocol beyond the outdated L2TP/IPsec or PPTP on Windows.
The provider says that you should use the later only if you want to unblock streaming websites. However, use L2TP/IPsec for superior privacy and security.
Moreover, there is a drawback that the service doesn't support OpenVPN, and while there is a debate about this protocol being more secure or faster than others, it can be configured manually to work on various ports.
As a result of this, it is a lot easier to conceal VPN traffic and bypass firewalls, which can easily block other protocols.
When you use PPTP, you get AES 2048-bit encryption. Note that the provider says that PPTP is just as secure as OpenVPN. But we don't agree with them.
Protection against leaks
We found some strange stuff when we checked for IP and DNS leaks during our test and review of Hidden24 VPN. For example, when we connected to the Spanish server, some websites thought our location was France, and DNS servers were reporting locations in Belgium and the Netherlands.
This is due to the fact that this service utilizes Google's DNS servers, but our ISP's DNS servers or real IP address were not leaked at any point.
Torrenting
Regardless of how much hate shown to it by authorities, torrenting is undoubtedly one of the most popular file-downloading methods in the world. That makes us understand why VPN users are always looking for a way to engage in it safely.
Does Hidden24 VPN provide safe torrenting? You'll find out in this review and test.
Is torrenting allowed?
While torrenting is technically not an illegal act, some activities engaged in by users make it illegal. That's why you always need to download torrents under the protection of a VPN. With such kind of application, your private data and identity will be protected and nobody will know about your download of torrents.
However, note that the provider doesn't support torrenting, which is nothing strange. Being in a country that is part of the Fourteen Eyes, you should understand why they try not to encourage any sort of illegal activity.
We were disappointed about their lack of support for torrenting during our Hidden24 VPN test and review though.
Is there a Kill switch?
No matter how stable the service is, there will always be times when it won't be available. To prevent malicious hackers from taking an advantage of such periods and stealing the private data of users, most providers offer a feature referred to as the Kill Switch,
To ensure all leaks are prevented, this feature instantly steps in whenever it discovers that you've lost your VPN connection. It automatically cuts your internet connection, so that anybody that has been waiting to capitalize on such periods won't find any way to access your data.
Unfortunately, Hidden24 VPN doesn't offer such a feature, and this explains why it's also not a good option for torrenting in comparison to ExpressVPN, CyberGhost, or NordVPN.
Bypassing Censorship
If you live in a high-censorship country, you're probably looking to see if this service can help you bypass the blocks. If you really want to know, then read the following paragraphs in this review and test.
In censored countries
There are many countries around the world that heavily censor the internet in their regions. Countries such as China don't let people access popular sites and services such as Facebook, Google, Twitter YouTube, Skype, and more. Thereby, they prevent people living in the country from sending internal information outside the country.
They also prevent them from being exposed to outside ideas.
With a VPN, people can enjoy more internet freedom in countries like this as people can bypass these blocks by connecting to foreign servers. However, not all VPN providers are equipped with everything required to work in China.
Unfortunately, Hidden24 VPN is not one of those providers that can work in China.
In restricted networks
Most schools and organizations place restrictions on their Wi-FI networks, usually to ensure that students and employees remain focused. However, a Virtual Private Network like this one can help you bypass this kind of block.
Based on our hands-on Hidden24 VPN review and test, you can actually rely on it for something as basic as this.
Countries and servers
One mistake users do is not paying attention to the server count of their provider and the number of countries they cover. Don't make such a silly mistake as it can cost you both your money and time.
That's why we have included this section in this review and test, of course.
Countries covered
In a very suspicious move, Hidden24 VPN has decided not to mention anything about the number of servers it operates. This is a huge red flag and signifies a company that intends to defraud its customers, by not providing enough information about its service.
We scoured their entire website during our test and review to find anything about countries covered but we didn't. However, based on everything we have learned about this bad provider, we think they have a small server network.
Servers
As you might have guessed, we didn't find anything about any specialized servers as they are not many things to find out about this service. If you asked us, we would say they don't offer any specialized servers, especially considering the provider's poor streaming performance.
Compatible devices and simultaneous connections
If you are looking to find out if this service supports your device, you're at the right place. Take a look at this section to find out.
What device can I use with Hidden24 VPN?

Hidden24 VPN is quite limited in terms of platform support, especially since it's an app-less service. They only provide the VPN for Windows and other major platforms, including:
How many simultaneous connections?
Another problem is that you can't use this service on multiple devices simultaneously. It offers just one simultaneous connection, which is very ridiculous. This makes this provider worse value than most of its rivals that allow you to connect many devices simultaneously.
For example, CyberGhost allows 7 simultaneous connections.
Client support
For the times you will encounter issues with the service, it is important to find a company with high-quality client support. In terms of client support, let's see how Hidden24 VPN ranks in our review.
How to contact it?

This provider runs a ticketed support system, but it does not have phone support or a 24/7 live chat. This means that you may have to wait for answers to your questions. This could be frustrating, especially if you need a quick solution to your problem.
During our test, we didn't get a response to our ticket until four days later, which is far from ideal.
Is it good?
The client support of Hidden24 VPN is nothing to write home about. Apart from not offering a live chat option, they take the time to respond.
FAQ/tutorials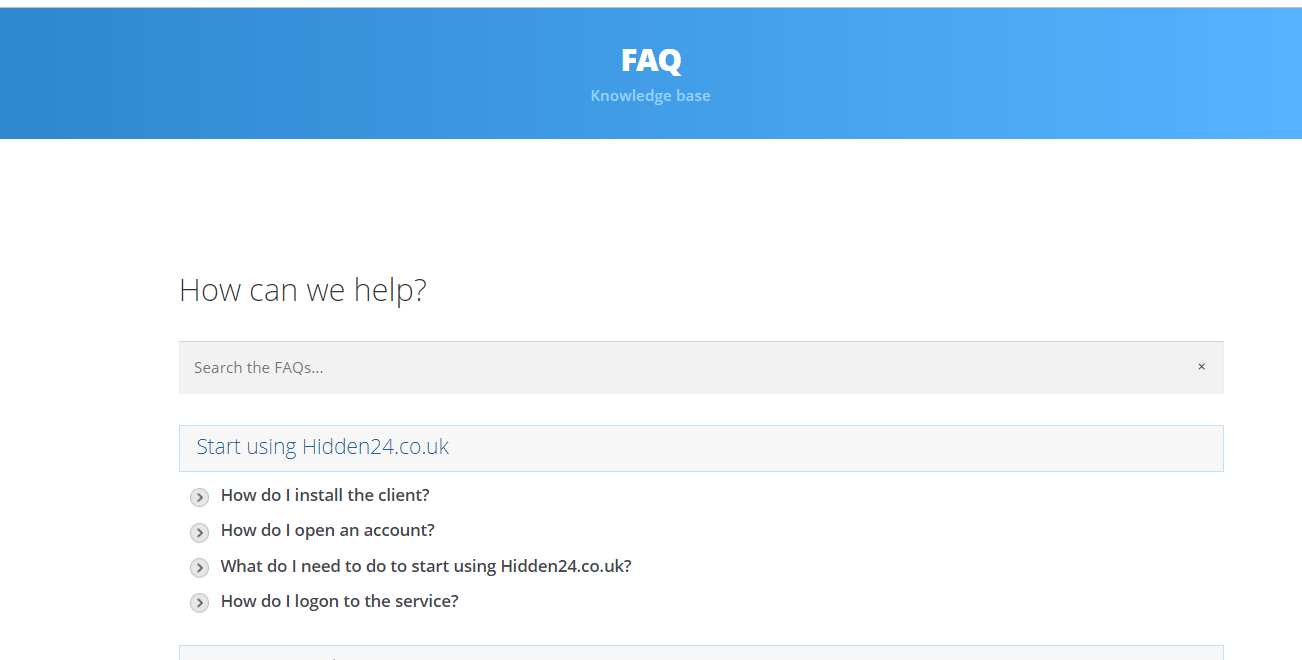 There is an online knowledgebase, which contains dozens of guides articles that could help solve your problems. Strangely though, none of these articles addresses the change of servers.
While there is a downloadable PDF, this is only on the Getting Started page and not in the Support section.
Value for money
The value for money of any VPN lies in its performance and the number of features it has. Does Hidden24 VPN deliver enough value for its price? We are not sure about that. However, take a look at their pricing to judge for yourself.
Price comparison
Hidden24 VPN is not a free service as stated before in this review, offering three plans for its customers. If you are interested in this service, below are the plans you can choose from: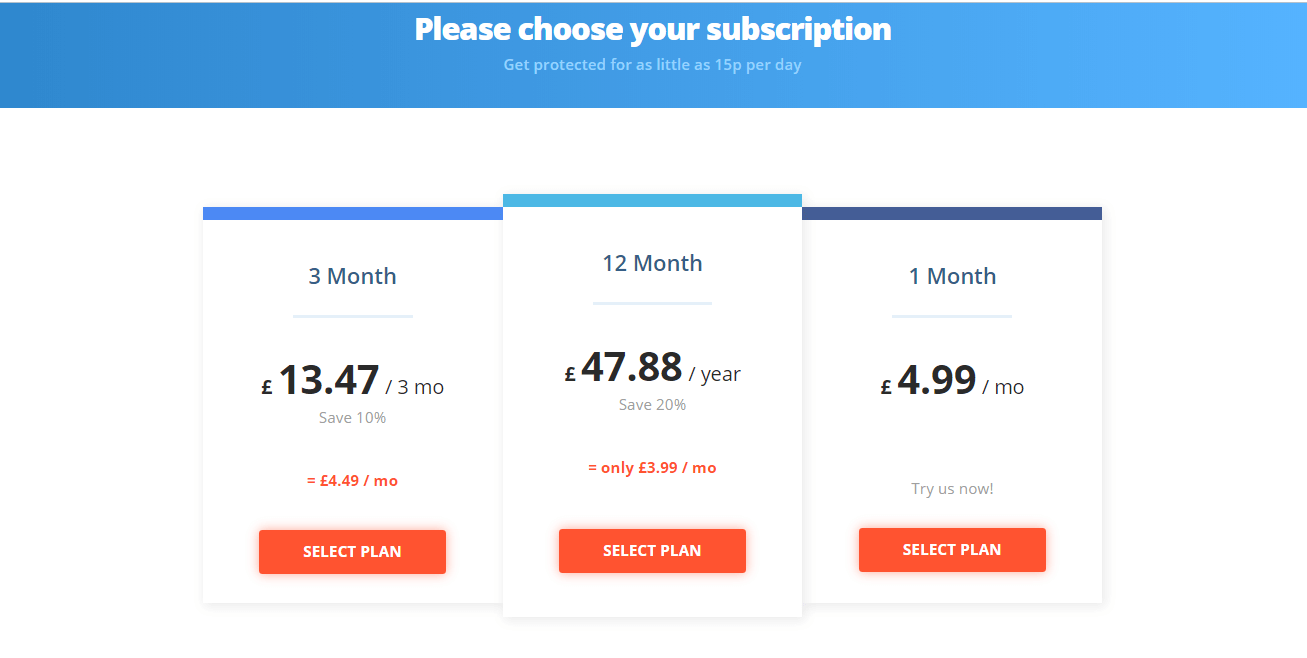 One month – £4.99/month
3 months – £13.47/3 months
12 months – £47.88/year
Means of payment
The only payment method offered by this provider seems to be only credit and debit cards. That means no PayPal, no Bitcoin, or other payment options. This is certain to upset people keen on 100 percent anonymity.
Money-back guarantee
Hidden24 VPN doesn't offer a money-back guarantee, which is further proof of how unreliable this provider is. A money-back guarantee allows users to test the service before committing to it, which is why we were disappointed to find out that there is nothing like that here.
Final Thoughts
Our final thought for this review of Hidden24 VPN is that it is not a service you should pay for. What's the point of paying for something that does almost nothing right?
It disappoints almost on all fronts, including streaming, server network, client support, and encryption.
While the fact that it promises not to keep logs may be a good thing, we still can't trust a company that's based in Sweden.
If you're looking for a provider that will provide you with outstanding value, you better opt for ExpressVPN.
Choose the best VPN in the world - ExpressVPN >

Michael is a talented writer who has dedicated a lot of time into making sure that everyone around the world can use the internet securely. Being an avid traveler, he has acquired a lot of experience while using different VPNs on his travels. When it comes to doing comprehensive "how to tutorials" or testing some VPN functionalities, he's always the best pick ! He's here to help you solve your VPN-related issues.