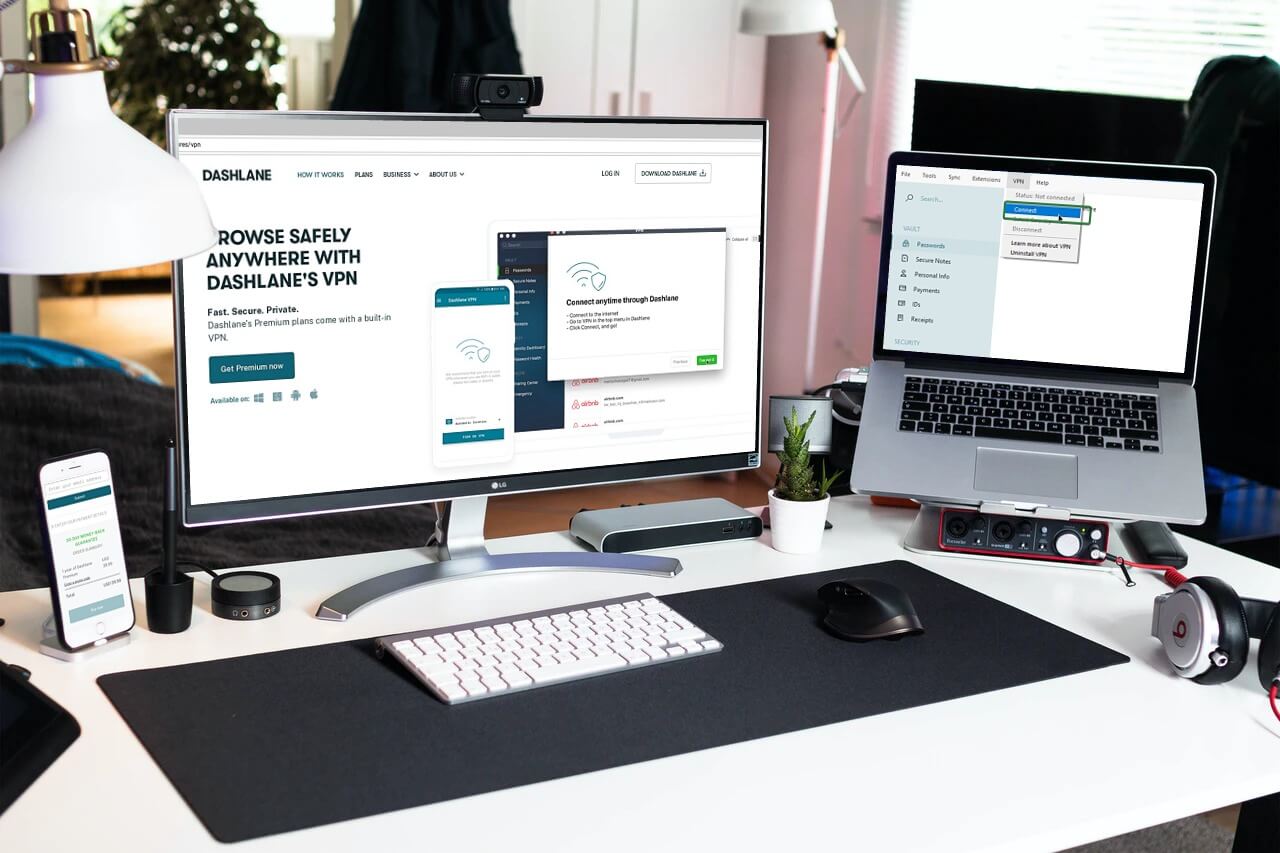 Dashlane is perhaps better known for being a password manager. It is now on version 6 and with it comes a host of new updates and features that have been improved. One of the new updates is the addition of a VPN, which had us interested enough to want to conduct a Dashlane VPN review. We put the company under the microscope by undertaking an extensive test. So, how does the service match up with that offered by some of the top Virtual Private Network providers out there?
First and foremost, you do have to bear in mind that this is primarily a password manager with the addition of Virtual Private Network thrown in. This is a strange concept to us, as we have not reviewed this type of software before, mostly concentrating on the standalone Virtual Private Network providers out there.
Therefore, we were curious as to how it would match up with some of the top providers out there such as ExpressVPN, NordVPN, and IPVanish. By the way, you can check out the IPVanish review here.
STRENGTHS:
No-log policy
Supports unlimited devices
WEAKNESSES:
A 50% hike in price compared to the previous pricing
VPN is only available in the premium version
Cannot choose a specific server, the only location
The free version is very limited
Speeds are far from the best
---
Dashlane VPN ranks #66 out of 104 VPNs tested. Here are the best alternatives :
Is it a free or paid VPN?
We started our Dashlane VPN review by looking at whether this is a paid or free provider.
Actually, it is both, but if you want to take advantage of the Virtual Private Network feature, you do have to pay for a premium plan.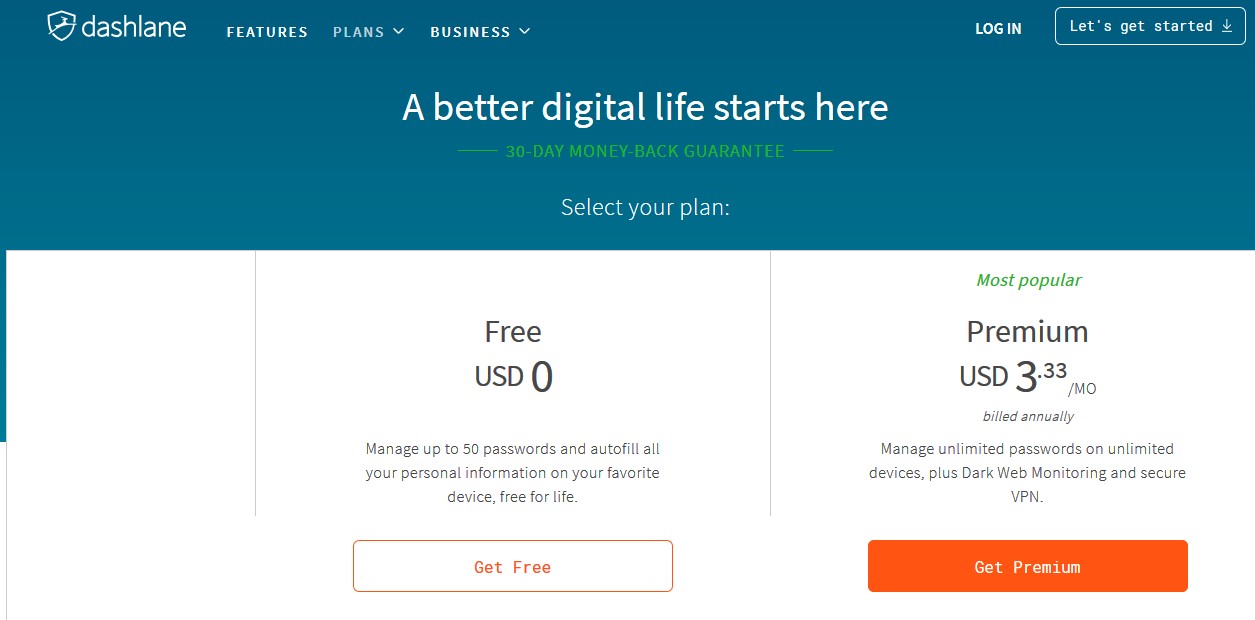 With the premium plan, you get all the features you would expect such as unlimited password management, and you get a Virtual Private Network and Dark Web monitoring.
With Dashlane 6 being updated and new features added customers can expect a price hike when renewal is due. This is not going to please those who already subscribe and who don't want, or need, to use the VPN part of the software.
Performance
Our first Dashlane VPN test was for performance. We are concentrating on the VPN part of the software and it is important to note that it is using Hotspot Shield as infrastructure for the Virtual Private Network.
Speed
Speed is one thing we concentrate on when conducting reviews and this review is no exception.
So, how does the speed compare with the likes of ExpressVPN, NordVPN, and even Surfshark? If you want to know more, read our Surfshark review here.
Actually, the speeds Dashlane VPN offers are far from the best. Most of the time, you will see huge drops in terms of bandwidth, which is not good if you want to stream or download huge files.

Without VPN (we were located in London) :

EU Server (France) :


US Server :

Asia Server :


Stability
During our Dashlane VPN test, we did not come across any stability issues, and there were no issues with connecting.
We would like to point out that if the server connection is lost, the software does not automatically reconnect. In addition, as there is no Kill Switch, you are at risk of revealing your own IP address.
Streaming
When reviewing Virtual Private Networks one of the things we look into is whether streaming is possible. So, what does our Dashlane VPN review reveal about streaming?
Netflix
If you want to stream from Netflix you are out of luck as streaming is impossible when the VPN is activated.
The company behind Dashlane claims in its FAQ that this is a known issue among Virtual Private Network providers. However, providers such as ExpressVPN, NordVPN, and CyberGhost would argue against this, as streaming Netflix is possible using their servers.
Therefore, we cannot recommend using Dashlane VPN if you want to stream specifically from Netflix, either at home or when abroad.
Other streaming services
During our Dashlane VPN test, we also found it was not possible to stream using Hulu.
It seems that the servers of the VPN are blocked by many popular streaming websites. Therefore, if you are looking for a Virtual Private Network to overcome geo-restrictions you might want to look elsewhere.
One of the best VPNs for streaming at home or abroad is ExpressVPN, offering servers that work in even the strictest countries.
Security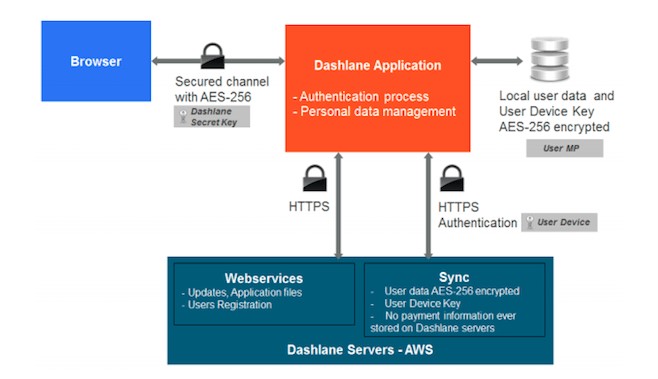 All Virtual Private Network providers should offer superb encryption and security measures, so how does this one compare?
Where is it based?
The company behind Dashlane is located in New York. This may raise some concern, as the USA is one of the Five Eye countries that share intelligence with other countries.
One of the things a Virtual Private Network is known for is allowing users to remain anonymous, so being under the Five Eyes does not sound like a good idea for a VPN.
Log policy
Dashlane VPN has a no-log policy in place. This means that the company does not keep a log of how you use the service. At the same time, the company claims that it does not provide AnchorFree, the company that provides the VPN, with any information about users.
The only thing that Dashlane does track is technical information related to the Virtual Private Network connection. The company claims this is for them to be able to maintain the stability and performance of the connection.
Protocols
Several protocols are used. However, these depend on the device used.
Protocols include OpenVPN on Windows and Android, IPsec on Mac, and Catapult Hydra on iOS. AnchorFree developed the latter. However, there is no option to choose which protocol you want to use.
This is not very good for our overall review of Dashlane VPN.
Leak protection
The company behind this solution doesn't make it clear whether or not they offer DNS leak protection in the software.
What they do say is that all DNS requests are encrypted and made in the tunnel. Of course, this does not guarantee there are no leaks.
You also have to bear in mind that the Virtual Private Network part of the app is provided by Hotspot Shield, and while testing it, leaks and vulnerabilities have been revealed.
Torrenting
A popular use of a Virtual Private Network is when torrenting, so we have included this in our Dashlane VPN review. The company states that the software can be used for P2P file-sharing; however, port forwarding is not supported by the VPN.
However, we would not recommend Dashlane VPN for use when torrenting and instead would choose from one of the more established VPN providers out there. ExpressVPN, NordVPN, or CyberGhost are great and safe choices for using when torrenting to avoid DMCA notices.
If you have a passion for torrenting, you might want to check out our list of the best torrent websites and take a plan with a standalone Virtual Private Network provider.
Bypassing censorship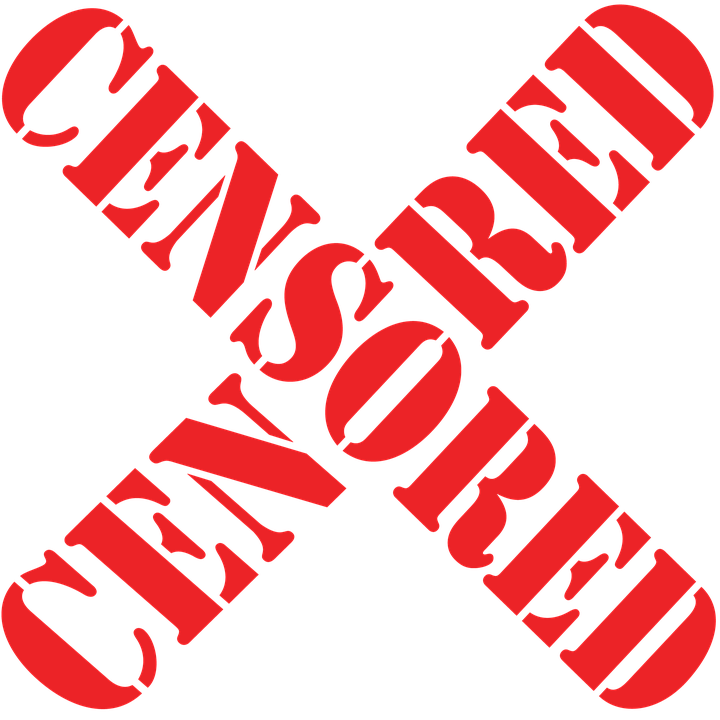 We cannot recommend Dashlane VPN as a good choice of Virtual Private Network if you want to overcome censorship.
We say this because, when conducting our Dashlane VPN test, it became clear that some websites block the servers, this included Netflix and Hulu.
Another downfall is the lack of choice of servers, which means you cannot spoof your location. In addition, there is no Kill Switch feature. This means your IP address is discoverable and of course, the encryption ceases.
If you want to safely overcome censorship, we recommend you go with ExpressVPN. The provider is among the few that can bypass censorship in even the strictest countries.
Countries and servers
The more countries and servers offered the better the chances are that you can find a server close to your location. So, what did we find out about countries and servers in our Dashlane VPN review?
The company is not very open in regards to the number of servers offered. You cannot choose an actual server, only the server location.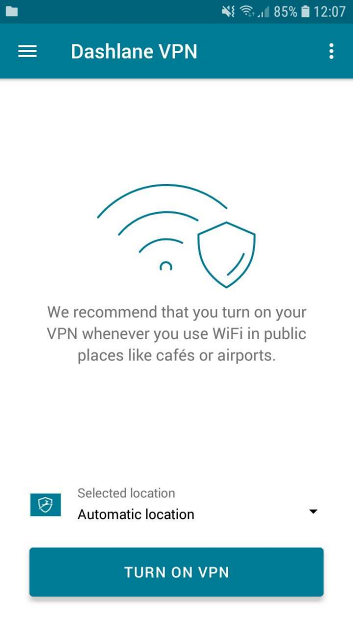 We did find they offer servers in 20 plus locations around the world. However, this is a small number when you consider that ExpressVPN offers more than 3,000 servers in over 160 locations scattered in 90+ countries around the globe.
As the number of servers is only small, the servers are likely to be congested with users and this can lead to a drop in speed or issues connecting.
Compatible devices and connections
We looked into the devices supported by the service as part of our Dashlane VPN review. We also looked into how many simultaneous connections were offered.
Devices supported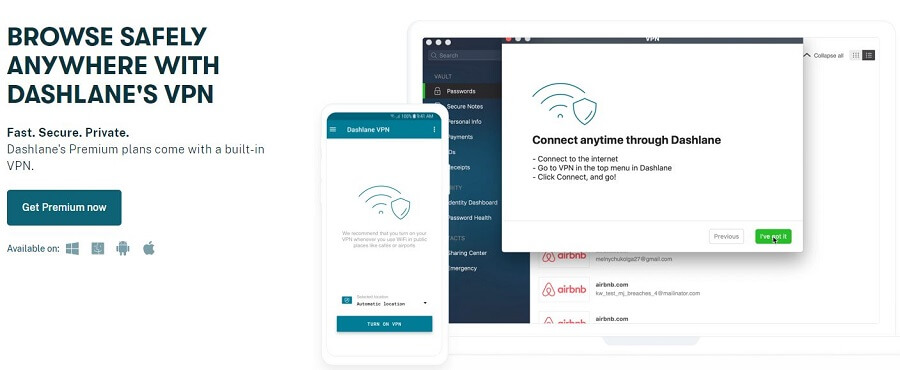 When compared to other standalone providers, support for devices is bare-bones.
Windows, macOS, Android, and iOS are all supported. However, this is a big let-down as most providers offer support for a wide range of devices including routers, PlayStation, Linux, browsers, and more.
Simultaneous connections
There is some good news in our testing. Premiums plans have unlimited simultaneous connections. This means that all the family can use a single plan.
However, if you want a standalone VPN that offers unlimited simultaneous connections and a great deal more than Dashlane, you might consider Surfshark.
Support
Customer support is something we take seriously when undertaking reviews and our Dashlane VPN test is no exception.
As expected premium users of the software, get priority support. There is a help center on the website of the company; here you can search for help and support. There is also a web form and chat support available from the website.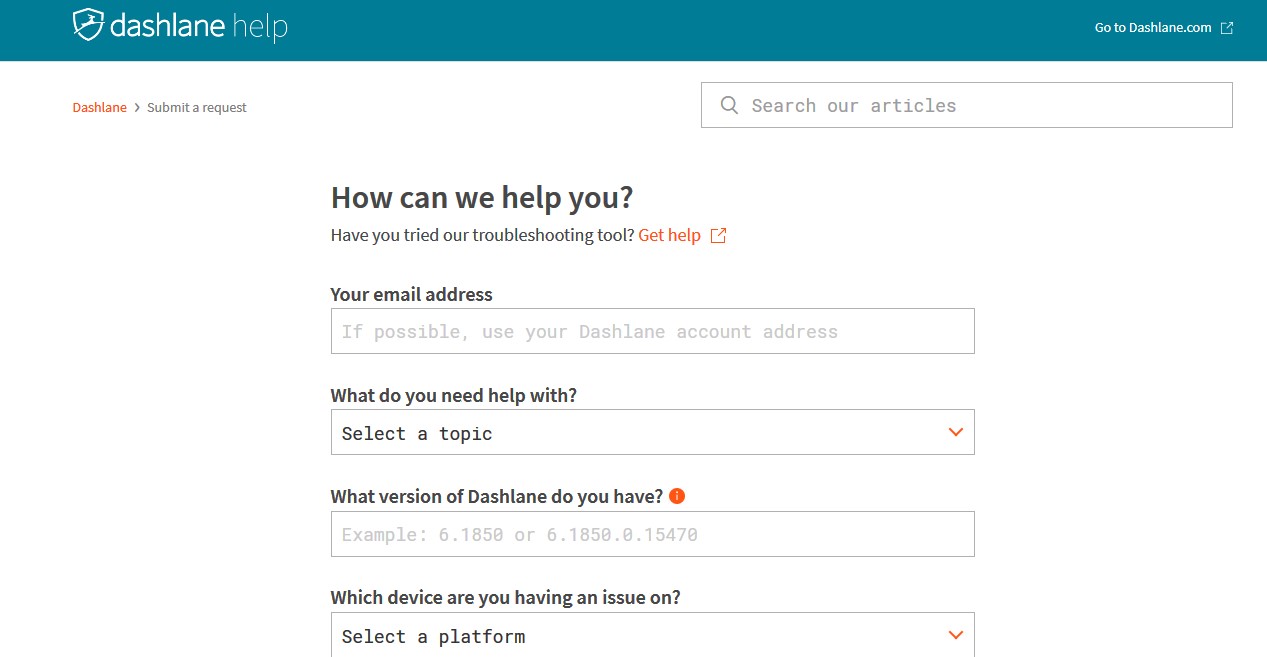 Of course, you do have to bear in mind that primarily the app is a password manager. We did not contact support so have no idea if staff have experience with Virtual Private Networks.
Value for money
Our Dashlane VPN review would not be complete without us looking into whether or not it is good value for money. So, how does it compare to other providers?
Price comparison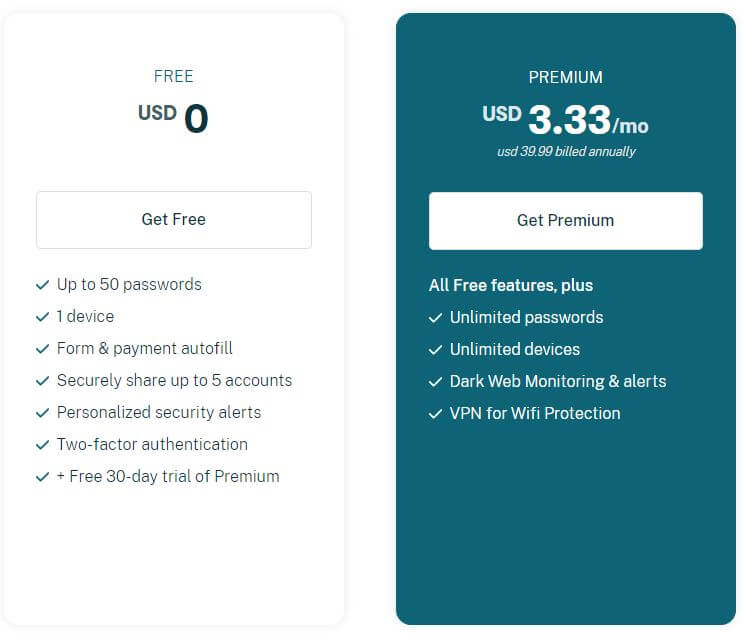 It is difficult undertaking a price comparison between Dashlane and other providers due to the fact the Virtual Private Network is not a standalone app, it is built into the password manager.
It is important to note that with the free account, you do not get a VPN.
For $3.33 per month, billed annually at $39.99, you get:
A Virtual Private Network.
Unlimited password storage.
Password synchronization.
Form and payment autofill.
Dark web monitoring.
When you consider you can get protection from a standalone provider for just a few dollars per month, unless you specifically need a password manager and VPN, the prices cannot be justified.
Payment types
You can purchase Dashlane VPN using a debit or credit card and the company accepts payment through PayPal.
Money-back guarantee
Premium and premium plus versions of the software have a 30-day money-back guarantee
Extras
We are conducting our Dashlane VPN review based on the VPN service it provides. However, the software does offer much more than a Virtual Private Network.
For one, it works as an excellent password manager to securely store all your passwords if you take out a premium plan.

You also get "instant form" so you do not have to fill in forms online. Payment autofill fills in your payment details.
The software also offers dark web monitoring. This will warn you if a scan has picked up any leaked or stolen data. You can then take action straight away and protect accounts.
Final thoughts
Our Dashlane VPN test results and review are somewhat mixed. It does have many great features. However, most are based around keeping passwords safe and secure and automatically filling in forms.
To be able to take advantage of the VPN part of the software you do have to pay for a premium account. When considering this there are many standalone providers that offer you much more for your money.
If you are looking for a password manager with added extras and a Virtual Private Network added on, Dashlane might be worth considering. However, if you want full-blown VPN protection and all the benefits that come with it, check out ExpressVPN, NordVPN, or CyberGhost.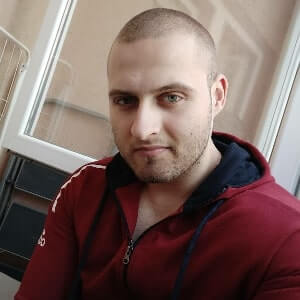 A professional writer with a Master's degree in Mechanical Engineering. Since his youngest age, he loves everything related to internet, technology, fitness, games, and dogs! He joined our team in order to bring his deep knowledge in security services, among which VPN is of course a key component.