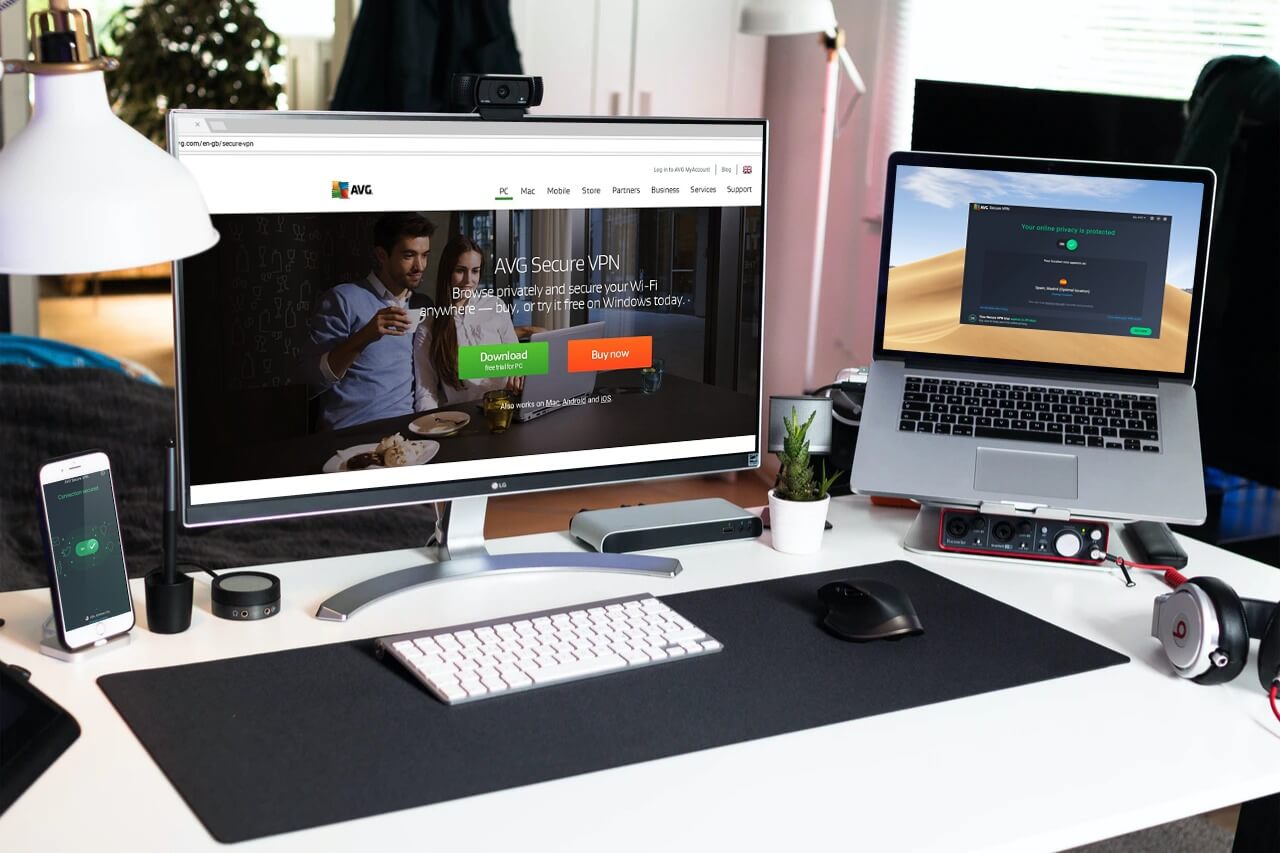 AVG Secure VPN may be a name that you have heard before reading this review and test. Perhaps, you have not heard of the Virtual Private Network, but rather the company name itself – AVG. One of the greatest names in the antivirus showcase has expanded its vision towards protection on the web. Superficially, AVG Secure VPN appears to furnish top-notch help, since it comes fitted with some great features and benefits. The service offers its clients a safe user experience, as it does not suffer from leaks or viruses.
Sadly, these components don't hold water, as it neglects to afford its users many of the features that other VPNs offer. Unlike VPN providers like CyberGhost or NordVPN, AVG Secure uses just two protocols and its speed leaves something to be desired.
With all of this being said, let's take a look at our full review of AVG Secure VPN.
STRENGTHS:
Able to unblock Netflix & BBC iPlayer
Easy-to-use apps for popular platforms
WEAKNESSES:
Records connection logs and timestamps
Not a lot of servers – 36 countries
Lack of customizability
Not able to be used in China
Poor speeds
Price
---
AVG Secure VPN ranks #69 out of 104 VPNs tested. Here are the best alternatives :
Is It a Paid or Free VPN?
Unfortunately, the only free thing you get with this VPN is a 7-day free trial. Once that trial is over, you will have to pay for the services provided by this VPN.
If you would like a free VPN that you can keep using for years to come, that will not compromise your security and privacy, try Windscribe.
Performance
AVG Secure VPN isn't close at all to being as quick as any of our top provider choices. In fact, similar to Lookout VPN and ZoogVPN, the speeds of this provider are not good for uploading or downloading.
As we saw during our review of the service, if you are near any of AVG Secure VPN's server areas, your speeds will be quick enough for general browsing. But you may have huge troubles when streaming on particular platforms. Find out why right after.
Speed
This provider doesn't have the best variety of servers, so we didn't have high expectations in the first place.
First, we used a benchmark of 235 Mbps for download speed and 211 Mbps for upload speed. One of the fastest servers that we found when researching this provider was out of Taiwan.
When we connected to the German servers, our ping was 61 ms. Our download speed dropped to 21.6 Mbps and the upload went down to 25.8 Mbps, which is very unimpressive.
We sound the pings for the US and Asian servers to be between 175 and 307 ms, which is shocking. For the US server, the download speed went down to 5.2 Mbps and the upload was 1.6 Mbps – this result is appalling.
The results for the Asian server were quite similar. Needless to say, we were left with a sour taste in our mouth when it came to the speeds offered by this provider.
Without VPN (we were located in London) :

EU Server :


US Server :

Asian Server :

If you want one that will offer excellent speeds and top-quality privacy features, check out ExpressVPN or CyberGhost to see what a great VPN can do.
Stability
When doing our review and tests with AVG Secure VPN, we saw that nothing is really working at optimal levels. However, the stability of their servers and connection is quite reliable.
Streaming
There are many reasons that you should get a VPN for your devices. One of the biggest is the ability to have access to streaming content that is blocked or not available in your current location. For this AVG Secure VPN review, we took a look at some of the most used streaming services. This will give you a better grasp of its capabilities.
Netflix
In the past, AVG Secure did not work dependably with Netflix, but the team at AVG has worked hard to fix that.
AVG Secure VPN has improved its accessibility in regards to the streaming giant. You are now able to stream shows in a split second and with a small amount of buffering (if connected to a nearby server).
Other Streaming Services
You will also have access to BBC iPlayer. The streaming capability in regards to this service is adequate, as well. This is an irregularity and a genuine reward. Other streaming services, like Hulu or Disney+, also work adequately for the most part.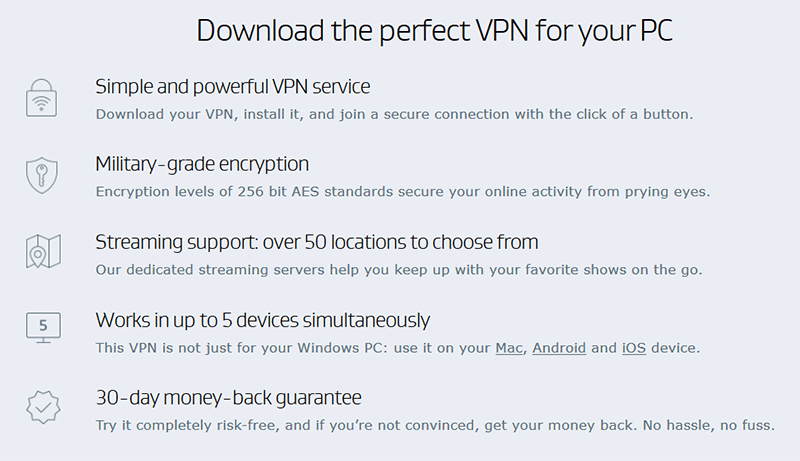 However, you cannot use it to access Amazon Prime Video in the US at all.
Security
Security is a large consideration for users looking for a VPN. Many things play a part in the effectiveness of a service's security prowess. Here are some of those:
Where is it based?
This supplier is situated in the Czech Republic. It is one of the safe havens for information, as they are not part of the area covered by the 14 Eyes Alliance. This means that your information and data are not readily given to anyone.
Log Policy
AVG's Privacy Policy is very long as we've seen while doing a complete review of it. However, there is an area committed to the VPN's protocols, which unmistakably gives you what AVG Secure VPN logs.
Data it gathers:
The subnet of your starting IP address
The IP address of the individual server utilized by you
A timestamp of when you interface with and leave the VPN
The aggregate sum of information transmitted during your session
This is a superfluous amount of information to gather for simple maintenance and upkeep. The entirety of this is kept on AVG's servers for as long as 30 days or more if they presume you are breaking the rules.
Data not gathered:
Your full starting IP address
DNS questions while using the service
Activity, including the apps, services, and websites you use
In any case, this is one of the nosier logging policies we have seen. It should definitely give future clients looking for the most elevated levels of protection something to be concerned about.
For this reason, our review and opinion on AVG Secure VPN at this level is anything but good!
Protocols

This provider uses just one protocol – OpenVPN. This is minor compared to other VPN options, like ExpressVPN, which uses up to five different protocols.
Right after this part of our AVG Secure VPN review, we will discuss the security performances offered. With only two protocols, you can be assured the security of your connection is not up to par with any of the other top providers like ExpressVPN.
Leak Protection
AVG Secure VPN's encryption is completed by a very reliable and strong AES-256 version, which is broadly viewed as unbreakable. The kill switch includes security for your information if the VPN loses connection. It blocks web traffic and keeps your actual IP address covered up.
Note that we didn't encounter any DNS, IP, or WebRTC leak issues during our tests.
However, AVG Secure VPN prescribes shutting off WebRTC from inside your program settings, as it doesn't presently offer an element to debilitate WebRTC in-application.
Torrenting
AVG Secure VPN allows torrenting and has a few servers streamlined for P2P use. They are set apart with a 'P2P' in the server list and are situated in multiple countries. These include the company's home base of the Czech Republic, as well as Germany, the UK, the US, and France.
Notwithstanding, we do not recommend AVG Secure VPN for torrenting because of its logging strategy. It stores information on your connection and moderates transfer speeds.
There are certainly more dependable VPNs out there if torrenting is your need, such as ExpressVPN or NordVPN.
Bypass Censorship
During our review and test of AVG Secure VPN, we saw that in all likelihood, it will not work in most countries that have a lot of internet censorship going on. In places like China, UAE, or Turkey, this will not help you defeat the protections put in place to regulate internet use.
This VPN's applications are not designed with any stealth systems, making it simple to find and block.
The inability of this VPN to circumvent these strategies makes this a bad choice for traveling. However, there are quite a few VPNs that will allow you the ability to have access to censored sites despite these government protections.
We have found that ExpressVPN works best in countries with this level of control over the flow of information.
Countries and Servers
AVG Secure VPN's server capabilities are not as impressive as VPNs like CyberGhost or ExpressVPN. AVG Secure offers servers in only 50 locations. Regrettably, AVG's site does not list its server locations, making it hard to check whether the nation you need is accessible before you buy it.
Fortunately, AVG Secure VPN's servers are spread throughout the most popular spots on the globe. There are servers in the US, the UK, Canada, Australia, and numerous nations in Western Europe.
There are also eight nations accessible in Asia, three in South and Central America, two in the Middle East, and one in Africa. AVG Secure VPN enables clients to penetrate down to the city level in six nations:
Canada
Germany
Russia
Spain
UK
US
The city-level server option is incredible for streamlining speeds and for accessing geo-explicit content.
AVG does not reveal the number of individual IP addresses it offers, nor does it indicate whether they are virtual or physical servers. If you need more server options, there are better choices, such as NordVPN or CyberGhost.
For example, AVG only has servers in 36 countries. Meanwhile, CyberGhost covers 90+ countries and is upfront with the number of servers they use (7,000). This will give you more versatility and better performance.
Devices and Connections
Next up in our review of AVG Secure VPN is the compatibility question we all need to ask. This is especially important, considering our daily life has so many devices in it.
Supported Devices
This provider is available for all the main platforms, including Windows, Mac, iOS, and Android. Though, truthfully, it is not the best app available on the iPhone. That would be either NordVPN or ExpressVPN.
Linux systems seem to pose a problem, as there are no workarounds available.
AVG Secure VPN is not compatible with game consoles and streaming tech. Its inability to be installed with your router further limits its function.
As for browsers, it does not have any extensions, so you should look at other options if you use Chrome, Firefox, or Safari.
Simultaneous Connections
You have to purchase a separate VPN for each platform. Once you do, you can connect up to five devices on that platform simultaneously.
Customer Service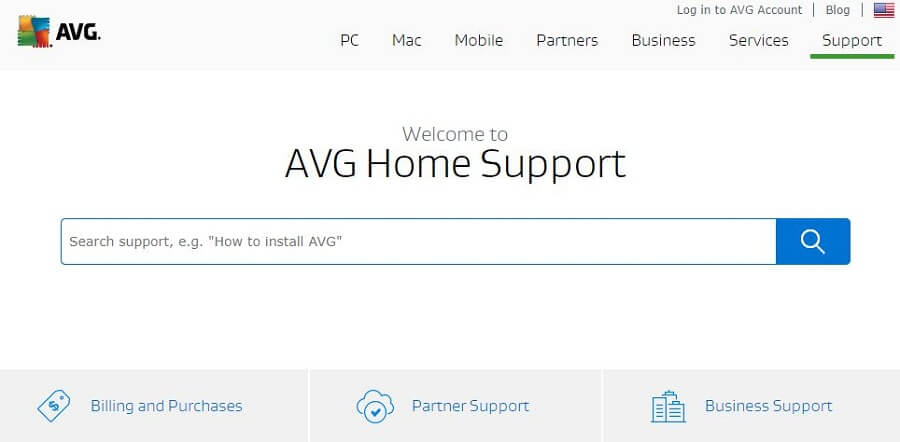 Customer support with AVG is disappointing. This is not what we would anticipate from such a big name in cybersecurity. Firstly, there is no live chat support. This segment of AVG's site is dreadfully spread out.
It requires quite a bit of time to locate the pertinent assets since there is no obvious area delineated for the company's VPN.
There are some essential FAQs for AVG Secure VPN applications. These incorporate some helpful notes and a connection to a customer forum. This forum is, for the most part, created by clients with little contribution from AVG's team.
The best way to connect with a support specialist is by filling out their help form, which is available on their website.
Value for Money
You want to get the most bang for your buck, so is this VPN worth it? Unfortunately, it is not worth it in our estimation. You can get more performance for less money with any of our choices for the top providers.
Its limited payment acceptance, as well as its payment schedule, makes it one of the least flexible VPNs out there.
Price Comparison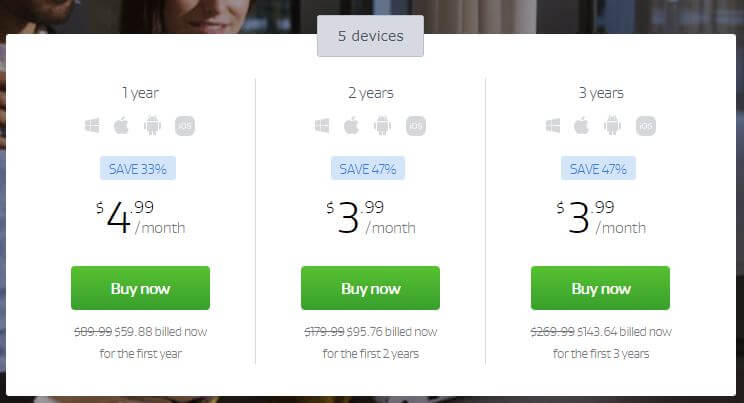 AVG offers diverse plans to make your decision a little easier. The longer your membership, the less you will pay on a month to month basis. There is no option to pay on a month-to-month basis, however.
You can choose between a one-year membership all the way up to a three-year membership, and they all incorporate similar highlights.
The price for a solitary year is the costliest, coming in at $4.49 per month. Note that both two and three-year plans cost the same ($3.99), so there's no incentive to save money by choosing a longer plan.
There are much better Virtual Private Network options available for a more reasonable price than this, such as NordVPN.
Payment Methods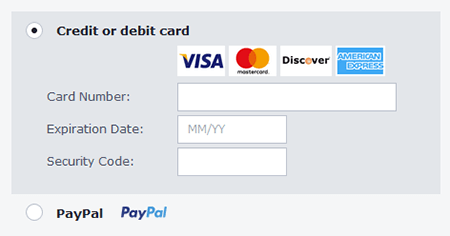 With this VPN, you can only utilize a credit/debit card or PayPal to pay. This restriction places it well behind its rivals regarding options of payment.
There is no ability to pay with digital currencies that offer better protection, nor are there any global alternatives, like AliPay or WorldPay.
Money-back guarantee
Let us tell you in this review that AVG Secure VPN gives a 30-day money-back guarantee. However, it does have a few limitations. You qualify for this only if you have utilized under 10 GB of data.
Also, you qualify for the guarantee only if you have not connected to any VPN servers more than 100 times.
Extras
While writing this AVG Secure VPN review, we scoured all the available information looking for any extras but came up with nothing. This is always a little disappointing, we will not hide it!
Final Thoughts
Is AVG Secure VPN a good choice? Simply put… no!
It has very slow upload/download speeds. Plus, it just does not give you enough features and versatility of use. Also, its parent organization is known to keep imperative data for expanded time frames.
AVG Secure VPN feels like it is a dinosaur trying to survive with the new evolutions of VPNs.
Because of that, we recommend you try one of these VPNs, as they are our best picks for the top providers: ExpressVPN, CyberGhost, and NordVPN.
Our review has shown that, unfortunately, AVG Secure VPN fails to meet many of the features and standards you want in your VPN.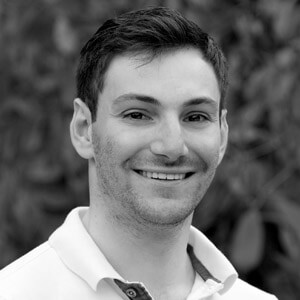 Flo is the founder of the-bestvpn.com. Really concerned about security on internet, he decided to create this website in order to help everyone find the best VPN. He's got a Business School background and now is 100% dedicated to keeping his website alive.