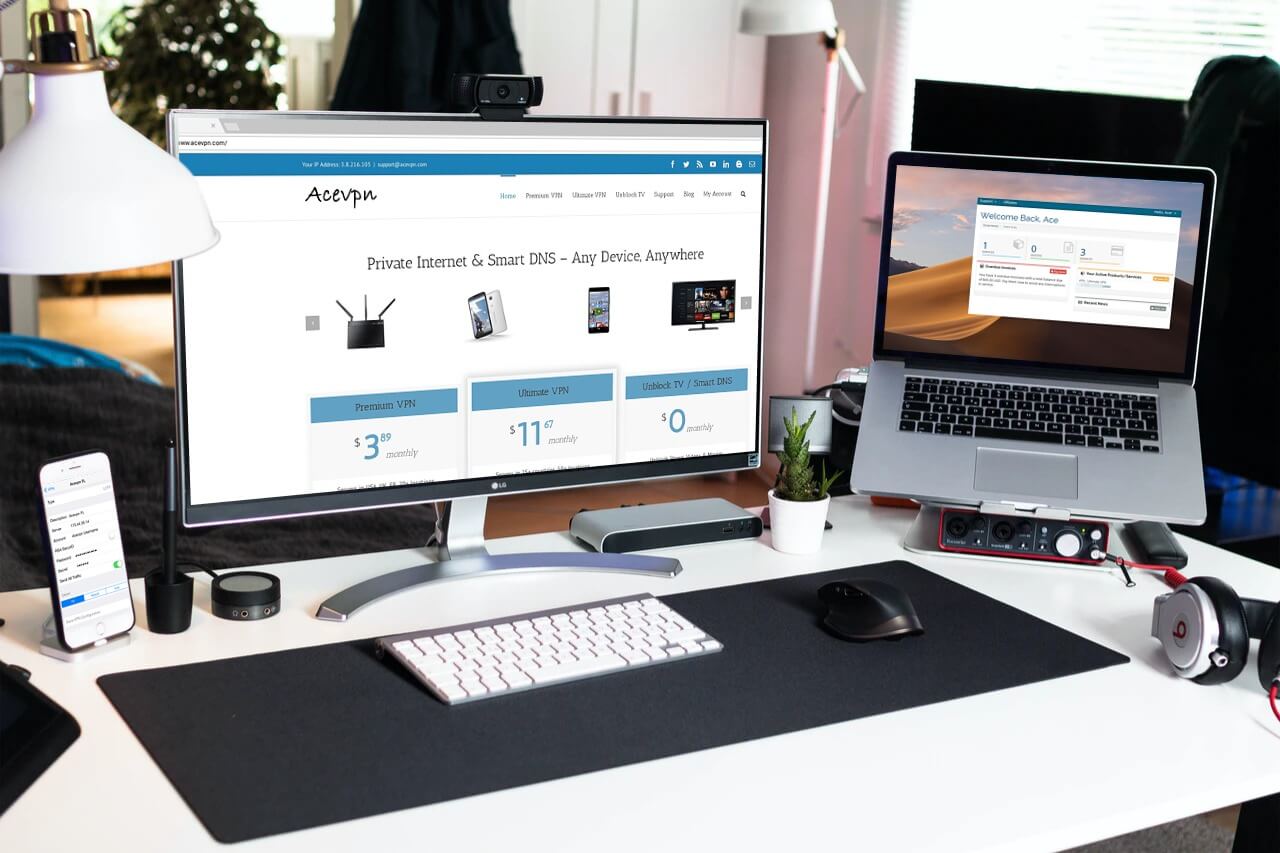 We have been actively reviewing VPN providers for a few months now. In that time, we have come across more than a few that initially looked fast and reliable, but turned out to be the complete opposite. A great example of this is Ace VPN, which is based in the USA. While offering a fine number of servers, it doesn't seem to live up to the expectations. What is the reason for this? Is it issues with the privacy policy, security, or the interface? That is what we will discuss in our complete review of Ace VPN.
To help you make an educated decision, we have done a detailed analysis of this provider's main features. Focusing on reliability, stability, and tunneling protocols, we came to a few conclusions. Let's take a look.
STRENGTHS:
Great encryption/protocols
Supports a huge number of devices
WEAKNESSES:
Logging-policy
US jurisdiction
Leaking
Slow speeds
Connectivity issues
Supports a single connection
---
Ace VPN ranks #50 out of 104 VPNs tested. Here are the best alternatives :
Is It a Paid or Free VPN?
This is one of the most important questions in terms of determining overall value in a review. However, the answer is not that simple. While Ace VPN doesn't offer a truly free VPN service, there is something called an Unblock TV/Smart DNS.
This option comes free of charge and is also included in their Premium and Ultimate subscriptions. Those two options offer everything a VPN should. On the other hand, CyberGhost offers a free VPN for your iPhone or iOS device.
As for the aforementioned Unblock TV/Smart DNS, it can be used solely for unblocking streaming platforms. It also comes with an unlimited bandwidth, which certainly is a plus.
Still, if you want to get all the benefits of a high-quality service, then you should look at our top 3 recommendations.
Performance
What good is a VPN if it can't be fast and reliable? It is not a secret that all servers will cause a drop in your benchmark download and upload speed. However, this drop shouldn't be as dramatic as it was with Ace VPN during our review and test.
Speed
Much like with StrongVPN or ActiVPN, both the upload and download speed of this provider is seriously affected by the server you connect to. To show you, we have performed a series of tests using the EU, US, and Asian servers.
Here are the results of our tests.
Compared to our benchmark of 235 Mbps, the download speed came down to 90 Mbps, which is a drop of 60%. The same happened with our upload speed, which went from 211 Mbps to 85 Mbps. Still, the ping was fair and set at 68 ms.
On the other hand, the US servers greatly differed from the European ones. Our download speed was decreased by more than 90% and came in at 24 Mbps. This is incredibly slow for streaming HD or torrenting.
Additionally, the upload speed went from 211 Mbps to 21 Mbps. The ping jumped up to 250 ms, which makes the VPN unusable except for things such as basic web browsing.
Without VPN (we were located in London) :

EU Server :


US Server :

Asia Server :


If you are looking for a provider that offers fast and reliable servers, we would suggest ExpressVPN as a superb alternative.
Stability
The overall reliability of this VPN service is greatly affected by how outdated their platform is. We had multiple issues installing Ace VPN in the first place during our review. Then, once we managed to do it, connecting to a server became a nightmare.
We tried connecting to four EU and four US servers and were immediately successful only with 25% of them. This is unacceptable if you are looking for a provider that will allow for things such as streaming, torrenting, and other P2P transfers.
Streaming
One of the things that Ace VPN can be proud of is how their service works with most streaming platforms. The aforementioned Unblock TV/Smart DNS feature is something that plays a huge role and successfully fights off the Netflix restrictions.
Netflix

It is important to know whether a provider can give you access to this popular streaming platform or not. We performed a series of tests using the servers in the US and had a success rate of 20%.
We know this might not be ideal, but remember that even the top providers have a tough time working around Netflix's restrictions.
If you invest enough time into searching for an adequate server, you shouldn't have an issue unblocking any Netflix catalogs. Unfortunately, it doesn't work in China, considering that they don't offer a Hong Kong server that could potentially serve well the area.
Other streaming services
Ace VPN boasts about its ability to unblock Netflix. Considering that, we expected flawless workaround with streaming services such as Hulu, Amazon Prime, FOX, etc. That is more or less what we got.
However, to unblock US TV channels that are not available in your area, you might want to install relevant Google Chrome or Firefox extensions.
Security

We have discussed Ace VPN performances in terms of bypassing geo-restrictions and unblocking streaming platforms just before in our review. Now, let's look at its privacy policy. In the end, that is something any VPN user is truly concerned about.
Where is it based?
Prior to reaching any conclusions, we need to review the location of the company behind Ace VPN. With SecureNet, LLC, being its parent company, we can determine that the headquarters are in the US. Much like with StrongVPN or Hide My IP, this is an issue because of the Five-Eyes Alliance.
Ace VPN would have to adhere to the regulations of this alliance. The main idea of using a Virtual Private Network service is that your browsing activity is completely anonymous and that logs are not kept.
The fact that this provider might hand out your private info or internet activity details to the authorities of five separate countries is not motivating.
Log policy
While Ace VPN does not directly track and keep your connection and browsing logs, they do store some of your personal data.
Looking at their privacy policy, we noticed that they store your credit card info and your first and last name.  They also store your current address and some other private info. This is not ideal and allows us to conclude that they don't offer 100% anonymous browsing activity.
Protocols

One of the major pros of using this service is bank-grade 256-bit AES encryption. There is also a variety of protocols that you can switch between.
They use an industry-standard in the form of OpenVPN, and they also have L2TP, which is more reliable for Windows users. Additionally, you can also rely on IKEv2, as well as PPTP, to ensure better overall performance.
Leak protection
This aspect of our Ace VPN review and test is a bit worrying. The fact that their servers are not reliable means that your IP address is at constant risk of being revealed to your ISP. This is usually prevented by proper DNS and WebRTC protection, but Ace VPN doesn't seem to manage it all the way through.
We did six tests and found their leak protection to fail 30% of the time. This is not something that ensures your safety when using this service.
Torrenting
No review would be complete without knowing if the provider allows torrenting. The answer to this question is actually quite complex. While Ace VPN does not completely restrict it, there are a couple of limitations that you may or may not be comfortable with.
The first thing is that you can't torrent or perform other P2P activities while connected to US and UK servers.
Additionally, you would need to subscribe to the costly Ultimate VPN to get reliable torrenting performance with other EU servers. Considering this, while we are happy to see that Ace VPN allows "some" torrenting, it certainly is not the best.
If you are looking for relevant alternatives, we would suggest NordVPN or ExpressVPN as one of the most reliable providers on the market.
Bypassing Censorship

We already mentioned Ace VPN's ability to bypass geo-restricted streaming content, such as Netflix or Hulu. Still, this doesn't answer the question of how it does when it comes to websites or contents unavailable in Mexico, China, or elsewhere.
We were not surprised to see that it had significant issues with bypassing the Chinese restrictions.
However, if you were to find an adequate and reliable server, you might have luck with entering Facebook or other social networks from this location. If you need a VPN for your trip to Mexico, you can find good providers there.
Overall, while you can count on Ace VPN for bypassing certain restrictions, it is, once again, not the most optimal choice.
Countries and Servers
Among the most important determinants of overall value is the number of IP and VPN locations a provider offers. Honestly, after a full review, we don't consider Ace VPN to be a global provider. Yes, there are more than a few servers in both the EU and the US.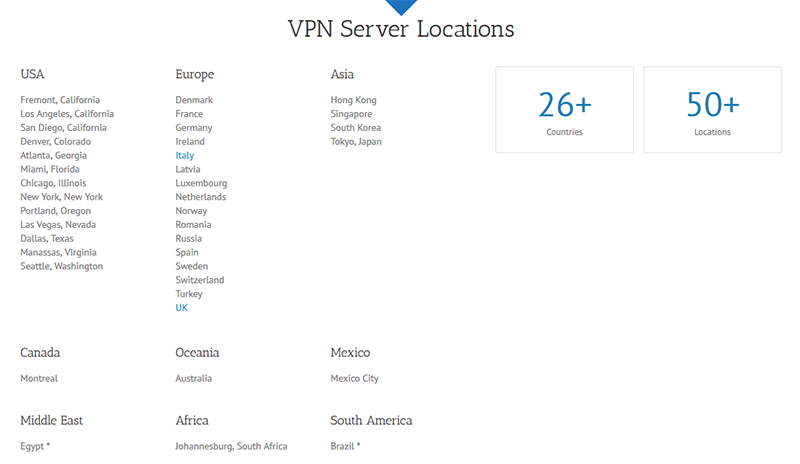 However, there are certainly not enough, especially because the existing servers are quite slow and unreliable. While Ace VPN offers 48 servers in 26 different countries, CyberGhost offers in comparison more than 6,800 servers at a lower price.
Compatible Devices and Connections
While we listed a few significant cons in the section above of our Ace VPN review, this doesn't mean that the provider is the worst on the market. On the contrary, along with its great streaming usability, we love the fact that it is compatible with most devices available on the market.
Supported devices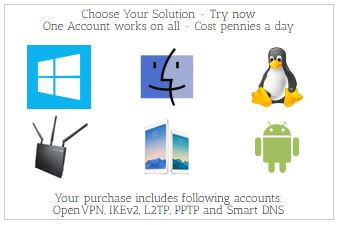 This is probably the best thing about this service. We found that it can be used on much more than an Android, iPhone, Windows, or macOS.
Along with those devices, it also supports Linux users and can be connected to Linksys, Asus, and Tomato Routers. Additionally, it is compatible with Amazon Fire TV, Roku, and gaming consoles, such as PlayStation and Xbox One.
Simultaneous connections
The aforementioned fact is respectable, but we are unhappy that you can only protect a single device at a time. This is below the average of at least 3 simultaneous connections. While providers such as NordVPN and ExpressVPN offer 5 or more.
Support

To be honest, Ace VPN does have quite a reliable customer service team, which is surprising.
To begin with, the fact that their relevant forums can answer most of your questions is a good thing. No, they don't offer a live chat feature, but their email response is very effective.
We tried it out by asking a few questions about how to pay for the service, and the response was swift and concise. Thus, while they may have an issue with the speed of their servers, their customer service is extremely efficient.
Value for the Money
To determine whether Ace VPN is something you should consider or not, we need to review the prices and options offered.
Price comparison
Honestly, this Ace VPN review shows that it is extremely expensive if you are looking to get all the features that they offer.
As we have mentioned above, they do offer a Premium subscription. However, it allows access to only half of the servers and doesn't support torrenting and a plethora of other important features. It costs $3.89 per month.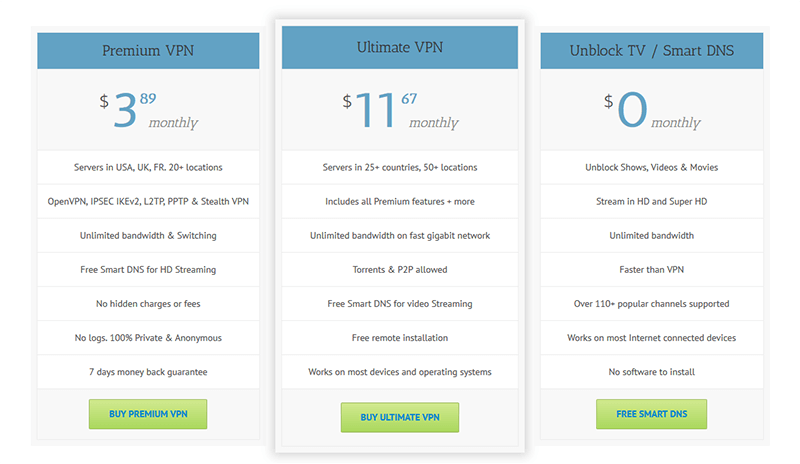 On the other hand, their Ultimate subscription is $11.67, which is significantly higher and definitely not worth it. For a much lower price, you can gain access to the reliability and thousands of servers provided by NordVPN, for example.
Payment types
As for the offered payment options, we are quite happy to review that they support credit cards and PayPal, as well as Bitcoin.
Money-back guarantee
Last but not least is the refund policy, which is not ideal but still works. Considering their effective customer service, the 7-day money-back guarantee is something you can definitely rely on but is not particularly impressive.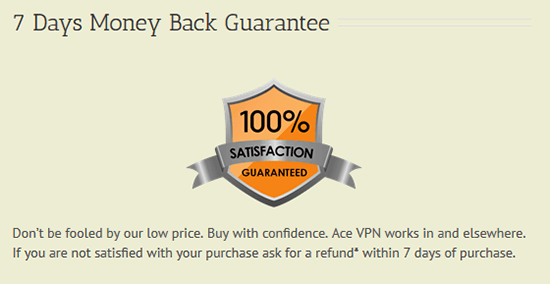 VPN providers like NordVPN and ExpressVPN offer 30-day money-back guarantees, which is what you should be looking for in a worthy provider.
Final Thoughts
Considering everything that we have mentioned above in this review, we rank Ace VPN quite low on our list. While it does have a certain potential, it is nowhere close to being reliable. The server speeds are extremely slow, and we suffered serious issues with connectivity.
Additionally, they charge a premium price for a mid-range service. Thus, if you don't want to go through all the trouble and you want a fast and reliable provider, we suggest you try ExpressVPN or NordVPN!
All things considered, we would have to say that Ace VPN does not crack the nod from us, and is, therefore, not a provider that we would recommend.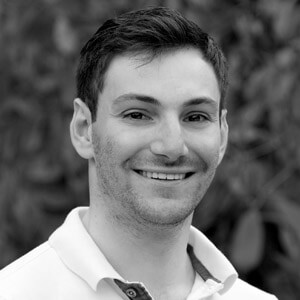 Flo is the founder of the-bestvpn.com. Really concerned about security on internet, he decided to create this website in order to help everyone find the best VPN. He's got a Business School background and now is 100% dedicated to keeping his website alive.