Seedbox.io Review: A Aery Affordable, Yet Efficient Seedbox Provider
Are you considering choosing Seedbox.io as a Seedbox provider? If so, you will be pleased to know that we have undertaken an extensive Seedbox.io review to help you decide whether it is a hit or miss. We are going to look into all of the main aspects, including ease of use, the speed, size of the boxes, client support, pricing, and much more.
By the time you have reached the end of this review and test of the service, you will have a good idea as to whether it is a good choice or whether you should continue looking.
So, we will begin by looking at some of the main pros and cons of packages.
Pros:
Includes an easily configurable VPN
Wide choice of packages
Prices are flexible
One of the cheapest servers
Cons:
No support for Plex in shared plans
FTP connections are limited
Money-back guarantee does not cover customised dedicated plans
No live chat
Not a big choice of apps on shared plans
Only 100Mb/s on starter packs
---
How easy is it to use Seedbox.io?
Now, onto our comprehensive Seedbox.io review by looking at the ease of use.
The main client interface is well laid out and provides clear links to all the information about your Seedbox and related products and services.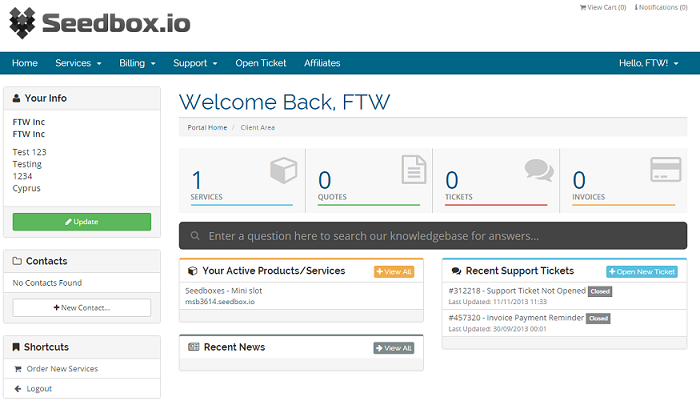 Along with viewing your Seedbox, the client interface is also where you can open a support ticket, read recent news, and check up on invoices for your package.
If you click on "My products and services", you can find information about your slot, along with any add-ons, and place a new order.
You can also change passwords, find the FTP information along with OpenVPN information, and access payment information.
How fast is it?
Now, let's move onto a very important part of our Seedbox.io review and test, the speed offered by the provider.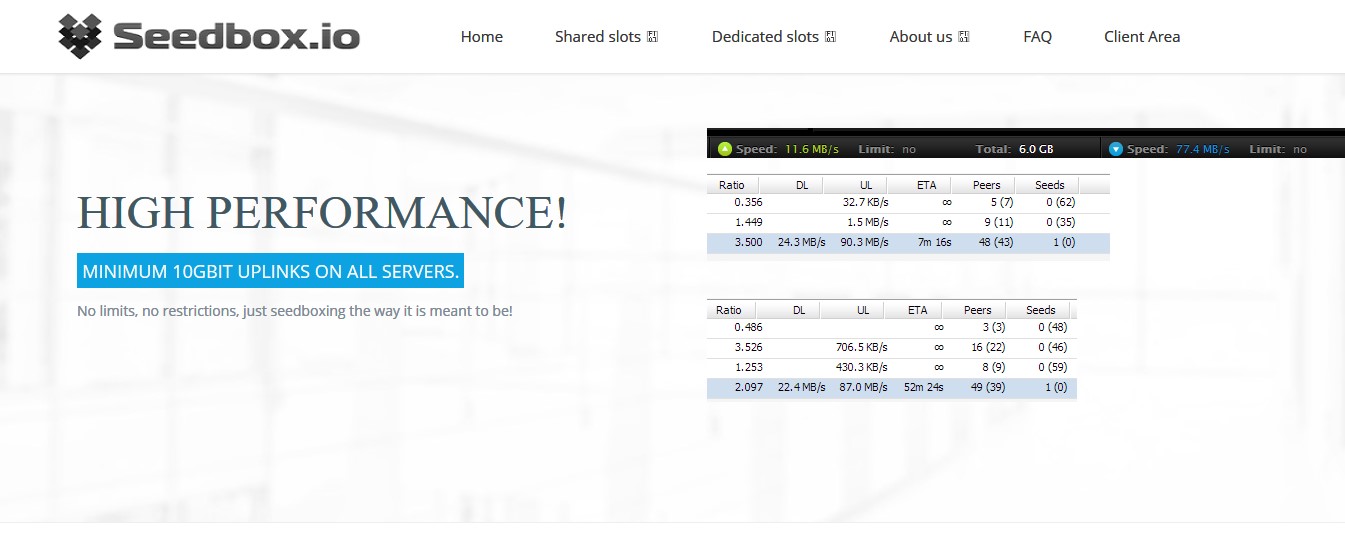 It claims to offer high performance on all Seedboxes with a minimum of 10Gbit uplink on all servers. Yet, when you take the smallest packages, the bandwidth allocated to you will only be 100Mb/s.
This is despite the provider claiming there are no limits and no restrictions.
During testing, we found the speeds to be good with no fluctuation and connections were stable. As with any torrenting how long downloads take is also going to depend on factors outside of the Seedbox, such as peers and seeds.
Overall, when uploading and downloading torrent files such as movies and TV shows, the speed is more than good enough. Even if you go for the lowest packages you should still enjoy timely downloads and uploads.
Seedbox sizes
The size of the Seedbox is going to vary on the package you choose and there is a complex range of packages available. However, we are just going to concentrate on the shared slots. There are dedicated ones available, but these come at a high cost.
The starter package is the 600GiB and offers 100Mbit and this is unmetered. Along with this bandwidth is unmetered. The next package, the 1250GiB jumps up to 1000Mbit and again it is unmetered with unmetered bandwidth.
The top package for shared slots is the 2250GiB, which offers 1500Mbit, and as with the other plans, bandwidth is unmetered.
As mentioned before, the packages can get complex as shared slot package choices include Premium, SSD, and VPS. All of these have a wide choice of packages.
Client support
Now, onto the customer support part of our Seedbox.io review and test.
There is only one way of contacting customer support for help and that is through the ticket system.
This is accessible through the Knowledgebase by clicking on the "Open ticket" link or from your user account.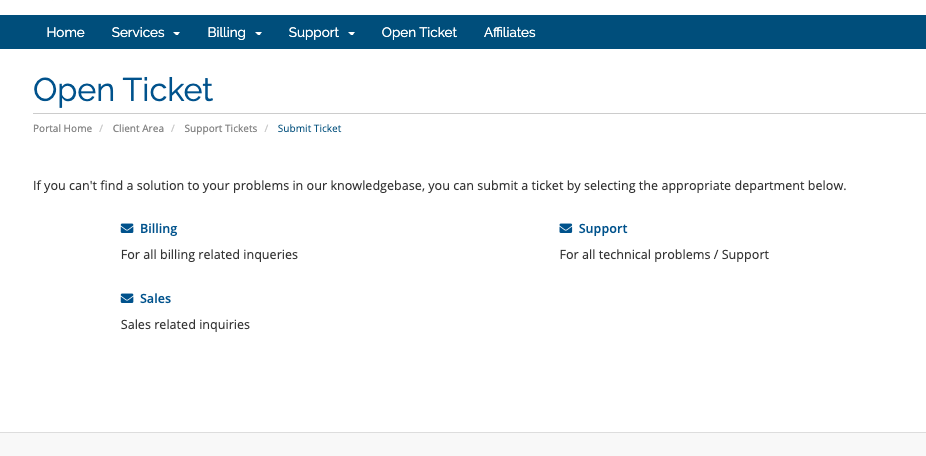 Seedbox.io does claim that client support is available 24/7. However, there is no live chat option, which is a disappointment. It is also disappointing that there are no phone, email, or Skype options available.
The good news is that, after leaving a ticket request, you do not have to wait too long before receiving an answer.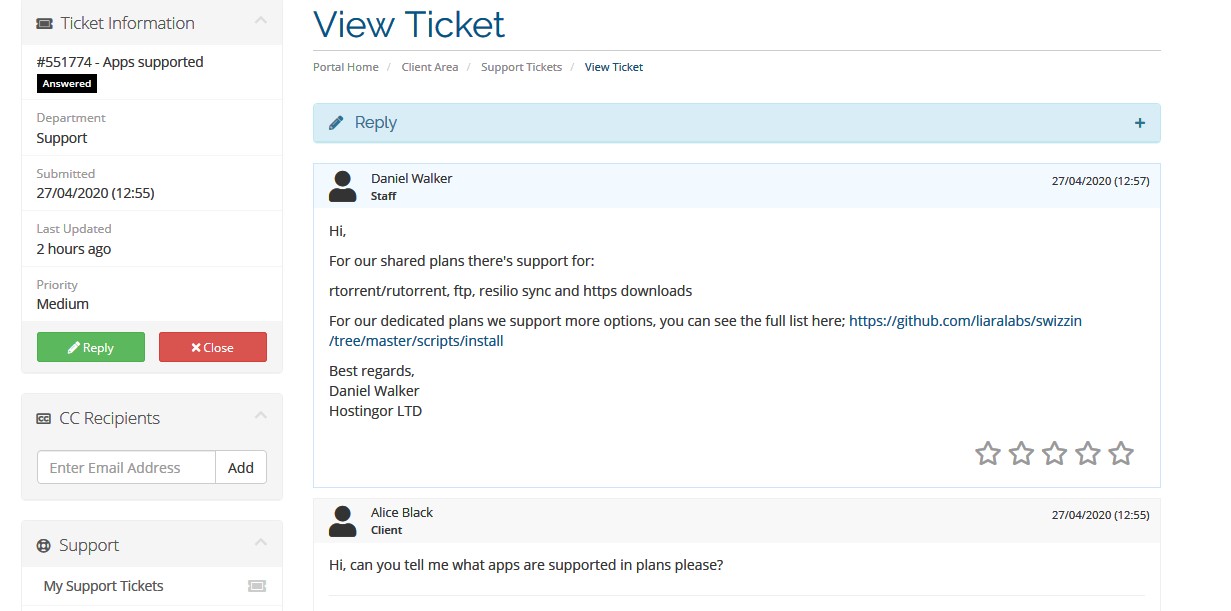 There is also extensive knowledgebase. Here, you can find self-help in the form of FAQs, getting started, how-tos, and much more.
We were also pleased to see a search option on the help page, making it easy to type in your query and find the answer to your question.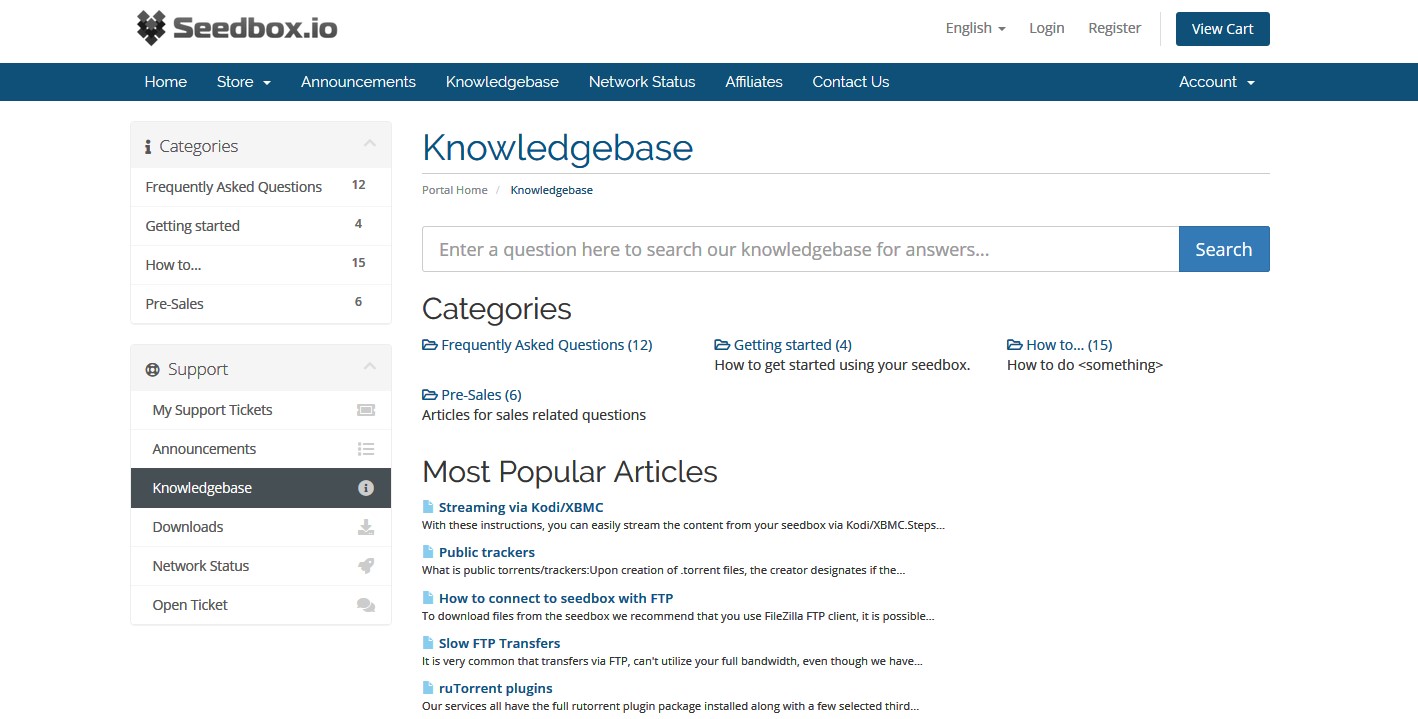 The "How to" section alone provides a great deal of help in many different areas. This includes finding your way around the client area to using the web interface for torrenting and connecting the Seedbox to FTP.
Functions
Now, we will move on with our test and check out the functions offered by Seedbox.io.
Here, we are going to look at such as the control panel, app installation, apps available, and whether or not Plex server is offered.
App installation
App installation can be undertaken through the client user interface. As you will see below, there isn't a wide choice of apps available on shared plans. These are reserved for dedicated packages.
Available apps
In this part of our Seedbox.io review, we are going to look into what, if any, apps are included in plans. Indecently, compared to some providers the amount of apps on shared packages is disappointing.
There is a choice of four apps for shared slots:
Kodi – perfect for streaming from your Seedbox;
OpenVPN – a VPN;
Resilio Sync – P2P file synchronization software;
ruTorrent – a rTorrent web interface.
Kodi
Kodi can be used for streaming on shared slots. First, you have to download it and go ahead and configure it.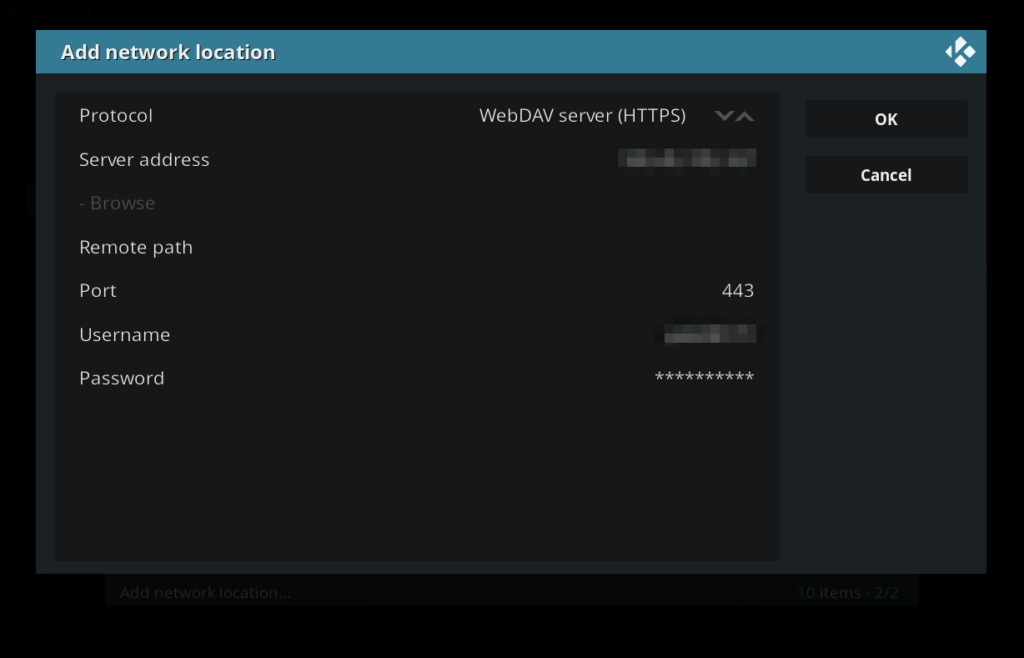 Once this is completed, go into the main menu – files- add video – browse – add network location and fill in the information requested.
OpenVPN
OpenVPN is included in all packages and by using a VPN, you can gain access to content tailored from specific countries, along with overcoming geo-restrictions and censorship.
Just install it onto your slot, then in the client area go to Active Products/Services. Click on the name of your Seedbox then go to Manage product – Download OpenVPN configuration. Then, find the file on your computer then copy it into the OpenVPN config folder.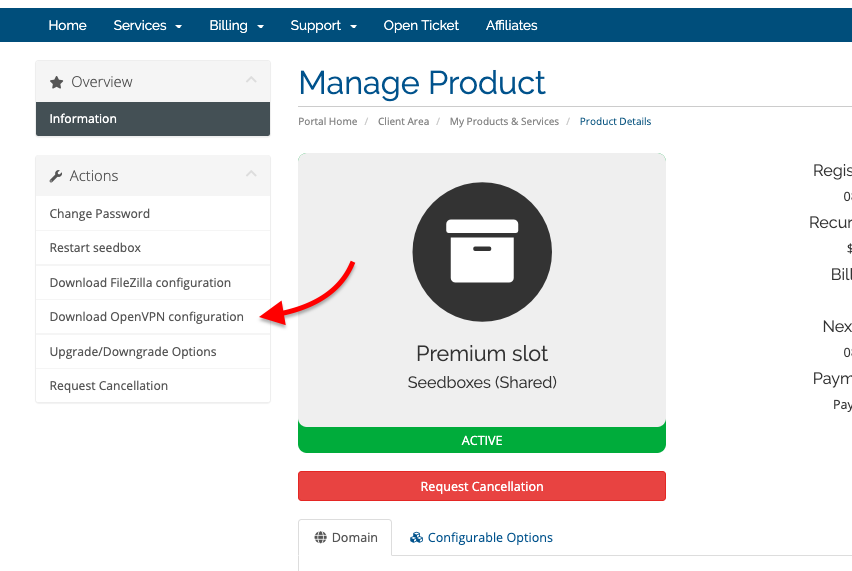 Finally, you need to right-click on the OpenVPN icon in the status bar and connect to it. During connection, you will have to enter your credentials.
Resilio Sync
Resilio Sync is a P2P file-sharing synchronization software. You can use this to get files from the Seedbox or remote server to your computer and the files will be synchronized.
Is the Plex server included?
Plex server is not included in shared plans. If you want to stream your files on your shared slot, you will have to use Kodi.
Which BitTorrent client is supported?
A Seedbox is used primarily when torrenting, as we already mentioned in our review of Seedit4.me, to download files using the Seedbox instead of a torrent client on your computer.
So, with this in mind, you are going to want to know which BitTorrent client is supported. This answer to this is going to depend on the package you sign up for with Seedbox.io.
We are only concentrating on the shared Seedbox packages in this test, and in this case, support is available for rTorrent courtesy of ruTorrent.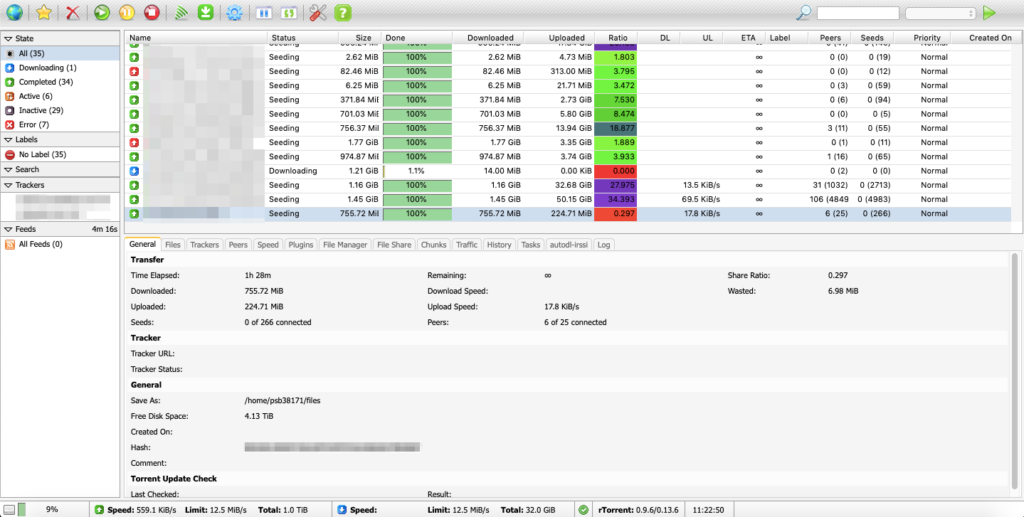 ruTorrent is the web interface of rTorrent and it is familiar in looks taking on the look of uTorrent, while at the same time offering the functions of rTorrent. This is available on shared and dedicated slots.
However, if you want access to the Deluge torrent client, which offers more powerful customization options, you are going to have to pay for dedicated servers.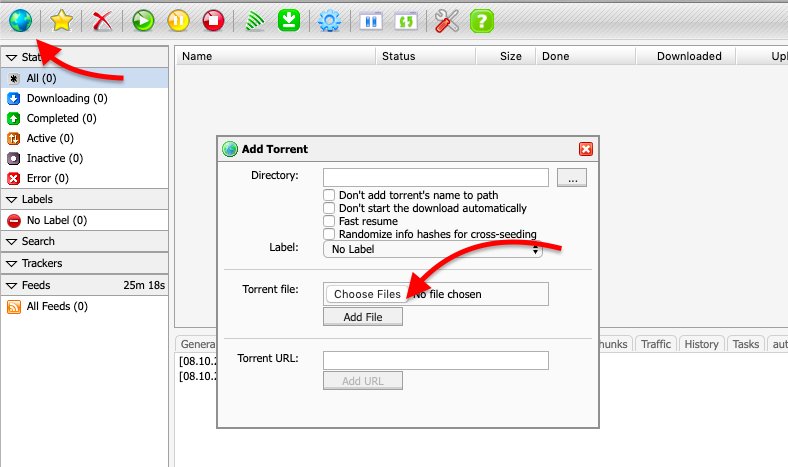 The ruTorrent interface is easy to use. Simply click on the "Globe" icon in the interface and click on "Add file" to choose a torrent file on your device and add it to the interface. There is also the option to add a torrent file through its URL.
Pricing
One of the most important parts of our Seedbox.io review and test is how much packages cost, so let us look.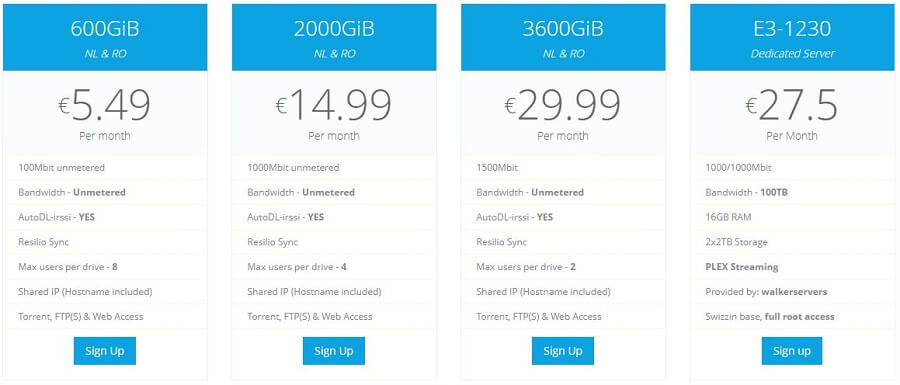 The 600Gib package
First up is the 600GiB package, which comes in at just 5.49 Euros per month. This is one of the most affordable Seedboxes out there. However, you do get quite a bit for your money.
It includes the following:
100Mbit unmetered;
A maximum of 8 users per drive
Unmetered bandwidth;
AutoDL-irssi;
Resilio sync;
Shared IP with hostname;
Torrent, FTP, and web access;
VPN support
Get an affordable plan with Seedbox.io now >
The 2000GiB pricing
The 2000Gib package jumps up to 14.99 Euros per month. This includes:
1000Mbit unmetered;
A maximum of 4 users per drive;
Unmetered bandwidth;
AutoDL-irssi;
Resilio sync;
Shared IP with hostname;
Torrent, FTP, and web access;
VPN support.
The 3600GiB package
The 3600GiB package costs 29.99 Euros per month and includes the following:
1500Mbit;
Maximum of 2 users per drive;
Unmetered bandwidth;
AutoDL-irssi;
Resilio Sync;
Shared IP with hostname;
Torrent, FTP, and web access;
VPN support.
Money-back guarantee
In this part of the Seedbox.io review, we look at what money-back guarantee is offered.
The provider offers a 14-day money-back guarantee to all new clients. This essentially allows you to test out the service to find out whether it is right for you, for fourteen days.
This means you get a risk free trial as the provider offers a full refund if you decide for any reason that it isn't for you.
One word of warning though, if you pay for the plan in cryptocurrency, refunds are not supported.
The money-back-guarantee does not cover customized dedicated packages. If you want to claim your money back, you can do so through customer service by putting in a ticket.
You can cancel the package at any time after the 14 days through your client interface.
In conclusion
Now we will conclude our Seedbox.io review and test of the service by rounding up all that we have learned so far.
The provider does offer one of the cheapest plans out there. Besides, there is a wide choice of plans. However, with such a wide choice it is complex to understand.
The shared packages are let down somewhat by the lack of apps. There are competitors on the market that include such as Bazarr, CouchPotato, Deluge, FFmpeg, and many more in their competitively priced shared plans.
Additionally, there is a lack of customer support but the ticket system is one of the fastest we have seen. We put in a ticket and got a reply in under a half-hour.
As the provider offers a 14-day money-back guarantee, you have nothing to lose by trying it out.