Dediseedbox Review: Read This Before You Buy It!
Dediseedbox claims to offer many superb features in its Seedbox packages. Plans are said to come with excellent customer support, no contracts, high security, and more. But does it live up to its claims? Well, we have undertaken a full Dediseedbox review, so read on to find out whether it is a hit or miss.
To start our test we will begin by highlighting the main pros and cons of the provider. Sadly, we did find more cons than pros.
Pros:
Plex is included on all plans
VPN is included on all plans
Nice website and interface
Cons:
No live chat
Support is slow, only available through ticket
Limited ways to pay
Many people / server
The higher packages were not available during our test
Full refund only within the first 24h
A bit more expensive than competitors ($/Go of storage)
---
Ease of use
To start our Dediseedbox review we first looked into how easy the user interface was to use.
The interface is rather plain-looking compared to some that we have reviewed. However, it does offer the information you need about your Seedbox.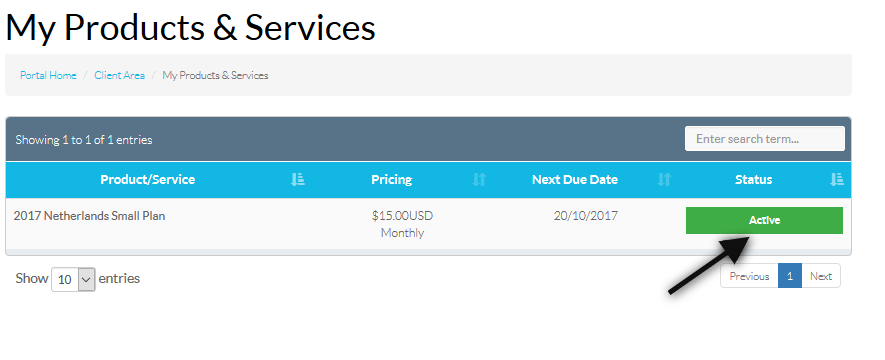 It tells you the plan you have, the pricing, due payments, and the status of the Seedbox, whether it is active or not.
Under the "Manage" tab, you can access rebooting, undertaking a hard reboot, reinstalling, installing applications, applications already installed, and changing your account password.
How fast is it?
Now, onto the speed part of our Dediseedbox review. Speed is an important factor of any Seedbox.
Therefore, we were pleased to find that an impressive 10Gbps is offered with all plans and the provider offers free instant setup.
Yet, as we could anticipate, this speed is never reachable. Indeed, they put many people on each server, making download and upload speeds quite disappointing. It is also almost impossible to use Plex at peak time because it uses tons of bandwidth and there's not enough left for everyone.
As you could read in our Best Seedbox ranking, our favorite provider, Seedit4.me, puts way fewer people per server, offering much better performances.
Size of Seedboxes
There is a choice of four Seedboxes available, each with different sizes.
The sizes range from the entry-level with its 750 GB of storage, to the biggest, at 2 TB. In-between packages offer 1 TB and 1.5 TB.
Client support
A good Seedbox provider has to offer a good level of customer support for those times when you need a helping hand.
Sadly, there is only one way to ask for help and it is by no means fast. Unlike much of the competition out there, Dediseedbox does not offer live chat. The only option you have is through a ticket system.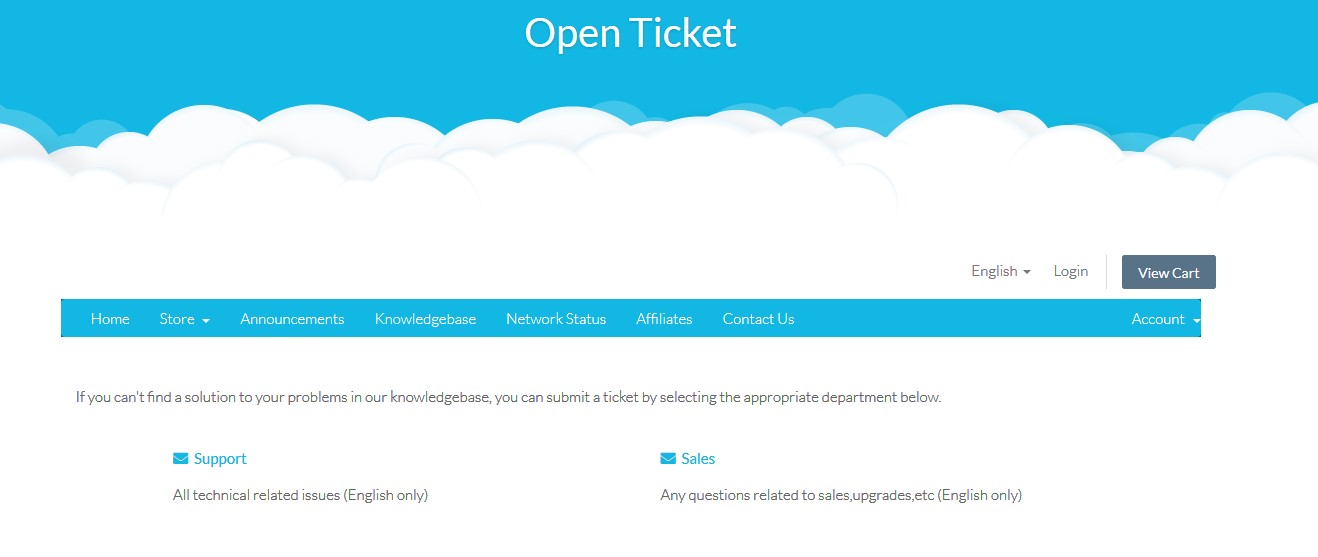 The provider does say help is available 24/7 and it is true in the respect that you can send a help request around the clock. However, do not expect to receive an answer immediately.
You could be waiting a couple of hours or more for a reply, depending on how many requests for help there has been. Incidentally, we have reviewed other providers (like Seedbox.io) that only offer a ticket system and a couple has been fast at answering, under a half-hour, so the customer support for Dediseedbox is poor.
There is a Wiki section on the website, which is like a FAQ and knowledge base.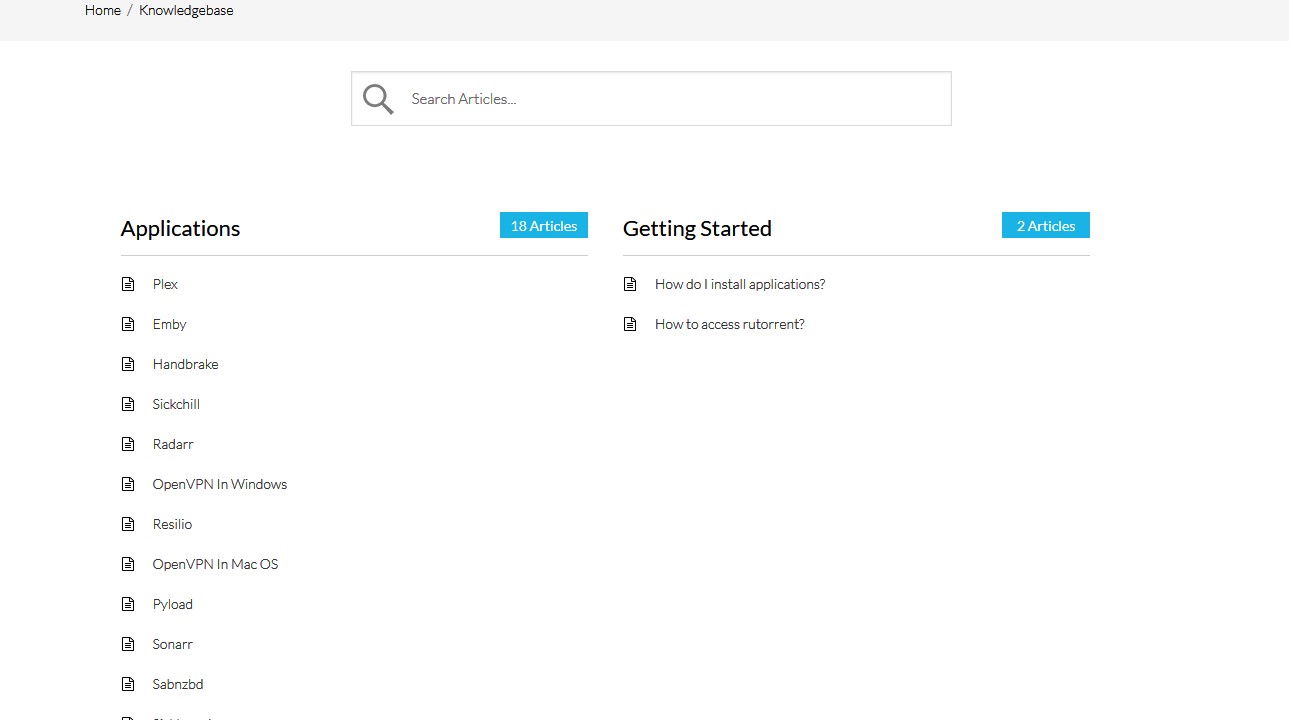 This includes a search function to search for self-help. There is also a helpful getting-started guide and answers to some of the most popular questions.
Functions
In this section of our Dediseedbox review and test, we are going to look into the functions offered in packages.
This includes how easy it is to install apps, the apps available, and whether Plex is included in packages.
App installation
Installing apps is relatively easy. Just head to the client dashboard and locate the tab that says "Applications".

Click on the tab and you can go ahead and install any of the apps, with more than 30 in total available.
Available apps
There is a choice of 30 apps to install and they include:
OpenVPN – a Virtual Private Network;
CouchPotato – automatic downloading of movies;
Sickchill – automatic video library manager;
Libresonic – web-based media streamer;
Ampache – audio/video streaming file manager;
Resilio – file and folder synchronization;
Jdownloader – file hosting download client;
Lidarr – find music releases to send to a download client;
Medusa – automatic video library manager to download TV shows.
Is the Plex server included?
Plex server is included in all packages. Dediseedbox allocates eight CPU cores to allow transcoding of two videos at the same time in 1080p.
While the addition of the Plex server in all plans is good, some providers out there allow streaming via Plex of up to 4K.
Plex can be installed via the client dashboard under "Applications" – it can also be upgraded to the latest version under "Installed apps".

In the "Installed applications" tab simply find Plex in the list of apps and then click on the "Upgrade" button.
Plex Requests can also be installed through the client dashboard.
The app allows users to request TV shows and movies through a GUI in the browser.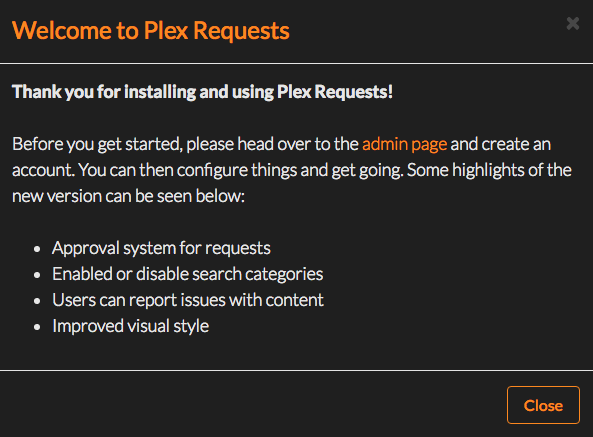 Once installed and an admin account has been created, users can use the admin panel to tick boxes to search for TV shows and/or movies.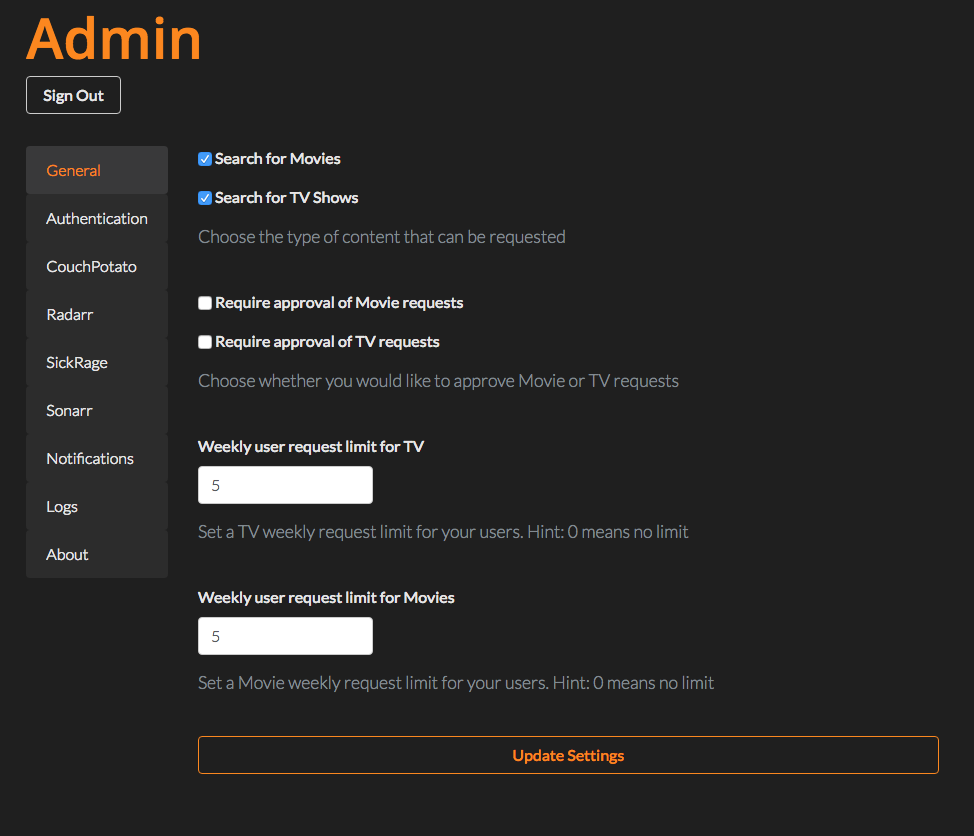 Dediseedbox offers a dedicated support page for installing both Plex and Plex Requests.
Which BitTorrent client is supported?
With one of the main uses of a Seedbox being to download torrent files using the Seedbox instead of downloading via your computer and internet service, you will want to know what BitTorrent client is supported.
So, this is something we are going to answer in this section of our Dediseedbox review.
Unlike much of its competition, Dediseedbox only offers support for one BitTorrent client and that is ruTorrent.
Creating a torrent on the Seedbox
When you take out a package, the welcome email provides you with the details required for you to access the torrent client.
Once you have done so it is easy to create torrents in the Seedbox.
All you have to do is launch the app then click on the third icon from the top left.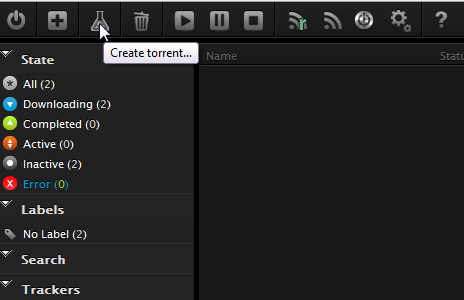 A box will open and this allows you to choose the source by clicking on the three dots to the left of the box.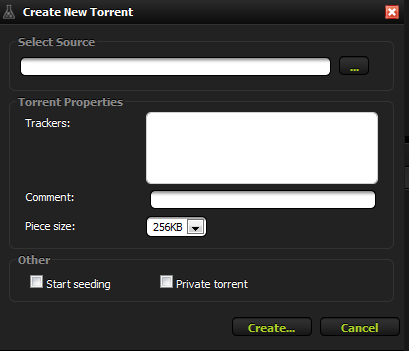 When you have done this, you have to choose the piece size from the dropdown box. This is dependent on the size of the torrent.
You can find a full list of recommended sizes on the support pages. However, to give you an idea they are:
32kb for 50MB or under files;
256kb for 512MB and over files;
2MB for between 2GB and 4GB files;
16GB for files over 16GB.
Along with this, you will also need to enter the tracker information you want to upload the torrent to and click the "Create" button.
To be able to create and upload to public trackers, you do have had a VPS or dedicated package, not a shared one.
Pricing
Now, let us move on with our Dediseedbox review to look at the pricing of the packages.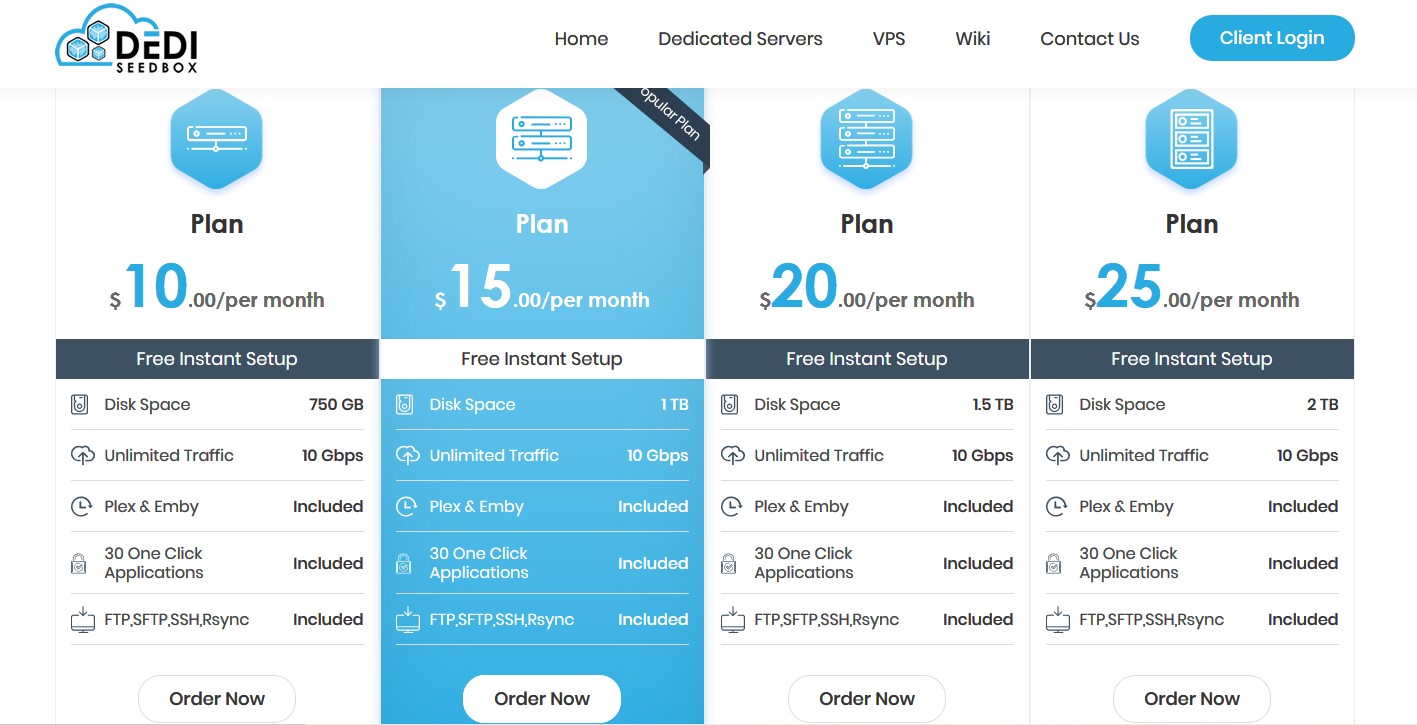 The Tiny plan
The entry-level plan has the name of the Tiny Plan and it is $10 per month.
The package includes:
750 GB of storage space;
Unlimited traffic;
10 Gbps speed;
Access to 30 apps with one click;
Plex server;
FTP, SSH, SFTP, and Rsync.
2023 Netherlands Small Plan
The 2023 Netherlands Small Plan is the next step up and costs $15 per month.
The package includes:
1 TB of storage space;
Unlimited traffic;
10 Gbps speed;
Plex server;
Access to 30 applications installed in one click;
FTP, SFTP, SSH, and Rsync.
Additional plans
Two additional plans are listed on the website, however, during our test of the provider, when we clicked on Buy Now, it said that the packages were out of stock. How long this will last is anyone's guess. However, we have listed the packages below.
The first unavailable package is $20 per month and it offers the following:
1.5 TB of storage space;
10 Gbps speed;
Unlimited traffic;
Plex server and Emby;
Access to 30 applications;
FTP, SFTP. SSH and Rsync.
The second package currently sold out is $25 per month and offers:
2 TB of storage space;
10 Gbps speed;
Unlimited traffic;
Plex server and Emby
Access to 30 applications;
FTP, SFTP, SSH, and Rsync.
We have no idea how long the two packages are going to be sold out, so, at the moment, the highest storage available is 1 TB.
Money-back guarantee
Does the provider offer a money-back guarantee? This is something we took a look at in this part of our Dediseedbox review.
Strangely, it does not brag about offering a money-back guarantee on the website as many of its competitors do.
To find out about the guarantee, you have to delve into the Terms & Conditions. You can find a link to this at the bottom of the main webpage.

In terms, it states that Dediseedbox offers a 14-day money-back guarantee. However, this does not mean you will get a full refund, as it does state it is prorated. This means you are charged for the days that you used the service.
The only deviation from this is if you request a refund during the first 24 hours. On doing so, you will then get a full refund. Essentially, this is the equivalent of offering a 24-hour free trial.
This is a poor effort on the part of Dediseedbox as many of the Seedbox providers out there offer a 7 to a 14-day full money-back guarantee.
The provider does state that it will work with customers to try to work out problems. However, the package can be canceled at any time after the 14-day money-back guarantee. If the subscription is paid through PayPal, the customer has to cancel the subscription.
In conclusion
When we visited the website to conduct this Dediseedbox review and test, only two out of the four packages were available, with the others being sold out. Therefore, the biggest storage space available was only 1TB.
More downsides include a lack of live chat and the ticket support system being slow.
The better news is that there's a VPN and Plex server access included in all plans, even the entry-level.
There are many Seedbox providers out there offering so much more than Dediseedbox. So, with this in mind, we don't recommend the provider over many of its competitors.