Seedboxbay Review: a cheap Seedbox provider, so what?
Seedboxbay claims to be unbeatable, offering the most powerful speeds available and unlimited blazing fast connections. This is a huge claim and one that we decided to look into. So, here is our complete Seedboxbay review. We have tested all of the important aspects of Seedboxes including ease of use, the speed, available apps, pricing and much more.
First, we will start with a look at what we liked about the provider and what we disliked and as you will see, it isn't one of the best providers we have reviewed.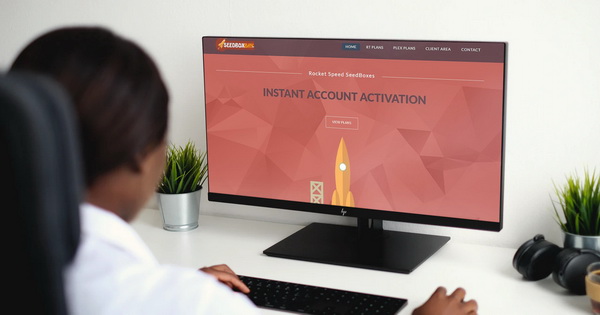 Pros:
Prices start at $2.50 per month
You can upgrade or downgrade at any time
Cons:
Slow FTP download speeds
Servers reboot at odd times
Only 1Gb/s downlink
Only 72 hours money-back guarantee
Plex is not available on standard plans
Poor customer support options
---
How easy is it to use?
The client interface is laid out well with clear links to the information you need so it is easy to use and get around.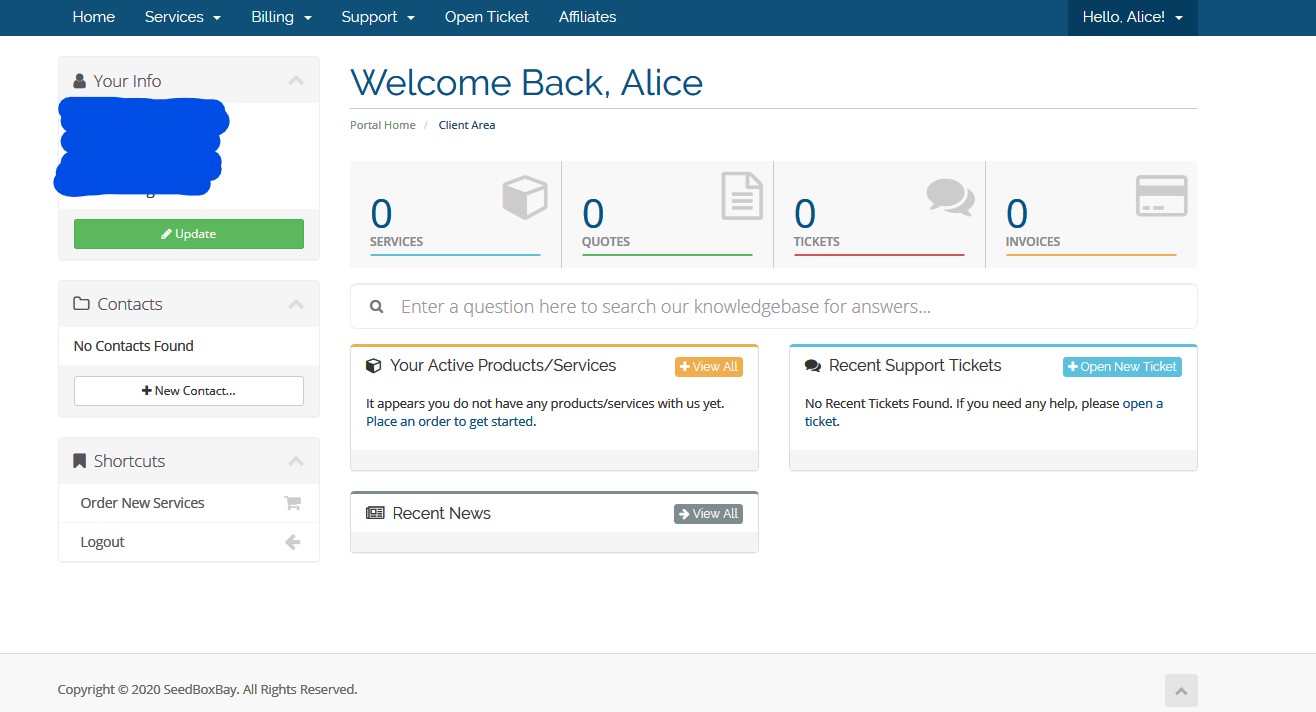 From the client interface, you can view your Seedboxes, order new services, view tickets and invoices, plus view available add-ons.
You can also reach customer support from the client dashboard, along with accessing downloads and checking the network status of the provider.
How fast is it?
So, let us begin our Seedboxbay review and test by looking at the speed.
The provider boasts you get unlimited bandwidth and blazing fast speed so you can seed and download as much as you want.
However,  speed is limited to a 1Gbps connection. While this is fast and in theory means you should be able to download a file of 60GB in 1 minute, in reality the server you connect to is shared by many other users. Therefore, there is no guarantee of obtaining that speed.
The provider admits this in the knowledge base. When asked about speeds the provider stated "speed is allotted dynamically, depending on how many users are connected and how active those users are".
You also have to bear in mind there are some Seedbox providers out there offering higher speeds, up to 10 Gbps. However, even with 10 Gbps, once again the actual speed is going to depend on the number of people sharing the server.
Seedbox sizes
Seedboxbay offers a range of standard plans and Plex server plans with different sizes.
The plans begin with the "Baby" package offering 100GB of storage space.
Next up is the "Seeder" package offering 200GB of storage.
Move up a level to the "Torrent Master" package and you get 300GB of storage space.
The provider offers three Plex plans, which it says are 90% faster than the normal plans. However, plans still have a 1Gbps connection speed but come with premium network speed.
The first of the Plex plans is the "Plex S" package with 500GB of storage.
With the "Plex M" package, you get 1000GB storage.
Finally, the "Plex L" package offers 1500GB of storage.
Client support
Our Seedboxbay review and test would not be complete without looking into the level of support offered by the provider.
At the right bottom of the webpage, there is an icon for live chat. We were initially pleased to see this, but upon clicking on it our glee dissipated as we found it offline.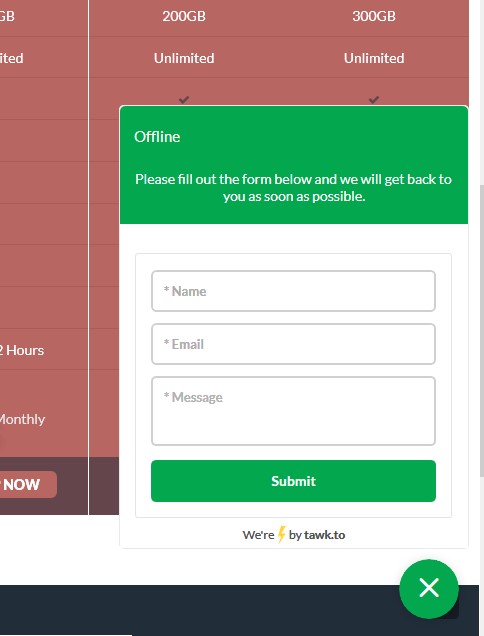 Instead of getting instant access to a representative, we could only leave our name, email and message. So, needless to say we were disappointed. We did check back many hours later and the same applied, offline.
Whether customer support support was having a day off or this is a regular occurrence remains to be seen.
The only other option for customer support was a link at the top of the website to contact the provider.
Clicking on this led us to an online form, where again we could only leave our name, email address, subject and a message.
There is a link to a knowledge base at the top of the page for self-help. This is also where you can get access to the ticket system. In our experience leaving messages on a ticket system leads to long waiting times for a reply.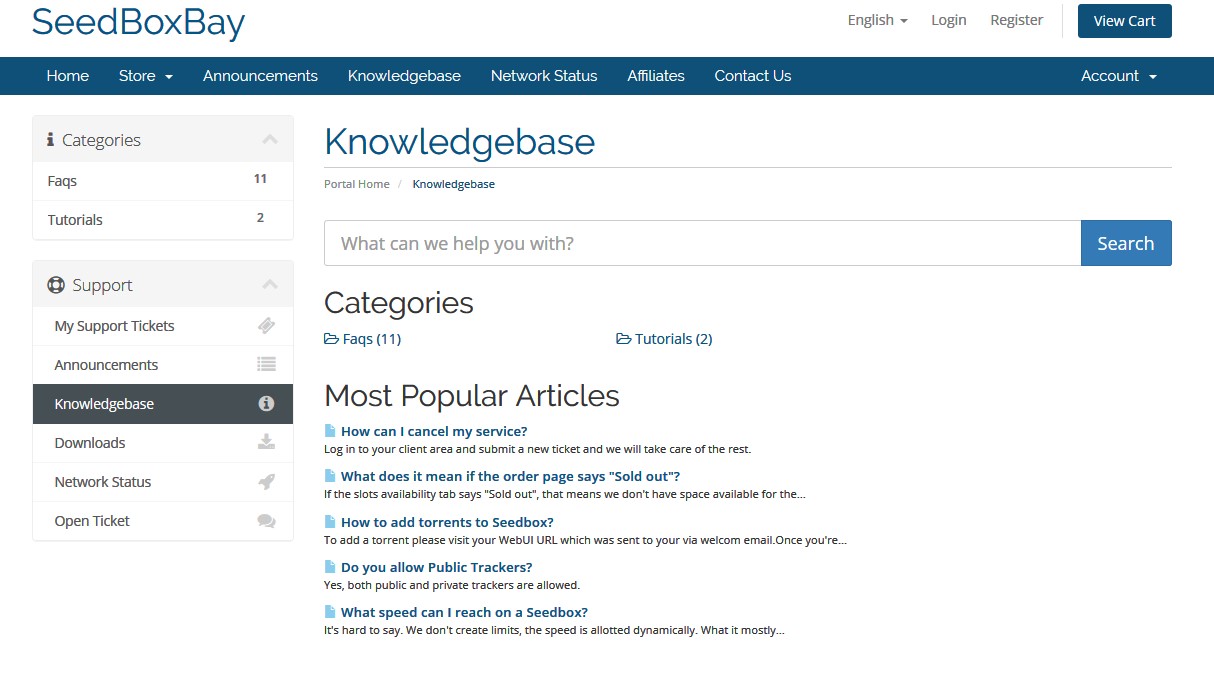 The knowledge base is not very comprehensive, having just 11 answers to questions and 2 tutorials. This is another let down and very poor as other providers we have reviewed have offered extensive knowledge bases.
Functions
Now we will move with our Seedboxbay review to look at the available apps on plans and whether Plex server is included.
Available apps
Available apps on the Plex packages include:
Plex (as expected);
CoachPotato;
Headphones;
Sonar;
AutoDL-irssi;
Resilio;
NZBGet;
The ability to install apps of your choice.
Is Plex server included
If you go for any of the three basic Seedbox plans, you do not get access to Plex server. This is a huge downside to choosing this provider, as there are plenty of competitors out there offering Plex for similar prices of the standard packages.
However, you do get it, of course, if you choose from the range of three Plex plans.
Which bitTorrent client is supported
As with many Seedbox providers, ruTorrent client is supported and users find access to it in the email sent upon signing up for a package.
The interface is similar to uTorrent, so if you torrent on a regular basis you will find the client easy to use. Even if you are a beginner you will soon pick it up.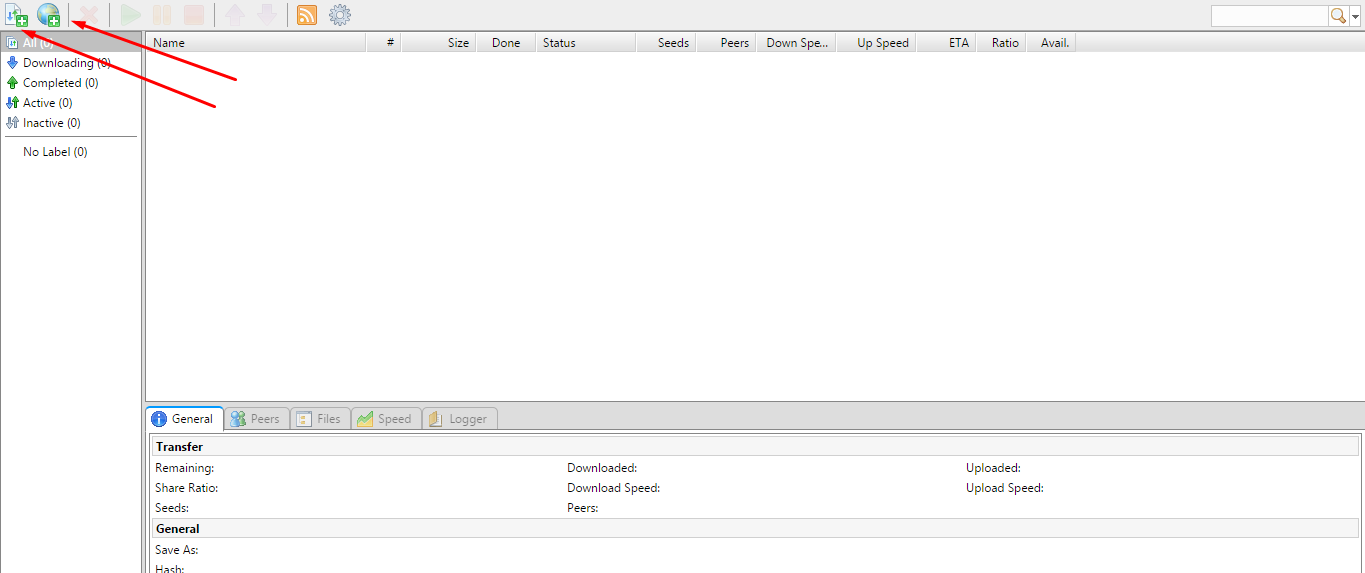 Adding a torrent file is as easy as clicking on the icons in the top left hand side once you have opened the urTorrent client interface.
Pricing
Now let us move on with our Seedboxbay review and test  by looking at the pricing of packages and what you get for your money.
Before we go ahead it is worth noting that the basic Seeder package costs $10 per month for 200GB but the Plex S package also costs $10 per month but you get 500GB, access to Plex server, a range of pre-installed apps and more. So, this pricing doesnt make sense.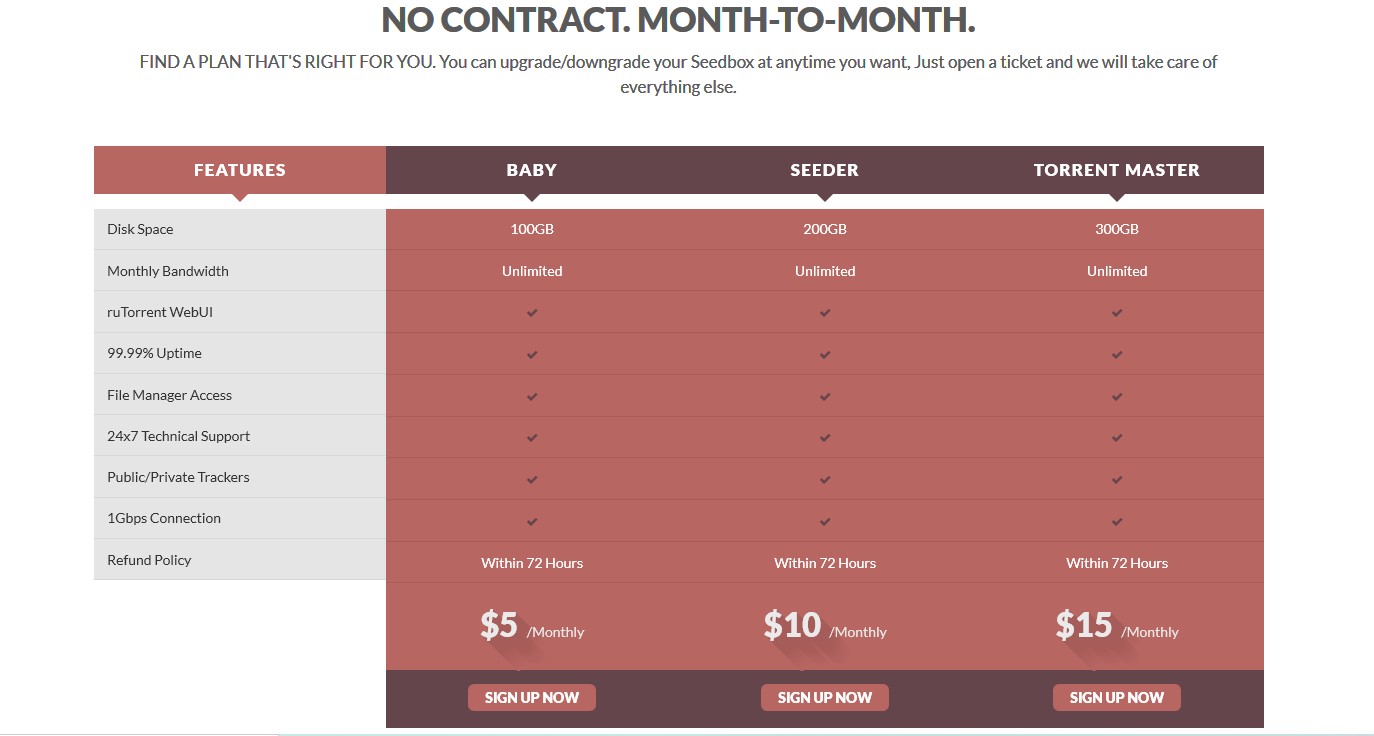 Basic Seedboxes
There are three standard packages to choose and they all include the following:
File manager access;
24 x 7 technical support;
1Gbps connection;
Private and public trackers;
Unlimited monthly bandwidth.
Now let's look at the price and differences of each of the plans.
The Baby package costs $5 per month and gives you 100GB of storage space, so it really is entry-level.
The Seeder package is $10 per month and offers double the storage at 200GB.
Finally, there is the Torrent Master package offering 300GB of storage for $15 per month.
Plex packages
If you do want more storage, support for Plex and a range of pre-installed apps, you will need to choose one of the Plex plans.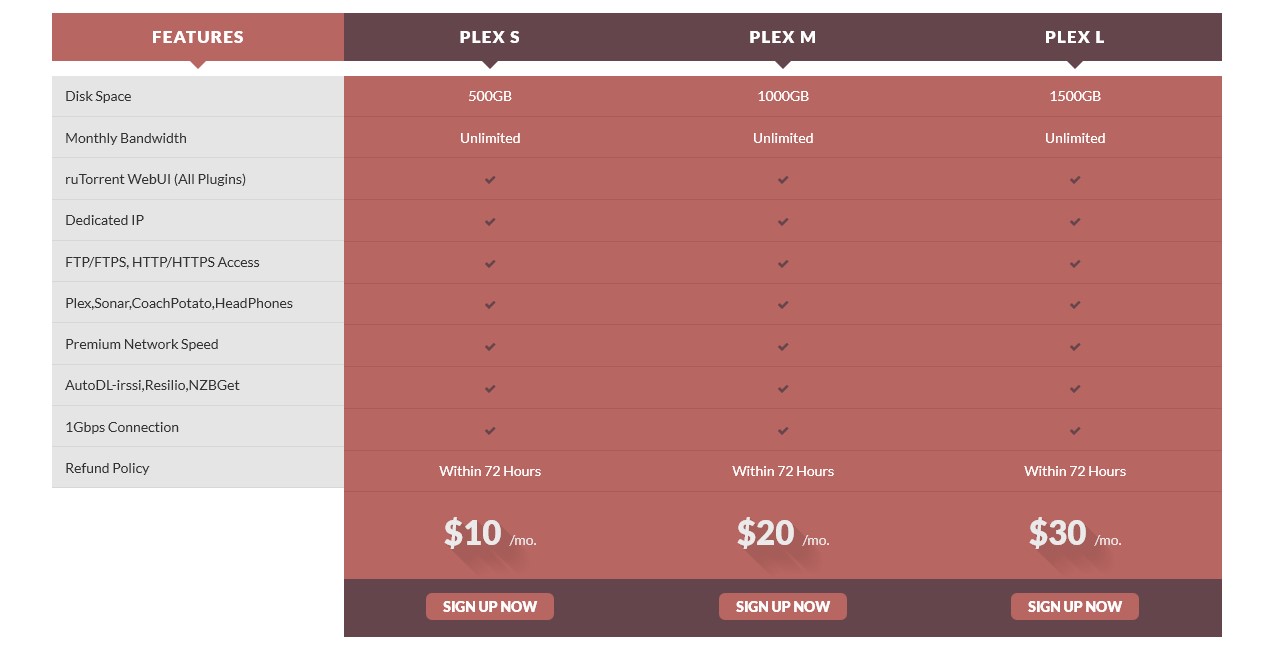 All plans come with the following:
Unlimited monthly bandwidth;
ruTorrent WebUI with all plugins;
Dedicated IP;
HTTPS and FTP access;
A range of pre-installed apps.
The plans start with the Plex S offering 500GB for $10 per month, then the Plex M offering 1000GB for $20 per month and the Plex L offering 1500GB for $30 per month. These plans are better value for money as you get access to a range of pre-installed apps, plus Plex server.
On saying this you do need to consider that Seedit4.me offers 5000GB of HDD storage with Plex for just slightly more each month than the biggest plan offered by Seedboxbay.
Money-back guarantee
Part of our Seedboxbay review and test of the service includes looking into the money-back guarantee.
It is not unusual for providers to offer refunds for up to 7 to 14 days. However, this provider offers only a 72-hour money-back guarantee. Yes, that is right you have just 3 days to request a refund.
While it does give you the option to test out the Seedbox, the provider is a bit stingy in this regards, so again another disappointment.
To claim a refund you have to head over to the knowledge base page and submit a ticket then wait for someone to reply.
In conclusion
The entry-level package may seem attractive at just $5. However, be aware the basic plans are just that, basic and you do not get a lot for your money. Along with this the FTP transfer to the Seedbox is extremely slow and there are entry-level packages out there that are far more attractive.
The basic Seedboxes dont include Plex and also lack the range of apps offered with the Plex range of packages. As Plex can be used to stream torrent files in the Seedbox without the need for downloading to your computer, this is a huge downside.
The plans don't offer great value for money as the largest only offers 1500GB, costing $30. Seedit4.me for example offers 5000GB for $38.
All plans come with 1 Gbps speed and while it is fast, bear in mind you will be sharing it with many other users so you will not get the full speed.
The conclusion to our Seedboxbay review and test is the provider offers nothing that would persuade us to recommend it over its competitors, and in our eyes it has far more cons than pros.