Evoseedbox Review: Everything You Need to Know About This Seedbox Provider
Evoseedbox claims to be a budget-friendly Seedbox provider that offers quality Seedboxes and blazing-fast speeds. We wanted to check them out to find out if packages live up to the claim and you can find the results in this comprehensive Evoseedbox review.
In our test, we checked how easy the interface is to use along with the quality of it, the speed, sizes of the Seedboxes, how good the client support is, the apps, pricing, and much more.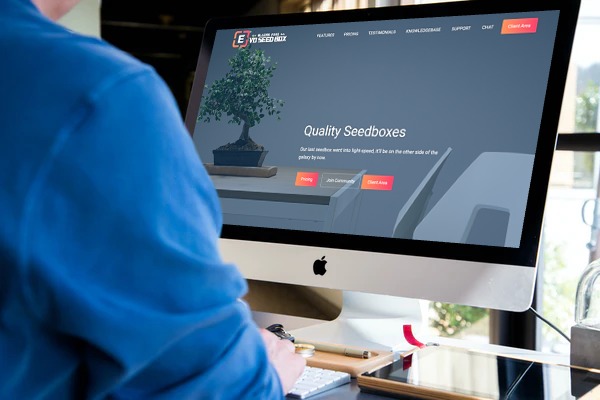 However, before we get into the full review, here are the pros and cons of the provider.
Pros:
Packages start from just $5
7-day money-back guarantee
20+ applications
Cons:
No Plex server on entry-level package
Only standard support with entry level package
Disappointing support overall
Only 1Gb/s downlink on all Seedboxes
---
How easy is it to use?
The user interface, aka dashboard, is not the most intuitive or good-looking compared to the ones offered by other providers – it is rather bland.
When you sign up for a plan with the Seedbox provider, you will be sent a welcome email and you can find the link to your client interface in that email, so it is, at least, easy to access.

This is where you can access information related to your Seedbox, including the name of the plan, server IP, FTP information, and more.
There are also tabs for FTP/VPN details, access to apps, Google Drive, and FAQ. It is also where you can access the ruTorrent client, including restarting and resetting it.
While it is just plain white and can be startling on the eyes, it does provide all the necessary information you are going to need to get up and running.
How fast is it?
We were not overwhelmed with the speed as it is only 1Gbps. 1 Gb per second might be ok if only one or two people were sharing the same server, but unfortunately, this is not so. You will be sharing it with many people, which means you don't achieve the full speed.
Also, bear in mind that there are providers out there offering upwards of 10 Gb/s. However, even with speeds such as this, you still have to share it with other people.
Evoseedbox does not limit the amount of simultaneous active files on your Seedbox. Of course, how many simultaneous downloads you can have and the number of files is going to depend on the amount of storage you have.
The more files you are downloading, or others sharing the server are downloading, the slower the speed and the longer your downloads will take.
Seedbox sizes
The next thing we looked at in our Evoseedbox review was the size of the Seedboxes and there is a wide range of sizes. There are four 'normal' Seedbox packages and they start from 150 GB and go up to 1000 GB. With some providers offering well above this, the biggest package is not that big.
The provider allows you to upgrade or downgrade your plan at any time. So, this means that, if you choose a plan and find that you need more storage, you can upgrade or vice-versa.
The entry-level package is called the Blitz plan and this is the budget plan. It offers 150 GB of storage per month. In the middle is the Speed package offering 300 GB and the Blaze plan with 600 GB.
At the top end is the Dash plan offering 1000 GB of storage.
There is also a range of Seedbox and Plex plans. These start with the Spidey package offering 2001 GB, which is a strange number, why the extra one gigabyte?
In the middle is IronMan with 4001 GB of storage and Hulk offering 6001 GB. The top-of-the-range is the Thanos package offering 8001 GB of storage.
Client support
On the main webpage of the provider, there are links at the top of the site for help and advice. These are Knowledgebase, Support, and Chat.
Clicking on the Knowledgebase link takes you to the forum for Evoseedbox.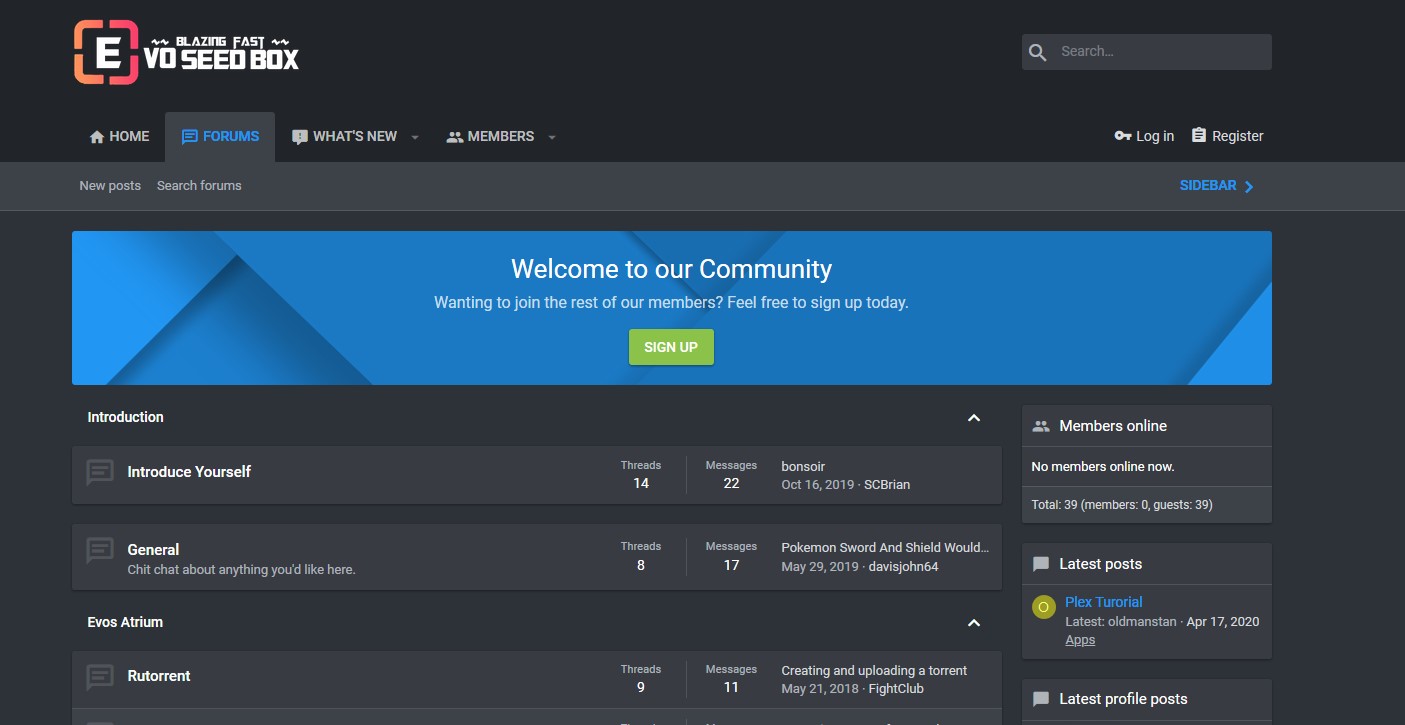 Here, you can check threads and post a thread for other users to answer or talk about. However, on checking it, there was not a huge amount of threads and active people. So, perhaps the forum is not that widely used as a way of obtaining help and advice.
Clicking on the support link takes you to the section to open a ticket to get help. However, you then have choices as the sections are divided between technical, sales & billing, and customer support.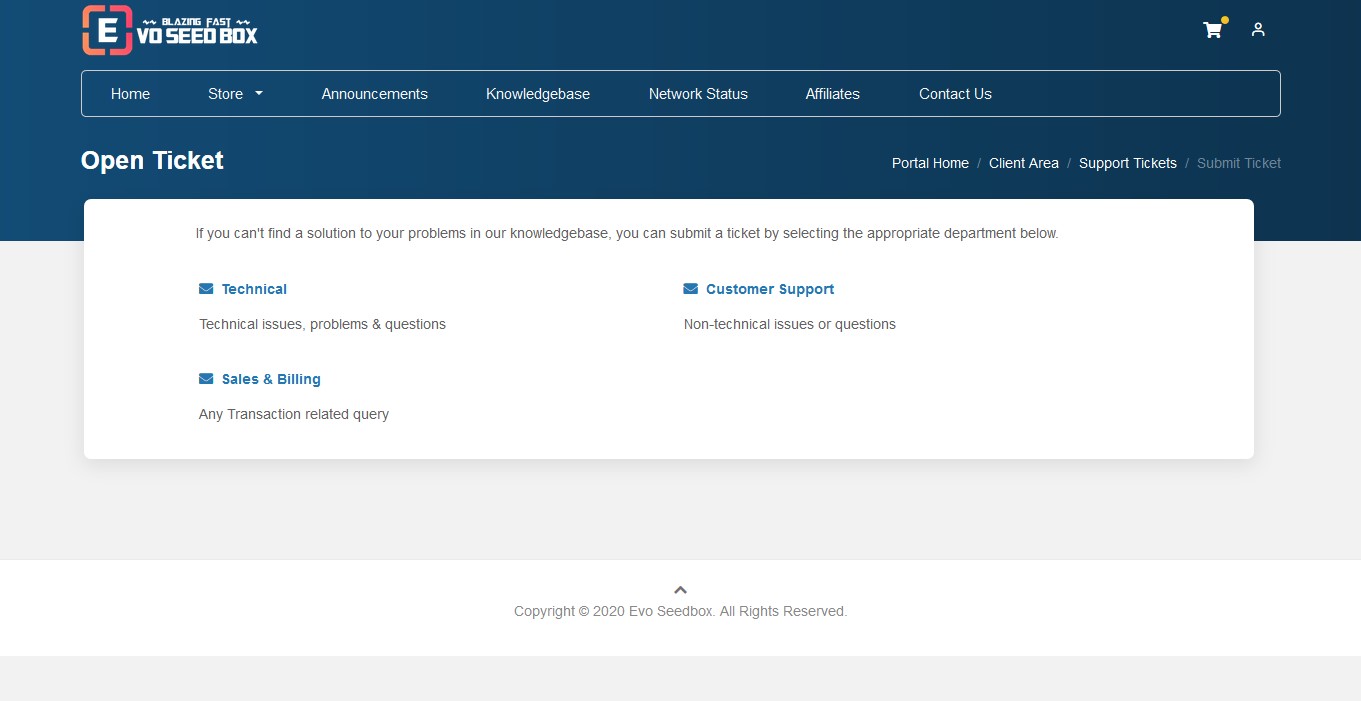 There is nothing to shout about with the ticket system, as it is not the fastest out there. In fact, it's very slow. So, don't expect to get an answer straight away – you could be waiting 24 hours or longer.
The third link on the website is the Chat link and you might be forgiven for thinking this provides you access to live chat, as we did. However, this is not so as the link takes you to the Discord app site where you have to join something called Seedbox Central.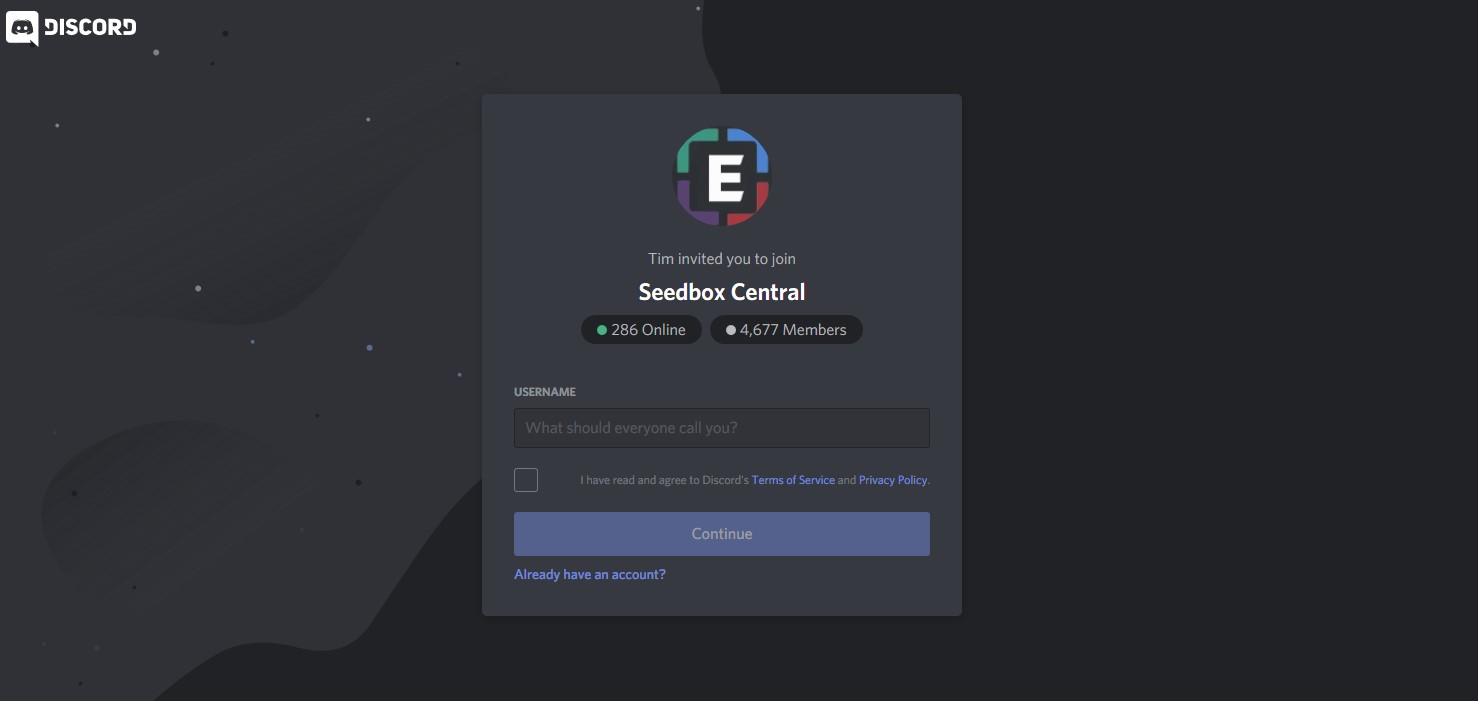 Finally, there is a FAQ page, but to find this link you have to scroll a long way down the main webpage.
It really is not worth all the trouble of scrolling right down to the bottom, as there are just a few answers to some frequently asked questions.
So, compared to some of the Seedboxes we have reviewed, customer service is a huge letdown.
Functions
In this section of our Evoseedbox review and test, we are looking into the functions offered.
We are checking out how easy it is to install apps, the number of apps available, and whether or not the Plex server is available.
App installation
Apps are installed in just a few clicks using the client dashboard, with popular apps already being set up and ready to use. ruTorrent is one of them.
All plans come with a wide choice of apps, 20 plus in total, some of which we will list below, so there should be something to suit everyone.
To get you started with uploading files to the Seedbox, the LFTP app is already configured. This allows you to transfer files to and from the Seedbox fast and easy.
Available apps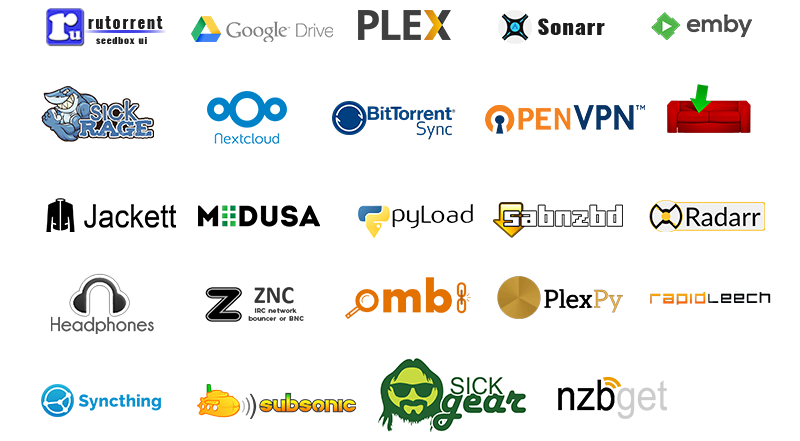 The range of apps includes:
OpenVPN;
Medusa;
Emby;
CouchPotato;
Headphones;
Syncthing;
Pyload;
Znc;
Sickgear;
NZBGet;
Nextcloud;
BitTorrent Sync;
Many more.
Is the Plex server included?
If you want access to the Plex server so that you can stream directly on the Seedbox instead of having to download to your device, you will have to go for any of the plans above the entry-level.

There is also a specific set of Seedbox and Plex plans available.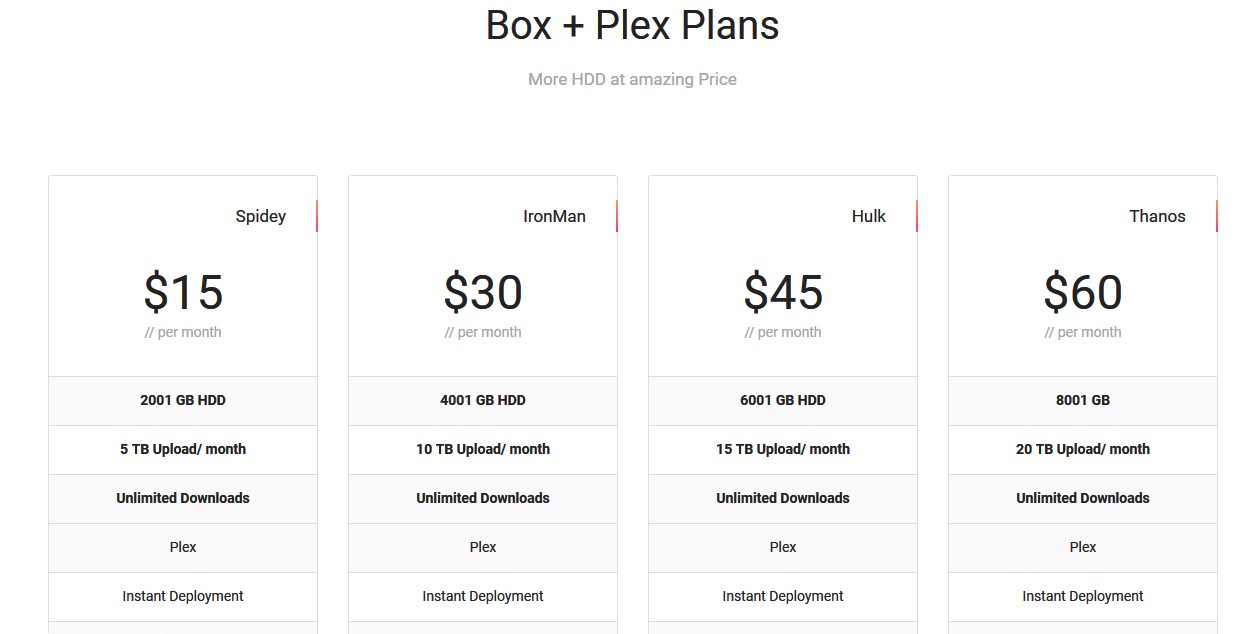 Which BitTorrent client is supported?
So, now onto the BitTorrent client part of our Evoseedbox review and test.
Torrenting is one of the main uses of a Seedbox as it means you can download and upload using the server of the provider. This provides a safer and more secure environment and also saves space on your device if you leave the files online. To download and upload torrents, you need to use a torrent client, so let's check it out.
As with many Seedbox providers we reviewed, torrenting using the Seedbox is by way of ruTorrent.
It seems that ruTorrent is the standard torrent client for Seedboxes as the app is simple to use. The interface looks and feels very much like the uTorrent client, which is widely used on desktop computers and other devices. We didn't come across any issues using ruTorrent.
To get a torrent into the client, you can drag and drop it from your device or click on the icon in the top left-hand corner and then choose the file from your device.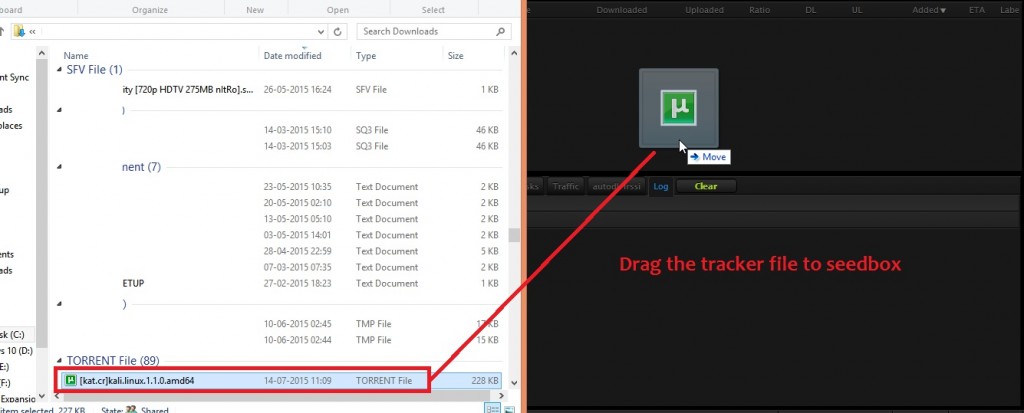 Pricing
Now onto the pricing part of our Evoseedbox review and test and what you get for your money. We are only going to concentrate on the Seedbox plans here.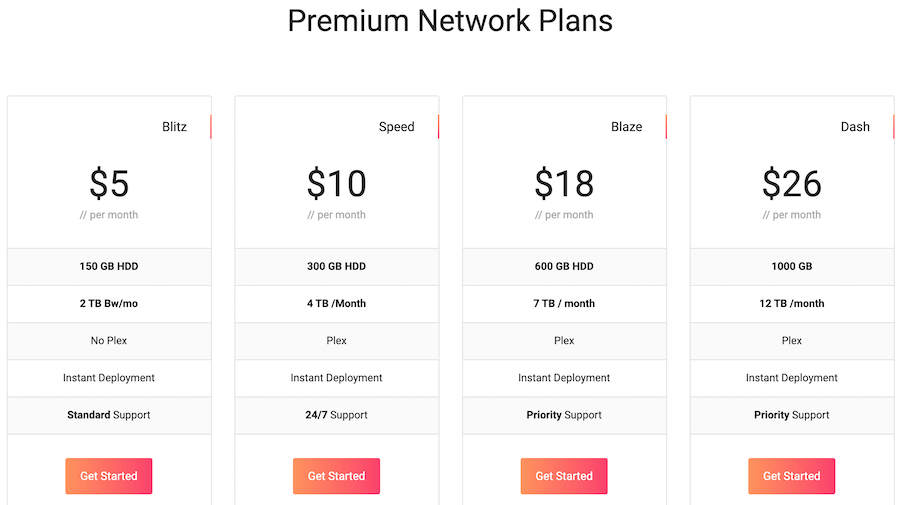 So, without any further ado let us take a look.
The Blitz package
The first package is the Blitz plan for just $5 per month and you get 150 GB HDD space. As you can see the amount of storage is reflected in the low price.
2 TB of bandwidth per month is included along with instant deployment and standard support. There is no support for Plex in this entry-level package.
The Speed package
Next is the Speed plan, which costs $10 per month. As you might expect for double the price from the entry plan you get double the storage, 300 GB HDD.
You also get 4 TB per month bandwidth, instant deployment, Plex, and 24/7 support.
The Blaze package
The Blaze package costs $18 per month and you get 600 GB HDD storage along with 7 TB bandwidth per month.
Also included are Plex server, instant deployment, and priority support.
The Dash package
At the top end of the Seedbox plans is the Dash package with a price tag of $26.
You get 1000 GB of HDD storage, 12 TB bandwidth per month, Plex, instant deployment, and priority support.
However, we have talked about customer support earlier in our Evoseedbox review and were disappointed with what was on offer.
So, it seems that with the entry package, your request for help would be very low in the list if the provider was busy, while in the high-end package, you would be at the top of the list. However, do not expect miracles from any level of support.
Money-back guarantee
We were pleased to find that Evoseedbox does offer a money-back guarantee. If you find the package is not suitable for your needs you can claim a refund within 7-days of signing up.
To claim your money back, you have to raise a support ticket and this is easy to do through the support page. However, as we did mention above, don't expect to get a reply back the same day.
In conclusion
To conclude our Evoseedbox review and test, we can say that the provider doesn't offer anything that stands out above its competitors, and in many areas, it does fall short.
The customer support is lacking, with no live chat option and the ticket system being extremely slow, even though the provider differentiates between levels of customer support in plans.
The entry-level plan is affordable yet it does offer a good level of storage, which is one of the few good points.
Sadly, only 1Gb/s speed is something of a let-down when many people are sharing the server.
To conclude, there are more cons than pros and there are many better Seedbox providers out there you might want to consider above Evoseedbox.