Cheap Seedbox Providers: The Best Quality/Price Options in 2023
We are looking at three of the best cheap Seedbox providers on the market at the moment. These include the most affordable per month, along with what you get for your money, which does vary considerably between the providers. This means that the most inexpensive does not necessarily come out on top as we are also taking value for money into an account and low priced.
Along with this, we take into account ease of use, the packages and prices, apps, and customer support. So let's get on with our look at the best reasonably priced Seedbox providers.
1. Seedit4.me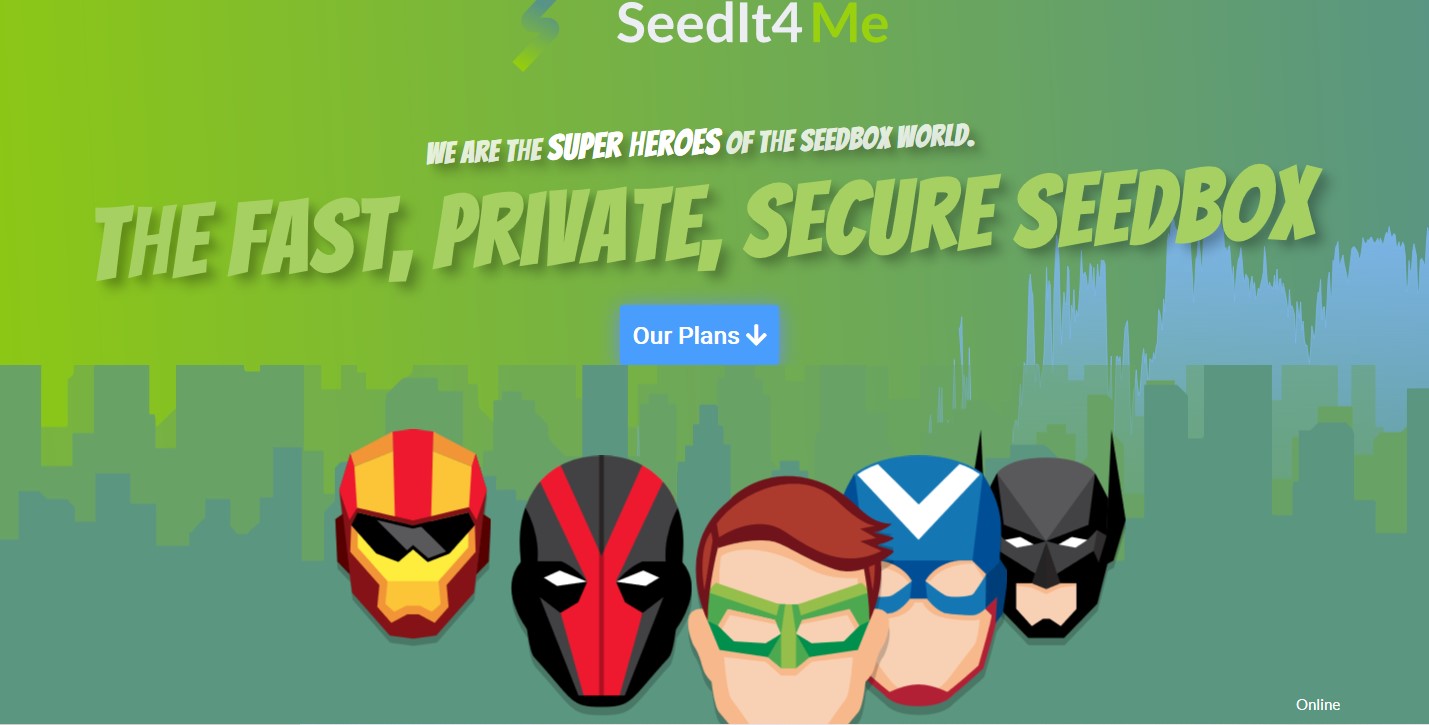 Seedit4.me is our number one choice of the best cheap Seedbox providers as not only is it among the most affordable out there, it also offers great value for money in packages. With its 7-day money-back guarantee, it's also one of the best free Seedbox providers in 2023.
Below you can find the pros and cons, with us finding very few cons and a great deal to like.
Pros:
Bandwidth is unmetered
Up to 40 apps available
Live chat is available 24/7
Big boxes
Plex available on all servers except SideKick
Excellent value for money
---
Ease of use
The user interface of Seedit4.me makes using the Seedbox extremely easy. Everything you need to use the account is located within easy reach, providing users with a clear overview.
Seedboxes can be added quickly and easily and once up and running, the dashboard is used to manage and install apps, along with all aspects of the account.
Thanks to it being browser-based, you can use it on multiple platforms, including smartphones.
Packages
The low priced packages offered by Seedit4.me offer good value for money.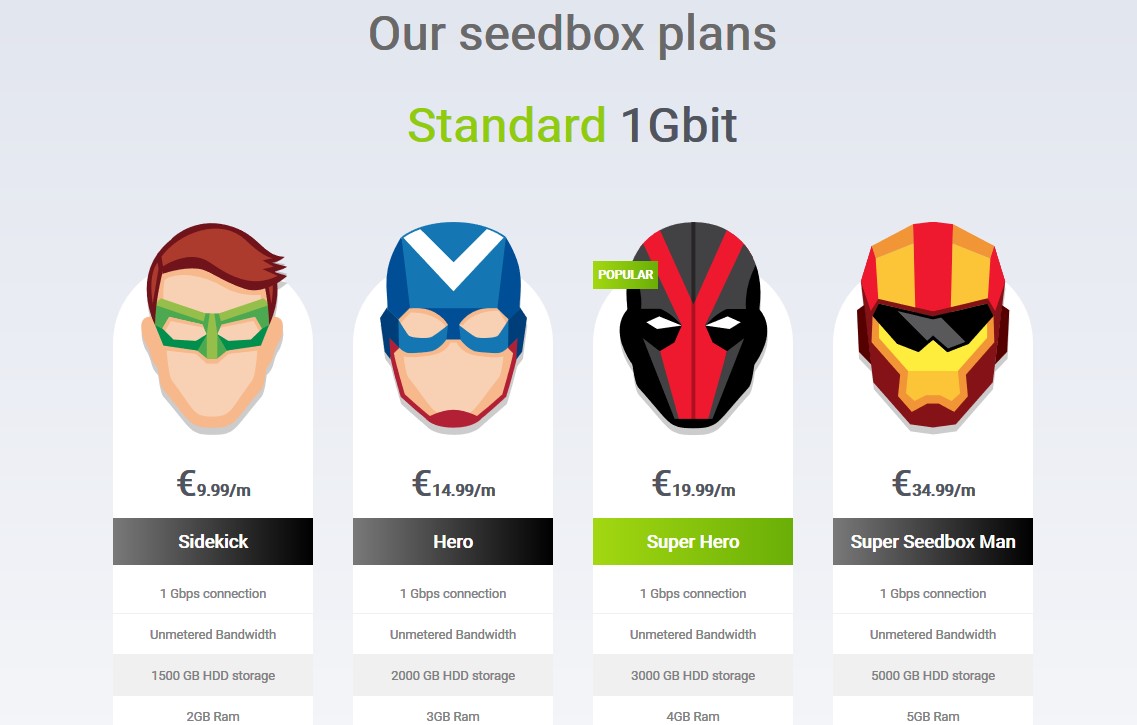 While the entry package is not the cheapest that we have reviewed, it is good value and economical when you consider you get a huge 1,500 GB of storage space and 2 GB of RAM for €9.99 per month.
It is, however, among the less expensive Seedbox providers that offer good storage for less than €10 per month.
Get value for money with Seedit4.me now >
This is the starter package with the name "Sidekick" and as with all packages from the provider, it has 1Gbps, unlimited bandwidth, shared IP, free VPN, and root access.
It does not have a Plex server and you are limited to 10 apps, however, there are some good apps to choose from.
The "Hero" package costs €14.99 per month, which again is inexpensive when you consider it includes access to Plex up to 1080p, 15 apps, 2,000 GB storage and 3 GB of RAM, and more.
The "Super Hero" package is €19.99 per month and is the most popular choice with 3,000 GB of storage, 4 GB of Ram, unlimited apps, Plex server, and more.
At the top end is the "Super Seedbox Man" package at €34.99 per month offering 5,000GB of storage, 5 GB of Ram, Plex up to 4K, unlimited apps, and more.
Apps
The size of the package depends on how many apps are included, up to 40. However, even the most reasonably priced and most affordable comes with a good selection.
Plex server is included in all packages above the entry-level, if you want to stream in 4K, which is the best quality, you will have to go for one of the latter two plans.
All of the popular apps are included such as CoachPotato, Deluge, Headphones, OpenVPN, and uTorrent.
The latter is a torrent client and the web frontend for rtorrent. Having an interface similar to the popular desktop client, uTorrent, it is easy to use.
Other benefits
One thing that stands out in the customer support department is access to live chat.
While there are other options, live chat is by far the quickest way to get help. It took us just a few seconds to get a reply during testing.
2. Seedbox.io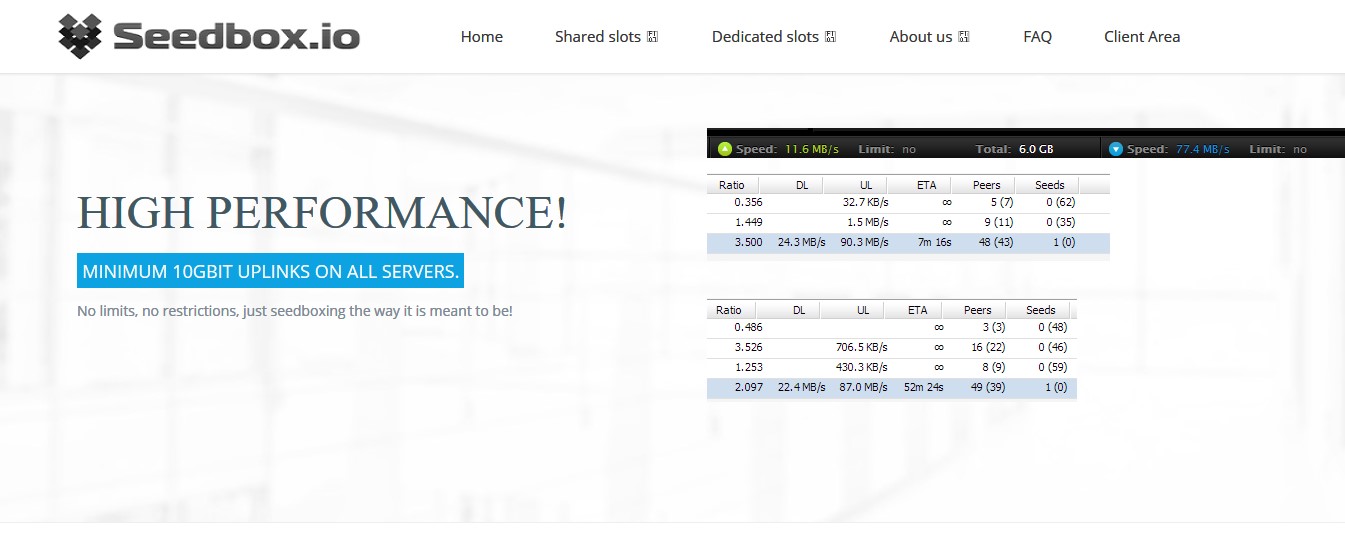 Next on our list of the best cheap Seedbox providers is Seedbox.io. You can check out the main pros and cons of this reasonably priced and affordable provider below.
Pros:
Large choice of plans
Starting at 5,49€ / month
Cons:
Shared plans don't have Plex
Not as much storage as you get with Seedit4.me
No live chat
---
Ease of use
Seedbox.io offers a good user interface so you can check and manage your plan, open up a support ticket, and much more. You can also manage add-ons through the interface.
The interface offers links to set up the free VPN on your Seedbox, restart, upgrade or downgrade, plus, cancel the package at any time.
Packages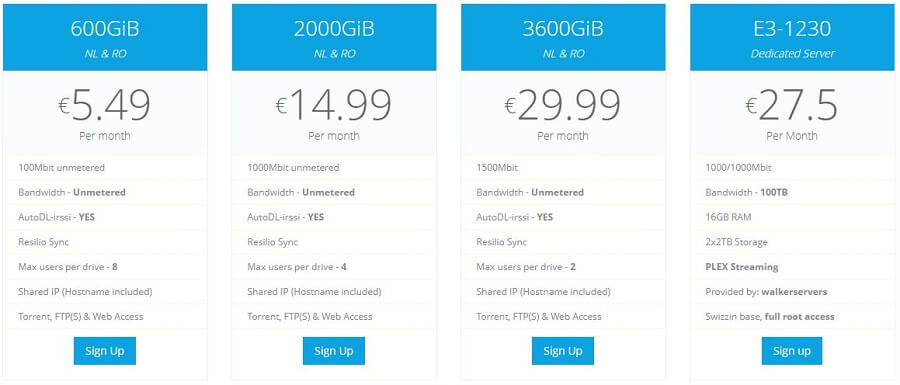 There is a huge range of economical and low priced packages on offer, both shared and dedicated. We are only concerned about the shared slots here. The shared slots are divided into Premium, SSD, and VPS.
The SSD and VPS are more costly so as we are looking into the best affordable Seedbox providers we will only concentrate on the premium shared packages.
Premium shared packages
There are a total of eight shared packages to choose from and each comes with:
ruTorrent support;
FTP access;
Dedicated bandwidth;
Instant setup,
VPN support.
The most reasonably priced package is cheap at €,495 per month, making it half the price of the entry-level plan offered by Seedit4.me.
Get a plan with Seedbox.io now >
However, you only get 300GB of storage space in the plan, along with 100 megabits of dedicated bandwidth. With this in mind, you do have to weigh up the fact that with its competitor you do get 1500GB and unlimited bandwidth for €10, which is far better value for money.
Packages from €7.50 to €35
In between packages cost €7.50 (500 GB), €10 (700 GB), €12.5 (900 GB), €14 (1,250 GB), €20 (1,750 GB) and €25 (2,250 GB).
Prices go all the way up to €35 per month for the top package, with this offering 3,250 GB of storage and 2000 Megabits of dedicated bandwidth and Plex streaming.
The most expensive package has to be compared with that of Seedit4.me. The latter offers 5,000 GB of storage, 5 GB of Ram, Plex server up to 4K, and unlimited apps for €34.99 per month.
Again, Seedit4.me is the more economical, and slightly lower in price, as it offers more storage and it supports Plex up to 4K, while the top plan of Seedbox.io does not. This is the reason it is at the top of our list.
Apps
While Seedbox.io is among the best inexpensive providers, the apps it offers in shared packages do reflect this by offering limited apps.
Apps included in shared plans are OpenVPN, ruTorrent, Kodi, and Resilio.
Customer support
One thing that does let the provider down is customer support. There is no live chat option. The closest thing to live chat is contacting someone via Skype. However, there is nothing to say that you will find a representative online.
There is a ticket system available but this is slow, there is also a knowledge base, which does have an extensive list of self-help topics and articles. However, this is no substitute for live chat.
3. Seedbox.fr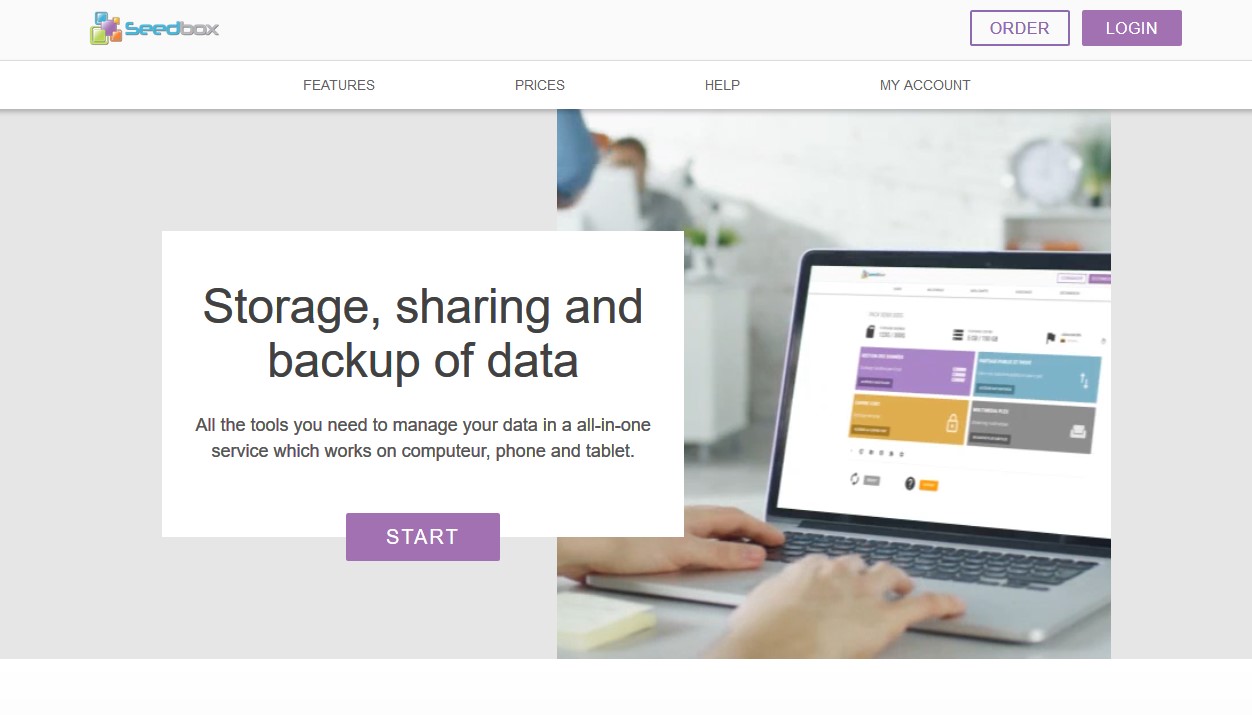 Seedbox.fr is a French Seedbox provider among our list of the best cheap Seedbox providers offering low priced plans for less than €10 per month.
While the website loads up in French, you can scroll down to the bottom of the page and choose English to have it translated.
Here are the pros and cons of Seedbox.fr.
Pros:
40Gbps speed
Support for mobile apps
Digital safe is included
Cons:
Basic entry level does not support Plex
No live chat support
The Wiki help page is in French
---
Ease of use
The user interface of Seedbox.fr is extremely well laid out and colourful. Here, you can get access to every aspect of your account, including rebooting the Seedbox.
There is also a link taking you directly to support, shows you how much storage you have used, and provides easy access to Plex, along with many other features.
Packages
Seedbox.fr offers a range of two affordable plans, which are then broken down into different choices.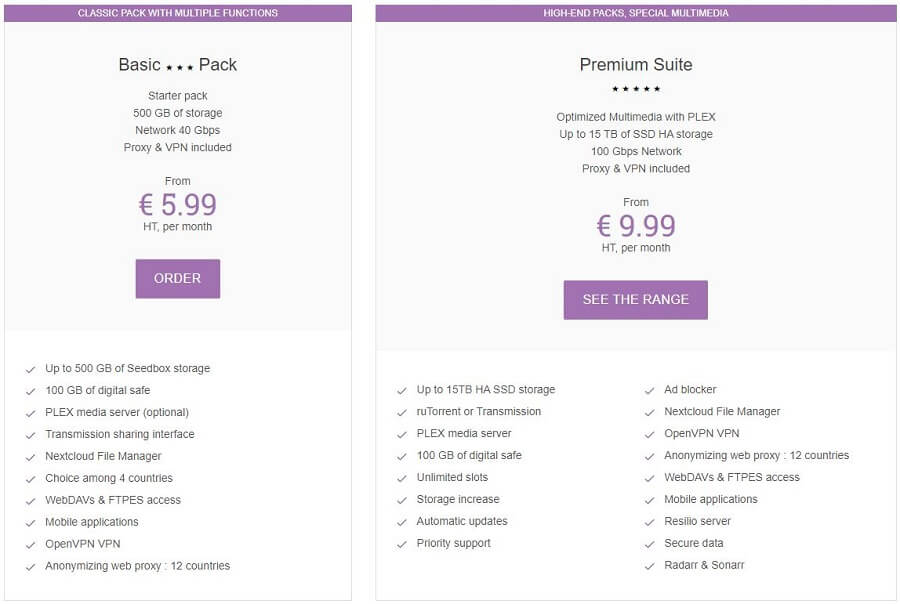 Basic plans
The entry-level is the Basic suite, with two offerings. If you want a cheap and economical plan for less than €10 per month, the starter pack is the one for you at €5.99 per month. For this, you get 500 GB of storage and a 100 GB digital safe, plus 40 Gbps speed.
40 Gbps is a good speed, but bear in mind you will be sharing it with other users so you will not get the full speed.
The entry-level plan is just slightly higher than the one offered by Seedbox.io but you get more storage, 500 GB compared to the 300 GB of its competitor, and is reasonably priced.
The plan comes with a Nextcloud file manager, a choice of 4 countries, FTP access, mobile apps, and free VPN. It does not include the Plex server.
Plex Plans
If you want Plex included, there is the Plex Edition low priced plan with a cost of €9.99 per month. This also includes everything included in the basic package, including 500 GB of storage.
However, bear in mind competitor Seedit4.me offers Plex, plus 2,000 GB of storage for just slightly more, €14 per month, which is a better deal for your money.
Storage plans
The next range of affordable plans is the Storage Suite. Packages start from €12.99 per month for 1,000GB of storage and go up to €29.99 for 4,500 GB of storage.
Premium plans
Next up is the Premium Suite of packages. Packages start at €9.99 for 1,000 GB of storage and go up to €39.99 per month for 3,000 GB of storage.
The top package isn't the most economical when compared to the equivalent offered by Seedit4.me, which offers 5,000GB storage and a Plex server at 4K for €34.99 per month.
Get a plan with Seedbox.fr now >
Apps
The number of apps you get access to depends on the package you choose, of course, the more you pay the more apps you have to choose from.
Generally, these include ruTorrent for downloading torrent files, Nextcloud file manager, Transmission interface, and more.
Customer support
There is no live chat option for customer support, which is a shame.
The only options available for help and support are phone, which is free when calling from a landline and ticket. From our experience, ticket systems are far from fast, so don't expect to get a reply immediately.
There is a Wiki help page but it is in French.
In Conclusion
So, these are our choice of the best low-cost Seedbox providers out there.
All of them are offering reasonable and fair prices, offering entry-level plans for less than €10 per month, along with a wide range of plans, so there should be something suitable for everyone.
Get a cheap plan with Seedit4.me now >
None of the entry-level packages offers support for Plex. However, for €14.99 with Seedit4.me, you can get 2,000 GB of storage along with Plex up to 1080p, which is not a bad deal and among the reasons why we put it in the first place, as it is affordable.
If you want Plex with Seedbox.fr, you would have to pay €9.99 per month but you only get 500 GB of storage, which is not expensive but doesn't offer the best value for money.
While with Seedbox.io, it would cost you €35 per month and you get 4,000 GB.