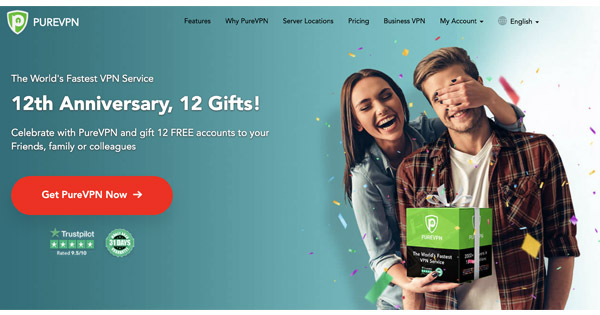 Whenever you are faced with the task of picking a VPN, you cannot afford to be careless about it. This is because a wrong decision will defeat the whole purpose of getting a VPN in the first place. In case you have been wondering whether PureVPN is a worthwhile VPN in terms of its reliability, this article will be of help to you. The reliability and quality of customer support of this VPN are explored here.
How secured is PureVPN?
PureVPN was founded in 2006 by GZ Systems. It was one of the first VPNs on the market and now stands among the biggest. Starting with 2 servers at the beginning, PureVPN has grown very swiftly to now boast more than 2000 servers in more than 94 countries. However, being an old VPN though doesn't guarantee reliability.
PureVPN blatantly fails the reliability test because of its slow download speed and its inability to secure the identity of users. PureVPN is renowned for its atrociously slow download speed.
This often frustrates many users who wish they never got the VPN with their hard-earned money. Besides, several speed tests that were conducted by us has proven that PureVPN's download speed is not acceptable, particularly if your goal is to download torrents risk free. 
The major reason for searching for a VPN is to secure your ID. Sadly, PureVPN doesn't offer that.
PureVPN's service is not up to the task of anonymizing internet experience. Customer reviews have shown clearly that the DNS and personal IP address of users are being leaked. It got so bad that PureVPN even took responsibility for the arrest of a cyberstalker in 2017.
Customer support?
The client support is also something important to check if you want to know if PureVPN is reliable.
Unfortunately, PureVPN does not also excel when it comes to customer support. Their customer service seems to be handled by a robot as customers are not getting quick responses to their complaints. Hence, their customer support is also nothing to write home about in terms of reliability.
This becomes more unbearable when you need a quick response that will help you solve an issue encountered while using the VPN. Therefore, PureVPN does not offer the vital internet experience that is supposed to be enjoyed when you are using a secured and reliable VPN.
Conclusion
Having highlighted the major issues regarding the use of PureVPN and its reliability, it can be safely concluded that it is not reliable.
It is also annoying when you realize that in spite of the poor-quality service it offers, there are still hidden charges which is a minus to its reliability. Hence, if you are looking for a VPN provider that can offer fast download speed, an exceptional customer experience, and reliable, PureVPN isn't for you.
You should rather consider other quality and reliable VPNs like ExpressVPN and Surfshark. NordVPN or CyberGhost are also great options.
These VPNs will offer you amazing internet experience because of their reliability and impressive download speed. It is pointless to go for a VPN that is not reliable when you can have access to better and more reliable ones.